Spicy Guacamole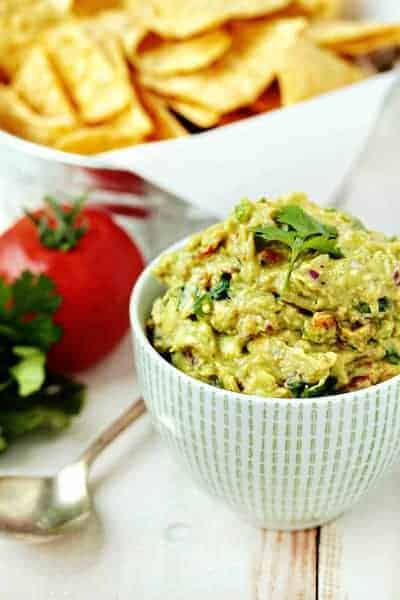 I'm all for trying different foods – at least once. Sometimes one bite is all it takes to make me a convert – other times, that first bite will be the only bite of that food that will ever cross my lips. For instance, I've eaten a raw oyster and a frog leg once – I'll never consume either of these foods again. Recounting those moments gives me the shivers. But guacamole – that's a totally different story.
Up until about two years ago avocados and I weren't on good terms. And if I'm being honest, I hated them before even giving them a chance. I think I had a negative textural perception of them. I'm big on textures and if something falls into the categories of slimy, gritty, jiggly or velvety (unless it's ice cream) I immediately deem it as suspect.
A couple of years ago I was wandering around Whole Foods and lost my friend for a minute. When I found him, he was standing in the middle of the produce section oohing and aahing over a tub of $9.00 guacamole. I went over to inspect the situation and was welcomed with a guacamole covered chip shoved near my face. Of course, I got all dramatic, recoiled and claimed I hated the stuff. However, I decided to take a tiny nibble – just to prove to him that I did indeed loathe the velvety green dip. But I was wrong. I actually loved the stuff and immediately tossed the pricy container into our cart. From that day forward, I was a guacamole lover.
This guacamole recipe is one of the best I've found, and certainly my favorite. Try it at your next barbecue, or heck – on a random Tuesday night. Then come back here and tell me what you think.

Spicy Guacamole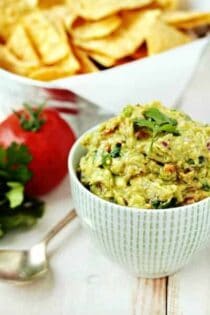 Ingredients:
3 ripe avocados, halved, seeded and scooped
2 limes, juiced
3/4 teaspoon kosher salt
1/2 teaspoon ground cumin
1 teaspoon Sriracha* (use less or more to taste)
1/2 cup diced red onion (about 1 small onion)
1 jalapeno pepper, seeded and diced (leave some seeds in if you want to crank up the heat)
2 Roma tomatoes, seeded and diced
2 tablespoons chopped cilantro
1 clove garlic, minced
Directions:
1. In a large bowl, toss the scooped avocados with the lime juice.
2. Mash the avocados using a fork or potato masher.
3. Add the salt, cumin, and Sriracha and mash.
4. Fold in the onion, jalapeno, tomatoes, cilantro, and garlic.
5. Let sit at room temperature for 1 hour and then serve.
Notes:
- If you don't have Sriracha, you can substitute another hot sauce or use 1/4-1/2 teaspoon of cayenne pepper.
- Play around with the measurements - If you like more garlic, add more, etc.
- If you don't like your guacamole spicy, simply omit the jalapeno and cut back on the Sriracha.
- Recipe adapted from Alton Brown
Copyright © My Baking Addiction
All images and text ©
Follow Jamie on Instagram. We love to see what you're baking from MBA! Be sure to tag @jamiemba and use the hashtag #mbarecipes!
This post may contain affiliate links. We are a participant in the Amazon Services LLC Associates Program, an affiliate advertising program designed to provide a means for us to earn fees by linking to Amazon.com and affiliated sites.