Chipotle Style Barbacoa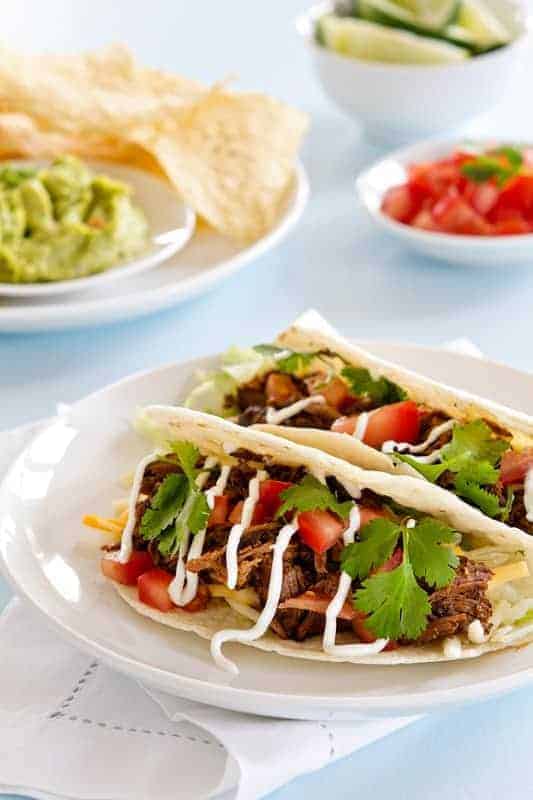 If you love Chipotle's barbacoa, you have to try this simple and delicious slow cooker recipe. It's perfect for tacos, nachos, burritos and so much more.
I don't know what the weather is like in your neck of the woods, but here in Ohio, spring has definitely not sprung. It's cold, windy and super cloudy – which is pretty much a food blogger's worst weather nightmare. And don't even get me started on the fact that it has snowed the past few days. Snow – in April – it's so not okay.
Since the weather is very reminiscent of a November in Ohio, we're craving hearty and comforting meals that are full of flavor. Our meal plan has consisted of Roasted Poblano Beef Stew, Zuppa Toscana (it's better than Olive Garden's – I promise), Smothered Burritos and this Chipotle Style Barbacoa. Whether you're in the mood for tacos, burritos or a huge plate of nachos to nosh on during the NBA playoffs, this incredibly flavorful and smoky beef is a must. It's just as good as Chipotle's, but it's made in a slow cooker – right in your own kitchen. It's even great shredded over a pile of boring white rice or wrapped up in zucchini tortillas. Versatility, guys – there's nothing better than versatility.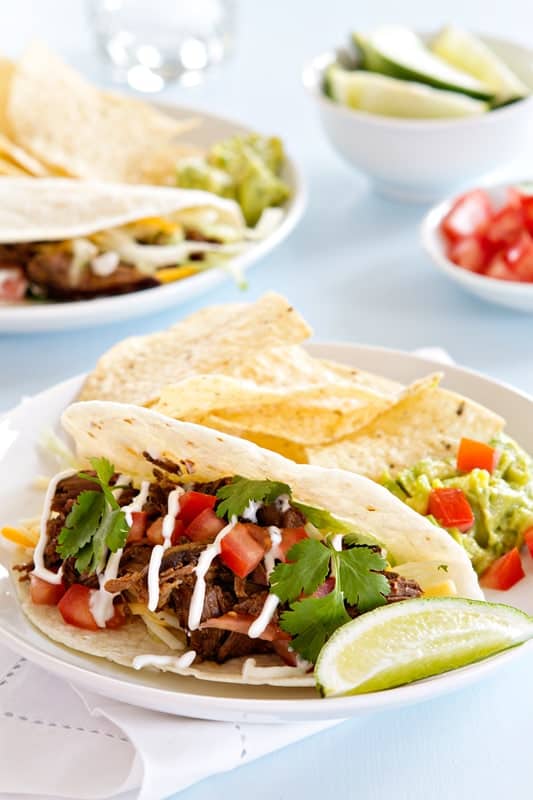 My brother introduced me to this recipe back in December and we've had it no less than six times since then. I now make sure that I have a can of chipotles in adobo in the pantry at all times. My side of the family likes heat, and a lot of it. Basically, if there are not little beads of sweat gathering on our faces, it's just not hot enough.
However, I also have to feed Eric, and he's definitely not a huge fan of spice, so I love that I can control the level of heat in this recipe by simply adjusting the number of chipotle peppers I include. The rest of us just keep a bottle of Sriracha nearby to kick things up a notch.
I have to feed Elle too, obviously, but she's already seeming to show an inclination towards my spicy-loving tastebuds. That's my girl! I'm telling you though, this recipe is great for so many reasons. It feeds a crowd, and is a crowd pleaser. You can use the meat any number of ways. Think taco bar, homemade burritos, nachos on a Saturday night in front of the TV – the barbacoa possibilities are endless.


This post may contain affiliate links. We are a participant in the Amazon Services LLC Associates Program, an affiliate advertising program designed to provide a means for us to earn fees by linking to Amazon.com and affiliated sites.