Zuppa Toscana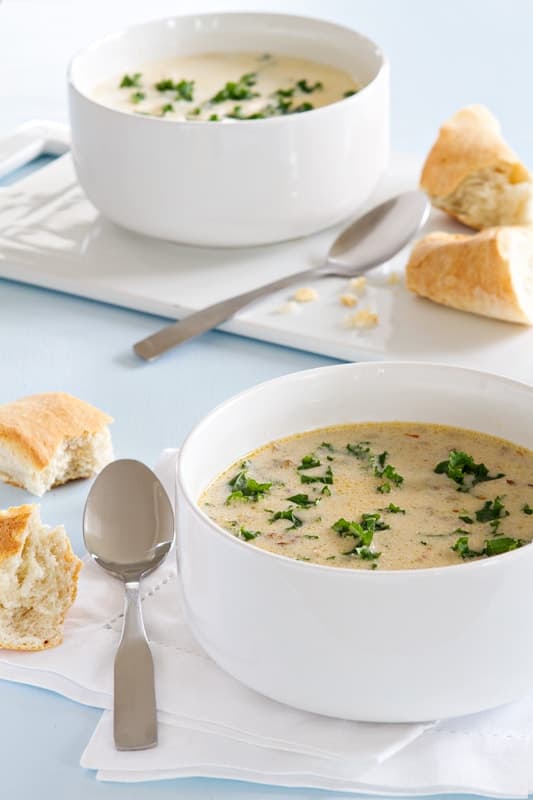 Loaded with sausage, potatoes and kale, this homemade version of Olive Garden's Zuppa Toscana soup is sure to become a family favorite.
So Spring has supposedly sprung, right? Well, if you live in Ohio that is so not the case. In fact, it was snowing here this weekend. And I'm not talking a little flurry here and there, I'm talking snow globe snow for hours that actually accumulated. I will say that although 20-degree temperatures are not my fave in late March, the cold weather is helping our new yard turn back into an ice skating rink as opposed to a mud pit. Gotta look on the bright side, right?
In my opinion, there's no better way to warm up on a cold, dreary day than with a bowl of homemade soup. And since Olive Garden's Zuppa Toscana is a family favorite, I thought I'd try making it from scratch instead of calling in a take-out order. This soup seriously came together quicker than a drive to our local Olive Garden and I didn't even have to change out of my yoga pants. And let me tell ya, homemade Zuppa Toscana soup is unbelievably good and tastes pretty much identical to the Olive Garden version.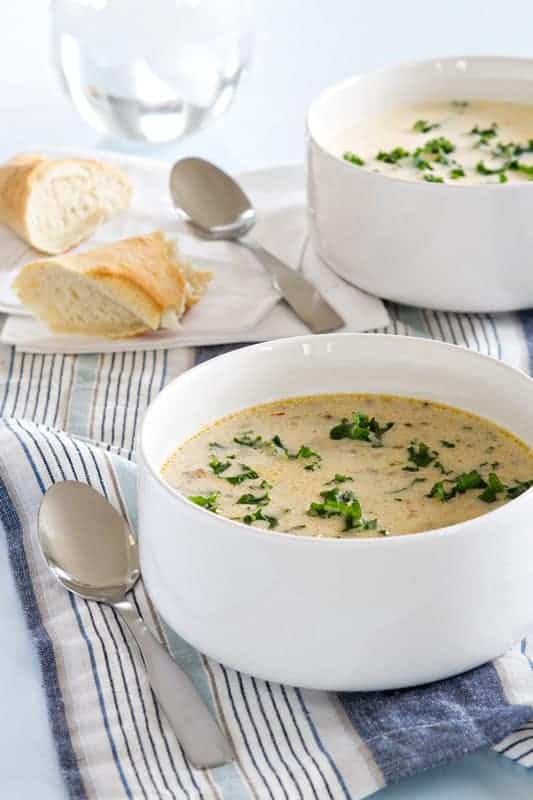 We enjoyed this recipe so much that I made it twice in three days. The first time I made it with sweet Italian sausage, but I decided to kick things up a notch the on second batch and loaded it with hot Italian sausage, more potatoes and a heavy sprinkling of crushed red pepper flakes. Being that I'm a lover all things spicy, the hot Italian sausage version was my favorite, but if you like things a little on the milder side, the original recipe is a total winner.
This delicious homemade Zuppa Toscana can be served as the start to dinner, like it is at Olive Garden, but it also makes a complete meal. Just add a yummy Tomato and Mozzarella Salad and some easy Beer Bread and you're set!
Zuppa Toscana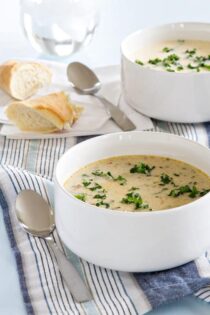 Ingredients:
1 pound ground sweet Italian sausage
1 large sweet onion, diced
3 garlic cloves, minced
1/2 teaspoon crushed red pepper flakes
3 large baking potatoes, peeled and thinly sliced
24 ounces chicken broth
24 ounces water
2 cups kale, chopped
12 ounces heavy cream
Directions:
1. In a large Dutch oven over medium heat, brown sausage until cooked through. Add onions, garlic and red pepper flakes and cook for an additional 4-5 minutes, stirring frequently. Drain excess fat and return pot to the stove.
2. Add potatoes, chicken broth and water to the sausage mixture. Continue cooking over medium heat until the potatoes are cooked through.
3. Add heavy cream and kale and continue cooking for an additional 10-15 minutes. Salt and pepper to taste.
Notes:
To kick things up a notch, substitute hot italian sausage for the sweet and increase the amount of red pepper flakes. Please note the color of the soup may take on an orange color with this substitution due to the spices in hot sausage.
My Baking Addiction adapted from food.com
All images and text ©
Follow Jamie on Instagram. We love to see what you're baking from MBA! Be sure to tag @jamiemba and use the hashtag #mbarecipes!
This post may contain affiliate links. We are a participant in the Amazon Services LLC Associates Program, an affiliate advertising program designed to provide a means for us to earn fees by linking to Amazon.com and affiliated sites.