Sausage and Lentil Soup is thick and hearty, loaded with Italian sausage, lentils, and vegetables in a tomato-based broth. This is the comforting recipe you need this winter!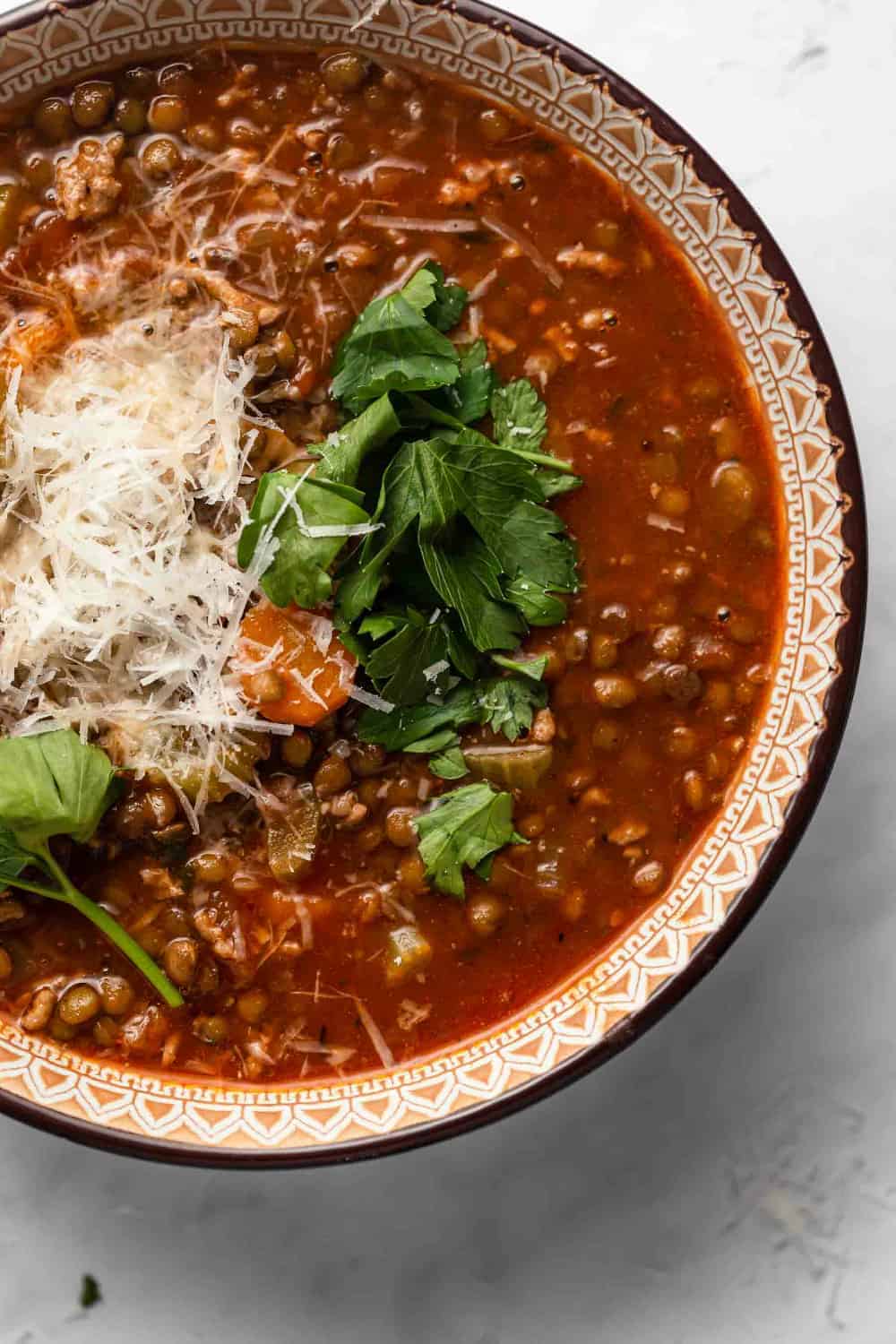 You guys, I swear I say this every single year, but I am trying to get ahead and stay organized with my holiday shopping.
Last year, I put forth quite the effort for about a week and then failed miserably and ended up shopping on Christmas Eve and wrapping gifts until about 2am.
Not this year, folks. I'm sitting at my computer right now monitoring Cyber Monday deals because this girl is not a Black Friday shopper. In fact, I'm not much of an in-person shopper period, unless we're talking Target!
So I'm dedicating this day to tackling my shopping list while watching big, fluffy snowflakes swirl around outside!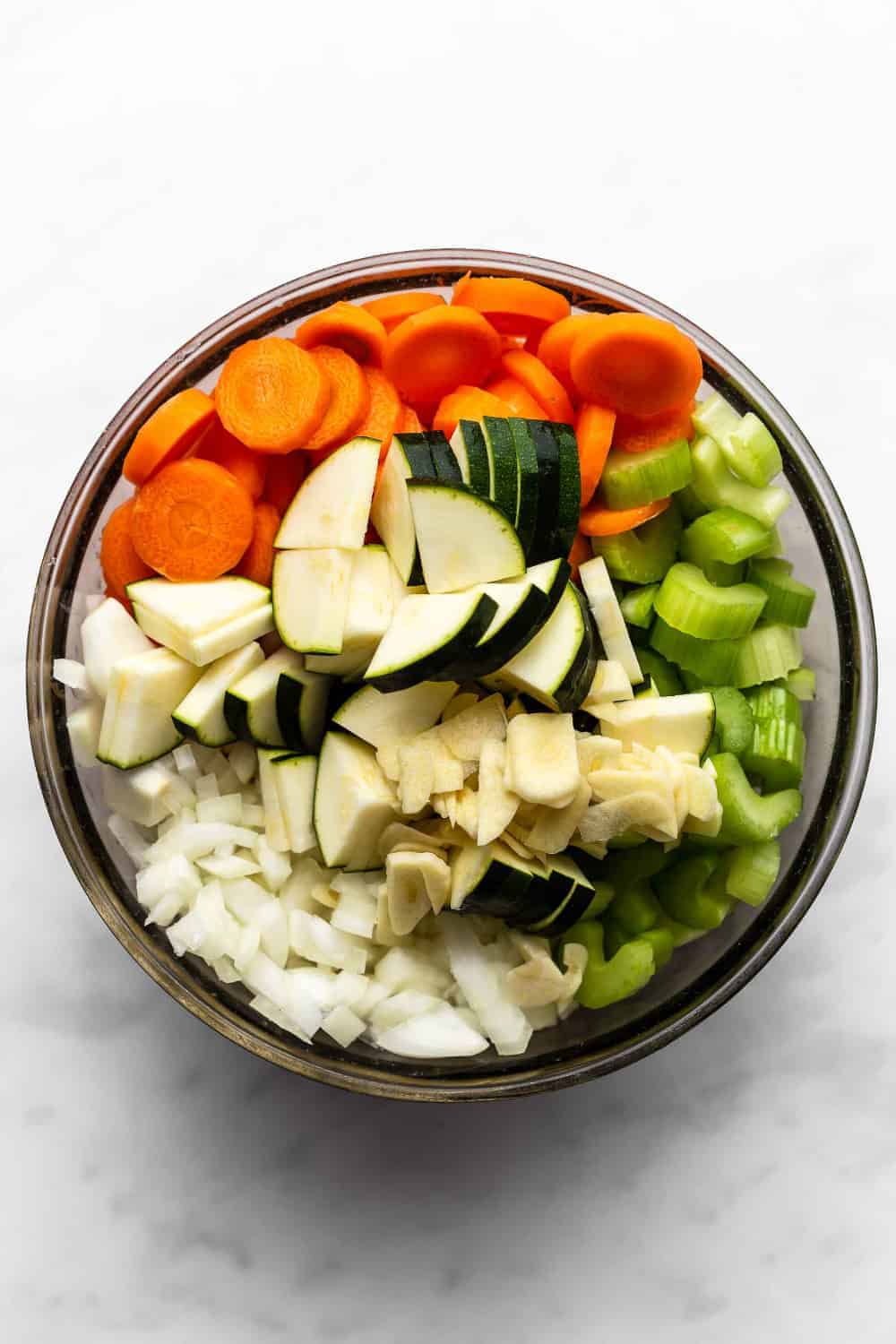 SAUSAGE AND LENTIL SOUP
There's just something about a big pot of soup simmering away on the stove that makes me want to throw some wood into the fireplace and curl up on the couch all day.
Soup is warm, comforting and in my opinion it's the perfect fall or winter dinner. Whether it's Turkey Noodle Soup, Chicken Tortilla Soup, or Lasagna Soup, I am here for all of it.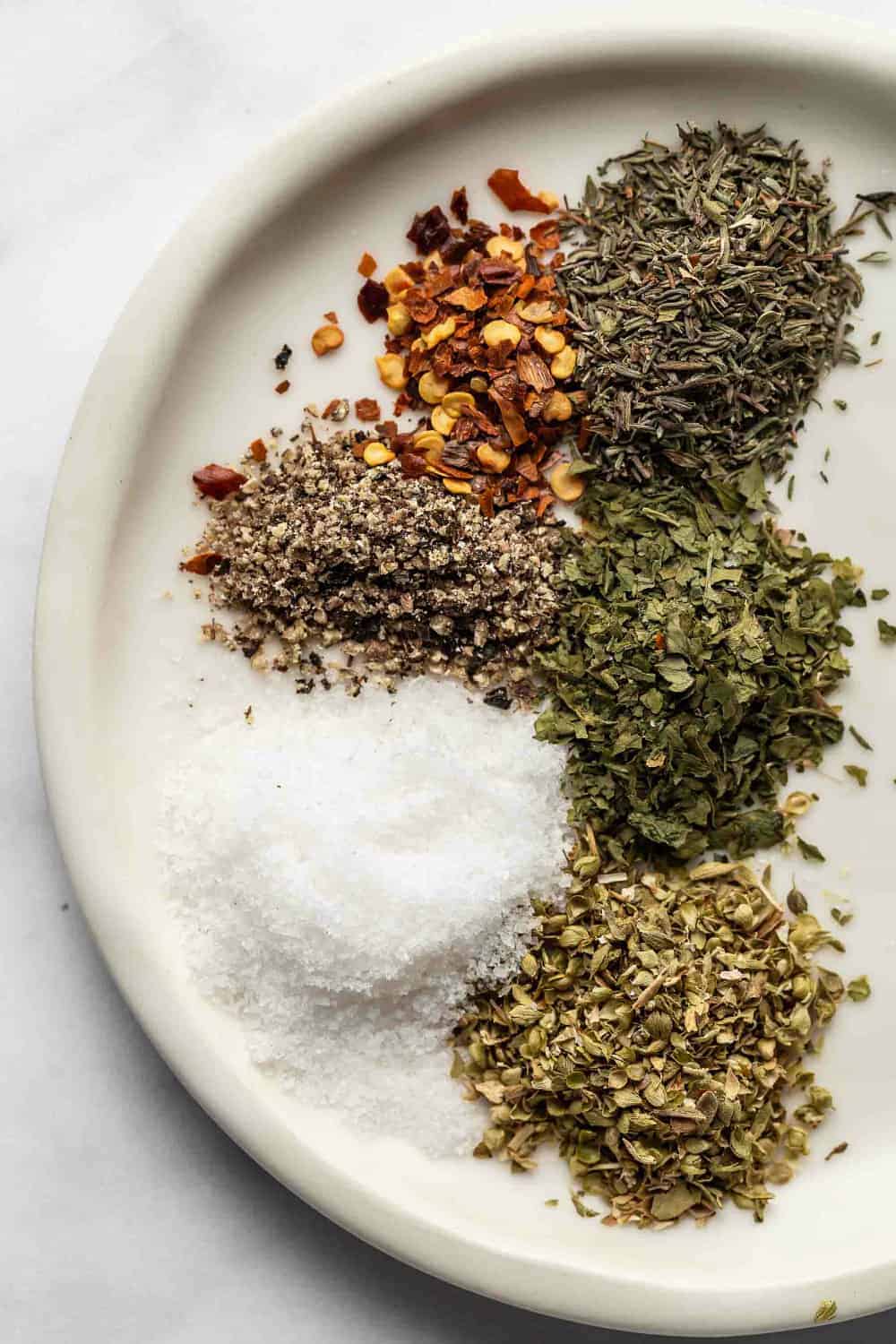 There's just one problem and the problem would be my family.
They refer to soup as a "tease" and think that it should never be referred to as dinner – more specifically – their dinner.
I remember one of the first times that I made soup for them, they slurped it down and within a few minutes stated something like, "That was great, now what's for dinner?" Um, hello – you just ate it!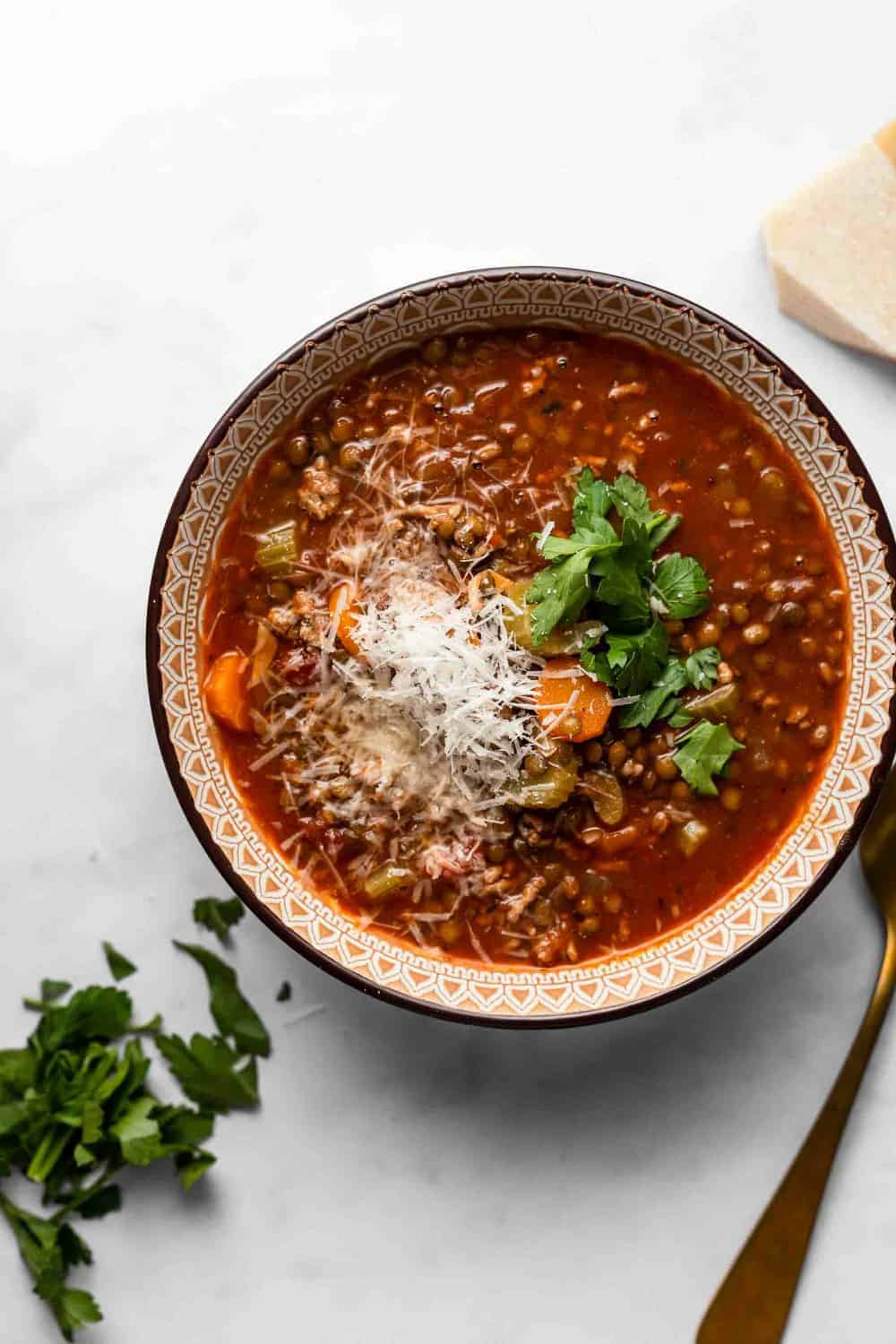 Typically I'll go with their meat and potato ways, but sometimes I can slip a soup into our repertoire that qualifies as a meal instead of an appetizer.
Sausage and Lentil Soup is just that kind of creation. It's loaded with Italian sausage and veggies cooked in a rich tomato broth.
And if you're a fan of Carrabba's Sausage and Lentil Soup, you may be a little excited to hear that this copycat version tastes very similar!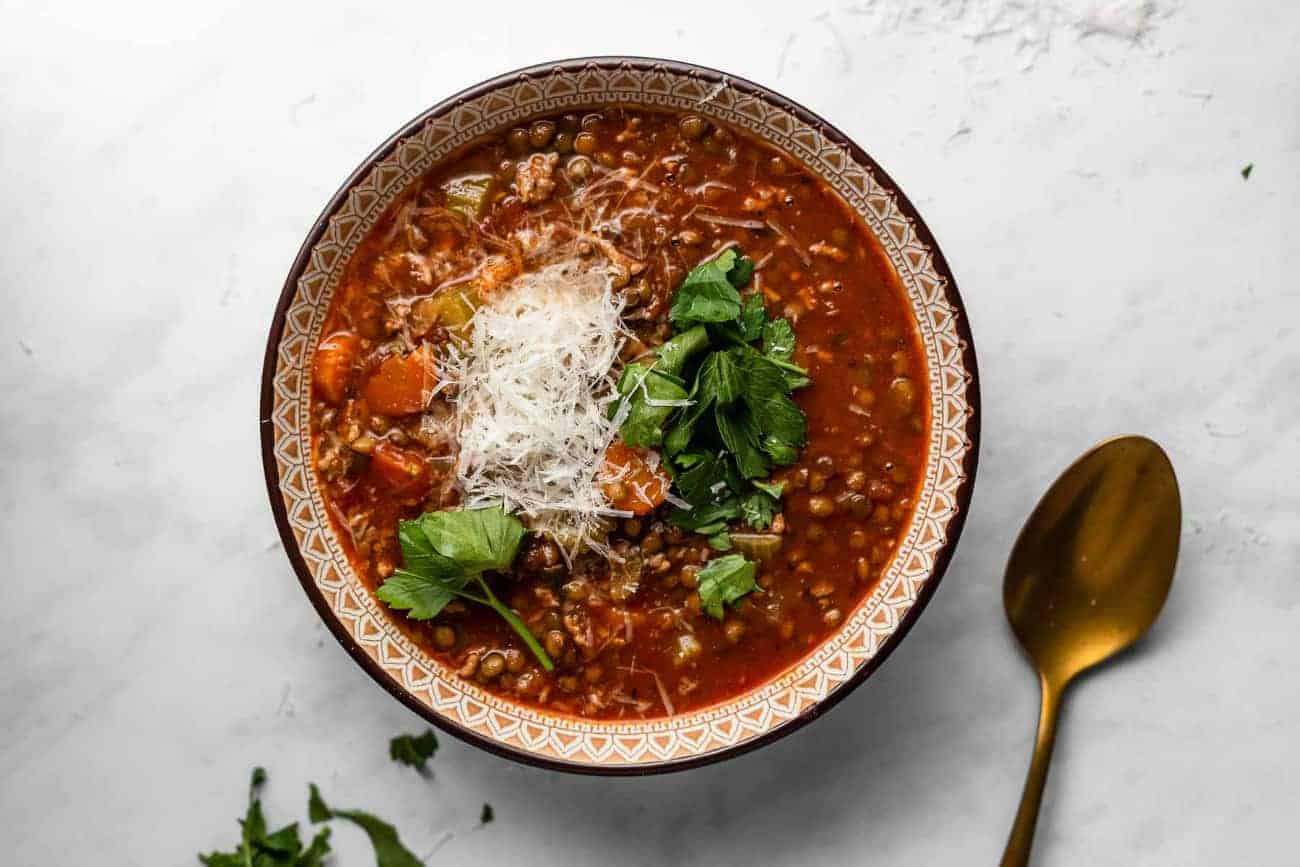 WHAT KIND OF VEGETABLES CAN YOU USE?
I like to pack my Sausage and Lentil Soup full of vegetables. After all, I may as well take advantage of the fact that my family is eating it to sneak some veggies into them.
I usually go for carrots, onions, celery and zucchini for my soup. But don't feel like you have to use the same!
For example, diced bell peppers or peeled and diced sweet potato would be great. You could even sneak in some spinach or kale.
No matter which veggies you use, you'll need about 5 ½ cups total. So get creative with whichever vegetables your family likes best!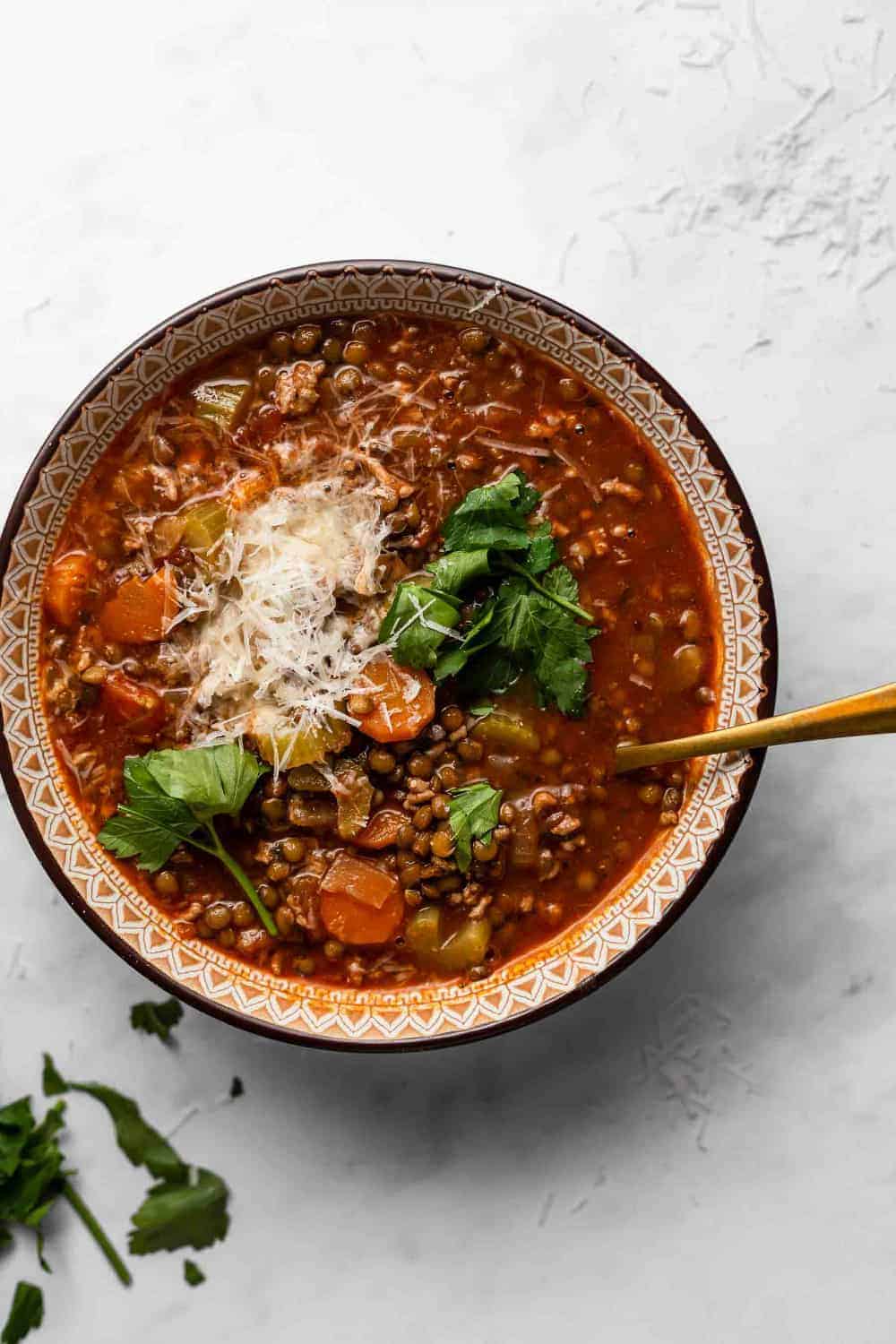 WHAT KIND OF SAUSAGE SHOULD I BUY?
This recipe uses ground Italian sausage. You can usually find it in the butcher section of your grocery store.
Make sure you buy Italian sausage instead of breakfast sausage, which won't have quite the right flavors for this soup.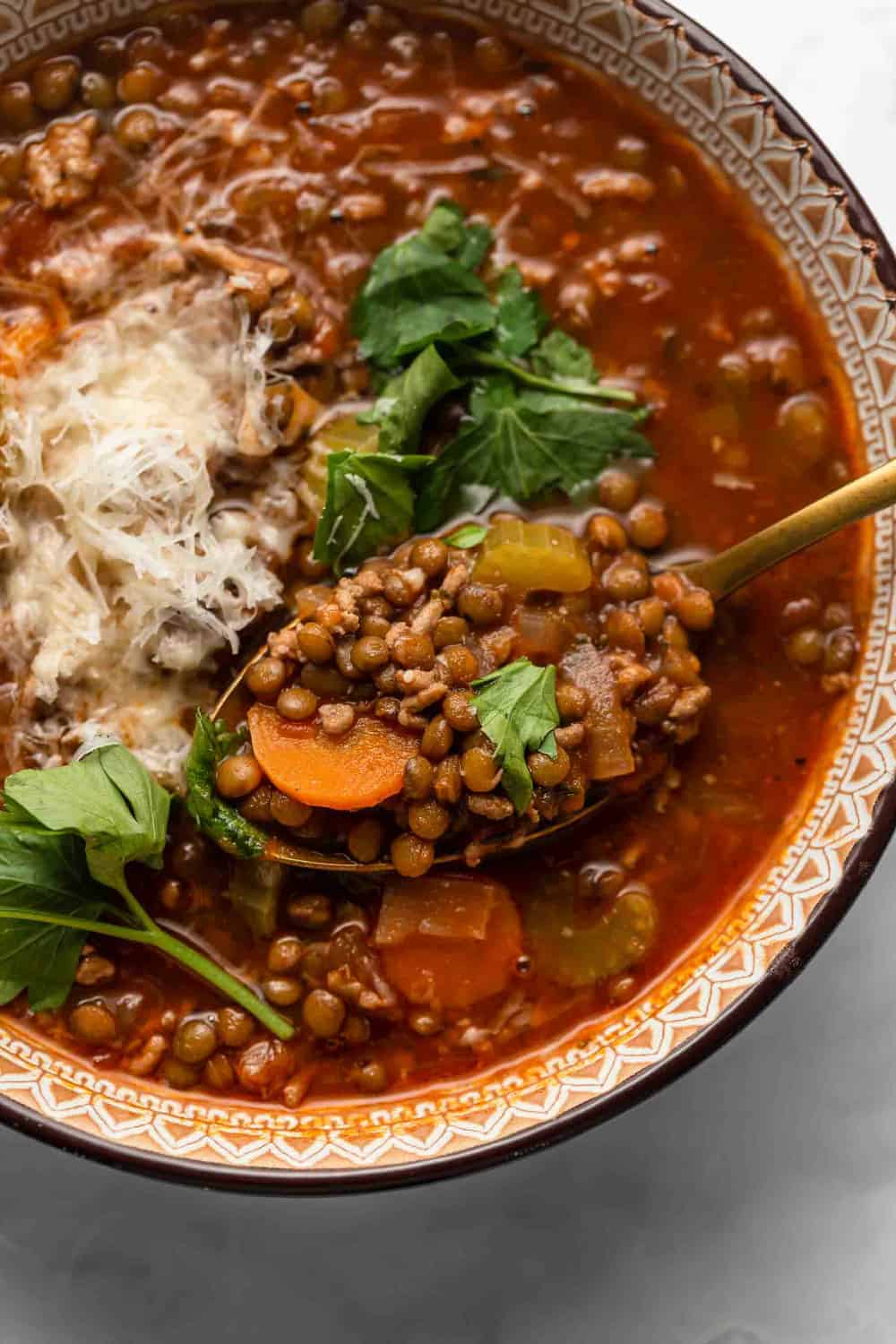 If you prefer your soup a little spicy, go ahead and grab hot Italian sausage. If you aren't big into pork, feel free to use ground turkey or chicken Italian sausage instead.
Serve this Sausage and Lentil Soup with a loaf of fresh bread – or maybe even Beer Bread or Parker House Rolls – and you'll have a meal that will please just about anyone!