Sausage and Lentil Soup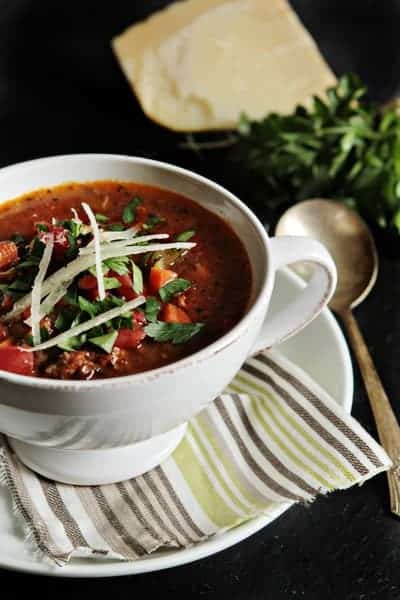 It's no big secret that I wholeheartedly adore Fall and right along with the chilly temps and gorgeous leaves comes soup season. And let me tell ya – I also wholeheartedly enjoy soup.
There's just something about a big pot of soup simmering away on the stove that makes me want to throw some wood into the fireplace and curl up on the couch all day. Soup is warm, comforting and in my opinion it's the perfect Autumn dinner. There's just one problem and the problem would be my family.
They refer to soup as a "tease" and think that it should never be referred to as dinner – more specifically – their dinner. I remember one of the first times that I made soup for them, they slurped it down and within a few minutes stated something like, "That was great, now what's for dinner?" Um, hello – you just ate it!
Typically I'll their meat and potato ways, but sometimes I can slip a soup into our repertoire that qualifies as a meal instead of an appetizer. Sausage and Lentil Soup is just that kind of creation. It's loaded with Italian sausage and veggies cooked in a rich tomato broth. And if you're a fan of Carrabba's Sausage and Lentil Soup, you may be a little excited to hear that this copycat version tastes very similar!
Serve this Sausage and Lentil soup with a loaf of fresh bread – or maybe even Beer Bread – and you'll have a meal that will please just about anyone!
Sausage and Lentil Soup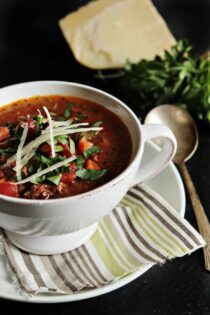 Ingredients:
1 pound green lentils
3 tablespoons olive oil
1 lb ground Italian sausage (You can also use ground Italian turkey sausage)
1 cup diced onion (about 1 large)
1 ½ cups diced celery (about 4 stalks)
1 ½ cups diced carrots (about 3-2 large)
1 ½ cup diced zucchini (about 1 small)
1 tablespoon minced garlic (2 large cloves)
2 teaspoons kosher salt
1 teaspoon freshly ground black pepper
1/2 teaspoon red pepper flakes
1 teaspoon dried basil
1 teaspoon dried oregano
1 teaspoon dried thyme
6 cups chicken broth
2 (14 1/2 ounce) cans diced tomatoes, undrained
grated Parmesan
fresh parsley
Directions:
1. In a large bowl, cover the lentils with boiling water and allow to sit for 15 minutes. Drain.
2. In a large stockpot over medium heat, heat the olive oil and add in the Italian sausage. Brown the sausage until it is cooked through.
3. Add in the onions, celery, carrots, zucchini, garlic, herbs and spices, cook for about 15 minutes, stirring often.
4. Add the chicken stock, canned tomatoes, and drained lentils, cover, and bring to a boil.
5. Reduce the heat to low and simmer uncovered for 1 ½ hours, or until the lentils are cooked through and tender, stirring occasionally. Add water as needed to adjust the consistency of the soup. We tend to prefer ours a little on the thick side, so I add in about 3 cups half way through the cook time.
6. Check the seasonings – add more salt and pepper to taste. Serve sprinkled with grated Parmesan and fresh parsley.
My Baking Addiction adapted from food.com
All images and text ©
Follow Jamie on Instagram. We love to see what you're baking from MBA! Be sure to tag @jamiemba and use the hashtag #mbarecipes!
This post may contain affiliate links. We are a participant in the Amazon Services LLC Associates Program, an affiliate advertising program designed to provide a means for us to earn fees by linking to Amazon.com and affiliated sites.