Peach Crisp – Fresh, juicy peaches are topped with oats, brown sugar and pumpkin pie spice to create a delicious summer dessert. It's perfect with a scoop of vanilla ice cream or a dollop of whipped cream.
Let's talk about house hunting. Have ya done it recently? Am I the only person that can look at a gazillion houses and pretty much hate all of them? It's the kitchens – it's one thing I simply can't compromise on – oh, that and wallpaper. I vowed to never purchase a house that had wallpaper. Did it once – which resulted in mad wallpaper stripping and it still ranks as one of the top three worst experiences – ever.
We've been looking at houses since Elle was born since we want to be much closer to family. And we finally gave up on purchasing an existing home and just started looking into building. And guys – the process is no joke. I seriously get exhausted just thinking about all the things.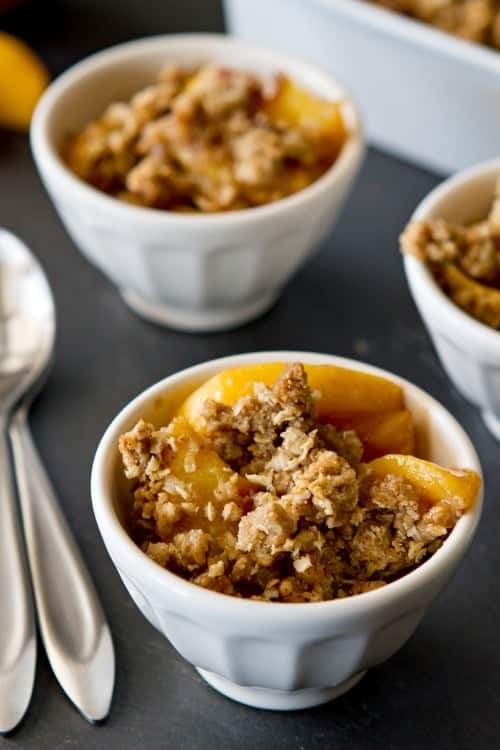 Last weekend we made a trip to meet with our builder and hang out with the fam. I brought a bunch of ripe, juicy peaches with us in hopes of making peach crisp for Sunday dinner. With all the house stuff swirling in my brain, I accidentally left the peaches in a bag and they pretty much turned into peach butter and not the delicious kind – the mushy, squishy-peaches-in-a-bag-kind.
At the last minute my mom's boyfriend, John, ran out to grab fresh peaches. He's just a peach like that – see what I did there? And he loves sweets more than any other human on the planet. Totally my type of guy, right?
When the lovely folks at Challenge Butter asked me to create and share a summer dessert, I knew exactly what I was making. Peach crisp comes together in a snap and it's the perfect way to celebrate the end of summer. I'm a sucker for anything with a crumbly topping – I could most definitely eat the stuff with a spoon.
And the best thing about crumbly toppings is that with just a few ingredients, you can create something that transforms any summer fruit into a crowd-pleasing dessert. Butter, brown sugar, some oats and spices, maybe some chopped nuts if you're feeling fancy – that's all you need to create the crumble or crisp of your dreams.
I'm excited to partner with Challenge Butter as part of their ambassador program. There is really no denying my love for butter, so this is pretty much a match made in baking heaven.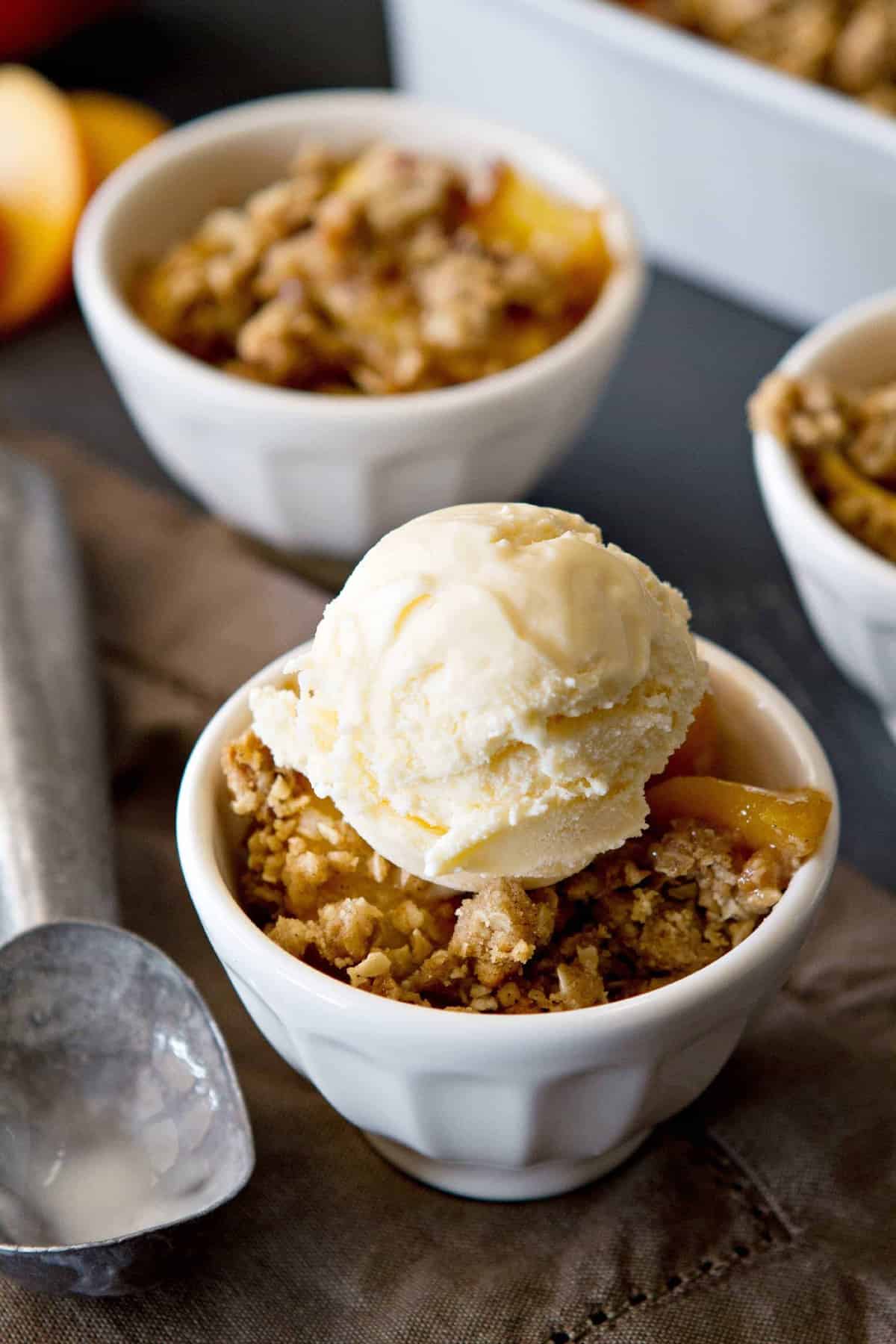 If you've never tried Challenge Butter – you most definitely should. It's made with 100% real cream, so there is nothing artificial about it. And it's made from cows not treated with the Growth Hormone rbST. I can feel good about eating it, and now that Elle's eating a few solids here and there, treating her to a tiny bite of her mama's peach crisp.
Getting to feed a baby her first tastes of everything life has to offer has to be one of the coolest things about parenting, but I'm super picky about what goes into that sweet little rosebud mouth. I can confidently say I'll be baking up treats for my little girl with Challenge butter for years to come. The quality of its ingredients can't be beat, and it's the perfect butter for baking.
So come on, let's bake up a peach crisp, revelling in crispy, crumbly, crunchy topping and fresh summer peaches. It'll help us forget about what a nightmare buying or building a house can be.
Peach Crisp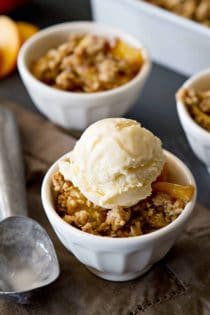 Ingredients:
5 cups fresh peaches – peeled, pitted, and sliced
1 tablespoon all-purpose flour
For the Crisp Topping
1/2 cup quick-cooking oats
1/2 cup all-purpose flour
1/2 cup packed light brown sugar
1/8 teaspoon baking powder
1/8 teaspoon baking soda
1 1/2 teaspoons pumpkin pie spice
1/4 cup Challenge Butter, melted
1/2 teaspoon pure vanilla extract
Directions:
Preheat oven to 350°F. Butter an 8-inch square baking dish.
Place peaches in baking dish, sprinkle with 1 tablespoon flour and gently mix until flour is incorporated.
In a medium bowl, combine oats, 1/2 cup flour, brown sugar, baking powder, baking soda and pumpkin pie spice. Stir together the butter and vanilla and drizzle over the oat/flour mixture; mixing until combined. Crumble mixture over peaches.
Bake in preheated oven for 35 minutes. Serve warm. If desired, top with vanilla ice cream or whipped cream.
All images and text ©
Follow Jamie on Instagram. We love to see what you're baking from MBA! Be sure to tag @jamiemba and use the hashtag #mbarecipes!
Disclosure: This post is sponsored by Challenge Butter. The views and opinions expressed by Jamie Lothridge on My Baking Addiction are my own, and based upon my experiences with Challenge Butter products.