Apple Pear Crisp combines tart apples and sweet pears for a delightful take on the traditional fall crisp.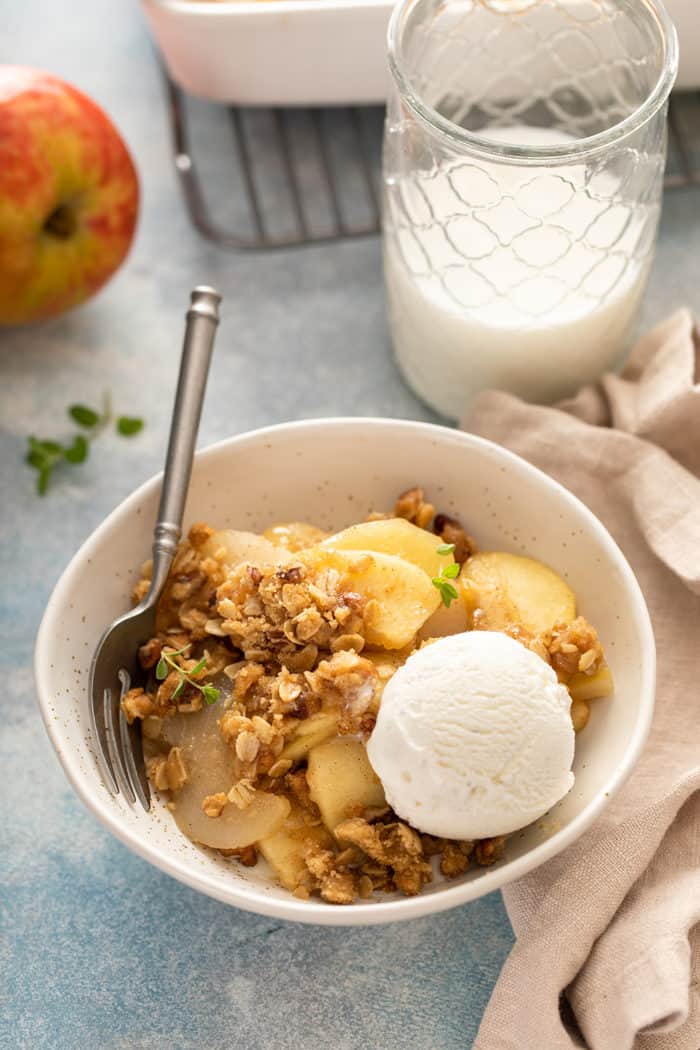 As soon the temperatures turn fall-like, Apple Crisp automatically becomes the most popular dessert in our house. And because of that, I always have the essentials on hand to make it on a whim.
My husband happened to pick up a bag full of beautiful pears from our local fruit stand, but they started to ripen way quicker than we could eat them, so I decided to put them to good use and whipped up this Apple Pear Crisp over the weekend.
We love to serve Apple Pear Crisp with a scoop of vanilla bean ice cream and a drizzle of salted caramel sauce, but it's perfectly delicious on its own, or with a little dollop of homemade whipped cream.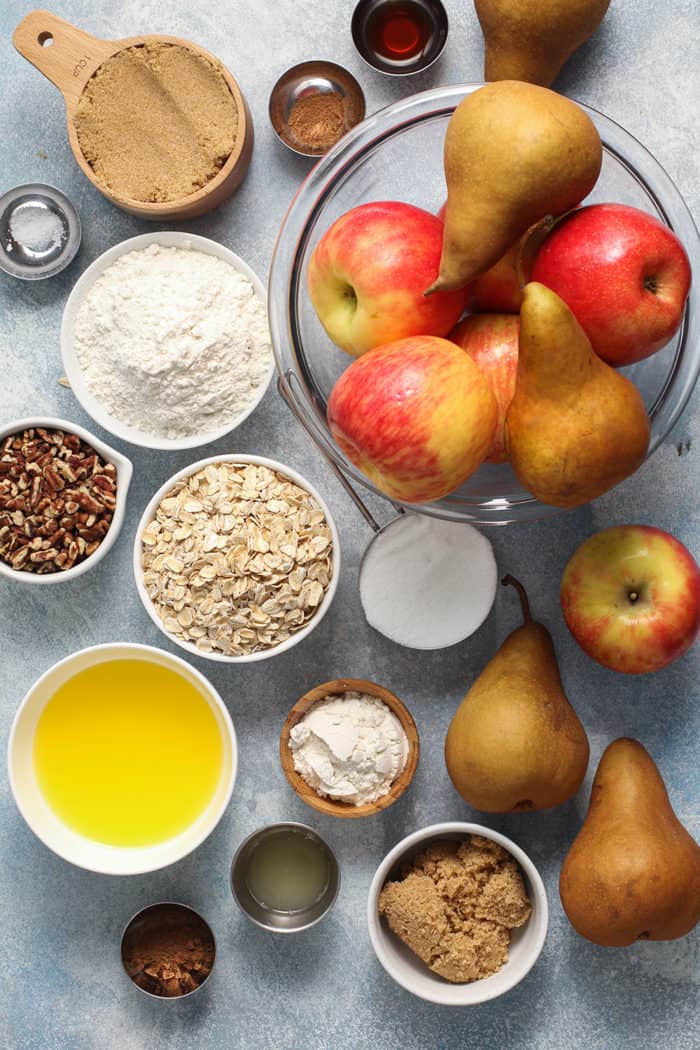 WHAT ARE THE BEST APPLES FOR MAKING THIS CRISP?
Even though this crisp recipe combines apples and pears together, using the right kinds of apples is just as important as if you were making Old-Fashioned Apple Crisp or Caramel Apple Crisp.
Actually, it might be more important because you want to choose an apple that pairs well with the soft, sweet pears.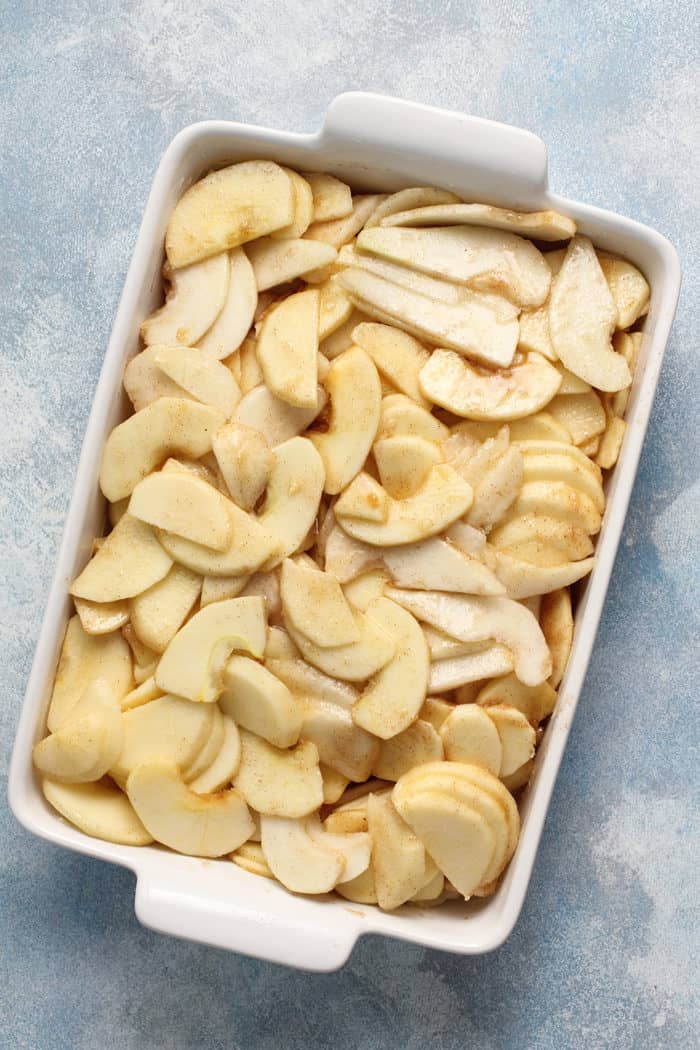 I like to use an apple that is super crisp and a little bit tart to balance the texture and sweetness of the pears. Granny smith, honeycrisp, and golden delicious apples are all a great choice here.
I would stay away from fuji or gala apples for this recipe. They are naturally a lot sweeter and not as crisp, so they could make the final crisp too sweet.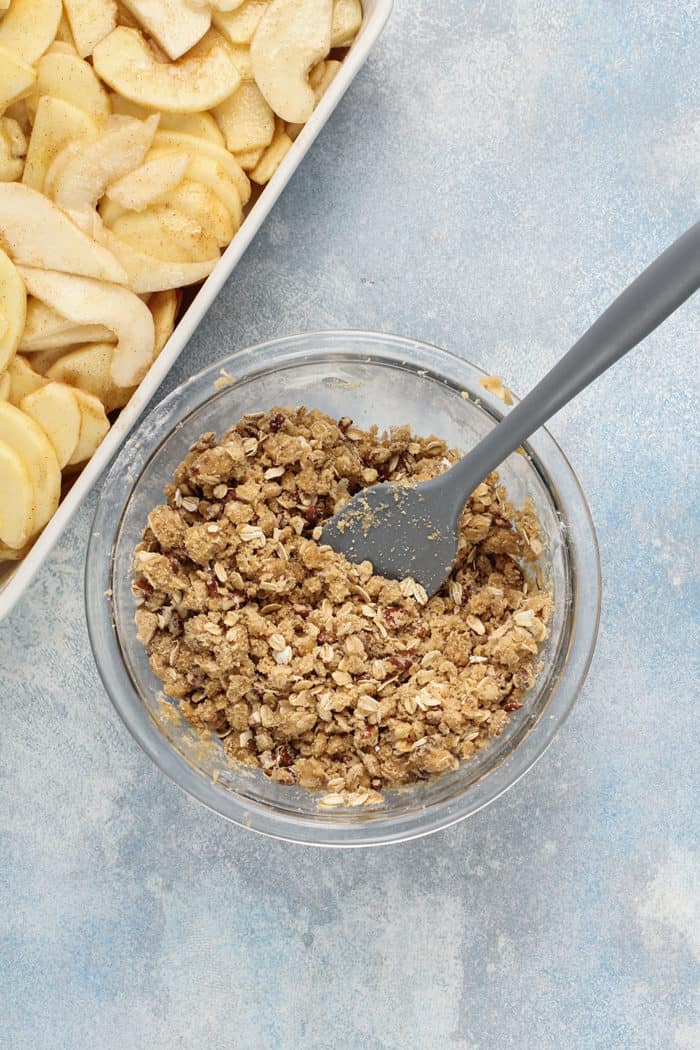 HOW TO MAKE APPLE PEAR CRISP
The filling for this Apple Pear Crisp uses just a handful of ingredients:
6 cups thinly sliced baking apples
4 cups thinly sliced pears
2 tablespoons lemon juice
½ cup granulated sugar
¼ cup brown sugar
3 tablespoons flour
1 teaspoon homemade apple pie spice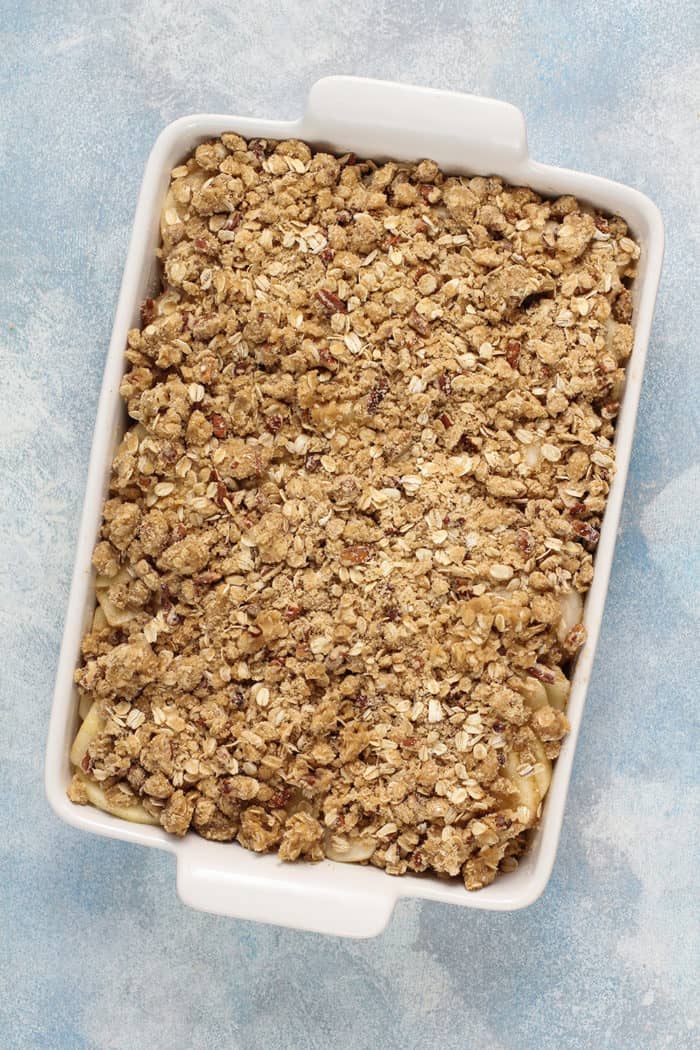 I like to use just a teaspoon of apple pie spice in the filling because I like to let the flavor of the fruit shine through. Too many spices covers up the flavor of the apples and pears. After all, we want an Apple Pear Crisp, not a cinnamon crisp!
Gently toss the filling ingredients together, pour it into a greased 13×9-inch baking dish, and set the filling aside while you prep the crisp topping.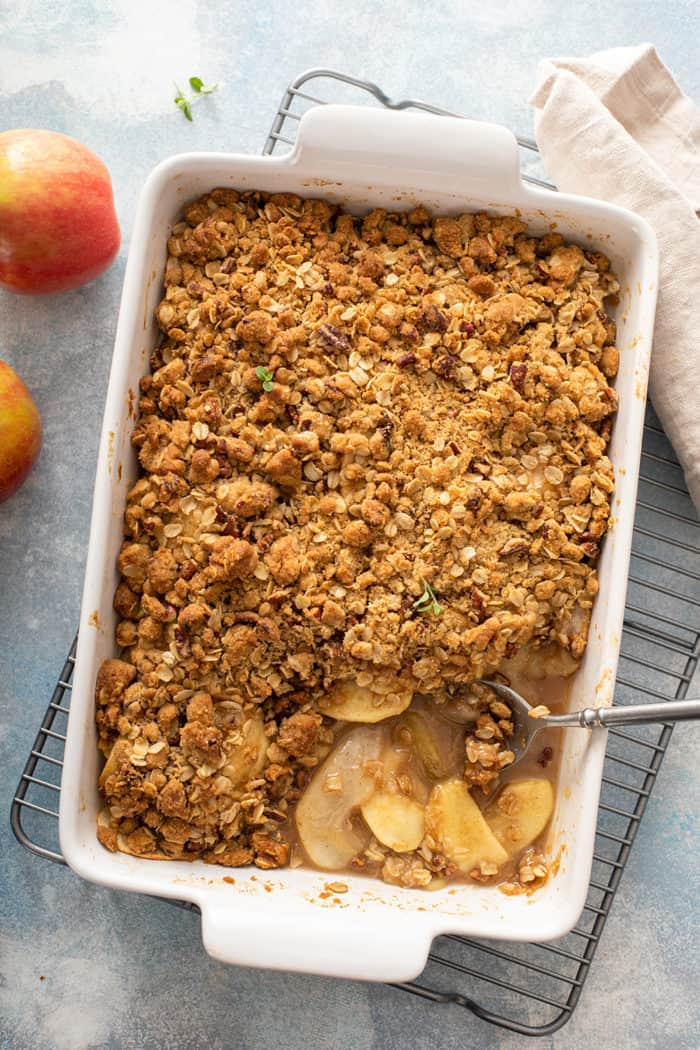 This topping uses melted butter, so you don't even have to wait for butter to soften to make this recipe. Simple stir together old-fashioned oats, flour, a bit more apple pie spice, brown sugar, a pinch of salt, pecan chips, melted butter, and vanilla extract.
As you stir the mixture, it will naturally start to form crumbs. Sprinkle these crumbs evenly over the filling and bake for 40-45 minutes.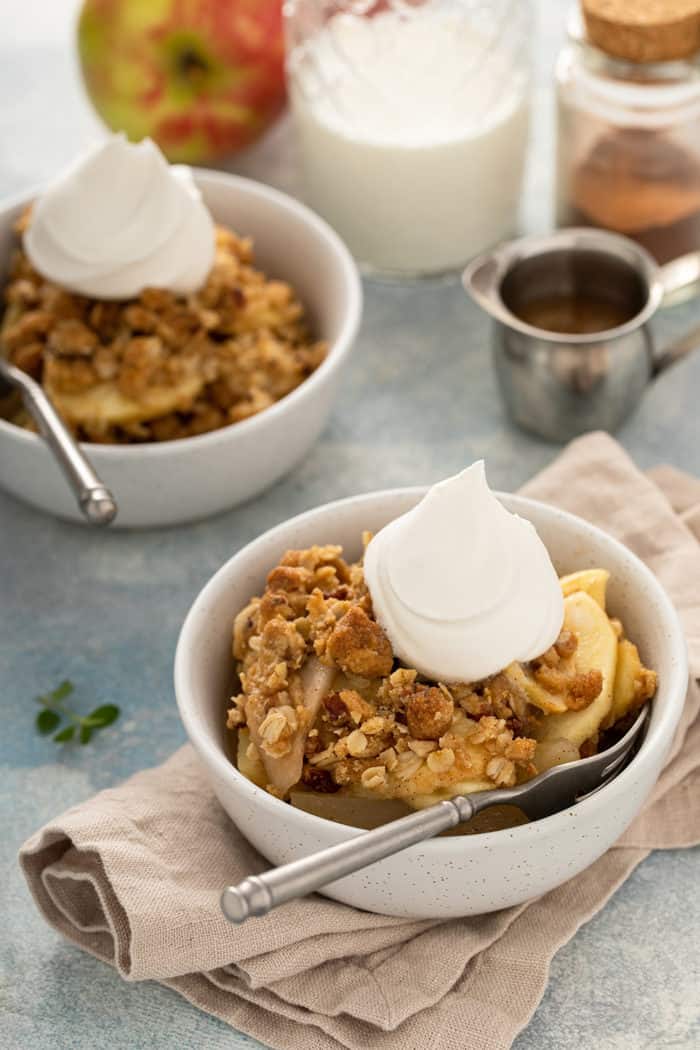 HOW CAN YOU TELL WHEN THE CRISP IS DONE?
Not sure how to tell when your Apple Pear Crisp is done? Look for a nice golden-brown color on the crisp topping and bubbling fruit all along the sides of the pan.
This doesn't just apply to apple crisps; it applies to all fruit crisps, such as Berry Crisp or Peach Crisp, as well!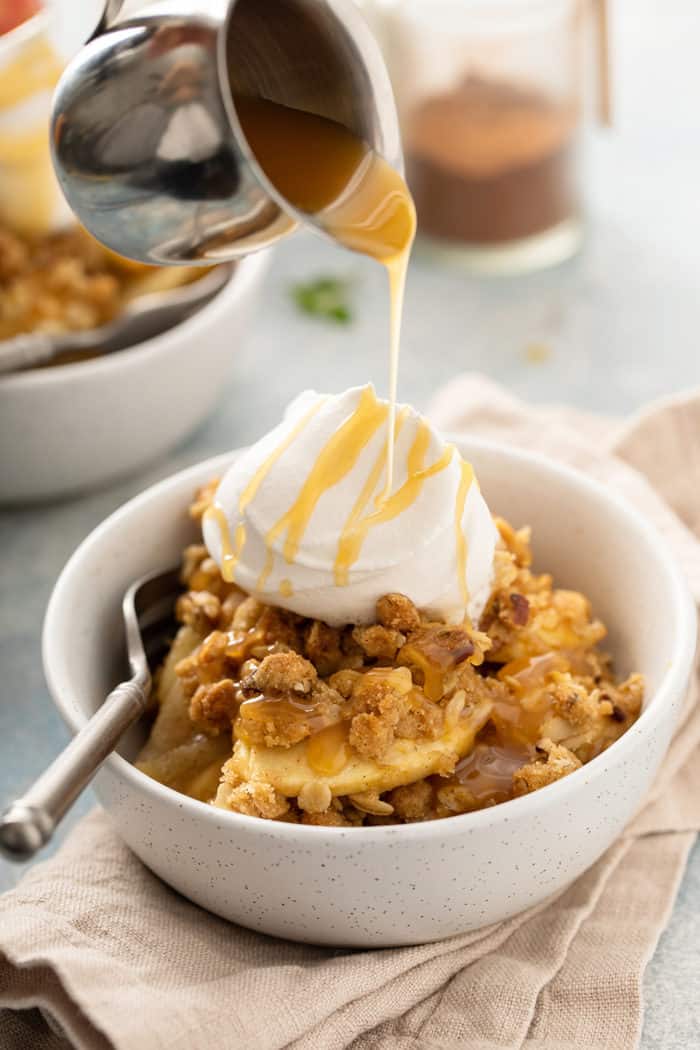 STORAGE TIPS
A lot of people are unsure if they should store Apple Pear Crisp at room temperature or in the refrigerator.
You can typically store crisps like this one covered at room temperature for up to 2 days. For longer storage, keep the crisp covered in the refrigerator for up to 5 days.
If you live in a hot and humid climate, or your kitchen tends to run warm and humid, I suggest storing it in the refrigerator unless you plan to eat the crisp within one day.