Normally at this time of year, spring is well underway. Temperatures are getting warmer, the tulips are starting to bloom and I come down with a serious case of spring dessert fever. But it snowed here this week and right now it's a balmy 40 degrees. So you can understand my seasonal confusion and totally get the fact that I'm still rocking Ugg boots and craving warm, comforting desserts like Apple Pear Crisp.
Brian and his friend Corey had been planning "Kobe Beef Night" for weeks, but much their dismay, the Kobe Beef they've been dreaming about wasn't available on the day they wanted to get their barbeque on.
Needless to say, they were bummed when their Wagyu cattle fantasy was replaced with Giant Eagle ribeyes. I thought I'd try to sweeten the situation and address my craving for a warm, hearty dessert with Apple-Pear Crisp.
I grabbed some apples and pears out of the fruit basket, sliced them up, added some sweetness, finished the fruit with a crumbly topping for texture, and I was in business. This crisp definitely hit the spot and, yes, it was good enough to make me forget about the miserable weather we have been having. Unfortunately, Brian and Corey continued to lament about "Kobe Beef Day".
What's the weather like in your neck of the woods? (I totally just channeled Al Roker!)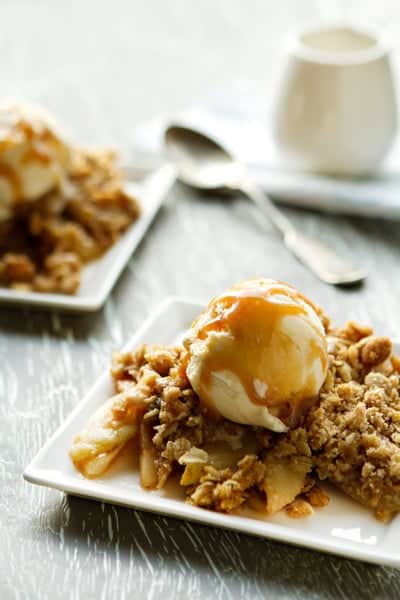 Apple Pear Crisp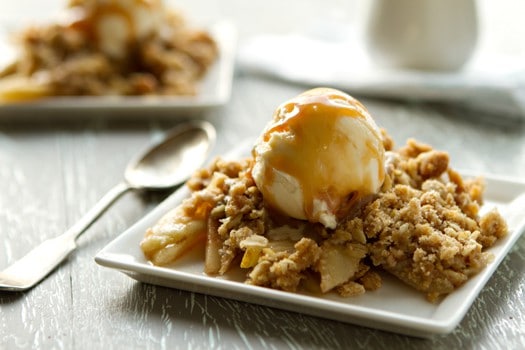 Ingredients:
For the fruit base
6 cups Granny Smith apples (about 6 large), peeled, cored and thinly sliced
4 cups pears (about 5 large), peeled, cored and thinly sliced
2 tablespoons freshly squeezed lemon juice
3/4 cup granulated sugar
1/4 cup light brown sugar
1 tablespoon all-purpose flour
1 teaspoon ground cinnamon
For the topping
1 ¼ cup old fashioned oats
1 cup all-purpose flour
½ teaspoon ground cinnamon
1 cup light brown sugar, lightly packed
1/2 cup butter, melted and cooled
1 teaspoon pure vanilla extract
Directions:
1. Preheat oven to 350 degrees F. Butter a 9x13 inch baking dish.
2. Prepare the fruit base: In a large mixing bowl, combine apple, pears and lemon juice; toss to coat. In a medium bowl mix granulated sugar, brown sugar, flour and cinnamon. Sprinkle sugar mixture over apples and pears tossing to coat. Pour apple pear mixture into prepared pan, spread into an even layer.
3. Prepare the topping: In a large bowl, combine the oats, flour, cinnamon, and brown sugar. Mix butter and vanilla together and pour over oat mixture; stir to combine. Crumble mixture evenly over the apples and pears.
4. Bake in preheated oven for 40-45 minutes or until the crumble topping it golden brown.
Serve warm. If desired, top with vanilla ice cream, caramel sauce, or whipped cream.
All images and text ©
Follow Jamie on Instagram. We love to see what you're baking from MBA! Be sure to tag @jamiemba and use the hashtag #mbarecipes!