This Berry Crisp is packed with an assortment of sweet berries and topped with a buttery oat crumble. A bit of orange zest in the filling puts this delicious summery crisp right over the top.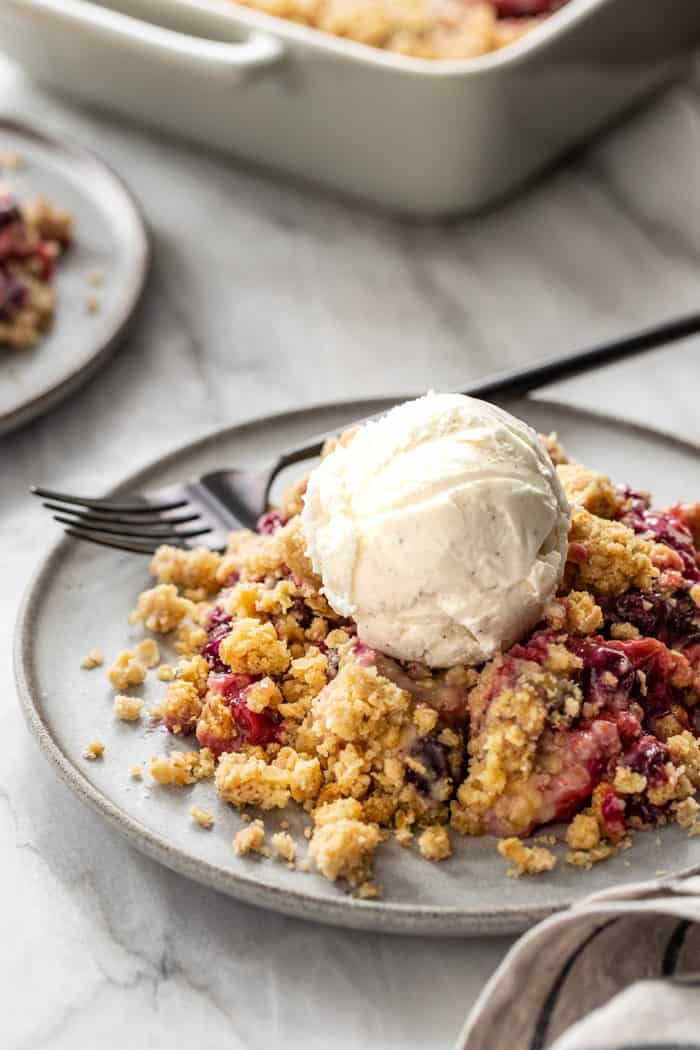 This post is sponsored by Challenge Butter. Thank you for continuing to support the brands that make My Baking Addiction possible.
It is finally starting to feel like spring here in Ohio. I'm pretty sure the last snowfall of the season is behind us – even though it was just last week. Elle did get a calamity day out of it because the snow was so heavy it knocked out power in various parts of the city.

Everything is finally starting to green up and heck, we even have a bunny nest in our backyard. And if a cute, fluffy mama bunny doesn't scream spring, I don't know what does.

Another great thing about spring is that my local grocery store is brimming with sweet, fresh berries that actually taste good. Every week we load up on strawberries, blueberries, raspberries and Elle's personal favorite – blackberries. All of which are absolutely perfect for this simple Berry Crisp.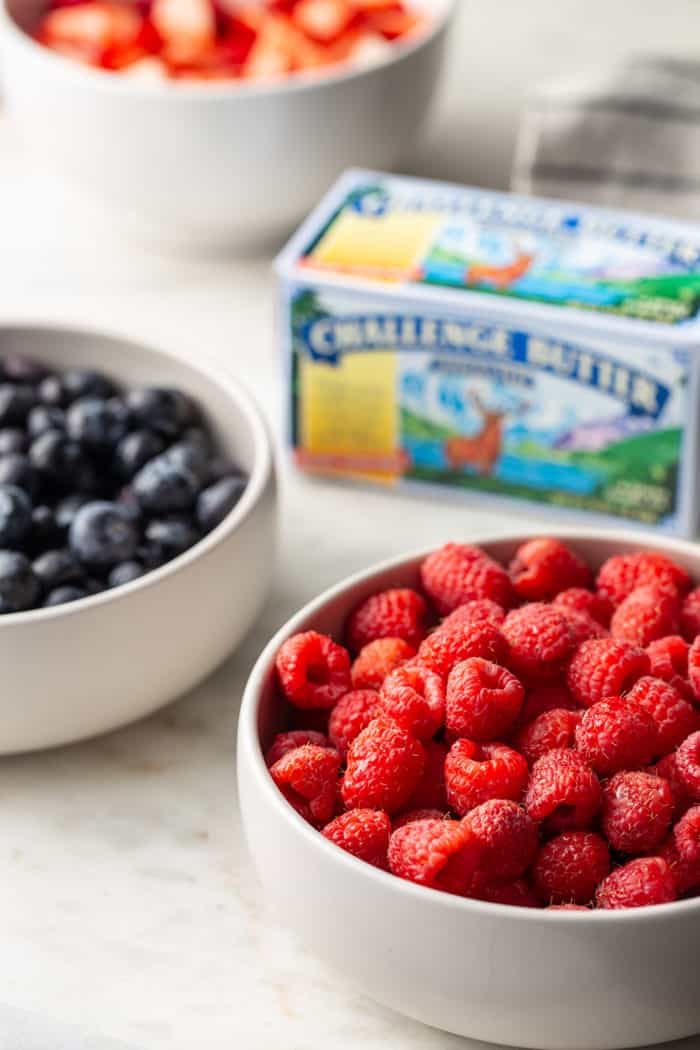 MY FAVORITE MIXED BERRY CRISP RECIPE
You all know how much I love cheesecake recipes and a good chocolate chip cookie recipe, but you might not know how much I love a good crisp recipe.
Sweet fruit topped with a buttery oat-packed crumble? So. Good.
I've shared my cherry crisp and old fashioned apple crisp recipes, but it was about time I shared my absolute favorite Berry Crisp with you.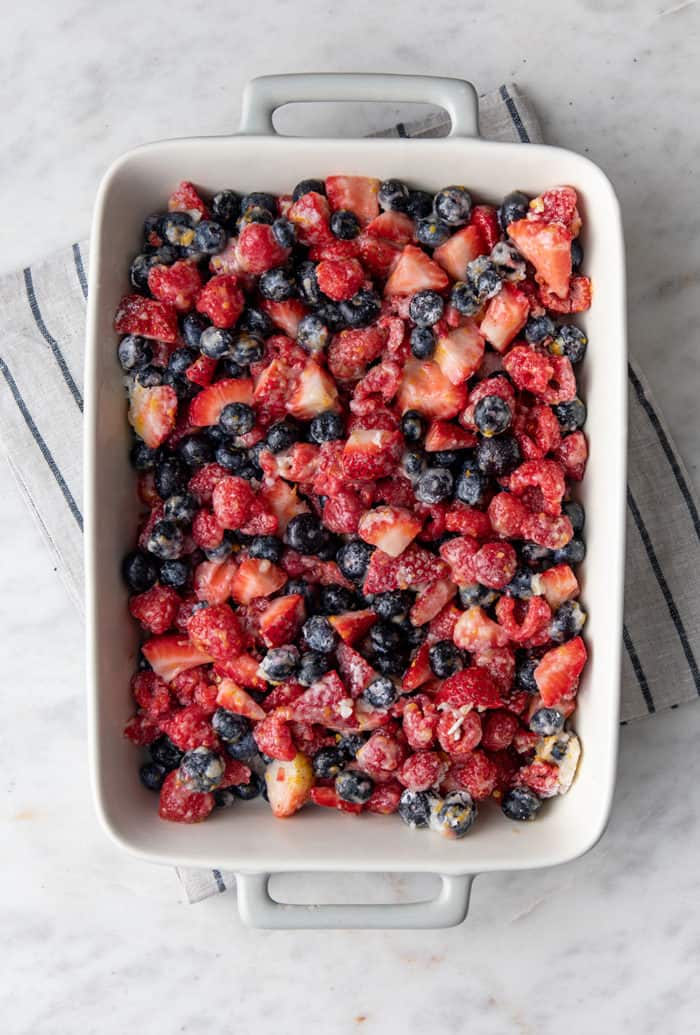 This recipe is packed with tons of fresh mixed berries. I typically like to use:
Blueberries
Blackberries
Raspberries
Strawberries
The great thing, though, is that you can use any berries you really love.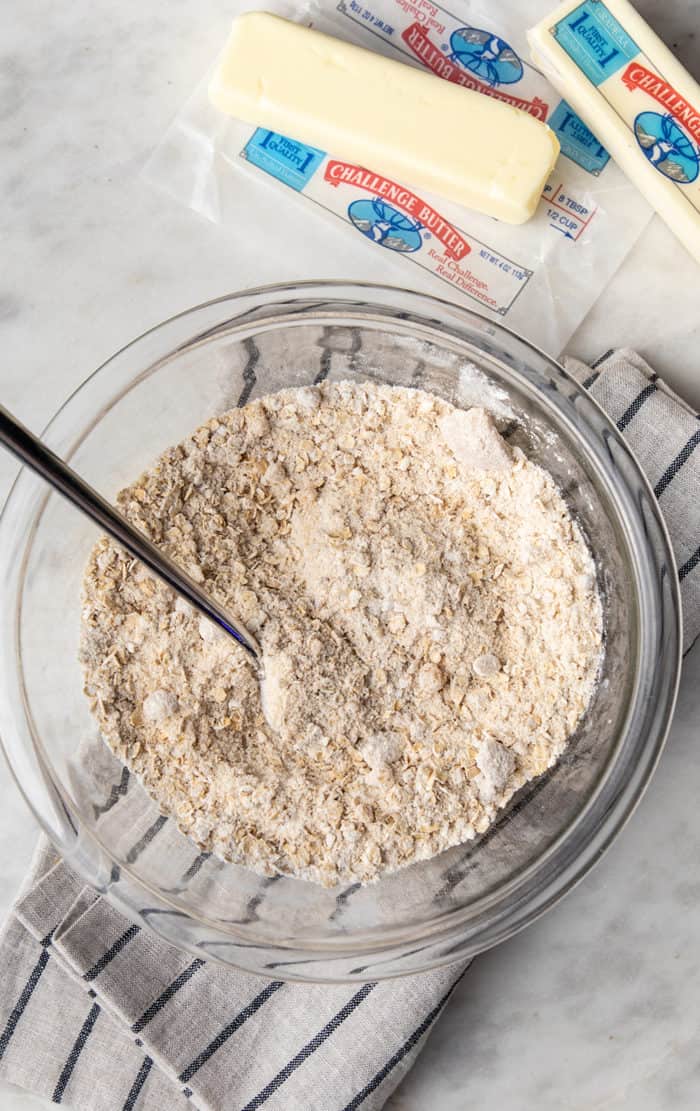 Don't like strawberries? Leave them out. Just want to use raspberries and blueberries? No problem. Want to add in some sweet cherries? Go for it!
And my secret ingredient for the filling? Orange zest! Just a bit of orange zest adds a bit of brightness and complexity to the fruit.
And don't even get me started on the crisp topping. Butter, oats, brown sugar…it's just too good.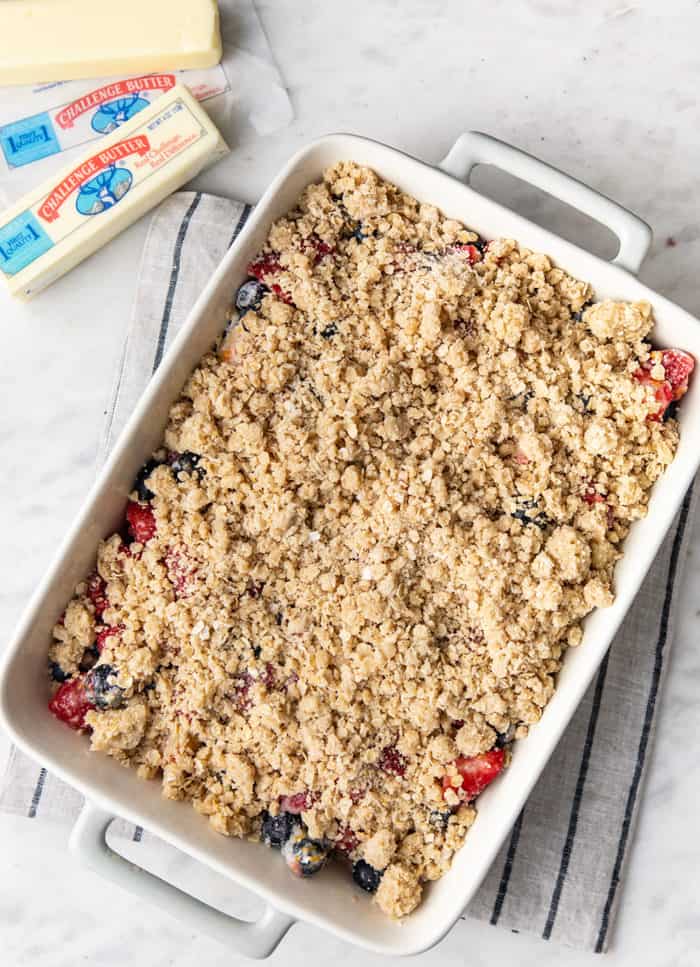 HOW TO MAKE THIS CRISP
This Berry Crisp is so easy to put together. Start by gently tossing together your mixed berries with some sugar, flour, and the orange zest. Pour this mixture into a 2-quart baking dish and set it aside.
Now it's time for the best part: the topping.
In a medium bowl, stir together flour, baking powder, baking soda, a pinch of salt, quick-cooking oats, and light brown sugar. Then drizzle in melted Challenge Unsalted Butter.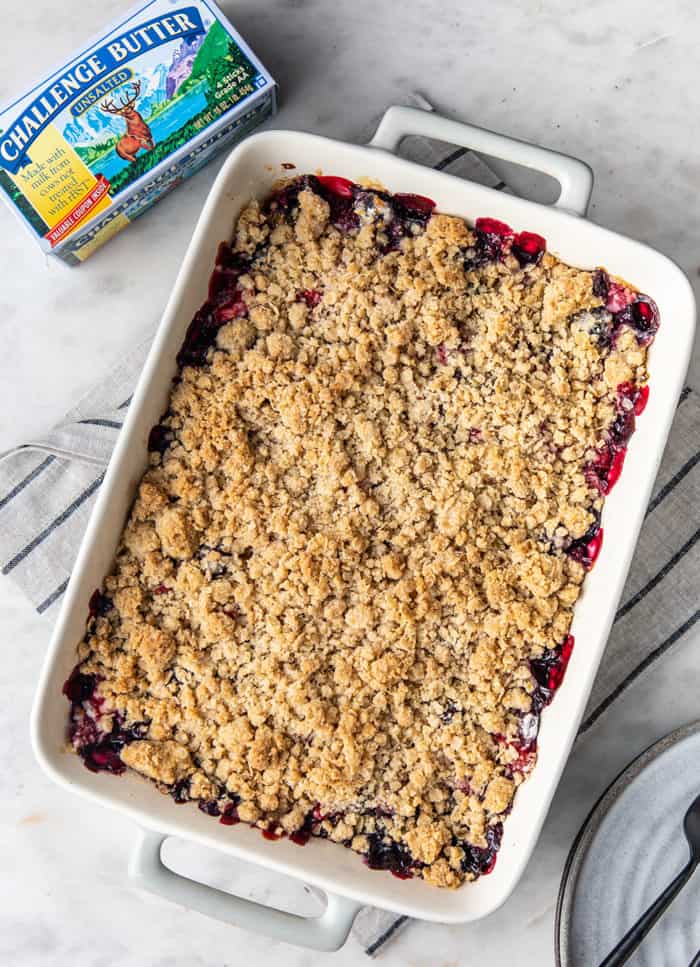 This recipe doesn't have a ton of ingredients, which means that every ingredient really adds to the flavor of the final crisp. That's why I use Challenge butter in my crisp topping.
Challenge butter is churned daily from the freshest milk and made without any artificial preservatives, fillers, or dyes, so it's my absolute favorite butter to bake and cook with. And the flavor? *Chef's kiss*
Mix the melted butter into the dry ingredients until they are well combined and crumbs are starting to form. Sprinkle the topping evenly over the fruit mixture.
Bake the crisp for 45-50 minutes. It's done when the topping is golden and the fruit is bubbling all around the edges of the baking dish.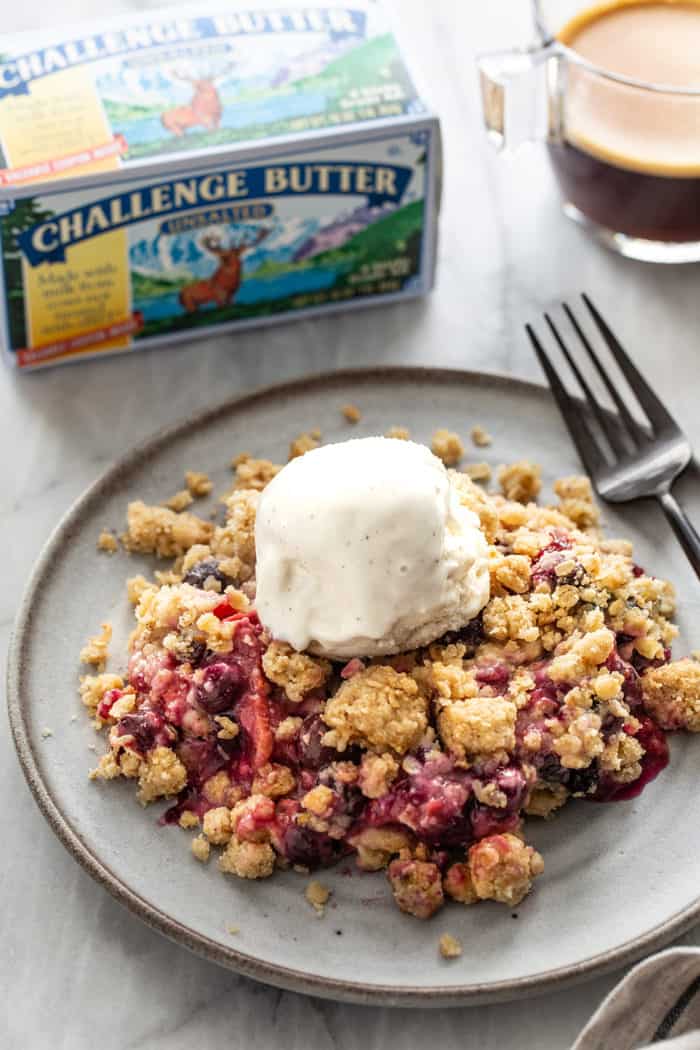 CAN YOU MAKE THIS RECIPE WITH FROZEN BERRIES?
Look, I know that fresh berries aren't always the easiest to find depending on where you live. Here in Ohio, fresh berries are pretty hit or miss in the winter.
Thankfully, you can use 32 ounces of frozen mixed berries in this recipe. Thaw the berries and, if they have given off a lot of juice, strain off most of the liquid before mixing them with the other ingredients.
I still prefer this recipe made with fresh berries, but sometimes I just don't want to wait until fresh berries are on sale to have homemade Berry Crisp!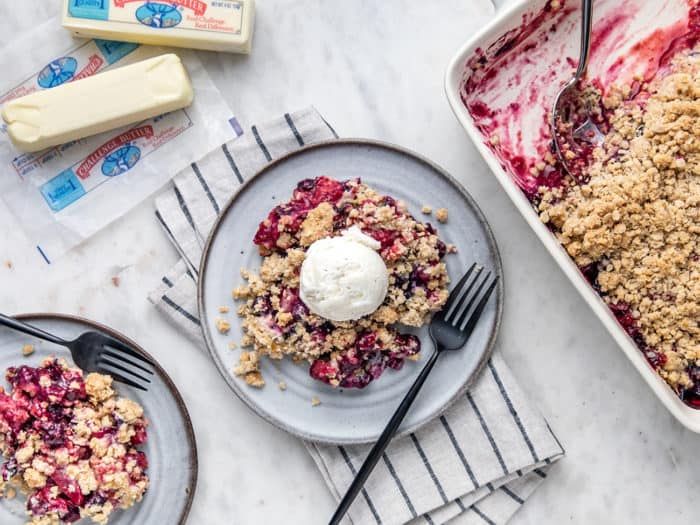 HOW TO STORE AND REHEAT BERRY CRISP
Berry Crisp is best the same evening it is made, especially if it is still a bit warm out of the oven. But you can store the cooled crisp, covered, at room temperature for up to 2 days.
Of course the crisp is best when it's warm, so I like to pop leftovers into the microwave for about 30 seconds before digging in. Topped with a scoop of vanilla ice cream? You'll be in Berry Crisp heaven.