A simple berry crisp made with fresh strawberries, blueberries and raspberries creates the perfect summer dessert.
I feel like it's officially Summer. The temps are soarin' and there's ample sunshine followed by crazy thunderstorms – all signs of Summer in Ohio. I always feel like my life gets a lot simpler at this time of year. I'm off of work, flips flops and tee shirts become wardrobe staples and I'm perfectly content with a big bowl of fruit for dinner – especially if berries and juicy watermelon are involved. Confession – I'm totally a watermelon salter, but that's a topic for a completely different day.
I've mentioned before that Eric and I subscribe to an organic produce delivery service, and last week I found myself overdoing it in the berry department. I went on a bit of a berry eating binge, but still had gobs of them hanging out in the fridge. Since we already had a bowl of Fruit Salsa on hand, I put the rest of the berries to good use by throwing together a super simple and mighty delicious berry crisp.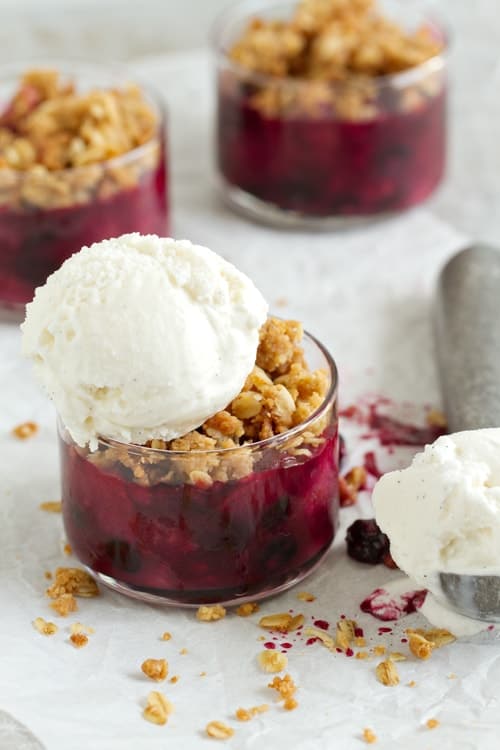 Loads of fresh strawberries, blueberries, and raspberries combine with a sweet and crunchy crisp topping to make an easy breezy dessert that just screams Summer. Served family style, it's perfect for a backyard barbecue, with a scoop of ice cream – of course. And you can even fancy it up a bit by presenting them in cute, glass dishes with mini dessert spoons.
After making this crisp twice in one week – yes, twice – I resorted to scooping some of it over plain yogurt for breakfast. That totally makes it healthy, right? I mean, there is yogurt involved! I also decided that I need to make more crisps because that topping is the stuff dreams are made of – seriously, I wanted to eat it like granola!
For more berry inspiration, check out these recipes:
S'mores Trifles
Strawberry Oatmeal Bars
Strawberry Mojito Slushies
Berry Crisp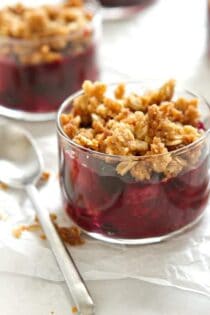 Ingredients:
4 cups fresh berries (I used sliced strawberries, blueberries and raspberries)
1/3 cup sugar
1/2 teaspoon pure vanilla extract
2 tablespoons all-purpose flour
For the Crisp Topping
1/2 cup packed light brown sugar
1/2 cup all-purpose flour
1/2 teaspoon ground cinnamon
1/2 cup quick cooking oats
1/3 cup cold unsalted butter, diced
Directions:
1. Preheat oven to 350&degF. Butter an 8-inch square baking dish.
2. In a large bowl, gently combine the berries, sugar, and vanilla. Sprinkle flour over berries and gently stir to coat the berries. Add berry mixture to prepared pan.
3. Make the Crisp Topping: In a medium bowl, combine light brown sugar, flour and cinnamon. Use a pastry cutter or two forks to cut the butter into the dry ingredients until the mixture is crumbly in texture. Stir in oats. Sprinkle crisp topping over berries mixture.
4. Bake in preheated oven for 30 minutes or until the berry filling is bubbling and the crisp topping is golden brown. Serve warm with a scoop of vanilla or lemon ice cream.
Notes:
- Berry crisp is best served warm the day it is made.
- I served my berry crisp in small glass bowls. For presentation purposes, I baked my berries and crisp topping in separate baking dishes and assembled the two components before serving.
All images and text ©
Follow Jamie on Instagram. We love to see what you're baking from MBA! Be sure to tag @jamiemba and use the hashtag #mbarecipes!