I have really never been a fan of warm fresh fruit desserts, I don't loathe them, but they are just not my favorite. I find them to be a tad mushy and feel they often need an additional textural component like a
crunchy topping on an apple pie
or
crisp crust enveloping sweet summer cherries
.
However, I have never tried a cobbler and this peach cobbler recipe has changed my mind and made me a true believer of all things warm, sweet and fruity. My local market had gorgeous peaches on sale last week, so of course I picked up a huge bag with no plan in mind. I'm a sucker for a sale on fresh fruit…it's the using it before it goes bad that I struggle with!
After tossing around a couple of ideas, I decided to make a peach cobbler for my favorite neighbor, Rose. She lets our pups out during the school year and is all around a fabulous person with a love for fruit desserts. I took her over the cobbler with a pint of vanilla ice cream and received a phone call an hour with rave reviews!
After I made this recipe for Rose, Brian was a little jealous, so I ended up whipping together another one over the weekend. This recipe is so easy, you'll want to make it all summer long.
Random Notes:
If you plan on making this recipe and need a gorgeous new knife to slice your peaches, check out my giveaway for a New West KnifeWorks Santoku Knife.
Also, My Baking Addiction has been nominated for a BlogLuxe award in the area of "Best Eye Candy" blog. I would love if you took a minute to check it out and vote.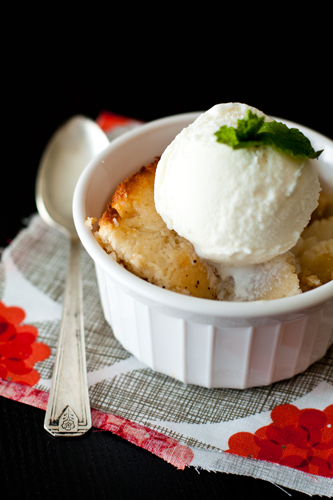 Peach Cobbler
Ingredients
2 cups peeled, sliced peaches (this was 5 medium peaches for me)
1 cup sugar, divided use
1/4 cup water
4 tablespoons butter
3/4 cup self-rising flour*
1/4 teaspoon Kosher salt
1/2 teaspoon pure vanilla extract
3/4 cup milk
Ground cinnamon, optional
Directions
1. Preheat oven to 350 degrees F.
2. Combine the peaches, 1/2 cup sugar, and water in a saucepan and mix well. Bring to a boil and simmer for 10 minutes. Remove from the heat.
3. Put the butter in a 1.5 quart baking dish and place in oven to melt.
4. Mix remaining 1/2 cup sugar and salt and flour until thoroughly combined. Whisk in vanilla and milk slowly to prevent clumping. Pour mixture over melted butter. Do not stir. Spoon fruit on top and gently pour in syrup. Again, do not stir. Sprinkle top with ground cinnamon, if using. Batter will rise to top during baking. Bake for 30 to 45 minutes.
Notes:
-To serve, scoop onto a plate and serve with your choice of whipped cream or vanilla ice cream.
– *You MUST use self-rising flour, or this recipe will not work. If you do not have self-rising flour, simply add ½ teaspoon of baking powder to your all-purpose flour.
Adapted from Paula Deen