No-Bake Peach Cheesecakes capture everything there is to love about summer. Sweet peaches, crunchy pecans, and no need to bake a thing!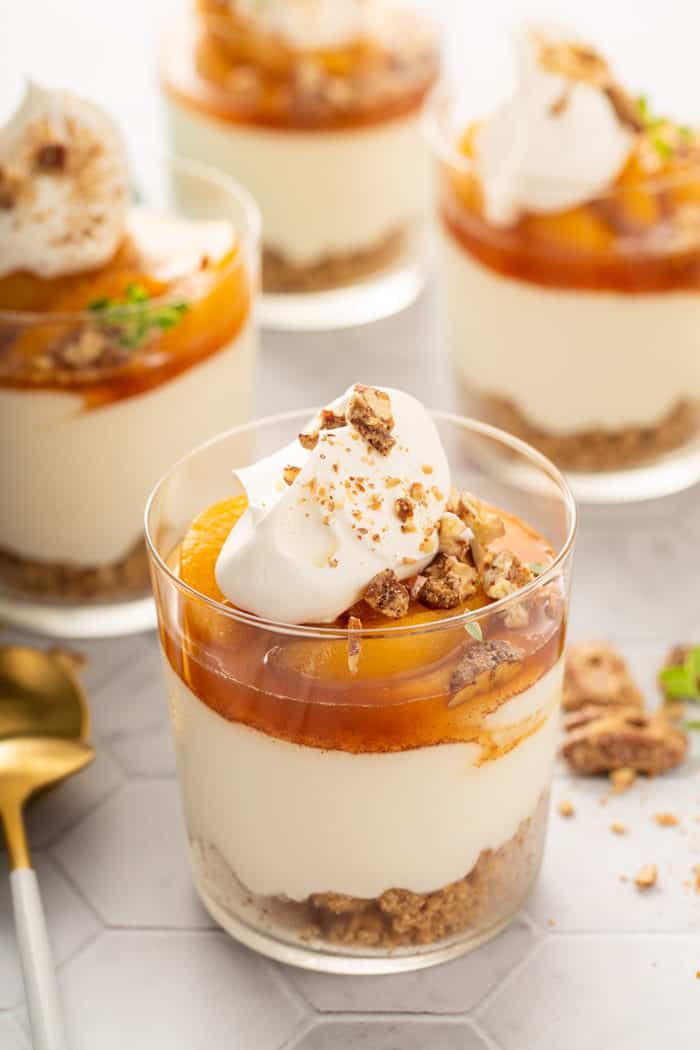 Have you ever gotten peaches from The Peach Truck? We're big peach fans in this household and we've never had better peaches than the ones we've purchased from them. Only this year, they didn't come to our town, so we opted for home delivery.
Having peaches delivered to your doorstep might seem a bit over-the-top considering you can walk into any grocery store and grab them, but I promise you, these peaches are different. They're the most fresh, flavorful, juicy, perfectly sweet peaches we've ever had. And their signature peach jam makes one heck of a PB&J.
You can make make this No-Bake Peach Cheesecake with frozen peaches – no problem, but if you can get your hands on some gorgeous, ripe, fresh peaches, that's totally the way to go.
A PERFECT SUMMER CHEESECAKE RECIPE
It's no secret I love cheesecake recipes. I've proven that time and again, and no-bake cheesecake even more so.
There are plenty of them here on My Baking Addiction. No-Bake Raspberry Lemon Cheesecake, No-Bake Strawberry Lemonade Cheesecakes, No-Bake Cranberry Cheesecakes…just to name a few.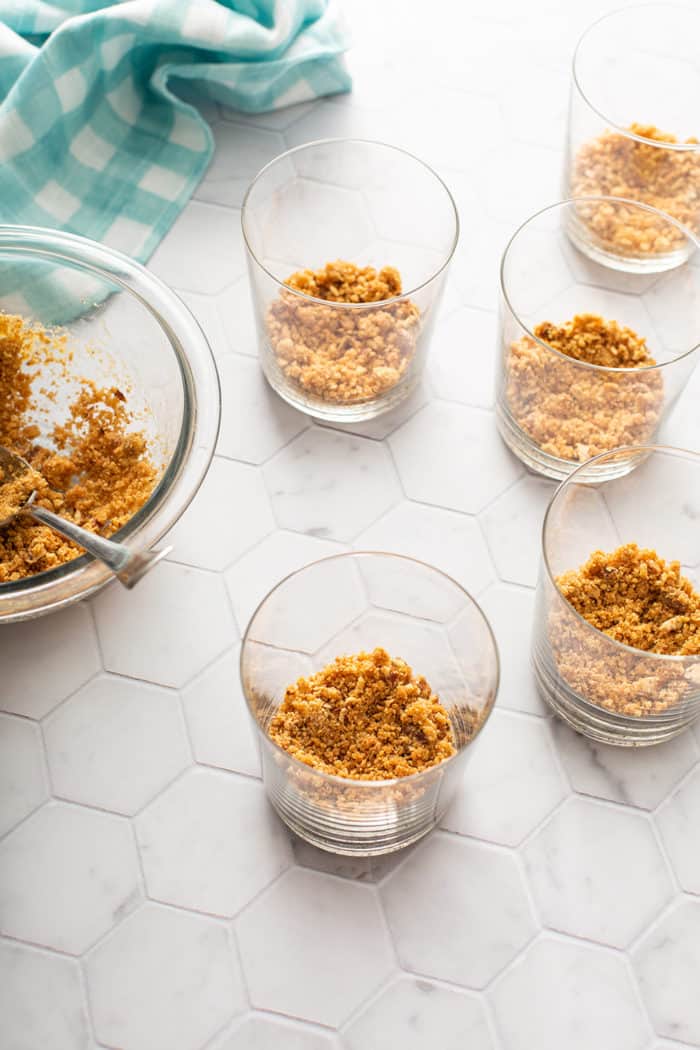 But I can't quit making them, so I sure hope you're not done eating them either.
This time I'm back with a flavor combination that I personally think epitomizes summer: peaches and pecans.
I might not be from the south, but let's pretend I am, just for a minute. These two crops grow from Georgia to Texas and back again, and I just love them.
Add them to cheesecake, especially a cheesecake where I don't have to turn the oven on? And I might just swoon on ya.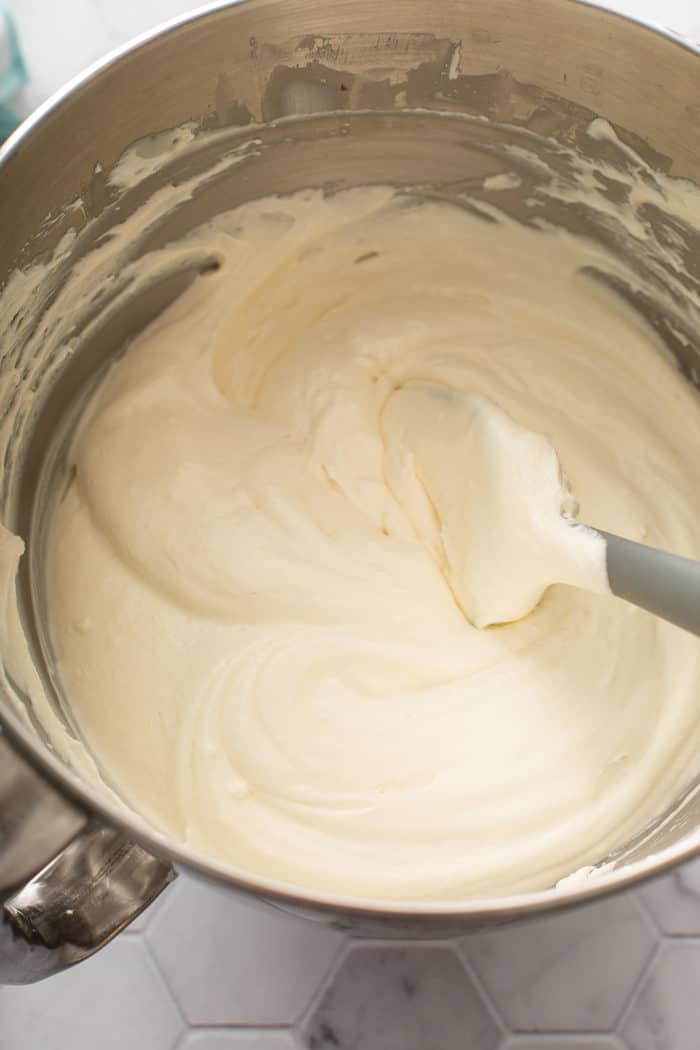 (That's a thing Southern women do, right? Swoon?)
I personally really love the flavor of pecans with just about anything, and peaches are no exception. I've used them in the crust here, and also garnished each cheesecake with Candied Pecans.
But the best part of these little cheesecakes? The peach compote that tops the no-bake cheesecake filling.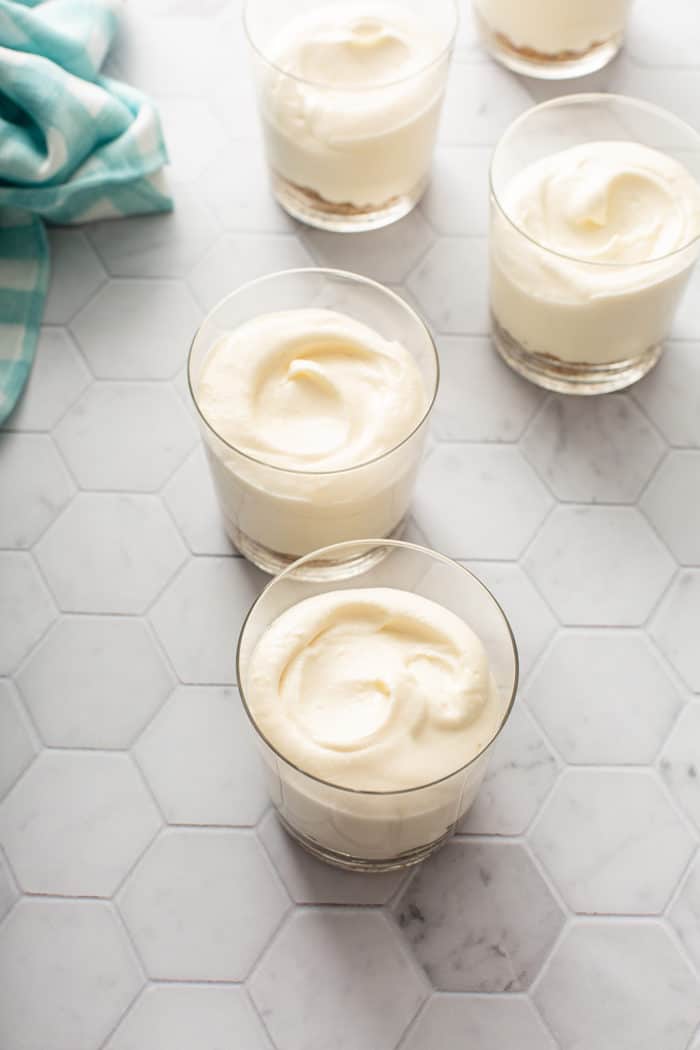 WHAT IS PEACH COMPOTE?
A fruit compote is just pieces of fruit cooked down on the stove with a bit of water, sugar, and spices.
The result is a delicious fruit sauce that can be used in so many different ways.
This peach compote is one of the easiest things you'll ever make, and you'll love it on more than these No-Bake Peach Cheesecakes. Think on top of mascarpone pancakes or waffles, as a crepe filling, or even on Overnight French Toast Casserole.
It's amazing with coconut pecan granola or even inside a Bisquick biscuit. Breakfast or dessert is your call.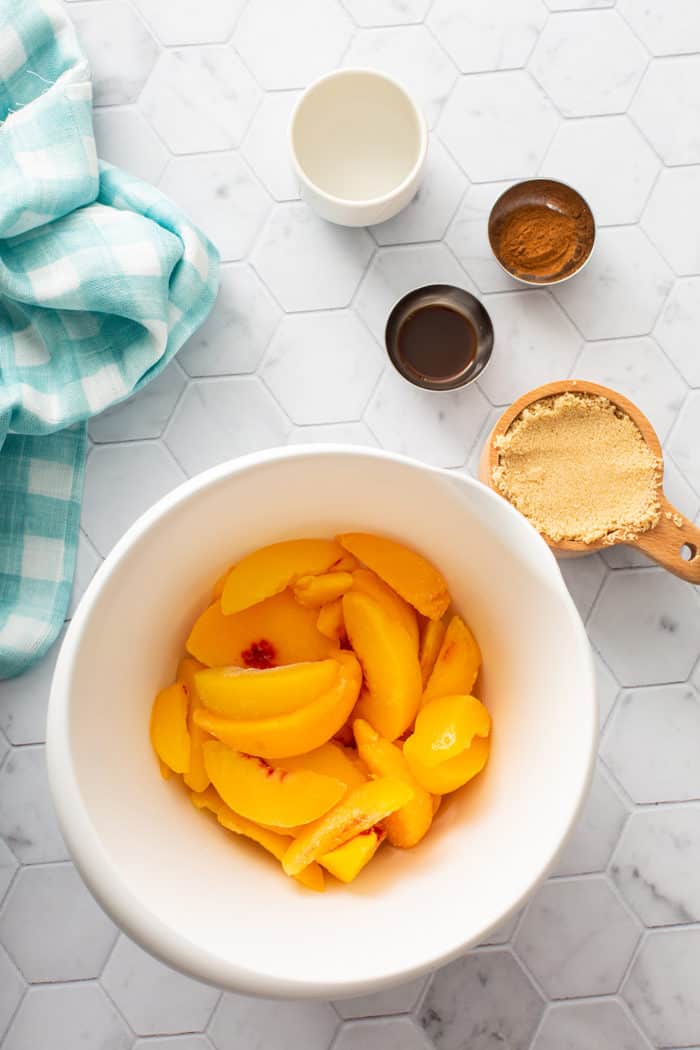 HOW TO MAKE THESE NO-BAKE PEACH CHEESECAKES
There are a few components you'll make for these No-Bake Peach Cheesecakes:
Graham cracker and pecan crust
No-bake cheesecake filling
Peach compote
You could do a standard graham cracker crust for these cheesecakes, but this pecan-loaded crust is so good. Just stir together the crust ingredients and divide it between 8 small serving dishes.
For the filling, beat the cream cheese in a stand mixer for 3 minutes, then slowly drizzle in the sweetened condensed milk and the vanilla extract. Mix for another 1-2 minutes.
Grab a spatula and fold in the thawed whipped topping. Spoon or pipe the cheesecake filling over the prepared crusts, then pop them into the refrigerator.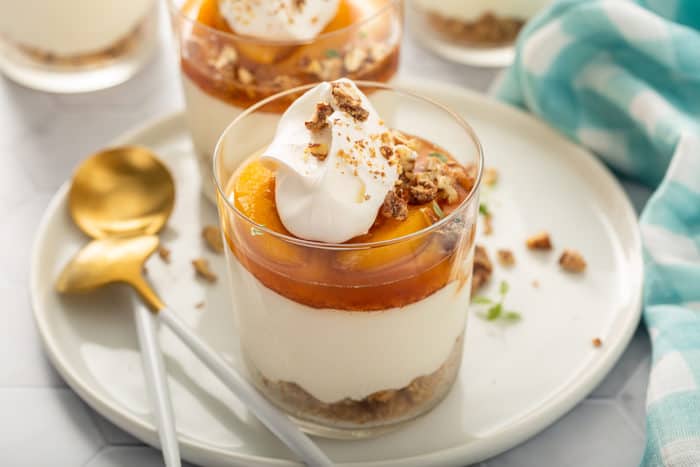 To make the peach compote, stir together all of the compote ingredients in a saucepan over medium-low heat. Cook over low heat for about 15-20 minutes until the liquid has reduced and thickened.
Let the compote cool completely, then chill in the refrigerator until you're ready to serve the cheesecakes.
Once you're ready to serve, top each cheesecake with some of the peach compote and a dollop of whipped topping or homemade whipped cream. Garnish with some candied pecans – either my homemade ones or some you pick up from the store.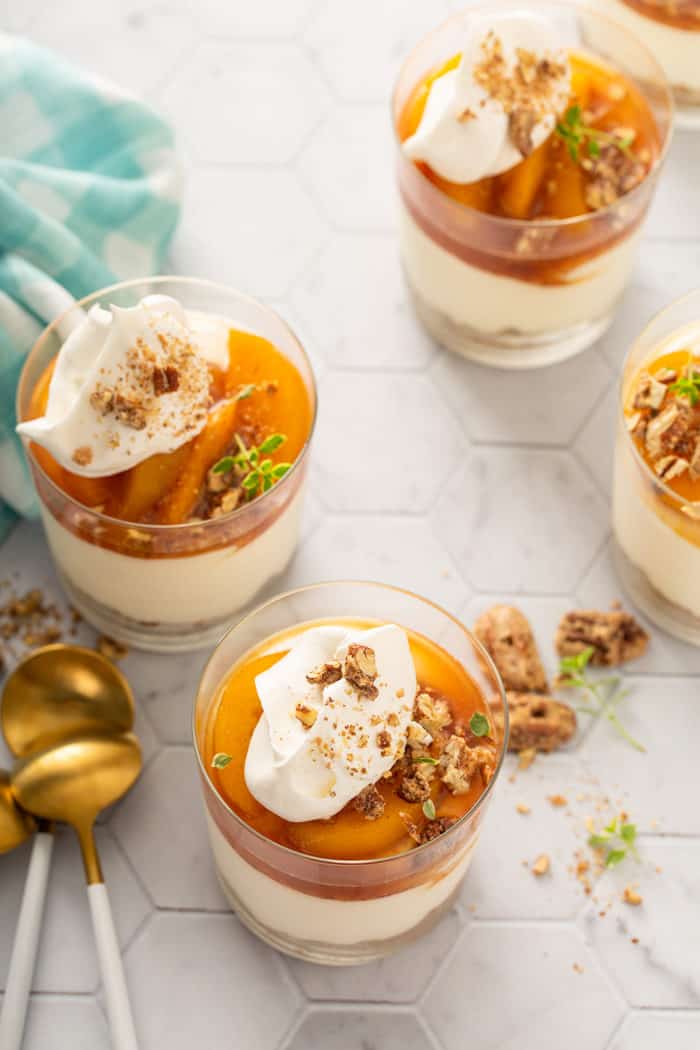 CAN THESE NO-BAKE CHEESECAKES BE MADE AHEAD?
You could make these cheesecakes 1-2 days ahead of time. Simply prep the crusts and top with the filling, cover and refrigerate. Make and store the peach compote in an airtight container, and keep the candied pecans in a container on the counter.
Assemble the cheesecakes before serving and voila! You're ready to go.
If you're transporting these sweet little desserts to a party, take them in mason jars. Then you don't have to worry too much about whether your containers come home with you, and they look ADORABLE.
Enjoy No-Bake Peach Cheesecakes with your favorite people, my friends. There's no time like the present to savor summer.