No Bake Peach Cheesecake captures everything there is to love about summer. Sweet peaches, crunchy pecans, and no need to bake a thing!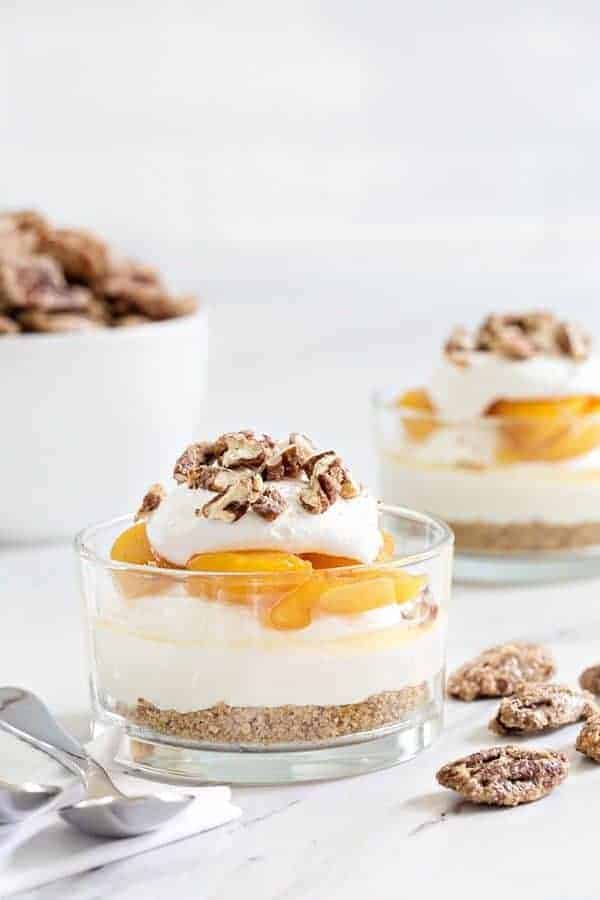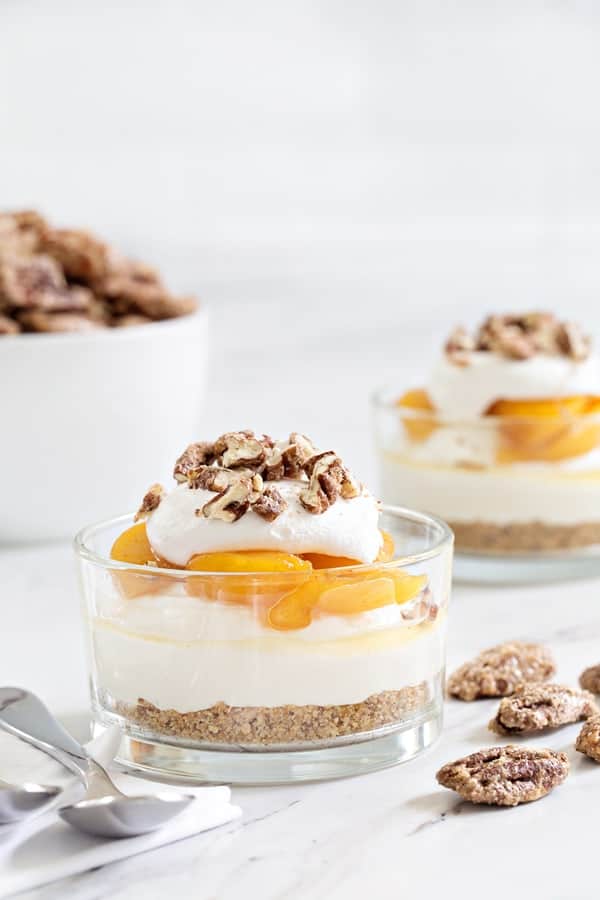 This is post is sponsored recipe development on behalf of Fisher Nuts. Thank you for continuing to support the brands that make My Baking Addiction possible.
It's no secret I love a cheesecake. I've proven that time and again, and mini cheesecakes even more so. There are plenty of them here on My Baking Addiction.
But I can't quit making them, so I sure hope you're not done eating them either.
This time I'm back with a flavor combination that I personally think epitomizes summer: peaches and pecans.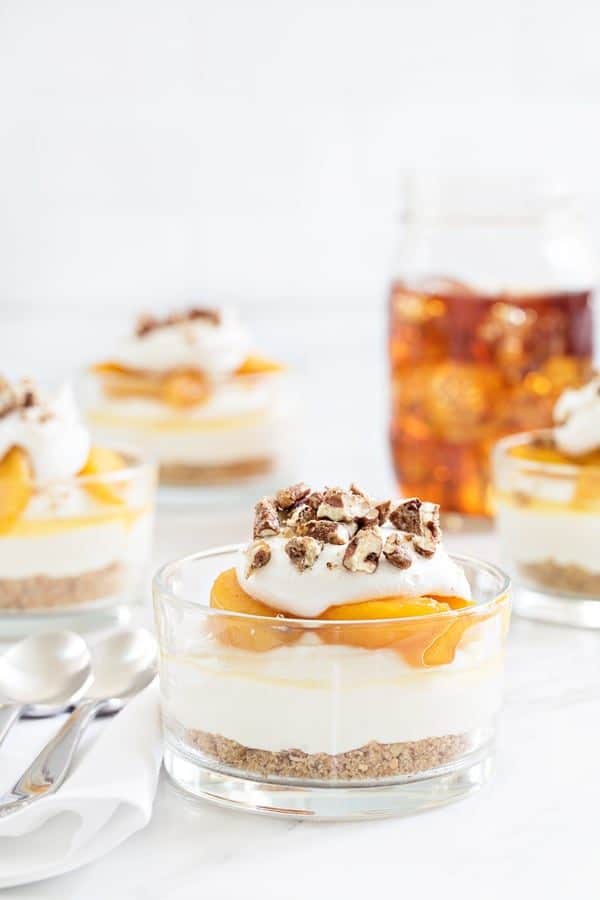 I might not be from the south, but let's pretend I am, just for a minute. These two crops grow from Georgia to Texas and back again, and I just love them.
Add them to cheesecake, especially a cheesecake where I don't have to turn the oven on? And I might just swoon on ya.
(That's a thing Southern women do, right? Swoon?)
My friend Amber and I were talking about this recipe the other day, and she mentioned that pecans remind her of her childhood because she used to harvest them in her grandma's backyard all fall long, and her grandma kept them in the freezer for using throughout the year.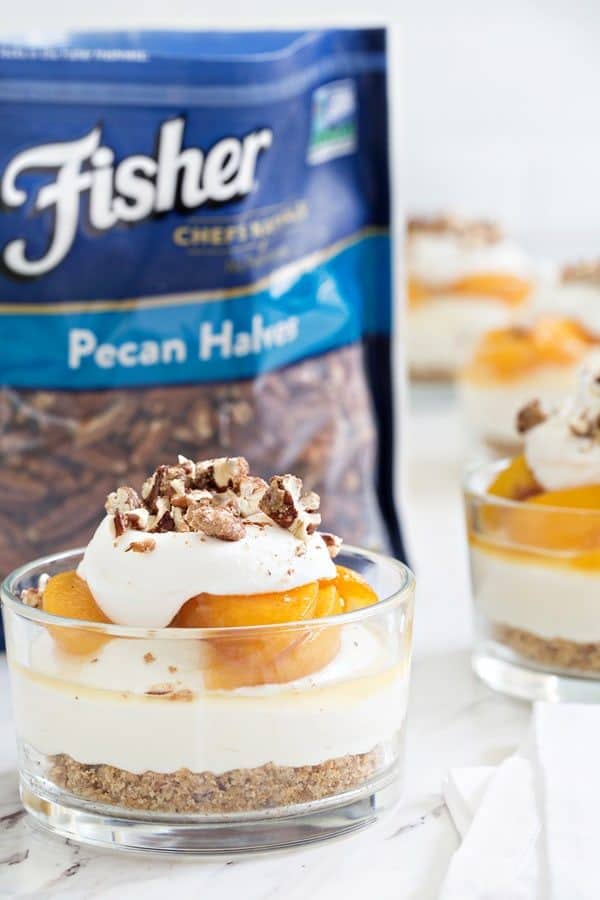 I'm all for that, but since I don't have a pecan tree, and definitely don't have that kind of freezer space, I rely on Fisher Nuts to provide fresh pecans with no preservatives whatsoever. Pecans that taste just like nature intended.
They store easy in my pantry with zip-tight bags, and I always know which nuts I have in stock by their easy to read labels. I use nuts in a lot of my baking, so this is key.
I personally really love the flavor of pecans with just about anything, and peaches are no exception. I've used them in the crust here, and also garnished each cheesecake with Candied Pecans. Don't miss the recipe for those!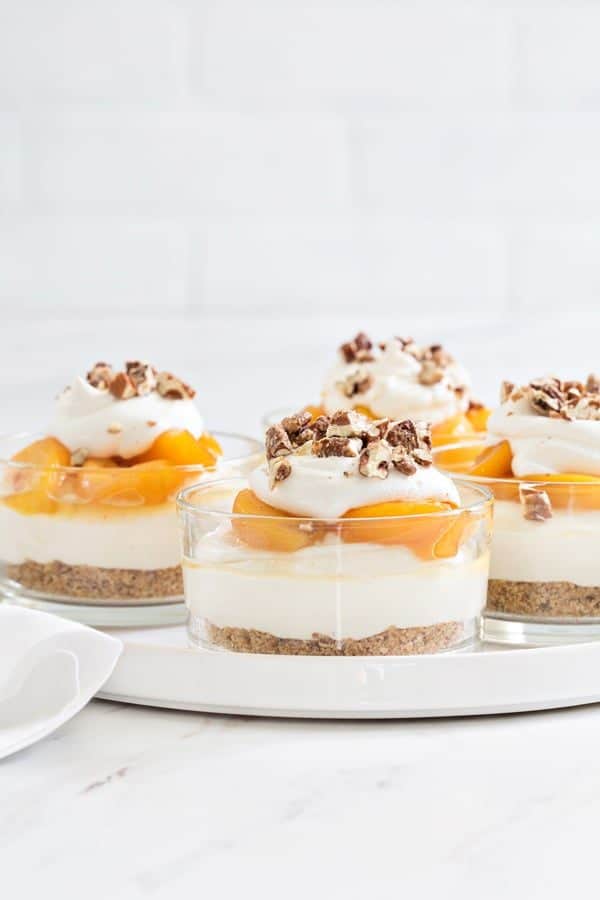 Peach compote is one of the easiest things you'll ever make, and you'll love it on more than No Bake Peach Cheesecake. Think pancakes or waffles, crepe filling or French toast filling.
It's amazing with granola and these candied pecans, or even inside a biscuit. Breakfast or dessert is your call.
I think you'll really love this no-bake cheesecake filling too. It's light and creamy, and will stand up to any toppings you want to throw at it.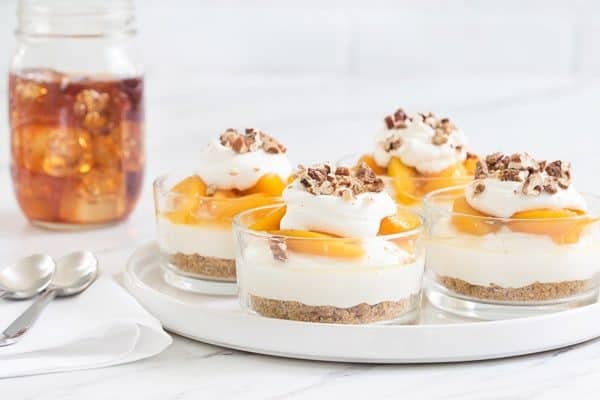 Think ganache or candy pieces, strawberries, cherries, or even cookies. I've been known to polish an Oreo Cheesecake off pretty quickly, is what I'm saying.
If you're transporting these sweet little desserts to a party, take them in Mason jars. Then you don't have to worry too much about whether your containers come home with you, and they look ADORABLE.
Enjoy No Bake Peach Cheesecake with your favorite people, my friends. July is nearly here, and with it, half the summer is gone already.
This is a sponsored conversation written by me on behalf of Fisher nuts. The opinions and text are all mine.