No Bake Raspberry-Lemon Cheesecake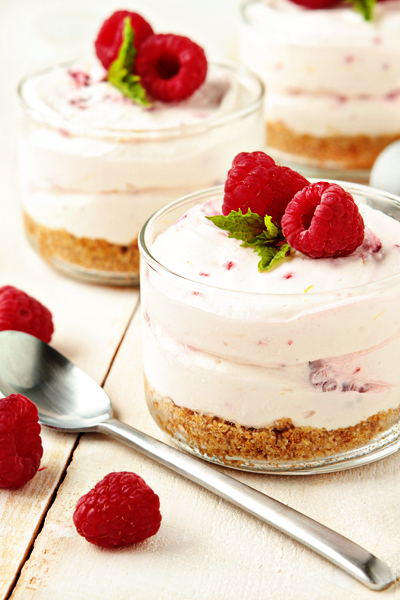 Do you ever meander aimlessly through the grocery store and just toss stuff into your cart with the thought that you'll find something creative to do with it? This pretty much happens to me all the time. Sometimes it's a good sale that lures me in and other times it's a new product or funky named spice that I just have to try.
Last week on one of my multiple shopping trips I encountered a sale on Cool Whip. Although I typically use Reddi-wip – (yes, I'm guilty of squirting it in my mouth directly from the can) or make my own whipped topping, sometimes I get a random hankering for Cool Whip. I used to be obsessed with spreading a layer of it between two chocolate graham crackers and freezing them to create homemade faux ice cream sandwiches. Trust me, it's tasty.
I was fresh out of chocolate graham crackers, but in need of a quick dessert to accompany a little impromptu cookout we had – so I thought I'd put the Cool Whip to good use and make a simple, fluffy, no-bake cheesecake. After a quick survey of my overflowing fridge, I decided to add some fresh raspberries and lemon zest that gave this no-bake cheesecake a the perfect amount of brightness. Plus, it added a slightly pink hue to the mixture that was just lovely for presentation.
In about 15 minutes, you can whip up this light, fluffy no bake cheesecake dessert that's perfect for a weeknight meal, but elegant to serve at a weekend get together.
If you don't want to make these as individual servings, check out the recipe notes on how to adapt this no bake cheesecake recipe into a whole pie.
No Bake Raspberry-Lemon Cheesecake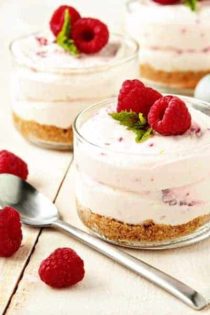 Ingredients:
For the crust
3/4 cup graham cracker crumbs
1 tablespoon sugar
3 tablespoons unsalted butter, melted
For the Filling
2/3 cup sugar
zest of 2 lemons
1 (8 ounce) package cream cheese, softened
2 teaspoons fresh lemon juice
1 teaspoon pure vanilla extract
1 (8 ounce) tub frozen whipped topping, thawed
1 cup fresh raspberries, slightly mashed with a fork
Directions:
In a medium bowl, stir together the graham cracker crumbs and 1 tablespoon of sugar and melted butter.
Evenly divide the crumbs between your individual serving dishes and press into the bottoms of the dishes to form a crust layer.
In a large bowl, mix together the sugar and lemon zest until the sugar becomes moist and fragrant.
Add cream cheese and beat with an electric mixer until smooth. Add lemon juice and vanilla mixing to combine.
Using a rubber spatula, fold in the whipped topping until well blended, then fold in the raspberries.
Evenly pipe or spoon the filling into individual serving dishes.
Cover with plastic wrap and refrigerate for at least 2 hours before serving.
If desired, garnish with fresh raspberries and a sprig of fresh mint.
Notes:
If you make this into one pie, simply use pour the cream cheese mixture into a 9-inch graham cracker crust and chill for 3 hours before serving.
This recipe tastes really delicious with blueberries and strawberries as well. Play around with different fruit combinations to create a wide range of flavors.
I have not tried this recipe using fresh whipped cream, so I cannot attest to the results.
All images and text ©
Follow Jamie on Instagram. We love to see what you're baking from MBA! Be sure to tag @jamiemba and use the hashtag #mbarecipes!
This post may contain affiliate links. We are a participant in the Amazon Services LLC Associates Program, an affiliate advertising program designed to provide a means for us to earn fees by linking to Amazon.com and affiliated sites.