Banana Cream Pie Fluff
Banana Cream Pie Fluff is a new twist on a Southern classic. It's wonderful for potlucks and picnics, and way easier than pie!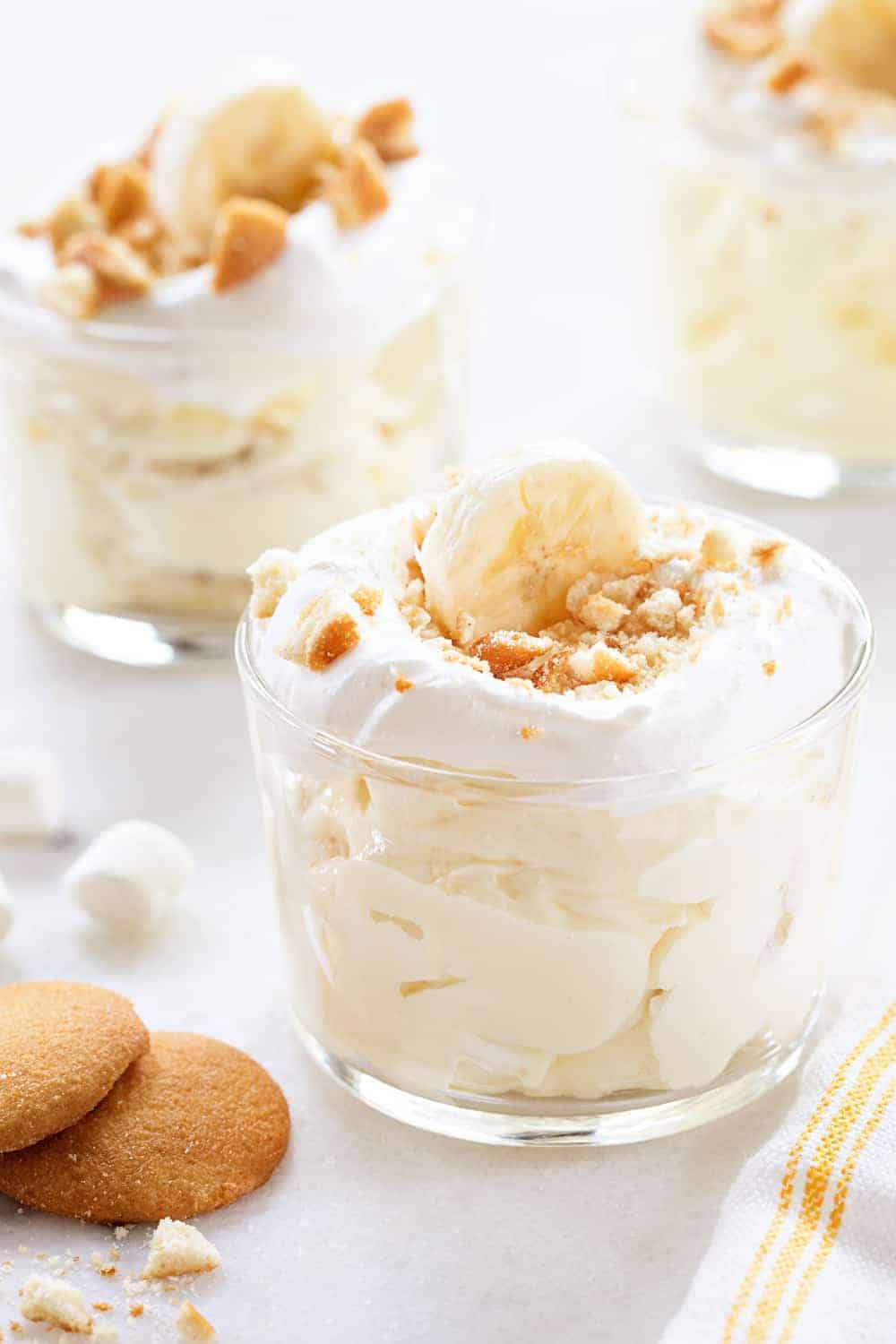 This recipe is sponsored by Campfire® Marshmallows, but all thoughts are my own. Thank you for continuing to support the brands that make My Baking Addiction possible.
I am not from the South. I hope this is clear in how much I talk about Ohio, and Ohio's weather. That said, my best friend IS from the South, and talks about Southern food a LOT.
I've learned my way around some of the best Southern foods there are, from fried chicken and mac n' cheese to – you guessed it – Banana Cream Pie.
There may be some argument as to whether or not this famous dessert is Southern, but that's how I think of it. I definitely saw it on more than a few menus when I was in Austin last year, and I rarely see it up here.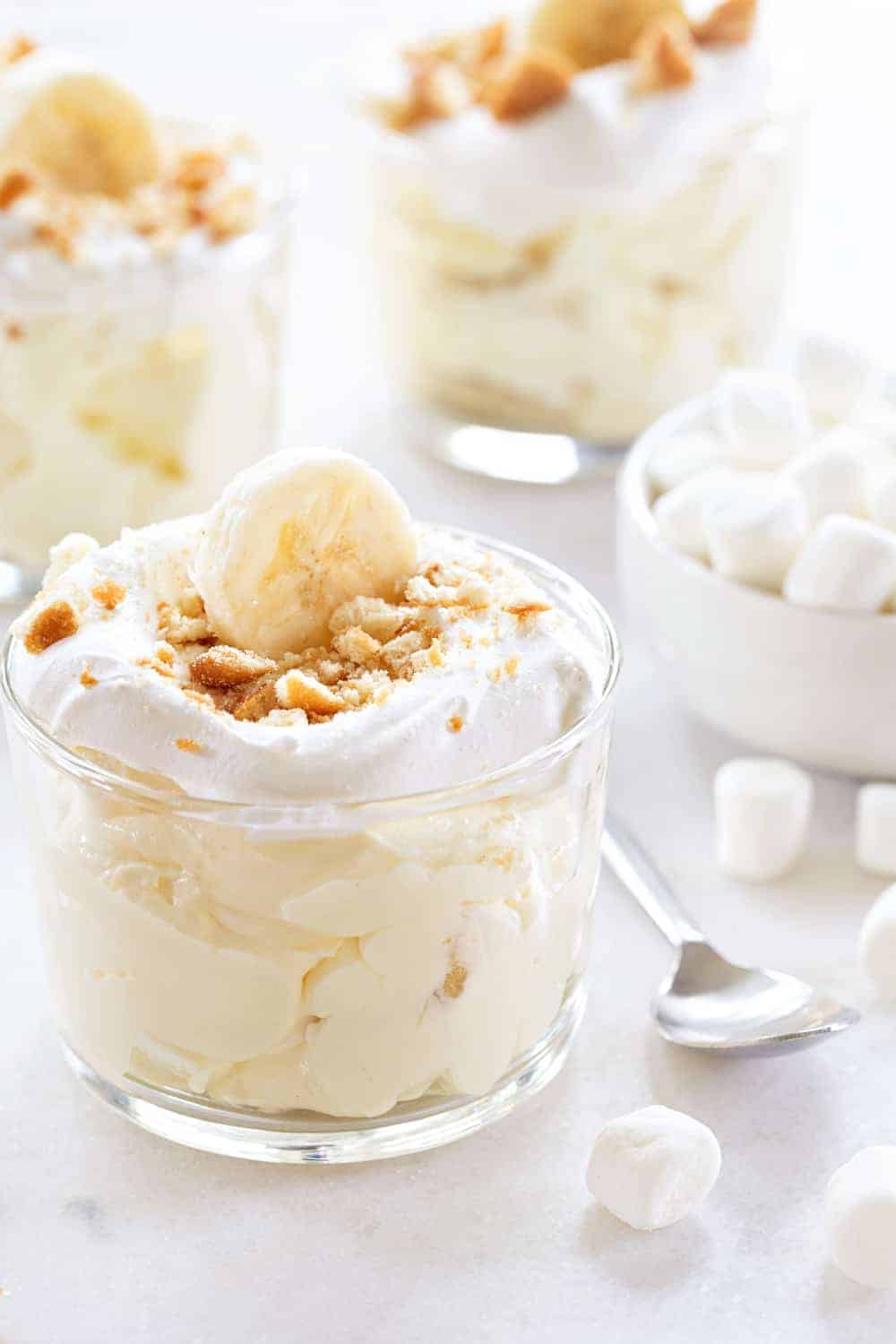 But, it's one of my favorite desserts! So we need to change that.
But making a pie from start to finish isn't always feasible.
So when tasked with making a crowd pleasing dessert that I wouldn't have to slice or serve? I grabbed my favorite Campfire® Marshmallows and got to work.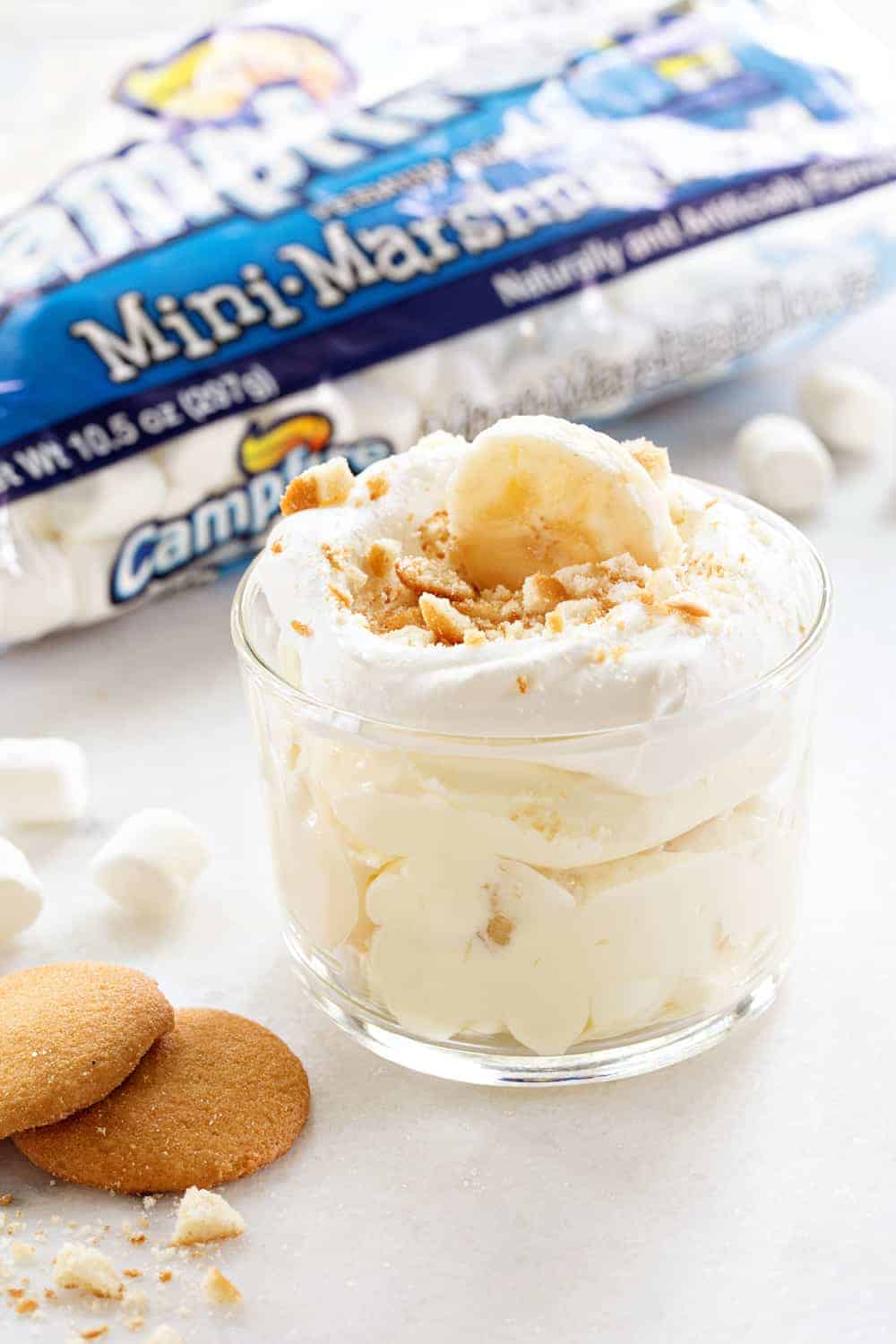 Fluff recipes are most definitely something I'm familiar with. In fact, my latest recipe for Strawberry Cheesecake Fluff went absolutely bonkers on Facebook and has already been made and enjoyed by so many of you!
These potluck "salads" have appeared on my family's table since I was tiny, and my Ambrosia Salad (while not called fluff), is where my love of this kind of dessert started.
This new variation on one of my favorite ways to consume marshmallows is pretty darn impressive, if I do say so myself. Crunchy vanilla cookies, sweet bananas, and all the pudding a girl could ask for.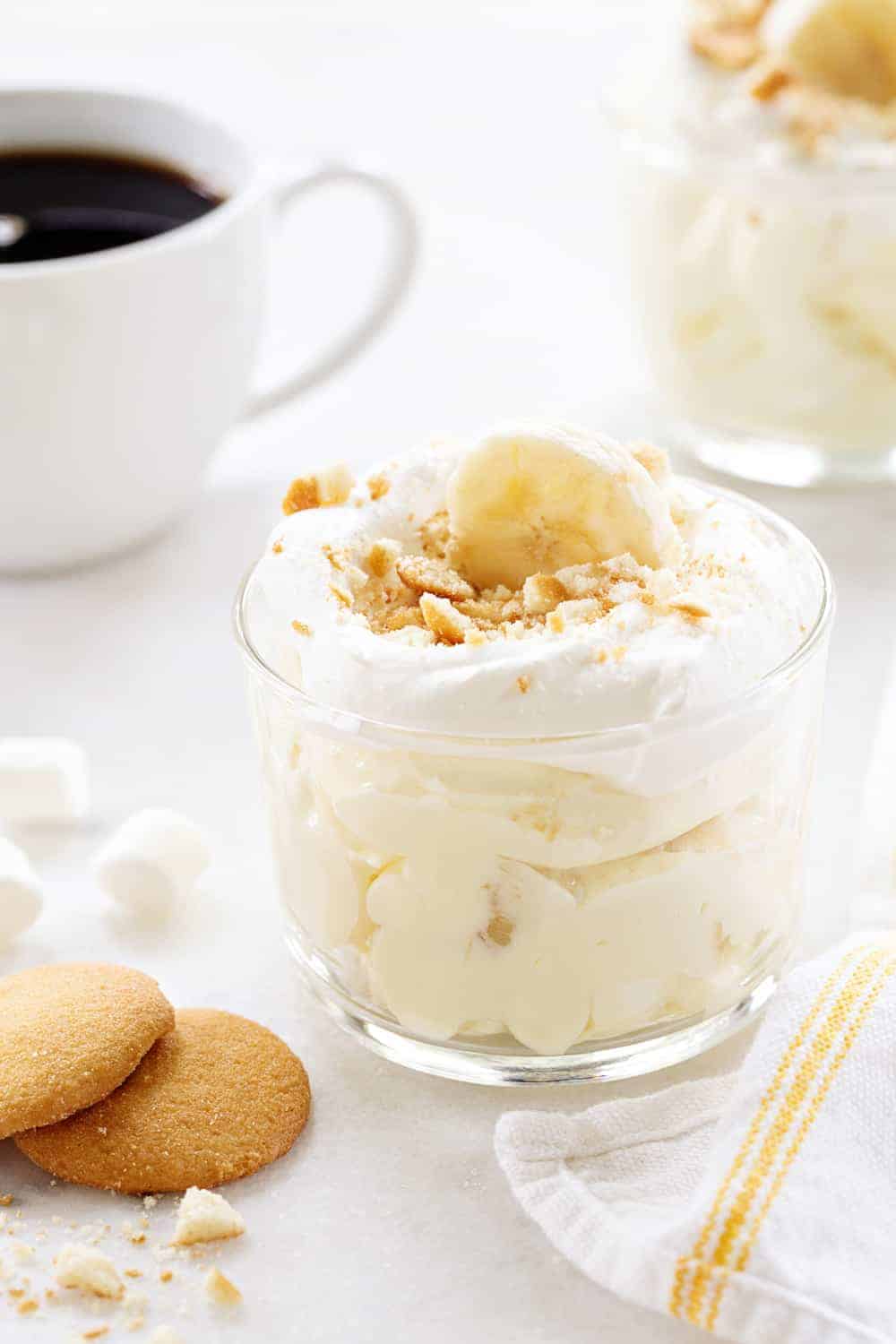 I mean, really it couldn't be easier or more delicious.
In fact, when I was testing this Banana Cream Pie Fluff recipe, I dropped the first batch off to the staff at Elle's school and they fell for it pretty hard.
In fact, they all agreed that it was pretty darn near perfect. Not too sweet with great texture and yummy banana flavor. The only suggestion I got was to add in mini chocolate chips, which I think might be pretty darn good!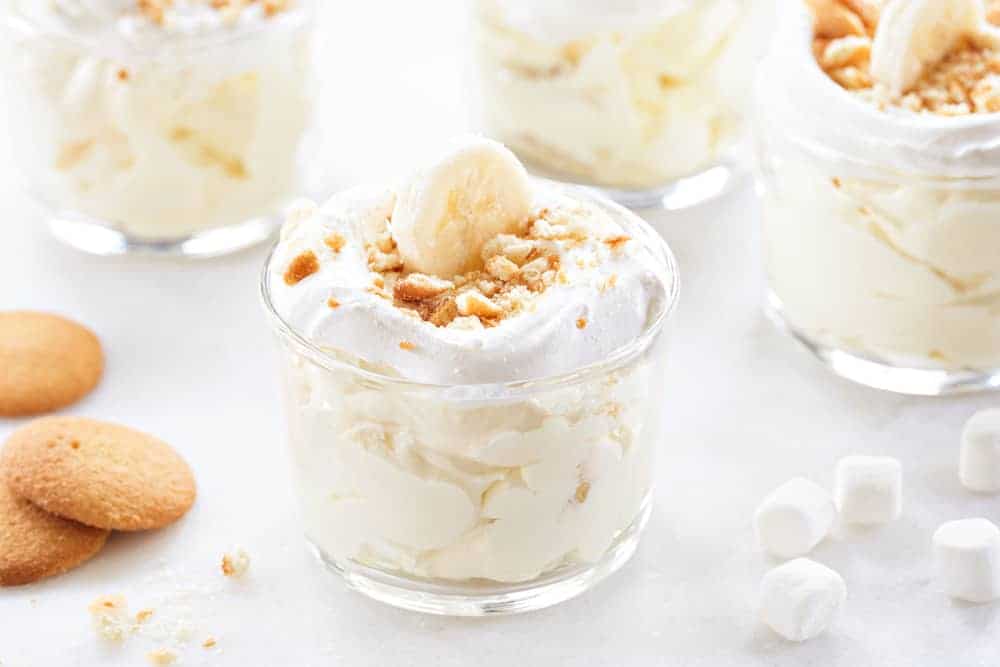 This Banana Cream Pie Fluff starts easily enough – some cream cheese, some pudding mix. Add some whipped topping, fresh bananas and the cutest Campfire® Mini Marshmallows. Then you're there.
If you're not a fan of whipped topping, you can definitely sub in freshly whipped cream; however, you'll need to stabilize it, or it won't hold up.
You can actually make this Banana Cream Pie Fluff a day ahead (so long as you're using whipped topping), and the flavors will only get better. Just be sure to add in the bananas and top with vanilla cookies just before serving.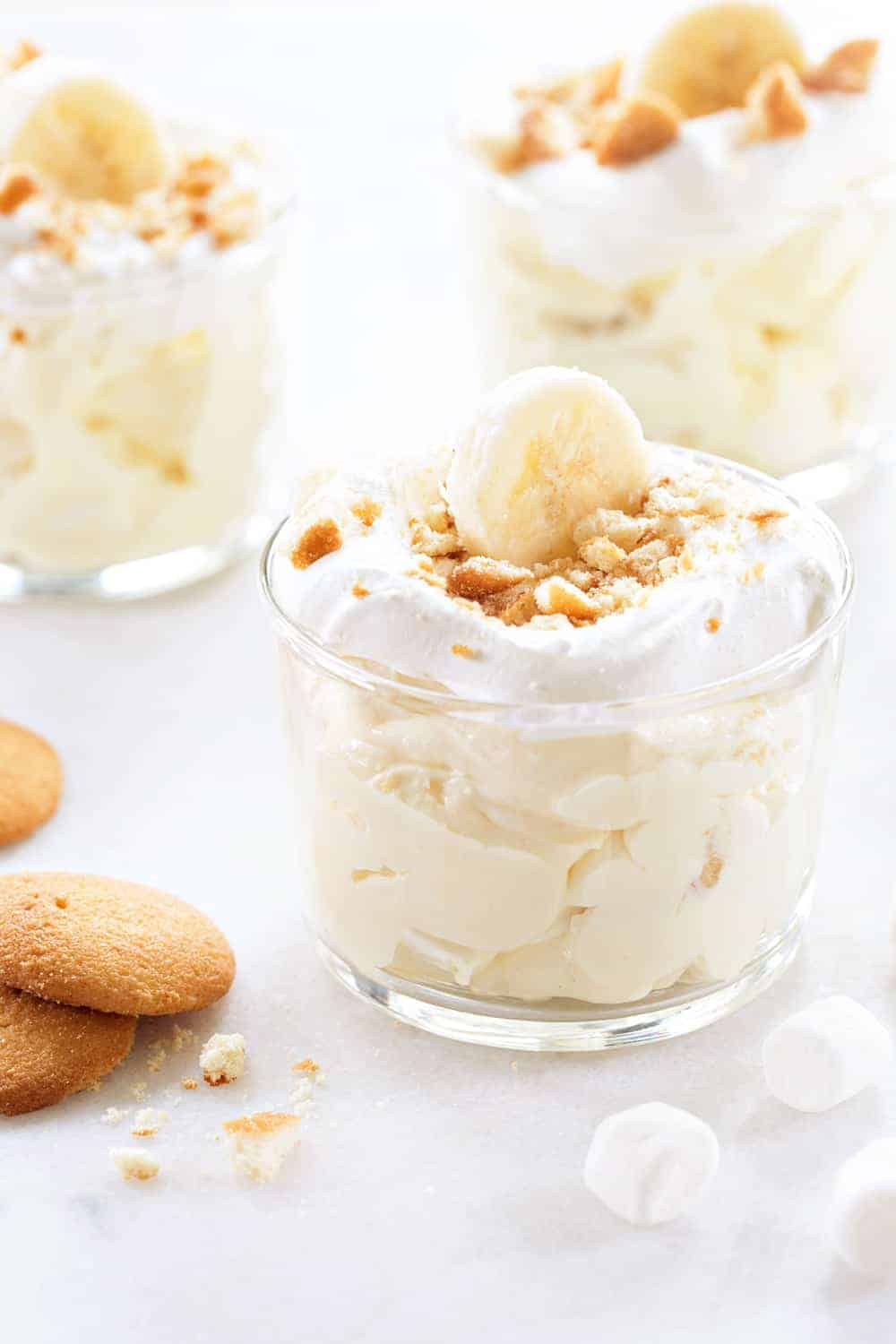 This is one perfect dessert for all the summer picnics and barbecues you're going to attend, and I'm pretty sure it'll be a crowd pleaser too.
Just in case you're new here, I've been working with Campfire® Marshmallows for the past few years to create some amazing marshmallow recipes. We've got tons of delicious dishes and desserts from the past couple of years, and so much more to come.
We even created a Marshmallow Madness Pinterest board where we've pinned loads of delicious ooey-gooey marshmallow recipes.
Just like this Banana Cream Pie Fluff, this Nutella s'mores fudge and this s'mores snack mix.
Banana Cream Pie Fluff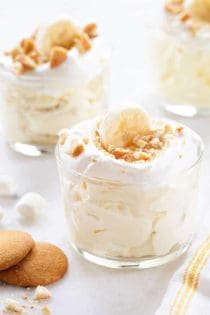 Ingredients:
2 8-ounce packages cream cheese, room temperature
1 cup powdered sugar
2 teaspoons vanilla extract
2 3.4-ounce packages Banana Cream Pudding Mix
1 1/2 cups 2% or whole milk
1 12-ounce container frozen whipped topping, thawed
1 1/2 cups Campfire® Mini White Marshmallows
3 large bananas, peeled and sliced
30 vanilla wafers, coarsely crushed
additional whipped topping, vanilla wafers and sliced bananas for garnish, optional
Directions:
In the bowl of a stand mixer fitted with the paddle attachment, or in a large bowl with an electric mixer, beat the cream cheese for 3 minutes. Scrape down the sides of the bowl and add in powdered sugar and vanilla and beat an additional 3 minutes.
In a large bowl, whisk together the dry pudding mixes and milk. Allow pudding to set up for a few minutes.
Add the pudding to the cream cheese mixture and beat until fully incorporated. Be sure to scrape down the sides of the bowl to incorporate all of the cream cheese.
Fold in whipped topping until completely incorporated. Fold in the marshmallows.
Cover and refrigerate for at least 2 hours.
Just before serving, fold in the sliced bananas and top with crushed vanilla wafers.
All images and text ©
Follow Jamie on Instagram. We love to see what you're baking from MBA! Be sure to tag @jamiemba and use the hashtag #mbarecipes!
This post may contain affiliate links. We are a participant in the Amazon Services LLC Associates Program, an affiliate advertising program designed to provide a means for us to earn fees by linking to Amazon.com and affiliated sites.