S'mores Snack Mix combines graham cereal, puppy chow, pretzels, peanuts, mini peanut butter cups and marshmallows to create the most delicious snack mix! It's sweet, salty and super crunchy!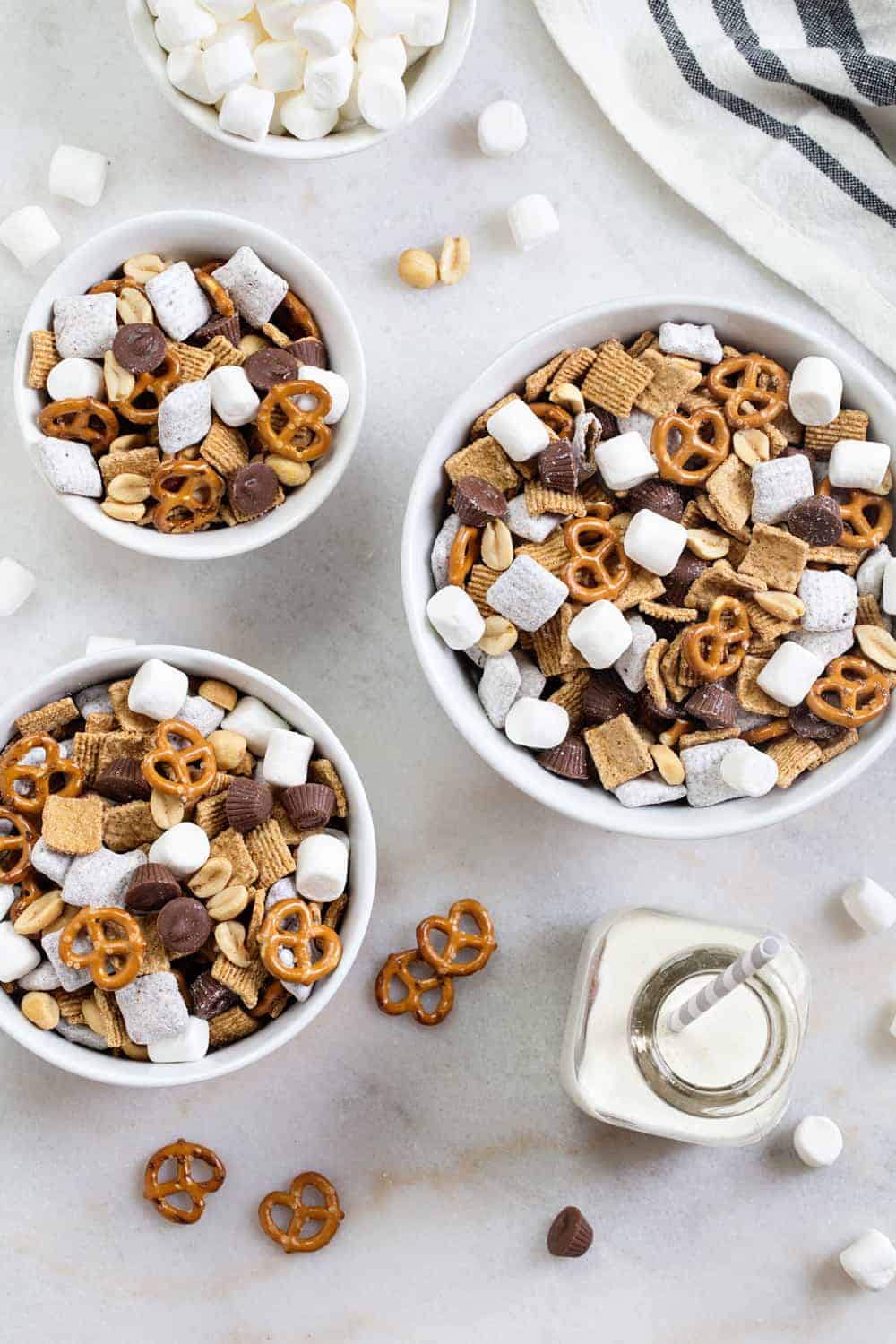 You guys, it is SEVENTY, yes seventy degrees here in Ohio today. Seriously, it's bananas.
Now, don't get me wrong, it's still super cloudy, rainy, and windy, but I'll take it. And so will Elle, who was super pumped to not have to be bundled up like Randy from A Christmas Story for the first time in months.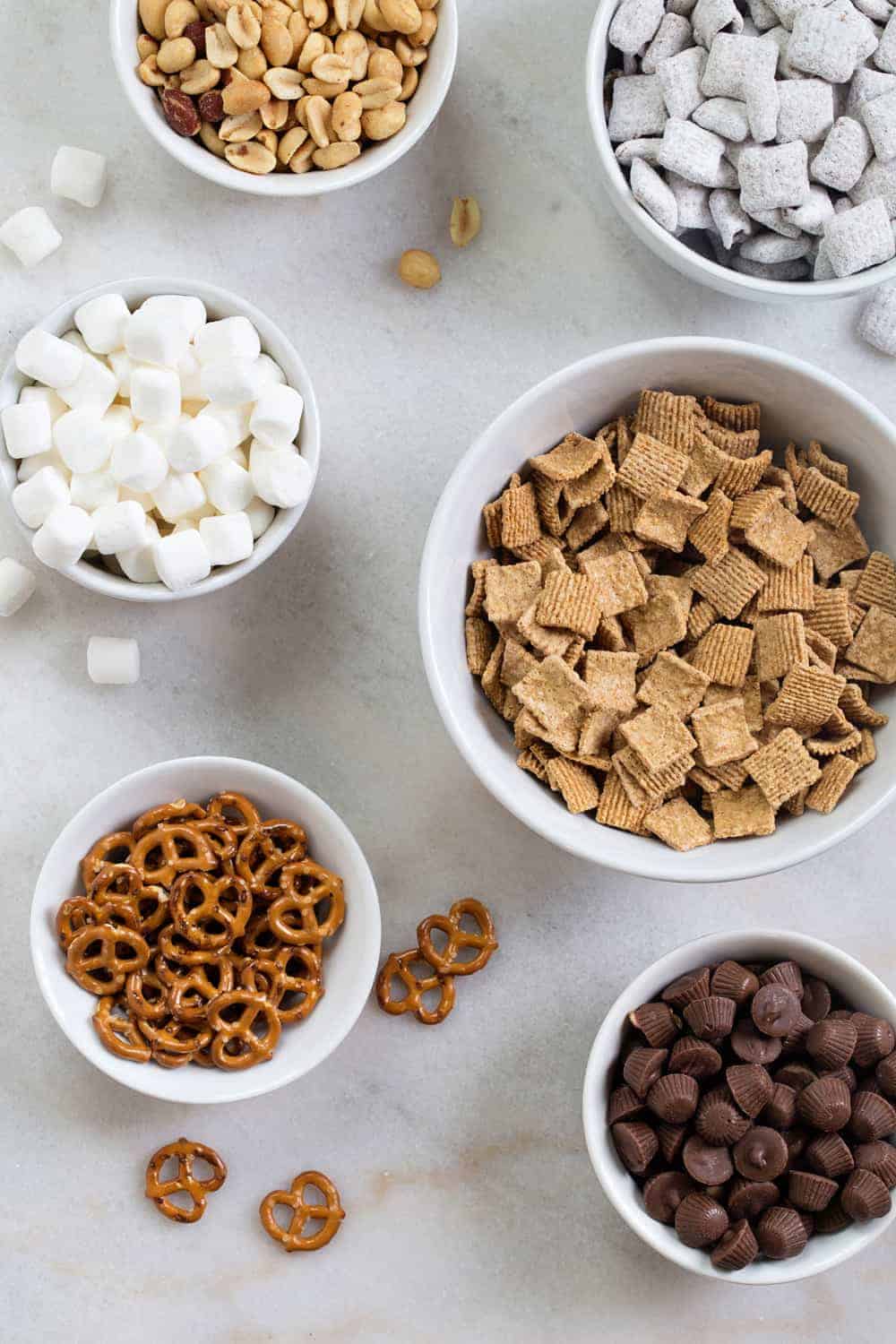 Only problem, we have no jackets that fit her because I swear she's grown no less than 5 inches since fall. So, she went to school rocking a jean jacket with the sleeves cuffed as an attempt to detract away from the fact that those sleeves were far too short.
This did totally give us an excuse to stop at Elle's favorite store (Target) to search for a new jacket, but unfortunately every single denim jacket had the word awesome printed or stitched on the back.
I mean, my kid is most definitely awesome, but we're just not really giant-words-on-clothing kind of people.
We settled for looking online because I'm fairly confident it'll be 30 degrees tomorrow with some sort of arctic blast on the horizon. Gotta love Ohio, folks.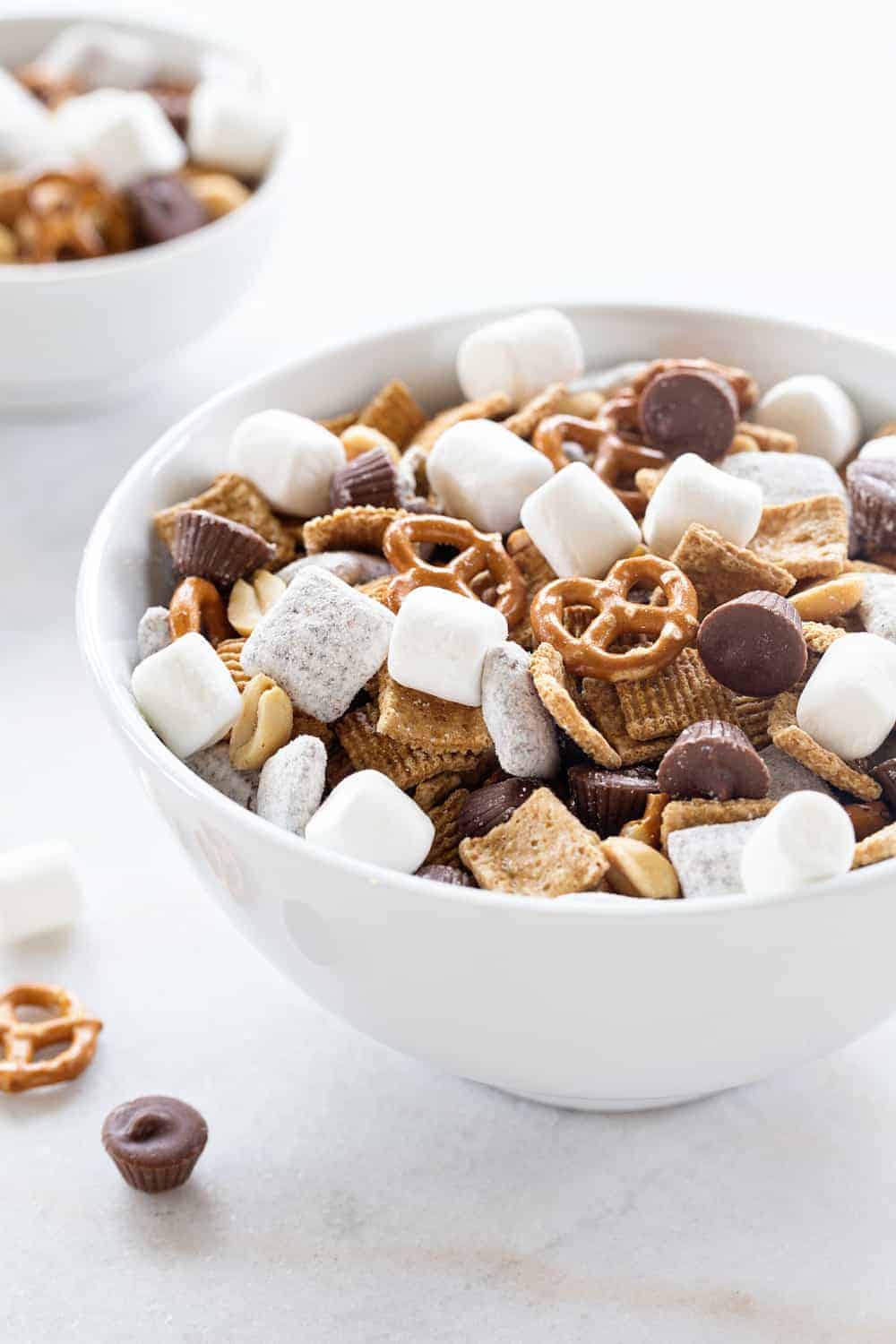 One of Elle's other favorite stores happens to be Trader Joe's. Those little red carts and all the pretty flowers are most definitely the way to her grocery store loving heart.
Their mini peanut butter cups and everything bagel seasoning just so happen to be the way to mine.
Basically, Trader Joe's is our third favorite store. Coming in right after Target and Lush, because girls just gotta have their bath bombs.
When we got home, I hid the mini peanut butter cups in my baking pantry, so they'd be out of sight for at least a day or two.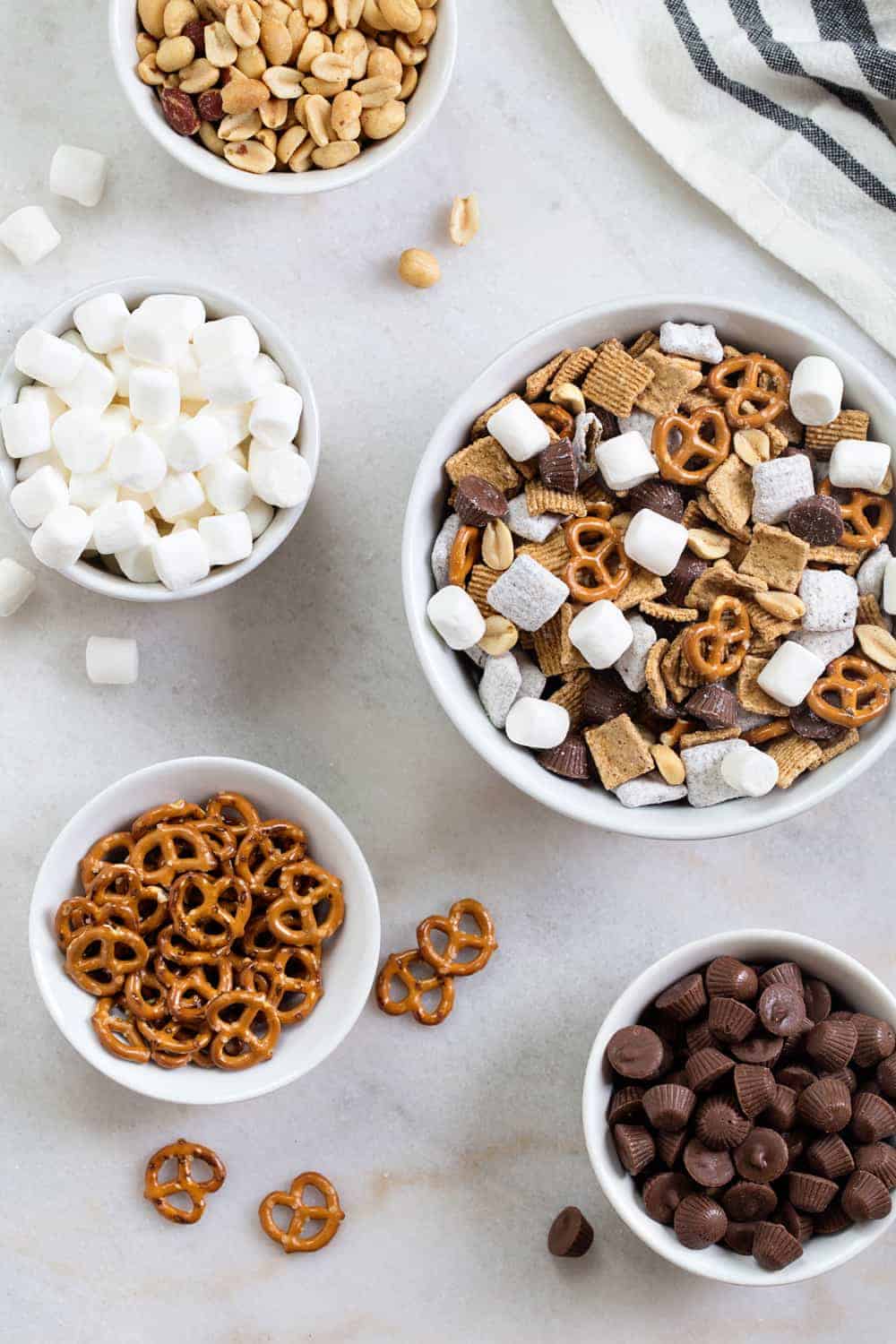 When I finally found them, it was weeks later. Clearly, I need to hide more sweet treats from myself!
Instead of just snacking on them by the handful, I decided to whip up S'mores Snack Mix with mini peanut butter cups.
Yep, you read that right! And it just so happens to be a peanut-butter-s'more-loving person's dream come true. This S'mores Snack Mix is basically my new favorite thing ever.
Graham cereal, puppy chow (Muddy Buddies), pretzels, peanuts, mini peanut butter cups and my most favorite Campfire® Marshmallows combine to create one seriously delicious snack mix that is perfect for movie watching, road tripping, or just plain ol' snacking.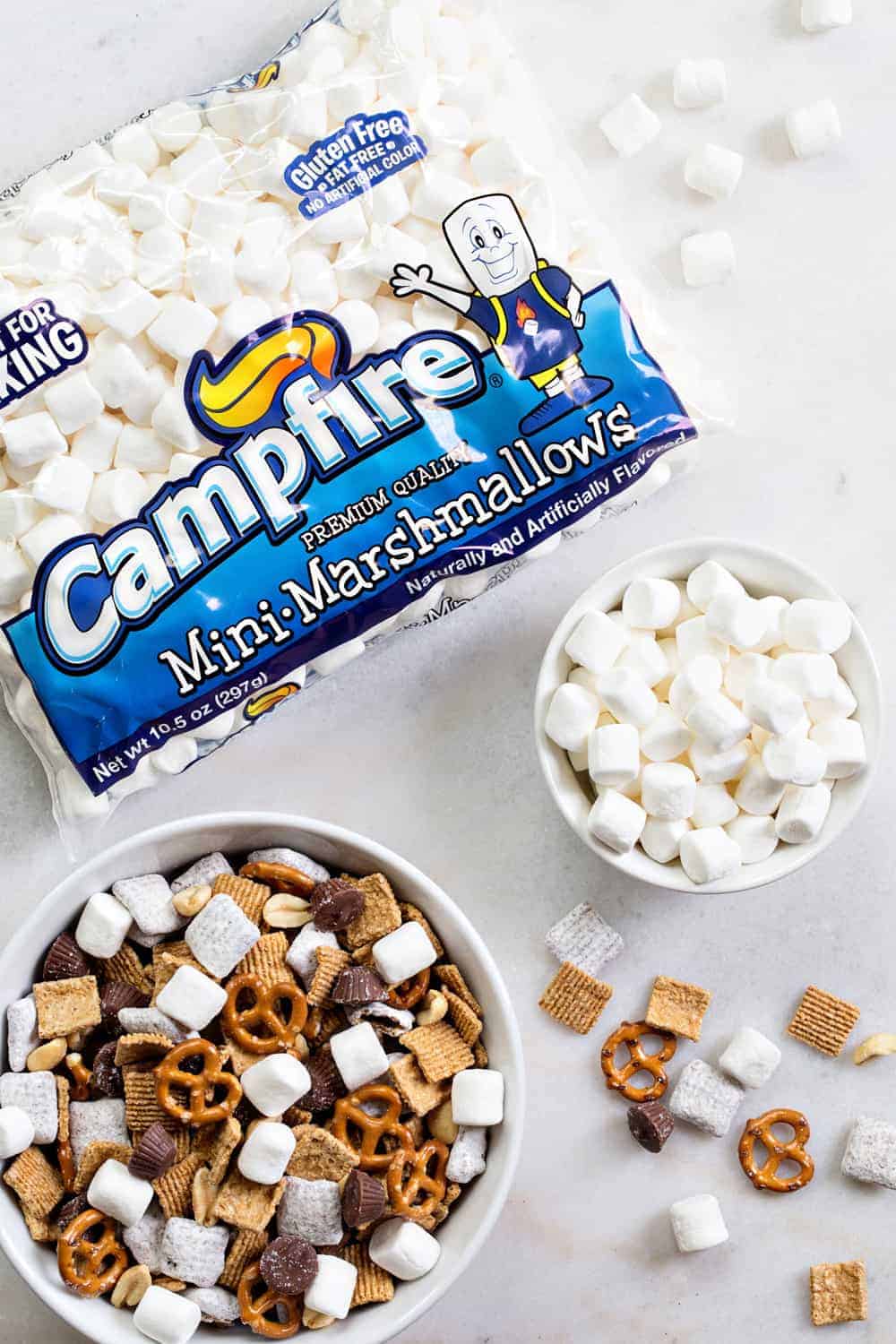 Don't say I didn't warn you, this S'mores Snack Mix is incredibly delicious and you're probably going to be obsessed with it! Oh, and just in case you don't have a Trader Joe's near you, you can find mini peanut cups in the candy aisle of most grocery stores, so don't fret.
As you may remember, I'm partnering with Emily from Jelly Toast and Campfire® Marshmallows. We've got tons of great recipes from the past couple of years, and plenty more to come this year!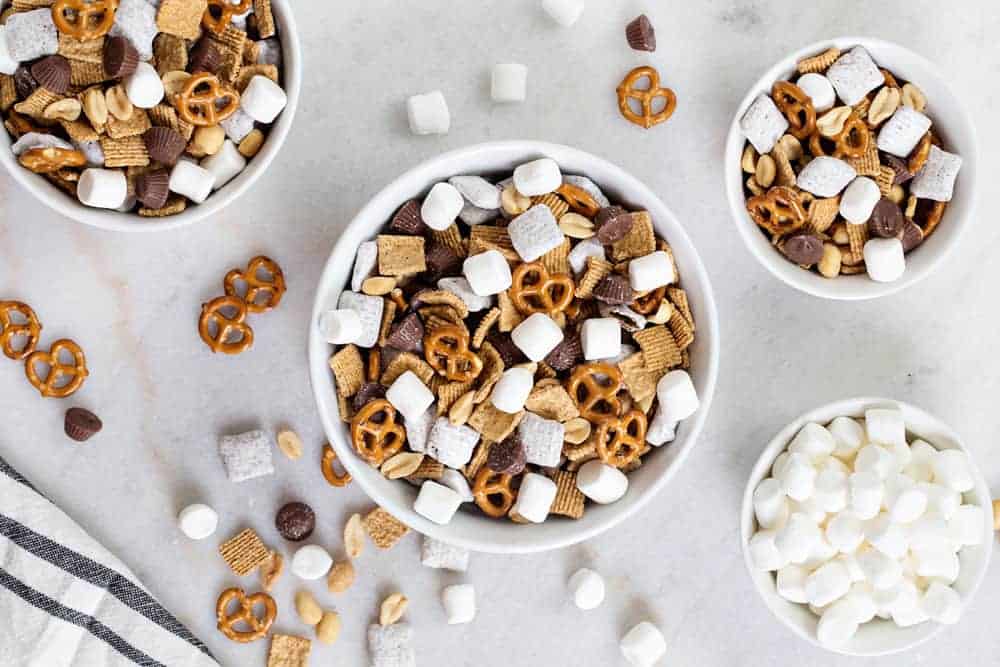 We even created a Marshmallow Madness Pinterest board where we've pinned loads of delicious marshmallow recipes. Just like this S'mores Snack Mix, this Nutella S'mores Fudge and this White Chocolate Peppermint Cocoa.
You should definitely check them out if you're marshmallow obsessed like I am.
Now, go grab these ingredients and whip up a batch of this S'mores Snack Mix, you can thank me later!