If you happened to catch my post on Peanut Butter Blossom Cookies, you may remember me mentioning that I have been baking with my students in our school kitchen. They've even devised a list of items they'd like to create before our holiday break.
As soon as one of them shouted out Puppy Chow, I knew there would be no going back. Immediately, eyes widened and they were all nodding in agreement. I haven't made Puppy Chow in years, so we did a quick search for the ingredient list and realized that we had almost everything on hand – so I couldn't possibly refuse.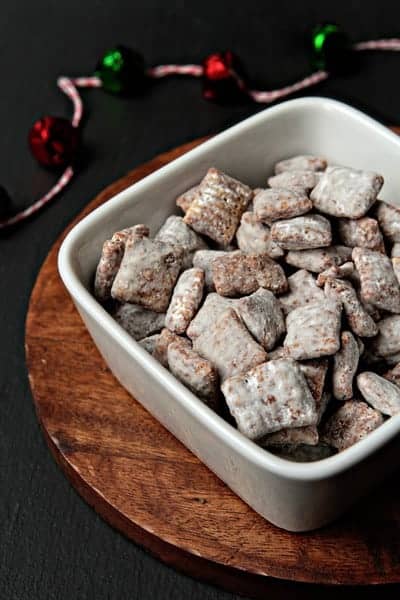 I brought to their attention that Puppy Chow was certainly not their most festive idea when one of them piped in and informed the class that we could call it "Reindeer Chow" instead. And just like that, we were elbow deep in peanut butter and chocolate covered Chex goodness.
Of course I had to let them sample their creation, but we also decided to package some in cellophane bags with cute reindeer tags to hand out to the kindergarten through second grade classroom as a little snack for Rudolph and his friends.
Although Puppy Chow is certainly not anything new, I was pretty impressed with their creativity and willingness to share. I'll certainly keep you informed on our next home-ec adventure!
Skip the carrots tonight because Rudolph and his crew deserve a sweet snack too!
Tag Info:
– Tags were made using my Silhouette Cameo.
– Tag Description: Rudolph Reindeer Card by Loni Stevens
– Tag was sized to 4.0 inches. Card cut on dark brown card stock. Reindeer cut on red card stock.
– Tags were attached to bags with red and white Baker's Twine.

Reindeer Chow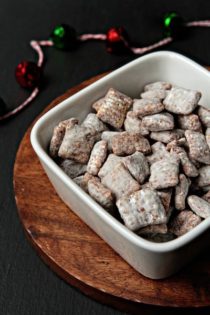 Ingredients:
9 cups Rice Chex Cereal
1 cup semi-sweet chocolate chips
1/2 cup peanut butter
1/4 cup butter
1 teaspoon pure vanilla extract
1 1/2 cups confectioners' sugar
Directions:
1. Pour cereal into a large bowl, set aside. Line a large baking sheet with parchment paper, set aside.
2. In a large microwave-safe bowl, combine the chocolate chips, peanut butter and butter. Microwave uncovered on high for 1 minute; stir. Microwave about 30 seconds longer or until mixture can be stirred smooth. Stir in vanilla. Pour mixture over cereal, stirring until evenly coated. Pour into 2-gallon zip-top food-storage plastic bag.
3. Add confectioners' sugar. Seal bag; shake until well coated. Spread onto prepared baking sheet to cool. Store in airtight container in refrigerator.
Recipe from Chex
All images and text ©
Follow Jamie on Instagram. We love to see what you're baking from MBA! Be sure to tag @jamiemba and use the hashtag #mbarecipes!