One thing about teachers – we love a good potluck! As you might have guessed, I'm typically designated with dessert, whether I like it or not. Now, you know I love cupcakes more than probably just about anyone, but sometimes I crave something a little lighter, fresher and fruitier.
Last year, when our spring potluck happened to fall during the first week of May, we, of course, centered our potluck theme around Cinco de Mayo. Ever the procrastinator, by the time I got around to signing up, all the yummy Mexican-themed savory dishes like salsa, guacamole, chicken enchiladas and tortilla soup had been spoken for. Dessert, it seems, is my destiny, no matter what. I figured I'd whip up some Mexican Chocolate Cupcakes and call it done.
But just before the potluck, I had a mild panic attack when I counted the short number of days between Cinco de Mayo and the date I'd first need to don something other than jeans and a t-shirt. Driven by panic, I decided to go on a very short-lived baking hiatus.
When I say short lived – I mean it – I'm talking like maybe 4 days. Driven by desperation (and thoughts of my waistline), instead of baking cupcakes I might be tempted to inhale, I put together a sweet fruit salsa that matches beyond perfectly with cinnamon and sugar pita chips. At our potluck, no one even questioned the lack of cupcake attendance. A sure sign of this fruit salsa equaling dessert success, I'd say!
Fruit salsa comes together with ease, and with very few additional ingredients to the fresh fruit. The beauty of it is that you can really customize it to your tastes or what's in season. Fruit salsa definitely shouldn't be relegated to only Cinco de Mayo celebrations!
Personally, I adore a mix of ripe berries, kiwi and grapes, but really, how could you go wrong with any kind of jam-glazed fruits scooped up with cinnamon and sugar pita chips?
Once you've made fruit salsa once, you'll be making it again and again. And those pita chips will become a permanent fixture on your grocery list. Trust me!
[pinit]

Fruit Salsa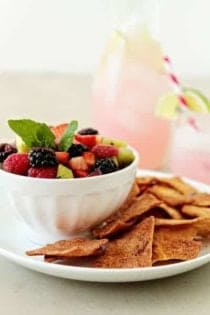 Ingredients:
3 kiwis, peeled and diced
8 ounces raspberries
8 ounces blackberries, halved if they are large
1 pound strawberries, diced
1 cup seedless grapes, halved
1 tablespoons white sugar
1 tablespoon brown sugar
3 tablespoons strawberry preserves, slightly warmed
Directions:
In a large bowl, combine all of the ingredients and toss gently to coat with sugar and preserves. Cover and chill in the refrigerator for at least 15 minutes. Serve with Stacy's Cinnamon and Sugar Pita Chips.
Notes:
- Fruit Salsa in best served the day it is made.
- If your fruit is really sweet, you may want to cut back on the sugar. Start with half the amount listed and gradually increase to your taste.
My Baking Addiction adapted from allrecipes.com
All images and text ©
Follow Jamie on Instagram. We love to see what you're baking from MBA! Be sure to tag @jamiemba and use the hashtag #mbarecipes!