This classic Cream Cheese Fruit Dip is easy to make and delicious alongside fruit, diced pound cake, or even pretzels!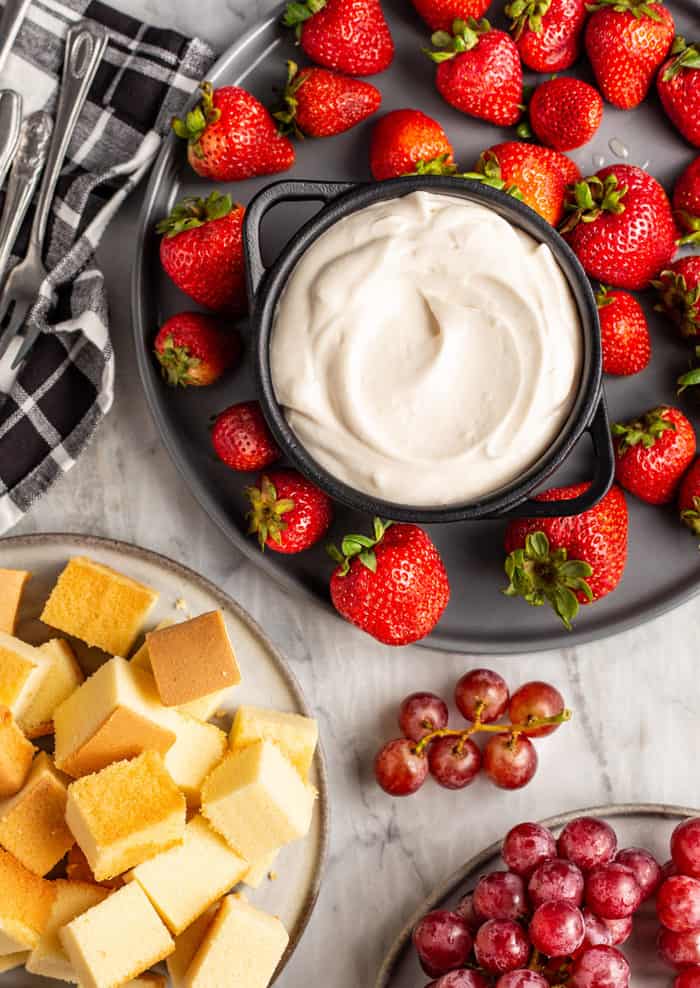 Say hello to your new favorite way to eat summer fruit. This Cream Cheese Fruit Dip is the perfect combination of sweet, tangy and oh-so fluffy goodness!
Serve it up with your favorite dipable fruit for an absolute treat everyone will love.
Trust me, even the cream cheese haters in my life were all about dipping ripe strawberries and little cubes of grilled poundcake into this creamy fruit dip!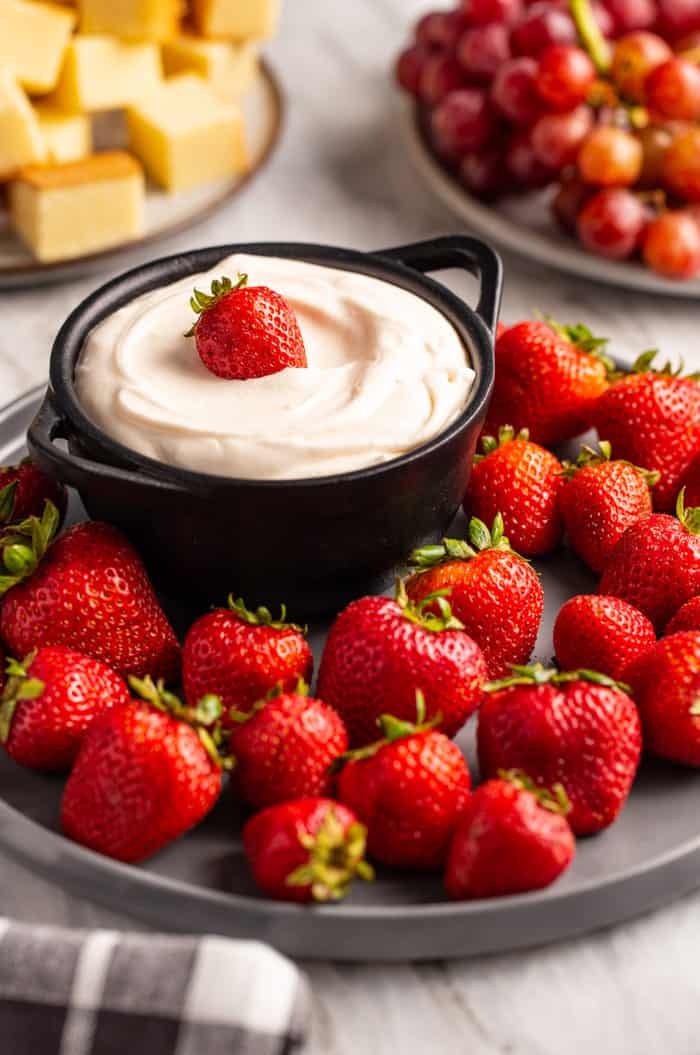 MY FAVORITE EASY FRUIT DIP
You know the drill. I love dips of all kinds. If I can dip it or dunk it, I am a happy camper.
It doesn't matter if it's savory – like Homemade Ranch Dip, Spicy Guacamole, Buffalo Chicken Dip, or French Onion Dip – or sweet, like Cookie Dough Dip or this Cream Cheese Fruit Dip. I am ALL IN.
This Cream Cheese Fruit Dip is an easy classic. It's quick to make, doesn't use a lot of ingredients, and is always a hit at parties.
Honestly, it's pretty great as a family game or movie night snack, too.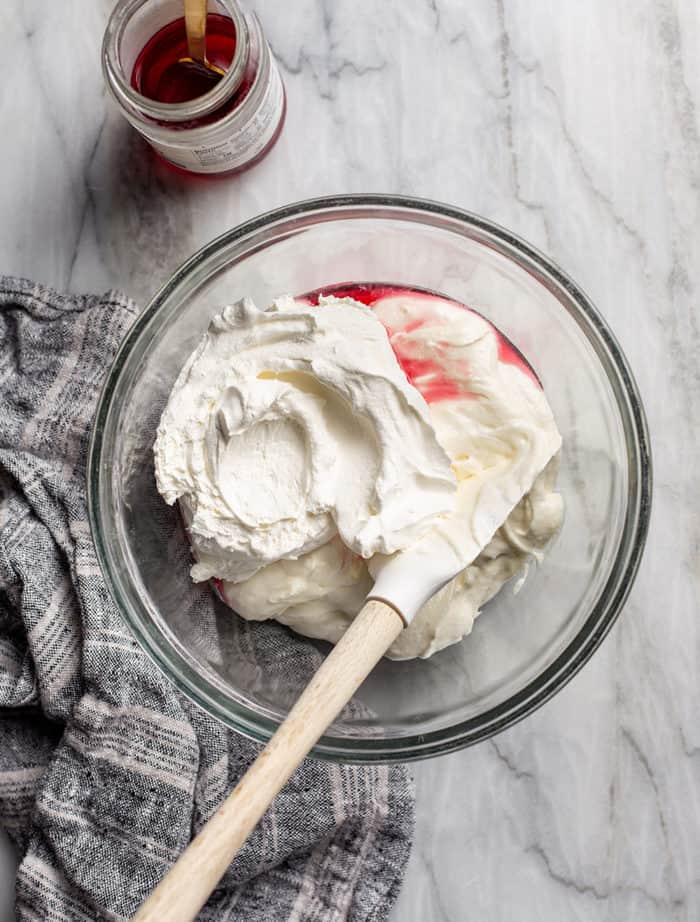 WHAT GOES IN FRUIT DIP?
Most of the ingredients for this sweet dip are things I tend to keep in my fridge or pantry on a regular basis, so it's pretty simple to whip this up for last-minute gatherings.
To make this dip, you'll need:
1 8-ounce package cream cheese, room temperature
⅓ cup powdered sugar
½ teaspoon vanilla extract
1 7-ounce container marshmallow creme
1 heaping cup thawed Cool Whip
2 tablespoons maraschino cherry juice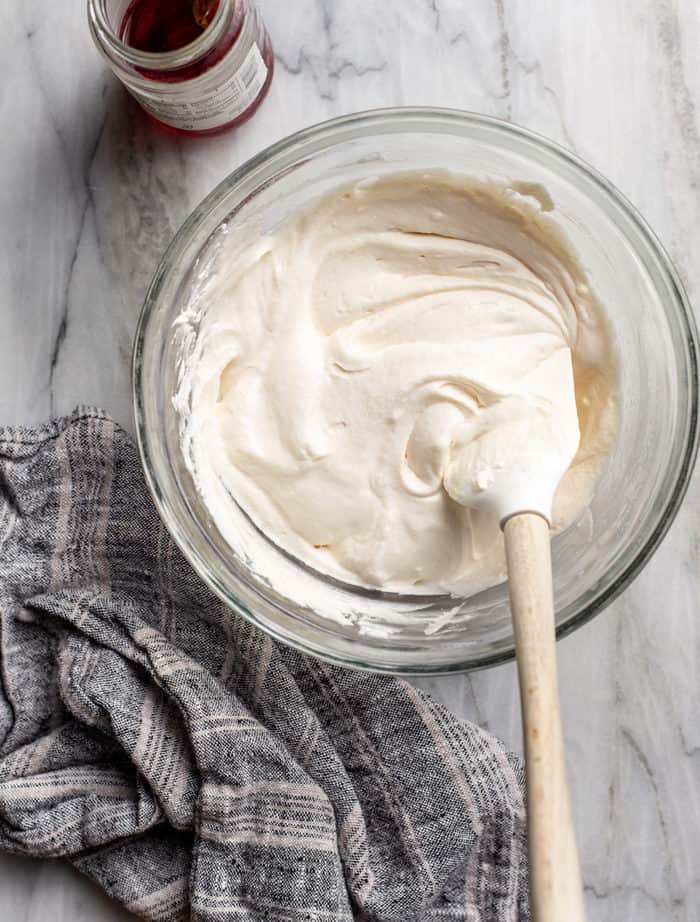 See? I told you the ingredients were simple! The cream cheese makes the dip nice and tangy, while the marshmallow creme and Cool Whip make it sweet and light.
The maraschino cherry juice is totally optional, but I love the subtle pink color it adds.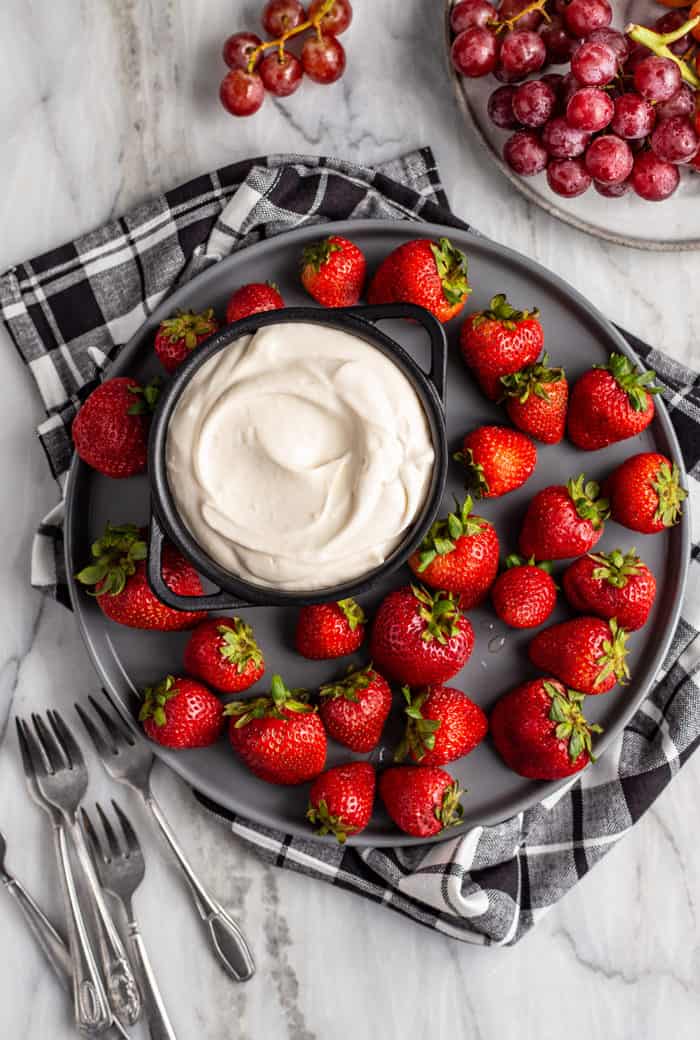 HOW TO MAKE CREAM CHEESE FRUIT DIP
This dip is so easy, it only takes about 5 minutes to mix together!
Just use an electric mixer to beat the cream cheese for about 3 minutes. Add in the powdered sugar and vanilla and beat for an additional minute.
Use a spatula to fold in the marshmallow creme, followed by the Cool Whip and maraschino cherry juice.
Cover the dip and refrigerate it for at least 2 hours before serving.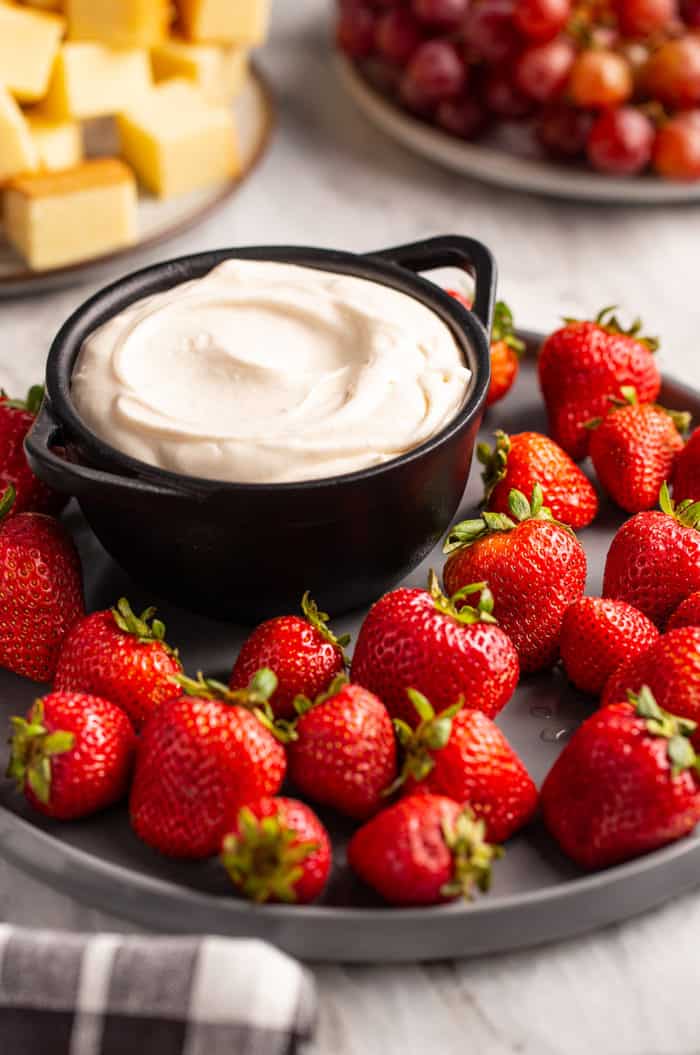 CAN THIS DIP BE MADE AHEAD?
Even though I love throwing this Cream Cheese Fruit Dip together for last-minute gatherings, it's great if you're planning ahead, too!
You can easily make this dip the day or night before you plan to serve it. Just keep it in an airtight container in the refrigerator until you're ready to serve it.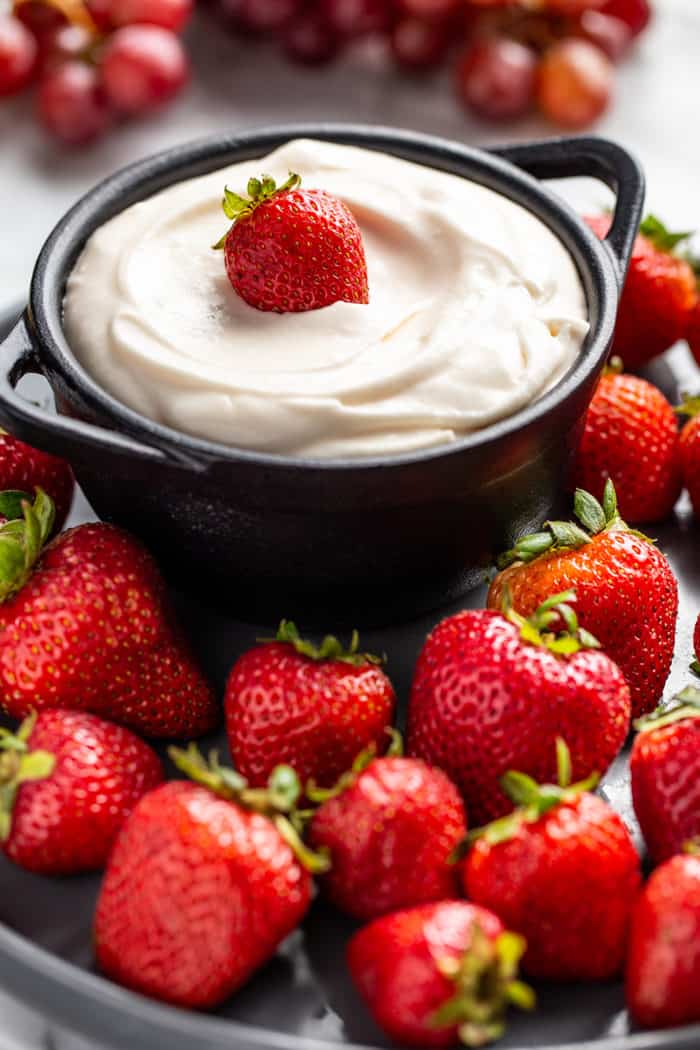 WHAT TO SERVE WITH THIS DIP
The most obvious answer of what to serve with Cream Cheese Fruit Dip is right in the name – fruit!
Any fruit will do, but I particularly like strawberries, grapes, pineapple, and even cherries.
But don't limit yourself to just fruit! Try serving it with cubes of pound cake or Whipping Cream Cake. If you love the sweet-salty combo, you could even serve it with pretzels!
This dessert is so fun and easy, I know it'll become a new favorite at your family gatherings.