This is a Sponsored post written by me on behalf of Sunkist for SocialSpark. All opinions are 100% mine.
I have always been quite perplexed by people that don't love fruit – I mean vegetables I can understand, but fruit is amazing – well, aside from Red Delicious apples which I haven't eaten since around 1995. I really can't even pinpoint why I don't enjoy them anymore, I just know that I don't. Oh, I'm also not a fan of ripe bananas, but that about sums up my fruit issues.
When I was a kid I remember my Nana making a fruit dip with 3 simple ingredients marshmallow fluff, cream cheese and Maraschino Cherry juice. It was pink, sweet and amazingly tasty. I used to try to eat it with a spoon, but she always insisted that I used a piece of fruit – maybe she thought the fruit would somehow negate the fluff.
We had the usual crew over at our house this weekend and I refused to cook indoors because it was over 90 degrees outside. All I wanted for dinner was corn on the cob and fruit. The boys weren't having it, so they decided to make Beer Can Chicken – which was all kinds of awesome, by the way.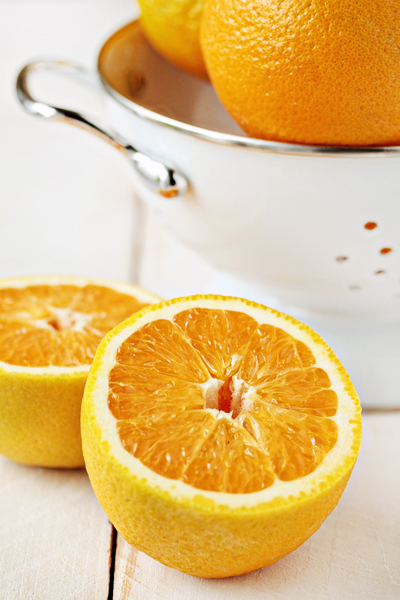 After filling my cart with a bunch of fruit, I decided to go a little retro and recreate Nana's fruit dip with a little Dreamsicle twist by infusing it with the zest and juice of Sunkist Valencia Oranges.
Did you know that Sunkist® Valencia oranges may occasionally "re-green" in warm weather? When Valencias ripen on the tree, they turn a bright orange color but warm temperatures may make their skin reabsorb chlorophyll as they hang on the tree causing the orange color to look partly green (just like I like my bananas) although the outside is green, the inside remains ripe and delicious!
I'm super glad Sunkist is getting the word out there about this "re-greening" effect, because now I don't have to gripe at Brian about the green oranges that occasionally end up in the fruit bowl. I've got a scientific reason why he HAS to eat them!
For additional information, check out these links

:

additional Sunkist citrus recipes
Sunkist Valencia Oranges Re-greening Video
Dreamsicle Fruit Dip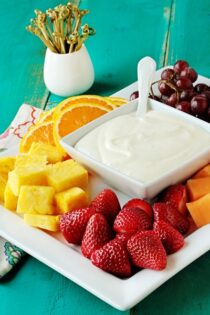 Ingredients:
12 ounces cream cheese, softened
1 (7 ounce) jar marshmallow crème
1/3 cup confectioners' sugar
1 tablespoon orange zest
2 tablespoons, fresh orange juice
Directions:
In a large bowl, use an electric mixer to blend all ingredients until well combined. Refrigerate Dreamsicle Fruit Dip for at least 3 hours before serving. Serve with a variety of fresh fruit.
Notes:
- This dip can be made up to two days in advance, simply store in covered in the refrigerator until ready to serve.
All images and text ©
Follow Jamie on Instagram. We love to see what you're baking from MBA! Be sure to tag @jamiemba and use the hashtag #mbarecipes!