This Whipping Cream Cake is an example of vintage recipes at their finest! This luscious cake is both simple and unique and is sure to become a family favorite.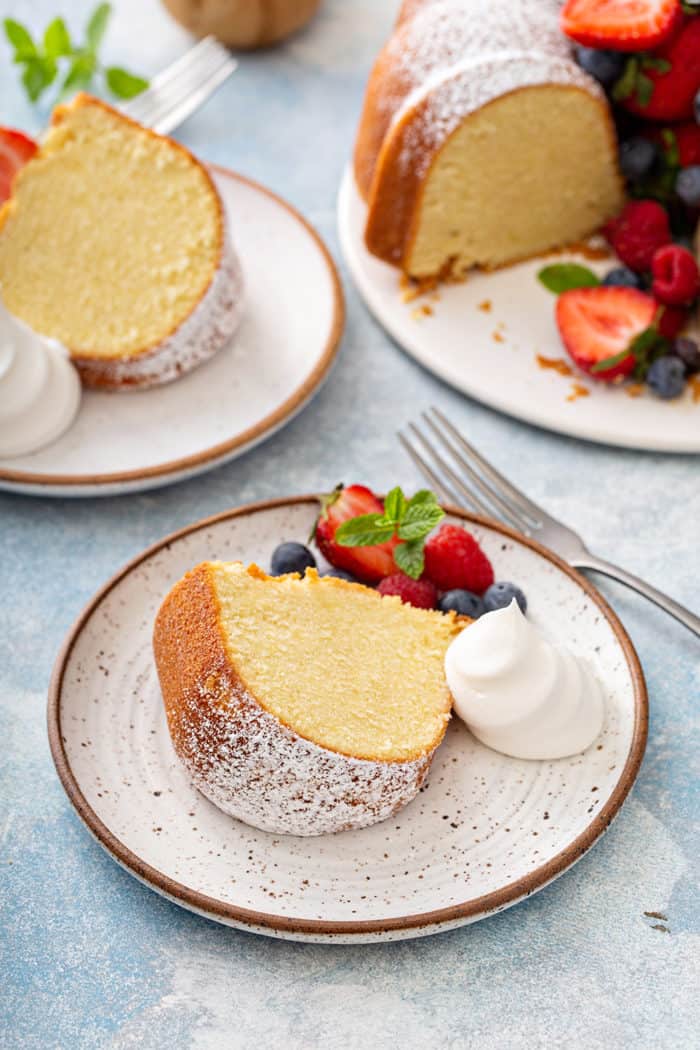 There are a lot of recipes on this site that my husband really loves.
Easy Fettuccine Alfredo is a family favorite and he can't get enough of Dominique Ansel's Banana Bread.
But I'm not sure I've ever made a recipe he loves as much as this Whipping Cream Cake. As soon as I turned the cake out of the pan, he was all over it.
Within a matter of hours he had devoured the bottom part of the cake. You know the part that is on top when baking in a bundt pan but becomes the bottom when you turn it out? On this cake, that part becomes so crunchy and delicious, so he nibbled away all of it and begged me to make the cake again.
I mean, how could I say no to that?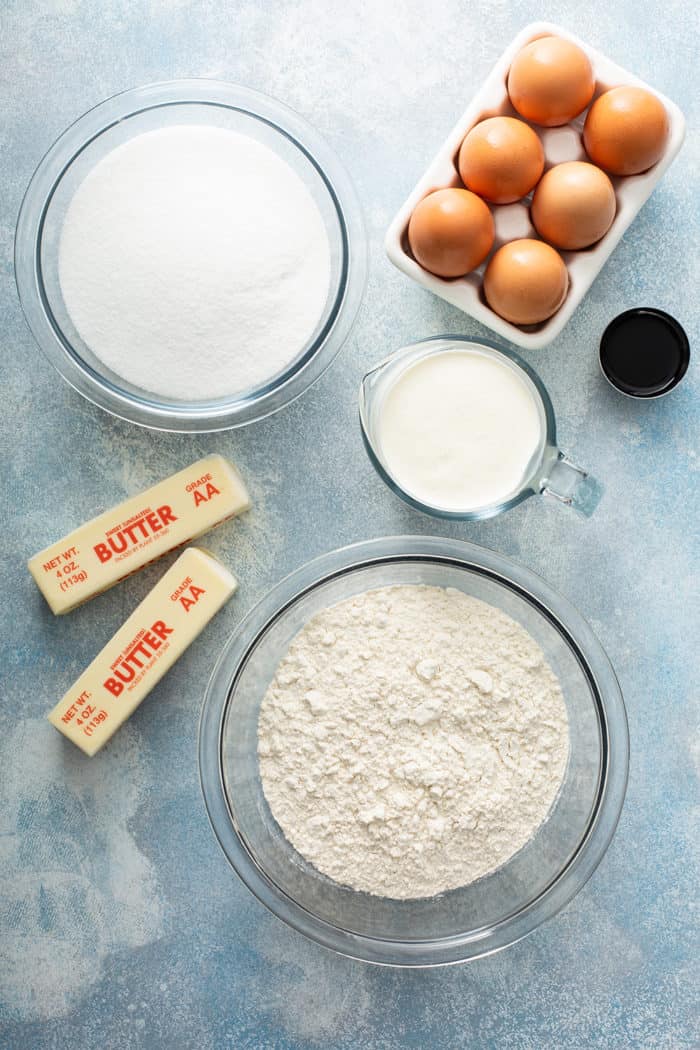 WHAT IS WHIPPING CREAM CAKE?
This Whipping Cream Cake recipe became internet famous after being shared on Reddit. I stumbled across it and of course had to give it try – you know how I love old-school recipes like 7Up Pound Cake, Tomato Cake, and Ambrosia Cookies.
This cake is sort of a cross between a pound cake (like Cream Cheese Pound Cake) and more of a sponge-style cake (like Homemade Funfetti Cupcakes).
Most pound cake recipes have a lot more butter than this recipe does and don't use an additional liquid. This cake uses less butter and uses an additional liquid, but has a lot of eggs in it, similar to a pound cake.
The result is a texture that's almost hard to describe. It's dense but still light. It's rich, but doesn't weigh you down.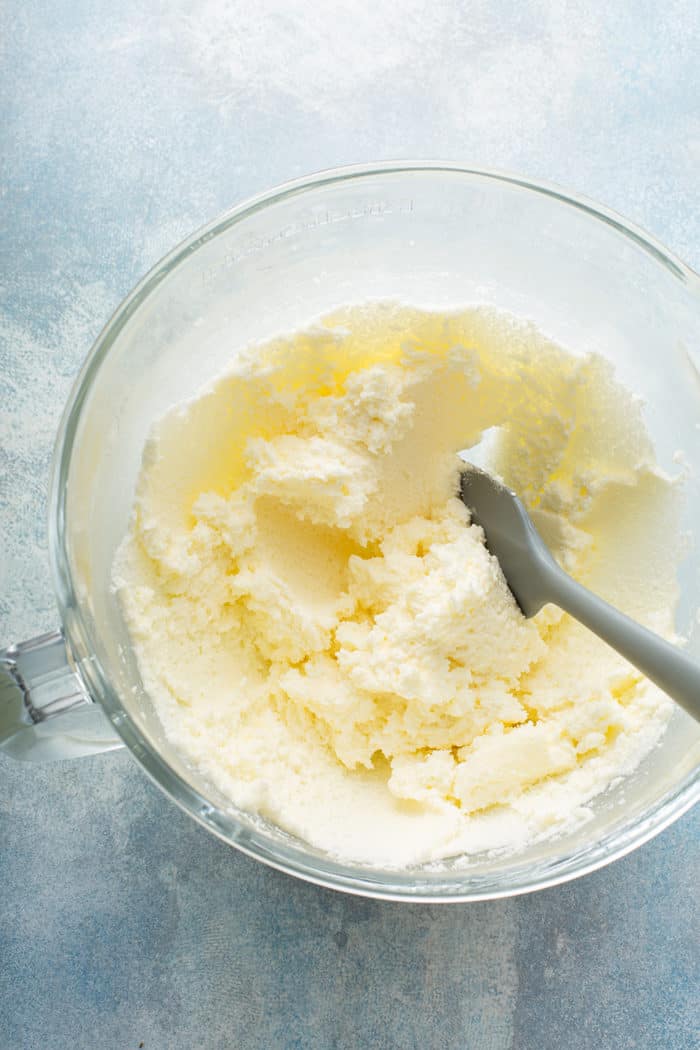 WHAT MAKES THIS CAKE RECIPE SO UNIQUE?
The first thing that makes this Whipping Cream Cake so unique is that it uses a cup of whipping cream instead of milk.
Whipping cream is rich and of course a lot heavier than milk, so it's not usually used in cake recipes. The extra fat in the cream does magical things in this cake, though.
The other thing that makes this cake recipe so unique is the way that it is baked – it is actually baked starting in a cold oven, and not a preheated one!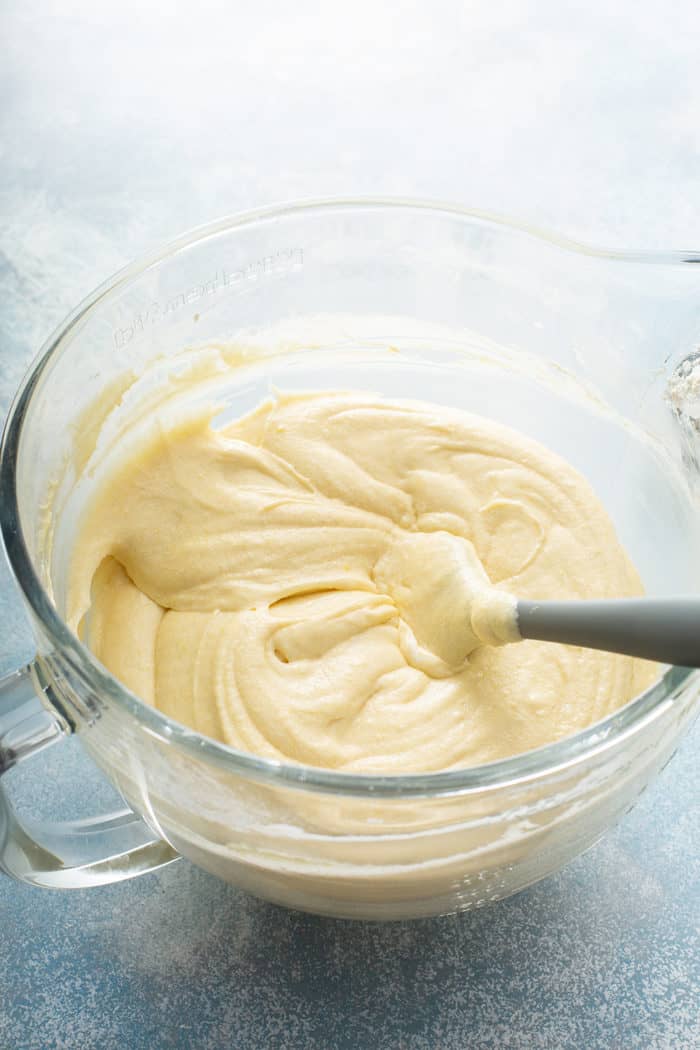 WHY DO YOU START THIS CAKE IN A COLD OVEN?
For most cake recipes (and baking recipes in general), you preheat the oven before you put the cake in to bake.
But for this recipe, you put the cake in a cold oven, then turn the heat to just 325°F while it bakes. There's actually a reason for this weird step, though!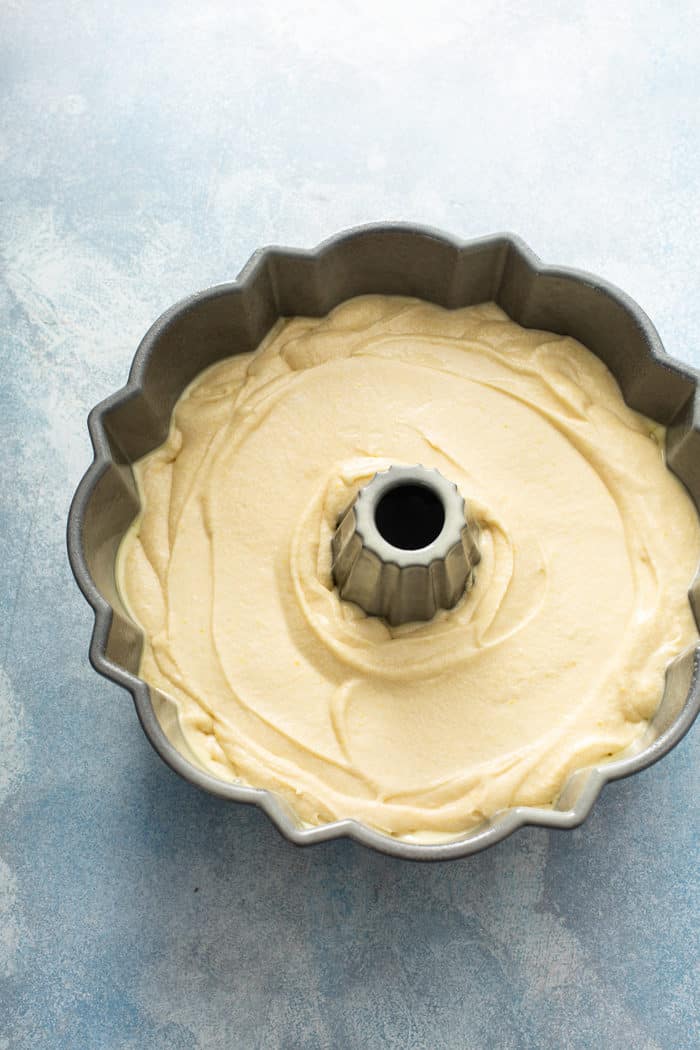 This cake is so dense, if you started it in a hot oven or baked it at a higher temperature, the outside would burn before the inside baked all the way through.
By starting the cake in a cold oven and letting it slowly warm up, it makes sure the inside of the cake and the outside of the cake are done at the same time.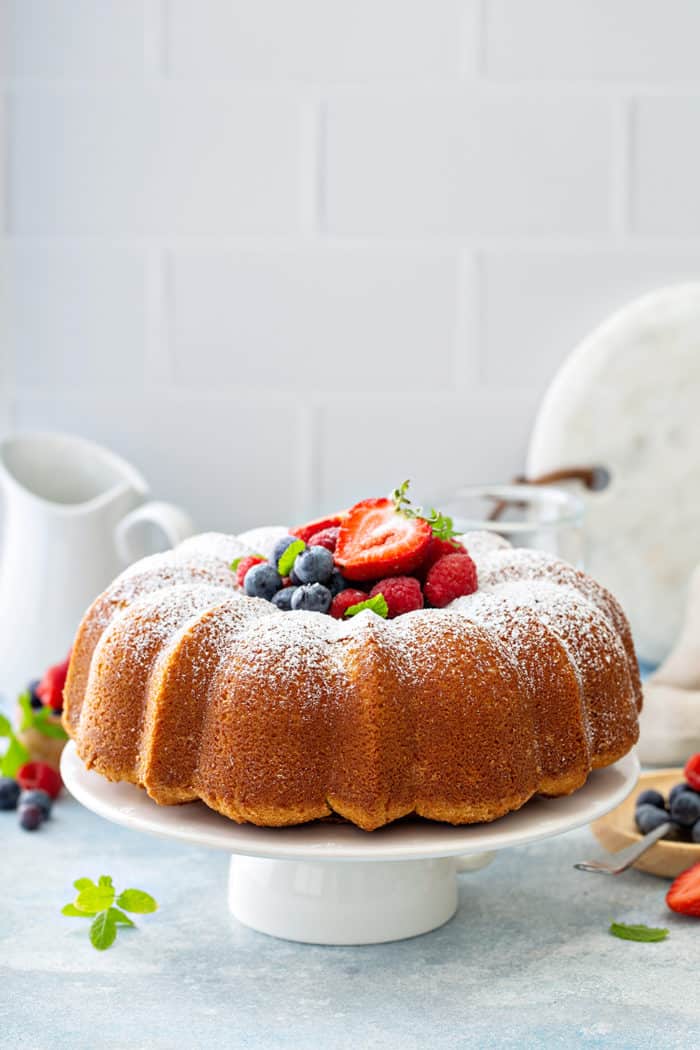 HOW TO MAKE WHIPPING CREAM CAKE?
Like a lot of classic recipes, you only need a few basic ingredients to make this amazing cake:
1 cup room-temperature unsalted butter
2 1/2 cups granulated sugar
6 room-temperature eggs
3 cups all-purpose flour
½ teaspoon kosher salt
1 cup heavy whipping cream
2 teaspoons vanilla extract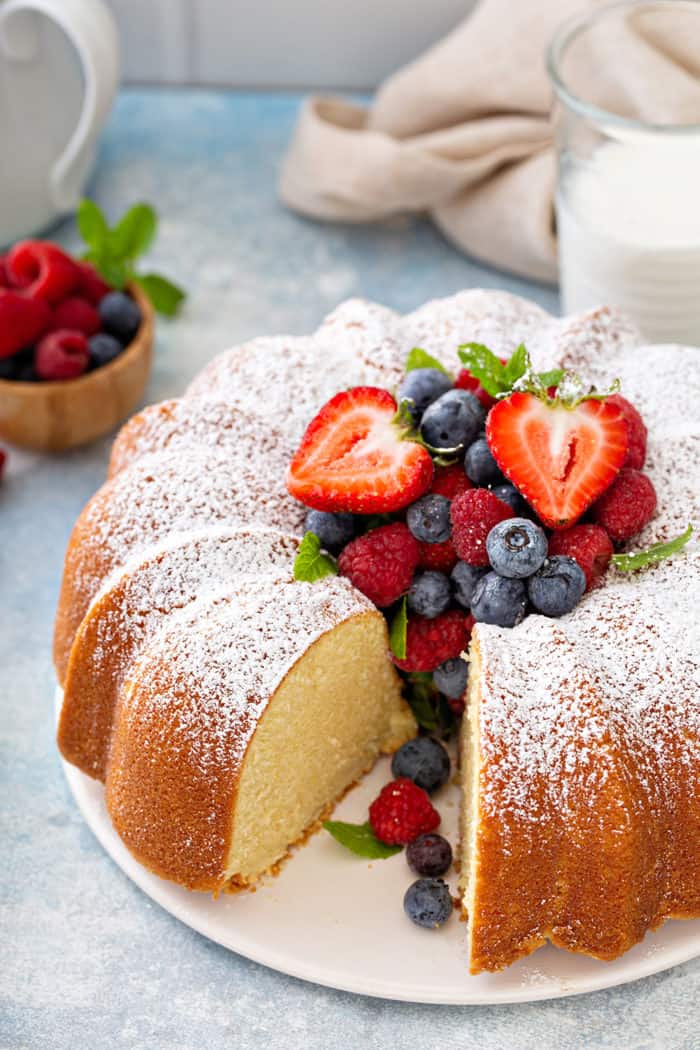 The original recipe calls for 3 cups of flour and does not call for any salt. But after testing the recipe a few times, we decided that we like it best with slightly less sugar and with a small amount of salt added.
I also recommend adding some lemon zest to make this into a lemon whipping cream cake, but that's a topic for another time.
Start by beating the butter and sugar together until they're light and fluffy, about 5 minutes. Don't skimp on this step! You want them well combined.
(Psst! Did you forget to leave your butter out to soften? Learn how to bring butter and eggs to room temperature.)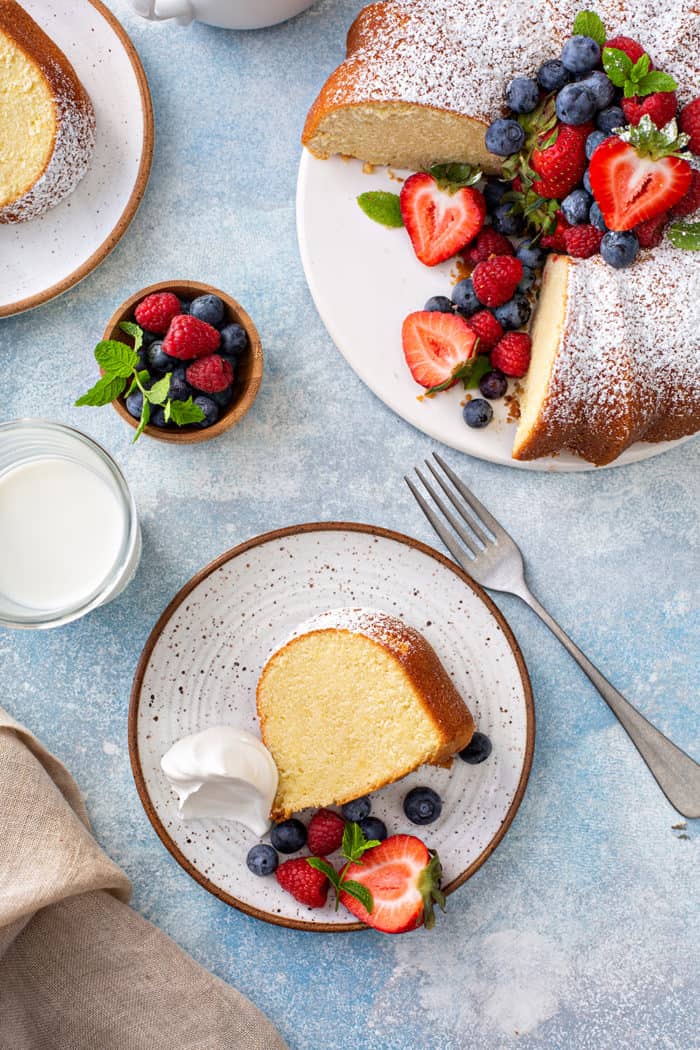 Add in the eggs, one at a time, beating well after each egg.
In a separate bowl, whisk together the flour and salt, then alternate adding the flour and the whipping cream. Start and end with the flour.
Scrape down the sides of the bowl and add in the vanilla just until combined.
Add the batter to a prepared bundt pan, then bake for 1 hour and 15 minutes, starting in a cold oven and heating to 325°F while the cake bakes.
Let the cake cool in the pan for 45 minutes before turning it out onto a serving plate.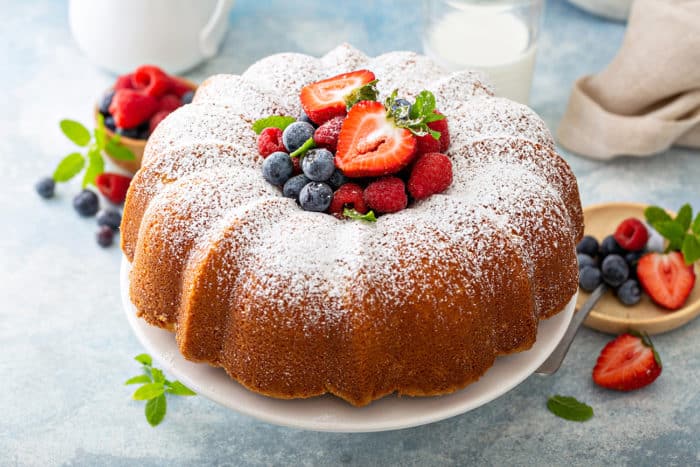 CAN YOU FREEZE WHIPPING CREAM CAKE?
This cake would freeze well! It makes a lot, so unless you're sharing it with a crowd, you'll probably have leftovers.
The cake will keep for 3-4 days covered at room temperature. For longer-term storage, cut it into slices and wrap each one in plastic wrap, then store them in the freezer in a zip-top freezer bag.
That way, you can pull out a piece whenever you get hungry for a slice of Whipping Cream Cake. Which might be often, so consider yourself warned.