Craving a bowl of rich, creamy pasta? This Easy Fettuccine Alfredo recipe will impress your family with how delicious it is and impress you with how simple it was to make!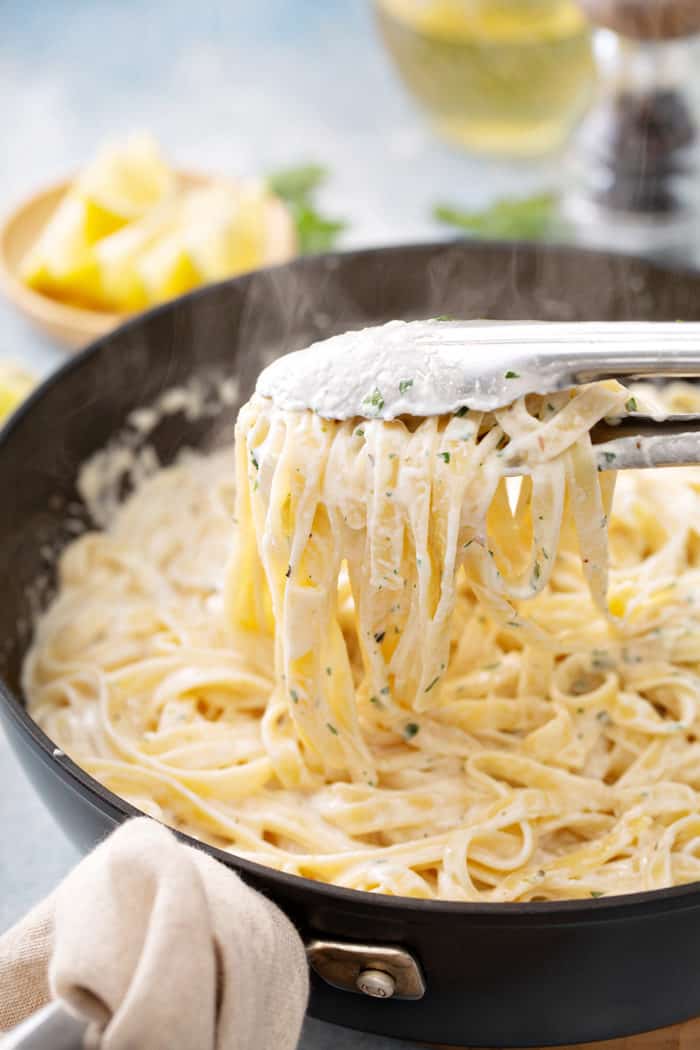 I know it's almost summer and grilling season is upon us, but I wanted to share one of our very favorite quick weeknight meals with you.
This Easy Fettuccine Alfredo comes together with ease and is perfect on its own or topped with grilled chicken, steak or shrimp.
Serve it up with a salad and garlic breadsticks and you pretty much have weeknight dinner perfection.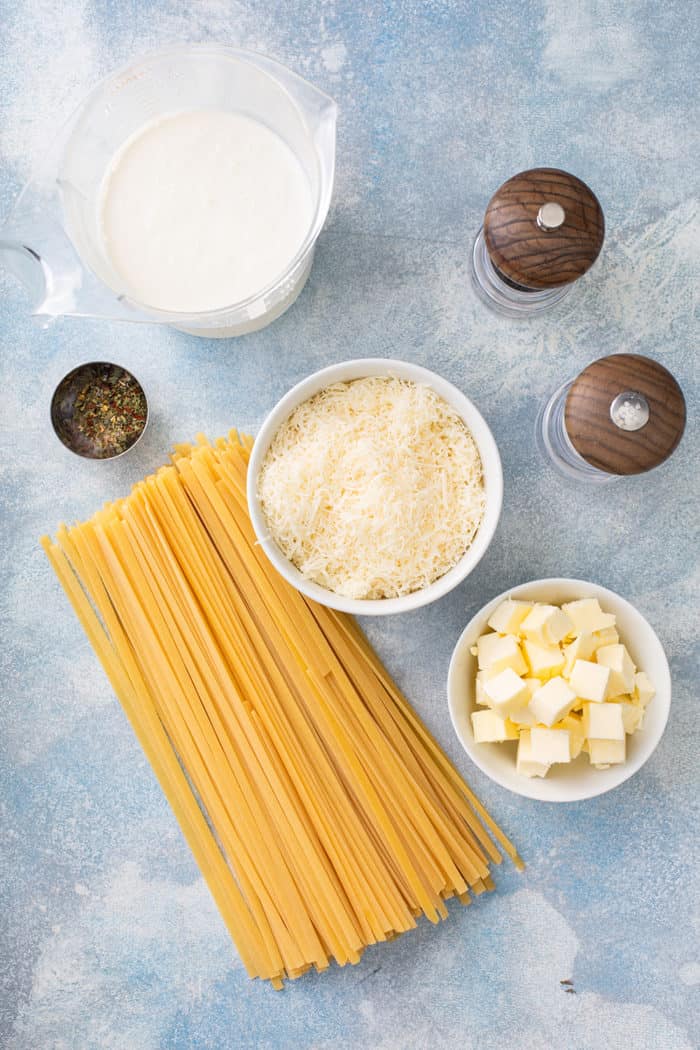 IS FETTUCCINE ALFREDO REALLY ITALIAN?
Let's just get this out of the way: No, fettuccine alfredo is not an "authentic" Italian dish.
I'm a big fan of Joshua Weissman, and he has talked about how it is believed that the recipe that alfredo originates from is actually fettuccine al burro. The original uses the heat of the cooked pasta and some of the pasta water to make a creamy sauce from butter and parmesan cheese.
Alfredo sauce as we know it is a pretty Americanized dish. So no, it's not "really" Italian…but it is really delicious.
I've been making my version of this pasta for years and my family loves it.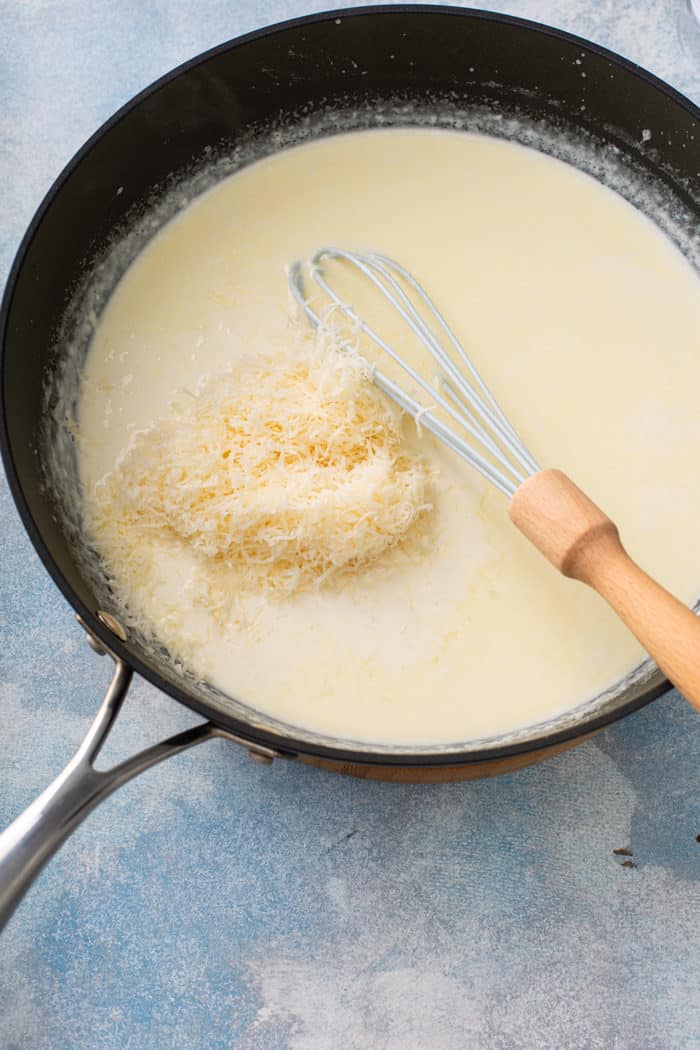 FETTUCCINE ALFREDO INGREDIENTS
Don't be intimidated by the idea of making fettuccine alfredo at home if you've only had it at restaurants. This easy sauce uses just a handful of ingredients:
Heavy cream
Unsalted butter
Parmesan cheese
Pizza seasoning
salt and freshly cracked black pepper
chopped fresh flat-leaf parsley and lemon wedges, for garnish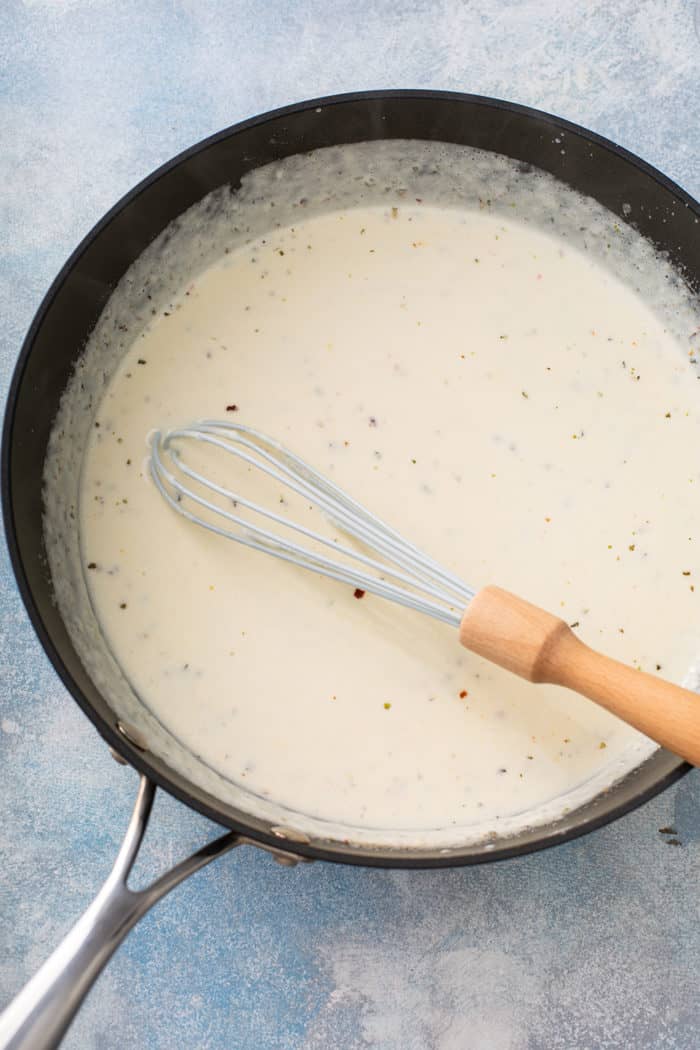 Just like with Extra Virgin Olive Oil Herb Dip, since this recipe has so few ingredients, the quality of the ingredients can really make a difference.
I like to use the Sartori Sarvecchio Parmesan for this recipe, but any really good parmesan will work well.
I also really like to use the King Arthur Flour Pizza Seasoning. It's my favorite pizza seasoning and aside from being great on anything from frozen pizza to homemade chicken bacon ranch pizza, it is an easy way to add great flavor to this sauce.
The parsley and lemon aren't required but I highly recommend adding them at the end. They add a brightness that you really need with such a rich cream sauce.
And I know someone is going to ask if you can make this with milk instead of cream. You really do need to use cream in this recipe! (But try my Baked Macaroni and Cheese for a milk-based pasta sauce.)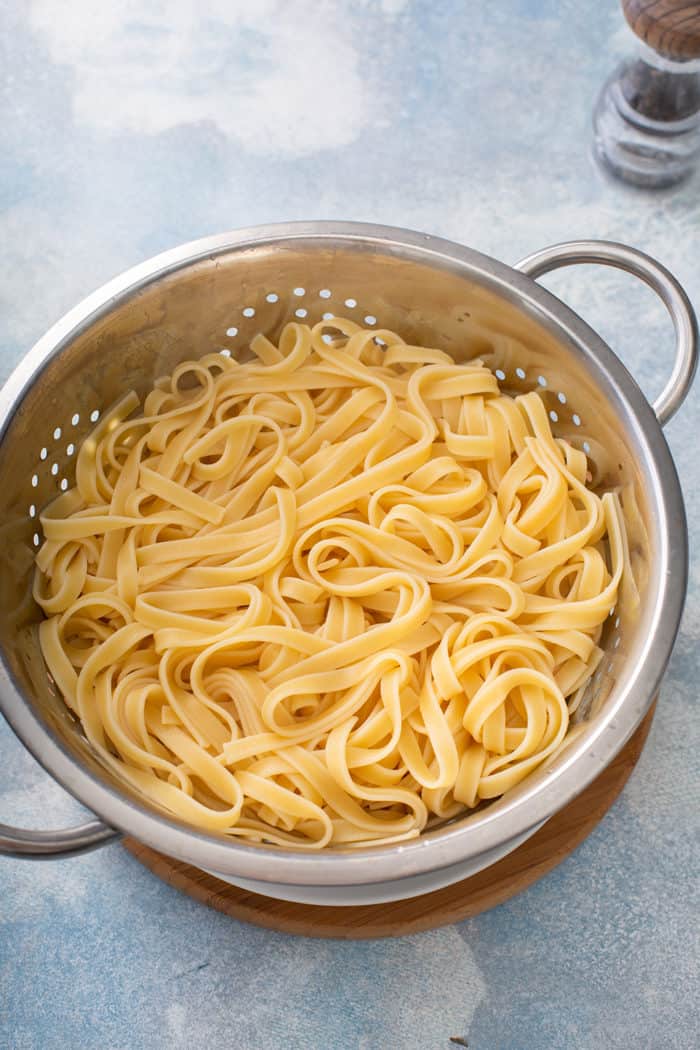 HOW TO MAKE EASY FETTUCCINE ALFREDO
Alright, let's get to it. How do we actually make my Easy Fettuccine Alfredo?
Start by setting aside about ⅓ cup of the grated parmesan for topping the finished pasta.
Cook the pasta in heavily salted water according to the package directions.
While the pasta cooks, add the cream to a deep saute pan or Dutch oven and heat it over low to medium heat. Add the butter and whisk gently until melted, then let the mixture simmer for a few minutes until it has reduced slightly.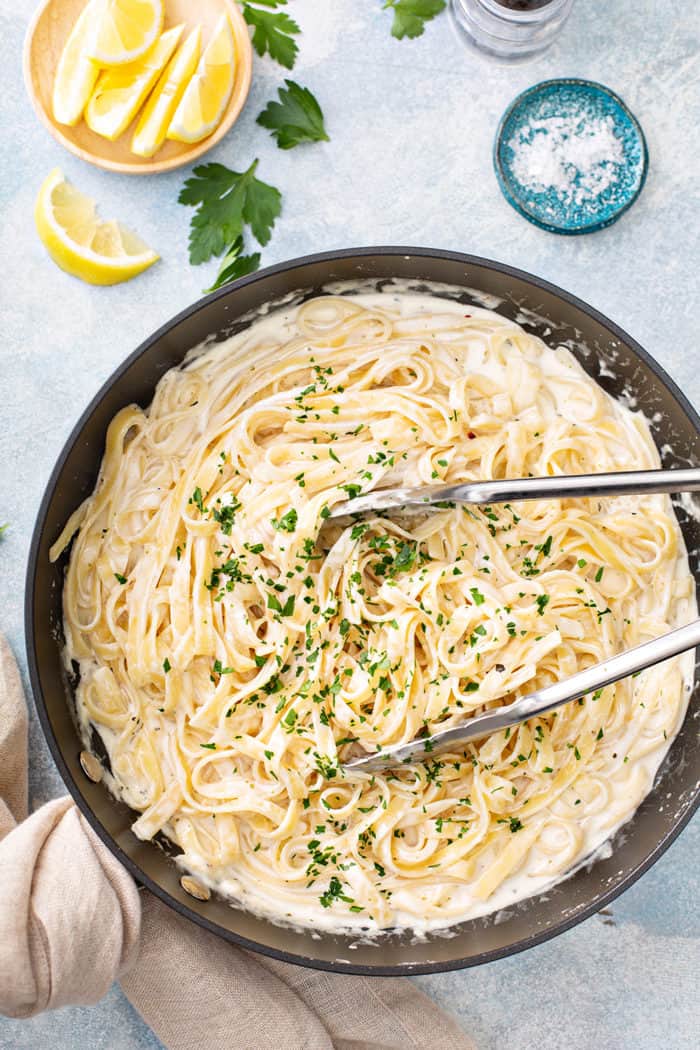 Sprinkle in the remaining cheese and the pizza seasoning. Keep whisking until the cheese has melted and the sauce has thickened, then season with salt and pepper to taste. Make sure you taste it before adding any seasoning since you've already added a salty cheese and the pizza seasoning!
When the pasta is done cooking, reserve about ½ cup of teh pasta water before you drain the fettuccine. Add the drained pasta to the sauce, tossing to combine. Add as much of the reserved pasta water as needed to thin the sauce to your liking.
Serve the fettuccine alfredo with some chopped fresh parsley, a squeeze of lemon, and the reserved cheese. An extra crack of black pepper would be great, too!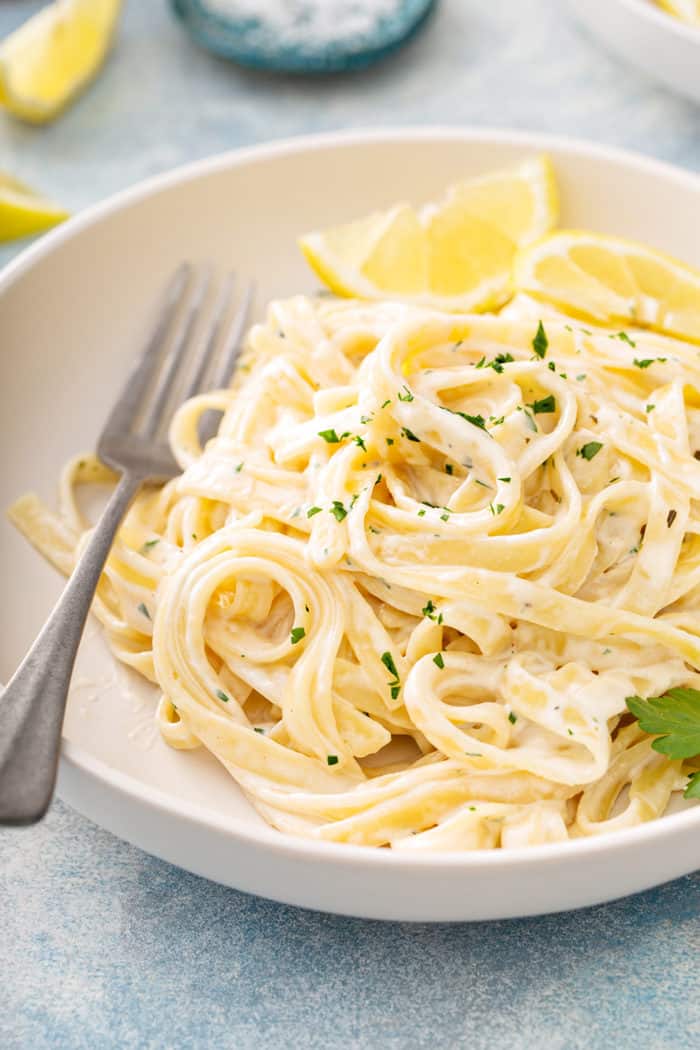 HOW TO REHEAT LEFTOVERS OF THIS PASTA
If you've ever tried to reheat creamy pasta sauces, like Creamy Pesto Pasta with Shrimp, you might have noticed that they tend to separate and get kind of oily.
So what do you do if you have leftovers? Keep in mind that if you zap it in the microwave, the texture won't be what it was when the pasta was fresh.
I'd recommend reheating Easy Fettuccine Alfredo in the oven. It'll take longer, but the sauce is more likely to stay stable this way. It still won't be as perfect as when it's fresh, but it's less likely to completely split.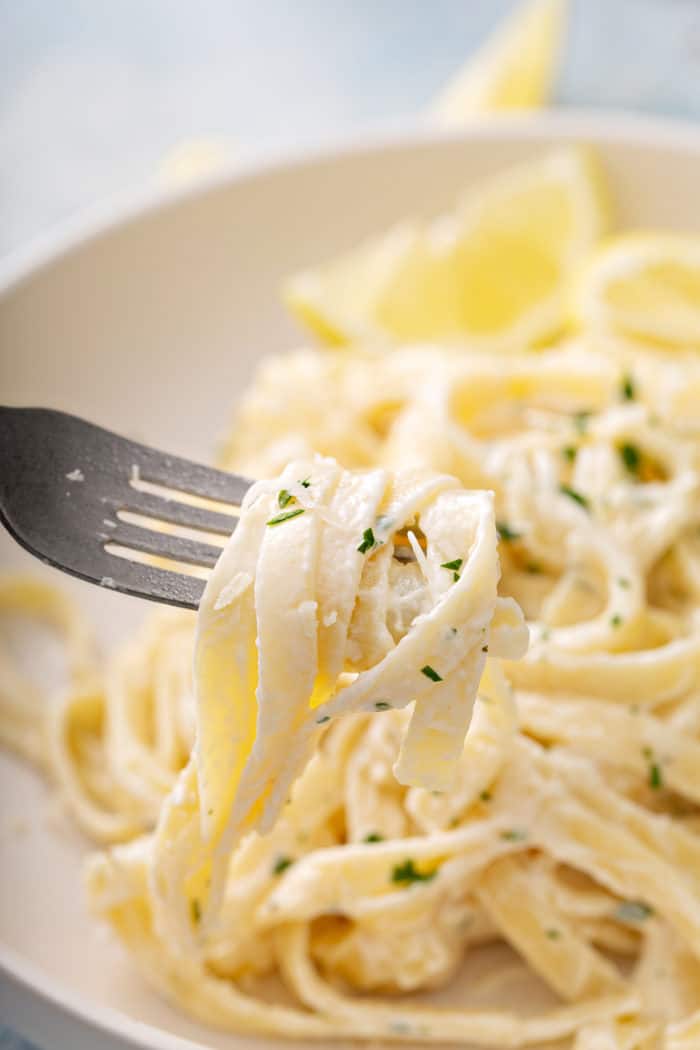 Here's how you do it:
Preheat the oven to 375°F or so. Put the pasta in a glass oven-safe dish and add a few drops of water.
Cover the dish with foil and bake for about 10 minutes. Stir the pasta, recover with the foil, and bake for another 10 minutes.
If needed, add a few more drops of water during baking to keep the pasta from drying out.
The pasta should be warmed through, but give it a stir to make sure. You can always heat it for a few more minutes, covered, if needed.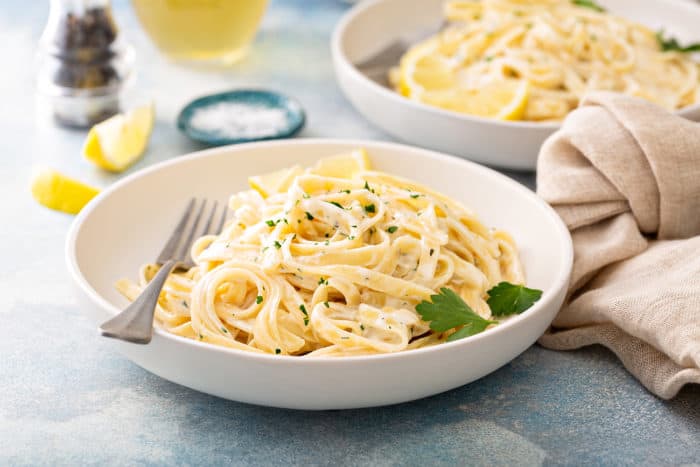 CAN YOU FREEZE ALFREDO SAUCE?
If you're concerned about having too much alfredo sauce, you can try freezing a portion of it for later.
Just remember that it might be trickier to reheat than something like Homemade Meat Sauce would be.
I recommend freezing JUST the sauce without the fettuccine pasta. After making the sauce, let it cool and package it in zip-top freezer bags with as much air pressed out as possible.
Freeze the alfredo sauce for up to 3 months. When you're ready to use it, let the sauce thaw in the refrigerator overnight.
To reheat, add the sauce to a deep saute pan and give it a good whisk. Place the pan over low heat and let it heat slowly, whisking almost constantly to bring the sauce back together.
Cook your pasta and add it to the sauce as written in the recipe, adding a bit of the pasta cooking water as needed and garnishing with parsley and a squeeze of lemon.