Creamy Pesto Pasta with Shrimp combines butter, cream, parmesan and basil pesto to create a delightful pasta dish that's perfect any night of the week.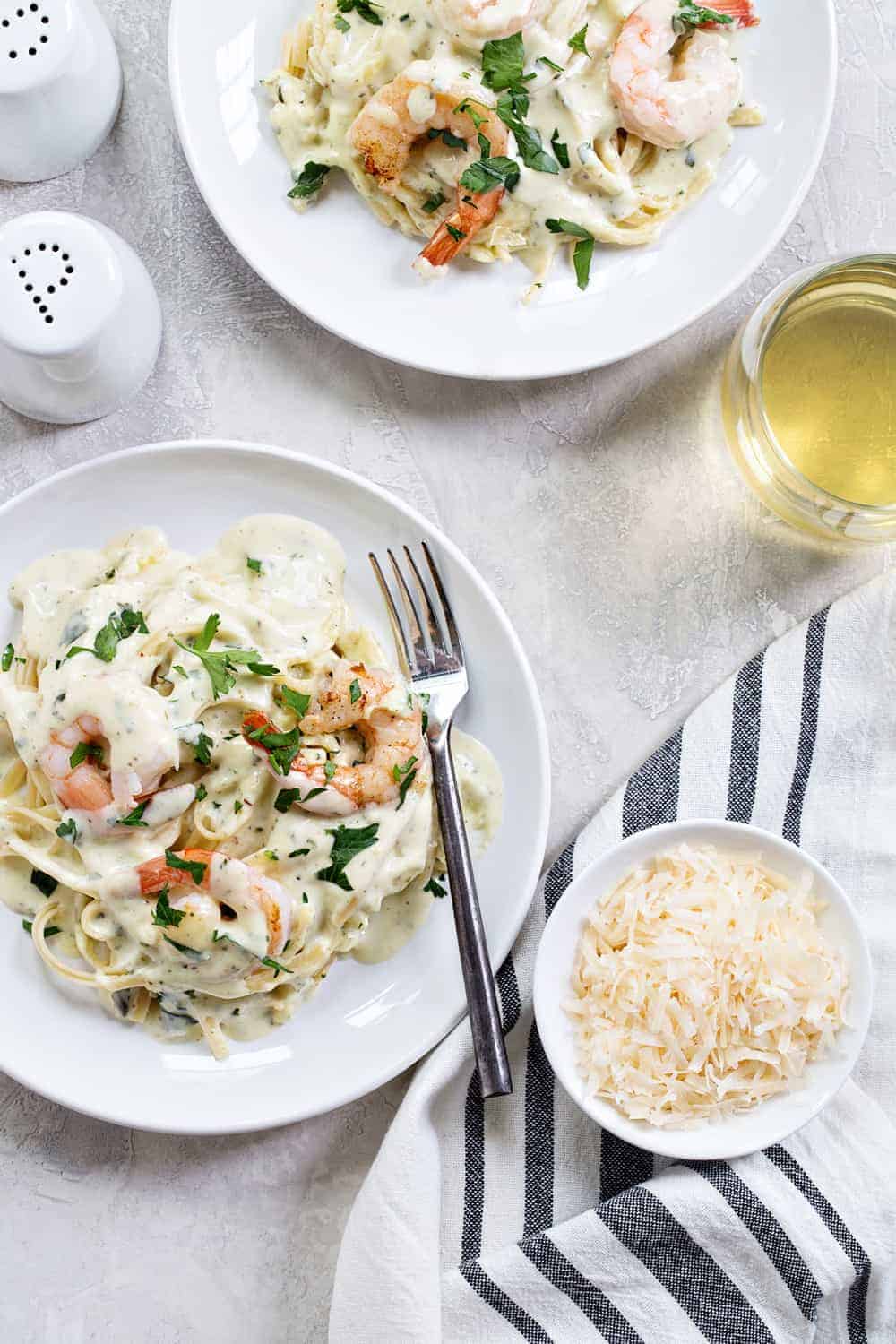 This is a going to be a bit of weird post today because I want to talk about people on the internet. Not the good people like you, I'm talking about the crummy people.
Since my job is on the internet and focuses heavily on social media, I've developed a pretty thick skin when it comes to criticism.
Things like, This recipe looks disgusting, complete with a barf emoji, or I don't need to hear your lame life story, just give me the recipe.
These comments are usually deleted and the person gets blocked because let's face it, if you're going to come at me like that, I don't want you around here anyway.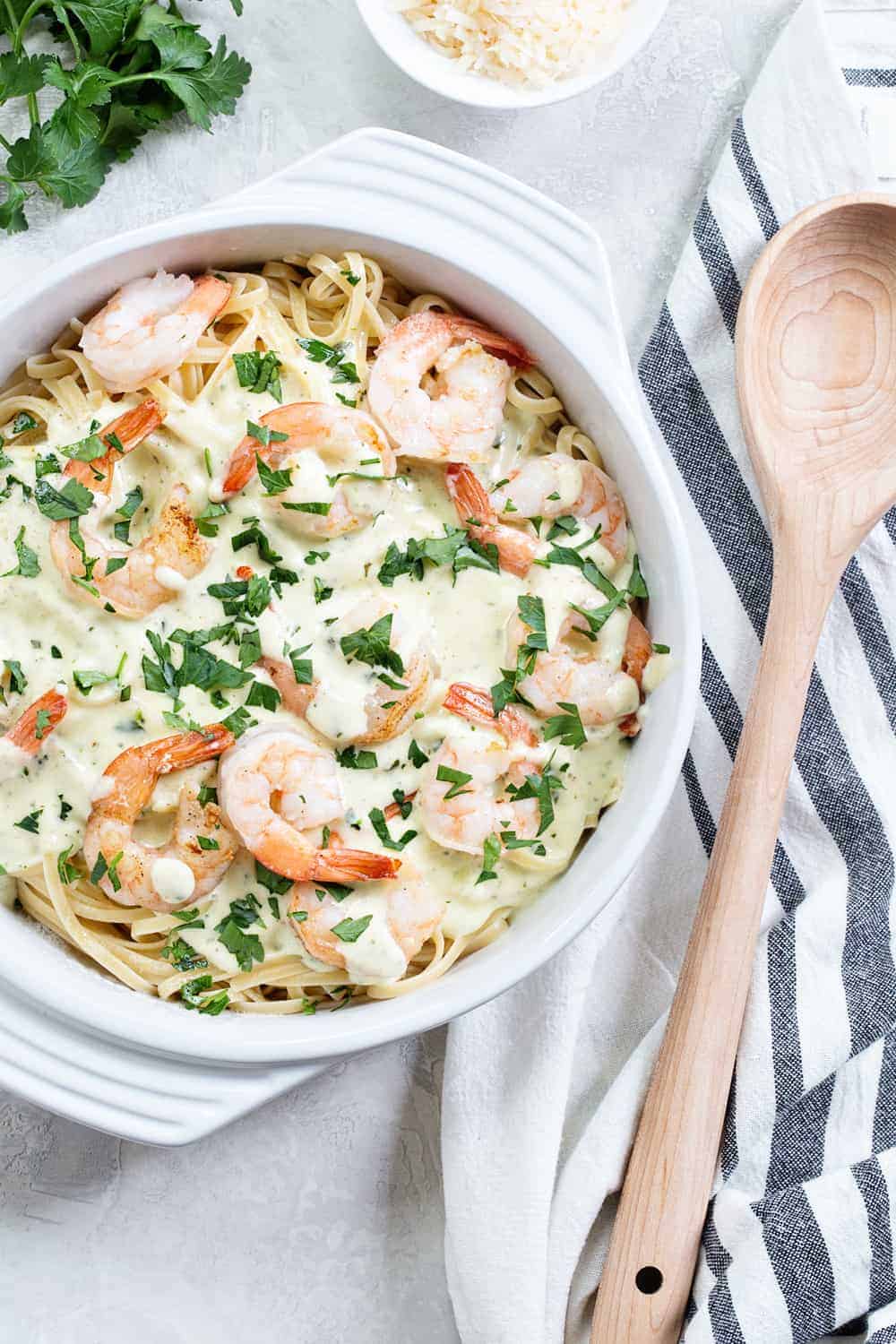 On the flip side, I often get asked why I don't share more of my day to day life, family, Elle, etc. on social media.
Sure, I pop in on Instagram Stories every so often, but I've decided to keep it pretty food focused.
And if I'm being honest, it's out of fear. Because quite frankly, people can be so damn cruel and if I can shelter Elle from that while she's still young, I'm going to do just that.
Over the weekend, I was sitting on the couch catching up on Big Brother and happened to check my email. Yes, I watch and looove Big Brother.
In my inbox was a response to my email subscription notification for my Movie Theater Popcorn Bars.
It simply said, Drop dead.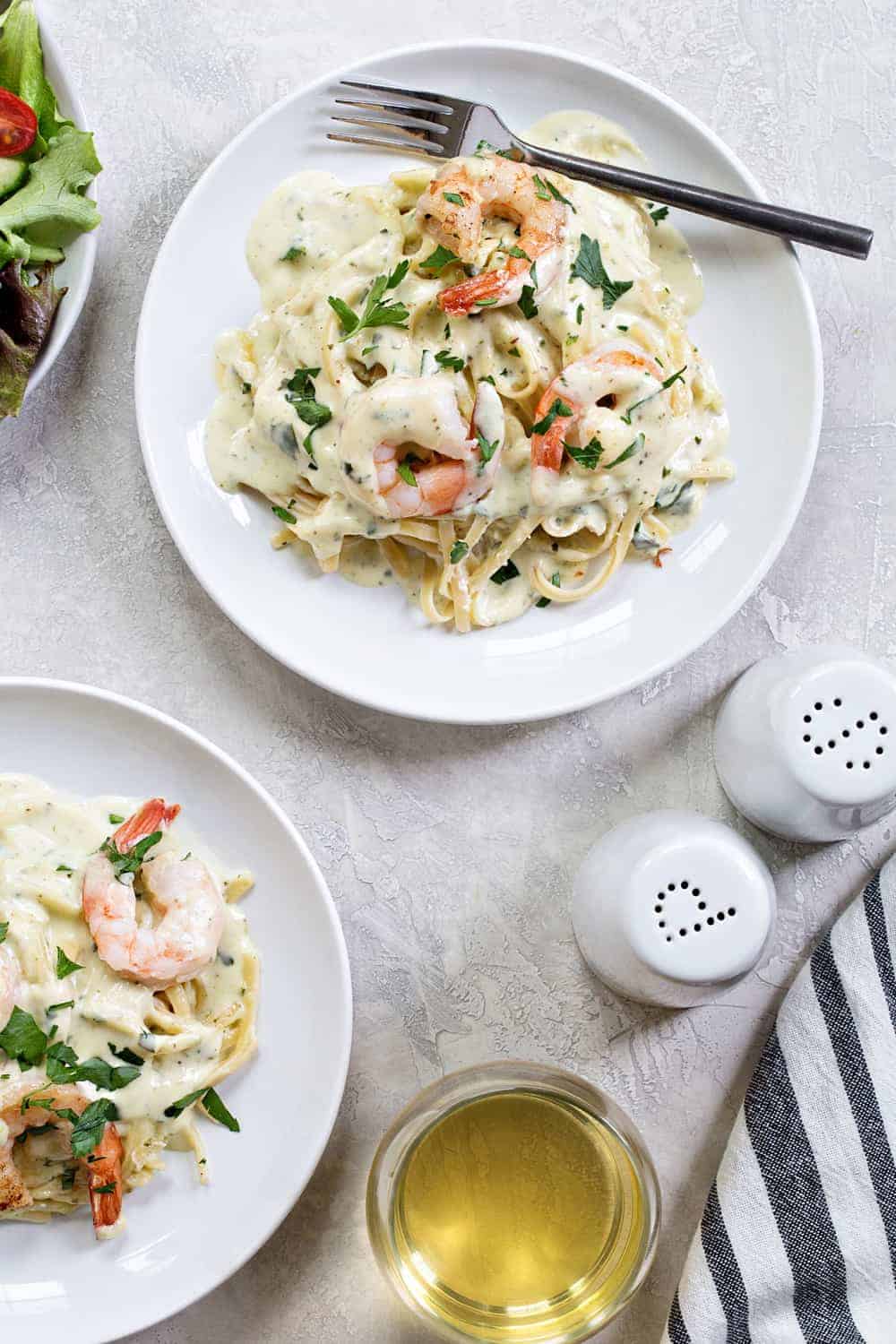 Guys, someone emailed me and told be to drop dead over Movie Theater Popcorn Bars. I just can't.
Part of me thought that maybe she accidentally left out the word gorgeous, because let's face it, those bars were freaking beautiful.
But she didn't. Because when I replied to the email, which I know I shouldn't of, she responded and told me F**! off. I mean, this gal is clearly all kinds of pleasant.
For whatever reason, this comment stuck with me for days. And not because my feelings were especially hurt – it was more than that.
It's the fact that another human being told me to DROP DEAD after receiving a dessert recipe in their inbox, which they signed up for. Like what?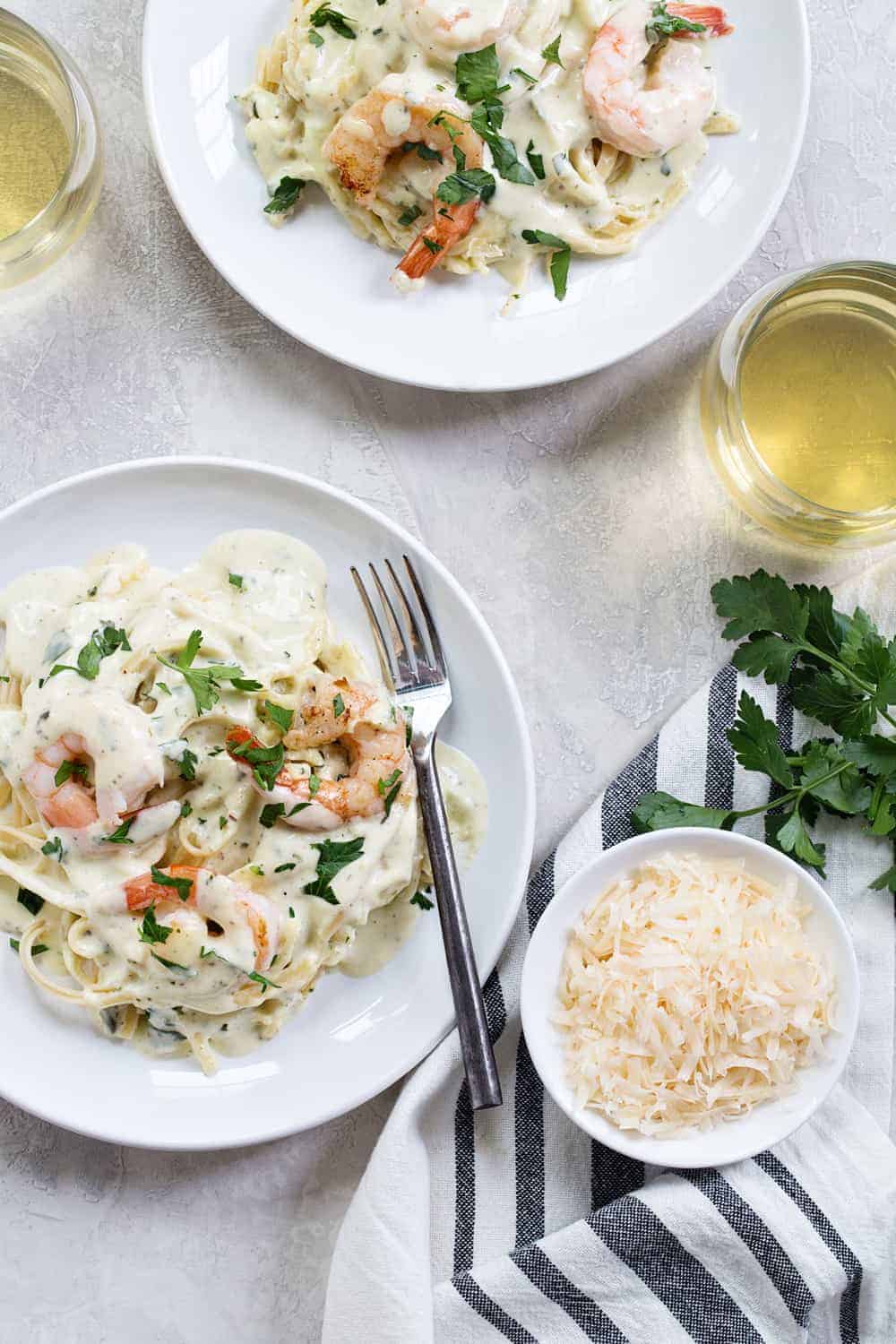 I have so many questions and have really been wasting a lot of energy and brain space contemplating what makes a person tell another person to drop dead over the internet.
I guess what I really am trying to say here is, the world has enough unkindness. I get that maybe there are circumstances I don't know about that made that email sender feel better for 5 seconds to tell me to go to heck. So okay.
But if we're all honest with ourselves, there's a whole lot of this kind of behavior on the internet, every day.
And I think it's about time that rather than just hitting delete, we at least say, "You know what? That was unkind and unnecessary." Which is basically what my response to her said.
And then go on to extend just a bit more kindness in our own daily lives.
Pay for the car behind you at Starbucks. Tell someone their dress is beautiful. Smile and make eye contact, and say, "I hope you have a good day."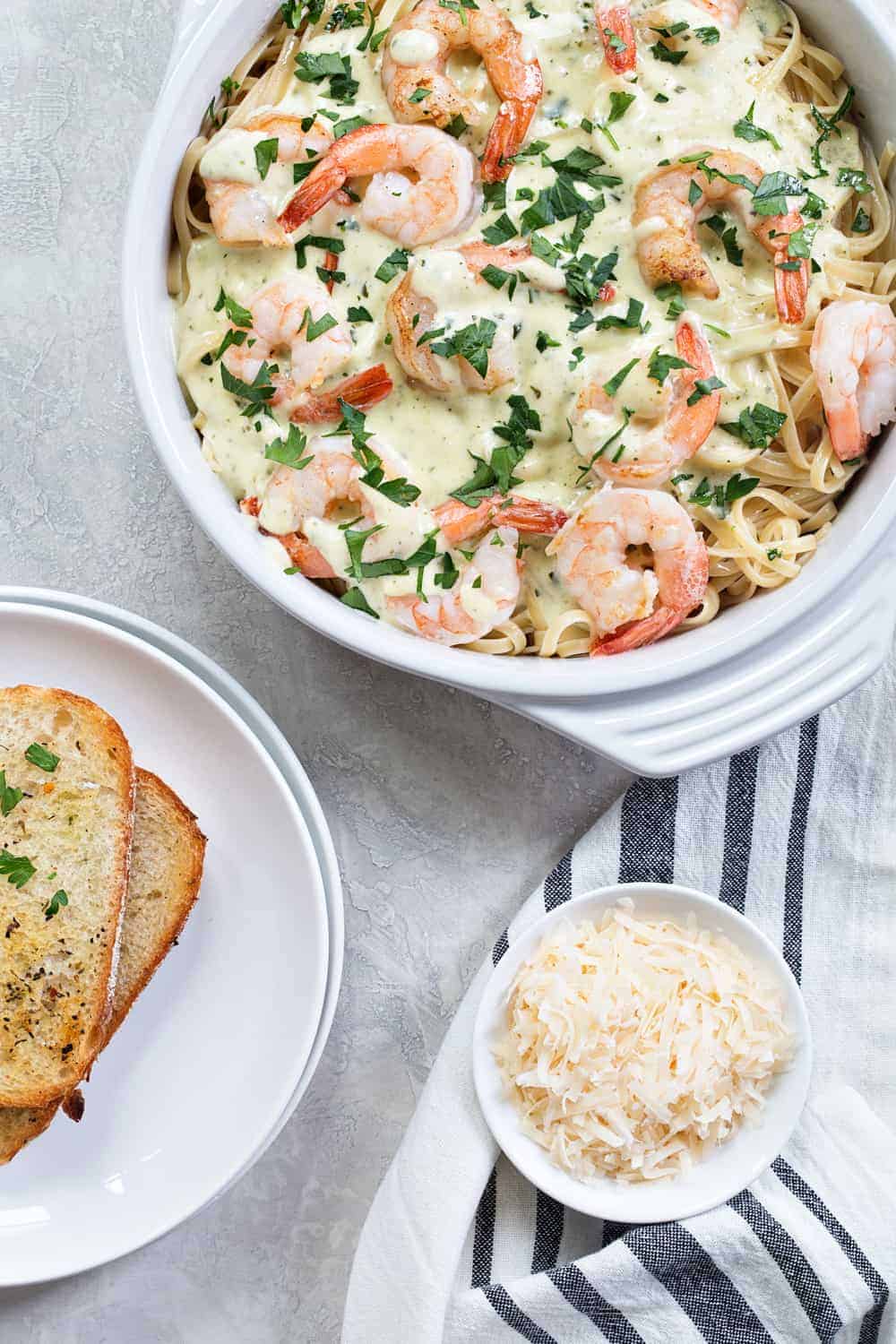 I don't mean to be preachy, but I'm really at that point where I think if we were all just a little bit kinder to each other every day, folks wouldn't be in a place where hitting reply to an email and telling someone to eff off over a dessert bar recipe feels necessary.
Who's with me?
And now let's get to the real deal: This Creamy Pesto Pasta with Shrimp. I made it for myself for dinner one night because I adore anything with shrimp. Then I made it again and gave it to my aunt and her family.
It was an act of kindness that comes easy – I love making food for other people.
I hope you like the recipe as much as they did.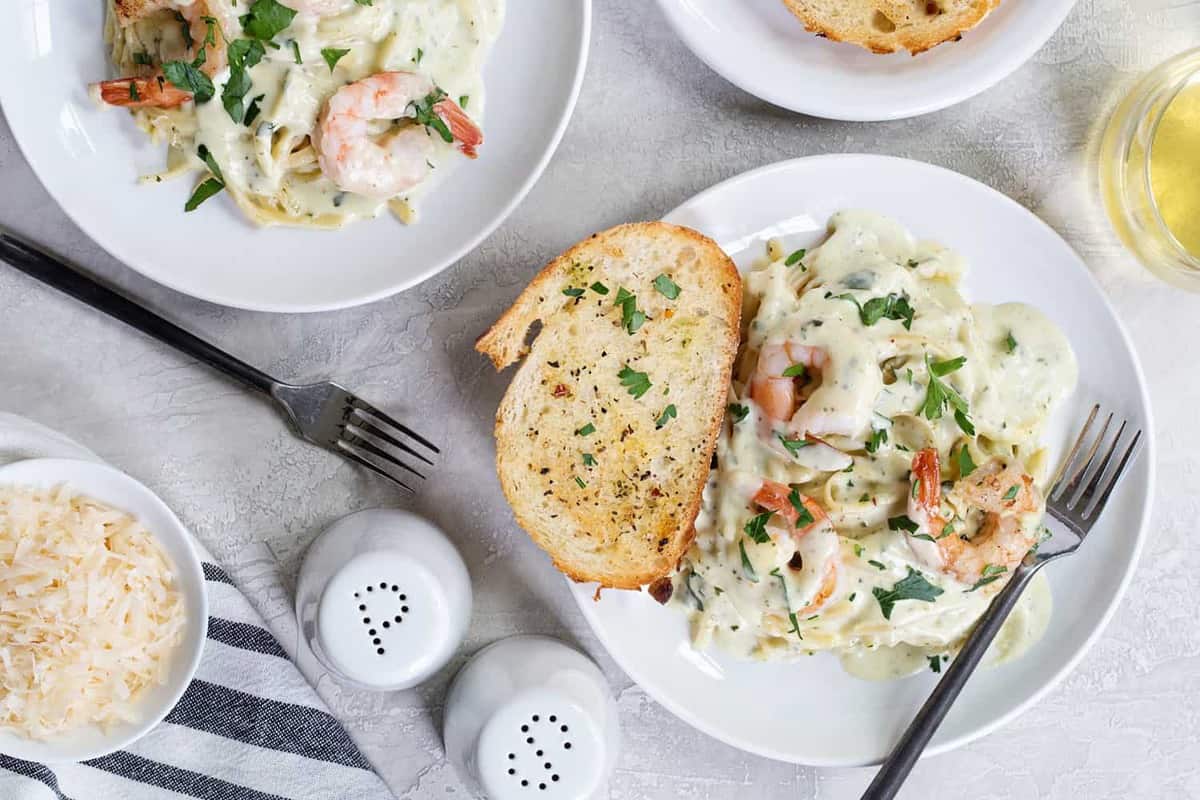 SHRIMP AND PESTO
Just like Forrest and Jenny, shrimp and pesto go together like peas and carrots.
Seafood pairs perfectly with bright flavors. Think about how often you see fish, shrimp and other shellfish served with citrus and herbs, like in my Chipotle Lime Shrimp Soft Tacos or these tilapia recipes.
The brightness of the basil pesto is the perfect partner to the shrimp in this easy pasta dish.
Feel free to use your favorite jarred basil pesto for this recipe. You know I'm not gonna judge! If you're feeling up to it, though, you can totally try making your own Fresh Basil Pesto.
(Psst! Store leftover Fresh Basil Pesto in your refrigerator for up to three days or in the freezer for several months!)
CREAMY PESTO PASTA RECIPE
If you've made fettuccine alfredo before, then you're already halfway to having made creamy pesto pasta. This creamy pasta sauce is super similar to your favorite alfredo.
Here's how this is gonna go. Melt your butter and then add the cream, salt and pepper. After that cooks together for a little while, you'll add a whole lotta parmesan cheese.
Ya know what's better than butter, cream and parmesan? All of those things with some basil pesto mixed in. So stir in the pesto and let your sauce thicken.
SHRIMP AND PESTO PASTA
Sure, you could stop there and serve the sauce with cooked pasta for an indulgent creamy pesto pasta recipe. But why stop when you could add shrimp? We love shrimp for dinner, this easy shrimp and grits is one of our favorites.
Serve your finished Creamy Pesto Pasta with Shrimp alongside a glass of white wine. Better serve it with some extra parm, too. You can never have too much cheese.
For more delicious dinner ideas, be sure to check out these recipes: