Creamy Pesto Pasta with Shrimp combines butter, cream, parmesan and basil pesto to create a delightful pasta dish that's perfect any night of the week.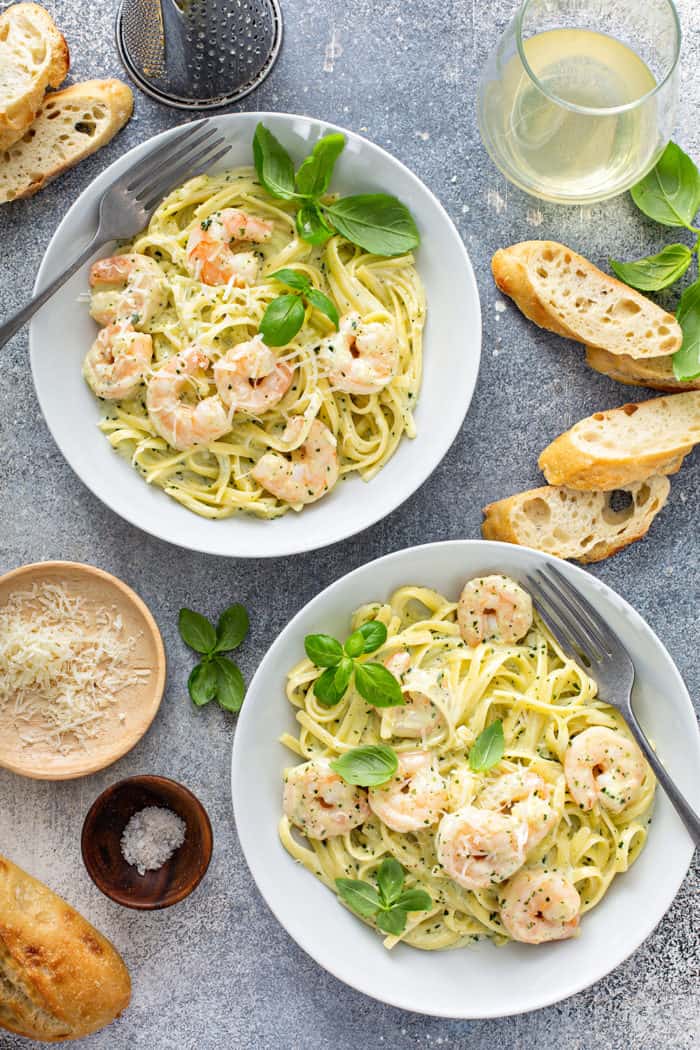 Do you have those recipes that you just love, but no one in your house does? That's pretty much the case with all shrimp recipes around here.
Eric and Elle won't touch anything other than cocktail shrimp, but I will pretty much eat shrimp in any form. Especially when it's served over pasta like this Creamy Pesto Pasta with Shrimp.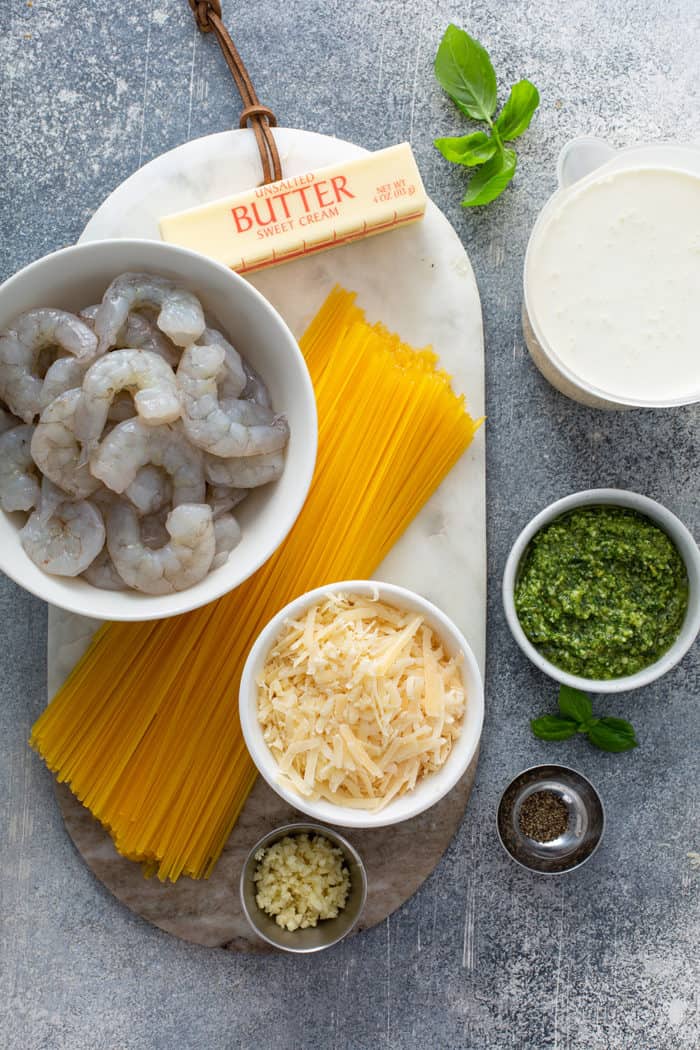 WHAT IS CREAMY PESTO PASTA?
If you love fettuccine alfredo, you'll love this creamy pesto pasta sauce.
That's because this pasta is essentially fettuccine alfredo with pesto added to it!
That's right – I took an alfredo base and stirred in some of my Fresh Basil Pesto to brighten it up and make it pair perfectly with shrimp.
After all, seafood pairs perfectly with bright flavors. Think about how often you see fish, shrimp and other shellfish served with citrus and herbs, like in Chipotle Lime Shrimp Soft Tacos or Herbed Shrimp Orzo Salad.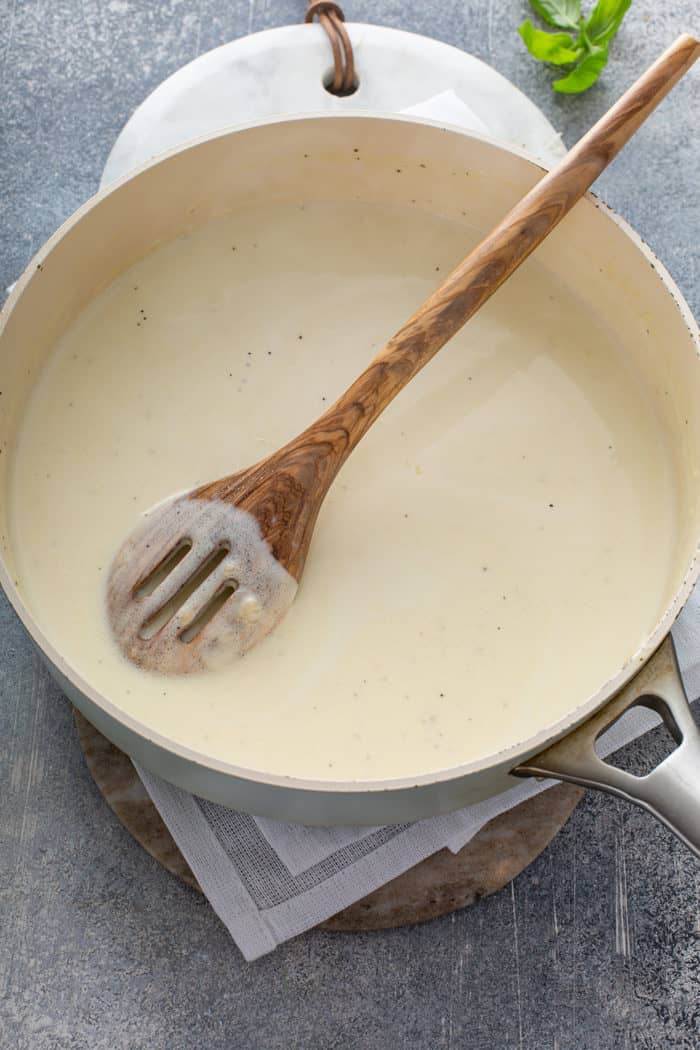 HOW TO MAKE THIS CREAMY PESTO PASTA WITH SHRIMP
Just like Goat Cheese Pasta with Chicken and Rosemary, this pasta looks fancy but actually uses just a few simple ingredients:
1 pound linguine or fettuccine pasta
1/2 cup unsalted butter
2 cups heavy cream
3 cloves garlic, minced
1/2 teaspoon freshly ground black pepper
1 cup freshly grated Parmigiano-Reggiano
1/2 cup basil pesto
1 pound large shrimp, peeled and deveined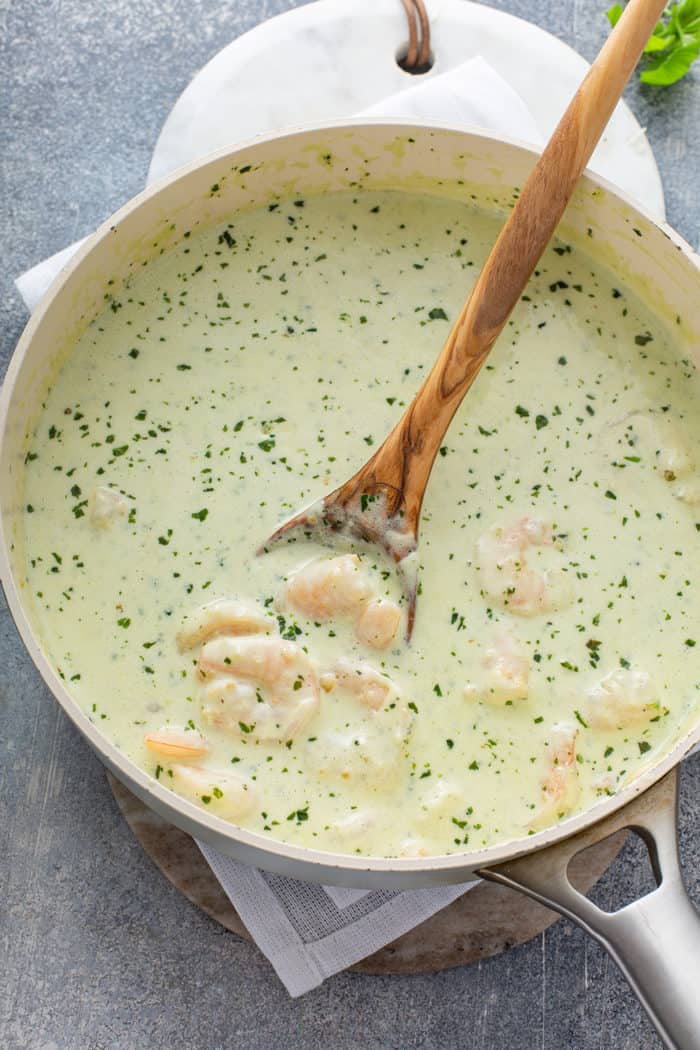 Here's how this is gonna go. Melt your butter and then add the cream, salt and pepper. After that cooks together for a little while, you'll add a whole lotta parmesan cheese.
Ya know what's better than butter, cream and parmesan? All of those things with some basil pesto mixed in. So stir in the pesto and let your sauce thicken.
Add in the shrimp and let the sauce continue to cook until the shrimp have cooked through, another 5 minutes or so.
Toss the sauce with your cooked pasta and serve with extra parmesan or a sprinkle of fresh herbs.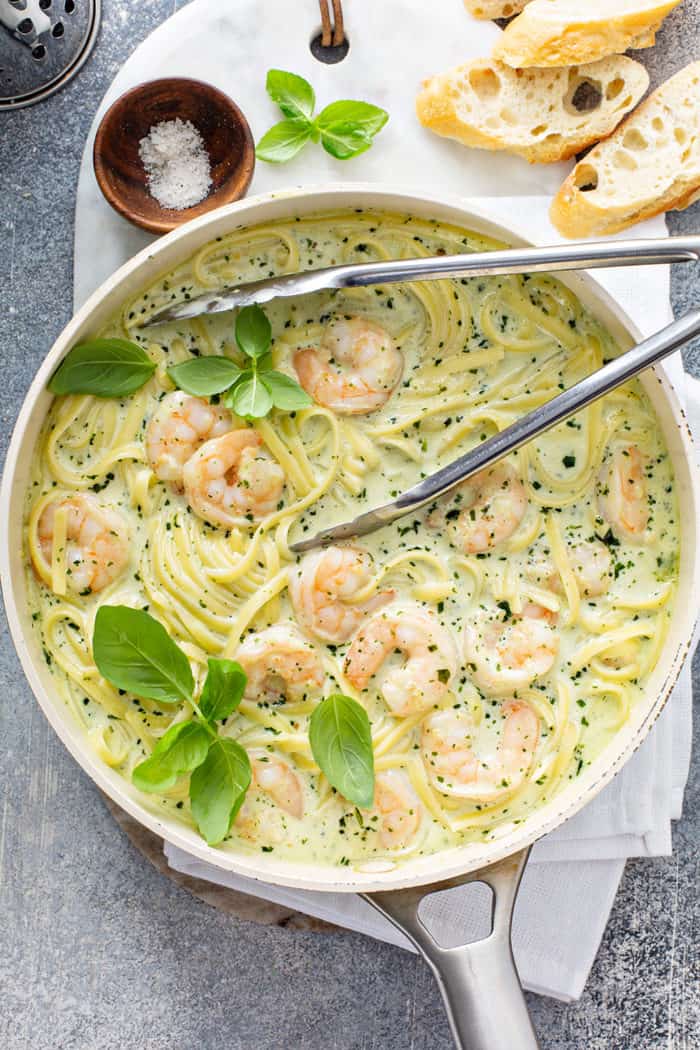 CAN YOU REHEAT CREAMY PESTO PASTA?
If you've ever tried to reheat creamy pasta sauces, you might have noticed that they tend to separate and get kind of oily.
That's not to say that you can't or shouldn't reheat leftover Creamy Pesto Pasta! Just keep in mind that if you zap it in the microwave, the texture won't be what it was when the pasta was fresh.
I'd recommend reheating the pasta in the oven. It'll take longer, but the sauce is more likely to stay stable this way. It still won't be as perfect as it was the day before, but it's less likely to completely split.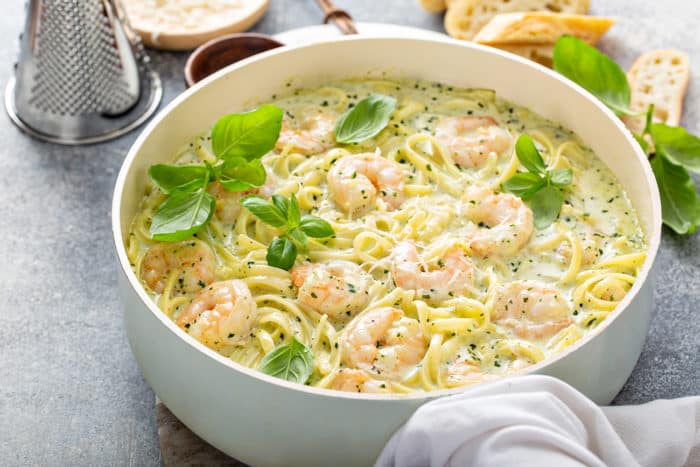 Here's how you do it:
Preheat the oven to 375°F or so. Put the pasta in a glass oven-safe dish and add a few drops of water.
Cover the dish with foil and bake for about 10 minutes. Stir the pasta, recover with the foil, and bake for another 10 minutes.
If needed, add a few more drops of water during baking to keep the pasta from drying out.
The pasta should be warmed through, but give it a stir to make sure. You can always heat it for a few more minutes, covered, if needed.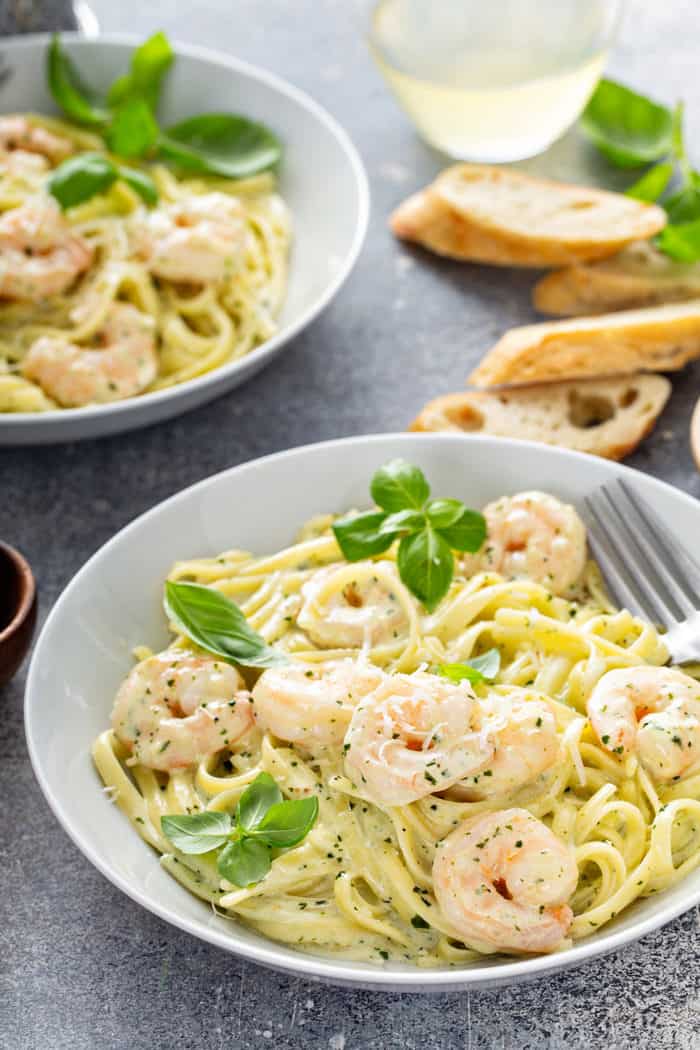 CAN YOU FREEZE THIS PASTA SAUCE?
If you're concerned about having too much pasta sauce, you can try freezing some for later.
Just remember that since the sauce is cream-based, it might be trickier to reheat than something like Homemade Meat Sauce would be.
I recommend freezing JUST the sauce, before adding it to the pasta. After making the sauce, let it cool and package it in freezer-safe zip-top bags, with as much air pressed out as possible.
Freeze the creamy pesto sauce for up to 3 months. When you're ready to use it, let the sauce thaw in the refrigerator overnight.
To reheat the sauce, add it to a saucepan and give it a good whisk. Place the pan over low heat and let it heat slowly, whisking almost constantly to bring the sauce back together.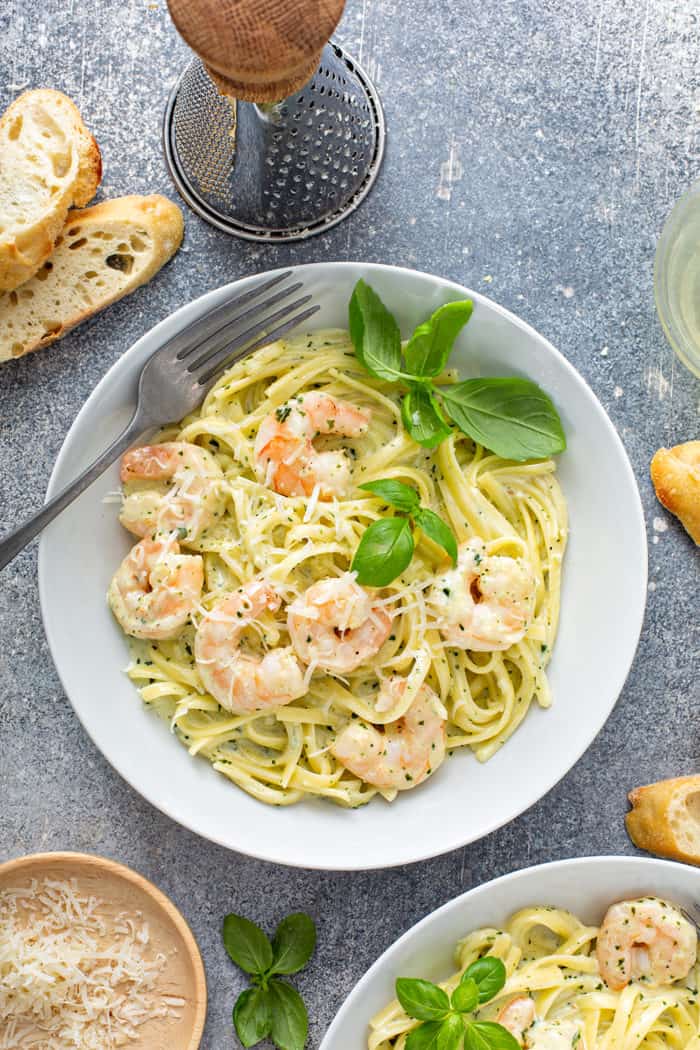 WAYS TO CHANGE UP THIS RECIPE
I really love pairing this pesto pasta sauce with shrimp. But if you don't like or can't eat shrimp, you can still enjoy this sauce!
To adapt this recipe, just leave out the shrimp and try serving the pasta with some of these additions instead:
Roasted chicken
Broccoli or asparagus
Sun dried tomatoes or cherry tomatoes
Seared scallops
Crab or lobster
Served up alongside a loaf of crusty bread and some Extra Virgin Olive Oil Herb Dip, this Creamy Pesto Pasta is sure to become one of your favorite recipes!