The other day I was wandering through the produce section at our local market and stumbled upon "live basil" it was gorgeous and the scent was simply intoxicating. I immediately tossed two into my cart and thought they'd be the perfect replacement for the three basil plants that I have already managed to kill this summer. Most plants meet an early demise when under my care, but that hasn't stopped me from planting them year after year.
I got home, put away the groceries and managed to drag a bag of potting soil through the house and onto the back deck – leaving a nice trail of dirt across the kitchen tile and living room carpet. Why didn't I take it around the house? That would be because it's hot and I'm lazy; therefore, I'm not all about the outdoors right now – or ever really. So I cleaned up the mess and headed out back clad in a nasty apron, gardening gloves and toting a mini shovel.
I successfully got the dirt into the pot without issue, dug a little hole and removed the "live basil" plant from its containerto read the following bold message:"Not recommended for planting." And there you have it, folks – a typical moment in my home. In my defense, the market does sell fresh herbs for planting – these just weren't those plants.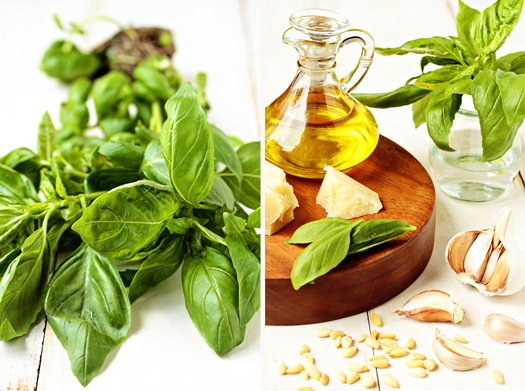 Moral of the story: When life hands you two huge basil plants that aren't recommended for planting – make basil pesto and lots of it. Oh, and words in bold usually indicate something important.
This basil pesto recipe is loaded with bold flavors and tastes stellar with a loaf of fresh, crusty bread. It's also pretty fab as a pasta sauce, a spread for sandwiches and a topping for roasted vegetables.
More Pesto Goodness:
Tomato Basil Dip from i am mommy
Pressed Sandwiches from Simple Bites
Almond Herb Tarts with Dandelion Pesto from Roost
Garlic Scape Pesto and Mushroom Pizza from My Kitchen Addition
Fresh Basil Pesto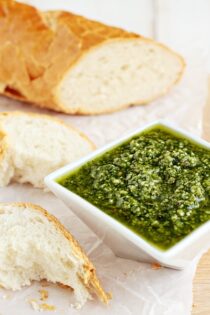 Ingredients:
3 cups packed fresh basil
2/3 cup extra virgin olive oil
1/2 cup pine nuts, toasted until golden and cooled
2/3 cup grated Parmesan cheese
2-3 cloves garlic, minced
Salt and pepper to taste
Directions:
In a food processor or blender, combine basil and about 2 tablespoons of the extra virgin olive oil, blend into a paste. Add pine nuts, Parmesan cheese, garlic, and remaining oil and pulse until smooth. Season with salt and pepper to taste.
Notes:
- Basil Pesto can be made up to three days in advance. Refrigerate it in a sealed container.
- If you cannot find pine nuts, you can substitute them with a variety of other items such as walnuts, almonds, sunflower seeds, or pistachios.
- If you prefer your basil pesto to be a little thinner, simple drizzle in more olive oil until you reach the desired consistency.
- If you are unsure how to toast the pine nuts, check out this guide on How to Toast Nuts.
All images and text ©
Follow Jamie on Instagram. We love to see what you're baking from MBA! Be sure to tag @jamiemba and use the hashtag #mbarecipes!