Make your own pizza bar for a fun and easy at-home pizza party! With a quick 30 Minute Pizza Crust recipe, you'll be able to impress your guests with almost no effort on your part.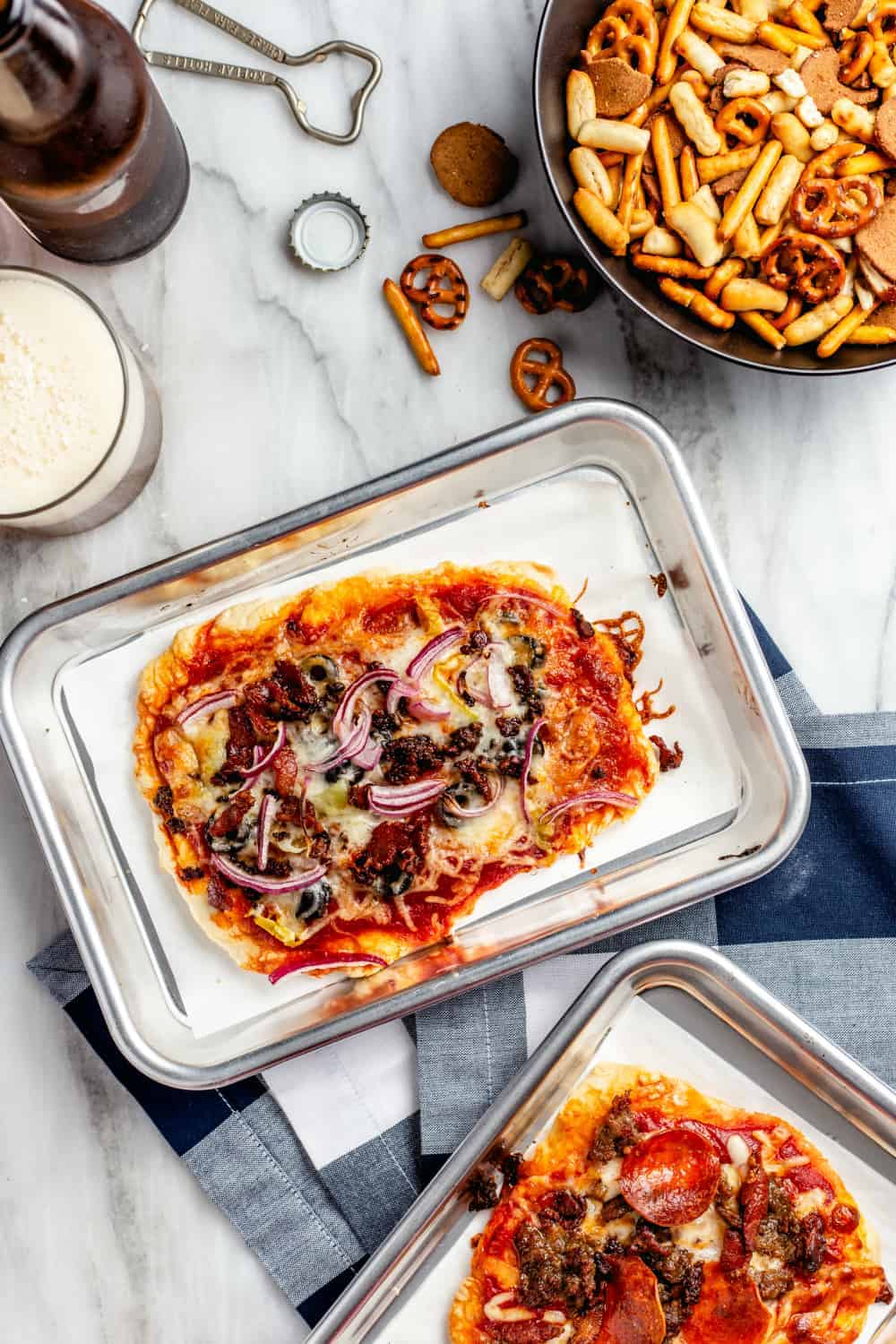 Well, the holiday induced anxiety has officially set in over here.
Every morning when Elle breaks open a new cardboard door on her Advent calendar and pops a piece of chocolate into her mouth while exclaiming, "There's only 19 days until Christmas!" I find myself happily smiling because hello, Christmas magic.
But I also find myself taking a deep breath as we enter the home stretch. I've been making lists and checking them twice and I even have a couple of things wrapped, which is a huge accomplishment for me.
This year, I've decided to simplify things a bit and not overly focus on perfection, because let's be real, Elle isn't going to really remember all the little things, or even the presents Santa puts under the tree.
She's going to remember the overall feeling of the most magical time of year celebrating with her family
So instead of stressing over a slightly crooked Christmas tree, or imperfectly placed ornaments, I'm choosing to focus on spending quality time with her making memories!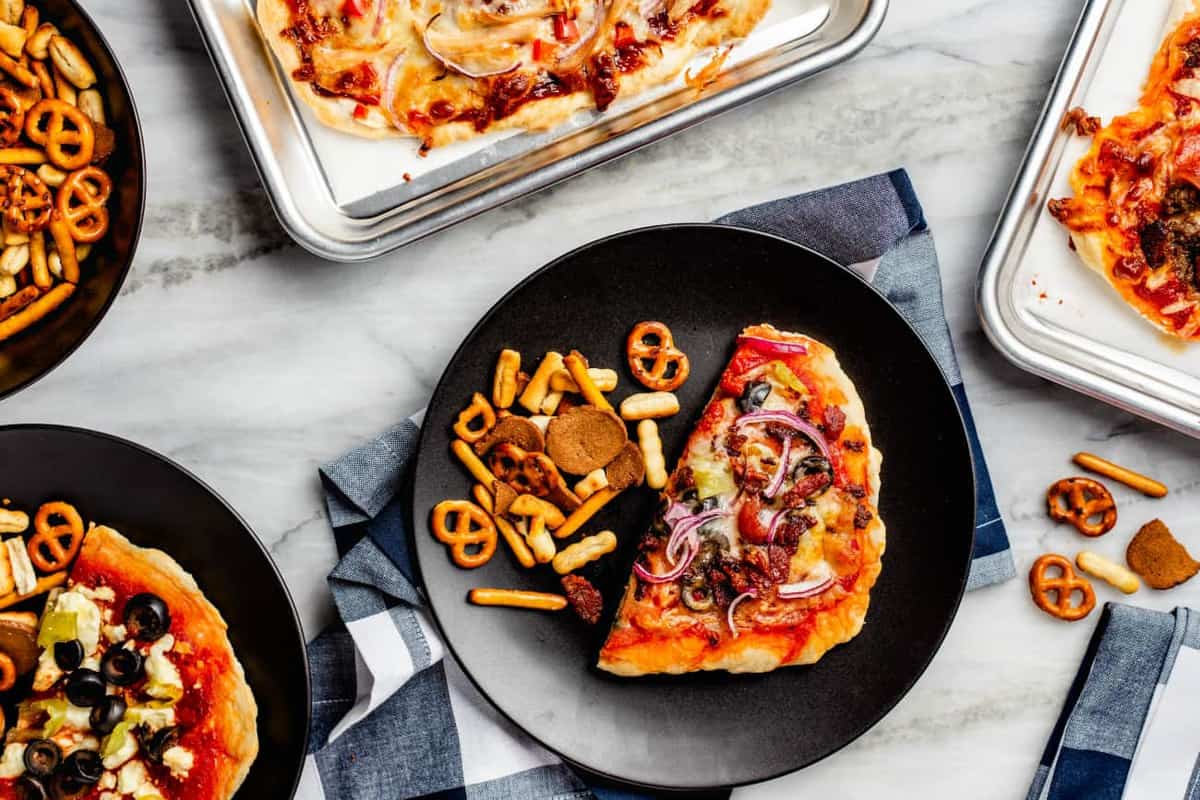 MAKE YOUR OWN PIZZA PARTY AT HOME
Look, here's the thing. This time of year, I know that everyone gets a little burnt out on cooking and baking all the things.
Between making treats for school holiday parties, office holiday parties, cookie exchanges, and actual holiday meals, sometimes we are out of energy to think of menus for our own holiday parties.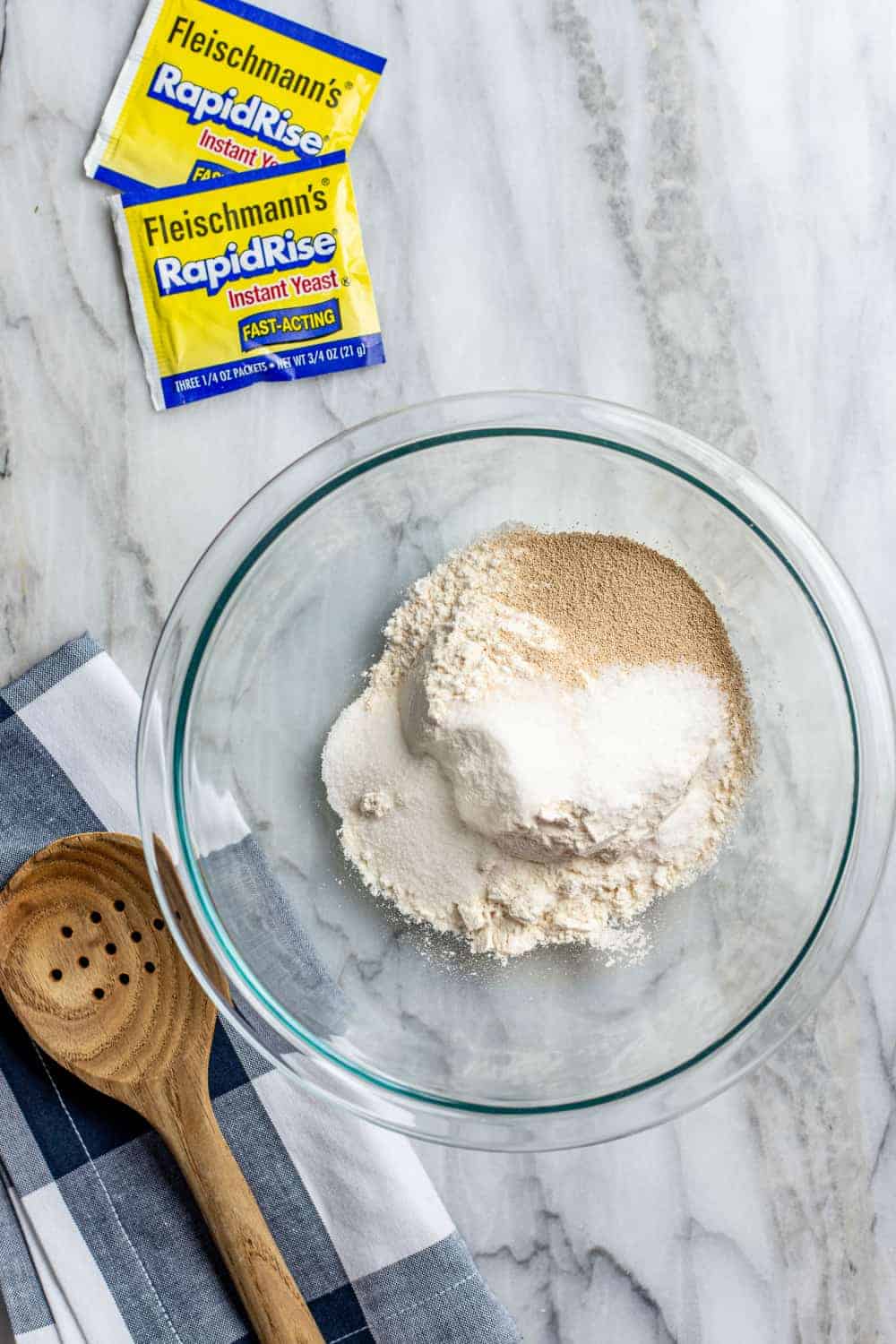 So this year, I decided on a DIY pizza bar to make things really fun and easy – both for myself and for my guests!
I started with a quick and easy homemade pizza crust that I divided into individual portions, set out a variety of sauces, toppings, and cheeses, and let all of my friends and family make their own personal pizzas.
Everyone was able to make the exact pizza they wanted and it all came together with almost no effort on my part.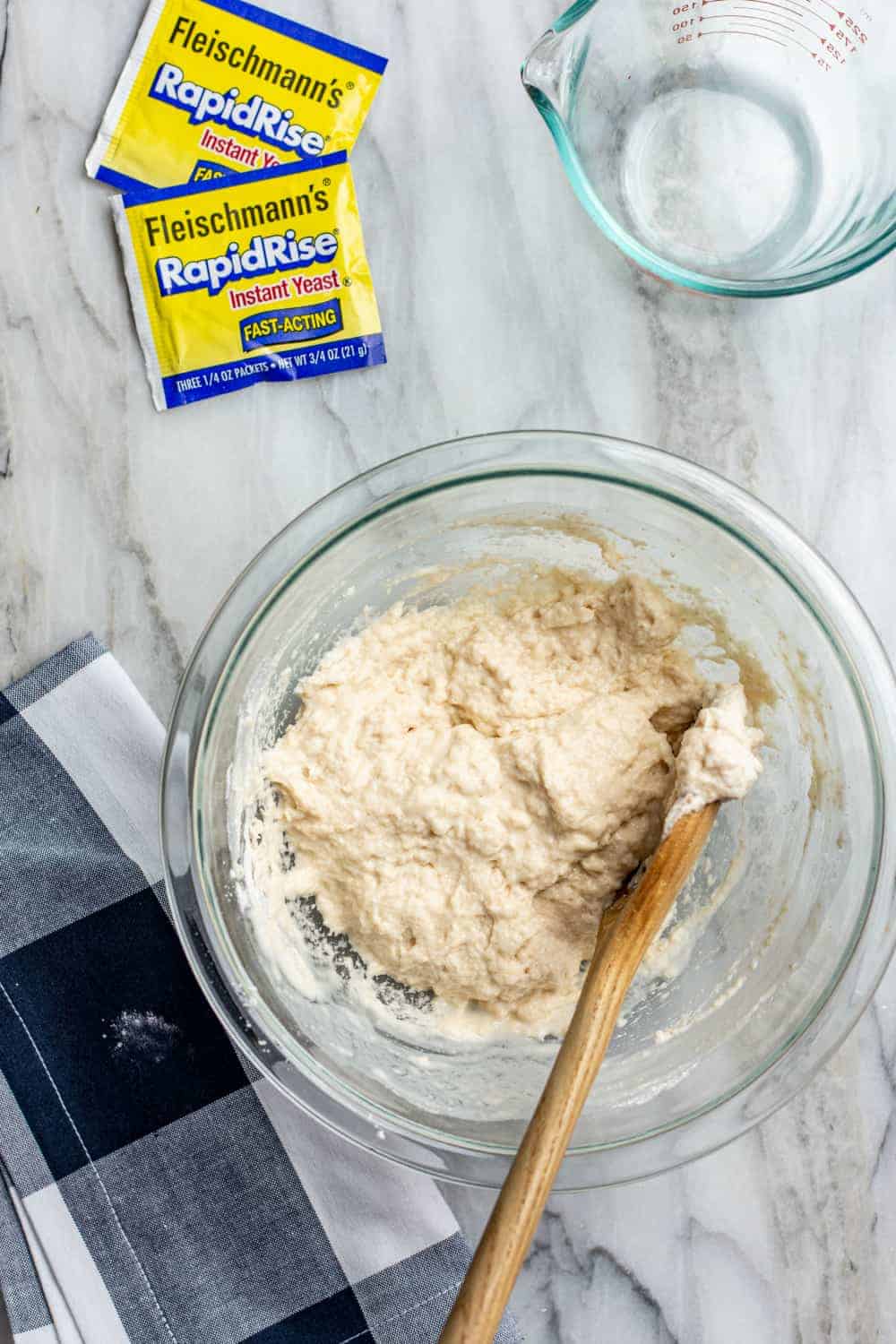 MY FAVORITE QUICK AND EASY PIZZA DOUGH RECIPE
Using a homemade pizza dough is a great way to impress your pizza party guests, but a lot of recipes require you to really plan ahead due to the necessary rising time.
For my DIY pizza bar, I used a recipe for 30 Minute Pizza Crust recipe from my friends at Fleischmann's® Yeast.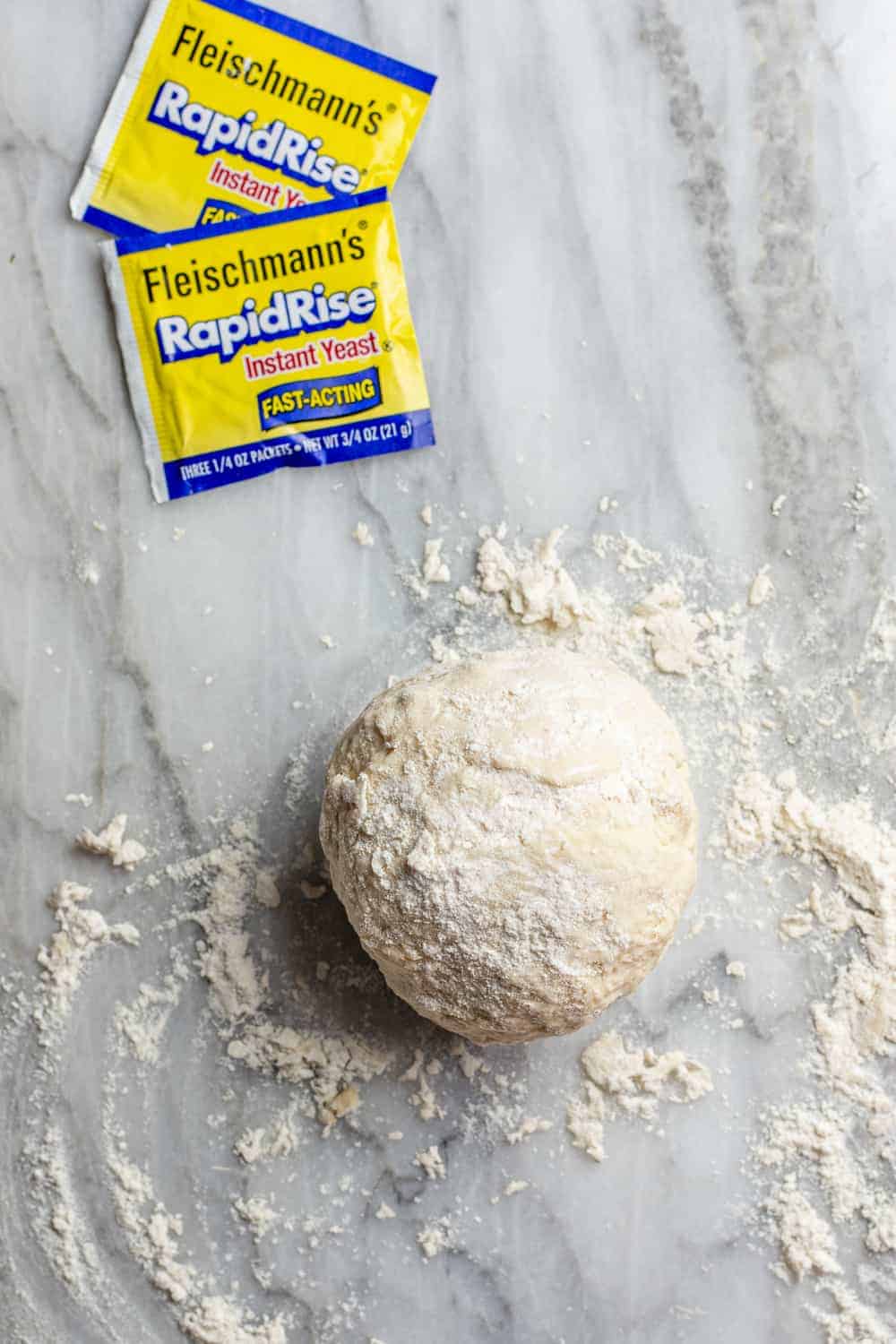 This 30 Minute Pizza Crust uses Fleischmann's® RapidRise® Yeast to completely eliminate the rising time.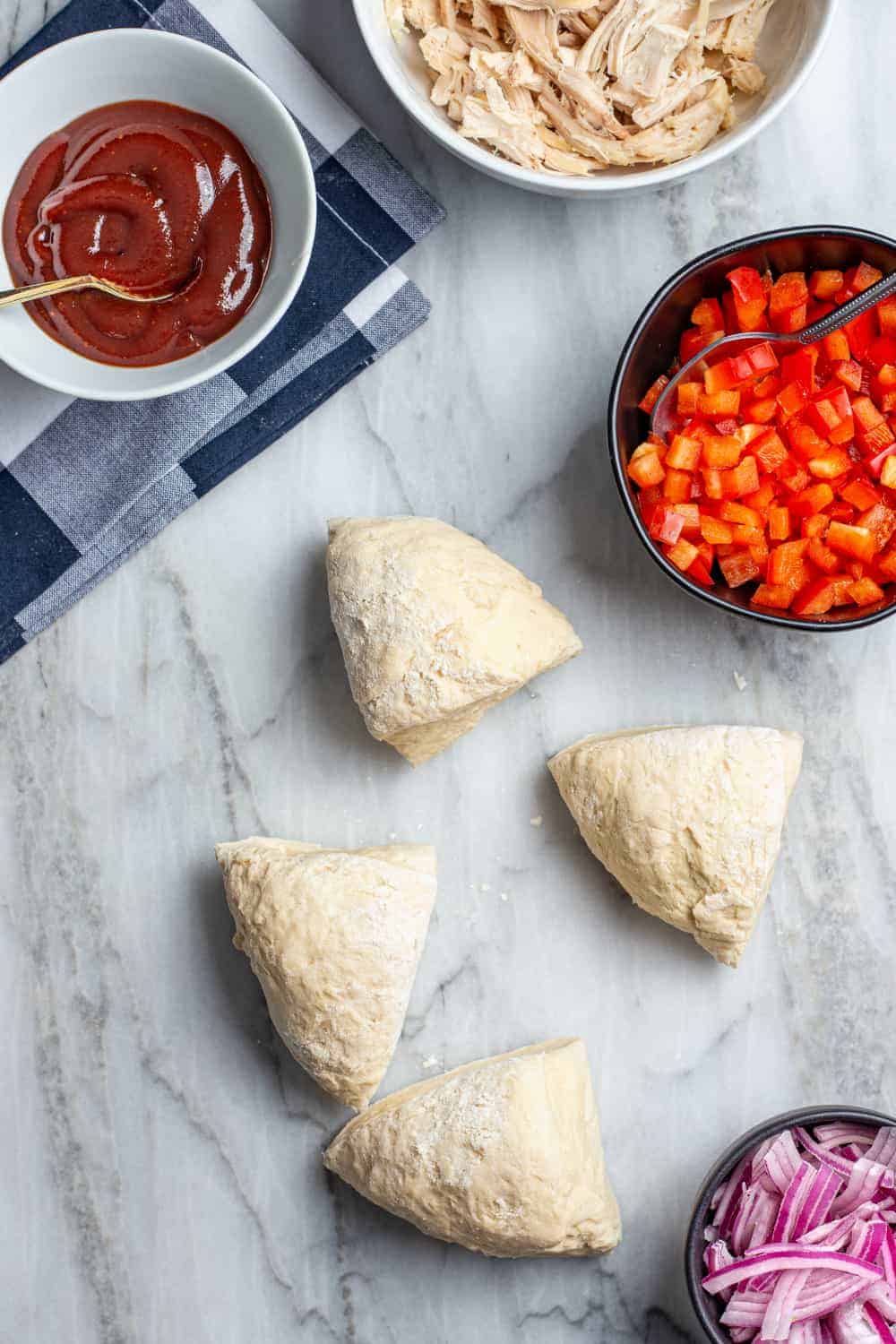 You read that right. There's NO rising time needed to make this pizza dough! All you have to do is mix the dough together and let it rest for 10 minutes before rolling it out, topping, and baking.
For our mini pizzas, I divided a batch of the 30 Minute Pizza Crust into 4 portions, making for the perfect individual pizzas. I even picked up some small baking pans so each person could have their own pan!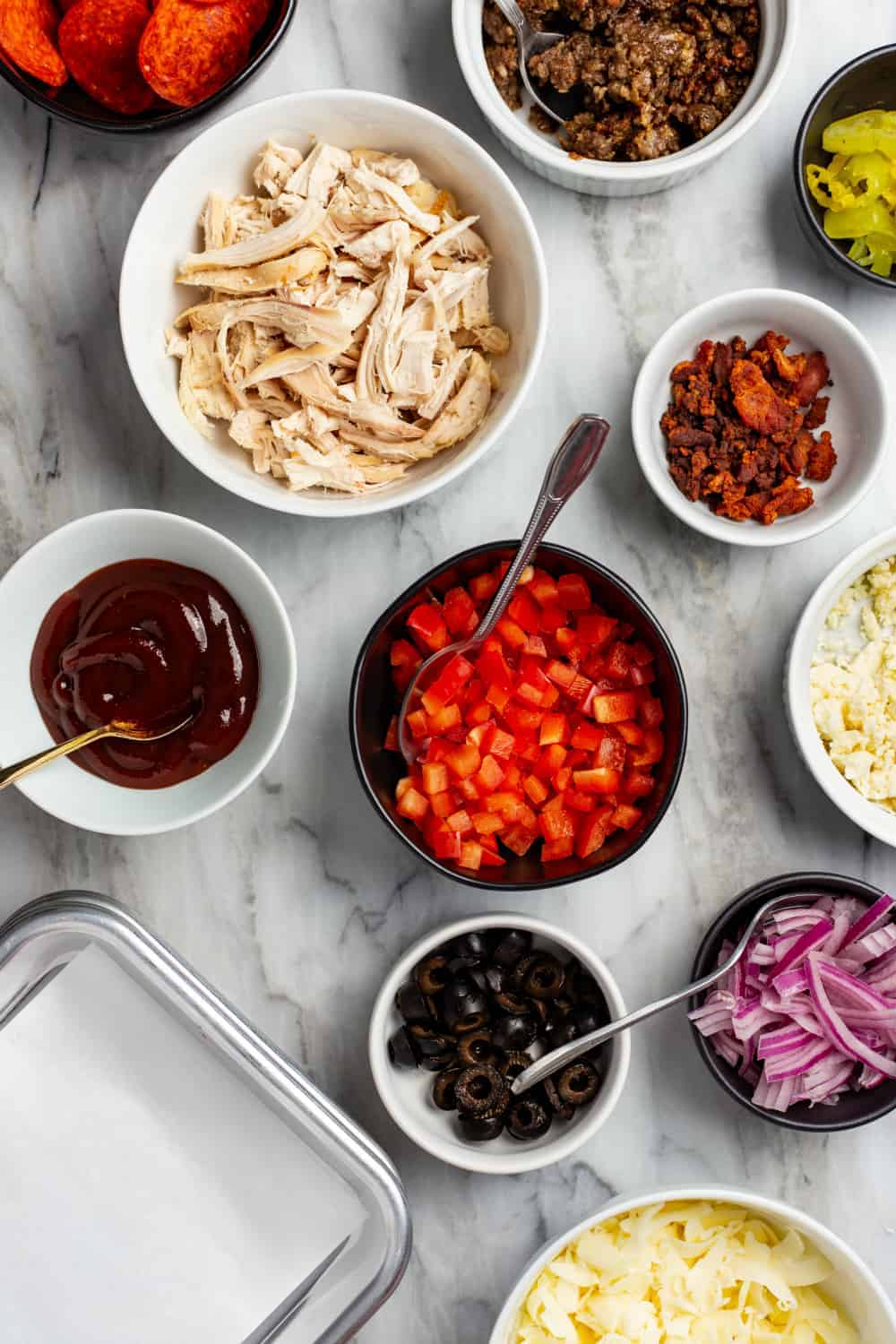 As you can see, I didn't worry too much about making the pizzas round. I think the freeform shapes are more fun, and it let my guests feel like they could pat out their own crusts if they wanted without worrying about being "perfect."
PIZZA PARTY TOPPINGS BAR IDEAS
Once each person had their pizza crust, it was time to start topping the pizzas!
You can set out any assortment of sauces, cheeses, or toppings you like. I recommend having a variety of ingredients ready for friends and family with different preferences.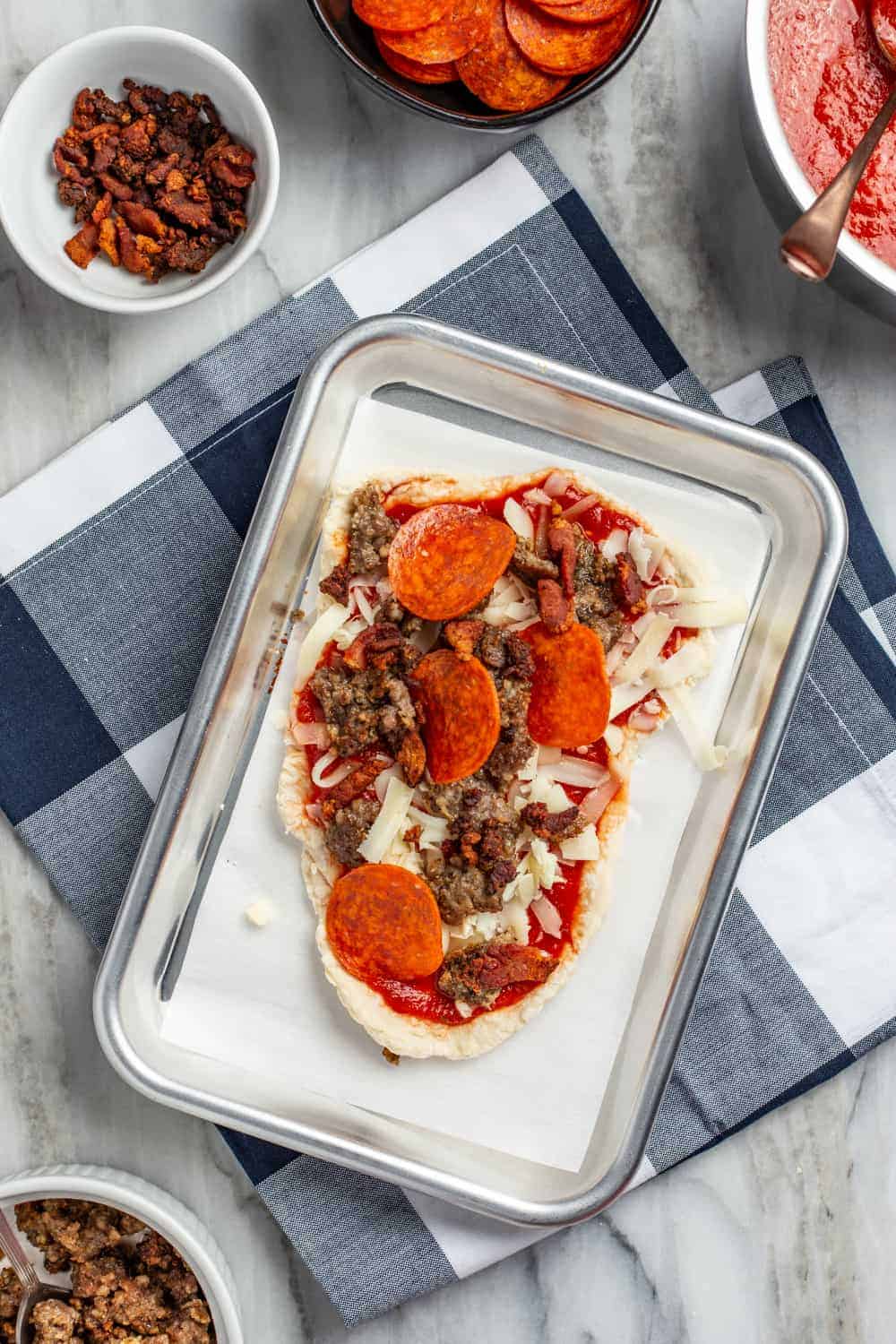 If you want to help your guests with some combination suggestions, you could write out some ideas on cards or small chalkboards. Here are a few of my family's favorite combos:
Olive & Banana Pepper Pizza
Tomato sauce
Black olives
Feta cheese
Sliced banana peppers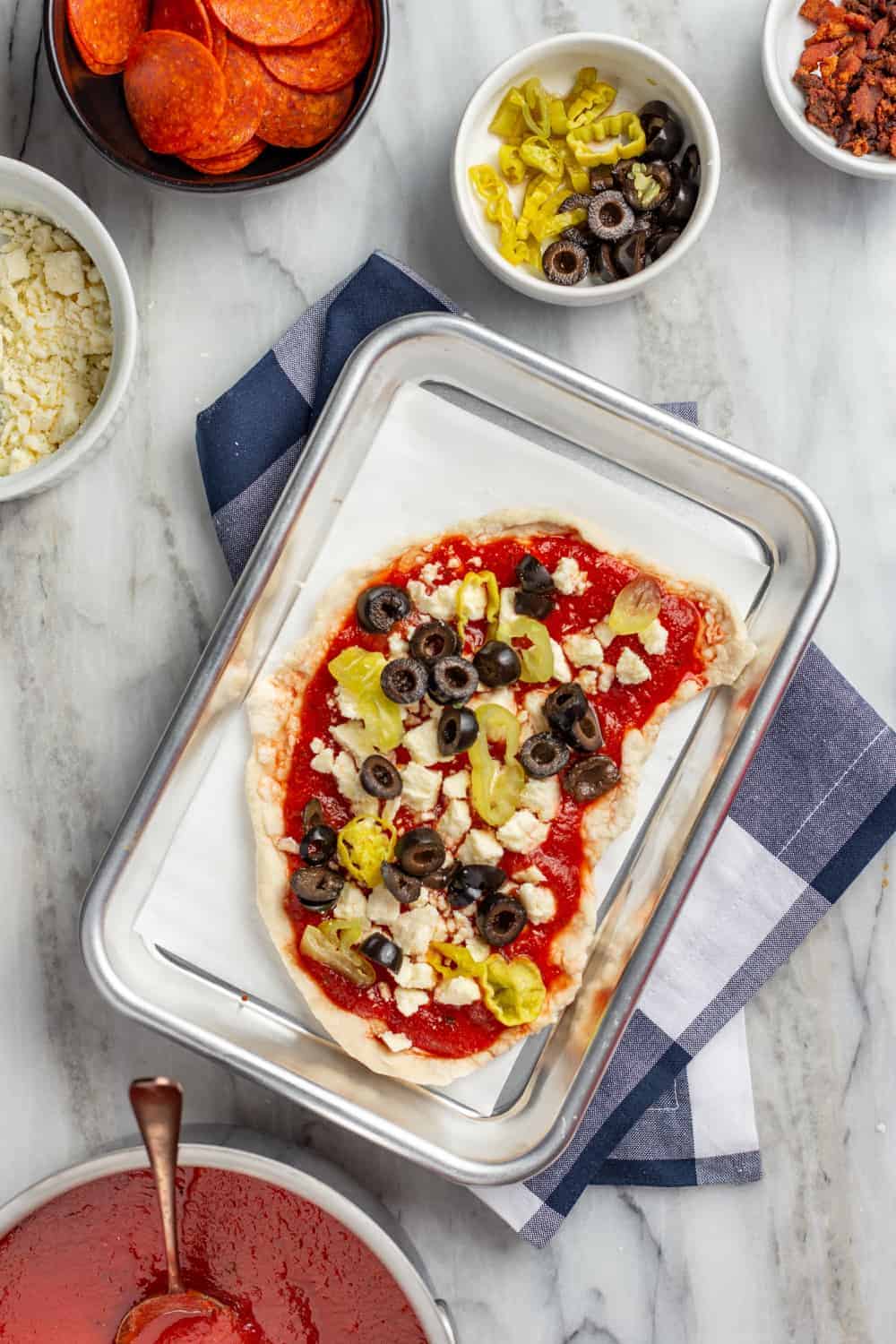 Meat Lover's Pizza
Tomato sauce
Pepperoni
Sausage
Bacon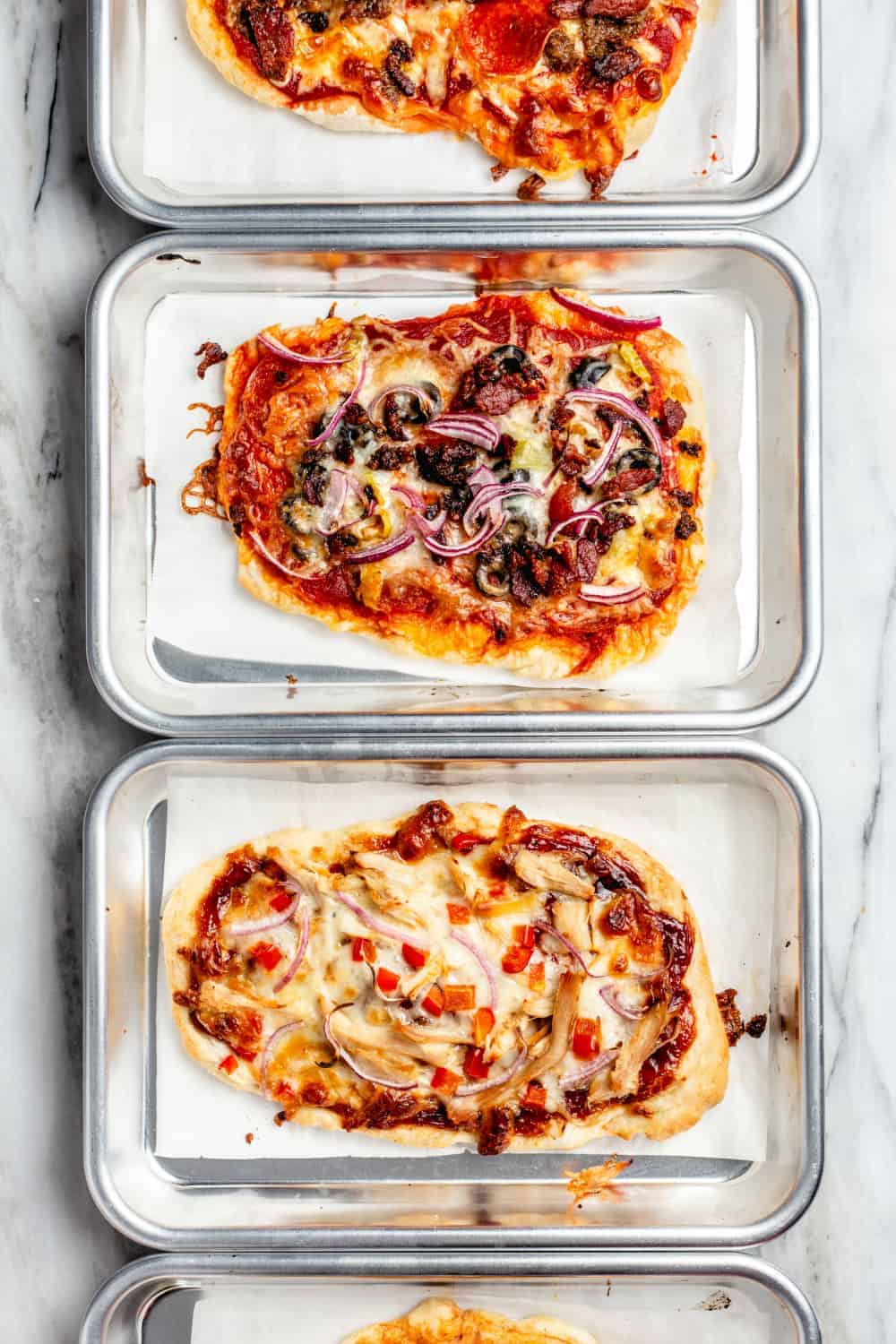 Barbecue Chicken Pizza
Barbecue sauce
Shredded chicken
Red bell pepper
Sliced red onion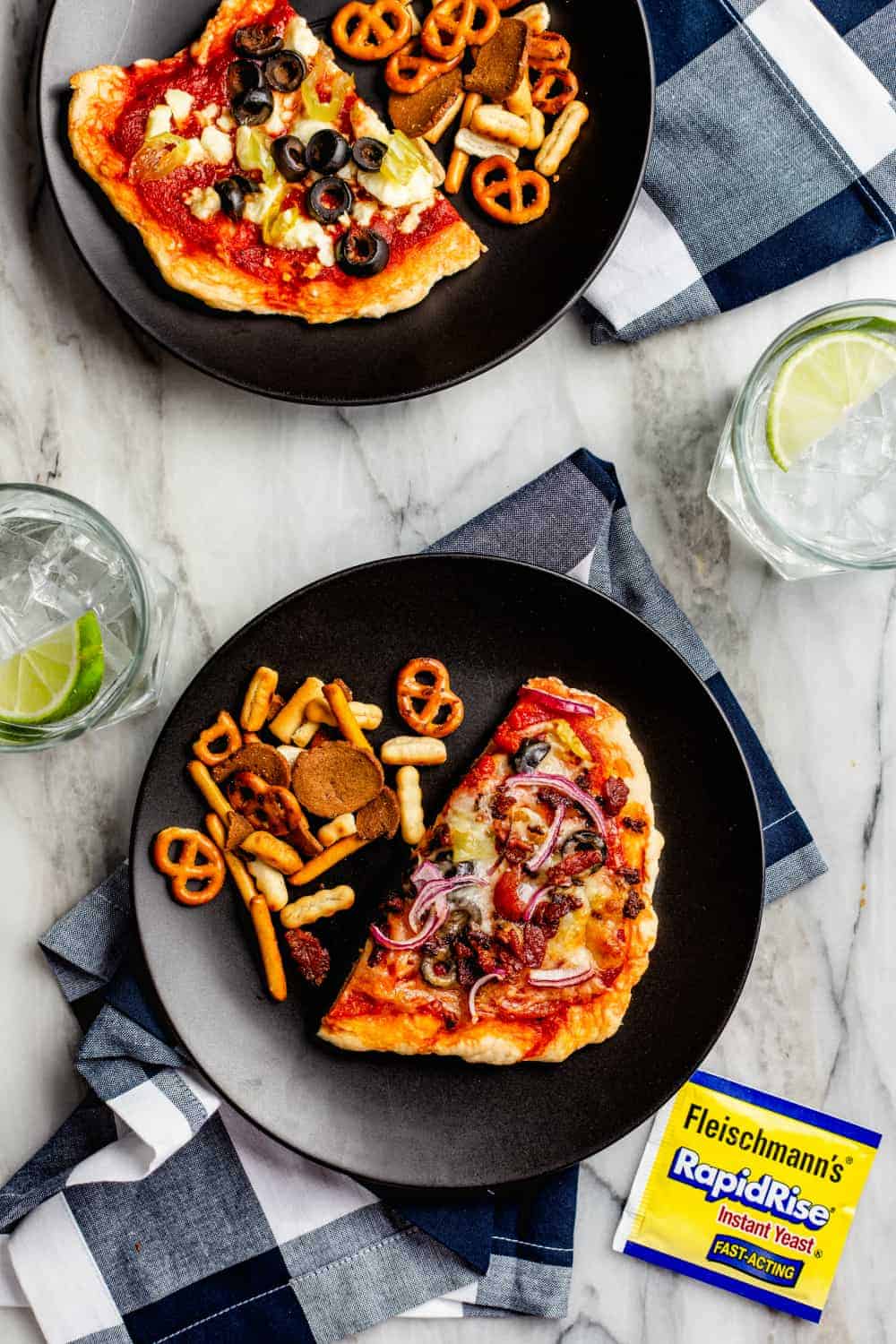 Serve up the baked pizzas with some snack mix, salads with homemade blue cheese dressing, chips and French onion dip, or puppy chow and kick back and relax as you enjoy time with your loved ones this holiday season.
After all, that is really what holiday parties should be about.