Wassail may be a traditional holiday drink, but that doesn't mean we can't enjoy it all autumn long! This warmly spiced hot mulled cider comes together in minutes and can be heated on the stove or in the slow cooker.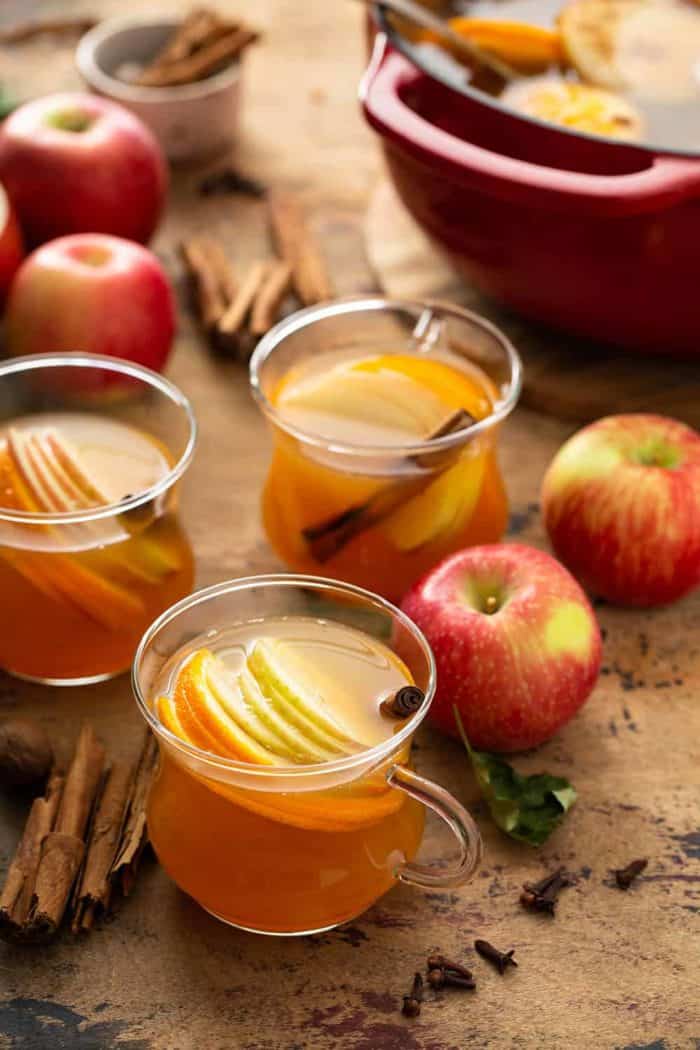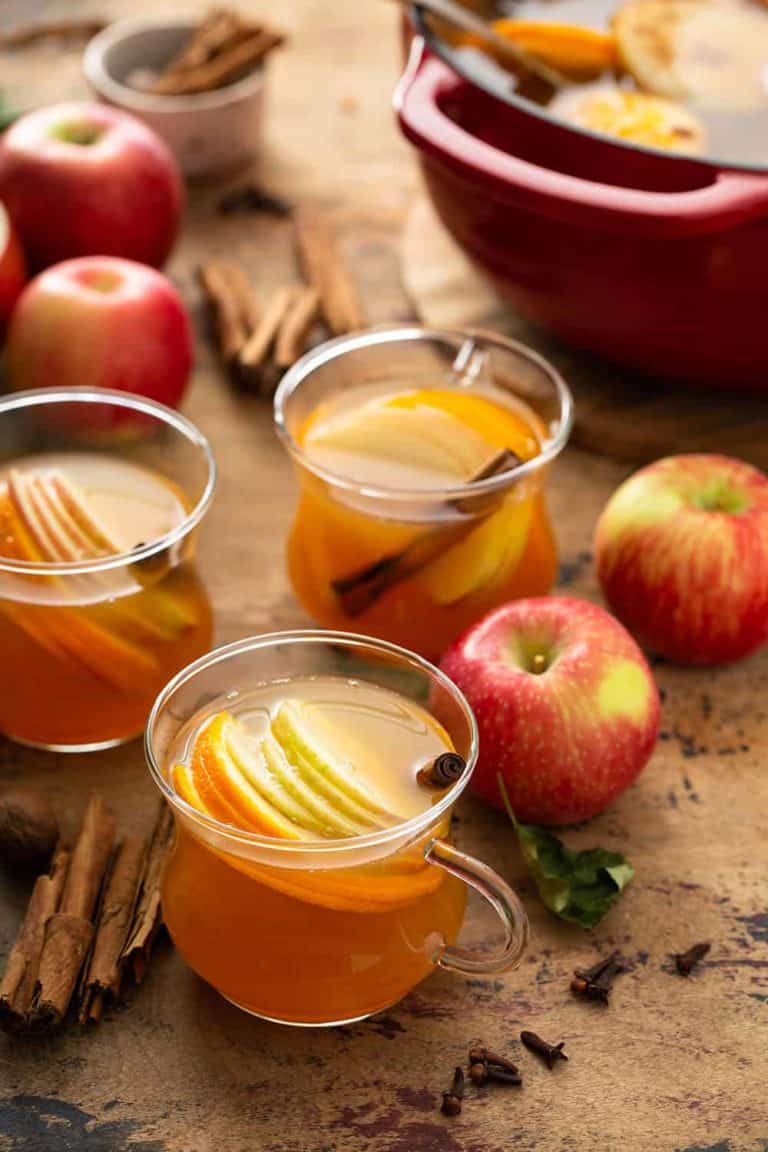 In my opinion, there's nothing better during the fall and winter months than cozying up on the couch with a soft blanket, TV remote and a warm drink.
Add a flickering fire and you pretty much have a perfect evening at home!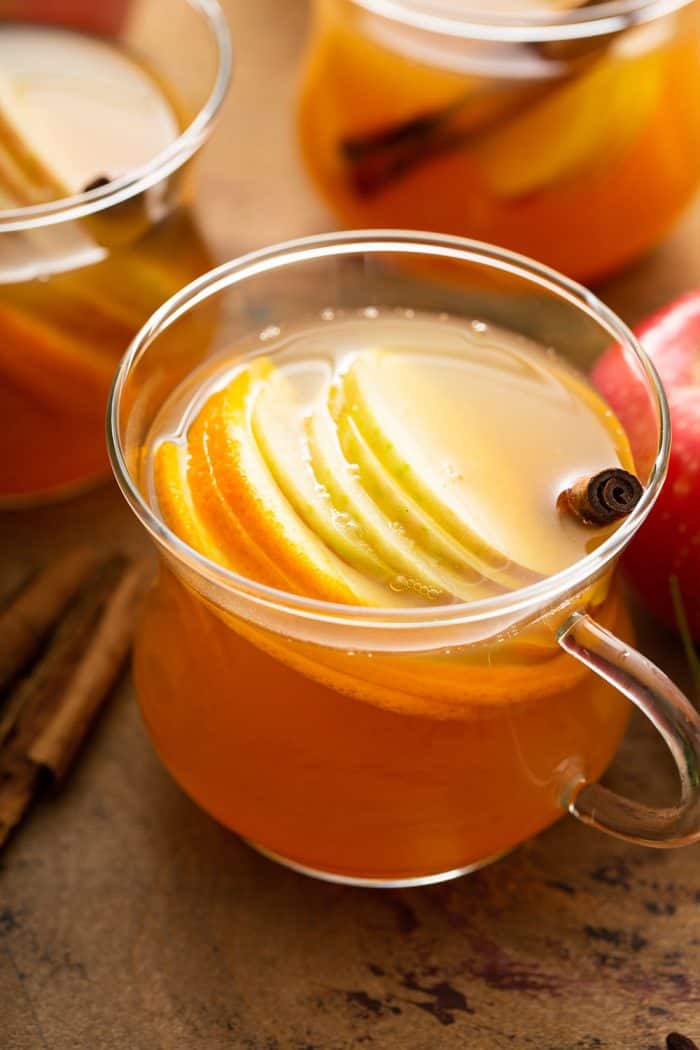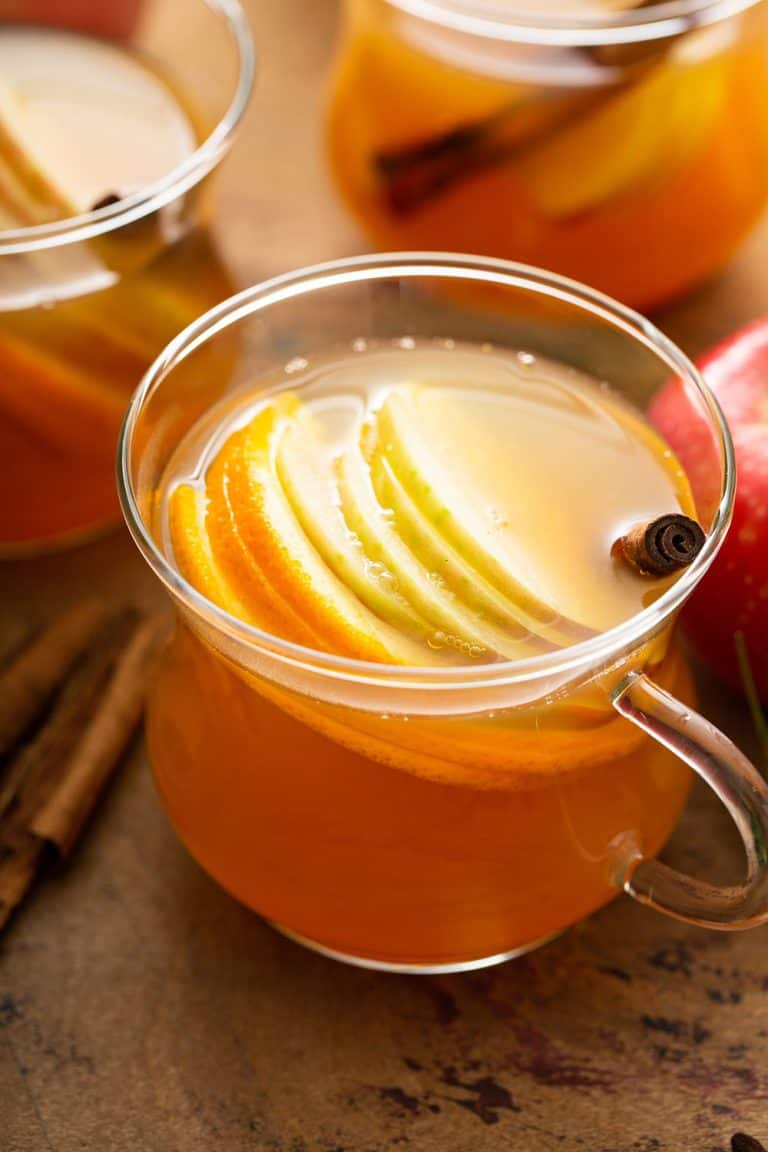 WHAT IS WASSAIL?
After I became a mama and Eric and I were starting to create our own family's holiday traditions, I really began to reflect on the traditions we had while I was growing up.
My great aunt, Dorothy, had a wonderful tradition of making old English Wassail every Christmas. I love her recipe and have incorporated it into some of our own fall and winter traditions.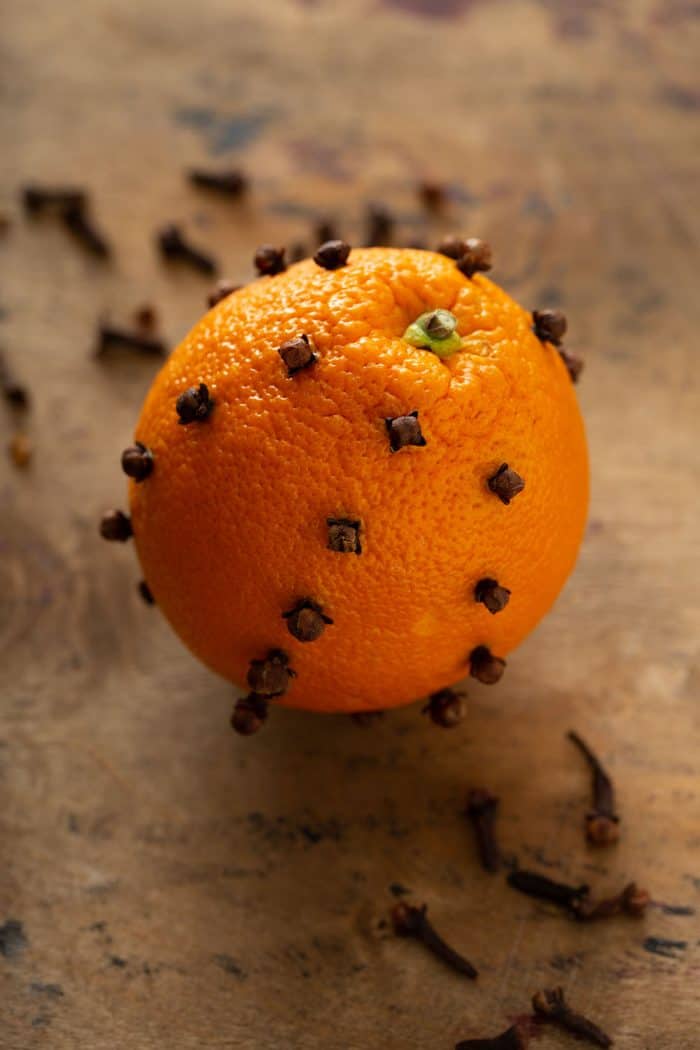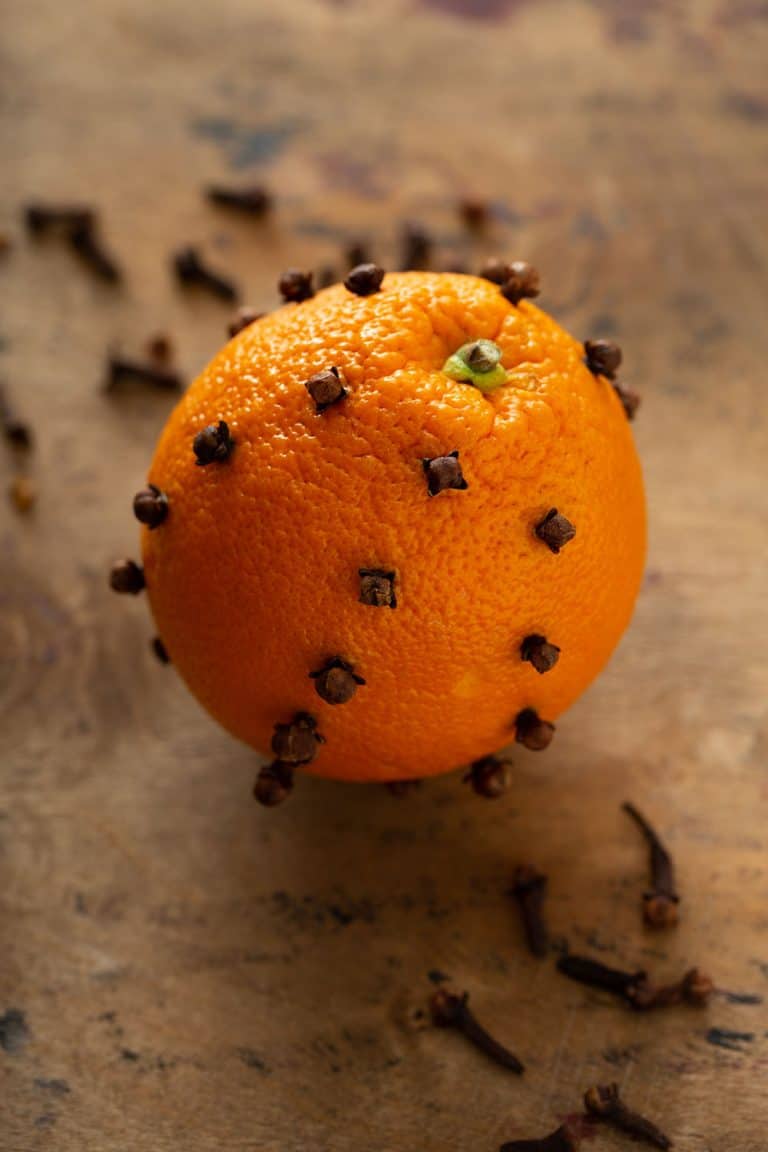 If you've never had Wassail before, it's a hot mulled cider that has been a holiday tradition in England since at least the middle ages. It is made with plenty of warm spices like cloves, nutmeg, and cinnamon, and it's the perfect non-alcoholic way to warm up on a chilly day.
Of course, you can most certainly add in a little alcohol, but that's really up to you!
Even though Wassail is most traditionally served during Christmastime, I actually enjoy drinking it all autumn long. After all, what better way to use pressed cider from the local orchard?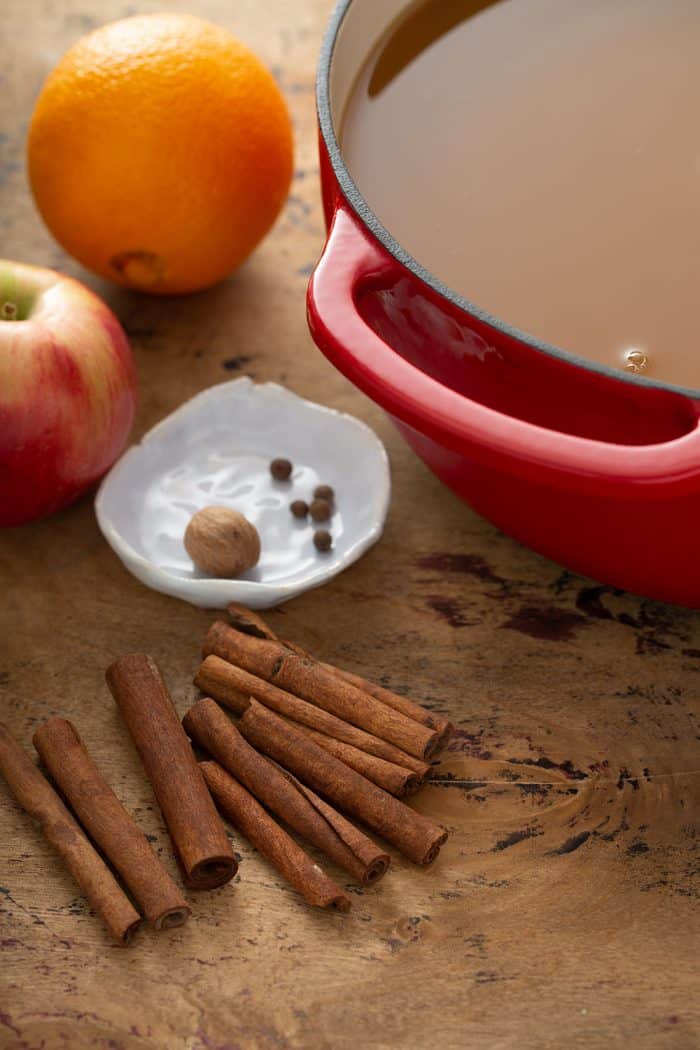 HOW TO MAKE WASSAIL
My favorite kinds of drinks come together in a matter of minutes and this one is no different.
The apples in the cider pair so well with the other flavors we're adding in, including:
Oranges
Whole cloves
Cinnamon sticks
Whole nutmeg
Allspice berries
Dried ginger pieces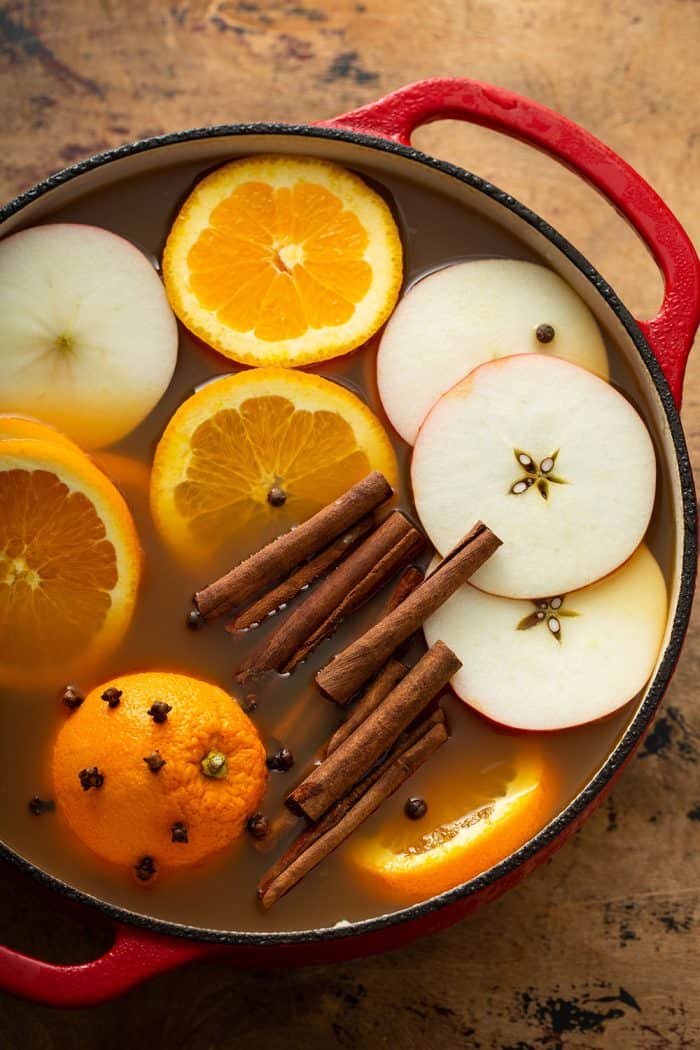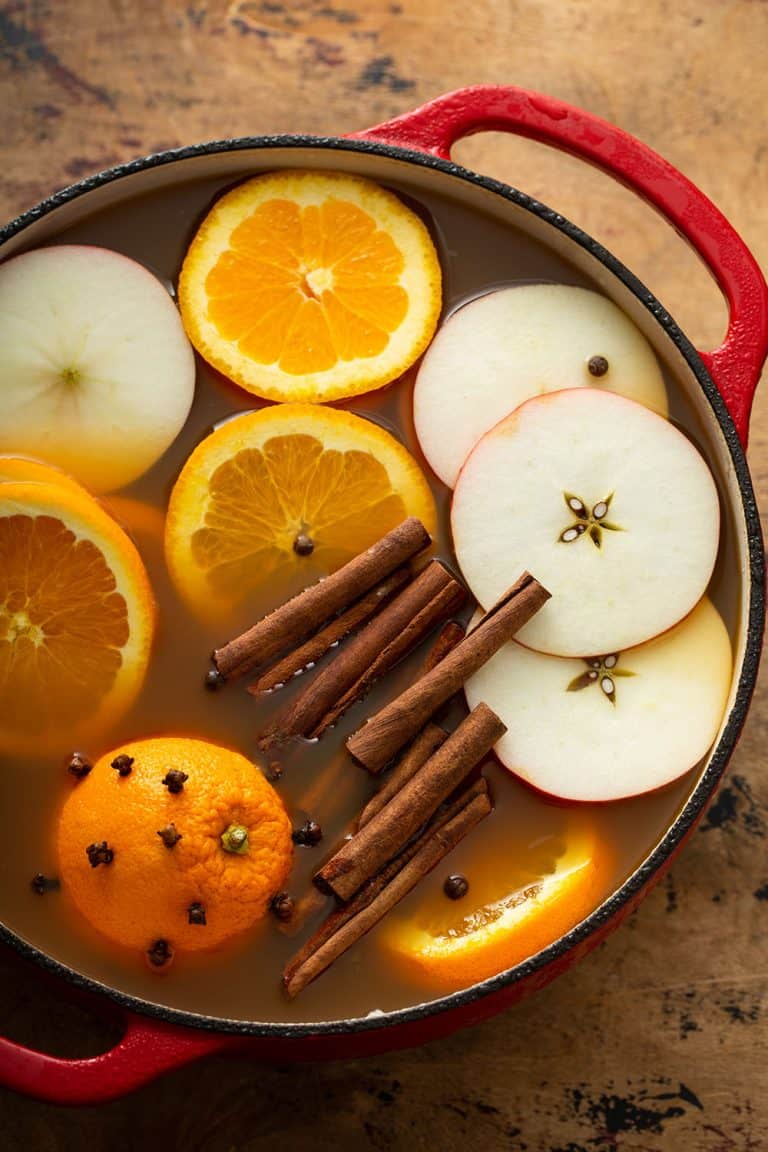 You can pick up small jars of whole spices at most grocery stores, but I like to order mine in bulk online. They stay good in your pantry much longer than ground spices and are great to keep on hand to make things like homemade chai concentrate.
To make the Wassail, start by making a pomander orange – just a fresh orange studded with whole cloves that is baked in a low oven for 1 hour.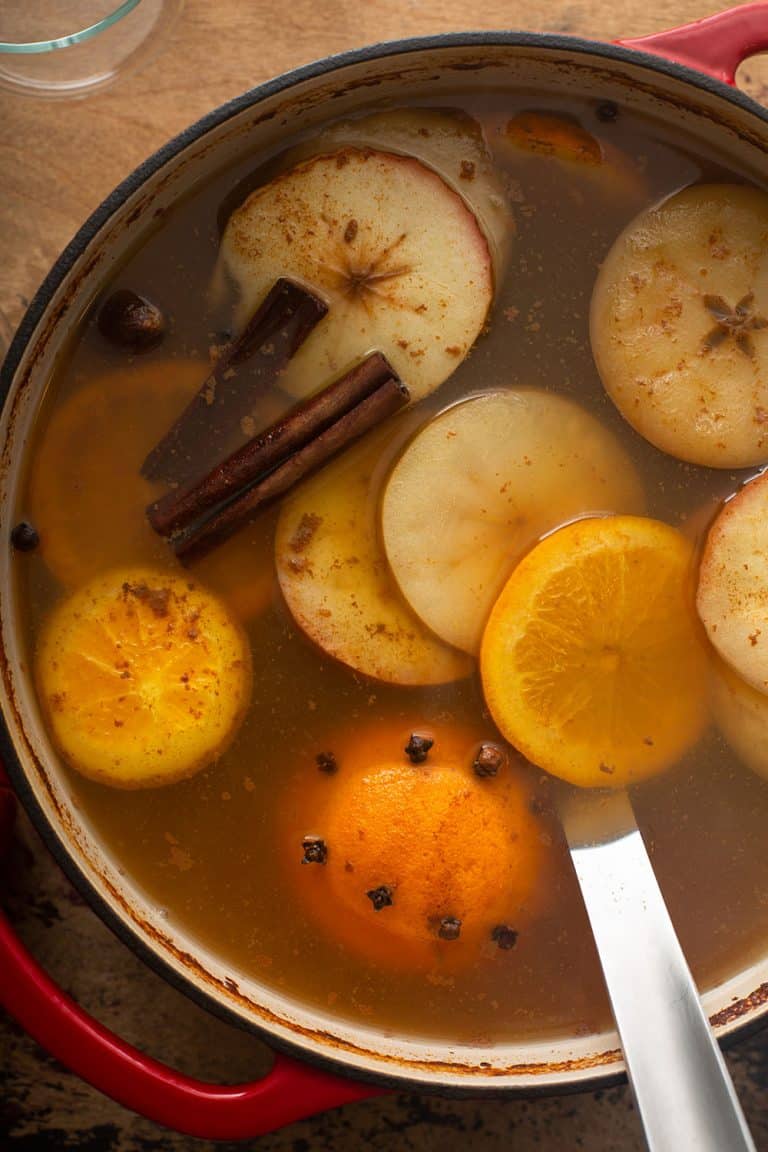 Making the pomander orange is the most effort you'll have to use for this recipe. The rest is a breeze!
Add the cider, pomander orange, a sliced orange, sliced apple, and the spices into a large pot and simmer for at least 2 hours.
That's it! Before serving, pull out the spices (or strain the cider to remove them) but leave the pomander orange for serving.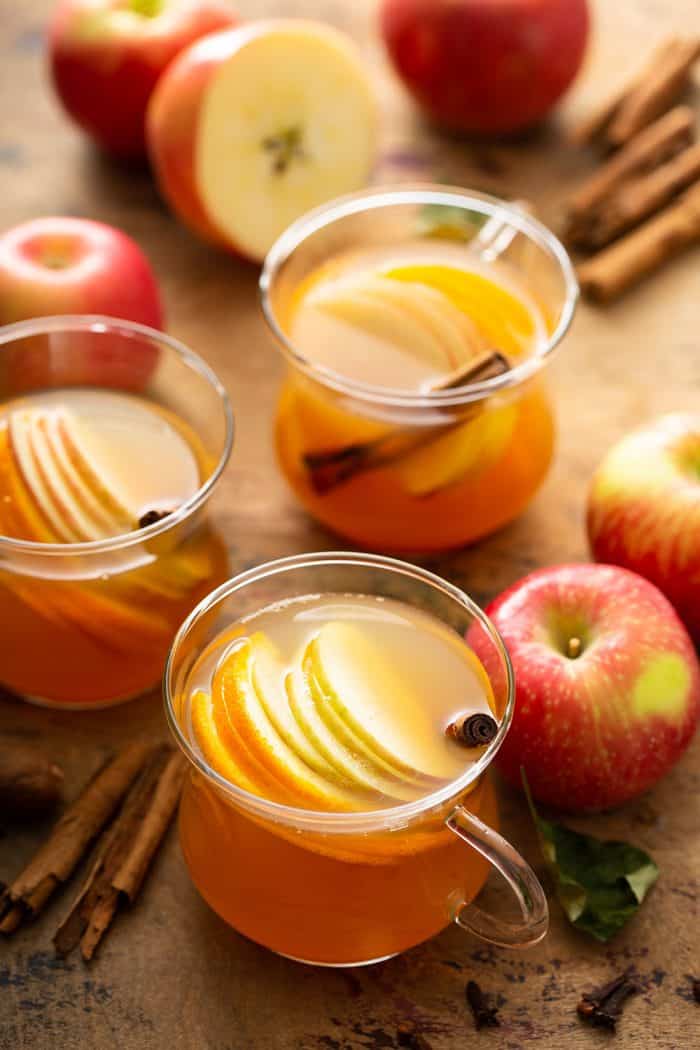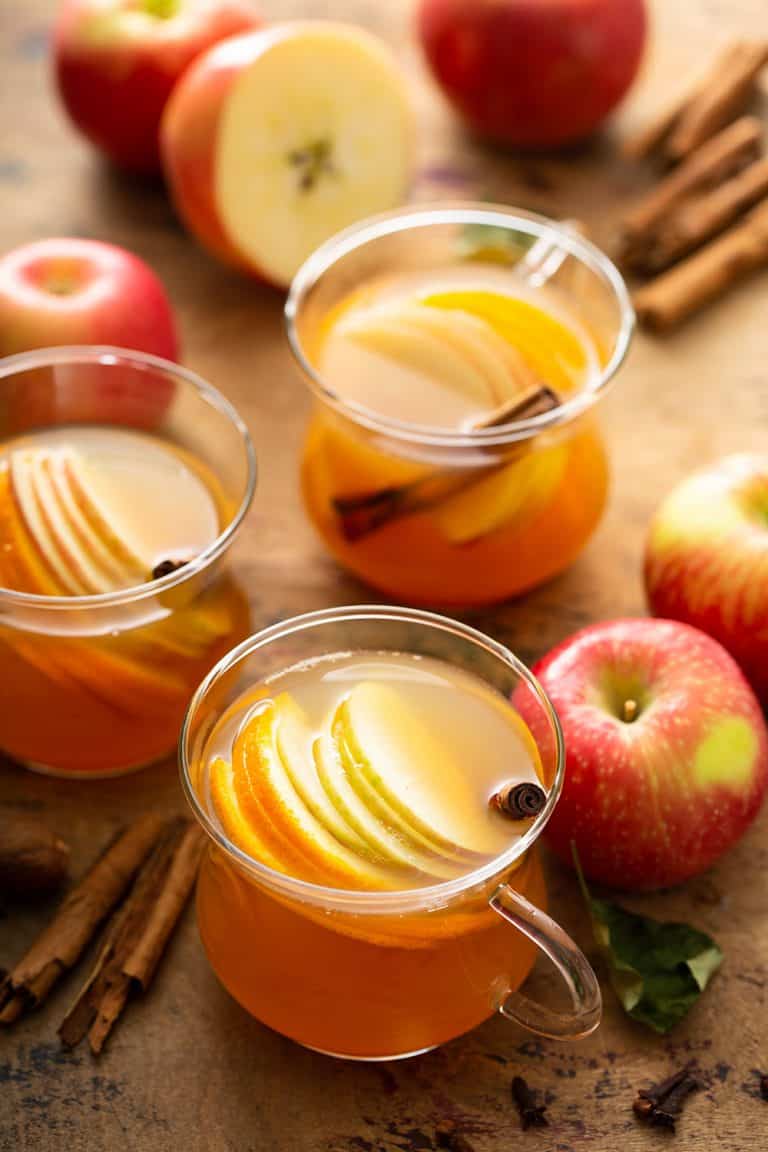 CAN I MAKE THIS RECIPE IN A SLOW COOKER?
If you don't want to keep an eye on the stove for a couple of hours while the Wassail mulls, you could absolutely make this in a slow cooker.
Just add everything to a large slow cooker and cook on low for 4 hours. If your Crockpot has a "warm" setting, you can even use that for serving so it stays nice and warm all evening long.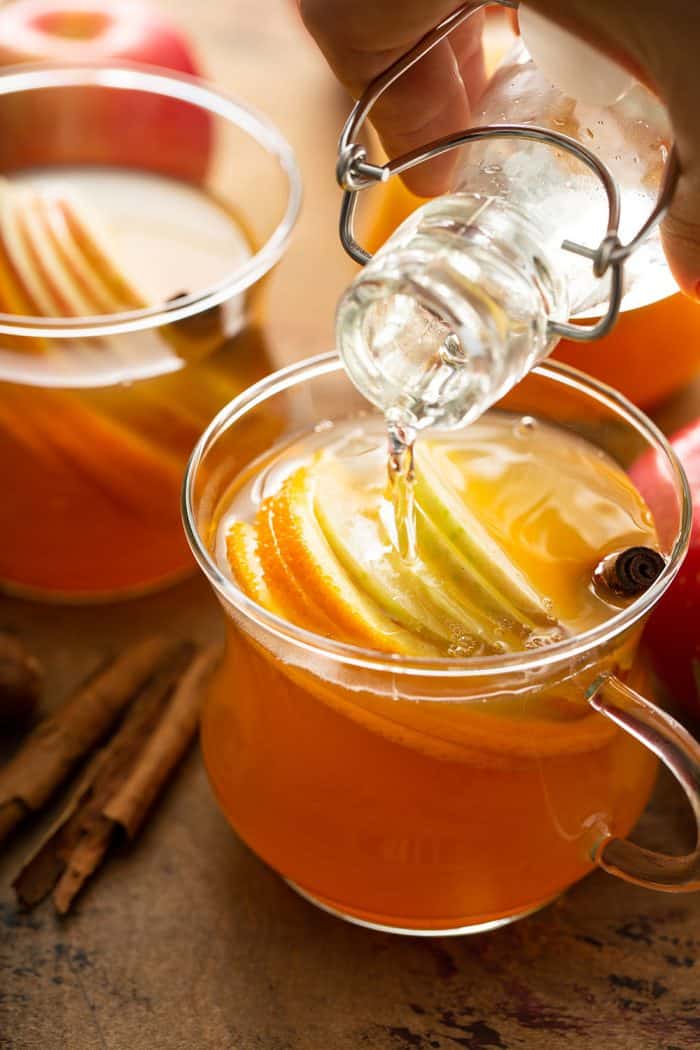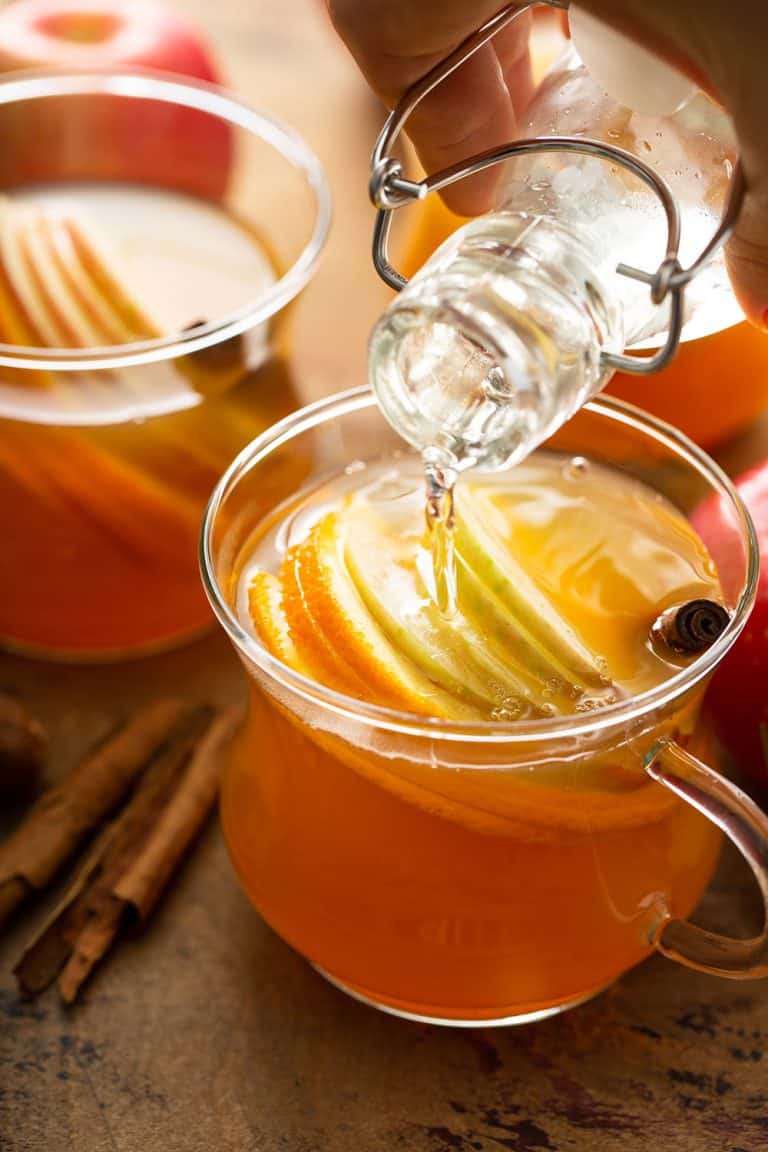 CAN WASSAIL BE REHEATED?
Wanna know a secret? I rarely make my Wassail the same day that I'm serving it.
If I'm hosting a party or having family over for Thanksgiving or Christmas, I will mull the cider the day before. I then strain it back into the jug the cider came in and pop it back into the refrigerator with the pomander orange.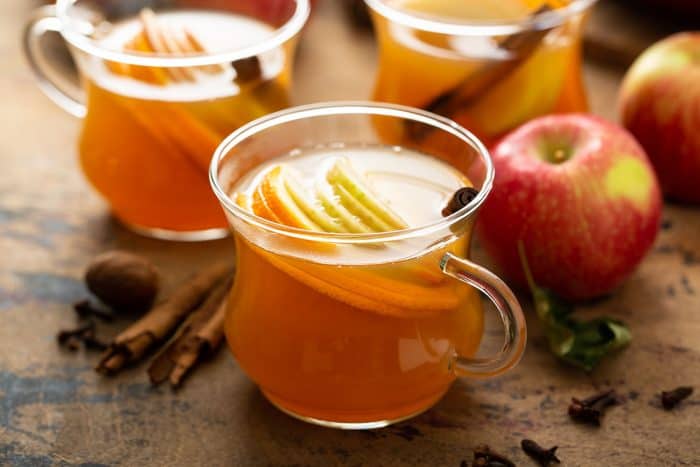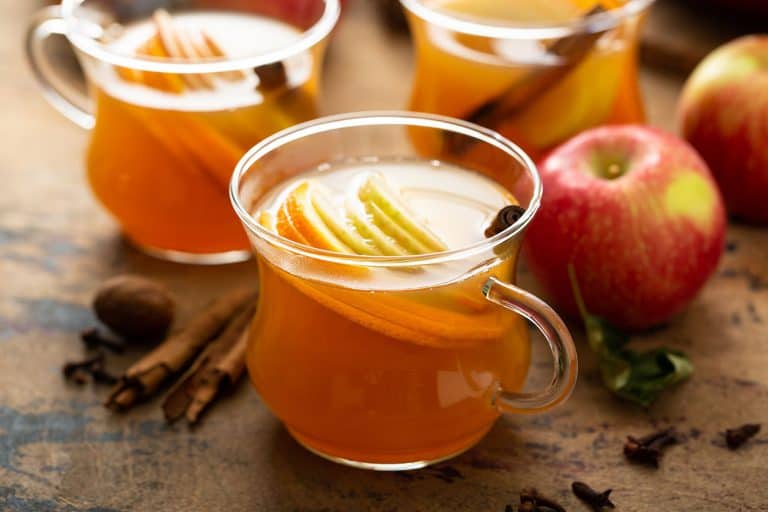 The next day, I add the Wassail back into my slow cooker with the pomander orange and let it heat back up while I get everything else ready.
Even if you aren't having a party, you could mull the cider any time you like and then just reheat a mug at a time. I mean, how nice would a hot mug of mulled cider be while watching a movie on the couch with your family??