Extra Virgin Olive Oil Herb Dip is a garlicky, flavorful accompaniment to any bread. This copycat of Carrabba's Italian Butter is so easy to make, you might just want to enjoy it with every meal!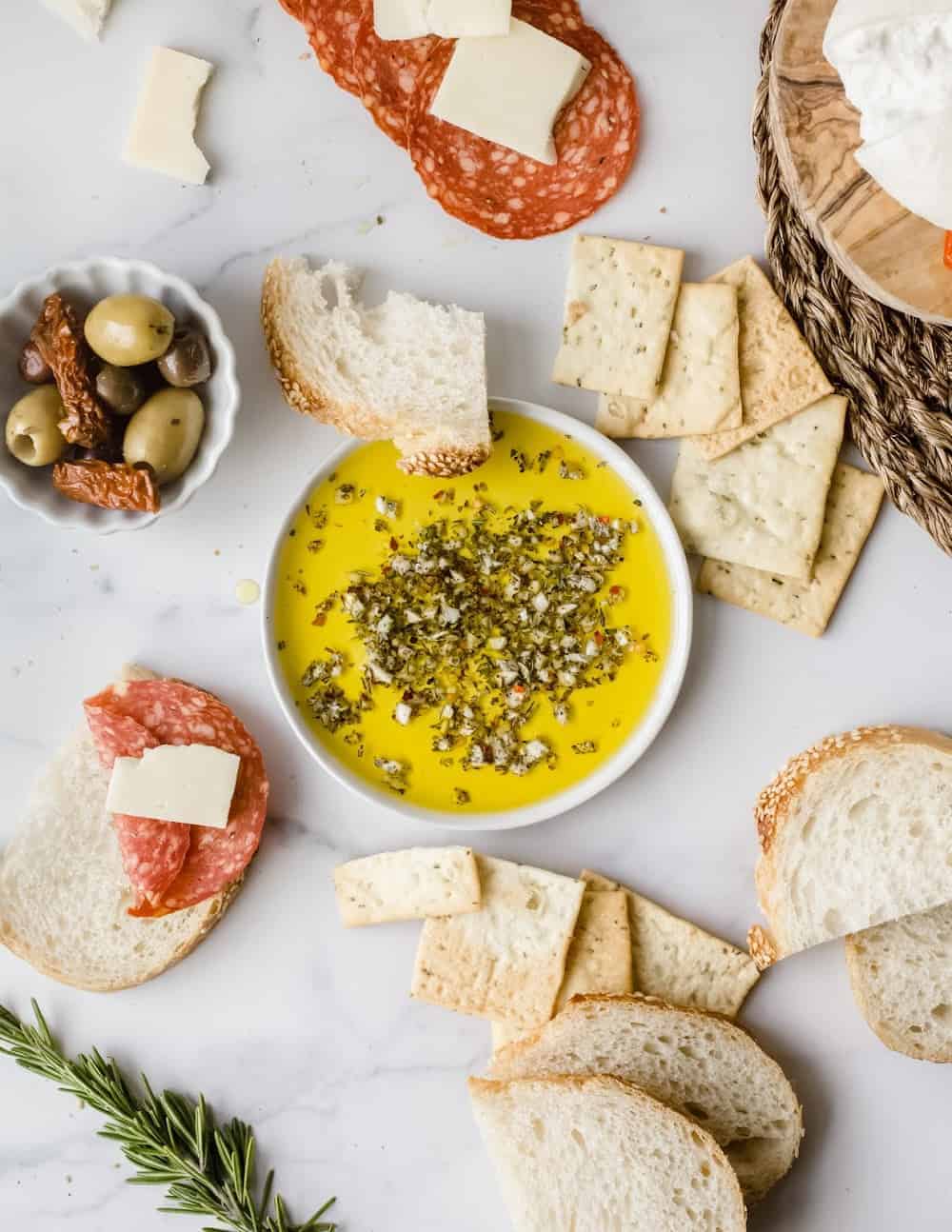 We're not eating out much these days – pretty much like the rest of the world, I'd assume.
You may or may not know this, but in addition to teaching, I spent a long time in the restaurant service industry, managing a restaurant while in college and waiting tables all throughout my teaching career.
While I could say a lot about waiting tables being necessary while also teaching full time, I'm here to focus on the food.
In our local area, we have tons of locally owned restaurants that we frequent all the time and are getting take-out from right now to help support the industry. But there's one thing those restaurants don't have, and that's Carrabba's Italian Butter.
If you have never dined at Carrabba's, you may not have experienced this herb and olive oil bliss that they serve with every meal. The olive oil bread dip is incredibly addictive and it's pretty much the #1 reason why we eat there.
They bring the herbs and fresh minced garlic out in a small dish and add olive oil to it table-side, creating the perfect "dip" for their piping-hot bread.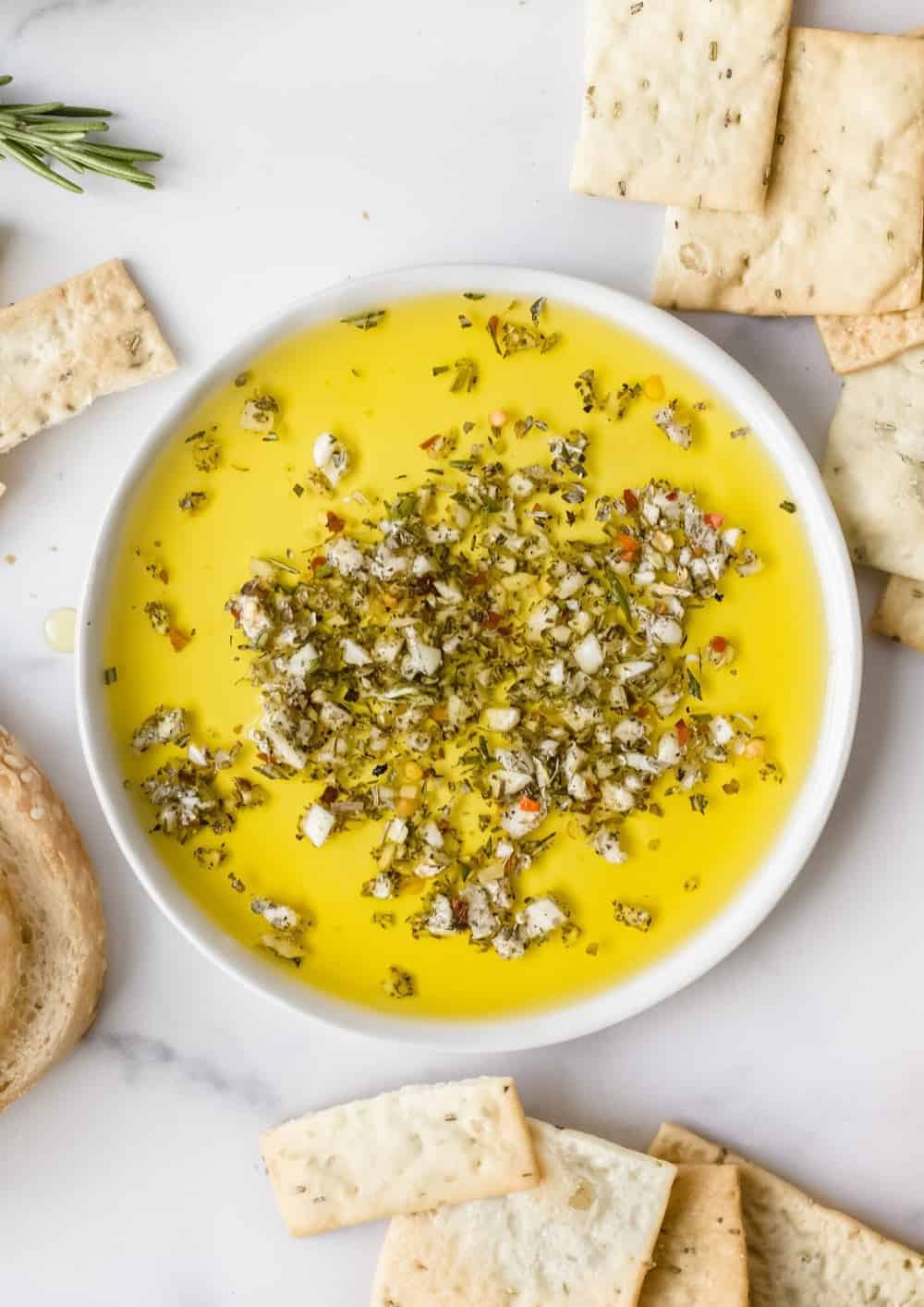 Olive Oil Dip Ingredients
The ingredient list for this herbed olive oil dip is so ridiculously simple, you won't believe it.
In fact, I'm willing to bet that you've got all, if not most of the 6 ingredients in your house right now. Here's what you'll need aside from some salt and pepper:
Oregano
Basil
Rosemary
Red pepper flakes
Fresh minced or crushed garlic, and
Extra virgin olive oil
For the herbs, I go with dried, except for the rosemary. Dried rosemary is pretty tough and it takes a long time to soften in liquid, so I always use fresh rosemary in this dip. If you don't have dried oregano or basil, fresh is great!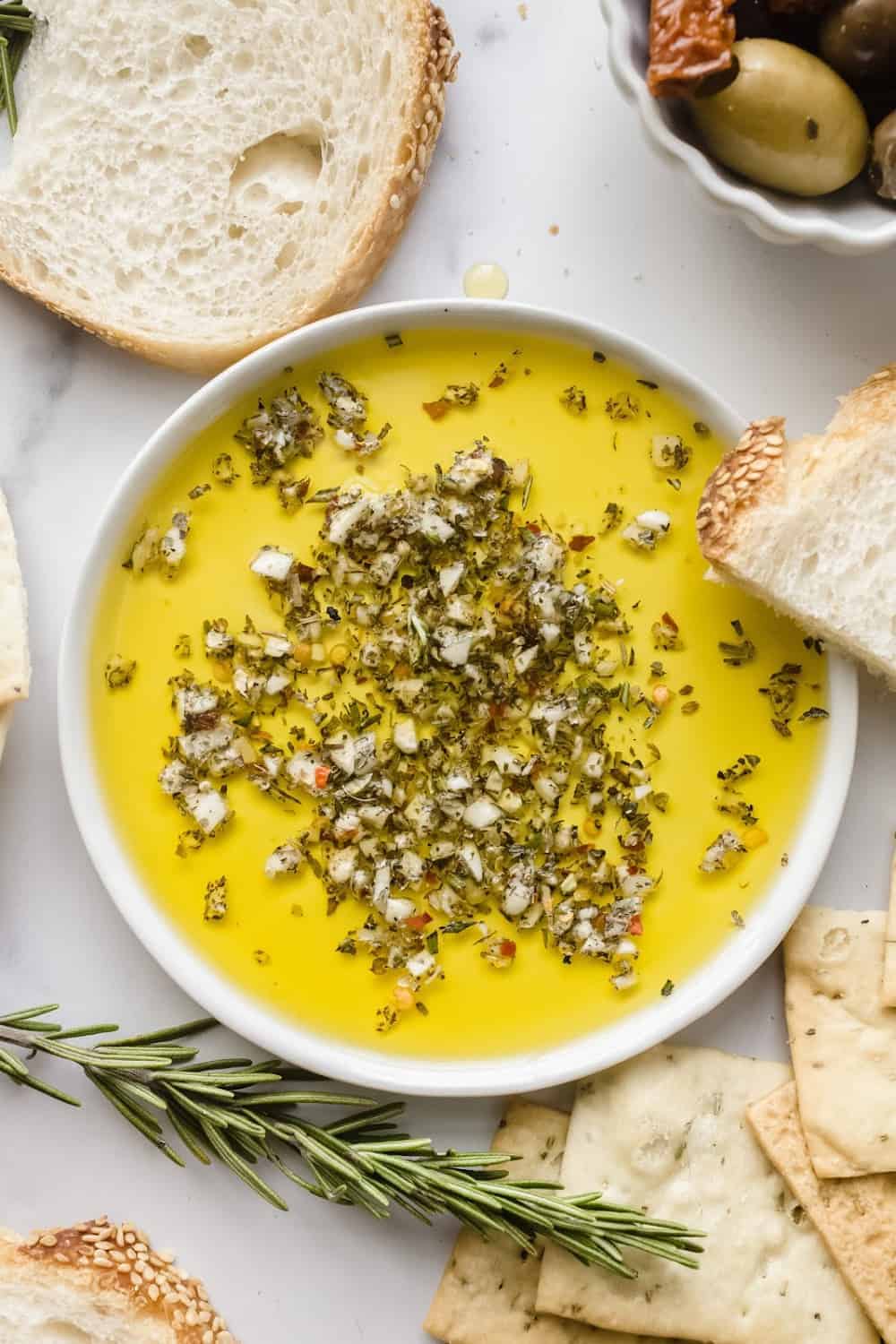 The Best Olive Oil for a Dipping Sauce
If you've been down the oil aisle in the grocery store recently, you know that there is a HUGE variety of olive oil to choose from these days.
For this dipping sauce, you'll want to use extra virgin olive oil. Extra virgin olive oil is cold-pressed, allowing the fruity flavor of the oil to truly shine through.
If you've ever watched Ina Garten, you've heard her say to "use good olive oil." And she's right, especially for a recipe like this one where the key ingredient is olive oil and you'll be able to pick up on those subtle flavors.
Buy the best one that fits your budget. The prices vary greatly and usually, the cheaper the price, the lower the quality of oil.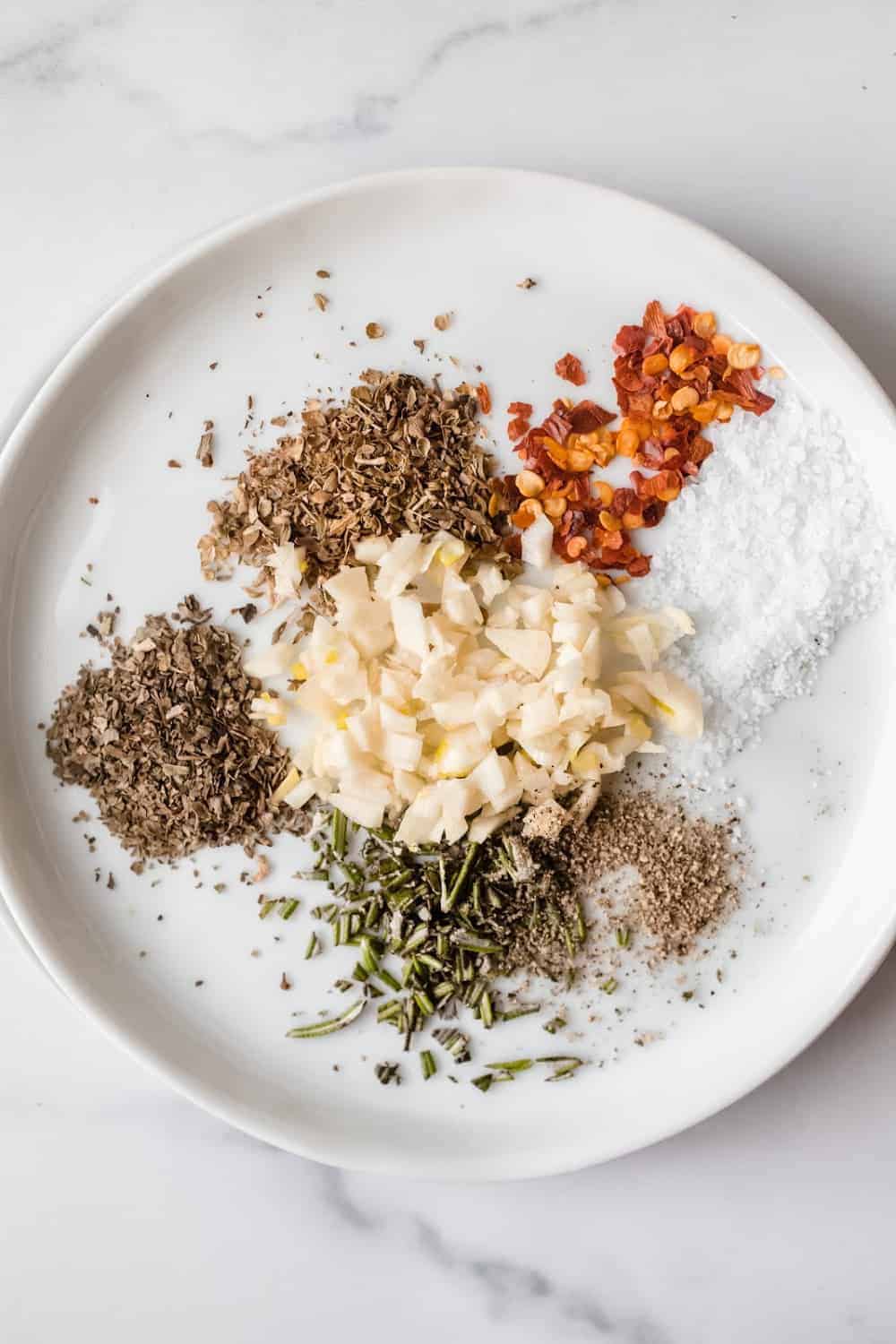 Let's Get to It! How to Make Carrabba's Italian Butter
This dip is so easy to whip up that you'll have it on the table in under 10 minutes, or as long as it takes for you to peel and mince a few cloves of garlic and chop some rosemary.
Measure out your herbs, red pepper flakes, salt and pepper in a small bowl or appetizer plate.
Mix the garlic into the herbs and spices and then transfer the mix to a small shallow bowl or appetizer plate for serving.
Pour the olive oil over the herbs and spices and stir gently to combine.
I mean seriously, could that BE any easier to make? It's basically like infusing olive oil that you're going to eat right away!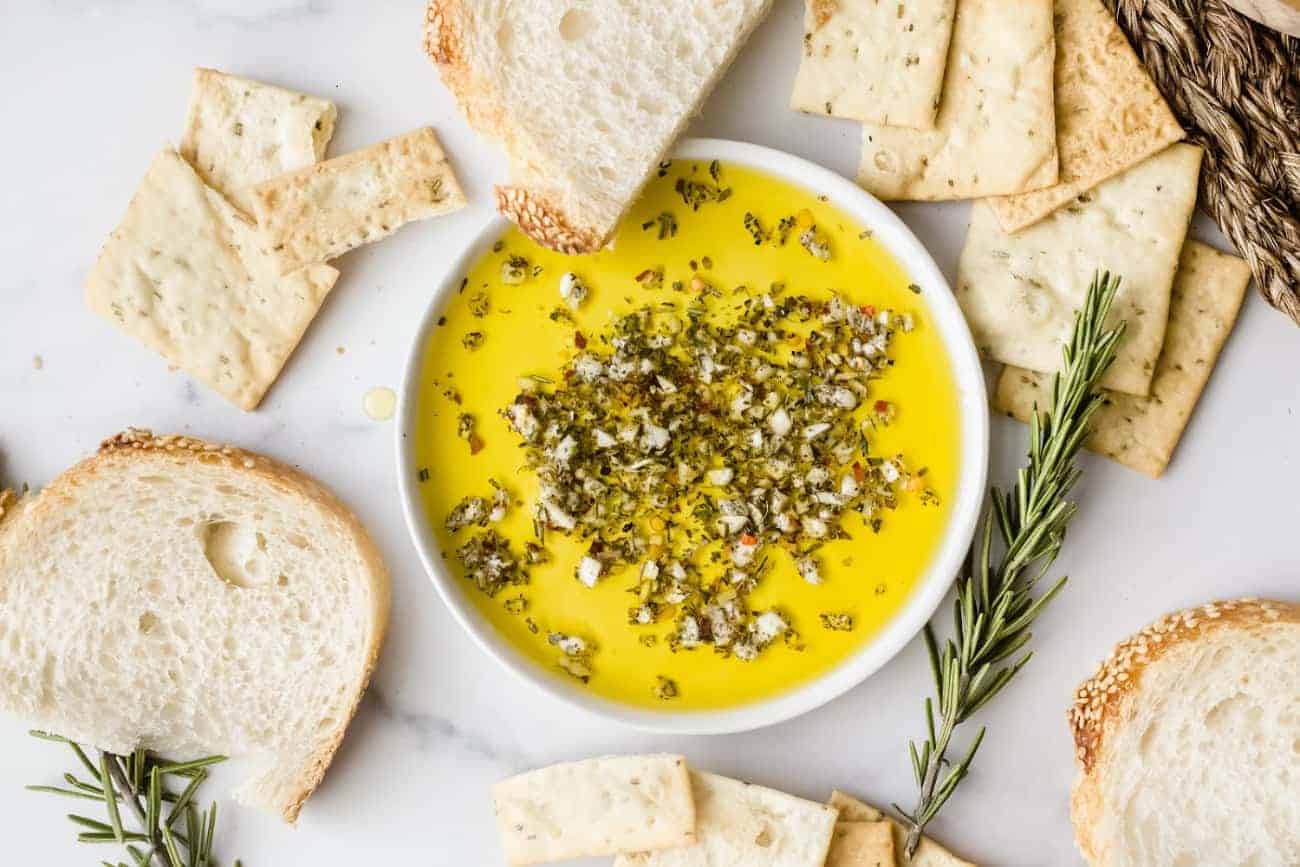 Tips for Making a Fantastic Italian Herb Olive Oil Dip
Use extra virgin olive oil. You won't be cooking this dip so you'll want an oil that tastes great raw.
Use fresh rosemary. The flavor of fresh rosemary will permeate through the dip faster than with dried rosemary. Plus, have you ever tried to chop dried rosemary? What a mess!
Fresh is best. While you can keep this dip in the fridge for up to 3 days before the fresh garlic and rosemary start to lose some of their punchy flavors, it's really much better to eat right away when the flavors will be at their brightest.
Make more than you think you'll need. I'm serious about this one! Whenever we make this dip for friends and family (or for just ourselves), it's always gone in the blink of an eye.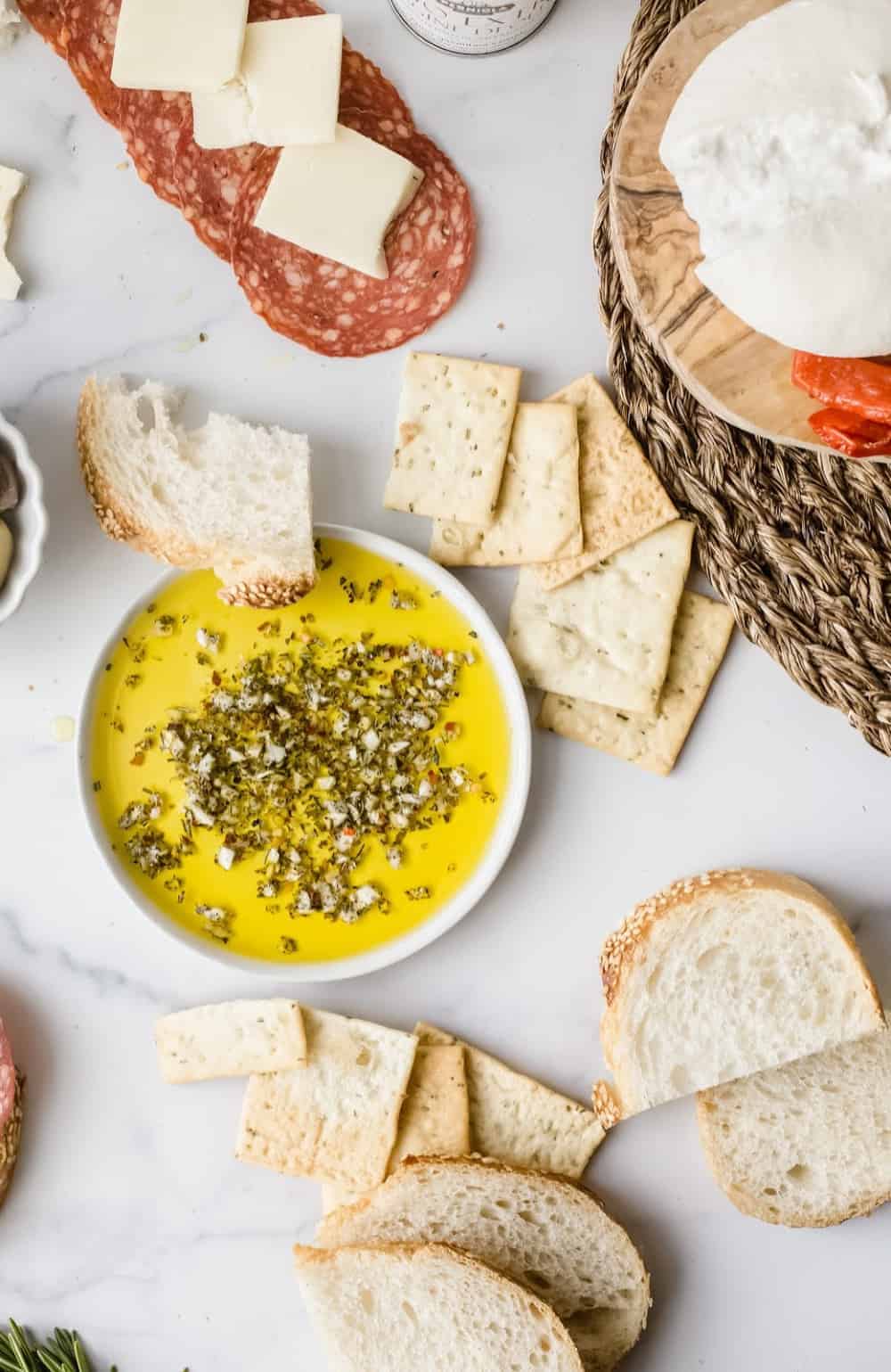 What to Serve Garlic Infused Olive Oil Dip With
I'm not going to pretend that for many meals, I wouldn't be content to simply sit with some warm and crusty bread, this Italian butter dip, some charcuterie meats and cheeses, and a glass of wine. Who needs an actual meal?
Some of my favorite breads to dip, aside from a good crusty French or Italian bread, are garlic parmesan pull-apart bread and brown and serve rolls.
But if you did want to serve this infused olive oil as a starter or side with some bread for a restaurant meal at home, I would fully endorse it.
Any kind of pasta meal would benefit from a side of this, especially this creamy pesto pasta with shrimp.
If you would normally dip your bread into soup, you might as well dip it into this olive oil dip while you eat your soup. Some of my favorites that would make excellent main dishes along with this dip are lasagna soup, sausage and lentil soup, stuffed pepper soup, and most especially this zuppa toscana. They're all hearty and filling soup recipes so you definitely won't be left hungry at the end of one of these meals.
And if you want to go a little lighter, a caprese salad would pair perfectly with this Italian-inspired dip.