Extra Virgin Olive Oil Herb Dip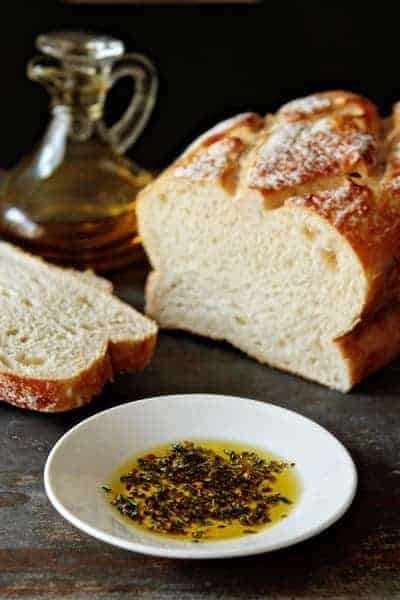 We don't really frequent chain restaurants on a regular basis, we tend to gravitate more towards locally owned establishments with seasonal menus. This way of dining certainly limits our choices; however, we typically find ourselves pleasantly content with all aspects of the local dining experience – fresh food that's in season, and most of the time they can even tell us where the produce came from that day. Not so with most chain restaurants.
Most of the time we walk away from a chain feeling as though we've been a little ripped off. We've had far too many less than adequate experiences with the chain scene and at some point found ourselves questioning why we continued to dine in a restaurant when we weren't happy with the experience.
This certainly caused us to branch out a bit within our area – which was awesome, because we now have a pretty fantastic repertoire of restaurants on our radar that includes some of the best food that either of us have tasted. However, we still crave certain items from some of the chain restaurants we used to frequent.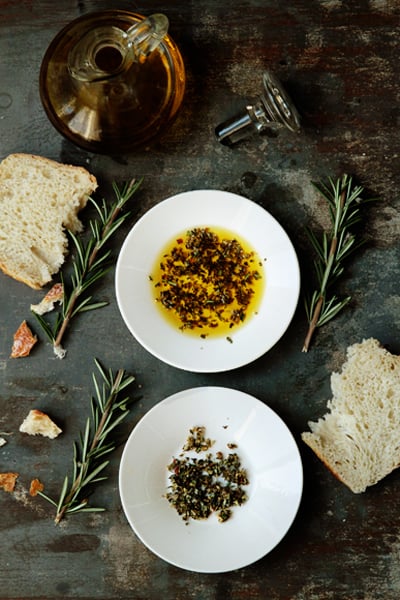 I've been seriously jonesing for some Carrabba's Italian Butter and thought this would be the perfect opportunity to post the recipe on MBA.
If you have never dined at Carrabba's, you may not have experienced the herb and olive oil bliss that they serve with every meal. It's incredibly addictive and pretty much the number one reason we used to dine there. They bring it out on a small dish and add olive oil to it table side – creating the perfect "dip" for their piping hot bread.
Although I was aware that olive oil came in several varieties, I wasn't aware that you can actually conduct an olive oil tasting. Pretty fancy, huh? An olive oil tasting is actually performed much like a wine, coffee, or bourbon tasting following the "Four S's" (Swirl, Sniff, Slurp and Swallow). After several sniffs and slurps, we decided to conduct our little tasting with pieces of ciabatta and we were surprised how much the oils varied!
I'm not going to pretend that many a meal I wouldn't be content to simply sit with the bread, the Italian butter, and a glass of vino- who needs an actual meal?
This post may contain affiliate links. We are a participant in the Amazon Services LLC Associates Program, an affiliate advertising program designed to provide a means for us to earn fees by linking to Amazon.com and affiliated sites.