Garlic Parmesan Pull-Apart Bread
Garlic Parmesan Pull-Apart Bread is great for serving next to turkey and stuffing or spaghetti and meatballs. It's a crowd pleaser, that's for sure!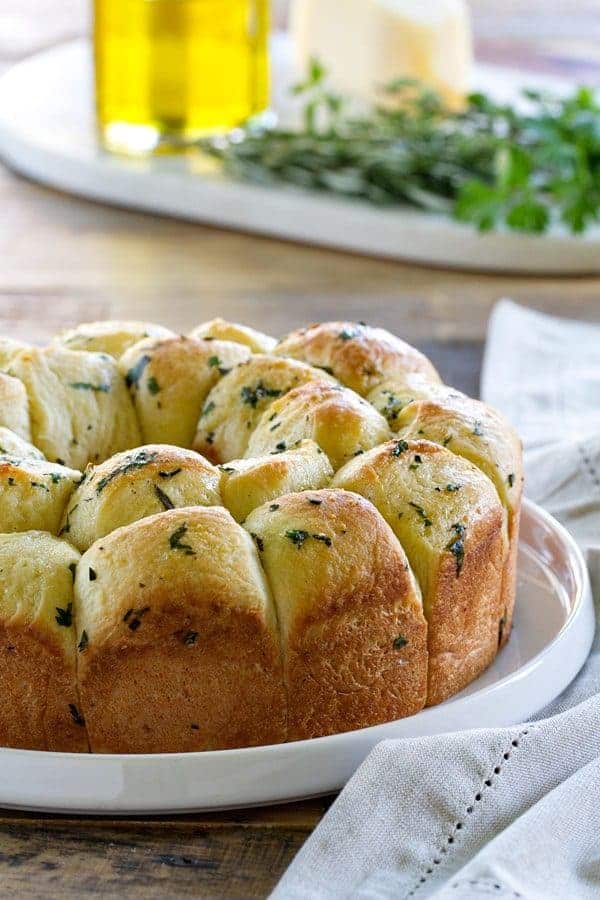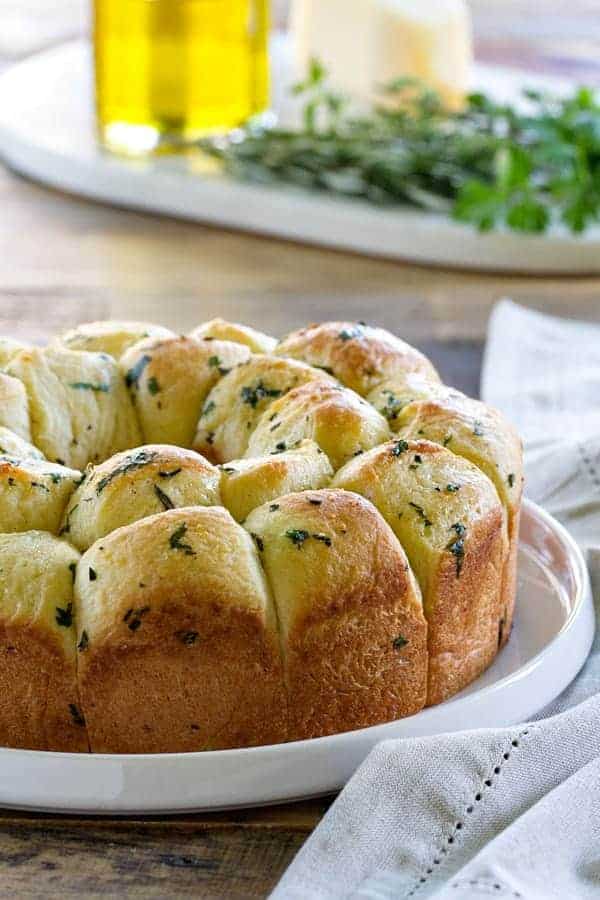 This is a sponsored post on behalf of Fleischmann's® Yeast. Thank you for continuing to support the brands that make My Baking Addiction possible.
Pull-apart breads. Everybody loves 'em, am I right? They're incredibly easy to make, and so versatile. You can make them sweet, like my Cinnamon Pull-Apart Bread, or you can make them savory, like this Garlic Parmesan Pull-Apart Bread. If you're not a fan of parmesan, check out this recipe for Olive Oil, Garlic and Fresh Herb Pull-Apart Bread, it's super delicious.
Now, I originally made this bread as a test run for Thanksgiving dinner sides, and I'm happy to say it's going to sit right alongside our turkey that day. But we've also made it a few times since then, to accompany Eric's ever-present spaghetti and meatballs dinner.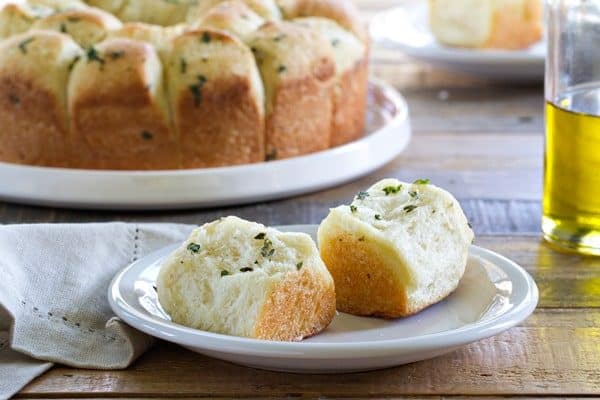 I swear to you, the man could eat spaghetti 365 days a year and not get tired of it. I need a little more variety than that, so some nights we end up eating different main dishes. But when I baked up this pull-apart bread, we both ended up enjoying it, even though we had mega different meals on our plates.
Plenty of people make pull-apart bread with ready-made biscuit dough, but I have to tell you, pull-apart bread is SO much better if you make your own dough. Nothing can beat freshly made yeast dough in a savory pull-apart bread like this garlic parmesan version.
Over the past two years, I've been conquering my fear of yeast baking on a regular basis, thanks to my work with Fleischmann's® Yeast. I now have zero fear when it comes to whipping up Potato Rolls, Brown and Serve Rolls, and my favorite – Honey Walnut Nut Roll.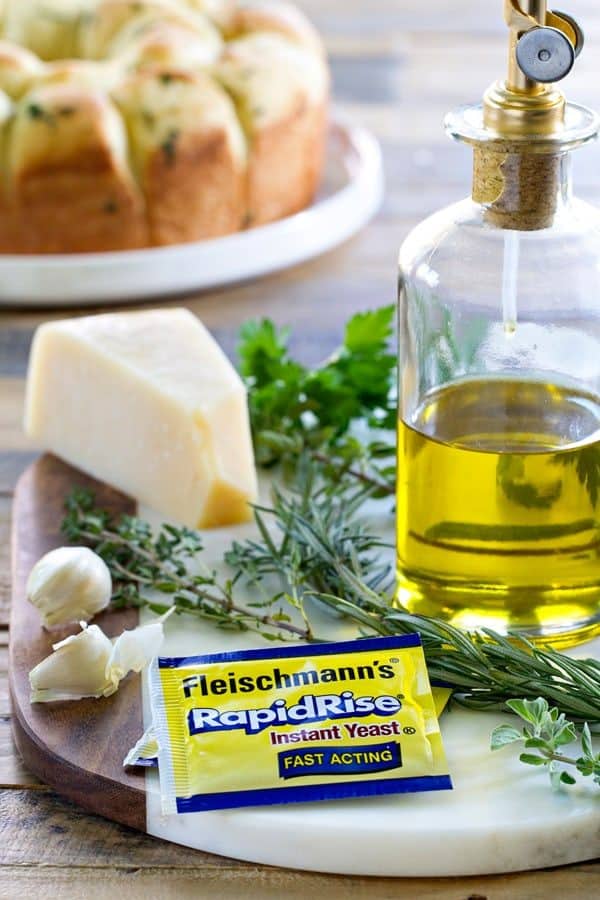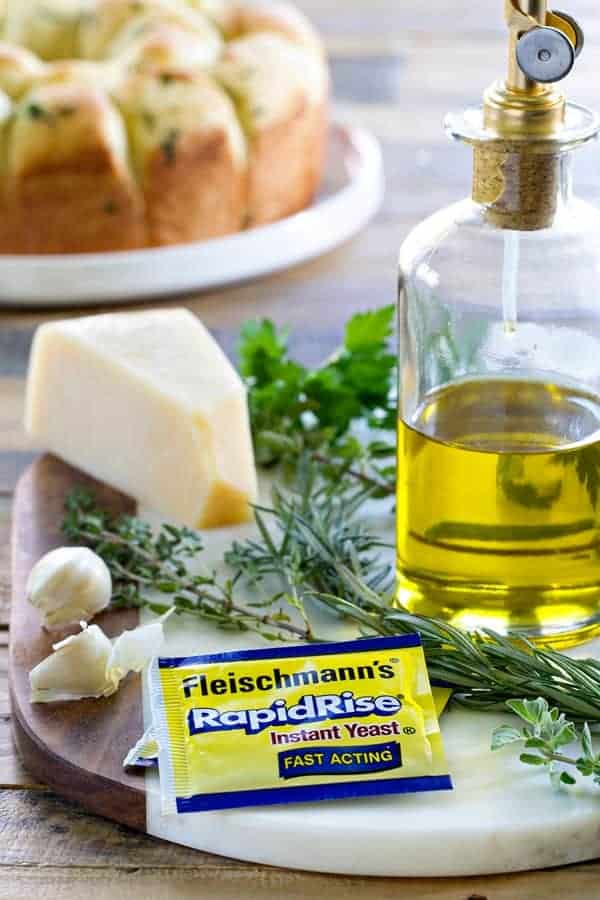 I'm a reformed yeast-fearer, and I want you to be too. This pull-apart bread is the perfect recipe to start tackling your fears, and realize that you too can be amazing at baking yeast breads. Especially when you've got Fleischmann's® RapidRise™ Yeast to hurry things along, and take the guess work out of whether your bread will rise.
This dough comes together quickly. Flour, yeast, sugar, salt, warm milk, an egg, and extra virgin olive oil – that's it. It all gets coated in an amazing garlic and herb infused olive oil that I basically want to slather on everything.
As you build the layers of dough in your Bundt pan, sprinkle liberally with Parmesan cheese. Because everything is better with cheese, am I right?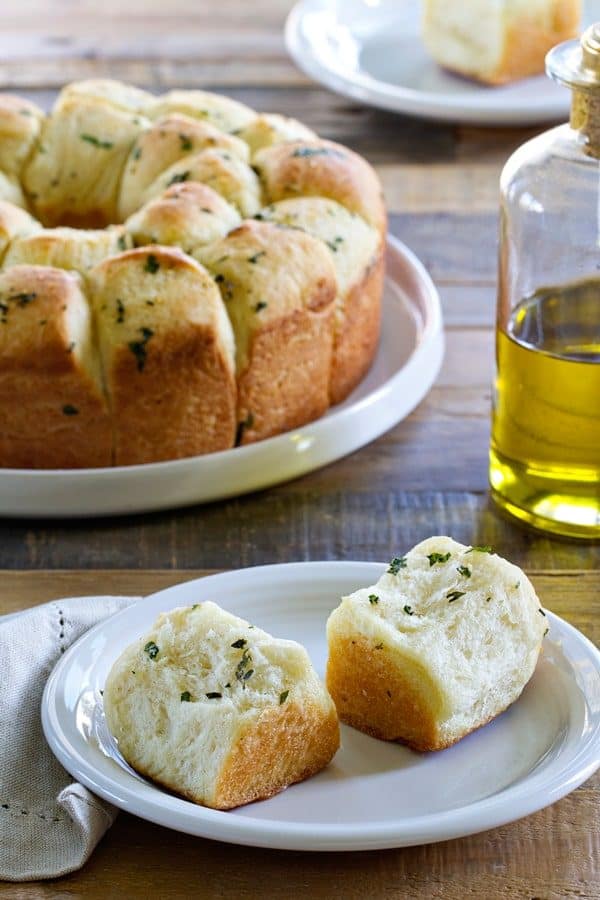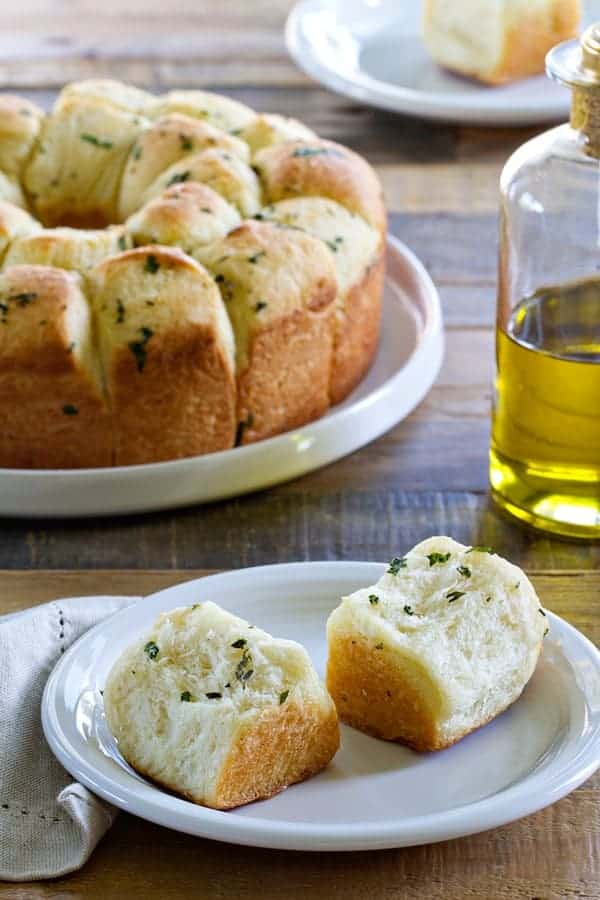 I'm serious when I say this is the perfect bread for a crowd. Once you pop it into the oven, delicious scents will start wafting their way through your entire house. Try not to gnaw your arm off.
And when it pops out of the oven, give it a good 10 minutes to cool. It can be tempting to rip off a bite and nosh right away, but try to hold yourself back. Your tongue, and all the food you want to taste later, will thank you.
Try dipping the bread pieces in turkey gravy or marinara. Absolutely delectable! And be sure to bake a little extra of this Garlic Parmesan Pull-Apart Bread because it is surely going to be the star of your Thanksgiving or Friendsgiving spread!
Garlic Parmesan Pull-Apart Bread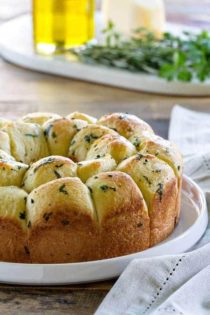 Ingredients:
GARLIC AND HERB INFUSED OLIVE OIL:
1/2 cup Mazola® Extra Virgin Olive Oil
2 tablespoons fresh herbs (rosemary, oregano, thyme, sage, chives, basil), minced
2 tablespoons minced, fresh Italian flat-leaf parsley
2 cloves fresh garlic, minced
1/2 teaspoon salt
DOUGH:
4-1/2 cups all-purpose flour
1 cup grated Parmigiano-Reggiano
2 packages Fleischmann's® RapidRise™ Yeast
2 tablespoons sugar
1-1/2 teaspoons salt
1-1/3 cups very warm milk (120° to 130°F)
1 egg, lightly beaten
1/4 cup Mazola® Extra Virgin Olive Oil
Directions:
For infused oil:  Combine olive oil, herbs, garlic and salt in a small bowl and set aside.
Combine flour, Parmigiano-Reggiano ,undissolved yeast, sugar and salt in mixing bowl. Add milk to flour mixture and mix on low speed for 1 minute.
Stir in egg and olive oil and continue to mix on low for 1 to 2 minutes, or until well blended and dough pulls away from sides of bowl.
Transfer dough to lightly floured surface and knead until dough is smooth and elastic, about 6 to 8 minutes.  Shape the dough into a ball.  Cover; let rest for 10 minutes.
Lightly flour a work surface.  Using hands, pat dough into a 10×12-inch rectangle, approximately 1-inch thick.  Divide dough into about 30 pieces using a pizza cutter or knife; roll into balls.
Dip dough balls into olive oil and herb mixture to lightly coat.  Arrange coated dough balls evenly in bottom of greased 10-inch tube pan with removable bottom.
Cover; let rise in warm, draft-free place until doubled in size, about 30 minutes.
Line a baking sheet with foil and place the tube pan on the baking sheet. This will protect your oven in case any oil drips out of your tube pan. Bake at 350°F for 25 to 30 minutes or until done.
Let cool in pan on rack for 10 minutes.  Invert to move from pan and serve immediately.
All images and text ©
Follow Jamie on Instagram. We love to see what you're baking from MBA! Be sure to tag @jamiemba and use the hashtag #mbarecipes!

This post may contain affiliate links. We are a participant in the Amazon Services LLC Associates Program, an affiliate advertising program designed to provide a means for us to earn fees by linking to Amazon.com and affiliated sites.