Garlic Parmesan Pull-Apart Bread is great for serving next to turkey and stuffing or spaghetti and meatballs. It's a crowd pleaser, that's for sure!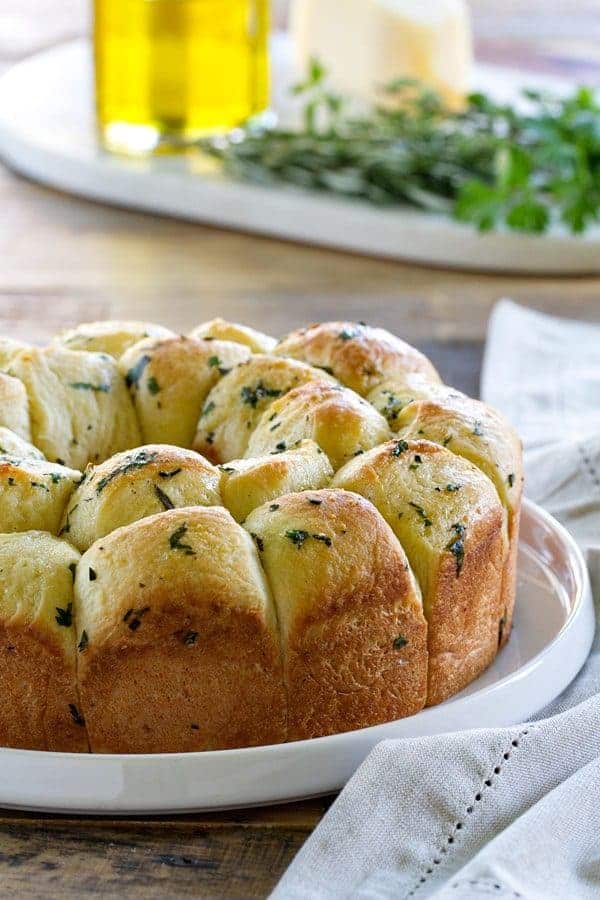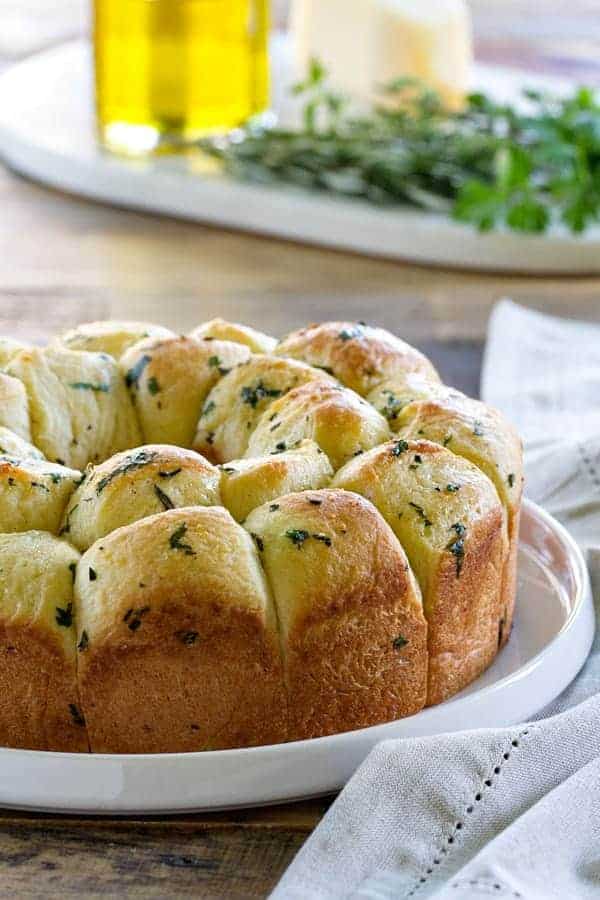 This is a sponsored post on behalf of Fleischmann's® Yeast. Thank you for continuing to support the brands that make My Baking Addiction possible.
Pull-apart breads. Everybody loves 'em, am I right? They're incredibly easy to make, and so versatile. You can make them sweet, like my Cinnamon Pull-Apart Bread, or you can make them savory, like this Garlic Parmesan Pull-Apart Bread. If you're not a fan of parmesan, check out this recipe for Olive Oil, Garlic and Fresh Herb Pull-Apart Bread, it's super delicious.
Now, I originally made this bread as a test run for Thanksgiving dinner sides, and I'm happy to say it's going to sit right alongside our turkey that day. But we've also made it a few times since then, to accompany Eric's ever-present spaghetti and meatballs dinner.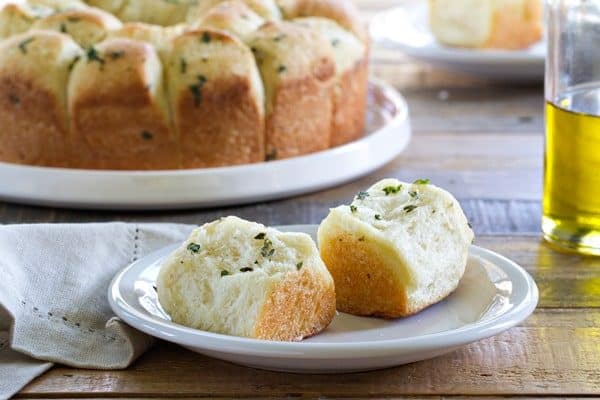 I swear to you, the man could eat spaghetti 365 days a year and not get tired of it. I need a little more variety than that, so some nights we end up eating different main dishes. But when I baked up this pull-apart bread, we both ended up enjoying it, even though we had mega different meals on our plates.
Plenty of people make pull-apart bread with ready-made biscuit dough, but I have to tell you, pull-apart bread is SO much better if you make your own dough. Nothing can beat freshly made yeast dough in a savory pull-apart bread like this garlic parmesan version.
Over the past two years, I've been conquering my fear of yeast baking on a regular basis, thanks to my work with Fleischmann's® Yeast. I now have zero fear when it comes to whipping up Potato Rolls, Brown and Serve Rolls, and my favorite – Honey Walnut Nut Roll.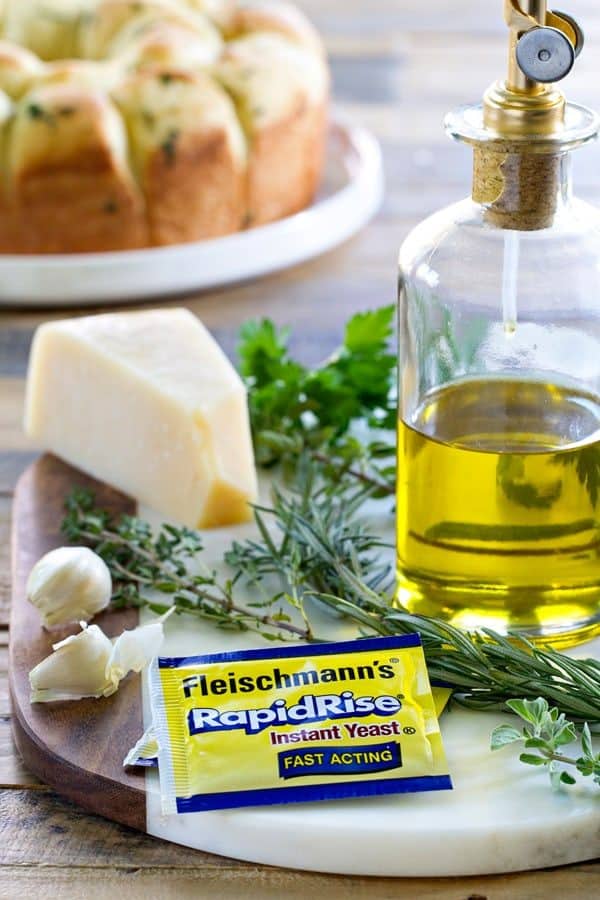 I'm a reformed yeast-fearer, and I want you to be too. This pull-apart bread is the perfect recipe to start tackling your fears, and realize that you too can be amazing at baking yeast breads. Especially when you've got Fleischmann's® RapidRise™ Yeast to hurry things along, and take the guess work out of whether your bread will rise.
This dough comes together quickly. Flour, yeast, sugar, salt, warm milk, an egg, and extra virgin olive oil – that's it. It all gets coated in an amazing garlic and herb infused olive oil that I basically want to slather on everything.
As you build the layers of dough in your Bundt pan, sprinkle liberally with Parmesan cheese. Because everything is better with cheese, am I right?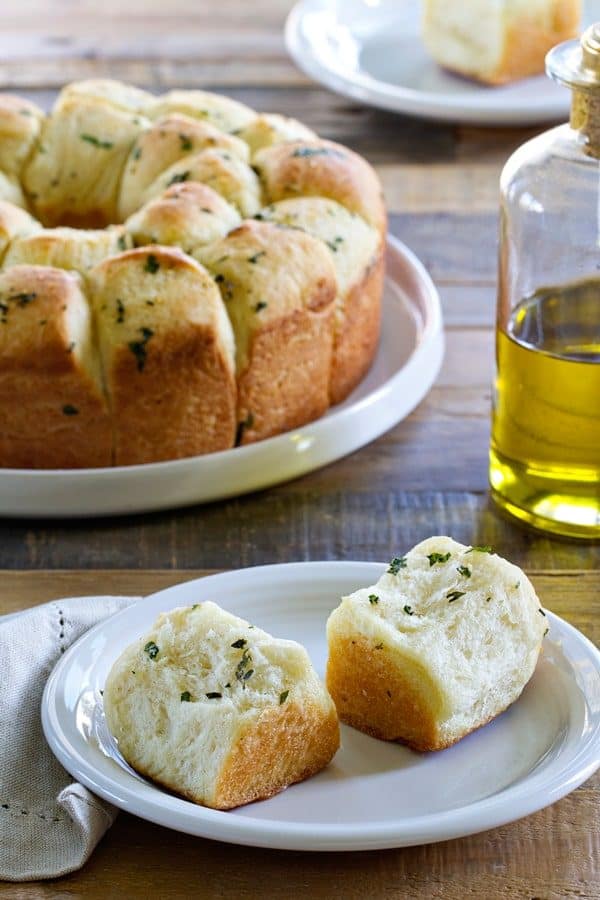 I'm serious when I say this is the perfect bread for a crowd. Once you pop it into the oven, delicious scents will start wafting their way through your entire house. Try not to gnaw your arm off.
And when it pops out of the oven, give it a good 10 minutes to cool. It can be tempting to rip off a bite and nosh right away, but try to hold yourself back. Your tongue, and all the food you want to taste later, will thank you.
Try dipping the bread pieces in turkey gravy or marinara. I love serving it alongside Chicken Parmesan. Absolutely delectable! And be sure to bake a little extra of this Garlic Parmesan Pull-Apart Bread because it is surely going to be the star of your Thanksgiving or Friendsgiving spread!