Brown and Serve Rolls you can make ahead for any holiday meal! Chock full of fresh rosemary and garlic, betcha you'll eat more than one.
This is a sponsored post on behalf of Fleischmann's Yeast.
It's no secret that I love everything carbohydrate related. I mean, this site is called My Baking Addiction, for Pete's sake, so it should come as no surprise that for me, holiday meals for me are all about the sides.
From Homemade Cranberry Sauce to Sweet Potato Casserole, if I were to snap a picture of my plate come "game time", you'd find the tiniest smidge of protein, and plenty of everything else – including at least two fluffy, freshly baked dinner rolls.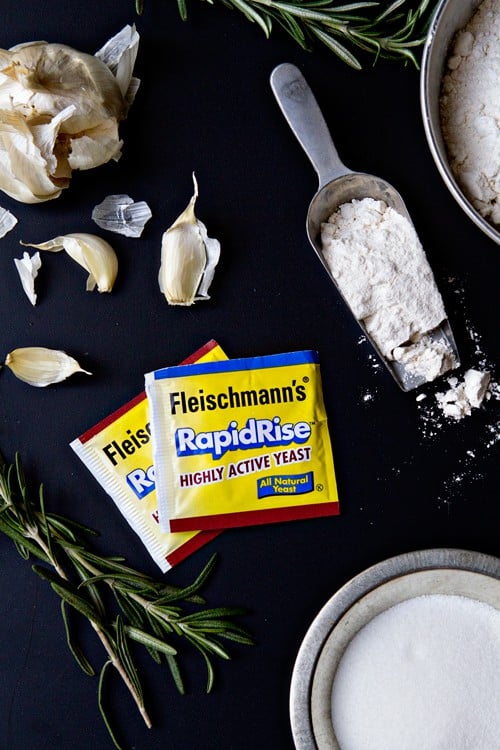 Bread baking is a science, and that can be intimidating to some people! What if the dough fails to rise? Tell me, does baking with yeast scare you? It shouldn't. With just a little patience (and using quality yeast like Fleischmann's®), you can pull a perfect homemade loaf of bread out of the oven and having that aroma fill your kitchen in no time. I really like baking with their RapidRise™ yeast. A lot of times, people accidentally kill yeast by mixing it with water that is way too warm. Fleischmann's RapidRise™ yeast avoids that issue all together – it's added to the dry ingredients. There's no need to activate it with warm water! It's foolproof.
RapidRise™, or instant yeast also saves time because your dough only requires one rise. And it's perfect for bread machines.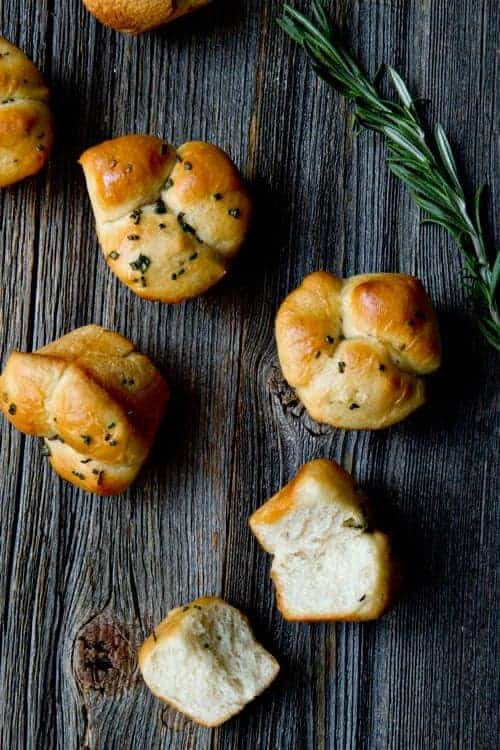 These homemade Brown and Serve Rolls are made with RapidRise yeast. And they're amazing, because you can make them ahead – like a week or month ahead – of a big event, or simply have them in the freezer, ready to go, for any time you want to bake them up.
Think of the dough as a blank canvas. I've taken my Brown and Serve Rolls over the top by adding freshly minced garlic, and fresh rosemary too. If ever two ingredients needed to get married, it's rosemary and garlic, amiright?!
Go ahead and make these rolls right now. You'll want to have them at Christmas dinner, New Year's Dinner, and every Sunday pot roast dinner in between. Lightly slathered in butter, they're a savory addition to the table that everyone will love!
Disclosure: This post is sponsored by Fleischmann's®; however, the views and opinions expressed on My Baking Addiction are my own, and based upon my experiences with Fleischmann's® products. Thank you for supporting Fleischmann's® and the brands that continue to make My Baking Addiction possible.