Stuffed Pepper Soup
Stuffed Pepper Soup is loaded with the familiar flavors of traditional stuffed peppers and comes together in one pot. Serve up this hearty soup with crusty bread for the perfect weeknight meal!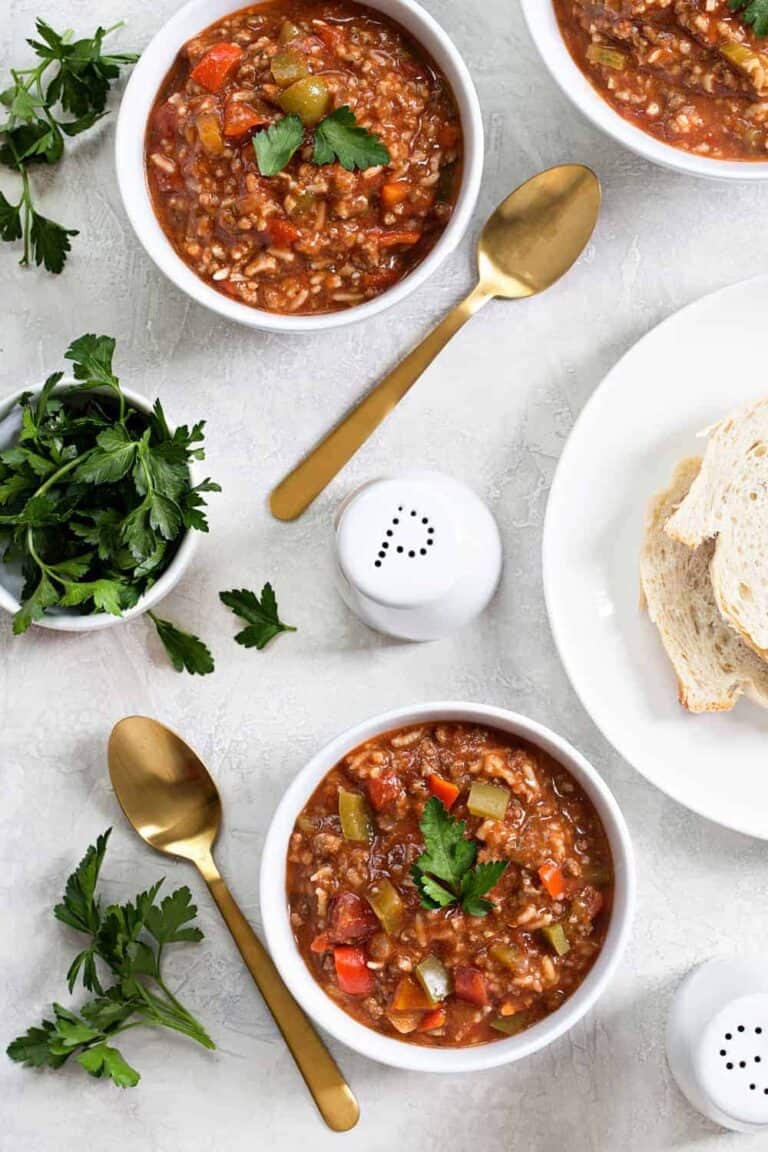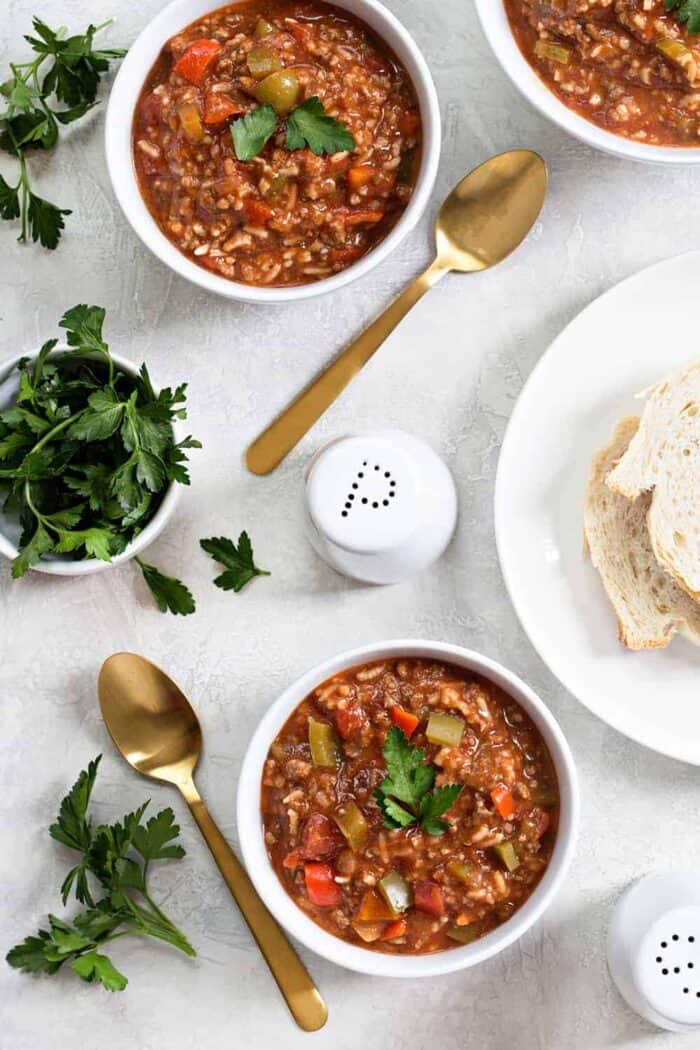 This recipe is sponsored by Red Gold Tomatoes. All thoughts are my own. Thank you for continuing to support the brands that continue to make My Baking Addiction possible.
When I was going into high school, I wanted jeans from the GAP. Ya know the blue stone washed ones, from the mid-90's?
I even think they had a button fly. I was obsessed with them and I wanted them so badly.
However, my mom was not on board with paying GAP prices, so she said if I wanted more expensive jeans than what we could find at Super K, I'd have to find a job and make up the difference.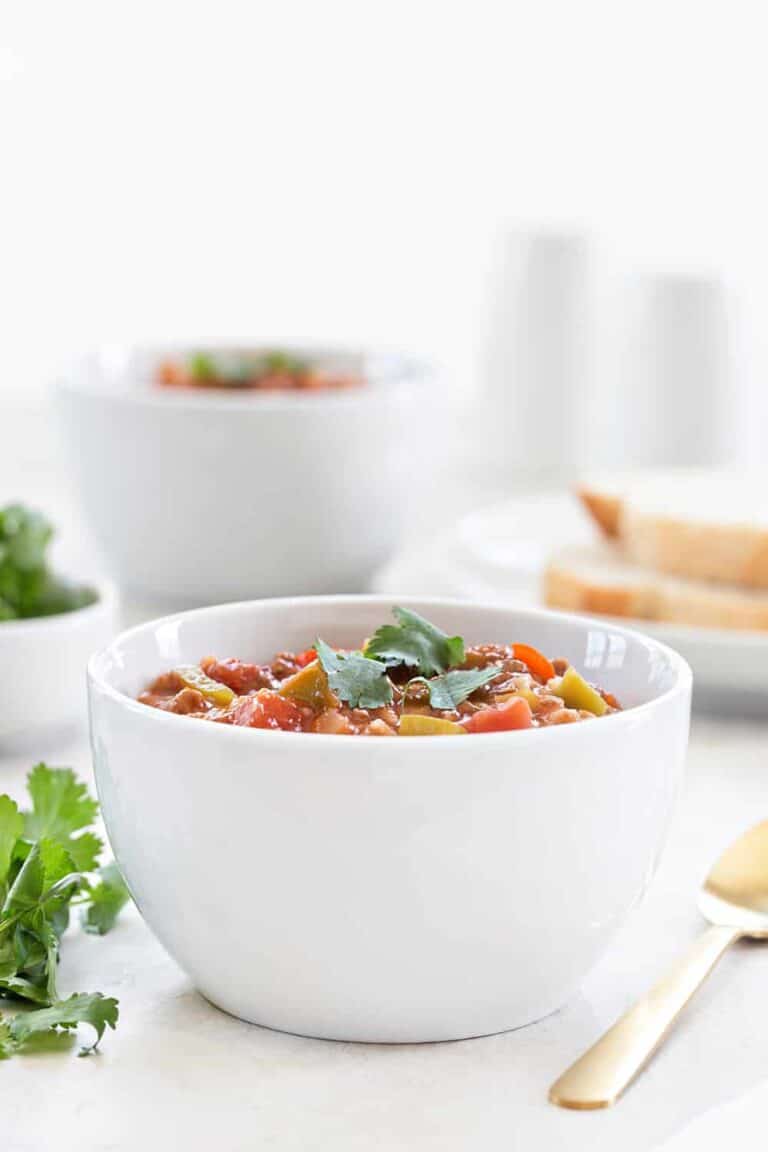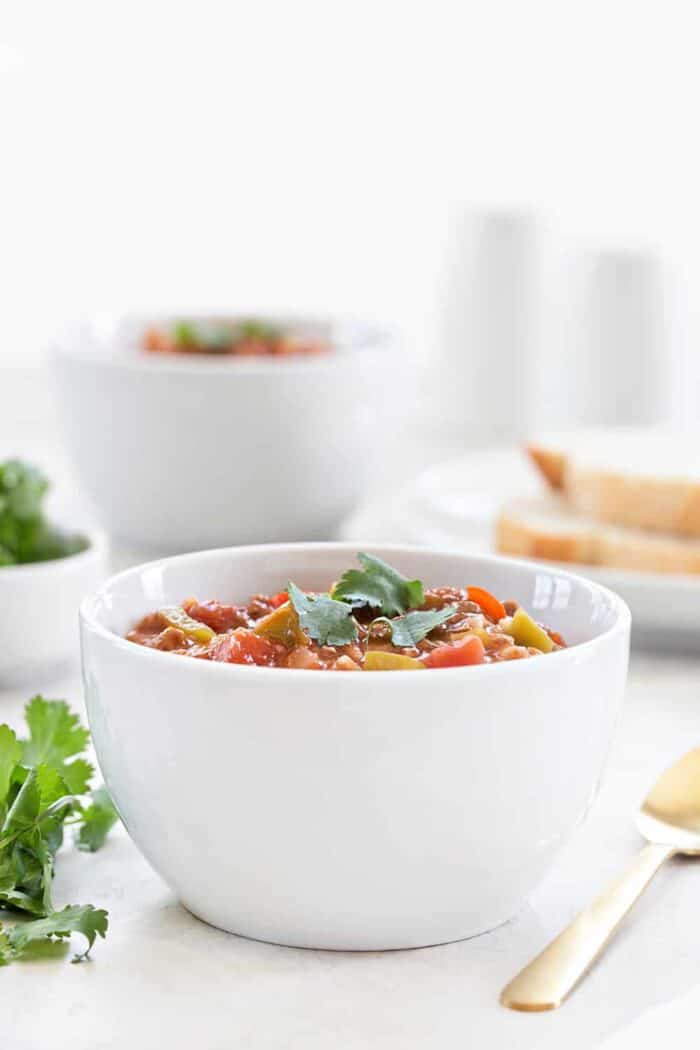 So that I did. (In case you've never met me, I can be… shall we say… stubborn?)
Well, my mom actually found me the job at a local mom-and-pop restaurant in town. She happened to know the owner, who hired me as a server, and my dream of GAP jeans came true. Serving one small dish of cottage cheese at a time.
The restaurant was pretty small and mainly catered to the older crowd in town, hence the small dishes of cottage cheese, but I loved working there.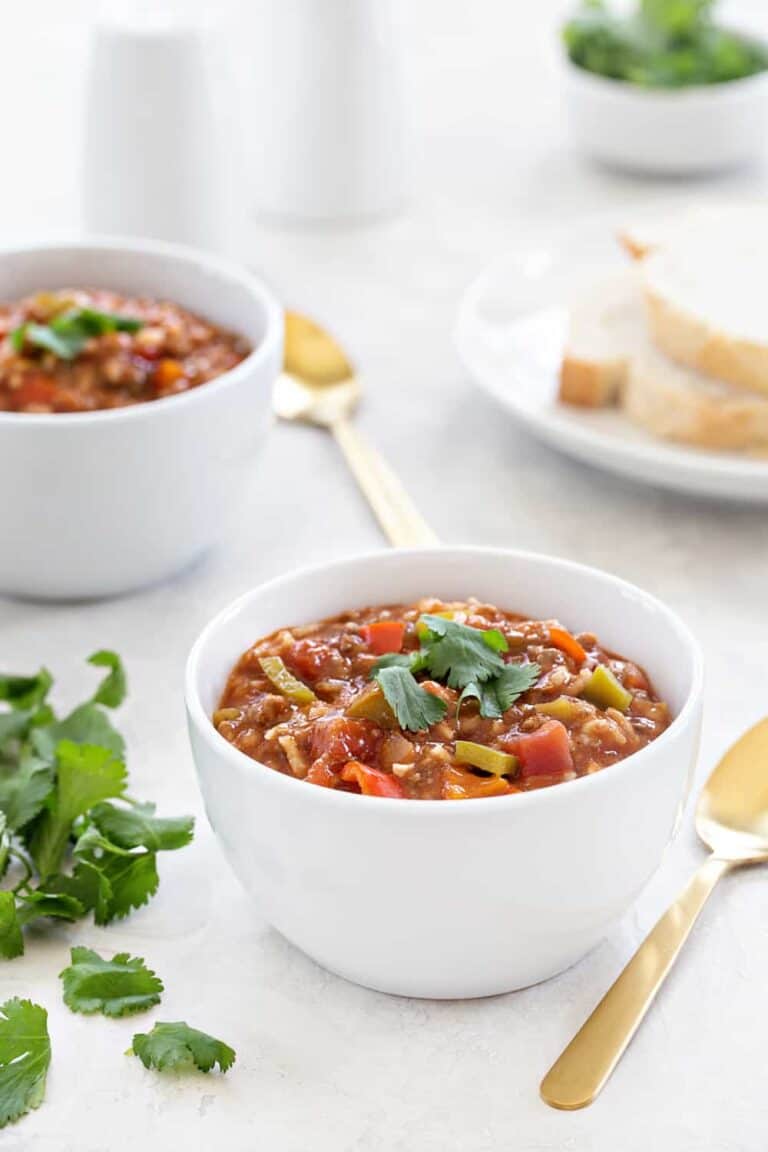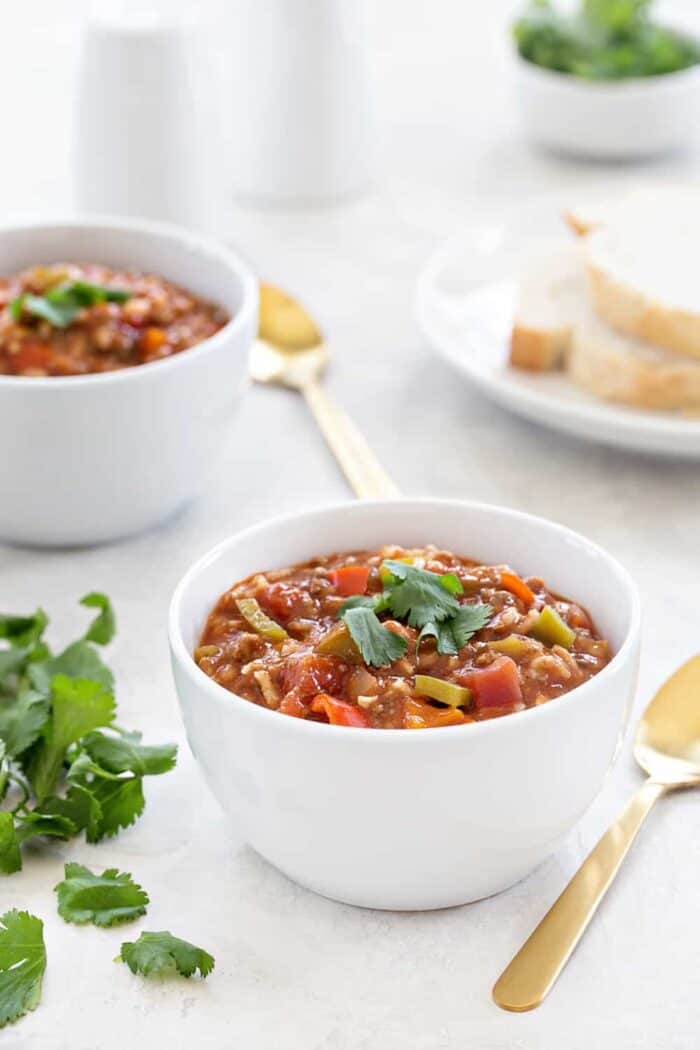 The staff was awesome and even though I was only 14, they didn't treat me like a kid. Though I totally was.
Not only were the people amazing, they had some seriously delicious food, and weekly specials that would make the to-go phone line ring nonstop.
One of the fan favorites was Stuffed Pepper Soup, which, back then seemed incredibly genius because this was pre-Pinterest days and most recipes came from cookbooks, not the internet.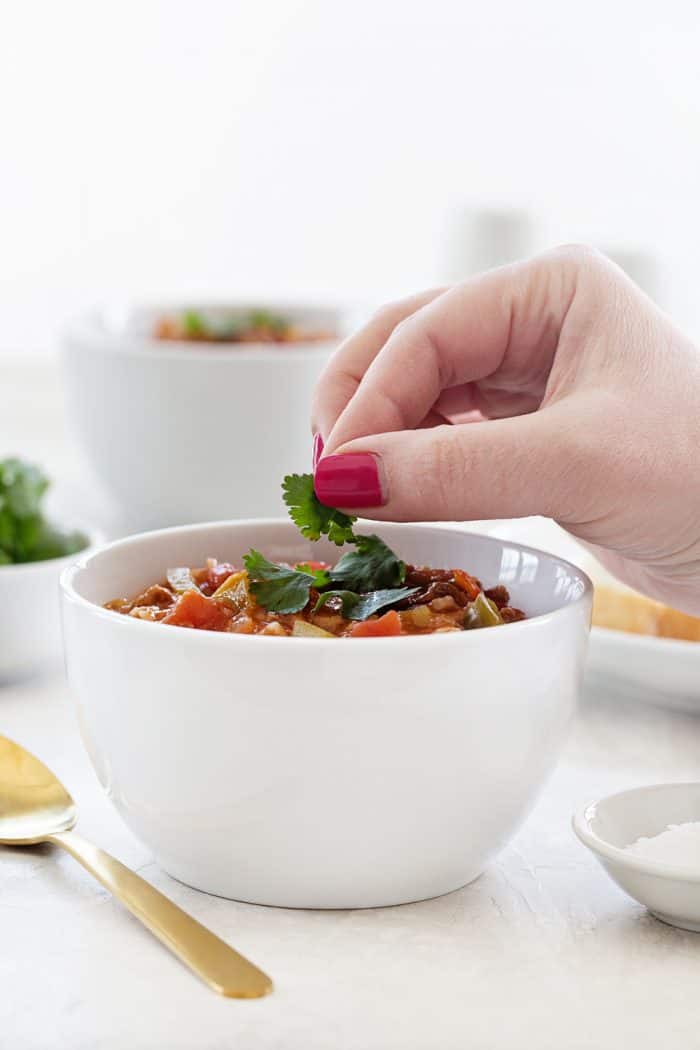 I grew up with my mom making traditional stuffed peppers, but was never really a fan until I was like 22.
But stuffed pepper soup? I was totally on board with that, and so were most of the people in our small town. Served up with pillowy soft rolls, or crusty bread and green salad, you have a match made in hearty, winter comfort food heaven.
When my friends at Red Gold Tomatoes asked me to use a few of their products in a recipe, this stuffed pepper soup immediately went to the top of my list.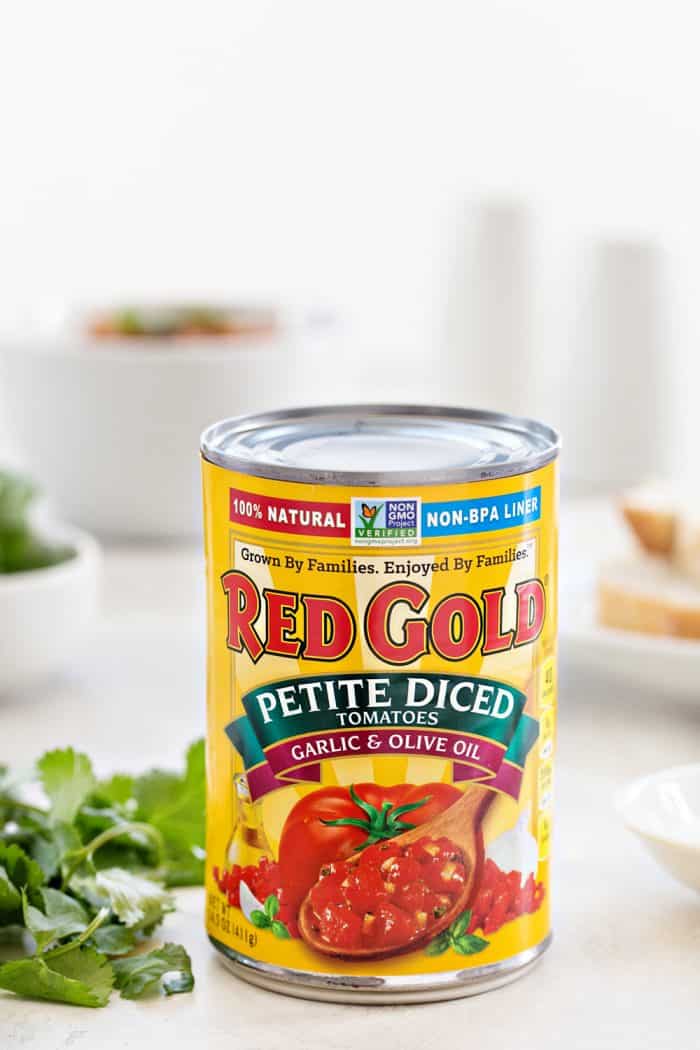 This cozy soup starts with ground beef, bell peppers, onion, garlic and bit of seasoning. But the real magic happens when you add the Red Gold Tomato products and the rice. I used diced tomatoes, tomato sauce and tomato paste to create a rich and hearty soup that's perfectly simple any day of the week.
Red Gold Tomatoes have been family grown on Midwest farms for over four generations. They started partnering with farmers in 1942.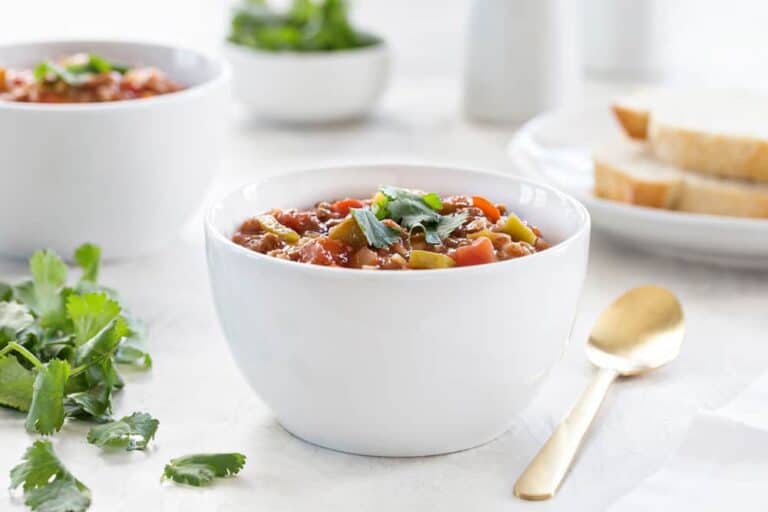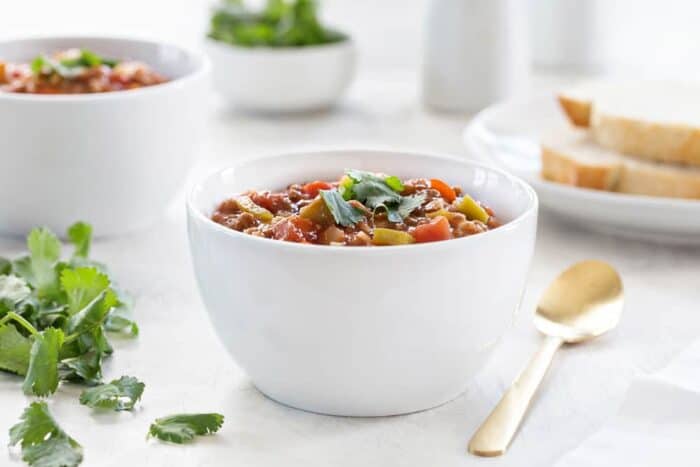 Since then, they've focused on sustainable growing and efficiently packing the freshest, best tasting tomatoes in the world. Their tomatoes are canned within hours of being picked and they're Non-GMO Project verified, which is always something I can get behind.
Red Gold Tomatoes add just the right amount of hearty sweetness to this stuffed pepper soup. It's part of our regular dinner rotation now, just like traditional stuffed peppers were when I was a kid.
And if I may say so, the soup is just way, WAY better.
Looking for another delicious recipe using Red Gold Tomatoes? Be sure to check out this Easy Chicken Chili. It has quickly become one of our favorites. And although these easy baked pork chops  and Best Clam Chowder doesn't contain tomatoes, they're pretty darn amazing too.


This post may contain affiliate links. We are a participant in the Amazon Services LLC Associates Program, an affiliate advertising program designed to provide a means for us to earn fees by linking to Amazon.com and affiliated sites.