Amazing Tortilla Soup…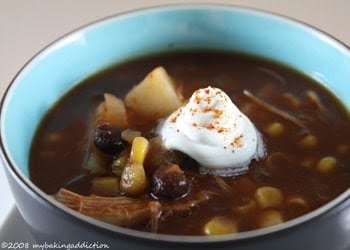 Well, I know that most of you venture to my blog to find yummy baked goods, but this soup was so delicious I just had to blog about it! I adapted a crock pot recipe I found on allrecipes and just cooked it on the stove top for a couple of hours. Within two days the entire pot was gone…we found ourselves eating it for lunch and dinner and it just got better the second day! If you are looking for a quick delicious soup to warm you and your family, try this one! You will not be disappointed!
Chicken Tortilla Soup Adapted from allrecipes

1 rotisserie chicken (de-boned and shredded)
1 (15 ounce) can whole peeled tomatoes-blended until smooth
1 (10 ounce) can enchilada sauce
1 medium onion, chopped
1 (4 ounce) can chopped green chile peppers
2 cloves garlic, minced
2 cups water
1 (14.5 ounce) can chicken broth ( I added a bit more of this)
1 teaspoon cumin
1 teaspoon chili powder
1 teaspoon salt
1/4 teaspoon black pepper
1 bay leaf
red pepper flakes (to taste)
hot sauce (to taste…I used Sriacha)
1 (10 ounce) package frozen corn
1 can black beans (rinsed)
2 peeled potatoes-cubed and boiled until tender

Optional Ingredients for Garnish
shredded cheese
sour cream
tortilla chips
Directions
1. Blend can of tomatoes in the blender or food processor until smooth.
2. Pour tomatoes, enchilada sauce, onion, green chiles, and garlic into a large pot. Pour in water and chicken broth, and season with cumin, chili powder, salt, pepper, pepper flakes, hot sauce and bay leaf. Stir in corn and beans.
3. Cover, and cook on medium/low heat for about an hour; stirring occasionally.
4. In a separate pot, boil potatoes until just fork tender.
5. Drain and add to soup pot along with the shredded chicken.
6. Continue cooking for another hour.
7. Top with cheese, sour cream and tortilla chips or serve with a crusty baguette!
Enjoy!

*Note- If you are not a fan of spicy foods, leave out the hot sauce and red pepper flakes.
This post may contain affiliate links. We are a participant in the Amazon Services LLC Associates Program, an affiliate advertising program designed to provide a means for us to earn fees by linking to Amazon.com and affiliated sites.