Lasagna soup is loaded with all the familiar flavors of lasagna in soup form. It's hearty, delicious, and sure to become a new favorite.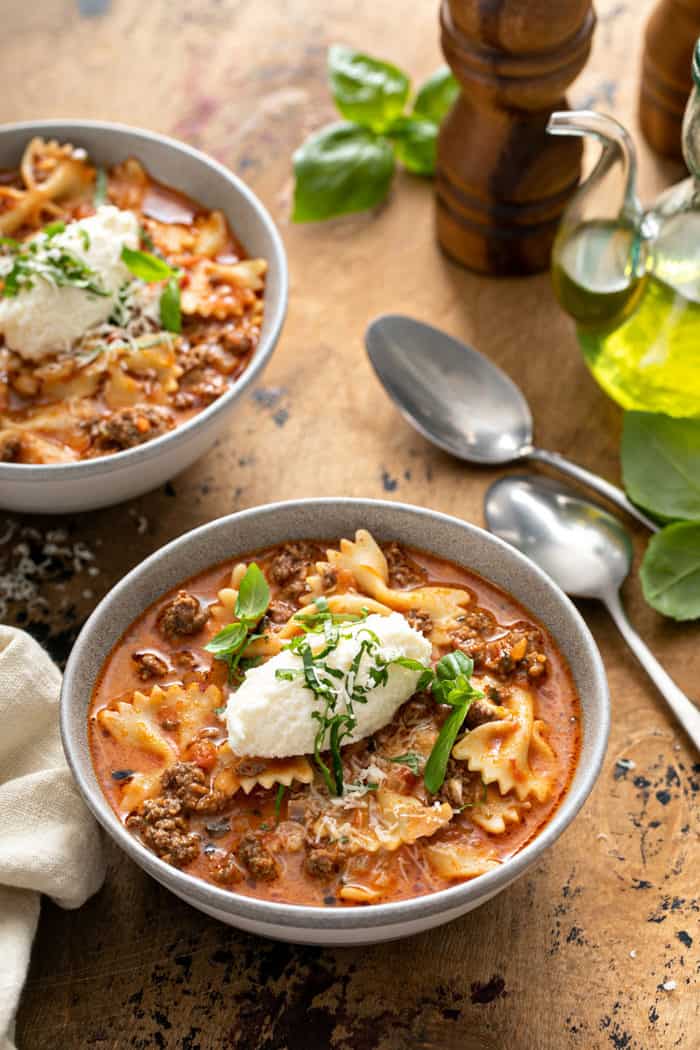 As soon as Christmas is over, I pretty much go from baking up all the sweets to full-on soup mode.
Give me a bowl of hearty soup, a fresh salad loaded with veggies and a piece of baguette and I'm pretty much in winter dinner heaven.
One of my absolute favorite soups to make at this time of year is this delicious Lasagna Soup.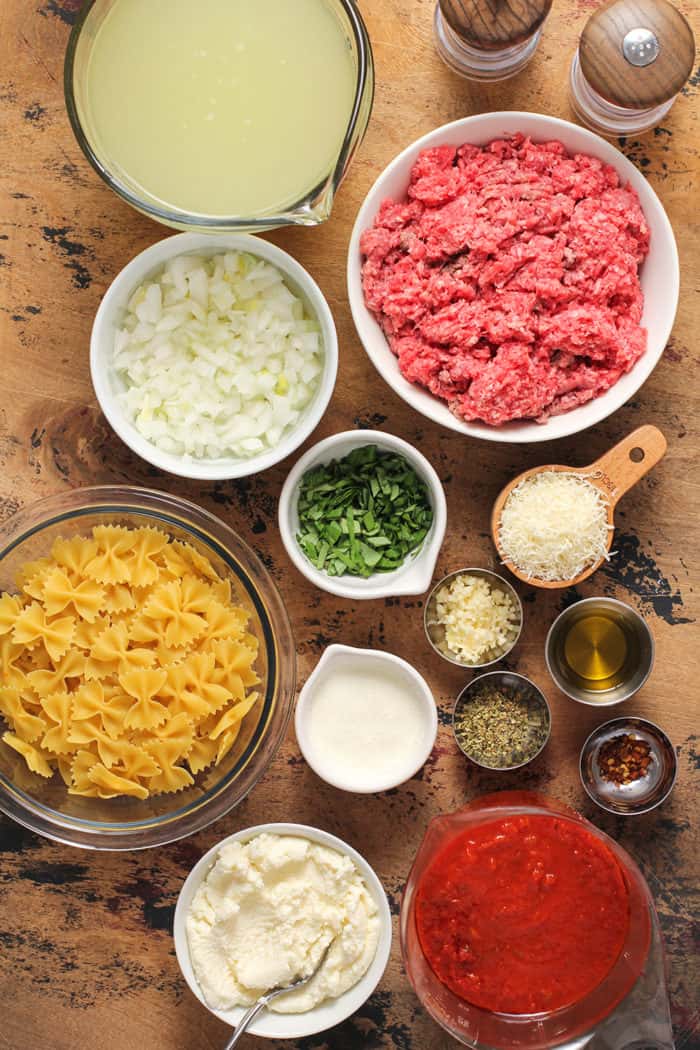 WHAT IS LASAGNA SOUP?
No, Lasagna soup isn't a piece of lasagna turned into soup. But it is a soup filled with all of the flavors that you'd add to a pan of lasagna!
If you've ever had skillet lasagna, you are probably familiar with taking all of the elements of a traditional lasagna and putting them into a weeknight-friendly dish.
After all, homemade lasagna is delicious but it isn't exactly quick to make. This soup though? Definitely something you could make on a weeknight.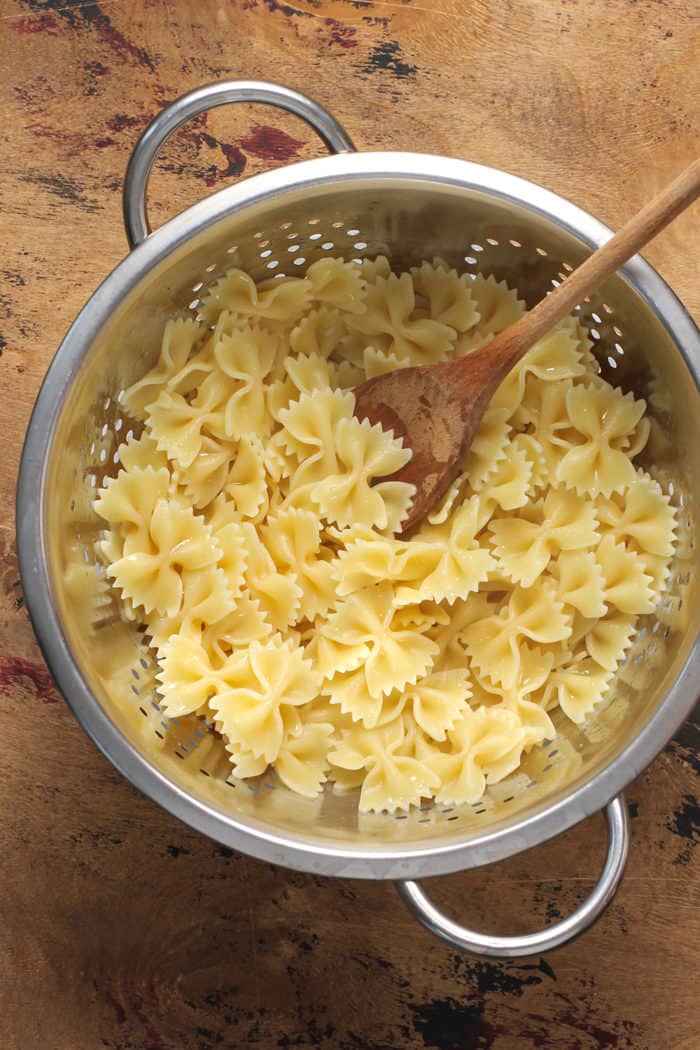 This Lasagna Soup has a rich tomato broth and is packed with ground beef, farfalle pasta, garlic, oregano, basil, parmesan cheese, and a smidge of heavy cream. I love to top it with a bit of ricotta to really drive home that lasagna feel.
If your family loves pasta – and you like to keep it simple with easy recipes like One-Pot Spaghetti – this soup is sure to be a hit!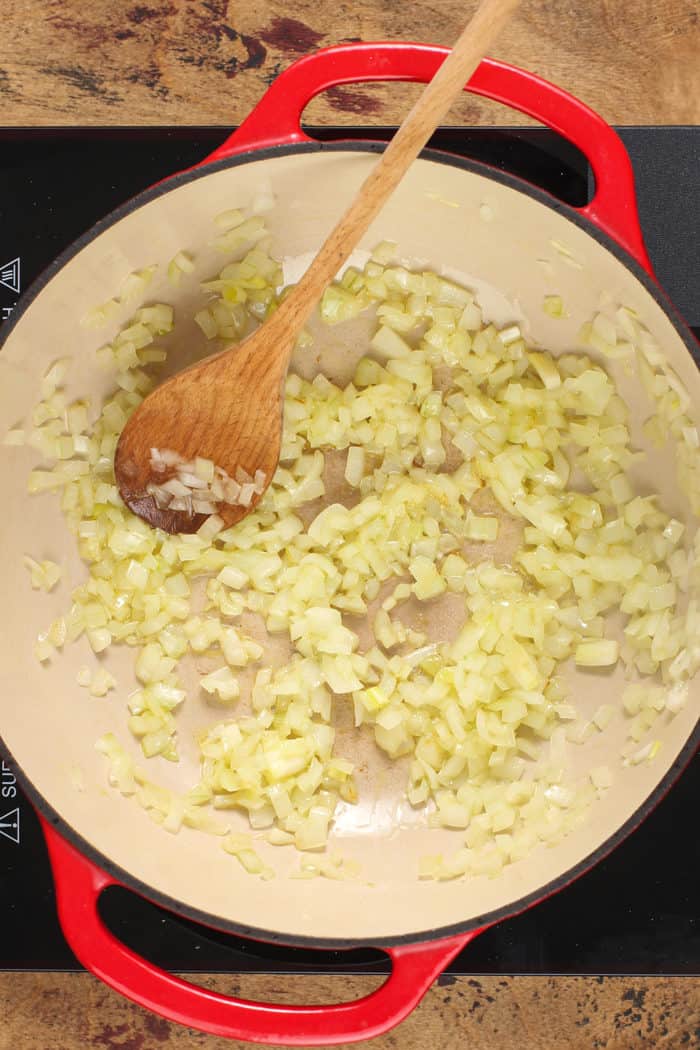 HOW TO MAKE LASAGNA SOUP
Don't be freaked out by the ingredients list for this soup. It looks long, but it's mostly spices and herbs you probably keep in your pantry already:
8 ounces farfalle noodles
1 tablespoon extra-virgin olive oil, plus more for drizzling
1 small onion, chopped (about 1 cup)
1 pound ground beef (or a combination of ground beef and sweet Italian sausage, casings removed)
3 cloves garlic, chopped
1 teaspoon dried oregano
1/4 teaspoon red pepper flakes
salt and pepper to taste
4 cups chicken broth
1 24-ounce jar pasta sauce
1 cup water
1/2 cup chopped fresh basil, chopped, or 2 tablespoons dried basil, plus thinly sliced leaves for topping
1/3 cup grated parmesan cheese (plus more for sprinkling, optional)
1/4 cup heavy cream
Ricotta cheese, for topping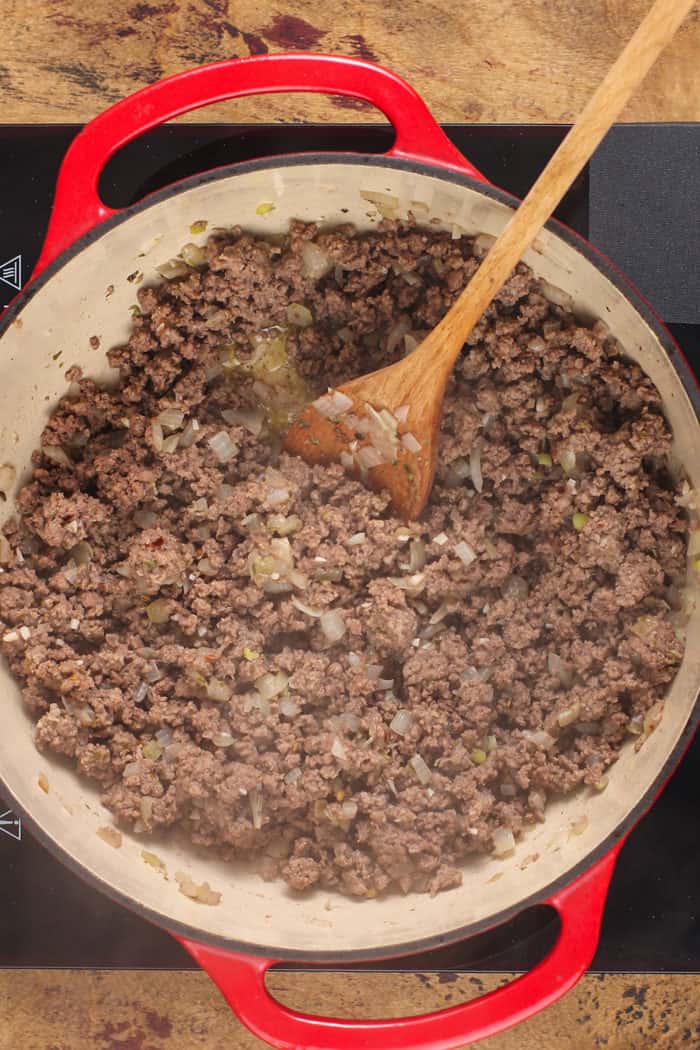 Start by cooking your pasta in plenty of salted water. After draining the cooked pasta, toss it with a bit of olive oil and set them aside.
Grab your favorite heavy-bottomed soup pot and heat some olive oil over medium heat. Cook the onion, then add the ground beef (and sausage, if you're using it), garlic, oregano, red pepper flakes, and a healthy sprinkle of salt and pepper.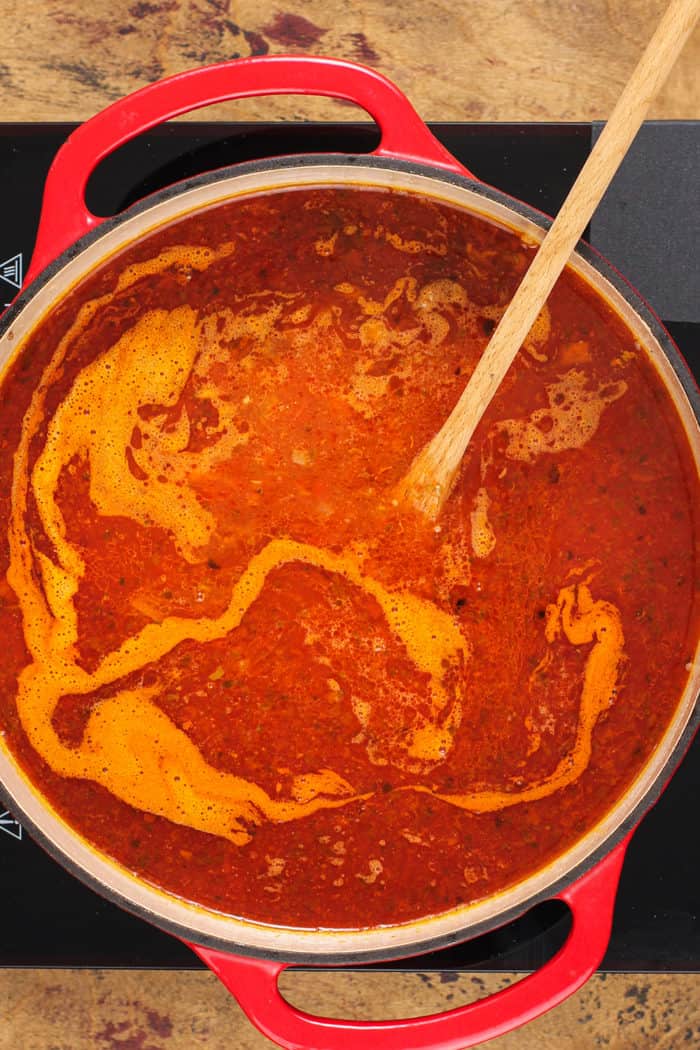 Once the meat is nicely browned, add the broth, pasta sauce, and water. Cover and bring the soup to a simmer.
Uncover the pot and cook until the broth has slightly reduced, about 15 minutes. Stir in the noodles, basil, parmesan cheese, and heavy cream and continue to simmer for 5-10 minutes.
Before serving, make sure to give the soup a taste and add more salt and/or pepper as needed.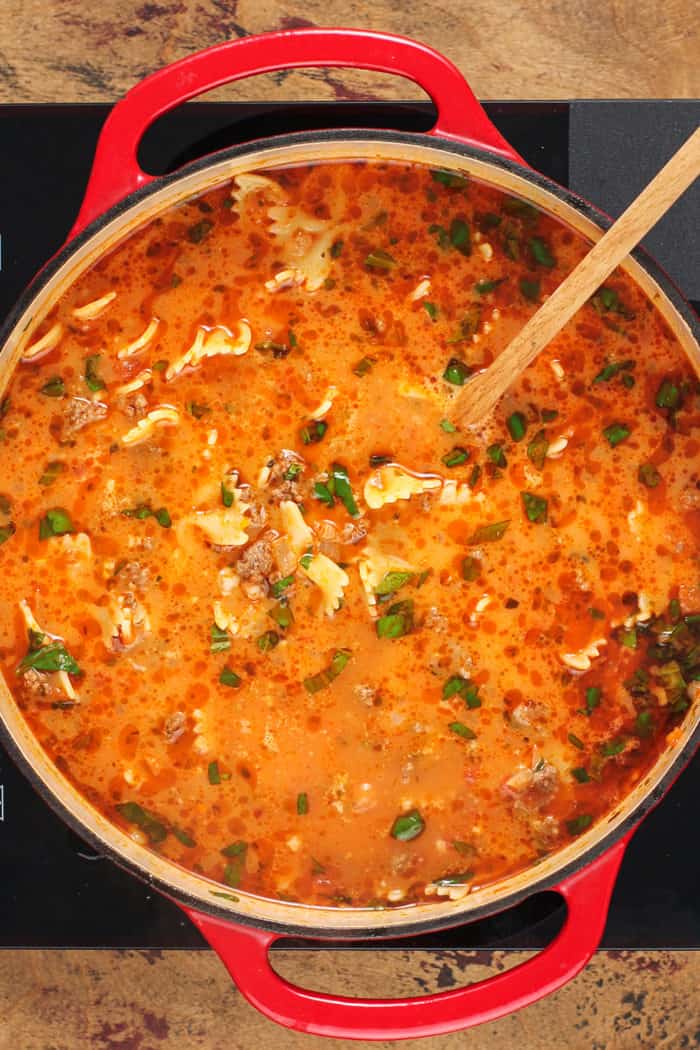 SERVING SUGGESTIONS
I love topping my Lasagna Soup with a dollop of ricotta cheese (you can even use homemade ricotta to be extra impressive!) and a sprinkle of fresh basil.
To make this a full meal, add a salad and some Garlic and Herb Pull-Apart Bread or Garlic and Herb Parker House Rolls.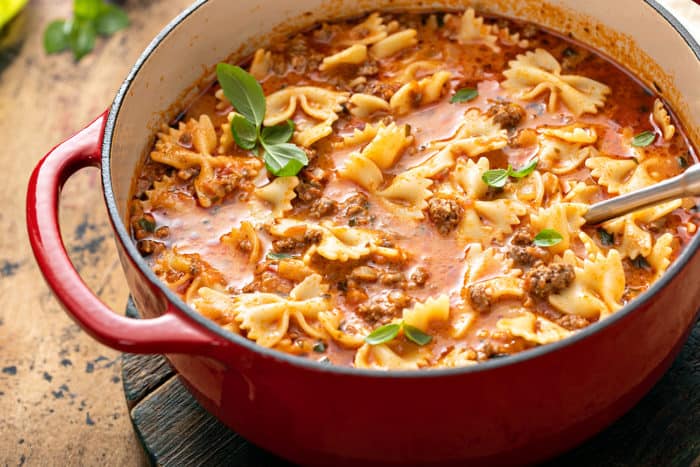 MAKE-AHEAD AND FREEZING TIPS
If you want to prep this soup ahead of time, there are a few ways to do this.
Cook the pasta and brown the onion and ground beef the night before. Store them in separate containers in the refrigerator until you're ready to finish making the soup.
You could also make the soup up until the point of adding the noodles, cream, and cheese. Cool the soup down and refrigerate in an airtight container. When ready to serve, bring the soup back to a simmer, then add the pasta, cream, and cheese and simmer for 5-10 minutes, until nice and hot.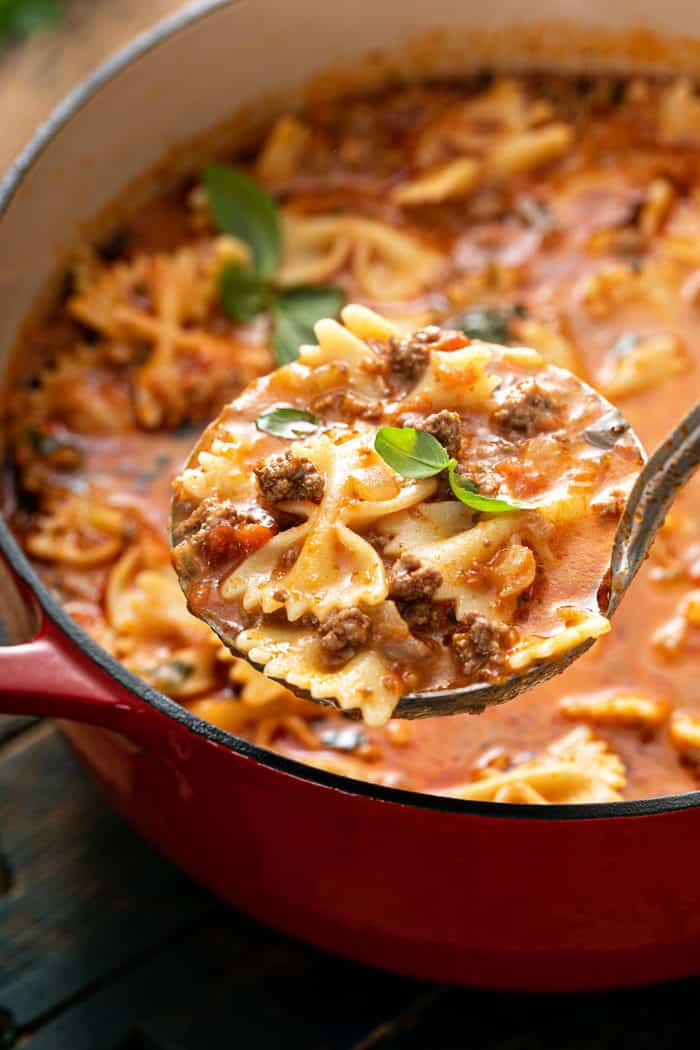 This is also a great way to take the soup to a friend or neighbor in need of a hot meal. Package up the broth and the cooked pasta, then measure out the cream and cheese. Write down instructions for reheating when they're ready to eat.
You can also freeze your Lasagna Soup. Freeze leftovers in small containers so you can grab them and have the perfect amount for lunch.
If you want to freeze a whole batch of soup, once again stop before adding the pasta, then cool and freeze.
When you're ready to eat, thaw the soup and finish off the soup with freshly cooked pasta, cream, and cheese.
This Lasagna Soup will warm you up from the inside out – perfect for a cold winter meal!