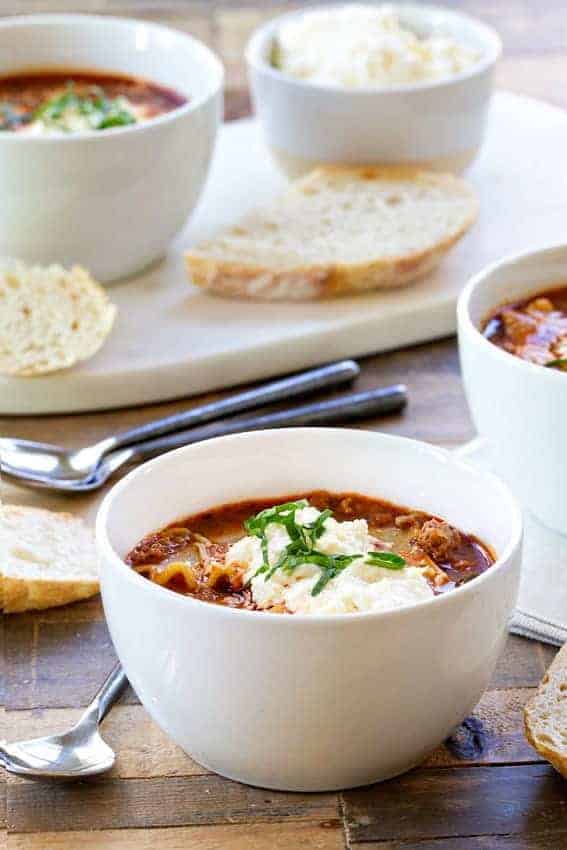 Lasagna soup is loaded with all the familiar flavors of lasagna in soup form. It's hearty, delicious, and sure to become a new favorite.
I normally don't talk about current events here on My Baking Addiction because, well, this is a food blog. A place where lovely people come to find recipes for The Best Chocolate Cake, Pumpkin Roll and Cranberry Fluff – not to listen to me go off on random tangents about national news.
And if I'm being honest, I kinda stay away from watching the news because it gives me all kinds of anxiety. If I'm aware of a current event, it's probably because I came across it on social media.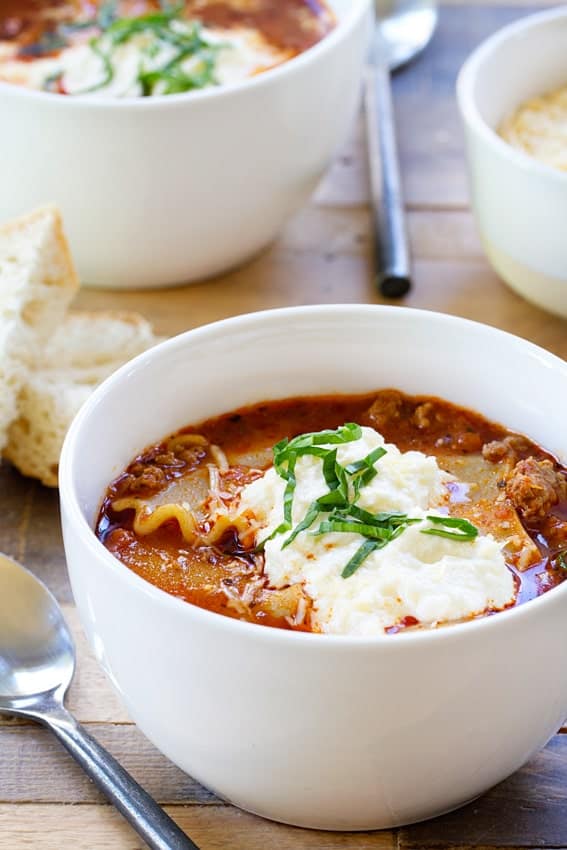 This week, my newsfeeds have been flooded with the controversy brewing over #Starbuck's seasonal cups. All I've been seeing are hashtags – #StarbucksRedCup, #BoycottStarbucks, #Imneverbuyingcoffeefromstarbucksagain and I can't even, so I'm bringing up a current event.
Full disclosure here, I love Starbucks. I'm that person who will wait in the line wrapping around the building for a latte. And I'm fairly certain Eric thinks I have a bit of an unhealthy obsession with their iced black tea. However, even if Starbucks wasn't one of my favorite things, I still wouldn't grasp this whole situation.
I mean, our nation is debating red cardboard cups that we sip deliciously festive coffee drinks from and then THROW AWAY. The cup is simple – plain even, I'll give you that, but it's pretty – it's ombre, and I love me some ombre as one could deduce from my overgrown roots.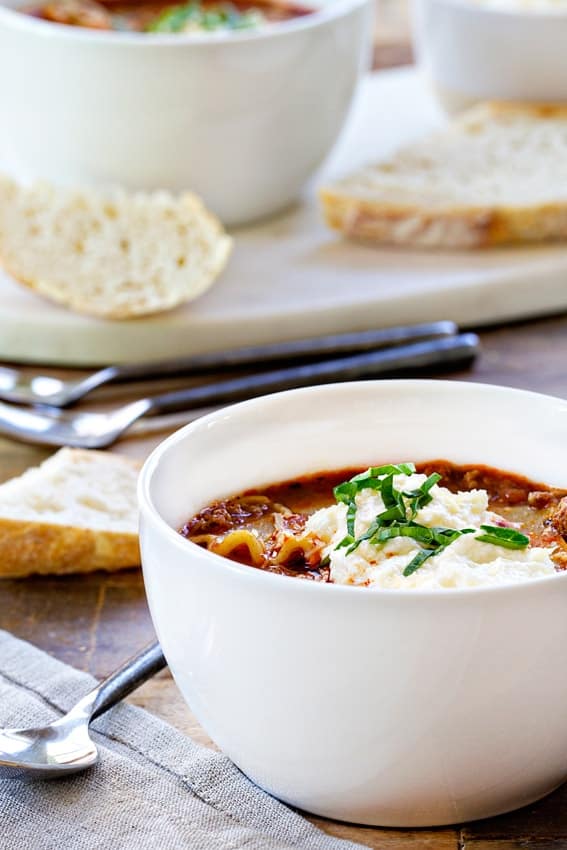 If anything, this whole situation has given me a refresher course on what's important during the holiday season. Hopefully folks will focus some of their energy on giving to those in need and sitting down to a hot meal with those they love and not dwell on coffee cup designs.
I'm sorry, but if I'm searching for the true meaning of Christmas, I'm not looking for the answers on a cardboard cup brimming with a Caramel Brulée Latte. I'm just not.
Obviously, this Lasagna Soup has absolutely nothing to do with with Starbucks or ombre red cups. However, it's deliciously hearty and comes together in a snap. It's the perfect cozy meal when paired with a fresh salad and warm baguette or dinner rolls. And the leftovers are even better!
I hope you make this Lasagna Soup for your family and enjoy it together, around your table, because spending time with those you love is something that is truly important.