Parker House Rolls are a classic at any holiday table. Try this version layered with garlic and herb butter for a new twist on an old favorite. These Garlic and Herb Parker House Rolls may just become your newest holiday tradition!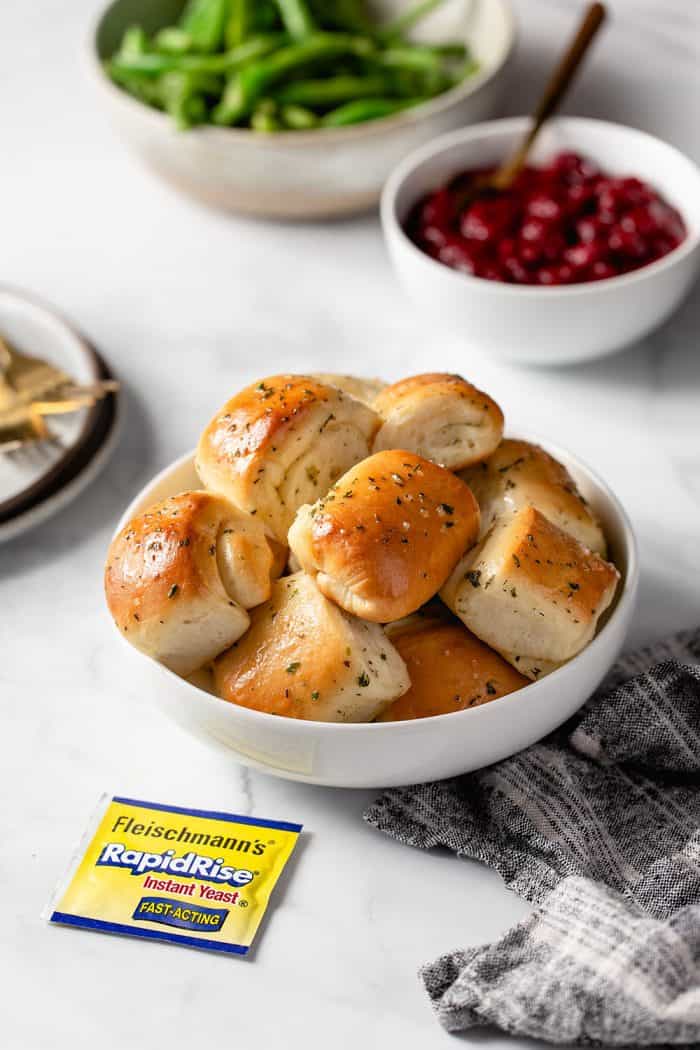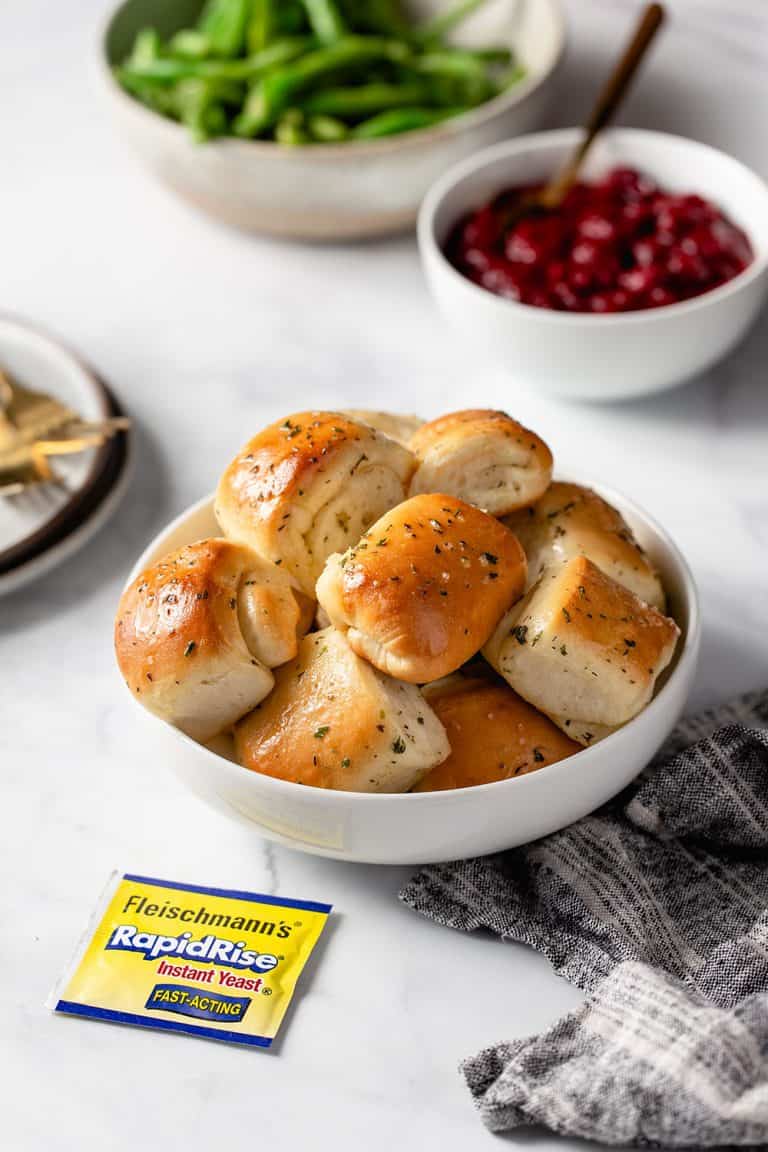 There are a few items that are considered an absolute tradition at our family's holiday table.
My nana's Pumpkin Roll is one. Some kind of cheesecake is another. Homemade dinner rolls are the third.
It really doesn't matter if it's just my immediate family or our whole extended family gathered around the table – as soon as everyone sits down, the roll basket is one of the first things they reach for.
I mean, can you blame them? Is there really anything better than a freshly baked homemade dinner roll?
We love classics like Potato Rolls or twists on old favorites like Sour Cream Rolls and Garlic and Herb Beer Bread Rolls.
Last year my family couldn't get enough of Parker House Rolls, so this year I decided to add a little extra flavor to this buttery favorite by making Garlic and Herb Parker House Rolls.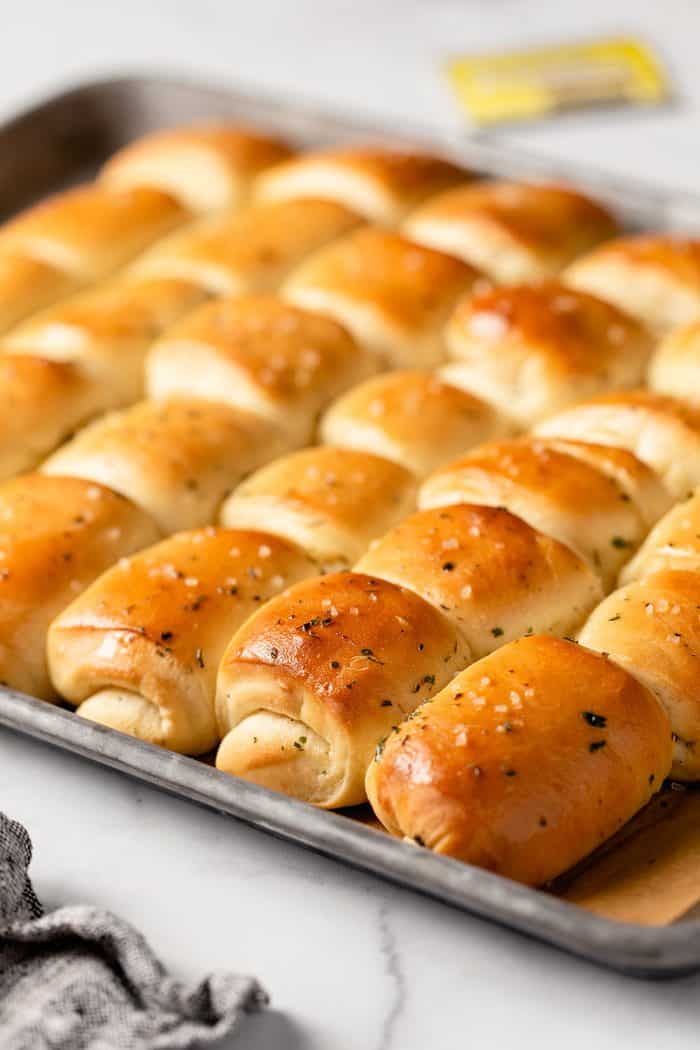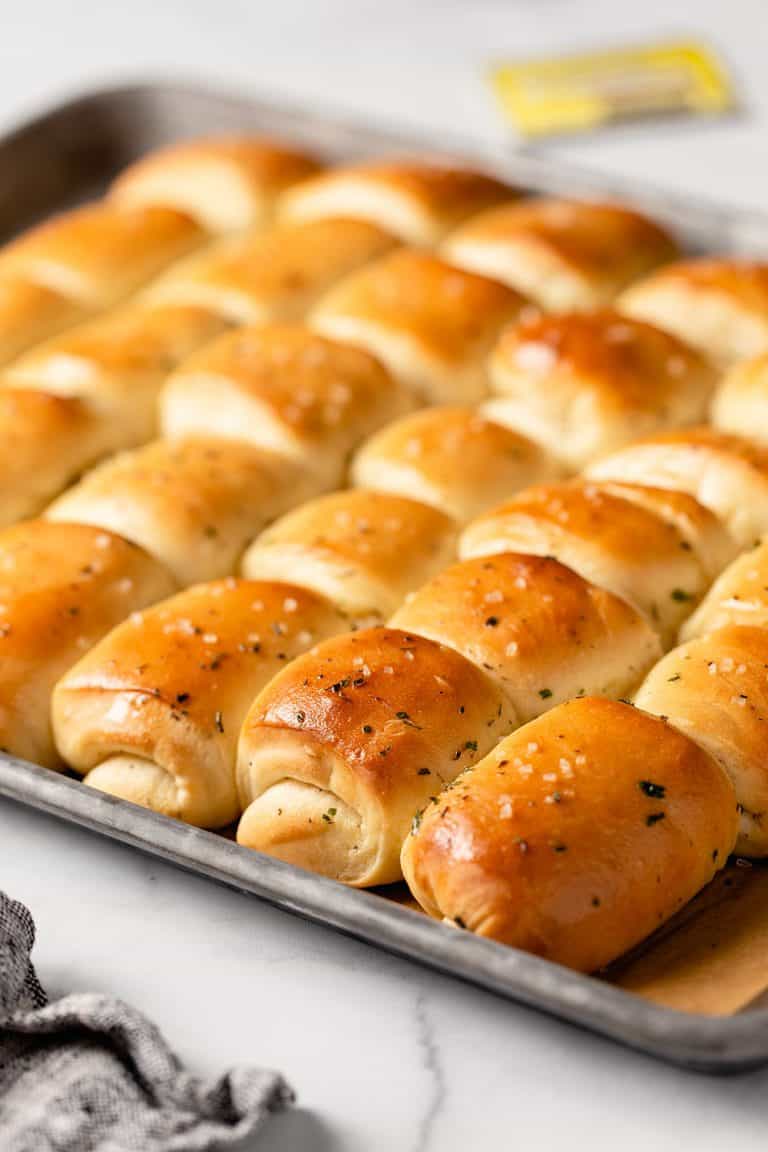 GARLIC & HERB PARKER HOUSE ROLLS WITH INSTANT YEAST
The thing about serving homemade dinner rolls at the holidays is that they impress the heck out of your family. But I have a little secret for making dinner rolls, and I use it in these Garlic and Herb Parker House Rolls: Instant yeast.
Any time I'm making yeast rolls, I reach for my favorite Fleischmann's® RapidRise® Yeast. The holidays are busy enough, you may as well use ingredients that work for you, and boy does this instant yeast do just that.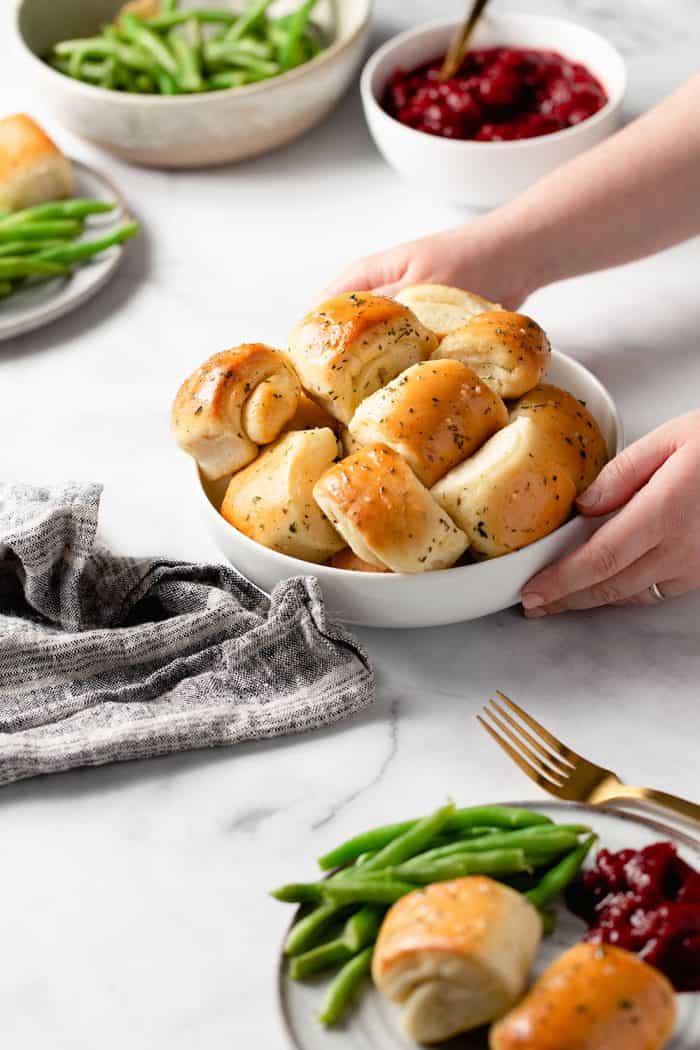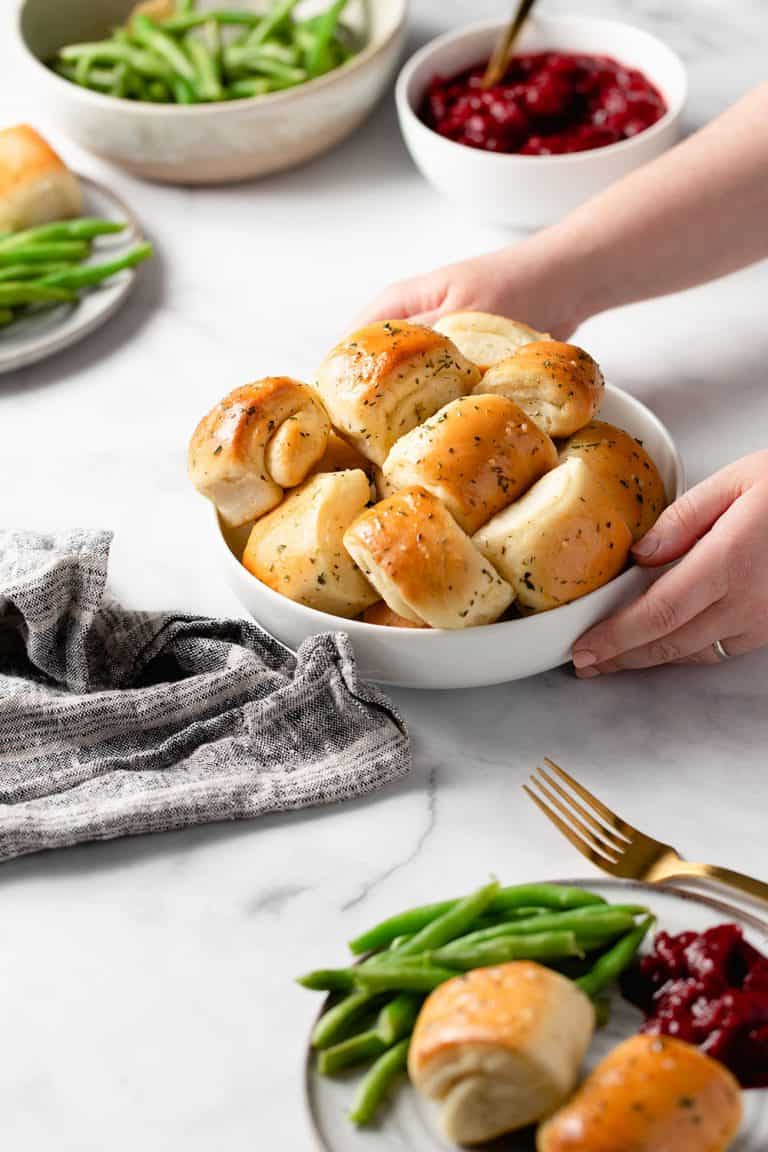 By using RapidRise® Yeast, I can add the yeast right to the dry ingredients and I only have to let the rolls rise once.
Start to finish, these Garlic and Herb Parker House Rolls can be out of the oven in 90 minutes. That's less than the rise time required for some other roll recipes with different yeast.
That leaves plenty of time to spend relaxing with family before everyone sits down to dinner.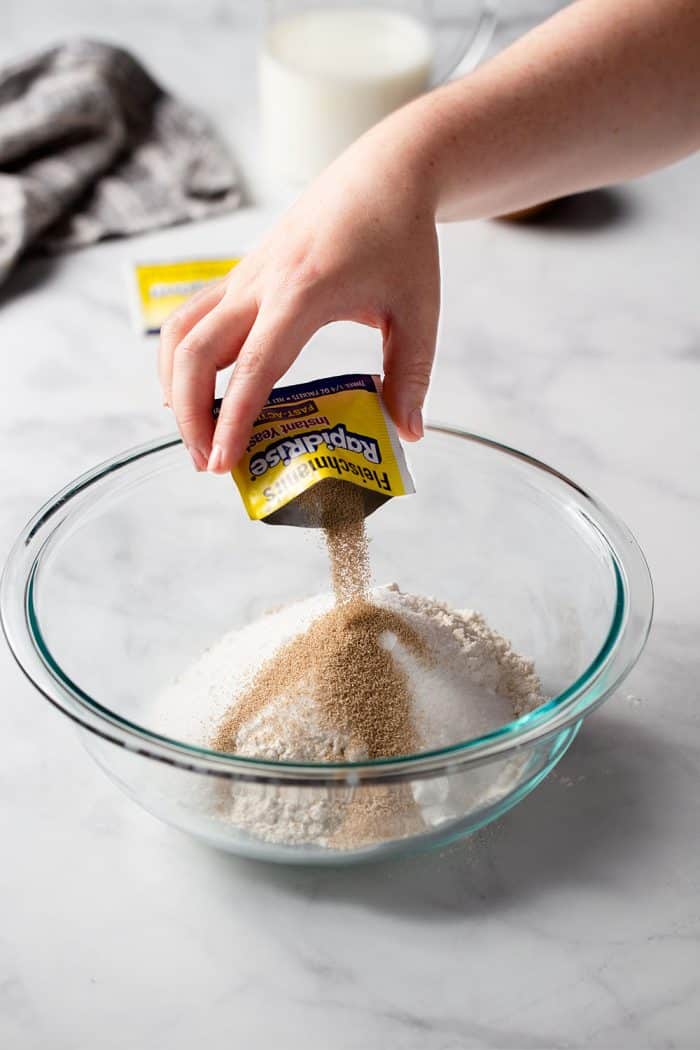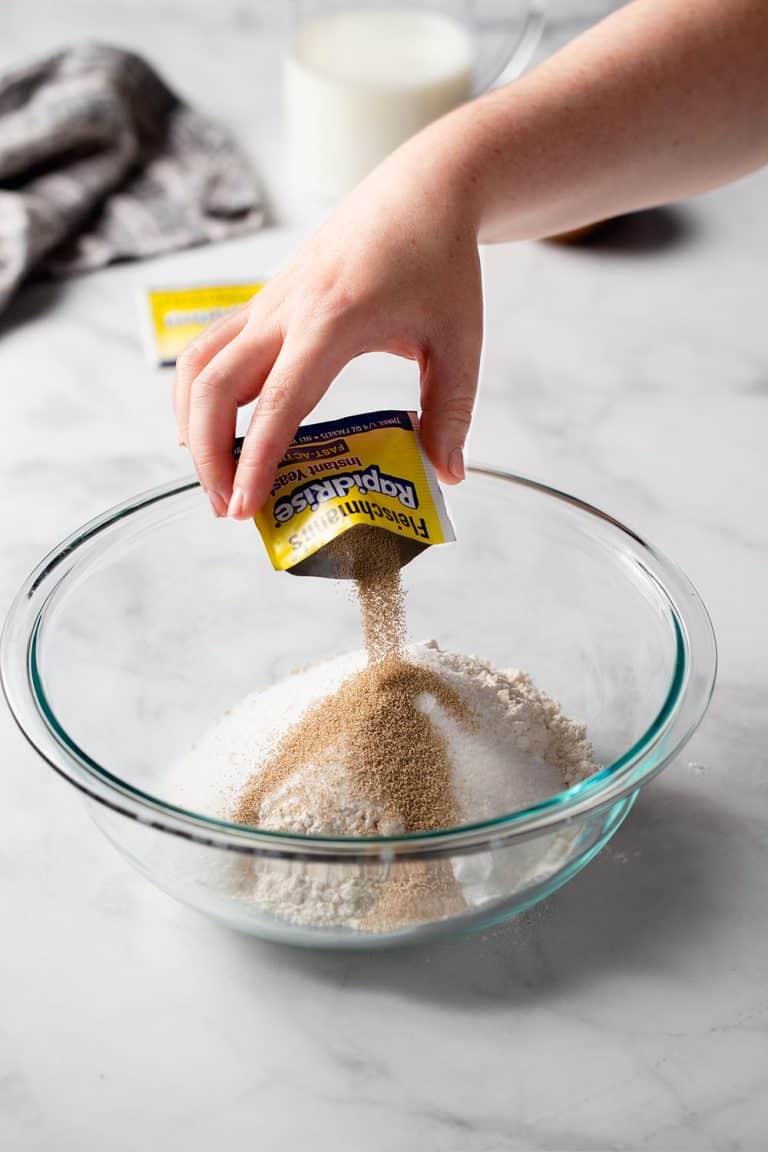 MAKING PARKER HOUSE ROLLS
As we learned when we made classic Parker House Rolls, the thing that makes Parker House Rolls…well, Parker House Rolls, is the folded-over shape and a double helping of melted butter.
After making the dough for the Garlic and Herb Parker House Rolls (check out some tips and tricks for making yeast dough from our friends at Fleischmann's®), let the dough rest for 10 minutes.
While the dough rests, make your garlic and herb butter!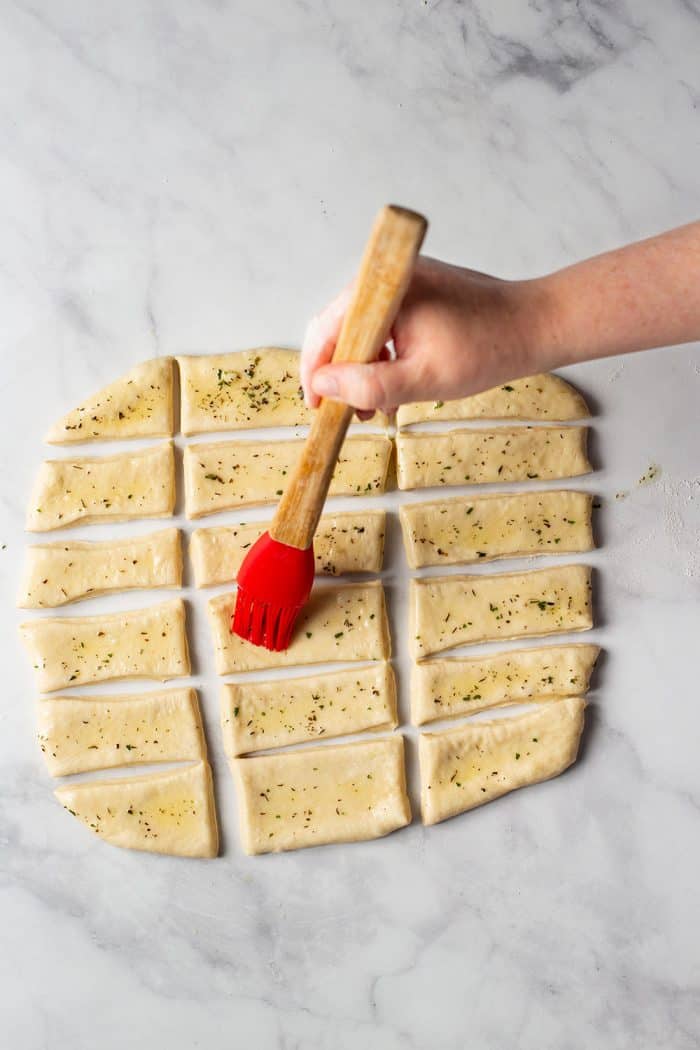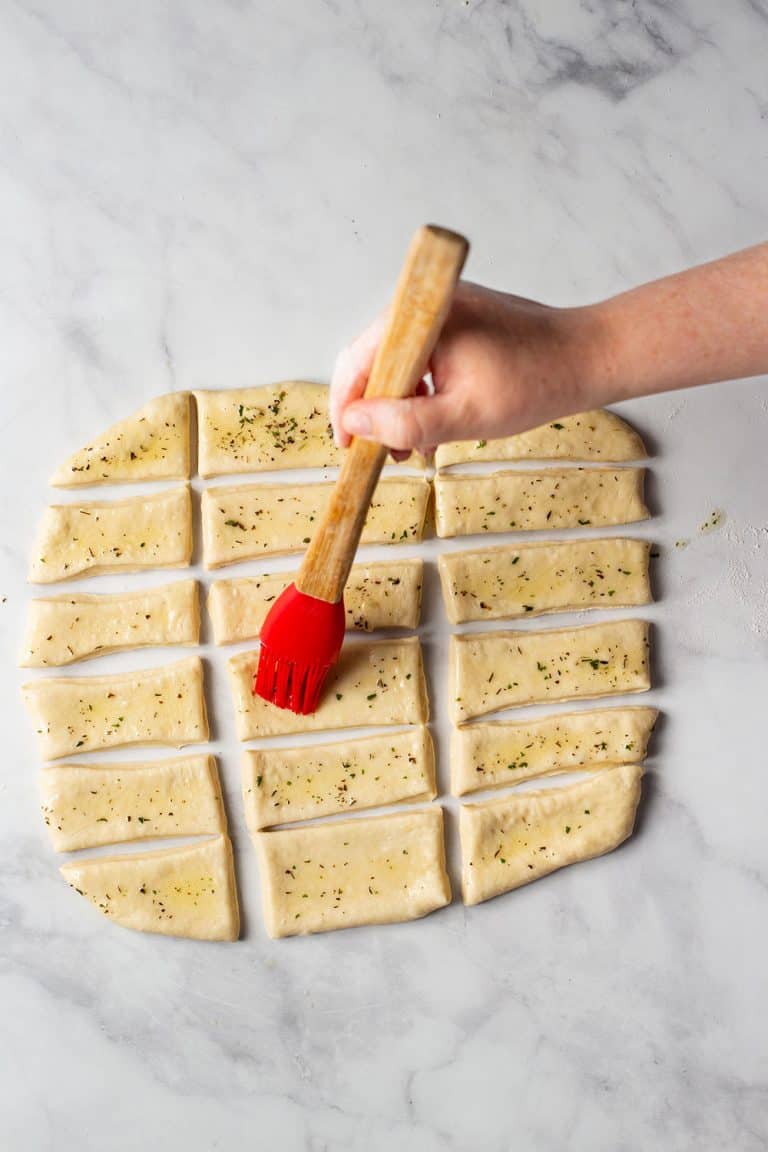 Honestly, this garlic butter is everything. You're going to want to use this method over and over.
To make the garlic butter, just melt some salted butter, then stir in finely minced or grated garlic. Let it infuse for about 10 minutes before straining the butter into a small bowl or measuring cup and stirring in the dried herbs.
Make sure you use salted butter for this garlic butter. It'll be more flavorful!
After the dough rests, roll the dough into two 12×12-inch squares. Grab a dough blade or pizza cutter to make slicing the dough easier.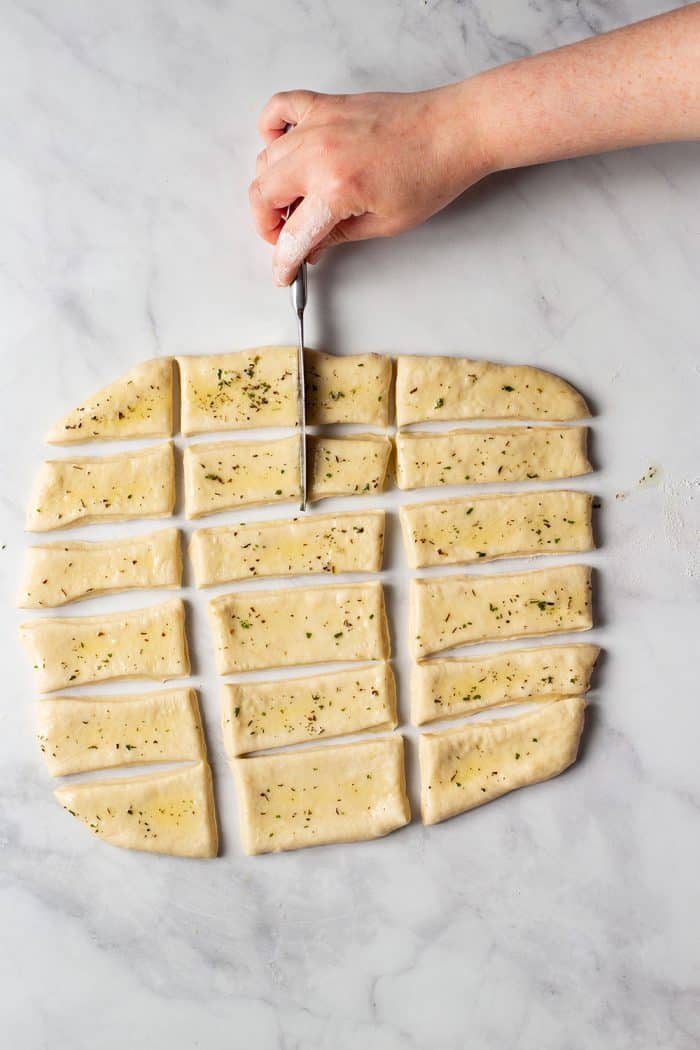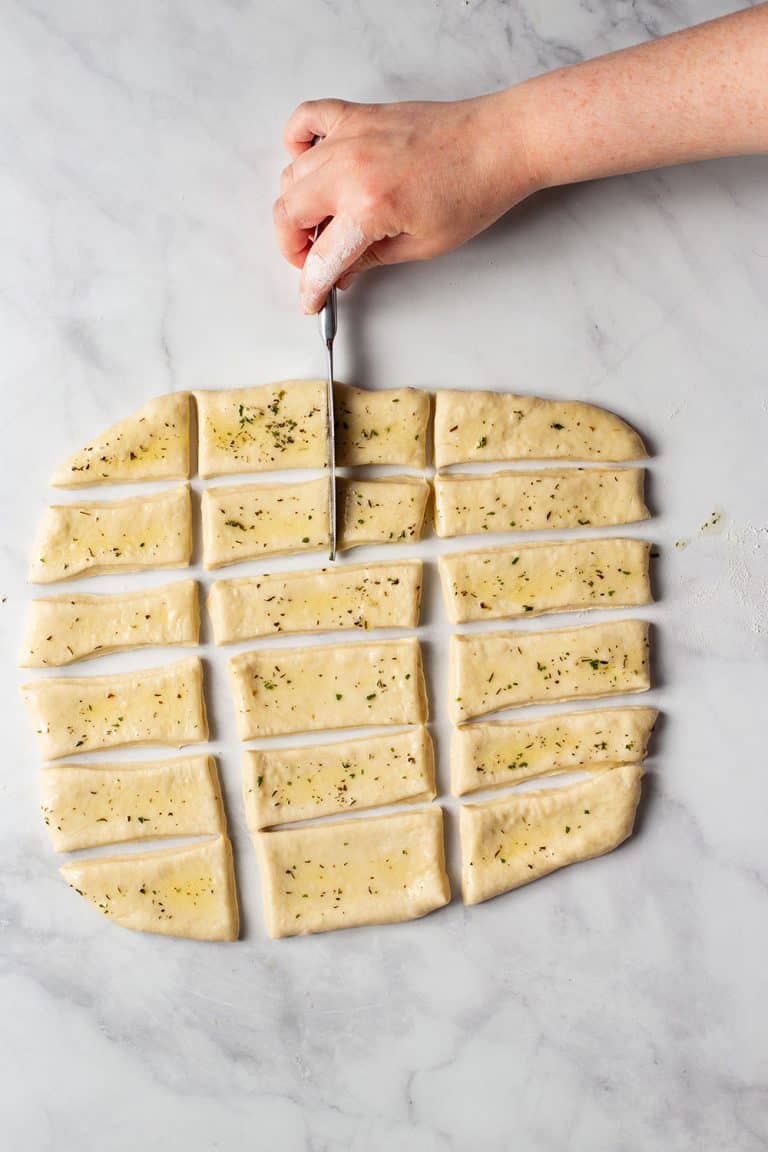 Cut each square of dough into 6 equal strips, then cut each strip into 3 equal rectangles.
Now it's time to brush on that first helping of butter! Brush the top of each rectangle with the garlic and herb butter before folding in half just off-center. Place each roll on a greased or parchment-lined baking sheet with the short side down.
A short 30-minute rise later and the rolls are ready to go in the oven.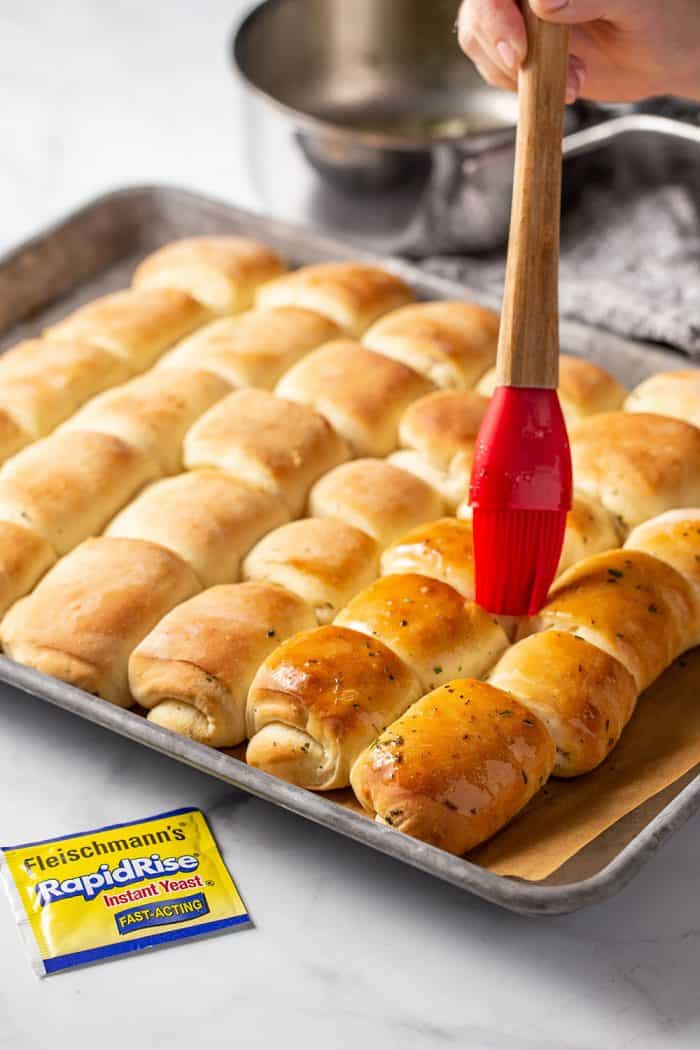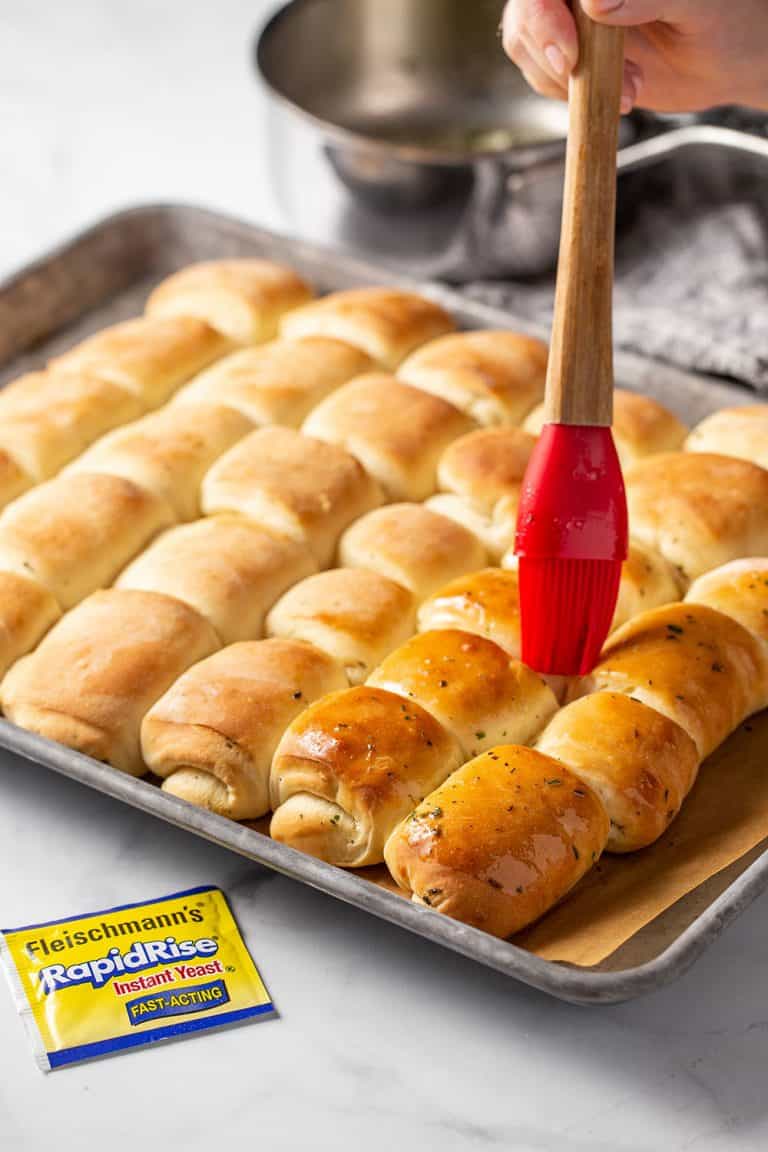 As soon as you pull the baked rolls from the oven, be ready to brush them with the rest of your garlic and herb butter!
I also recommend sprinkling them with some sea salt, just for that little extra oomph. Use a nice flaky sea salt if you want to be super fancy and really impress the socks off your family.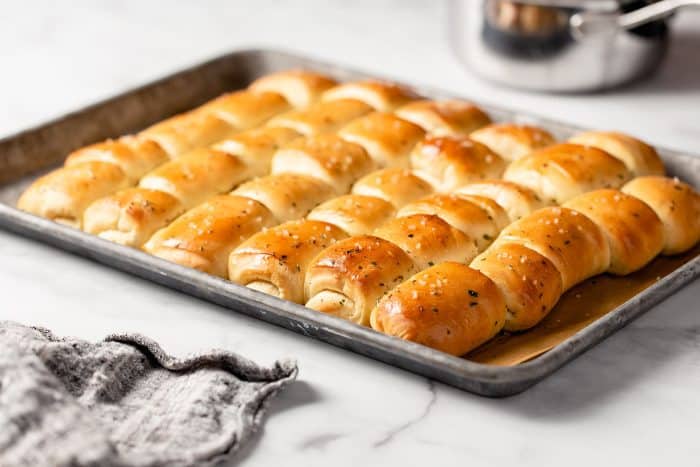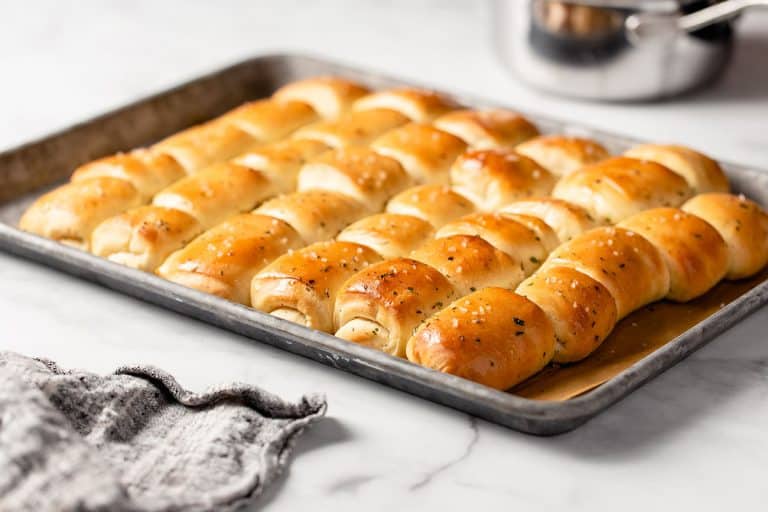 OVERNIGHT PARKER HOUSE ROLLS
Remember how we made Pumpkin Spice Cinnamon Rolls overnight to make Thanksgiving day a bit easier?
You'll love that you can do the same thing with these Garlic and Herb Parker House Rolls!
If you have a pretty long to-do list for getting your holiday dinner on the table, you can make the dough for these homemade dinner rolls the day before.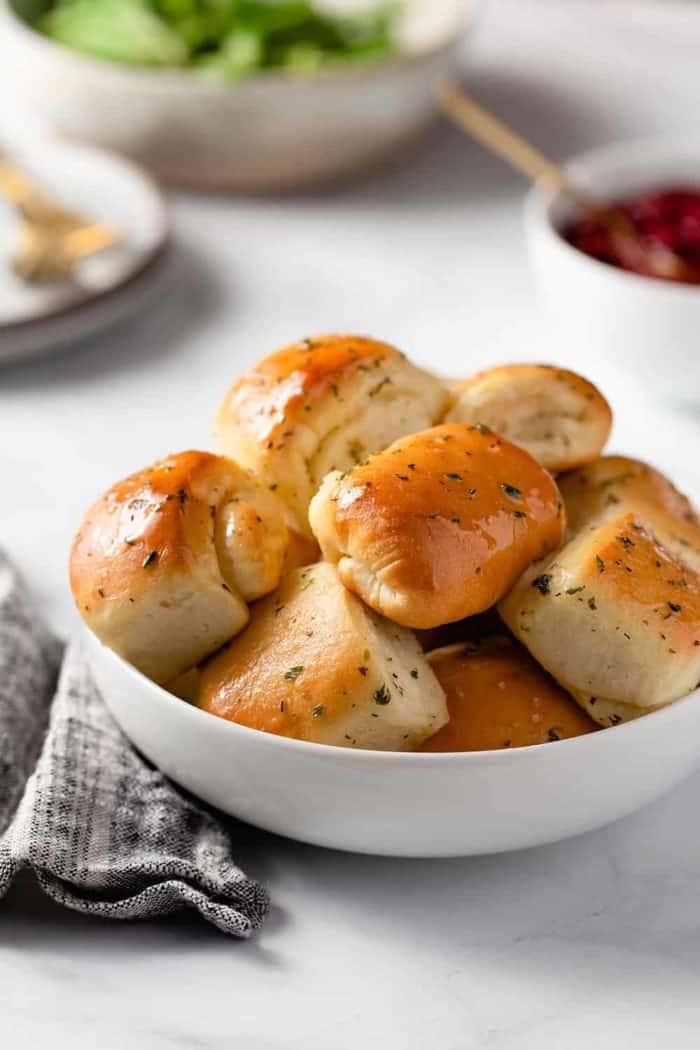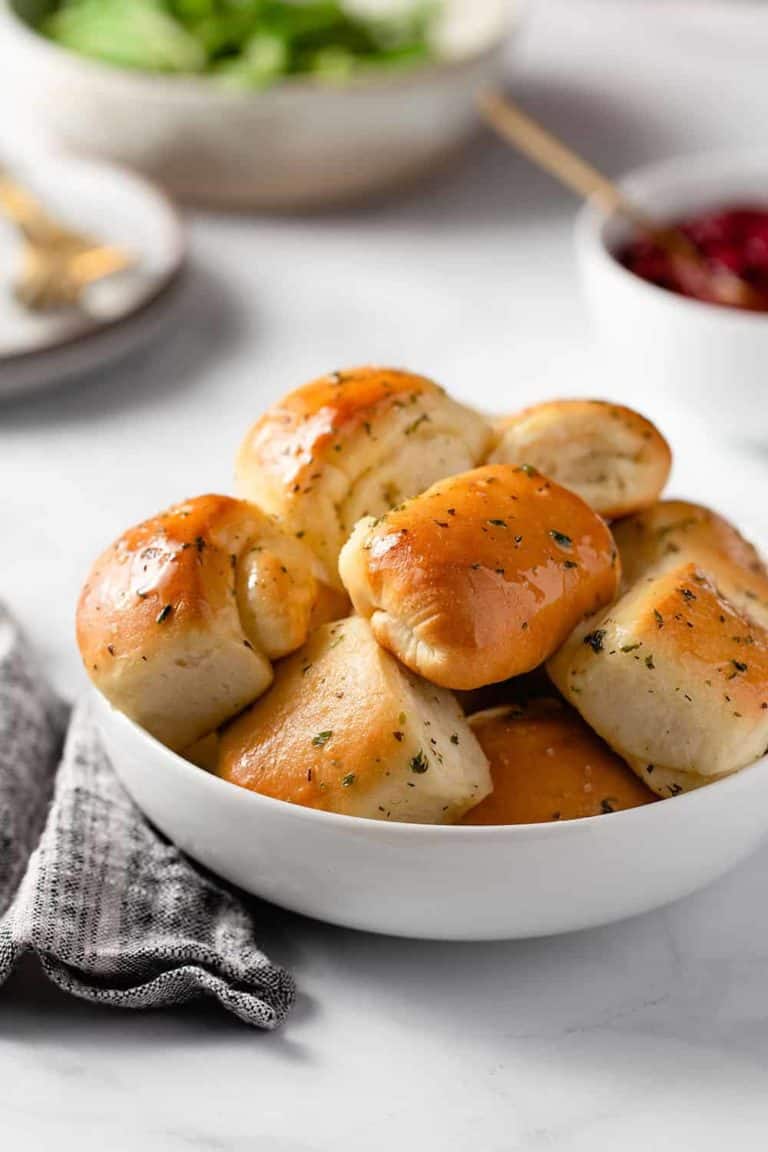 Instead of doing the 10-minute rest, put the dough in a greased bowl, cover with plastic wrap, and pop it into the refrigerator for 12-24 hours.
The next day, you'll just need to roll, shape and bake the rolls.
Well, and enjoy them with your family and friends. But that goes without saying.