Mother's Day is just around the corner, so I thought I'd create and share a delicious sweet treat that is worthy of any special brunch. What mom in your life could resist tender Orange Sticky Rolls, spiced with cardamom and slathered with a sweet orange cream cheese glaze?
If you've read MBA for any length of time, you are well aware that I've openly expressed my fear of yeast. Okay, maybe it's not a full fledged fear, but it's definitely the source of some minor kitchen anxiety. Whenever I bake with yeast, I'm always second guessing myself. Is my liquid
the right temp? Did I use the right yeast? Has the dough actually doubled in size? You get the picture. I hope I'm not the only one!
When I'm feeling a little unsure of myself, I typically turn to my friend, Amber. She happily reviews the recipe steps with me, offers a little sarcastic reassurance that I've done just fine and encourages me to step away from the bowl of rising dough. However, I realize that you too may need some friendly reassurance and advice, but since I can't exactly post Amber's phone
number here – I thought I'd tell you about the fantastic online resource – Become a Better Baker.
Become a Better Baker is loaded with Baking 101 tips for newbies as well as expert tips and recipes for those of you that like a little bit of a challenge. My favorite feature of Become a Better Baker
is definitely the informative videos. I'm a visual type of gal, so being able to actually watch a baking technique performed is definitely a good thing.
From crimping perfect pie crusts to learning how to make candy, the passionate baking experts at Become a Better Baker have you covered. Their baking experts can help you tackle just about any baking quandary you throw at them either by email, phone (1-800-777-4959) or even on their Facebook Page.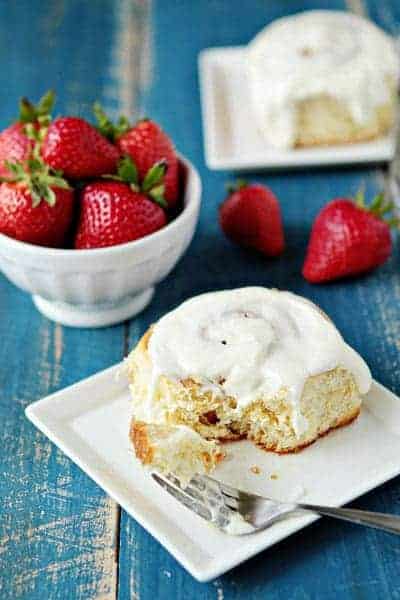 Now, back to these magnificent Orange Sticky Rolls. I became kind of enthralled with the idea of sweet citrus breakfast rolls when I read Katie's post on Meyer Lemon Sticky Rolls last year. The thought of lemon zest, brown sugar, and spices oozing from perfect pinwheels of soft yeast rolls
had me swooning, and I haven't forgotten them. The lovely lemon cream cheese glaze was just an indulgent bonus.
When pondering the perfect Mother's Day recipe, I decided to riff off Katie, but used my favorite form of citrus – oranges! These Orange Sticky Rolls are absolutely splendid.
If you're thinking that you can't possibly whip up a yeast based recipe for brunch, trust me, you can. The beauty of this recipe is that you can get the majority of the work done the night before,
then in the morning just let them rise and bake them off to golden brown, sugary perfection.
Be sure to join the Become a Better Baker Facebook Community for helpful tips, recipes and so much more.
And if you too have a yeast fear, I think you'll just love these informative videos focused on all things yeast:
Yeast Choices: Cutting Through the Confusion
Kneading Basics
Kneading with a Dough Hook
Yeast Baking: Rising Tips
DISCLOSURE
This is a sponsored post written by My Baking Addiction on behalf of Fleischmann's® Yeast and Become A Better Baker™. The views and opinions expressed on My Baking Addiction are purely my own.
[pinit]

Orange Sticky Rolls with Cream Cheese Icing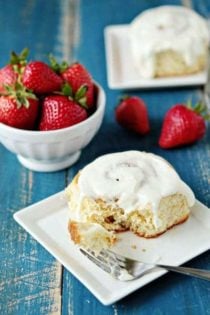 Ingredients:
Orange Roll Dough
1 envelope (0.25 ounces, or 2 1/2 teaspoons)
Fleischmann's Active Dry Yeast
3/4 cup milk, warmed to about 100°F or warm but not hot on your wrist
1/2 cup (1 stick) unsalted butter, very soft
1/4 cup white sugar
1 vanilla bean, seeds only
4 - 4 1/2 cups all-purpose flour
1/2 teaspoon salt
1/2 teaspoon ground cardamom
2 medium oranges, zested
2 eggs
Sticky Orange Filling
1/2 cup sugar
1/2 cup light brown sugar
1/2 teaspoon ground cardamom
1/2 teaspoon ground ginger
1 medium orange, zested and juiced
3 tablespoons unsalted butter, very soft
Orange Cream Cheese Glaze
4 ounces cream cheese, softened
1 cup powdered sugar
1/2 teaspoon pure vanilla extract
1 medium orange, juiced and zested
Directions:
1. In the bowl of a stand mixer, sprinkle the yeast over the warmed milk and let it sit for a few minutes. Using the paddle attachment, stir in the softened butter, sugar, vanilla, and one cup of the flour. Stir in the salt, cardamom, and orange zest. Add in the eggs and enough of the remaining flour to make a soft yet sticky dough. Switch to the dough hook and knead on medium speed for about 5 minutes, or until the dough is elastic and pliable. Spray the top of the dough with vegetable oil, and turn the dough over so it is coated in oil. Cover the bowl with plastic wrap and a towel and allow the dough rise until nearly doubled - about an hour.
2. In a small bowl, mix the sugars with the cardamom and ginger, then work in the orange zest with the tips of your fingers until the sugar resembles wet, soft sand. Stir in the orange juice.
3. Lightly grease a 13x9 inch baking dish with baking spray or butter. On a floured surface pat the dough out into a large yet still thick rectangle — about 10x15 inches. Spread evenly with the softened butter, then pour and spread the orange-sugar mixture over top. Roll the dough up tightly, starting from the top long end. Cut the long dough roll into 12 even rolls, and place them, cut side up, in the prepared baking dish.
4. Cover the rolls with a towel and let them rise for an hour or until puffy and nearly doubled. (You can also refrigerate the rolls at this point. Cover the pan tightly with plastic wrap, and place it in the refrigerator for up to 24 hours. When you are ready to bake the rolls, remove the pan from the fridge, and let them rise for an hour.)
5. Heat the oven to 350°F. Place the risen rolls in the oven and bake for 35 minutes or until a thermometer inserted into a center roll reads 190°F.
6. While the rolls are baking, prepare the glaze. In a medium bowl with an electric hand mixer, whip the cream cheese until light and fluffy. Add the vanilla, orange zest and juice and blend until well combined. Add the powdered sugar and blend until smooth and creamy.
7. When the rolls are done, spread them with the cream cheese glaze. Serve while warm.
Follow Jamie on Instagram. We love to see what you're baking from MBA! Be sure to tag @jamiemba and use the hashtag #mbarecipes!