Looking for the easiest way to make cinnamon rolls that taste homemade? Give these cinnamon rolls with heavy cream (AKA the famous "TikTok cinnamon rolls") a try! They're so good, no one will guess you didn't make them from scratch.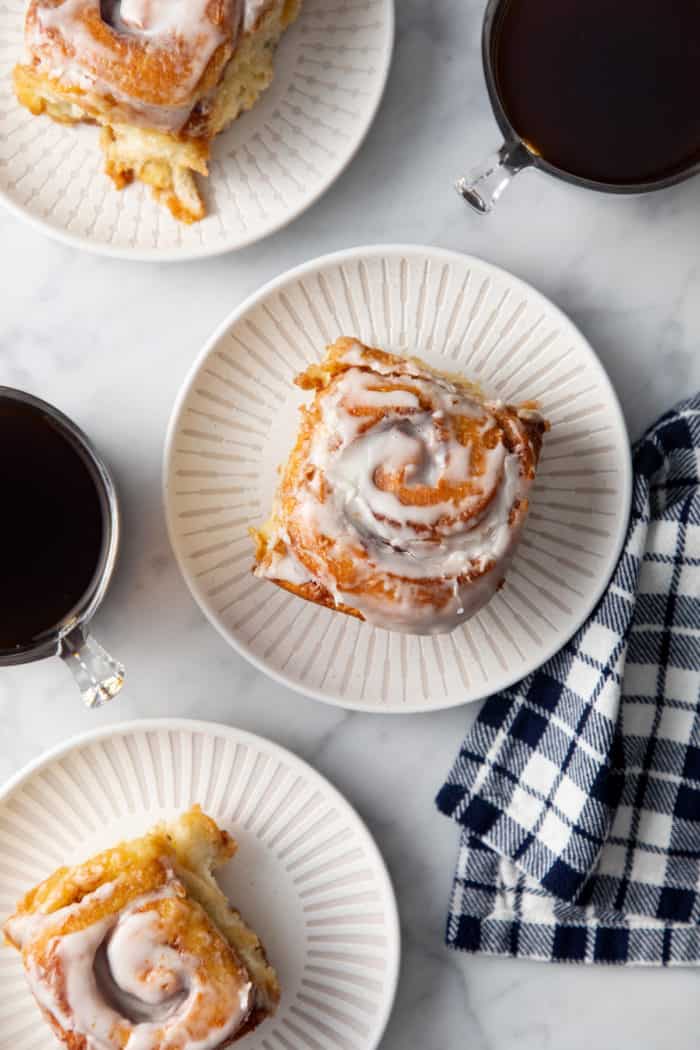 Every once in a while a recipe will show up on my TikTok FYP that I have to make immediately. Most recently, it was the ultra-viral TikTok Cinnamon Rolls.
I kept seeing multiple variations that Stephie (my right-hand woman) and I both tested and we finally landed on what we think is the absolute perfect version made with Rhodes Frozen Cinnamon Rolls. However, this recipe also works pretty well with a couple of cans of cinnamon rolls.
Trust the process because when you watch the video, you might be a little skeptical like me and think, "Where the heck does the heavy cream go?" But I promise you it works and you end up with cinnamon roll perfection without the hassle of making your own dough.
Truly the only thing that kicks these up a notch is a homemade cream cheese icing, but the one that comes in the Rhodes bag is pretty darn delicious.
I have made these no less than 5 times in the past month and not one person questioned if they were homemade.
We loved them so much, we reheated them for dessert and served them alongside a scoop of vanilla or cinnamon ice cream!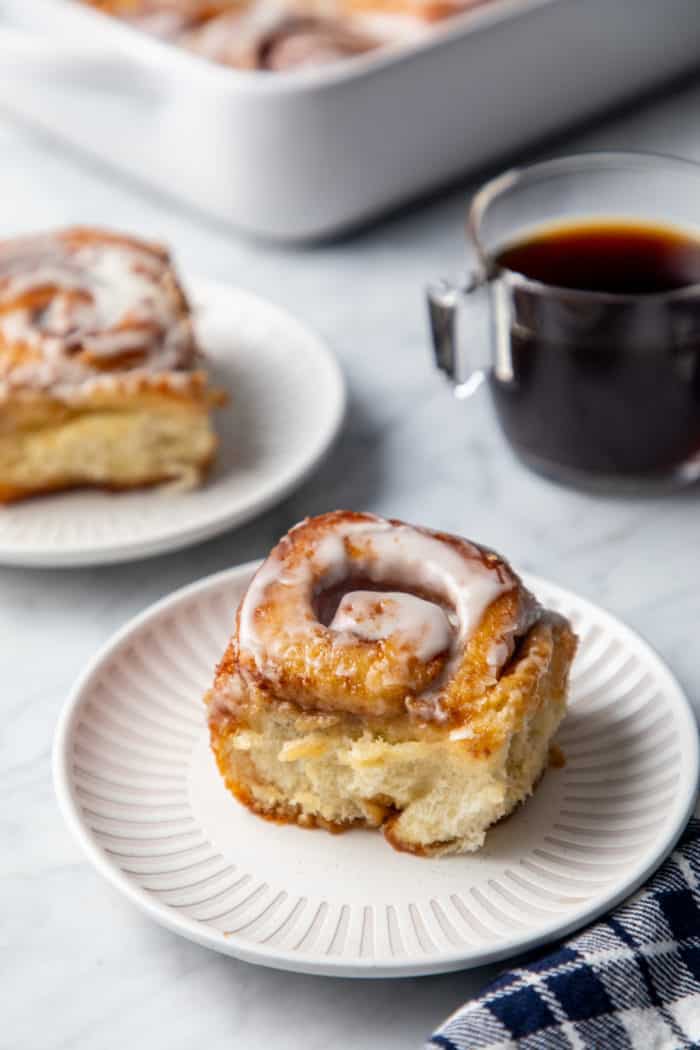 THE FAMOUS TIKTOK CINNAMON ROLLS
I've been inspired by my TikTok FYP a few times before. It was because of TikTok that I gave both brown butter chocolate chip cookies and cheesy ranch pull-apart bread a try. There's just something about that app that knows what I'm going to end up craving.
So when I saw someone pour heavy cream over a can of Pillsbury cinnamon rolls before baking them, you know I was intrigued.
And then a few days later, I saw someone do the same thing with Rhodes frozen cinnamon rolls.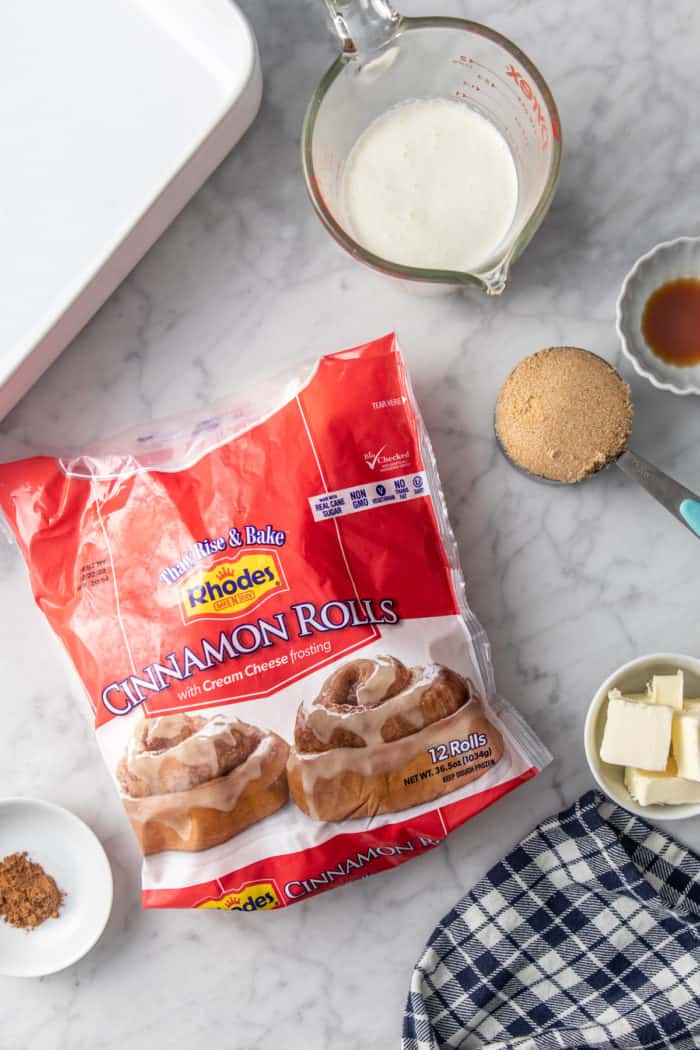 Now, I've used Rhodes frozen bread dough before to make my easy pecan sticky buns and pepperoni bread, so seeing someone dress up their frozen cinnamon rolls really piqued my interest.
I gave both versions a try and let me tell you – TikTok doesn't lie. This is one simple way to make pre-made cinnamon rolls taste homemade!
Our family prefers the frozen cinnamon roll version of this recipe, but the Pillsbury version is super quick and still delicious in a pinch. I'll walk you through how to make both!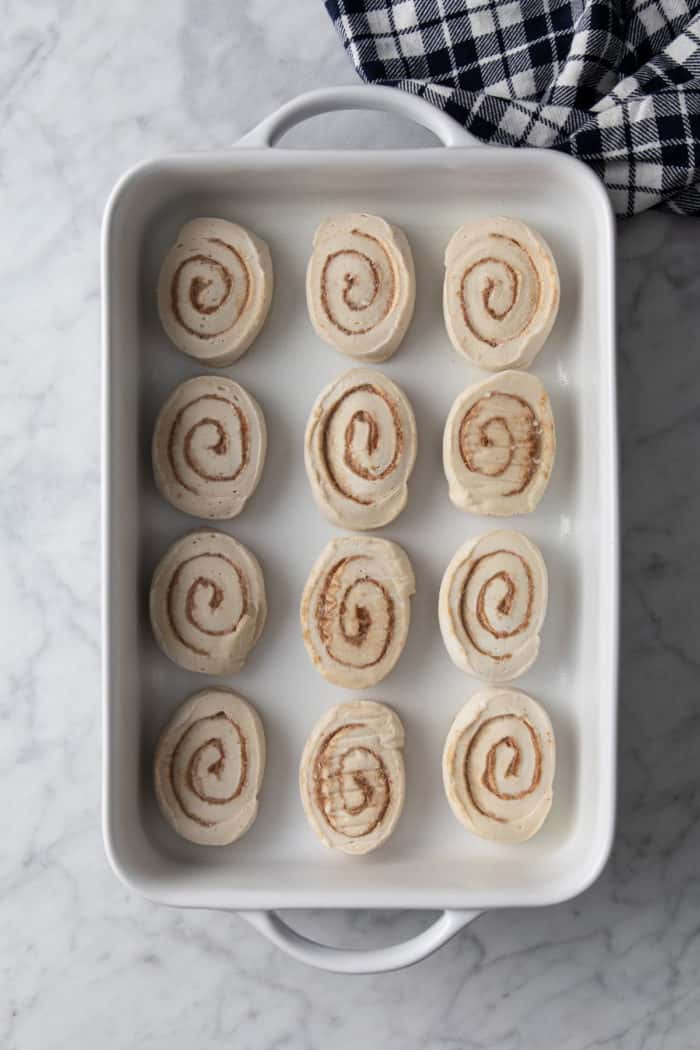 HOW TO MAKE CINNAMON ROLLS WITH HEAVY CREAM
I love my overnight cinnamon rolls, but these cinnamon rolls with heavy cream are going to be my new stand-in when I just don't have the time or energy to make a yeast dough.
I took the method I saw on TikTok and gave it my own MBA twist. These cinnamon rolls are rich and decadent and the simplest things ever.
The combination of the heavy cream and the brown sugar syrup make the rolls fluffier than normal and creates a sticky syrup on the bottom that keeps the cinnamon rolls nice and moist. They're like a cross between a cinnamon roll and a sticky bun!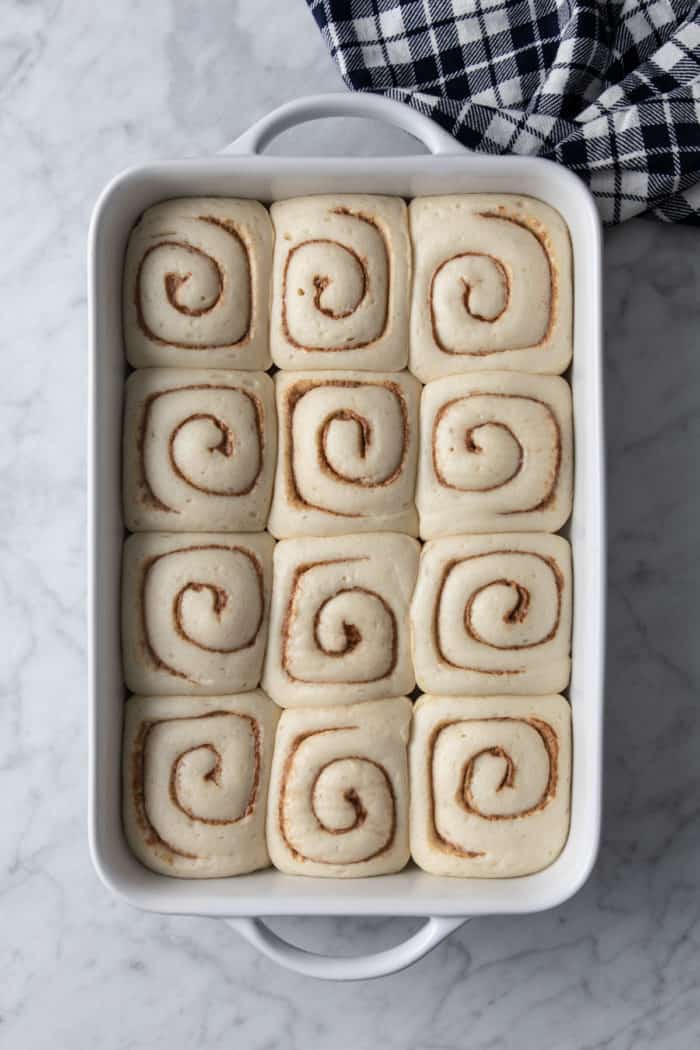 Ingredients you'll need
To make this recipe, you will need:
A bag of Rhodes Thaw, Rise and Bake Cinnamon Rolls: These are also sometimes labeled as "Bake 'N Serv" cinnamon rolls. The Rhodes brand rolls are pretty widely available, but other brands should work fine if you can't find Rhodes.
Heavy whipping cream: This will get poured directly over the thawed rolls before baking.
Salted butter, brown sugar, cinnamon & vanilla: These will get mixed together to go on top of the cinnamon rolls before baking.
The frosting that comes with the cinnamon rolls: The cream cheese frosting that came with the rolls won't go to waste – we'll use that after the cinnamon rolls are baked!
If you want to really take these cinnamon rolls with heavy cream up a notch, you can use a homemade frosting instead. I would recommend using the cream cheese frosting from my pumpkin spice cinnamon rolls.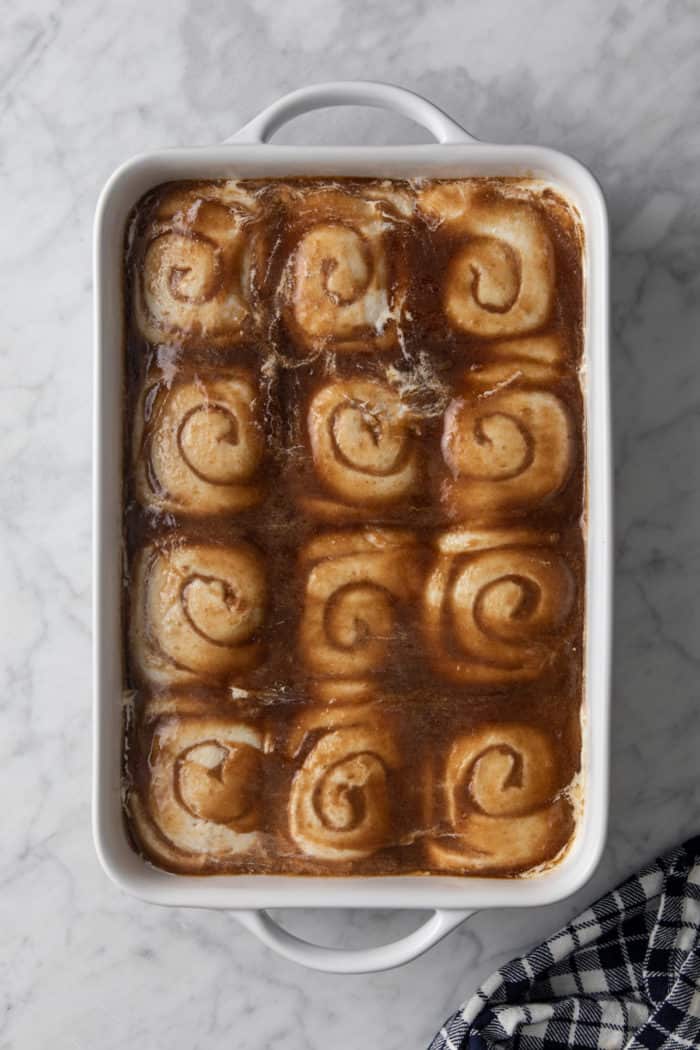 Making this recipe
You can make these cinnamon rolls all on the same day or start them the night before.
Place all 12 of the frozen cinnamon rolls in a greased 13×9-inch baking pan and cover the pan with plastic wrap.
Let the rolls thaw overnight in the refrigerator (for 8-16 hours) or on the counter for 3-5 hours.
Once the rolls have thawed and doubled in size, pour the heavy cream directly onto the rolls. Let this rest for 5 minutes.
While the rolls rest, whisk together the butter, brown sugar, cinnamon, and vanilla. Pour this over the tops of the rolls. Use a spatula to spread it out evenly.
Bake the rolls for 30-35 minutes or until the cinnamon rolls are golden brown. Let them cool for about 10 minutes before topping with the cream cheese frosting and serving.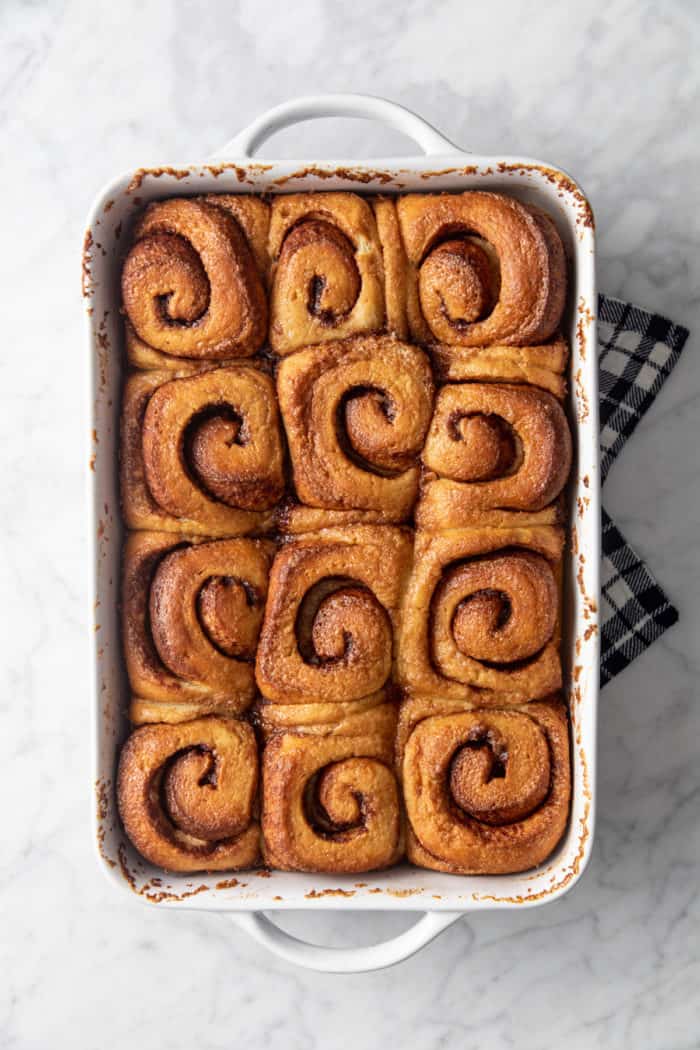 Using Pillsbury cinnamon rolls instead of frozen cinnamon rolls
Like I said, I've made both versions of these cinnamon rolls with heavy cream. While our family prefers the frozen cinnamon rolls version because we think they taste more like homemade cinnamon rolls, I'll definitely make the Pillsbury version again in a pinch!
It's a great way to really elevate a can of cinnamon rolls.
To make the Pillsbury version, grab two 8-count cans of Pillsbury Grands Original Cinnamon Rolls. Place the rolls in the greased baking dish, cover with the heavy cream, and continue with the recipe as written.
Since you don't have to factor in the thawing and rising time, this version is much faster to make!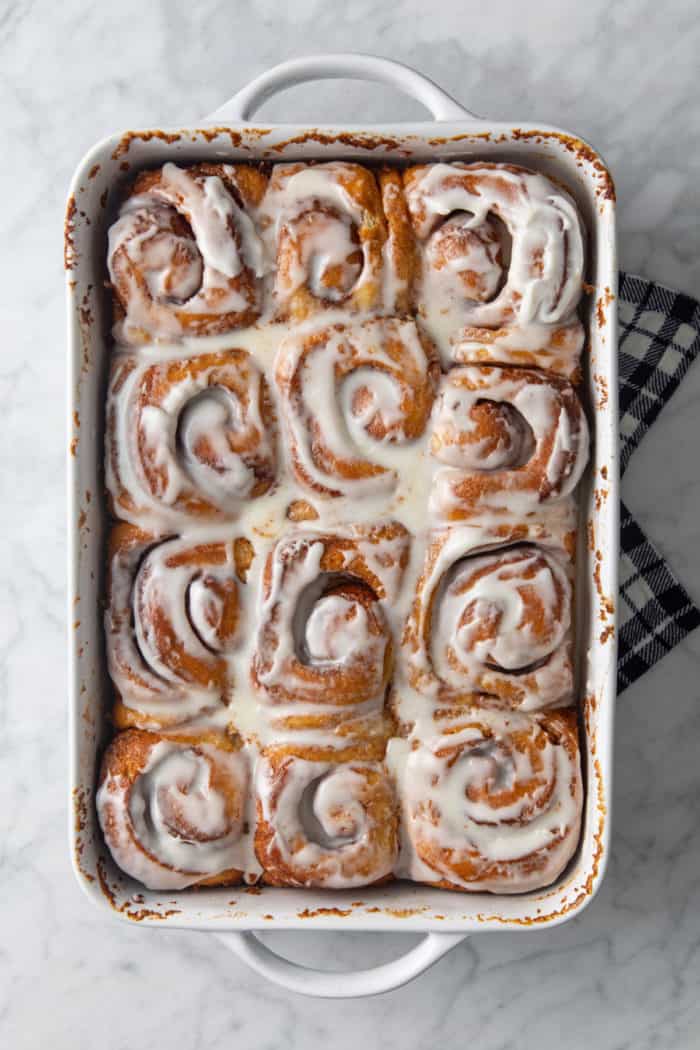 STORAGE AND REHEATING
Store any leftover cinnamon rolls with heavy cream covered in the refrigerator for up to 2 days.
These cinnamon rolls are best when they're warm, so I recommend reheating leftovers. Place a cinnamon roll on a microwave-safe plate and microwave for 30-60 seconds before eating.
MORE MAKE-AHEAD BREAKFAST RECIPES
If you're anything like me, you're always on the hunt for easy make-ahead breakfast recipes that can be prepared the night before (or even days before!). If you like these TikTok cinnamon rolls, you should give these other make-ahead breakfasts a try: