This Cheesy Ranch Pull-Apart Bread is full of sharp cheddar, crumbled bacon, and a buttery ranch topping. It is fun to eat and great for a summer get-together!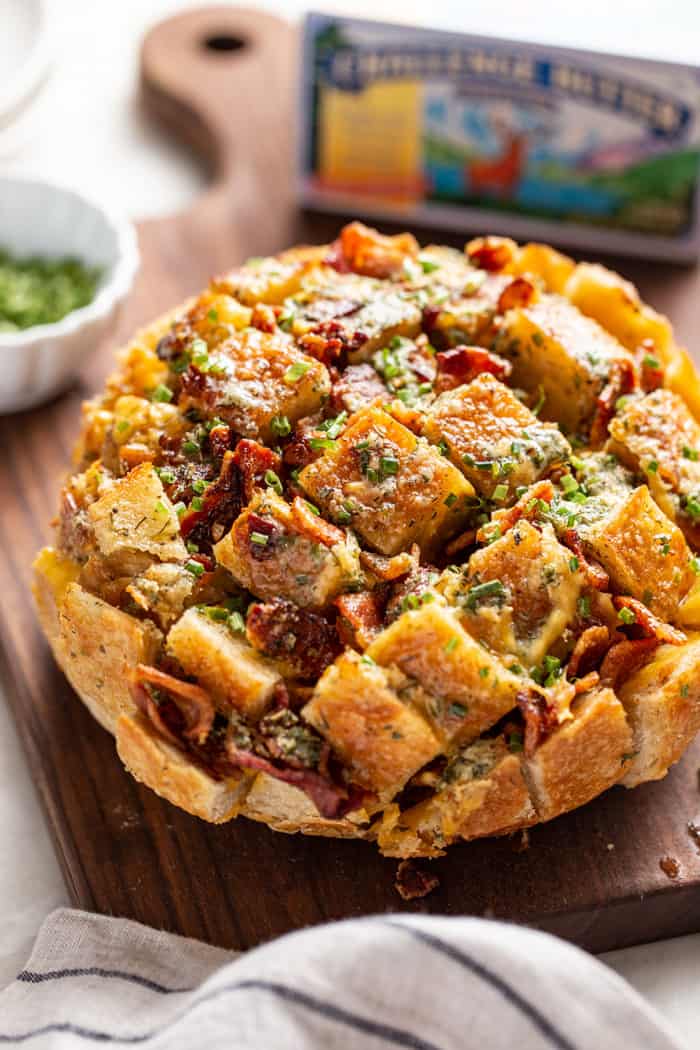 This post is sponsored by Challenge Butter. Thank you for continuing to support the brands that make My Baking Addiction possible.
You might remember me telling you when I shared my Brown Butter Chocolate Chip Cookie recipe that I fell victim to the TikTok downloading trend of 2020.
Even though we are well into 2021, I'm still all in on TikTok and loving all of the fun food and beauty content I get on my FYP.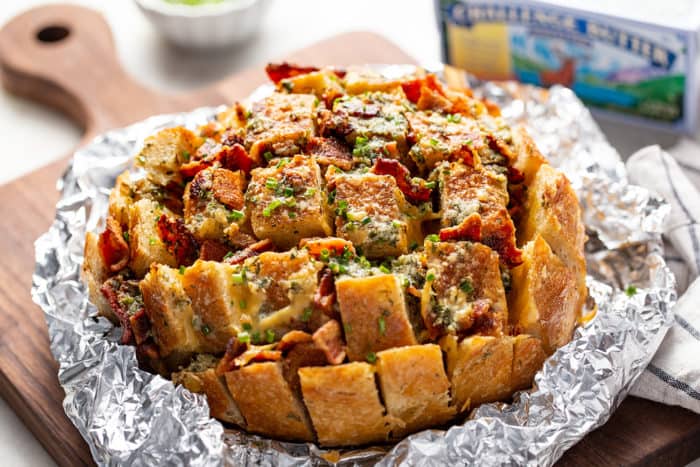 I've seen this style of pull-apart bread floating around on the internet before, but for some reason it wasn't until I saw someone make it on TikTok several months ago that it really caught my attention.
There was something that seemed really fun about turning a loaf of sourdough bread into a cheesy pull-apart bread that the whole family could dig into.
I finally got around to giving it a try and let's just say that I'm not at all mad about a cheesy, buttery, ranch-filled loaf of bread.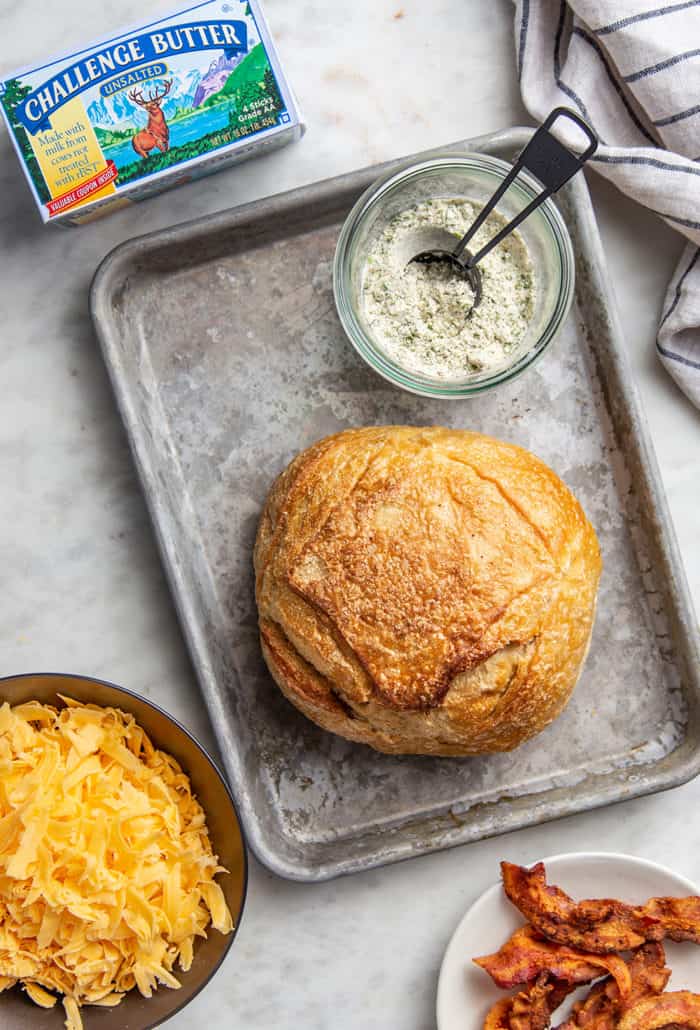 WHAT IS PULL-APART BREAD?
There are lots of different types of pull-apart bread recipes out there. If you're a fan of the Great British Bake Off, they call them "tear and share" breads.
Some pull-apart breads, like monkey bread, bake small pieces of dough into a loaf that can be pulled apart after it is baked.
This type of pull-apart bread is even easier to make. You take a sourdough boule and cut it into a grid pattern, then stuff whatever you like between the nooks and crannies of the bread.
Pour some butter over the top, wrap it up and bake it, and you've got a flavorful side to go along with everything from meatloaf and Mississippi pot roast to your favorite grilled chicken or fish.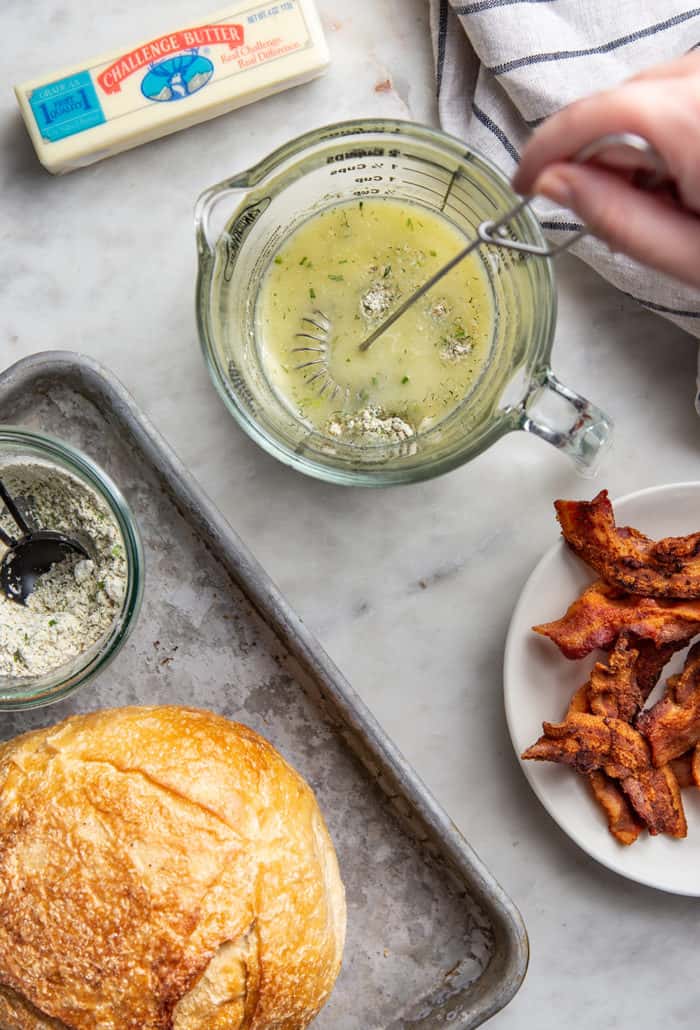 MY CHEESY RANCH PULL-APART BREAD
There are so many different ways you could flavor this style of pull-apart bread, but I had to go back to my roots for this one.
If there are three things we love in the Midwest, it's ranch, cheese, and bacon.
I stuffed the bread full of shredded sharp cheddar cheese and crumbled bacon, then I decided to use my favorite Challenge Unsalted Butter and my homemade ranch seasoning to make a flavorful ranch butter for this bread.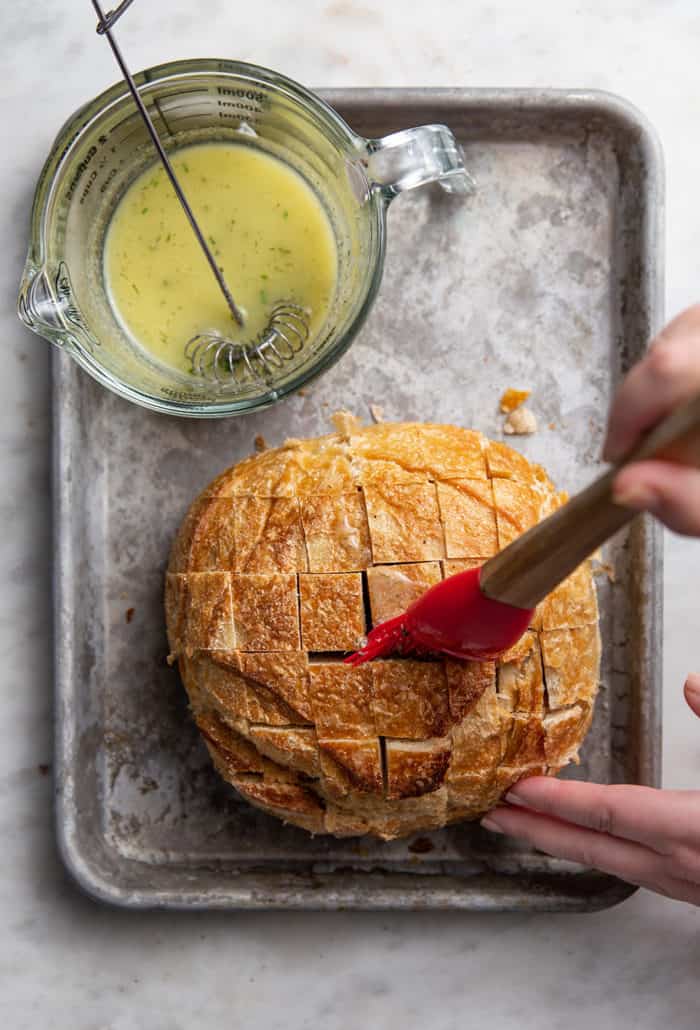 There aren't a lot of ingredients in this recipe, so I knew each one would be important in making this the best pull-apart bread possible. So of course I grabbed Challenge butter to pull it all together (before it gets pulled apart…sorry, couldn't help myself).
Challenge butter is churned daily from the freshest milk and made without any artificial preservatives, fillers, or dyes, so its flavor and quality makes it the obvious choice in my kitchen.
And as an added bonus, I even included instructions on how to cook this bread on the grill. After all, if you're already cooking dinner on the grill, why bother turning on the oven to make this bread?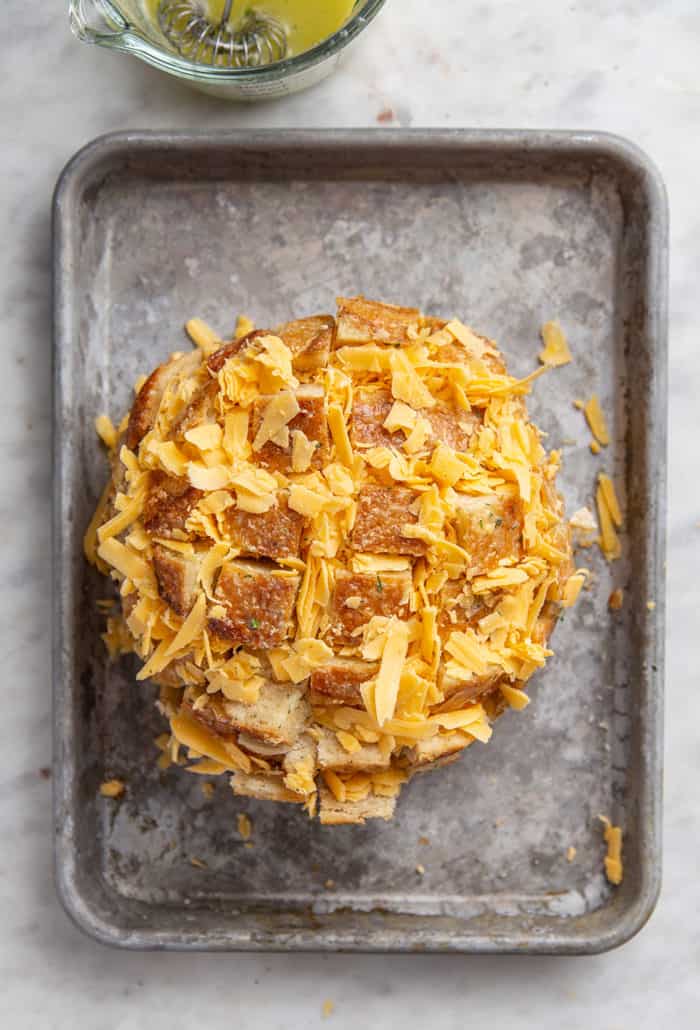 HOW TO MAKE THIS FUN AND EASY BREAD
You'll need just a handful of ingredients to make this cheesy bread:
½ cup (1 stick) Challenge unsalted butter, melted
2 tablespoons homemade ranch seasoning
1 sourdough boule
8 oz shredded sharp cheddar cheese
6-8 slices of cooked bacon, rough chopped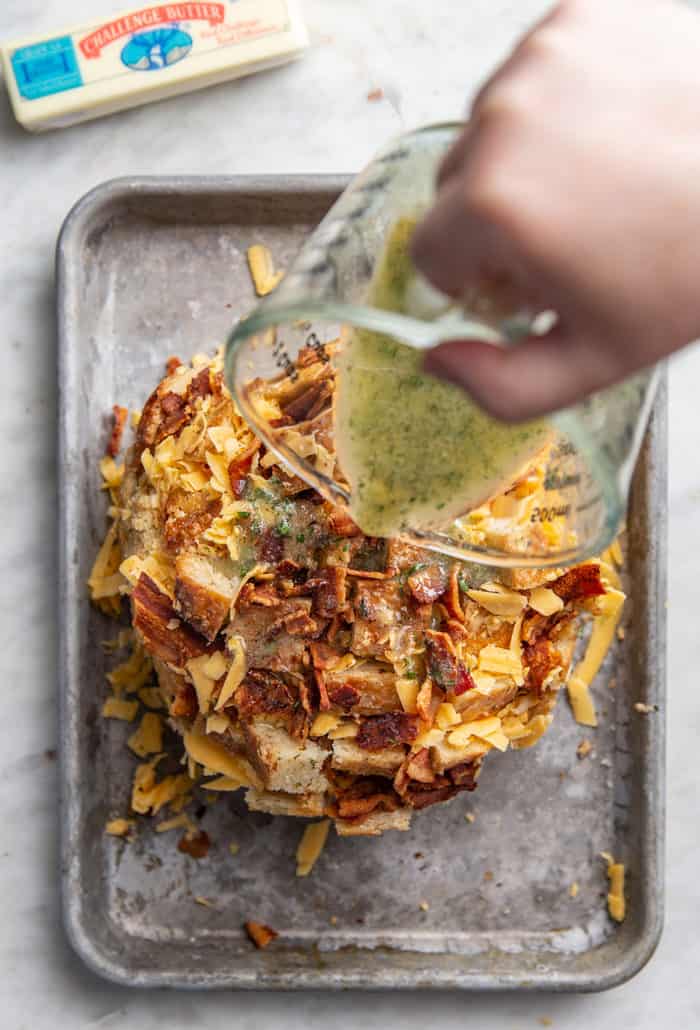 If you don't like sharp cheddar cheese, you could use any good melting cheese you like. Mild cheddar, monterey jack, or even pepper jack if you want a little spicy kick!
Start by mixing together the ranch seasoning with the melted butter.
Use a serrated knife to cut the bread vertically in a 1-inch grid pattern, but make sure not to cut all the way through the bottom of the bread. Brush half of the ranch butter into all of the nooks and crannies you just cut.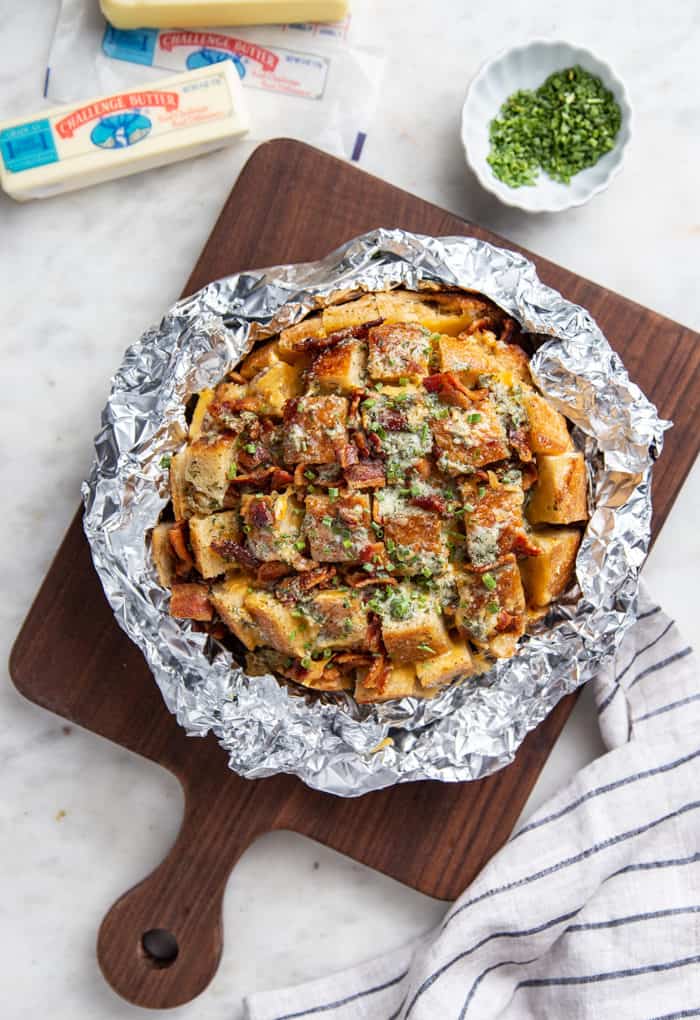 Stuff the bread with the cheese and bacon – don't be shy about really getting it in there.
Pour the rest of the ranch butter evenly over the bread, then wrap the whole loaf in foil.
Bake the bread, wrapped in foil, for 15 minutes. Unwrap the foil so the top of the bread is exposed and bake for an additional 10 minutes or until the top is nice and toasted and all of the cheese is melted.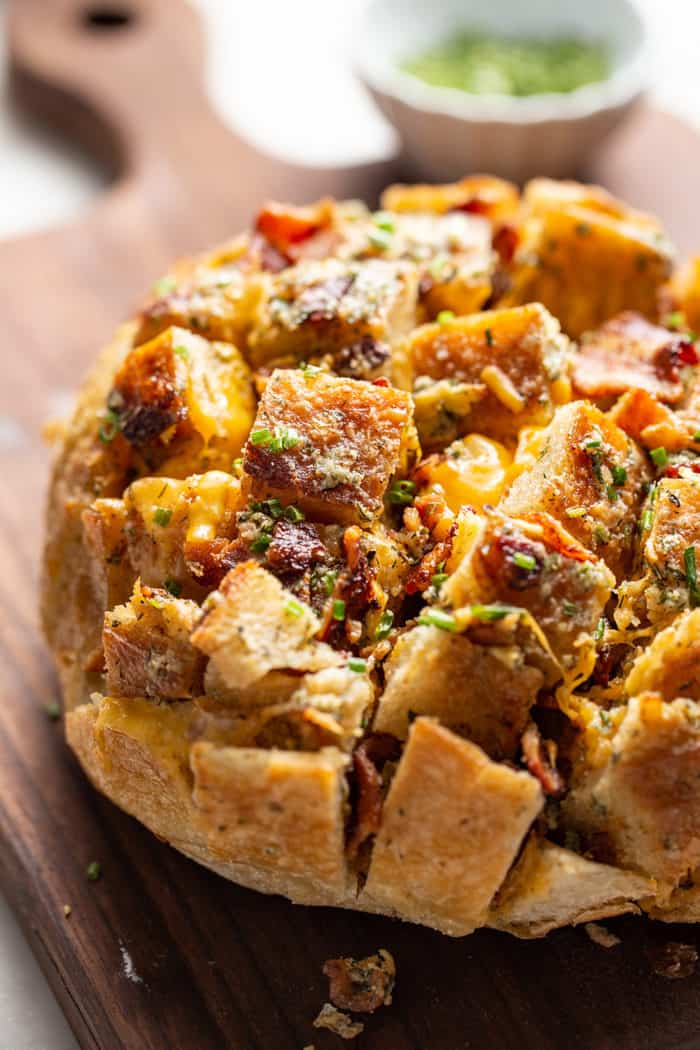 If you're heating the bread on the grill, place the wrapped loaf over indirect heat, then close the grill and cook it for 20 minutes. Unwrap the bread, close the grill again, and cook for another 5-10 minutes.
Serve the bread immediately while the cheese is hot and melty.