I have made this shrimp recipe countless times, but have never posted it to my blog. This is not because I am trying to keep the deliciousness from you guys, but because it's so damn tasty, we never have any left to photograph.
Shrimp is one of my favorite foods; honestly, I would choose it over a steak any day of the week. I particularly love them grilled and have tried countless marinades, but this particular one is a definite stand out!
I love to serve these perfectly grilled shrimp with an array of grilled vegetables and brown rice, but it also pairs perfectly with my Corn and Black Bean Salsa. I first posted about the salsa last summer and almost a year later, it remains one of the most popular posts on My Baking Addiction. It is super easy, but it is without a doubt one of my favorite dishes ever. The beauty of this Corn and Black Bean Salsa is that it pairs perfectly with many proteins and can be adapted to suite your personal taste. For instance, I hate fresh tomatoes…I mean I loathe those suckers, the smell makes me gag and I get skeeved out if those nasty little seeds are anywhere near my food. This is why when dining at restaurants I claim to be allergic, that way I know they won't simply pluck those little those bits of nastiness off my food and serve it to me. However, people have emailed me to let me know salsa is fantastic with fresh tomatoes; however, I am not willing to test their claim!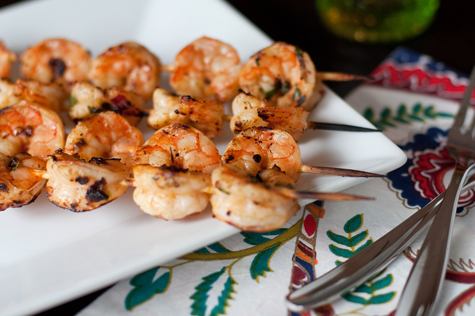 Back to the shrimp tacos. This recipe is super easy and only requires a handful of ingredients, but the flavor payoff is seriously amazing. It beats any bottled marinade I have ever tried (yes, I actually use the bottled stuff from time to time). For this meal, I simply warmed some flour tortillas and placed a bed of corn and black bean salsa on the tortilla, followed by 5-6 shrimp and served with rice and freshly made limeade. Amazing and the perfect quick dinner for a warm spring evening.

Chipotle Lime Grilled Shrimp with Corn & Black Bean Salsa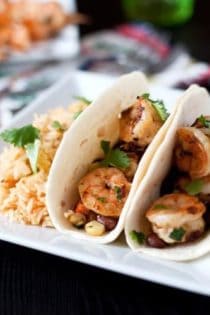 Ingredients:
For the Tacos
1 chipotle chili in adobo; chopped
1 tablespoon olive oil
1 teaspoon cumin
1 tablespoon brown sugar
1 lime (juice and zest)
2 tablespoons cilantro; chopped
1 pound shrimp; peeled and deveined
For the Corn & Black Bean Salsa
3 tablespoon balsamic vinegar
1 tablespoon olive oil
1/2 teaspoon salt
1/2 teaspoon white sugar
1/2 teaspoon ground black pepper
1/2 teaspoon ground cumin
1 teaspoon Za'atar
2 tablespoons chopped fresh cilantro
1 (15 ounce) can black beans, rinsed and drained
1 (15 ounce) can sweet corn, drained
1 red pepper; diced
1 jalapeno; seeded and diced
2 green onion sliced
Directions:
For the Tacos
1. Mix the chipotle, olive oil, cumin, brown sugar, lime zest, lime juice and cilantro in a bowl and and let marinate for 20 minutes.
2. Skewer the shrimp.
3. Oil up the grill and grill the shrimp until cooked, about 2-3 minutes per side.
For the Corn & Black Bean Salsa
1. In a small bowl, mix together balsamic vinegar, oil, salt, sugar, black pepper, cumin, and Za'atar.
2. In a medium bowl, stir together black beans, red pepper, jalapeno, green onions and corn. Toss with vinegar and oil dressing, and garnish with cilantro. Cover, and refrigerate.
Follow Jamie on Instagram. We love to see what you're baking from MBA! Be sure to tag @jamiemba and use the hashtag #mbarecipes!
[pinit]