So I was just listening to the news on the television and I heard these words, "Look for record breaking temperatures in the low 100's this coming week." Are you serious? Now I know these temps are the norm for some of you in various parts of the US, but for us Ohioans, this is HOT, scorching hot. And it makes me want to nothing more than lounge around in the air conditioning sipping a Frozen Cherry Mojito.
I don't know about you, but when it's this hot, food is certainly not the first thing on my mind – especially heavy foods. So this week, I'm going to try to feature a variety of light recipes that are quick, simple and don't require extensive cook times. And don't worry, I have two delicious desserts that also fit into this easy-breezy category.
I have a thing for bread – give this girl a baguette and some cheese and I'm good to go. So when thinking of recipes for this week, I naturally thought I'd take some help from the market and let them do the baking.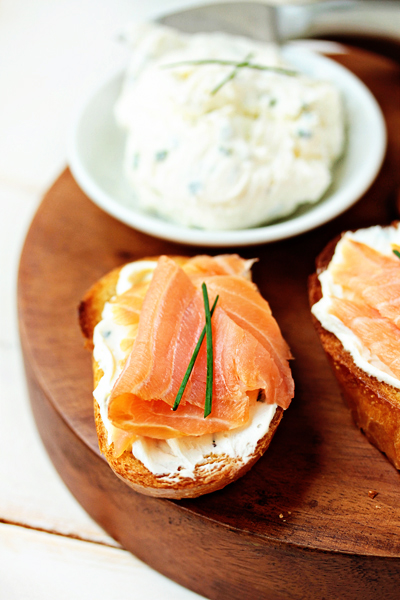 This recipe was inspired by a pricey appetizer at a high end steak house and if I'm being honest, I like my version a little better. It requires less than 6 ingredients and comes together in about 20 minutes, which is perfect for when you really feel like hanging out in the kitchen all day.
Cream cheese and goat cheese are combined with garlic and fresh chives to create a deliciously creamy and flavorful spread to top toasted slices of baguette. Finish it off with smoked salmon and you've got yourself a sophisticated and delicious appetizer that's perfect for a weeknight at home or casual weekend entertaining.
Have you entered?

Don't forget to enter your best appetizer recipe that uses 6 ingredients or less for a chance to win a $600 gift card from American Express. Follow this link to the post for the rules, details, and info on how to enter. Please make sure you leave your recipe within the post that is linked above. If you leave it elsewhere, it will not count.
Smoked Salmon and Goat Cheese Bruschetta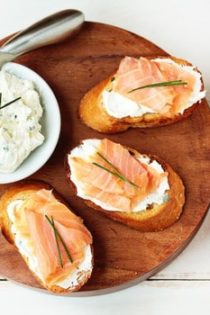 Ingredients:
8 ounces cream cheese, softened
4 ounces goat cheese, softened
1 clove of garlic
1 tablespoon finely chopped chives
salt and pepper to taste
12 slices of baguette
softened butter
Directions:
1. In a medium bowl, use an electric mixer to combine the cream cheese, goat cheese, garlic and chives. Add salt and pepper to taste. Set aside.
2. Preheat oven or toaster oven to 400 degrees. Lightly butter one side of the pieces of baguette and arrange butter side down on a baking sheet. Bake the baguette until lightly toasted, about 5-7 minutes. You can also grill the bread, just keep your eye on it so it doesn't burn.
3. Allow the bread to cool slightly. Slather on a layer of the goat cheese spread and top with smoked salmon and garnish with chives.
All images and text ©
Follow Jamie on Instagram. We love to see what you're baking from MBA! Be sure to tag @jamiemba and use the hashtag #mbarecipes!