The weather is finally getting warmer, so I thought I'd kick off the heat streak with a delicious, slushy, rum infused adult beverage. These Frozen Cherry Mojitos are the perfect way to kick back and enjoy the weather while beating the heat!
Over the weekend I picked up a huge bag of Bing cherries from the market. Although they weren't exactly cheap, I am a sucker for fresh cherries and decided to fork over the extra cash. Throughout the day, I ate cherry after cherry after cherry. Although I adore their flavor, I think my love affair with this fruit also has to do with the pit. I'm going to be honest, I kinda sorta like spitting them out while in the privacy of my own home.
After I recovered from a slight self-induced cherry coma, I decided that I wanted to use the rest of them in recipe, so I turned to the MBA Facebook page and sought some advice from my wonderful readers. After browsing the many responses I decided on Frozen Cherry Mojitos, recommended by Susan. Cherries + Lime + Mint + Rum? I was sold.
It's like it was meant to be. We just so happened to have rum and fresh mint, so I took that as a sign. After about ten minutes, I was left with a pile of pitted cherries, a cherry juice flecked tee shirt and pink fingers. I tossed the cherries into the freezer and prepared a lime simple syrup.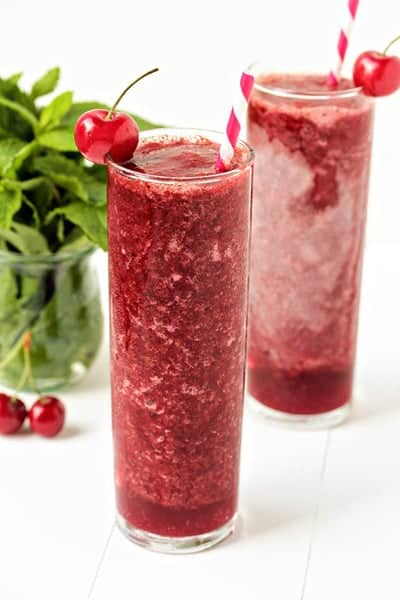 A few hours later I tossed everything into the blender and within minutes we had a delicious and refreshing frozen beverage to keep us company while we pulled weeds and cleaned the deck. I'm not much of a drinker, but this rum infused cherry slushy definitely made the yard work a little less annoying.
Brian though these were a little too sweet, but I thought they were perfect. If you like your adult beverages a little less sweet, I'd recommend gradually adding the simple syrup until you reach the desired level of sweetness.
Frozen Cherry Mojitos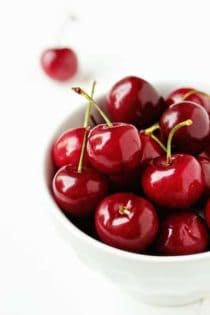 Ingredients:
1 pound bag frozen pitted cherries
3 cups crushed ice, plus extra to serve if desired
1/2 cup packed fresh mint leaves
1 cup white rum
Lime Simple Syrup, recipe follows
Lime wedges and fresh cherries, for garnish
Lime Simple Syrup
1 cup sugar
1 cup water
3 limes, juiced and zested
Directions:
1. Place the frozen cherries, ice, mint, rum, and lime simple syrup in a blender. Blend until smooth.
2. Pour the mixture into chilled glasses and top with crushed ice. Garnish with lime wedges and cherries.
Lime Simple Syrup
In a small saucepan, combine the sugar, water, lime juice, and lime zest over medium heat. Bring to a boil, reduce heat, and simmer for about 5 minutes, stirring occasionally, until the sugar has dissolved. Remove the pan from the heat and allow the syrup to cool to room temperature minutes before using. If making in advance, store in a sealed container within the refrigerator.
Notes:
- Not a fan of rum, give vodka a try. Not a fan of alcohol period? These were incredibly delicious without the alcohol.
- Recipe adapted from Giada De Laurentiis
All images and text ©
Follow Jamie on Instagram. We love to see what you're baking from MBA! Be sure to tag @jamiemba and use the hashtag #mbarecipes!