Marinated Grilled Shrimp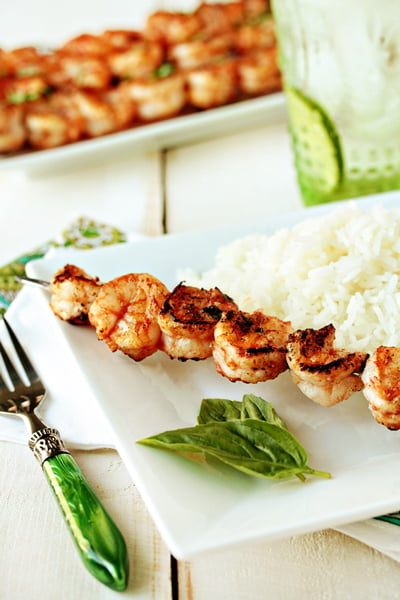 I think it's clear from the title of the site, I'm more a carb girl than anything else. I'll happily forgo a piece of steak, perfectly contented with corn on the cob and some artisan bread with Kerrygold butter. After almost six years, Brian still has a difficult time understanding my attitude towards meat.
I'm pretty certain I could easily transition to a vegetarian lifestyle if it weren't for two things: bacon and shrimp. In my opinion, bacon is perfection. On it's own it's magnificent, but it is also has the capability of transforming many a mundane dish into something fantastic. When it comes to shrimp – whether they're sauteed, fried, stuffed or grilled – they top my list of favorite foods. Unless you try to feed them to me in shrimp cocktail form. Then all bets are off. Just something about the ice cold shrimp and cocktail sauce skeeves me out.
I stumbled on this grilled shrimp recipe a few years ago and it's been one of my go-to weeknight meals since then. We grill year round at our house. (Yep, we're the crazy people sporting Ugg boots and winter coats with our grilling tongs in mitten-clad hands out the middle of a snow storm, all just to get our steak and shrimp fix.)
The preparation of this shrimp dish is super simple – I just toss everything into a zip-top bag and let it marinate in the fridge for about 30 minutes. The shrimp grill up in minutes and are full of flavor. They pair perfectly with grilled asparagus and steamed rice.
What's your go-to, quick weeknight meal?
Marinated Grilled Shrimp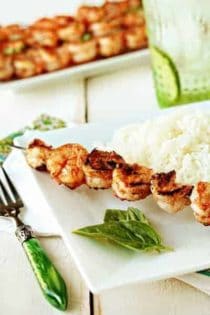 Ingredients:
3 cloves garlic, minced

1/3 cup olive oil

1/4 cup tomato sauce

2 tablespoons red wine vinegar

2 tablespoons chopped fresh basil

1/2 teaspoon salt

freshly cracked pepper, to taste

1/4 teaspoon cayenne pepper

2 pounds fresh shrimp, peeled and deveined
Directions:
In a large bowl, combine all ingredients except the shrimp and whisk until combined. Add shrimp to the bowl, and stir until evenly coated. Cover, and refrigerate for 30 minutes to 1 hour, stirring a couple of times.
Preheat grill for medium heat. Thread shrimp onto skewers, piercing once near the tail and once near the head. Discard leftover marinade
Lightly oil grill grate. Cook shrimp on preheated grill for 2 to 3 minutes per side, or until cooked through and opaque.
Copyright © My Baking Addiction
All images and text ©
Follow Jamie on Instagram. We love to see what you're baking from MBA! Be sure to tag @jamiemba and use the hashtag #mbarecipes!
This post may contain affiliate links. We are a participant in the Amazon Services LLC Associates Program, an affiliate advertising program designed to provide a means for us to earn fees by linking to Amazon.com and affiliated sites.