Sparkling Peach Margaritas are the perfect way to celebrate summer. They're light, sweet and bursting with fresh peach flavor!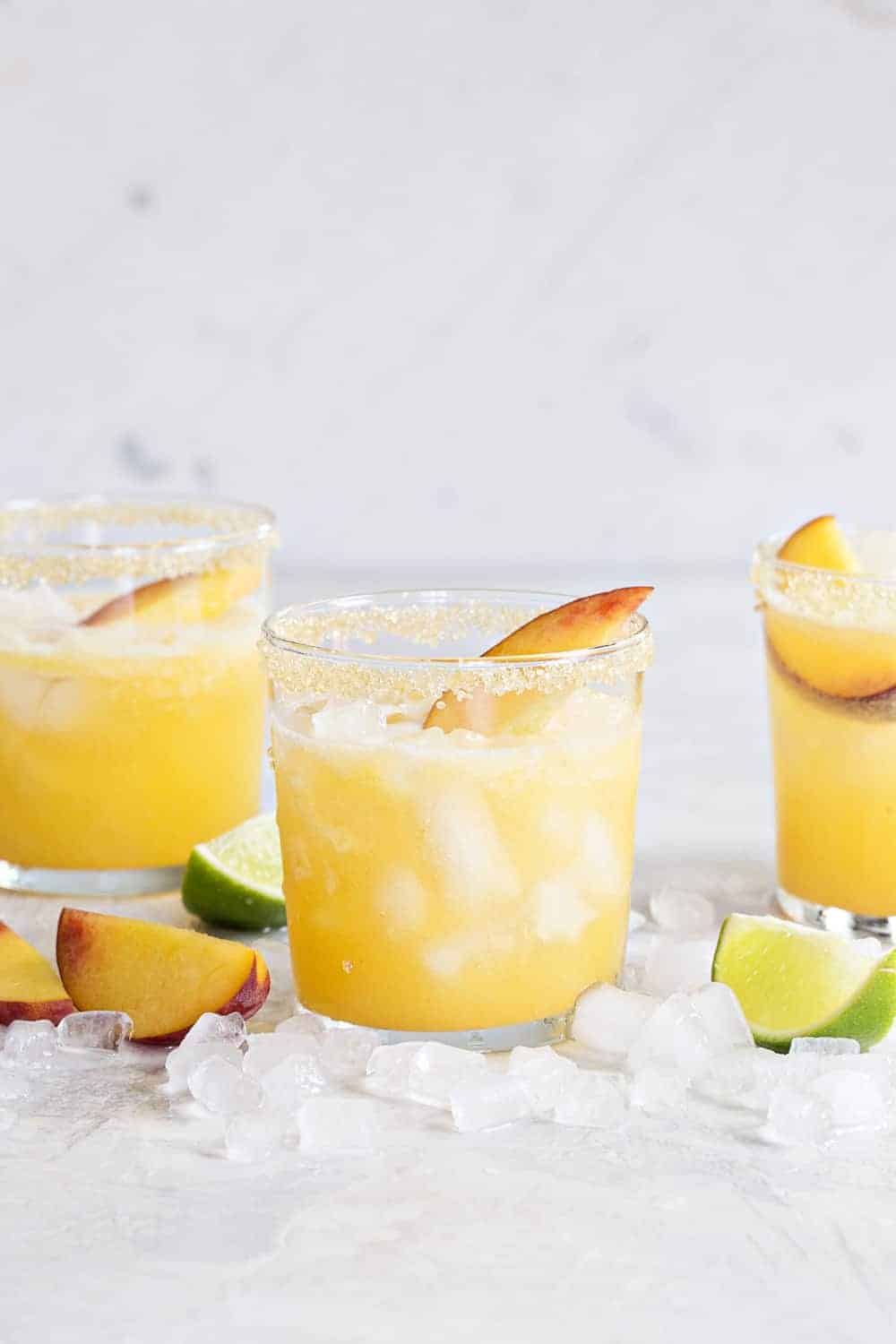 Well, we've officially arrived at the first day of summer and I thought we should celebrate with a batch of Sparkling Peach Margaritas. Just in time for the weekend!
I don't know about you, but it took us a minute to fall into a summer routine around here. We've been eating dinner later, staying outside later, and we're definitely sleeping in much later.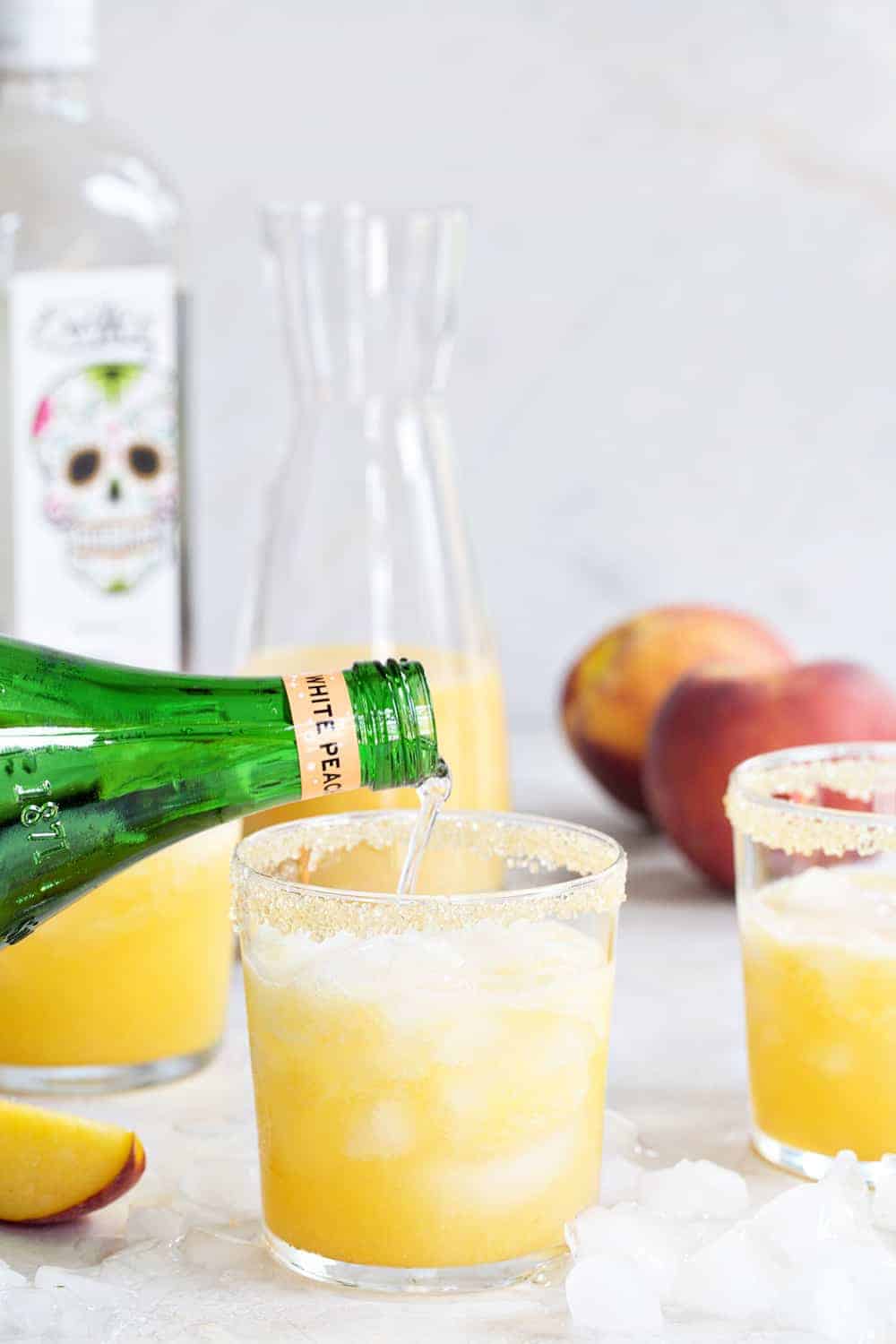 I can tell you one thing. My sweet babe may look exactly like her Daddy, but the girl gets her sleeping habits from her mama.
She's sleeping in every day until at least 11:00. Which probably sounds pretty crazy to you considering most kiddos we know are up by 7:00 AM, but my girl has always been a sleeper.
While I love hanging out with her all day, her late wake-ups mean Mama can get the house straightened, blog posts written and workouts completed all before she strolls downstairs for breakfast!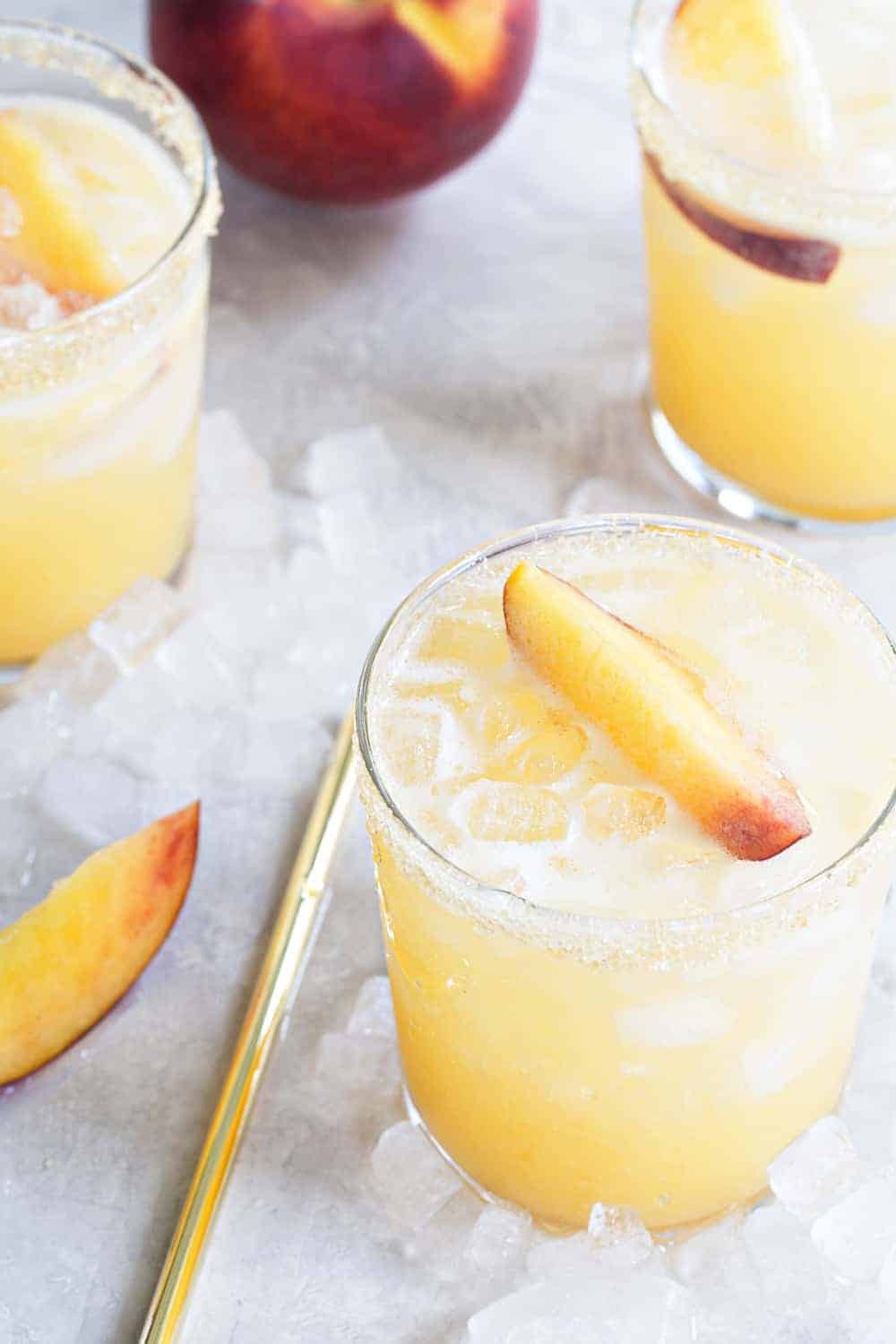 Since she's sleeping in so late, it also means that naps are kind of a thing of the past unless she's hanging out at the pool, which always tuckers her out within a few hours.
It also means that we're outside chatting with neighbors while the kids play until the lightening bugs make their nightly appearance.
And let's face it, summer nights spent hanging out in neighborhood driveways always call for drinks. Fruity, crowd-pleasing drinks.
Enter Sparkling Peach Margaritas.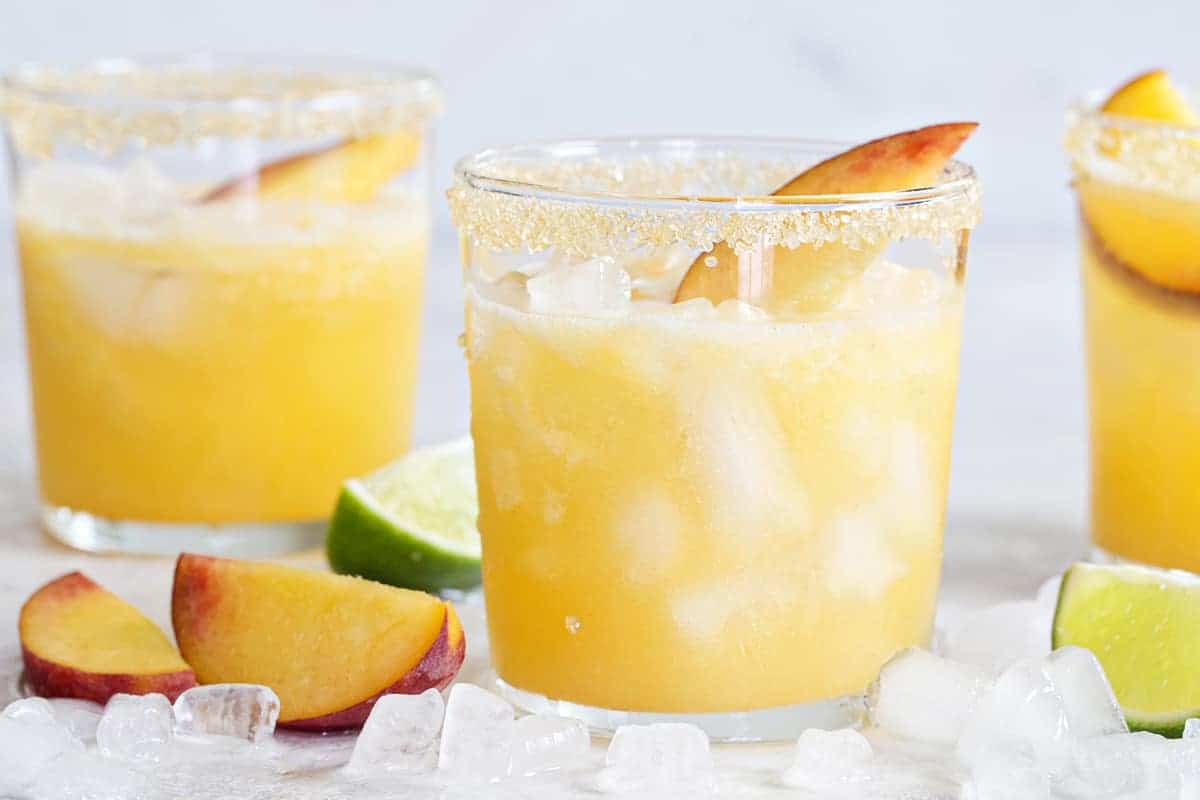 You guys, these are so good and I don't even like margaritas.
Well, I guess I don't like traditional margaritas. But these are so freaking delicious.
Seriously, they're like summer in a glass and you need them in your life.
Since I'm not the best bartender on the block, I enlisted the help of my friend Heather to help me create this recipe. We spent an afternoon in her kitchen testing batch after batch until we reached peach margarita perfection.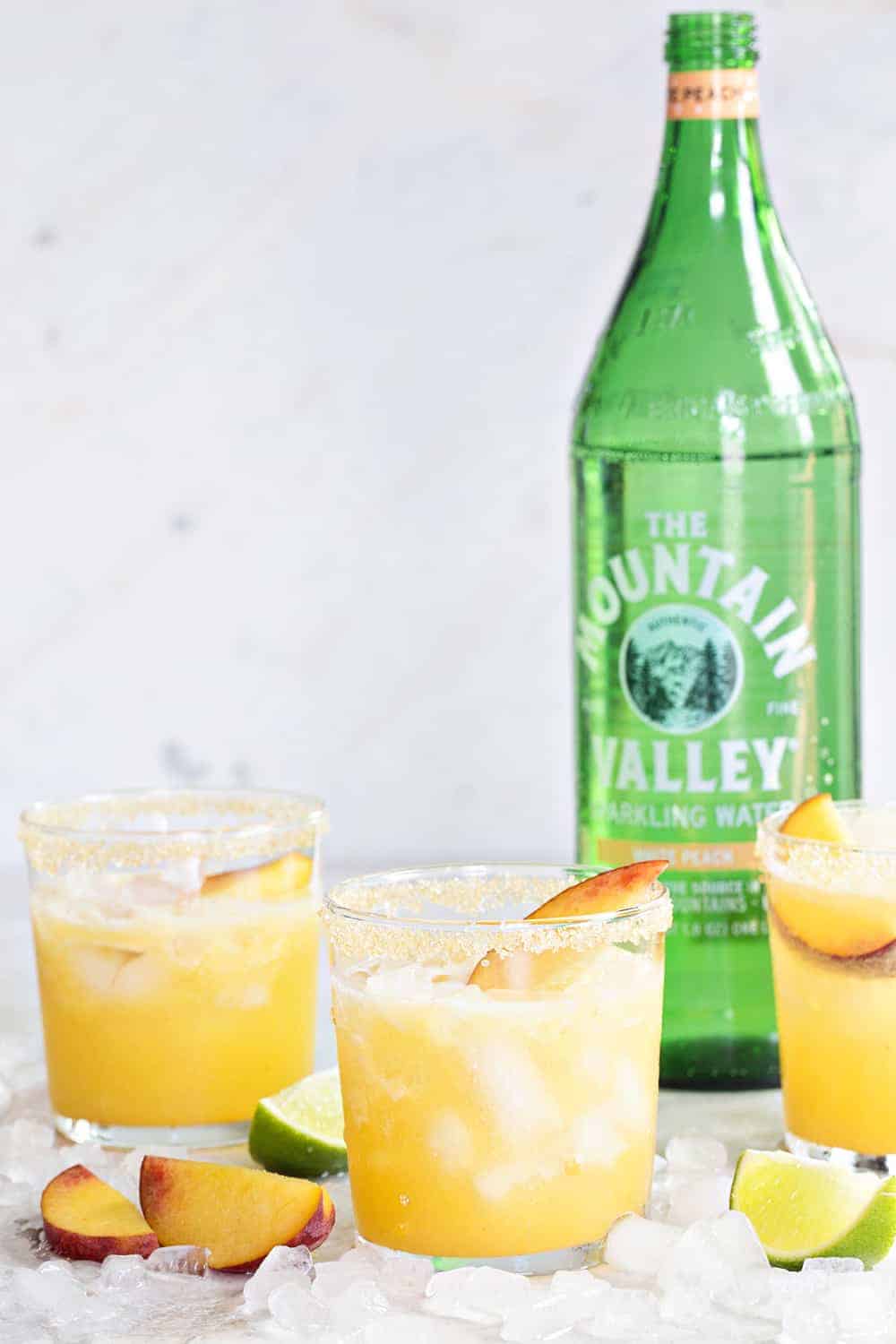 Then we sent a text out to the neighbors inviting them over to be our taste testers. And everyone agreed they are amazing.
Especially with a coarse sugar rim! Everyone unanimously agreed that salt is a total no-go for these Sparkling Peach Margaritas.
We even tested a cinnamon sugar rim, but the fan fave was definitely coarse sugar all on its own.
These Sparkling Peach Margaritas start with a fresh peach puree with a little sugar, and squeeze of fresh lime juice.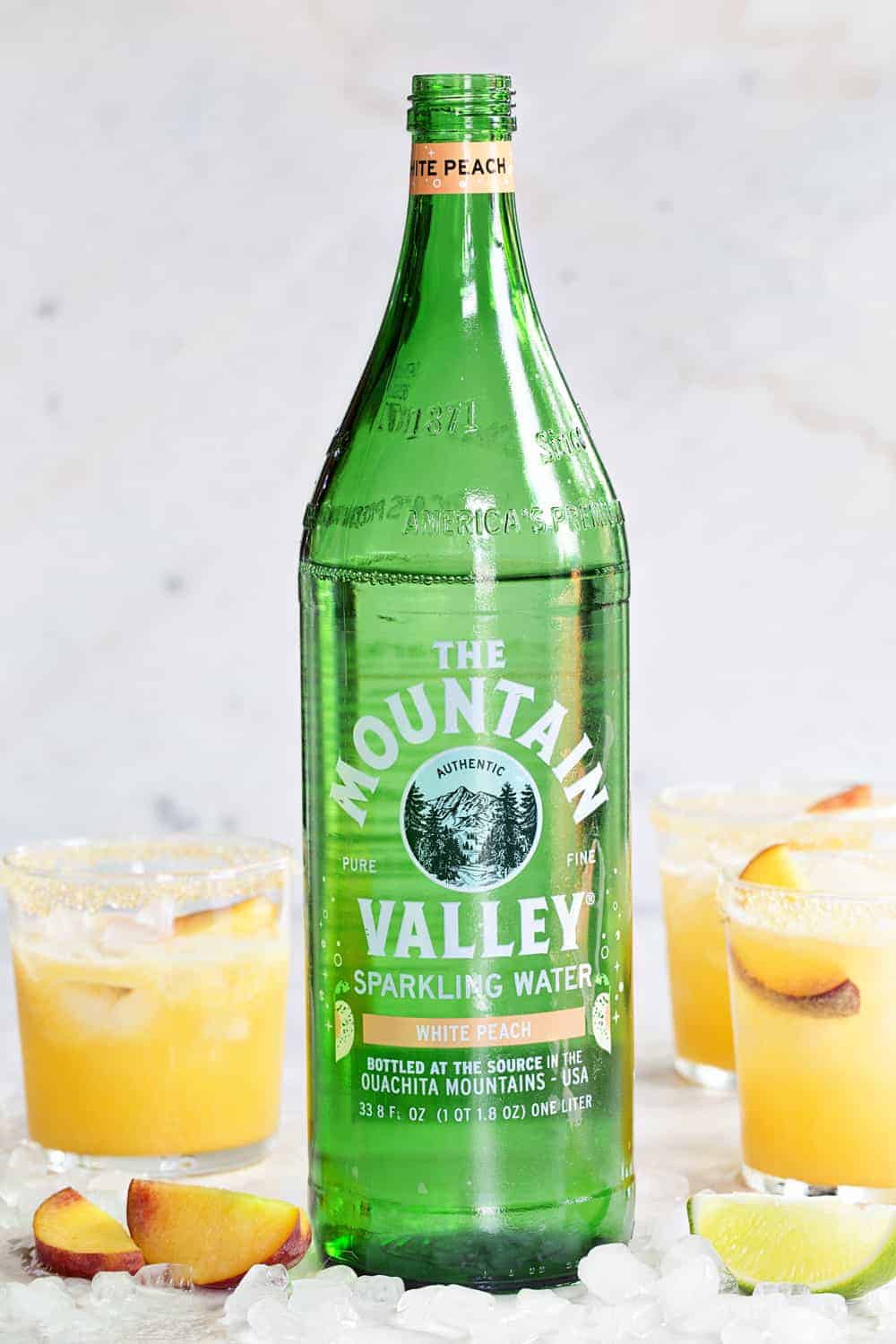 You can totally stop here and serve the sweet peach puree over ice with Mountain Valley White Peach Sparkling Water for delicious and refreshing mocktail.
Mountain Valley Sparkling Water is free of sweeteners, preservatives, and colorants. Their sparkling water is pure water, plus bubbles, plus a hint of natural fruit. And it was named "Best-Tasting Water in the World" – TWICE.
But let's get real, this drink calls for tequila. Specifically, award winning Exotico Blanco Tequila.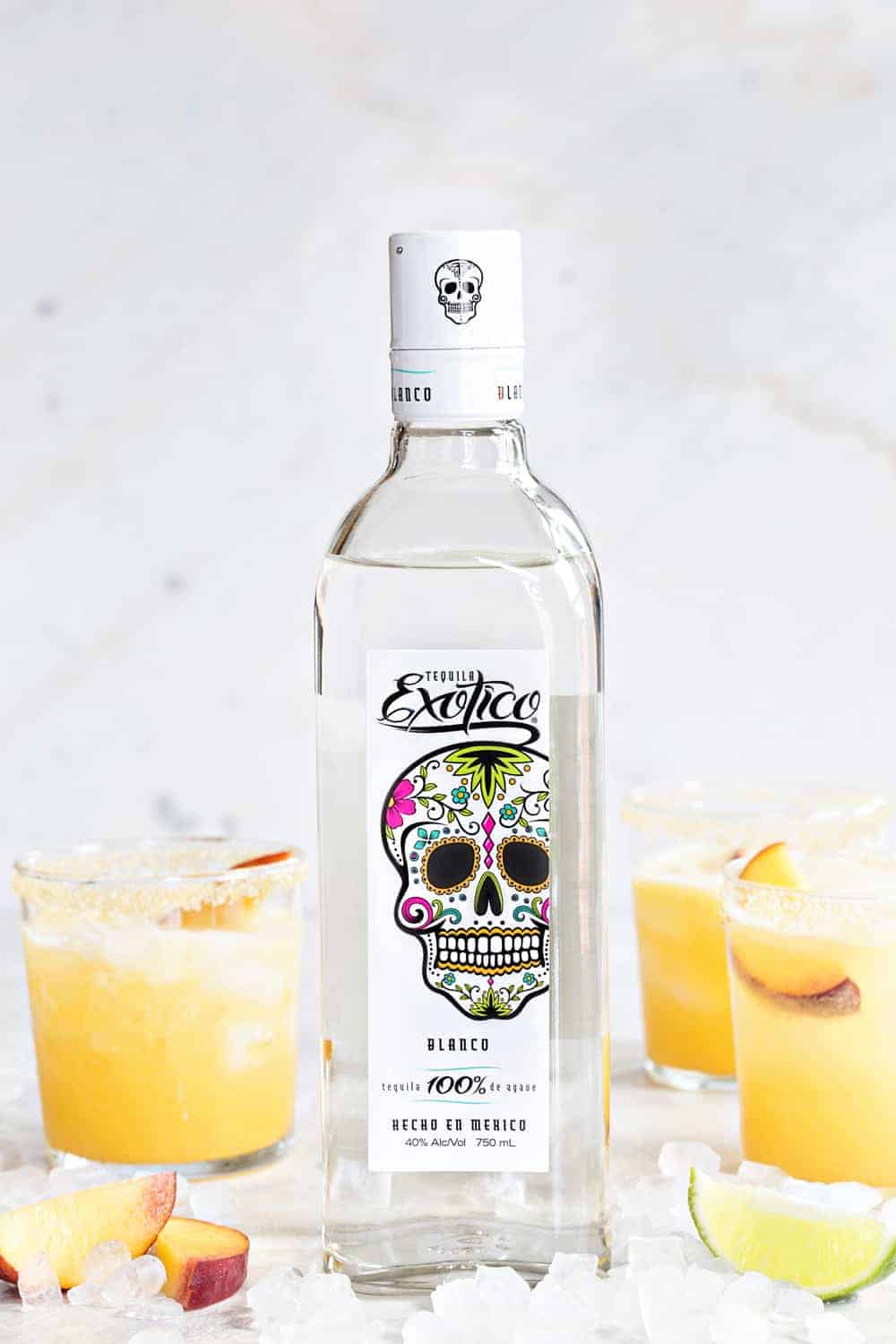 Exotico Blanco Tequila is premium, unaged 100% Blue Agave tequila produced in the highlands and lowlands of Jalisco.
It is tequila you can appreciate with a sip or use to elevate any drink. It has a crisp, herbal aroma with spicy undertones and a robust taste of fresh agave with hints of pepper and herbal notes.
Plus the bottle is stunning. I can't be the only one that appreciates a good liquor bottle, and that Dia de los Muertos skull is just SO beautiful!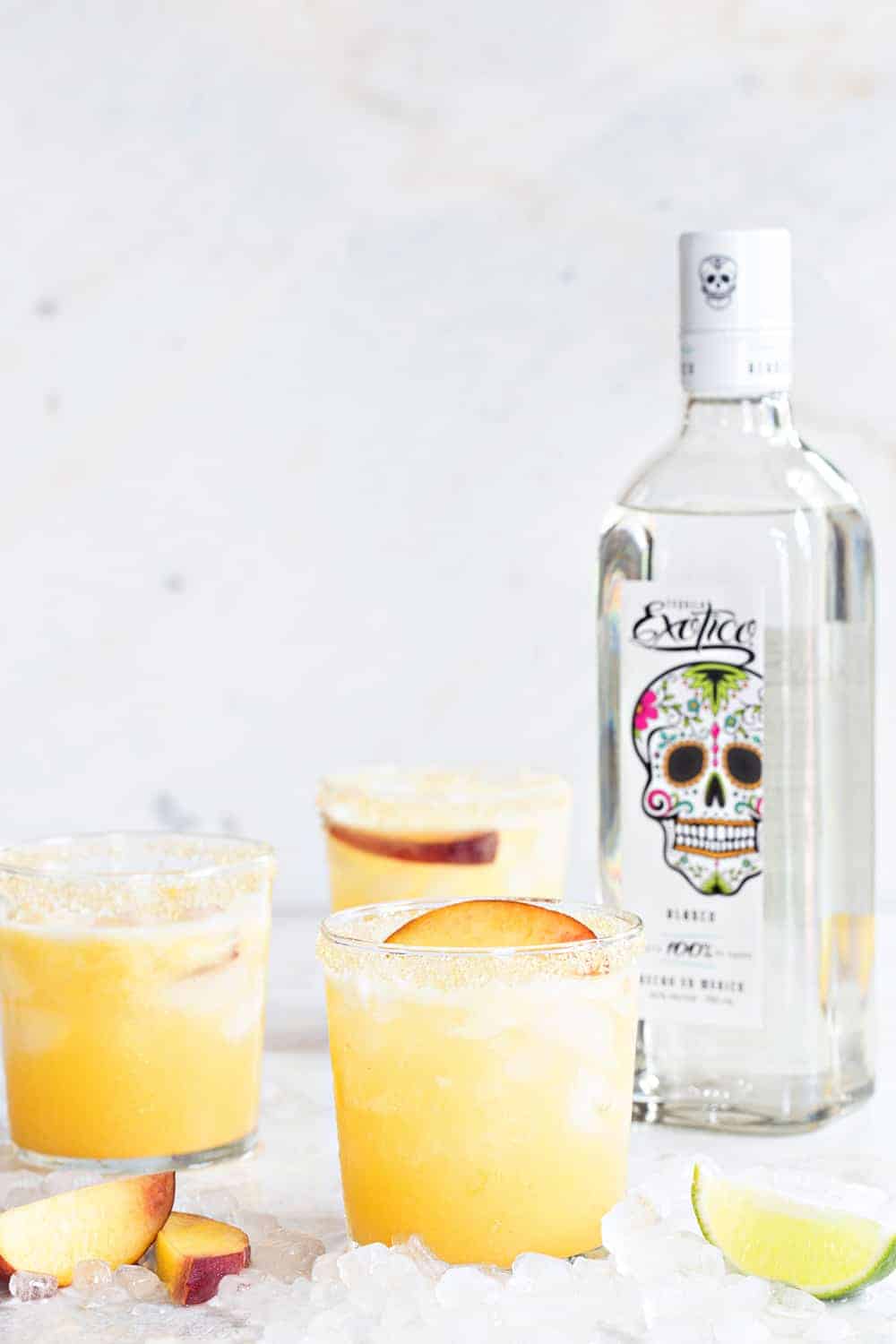 All my neighbors commented on the fantastic flavor that shone through, and that's with some pretty significant spring peach flavor in the mix. The combo is just stellar.
As we sat outside, sipping these margaritas and laughing at our kids' shenanigans, I definitely had a moment of pure gratitude. Summer life can be pretty darn grand, you guys.
I can't wait for you to try these Sparkling Peach Margaritas. I definitely want to hear what your neighbors think of them too!