Grilled Garlic Basil Shrimp are easy enough for any weeknight, but really wow at your weekend BBQ. We're in love with this simple supper, and SO ready for summer!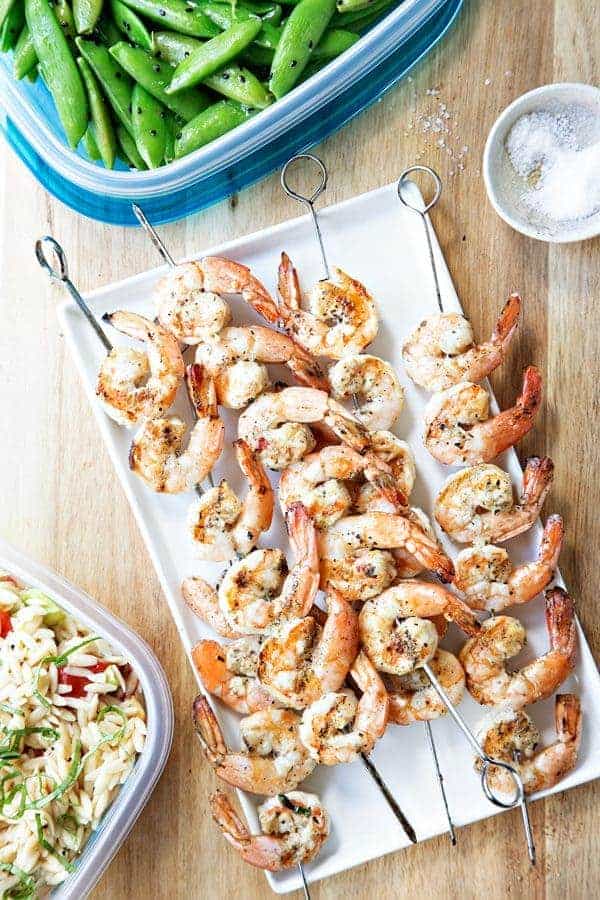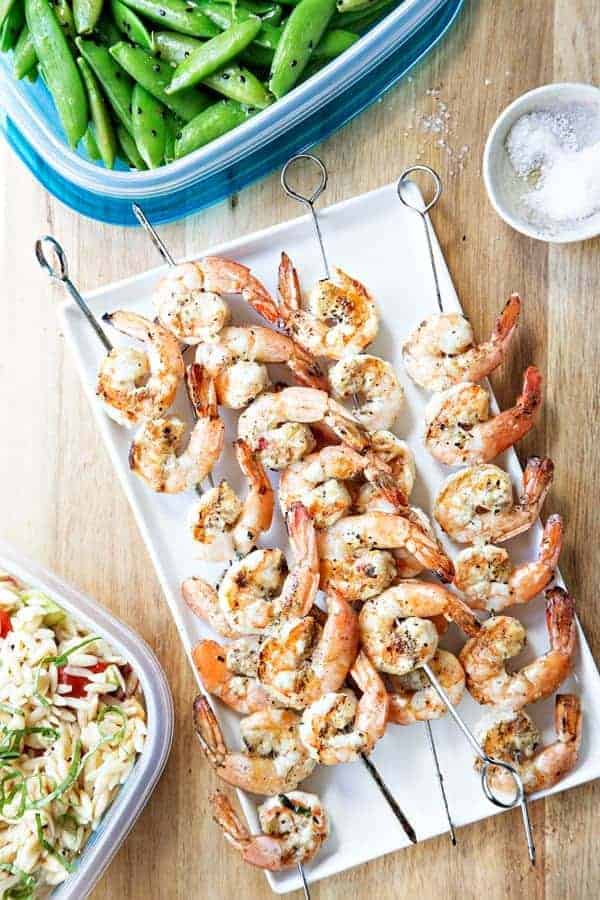 This is a sponsored conversation written by me on behalf of Kingsford Charcoal and Glad. The opinions and text are all my own. Thanks for continuing to support the brands that make My Baking Addiction possible.
We are SO very ready for summer, and barbecue season, you guys. So much so, that last week, Eric, the babe and I hopped a plane to sunny Florida, and we're here for a good couple of weeks.
The place we always stay (a rented condo) has a great charcoal grill, and it's pretty much all we cook on, the entire time we're here. In preparation for our trip, I started gathering all my favorite and gotta-try grilling recipes, because wandering the aisles at an unfamiliar grocery store without a plan is not how I want to spend my vacation.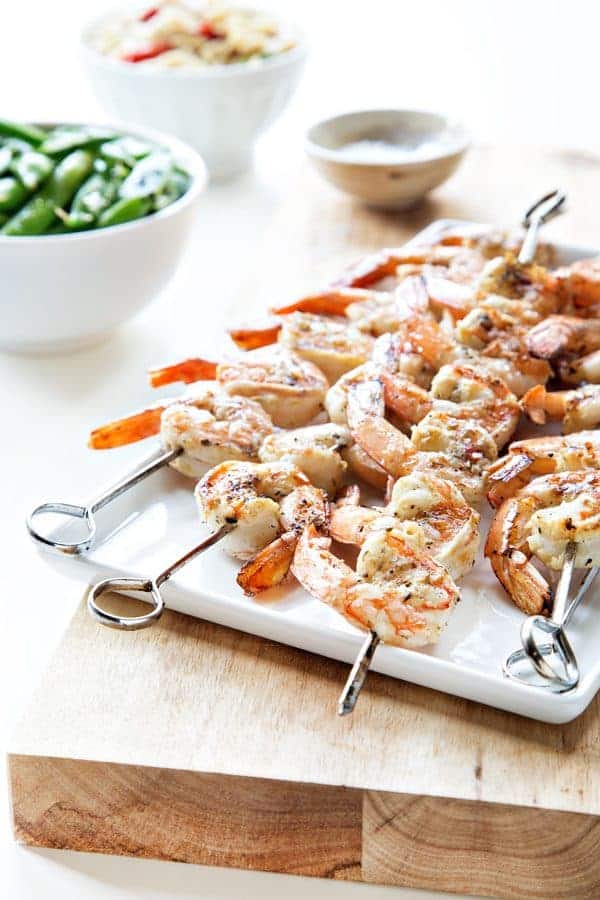 When you're staying somewhere that isn't your own place, it can be hard to get into a groove of cooking – especially when you don't have all the same tools around you. One of the things I always pick up as soon as we hit the local Wal-Mart upon landing is Glad MatchWare food storage containers. Wal-Mart is always our go-to stop on vacation, because we know where everything is, and we don't have to go to multiple stores to get everything we need for a visit to a new place. Especially with a toddler.
You never can trust that the place you're staying will have stocked up on ways to store your leftovers or marinate gorgeous fresh coastal shrimp, and these babies are economical enough that I don't mind leaving them behind for the next renter. But they're also perfectly sized, I love how they stack (so I know they'll fit, wherever I need them to), and let's face it – I'm a sucker for pretty colors in matching patterns. But you already knew that about me.
This recipe for Grilled Garlic Basil Shrimp is so, so, SO good, you guys. Like, good enough that we will probably be dragging the charcoal grill out on our snow-covered driveway all winter long too. While marinating means you need to plan ahead (please don't skip this – the FLAVOR!), cooking takes just 5 minutes. Grab some corn on the cob to grill up too, and whip up a quick orzo salad. That's all you need for a dinner you'll want to repeat again and again.
The recipe combines fresh basil (my absolute fave!), garlic, lemon juice, and something that sends it just over the top – brown sugar. That's right, brown sugar. The slightly sweet, caramel-y crust it gives these gorgeous prawns is something you will dream about.
All you need to do is mix up the marinade ingredients, right inside a GladWare container. Add in the cleaned and de-veined shrimp, put the tight-fitting lid on (no leaks!), and toss. The shrimp should be fully coated in marinade.
Let them hang out in that, in a nice chilly refrigerator, for about 30 minutes. Then you're ready to grill, and get the party started. And I am not kidding – we made these again last night, and the scent had our condo neighbors calling over the bushes, asking what smelled so amazing. Instant party!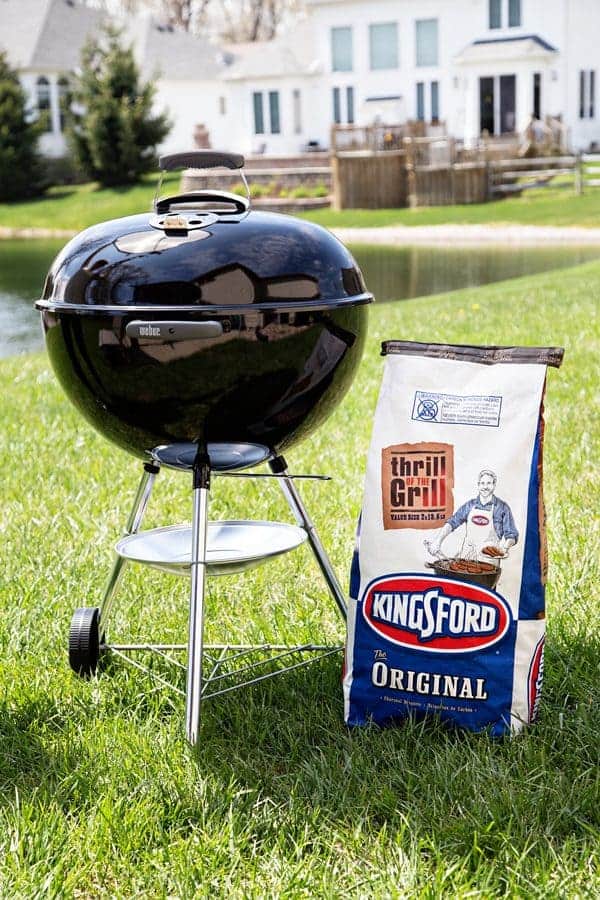 We grill these up over Kingsford Charcoal because they're made with real wood – so there's a smoky element that, when combined with brown sugar, simply makes magic. They're ready to cook on in 15 minutes, so you can light them while the shrimp is just about done marinating, and get your sides ready so that everything is done right around the same time.
The charcoal will burn for a good long while if you need to, so plan ahead and get the stuff for S'mores too! You guys know S'mores are pretty much my fave, so no cookout is complete without that ooey-gooey goodness.
Enjoy these Grilled Garlic Basil Shrimp at your next barbecue, and every week in between!
For more recipes for the grill, be sure to check out these Sweet and Spicy Beef Kebabs and this Grilled Pound Cake with Pineapple.

This is a sponsored conversation written by me on behalf of Kingsford Charcoal and Glad . The opinions and text are all mine.