Brown butter and a sprinkle of flaky sea salt make these Brown Butter Chocolate Chip Cookies every bit as delicious as a fancy bakery cookie. You won't believe you were able to make them at home!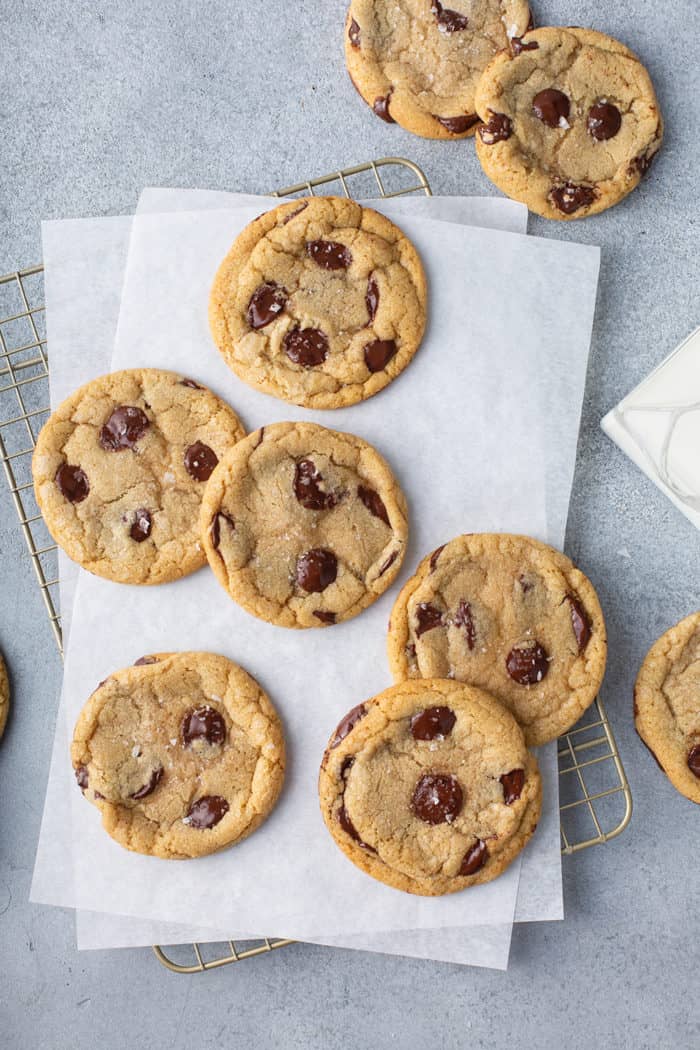 Like so many people, I downloaded TikTok last spring as everything was shutting down. It offered a bit of entertainment during a very unsettling time. And along with my friend Stephie and Joshua Weissman, it taught me how to make one hell of a loaf of sourdough bread.
I was all-in and even bought a fermentation station – if you know, you know.
Over a year later, I still love TikTok and if I'm being honest, my FYP is pretty much loaded with food and beauty content. I love finding simple recipes to make for dinner while learning which new highlighter is all the rage.
Many months ago, I stumbled upon a recipe for Brown Butter Chocolate Chip Cookies and I could not get them off my mind. Although I didn't save the recipe, I did remember that the creator used the recipe for Tasty's Chewy Chocolate Chip Cookies, but browned the butter first.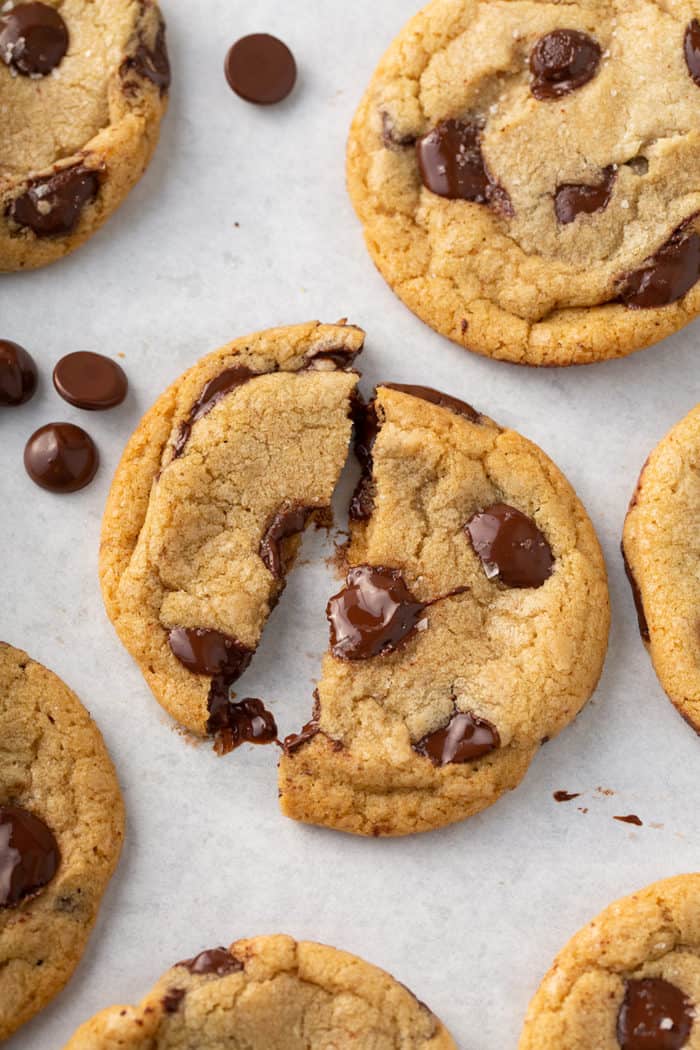 And let me tell you, this creates one magical cookie.
If you've been around here for any amount of time, you know that my favorite chocolate chip cookie recipe is the New York Times Chocolate Chip Cookies. But not everyone wants to go purchase cake and bread flours to make a cookie recipe.
And not everyone has 24 hours to let the dough chill.
These Brown Butter Chocolate Chip cookies are right up there with the New York Times Chocolate Chip Cookies and a few of my friends think they're even better! They're super simple to make and don't require special ingredients, or a 24-hour chill time.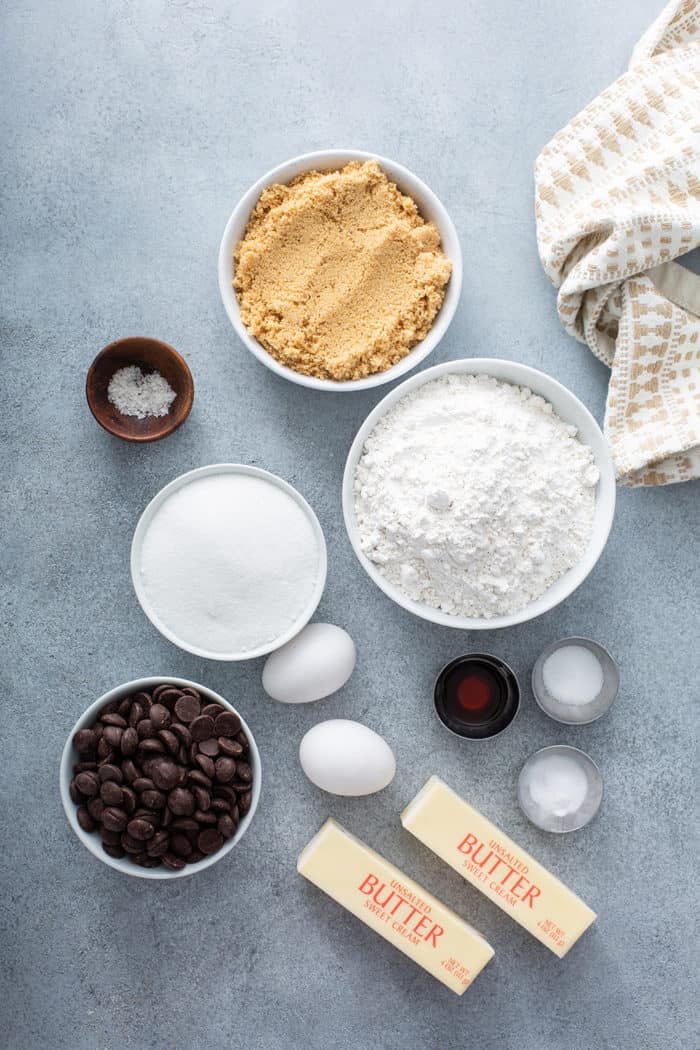 WHAT IS BROWN BUTTER?
Brown butter just sounds so fancy, right? Especially if you call it by its French name, beurre noisette.
Brown butter is actually just regular old butter that is melted over low heat, then cooked gently until the water starts to evaporate and the milk solids begin to brown.
This process gives the butter a beautifully nutty, complex flavor.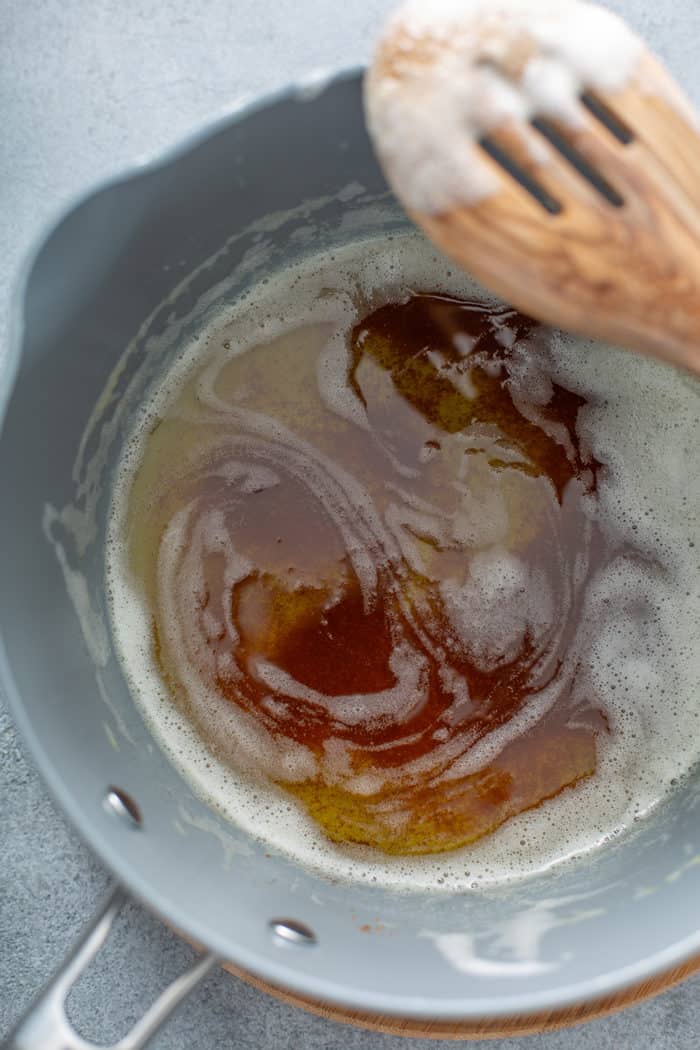 You can use brown butter in its liquid state or chill it until it is solid again. It's amazing in sweet recipes like Brown Butter Rice Krispie Treats, Brown Butter Frosting, or Brown Butter Peach Scones.
You can also use it in savory recipes, like Pan Roasted Brown Butter Radishes or even as a simple sauce for pasta.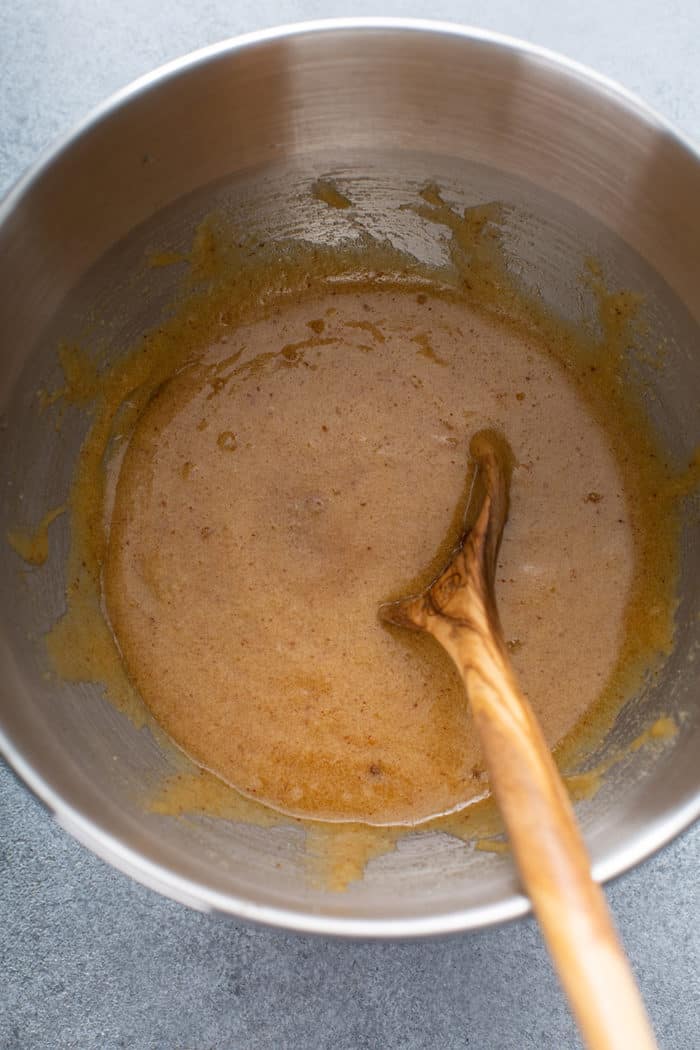 WHY BROWN BUTTER FOR COOKIES?
But browning the butter is an extra step, so why bother?
Well, first, browning butter really isn't hard at all. If you use a light-colored pan, keep it over low heat, and watch it closely, it's really pretty simple!
And second, it's a simple thing that totally changes the flavor profile of your cookies. It's hard to exaggerate how amazing the nuttiness of the brown butter is with the chocolate in these cookies.
Add a sprinkle of flaky sea salt to the top of each cookie and you will be in absolute heaven. They taste like fancy bakery cookies that you won't believe you made at home!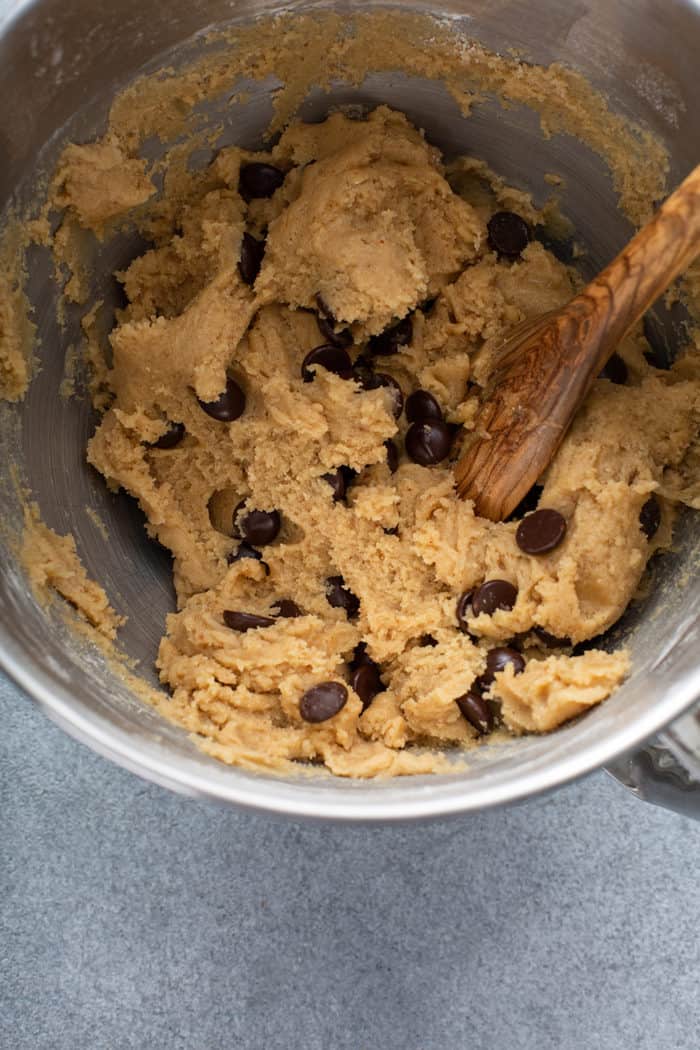 HOW TO MAKE BROWN BUTTER CHOCOLATE CHIP COOKIES
The ingredient list for these cookies looks just like most standard chocolate chip cookies:
1 cup unsalted butter
1 cup granulated sugar
1 ½ cups packed light brown sugar
1 ½ teaspoons kosher salt
2 large eggs, room temperature
1 ½ teaspoons vanilla extract
2 ½ cups all-purpose flour
1 teaspoon baking soda
1 (11-ounce) bag of chocolate chunks or chips
Flaky sea salt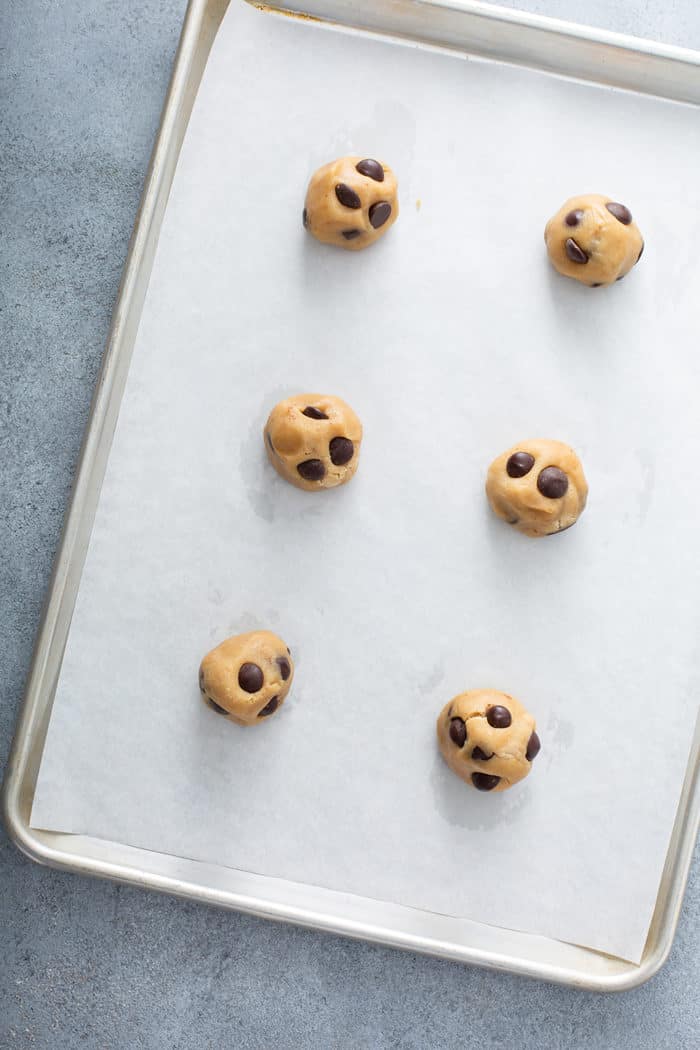 What kind of chocolate should you use? Well, that's up to you! Use your favorite here: milk chocolate, semi-sweet chocolate, or even dark chocolate.
Start by browning the butter: Cook butter in a medium saucepan over medium heat, stirring often, until it foams up and then browns. Remove the butter from the heat immediately and let it cool for 15 minutes.
Next, combine the sugars, salt and cooled brown butter. Mix until smooth, then add in the eggs and vanilla and mix until combined.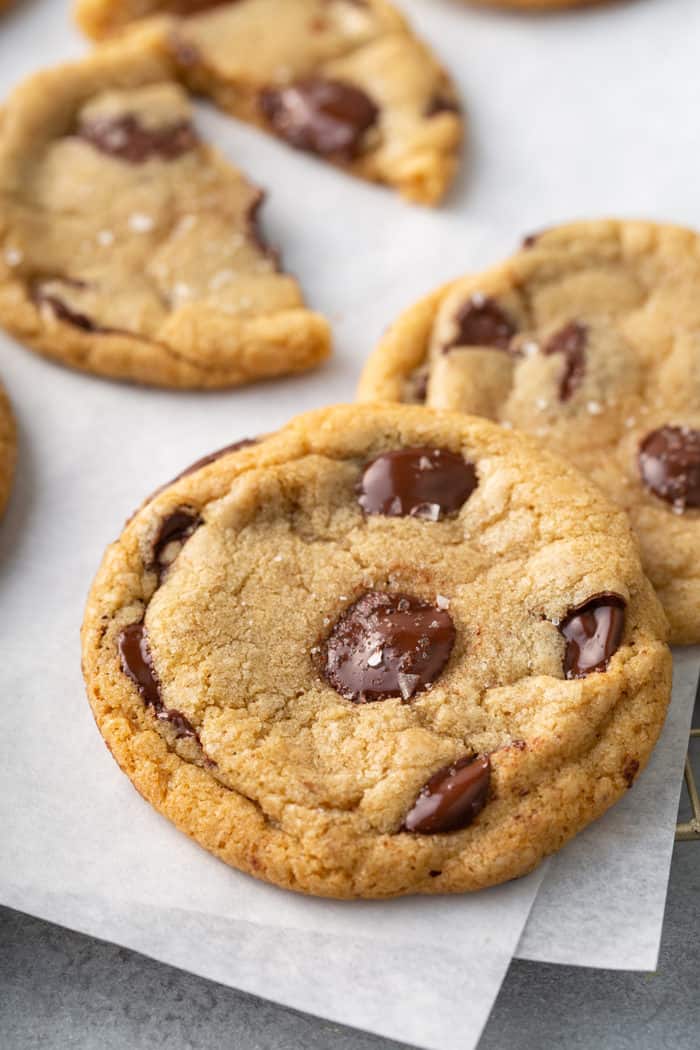 Stir together the flour and baking soda and gradually add it to the butter mixture. Mix until it just comes together, but don't overmix. Fold in the chocolate of your choice.
Refrigerate the dough for at least 2 hours. I typically shoot for overnight, but you can go as long as 24 hours.
When you're ready to bake, let the dough sit out at room temperature while the oven preheats. It will be quite hard until it sits out for a bit. Use a medium cookie scoop to portion the dough onto the prepared baking sheets. You should end up with right around 24 cookies.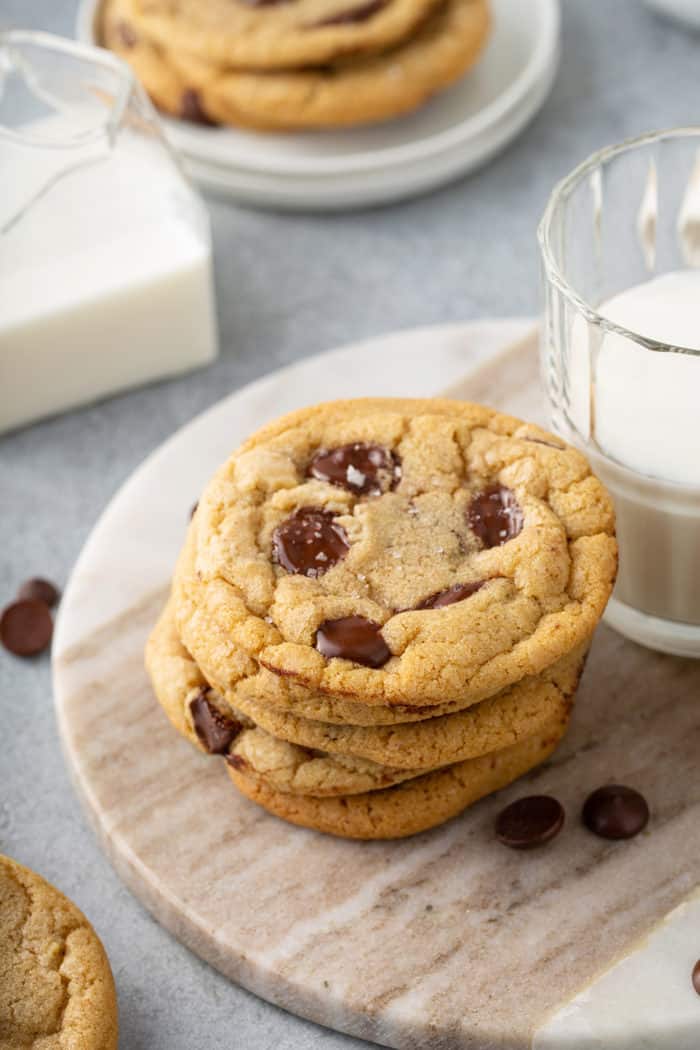 Bake cookies for 12-13 minutes, or until the edges barely start to brown. The centers will appear undercooked; this is what you're looking for. At this point, you can press some additional chips or chunks into the tops of the cookies and give them each a light sprinkling of flaky sea salt.
Technically both of these steps are completely optional, but I highly recommend them. I promise that sea salt really puts them over the top!
I know you will totally love these Brown Butter Chocolate Chip Cookies. Just try to stop at one!