This Easy Meatloaf is a Sunday dinner classic. Serve this comfort food alongside potatoes, salad, or your favorite roasted vegetables for a perfect family dinner.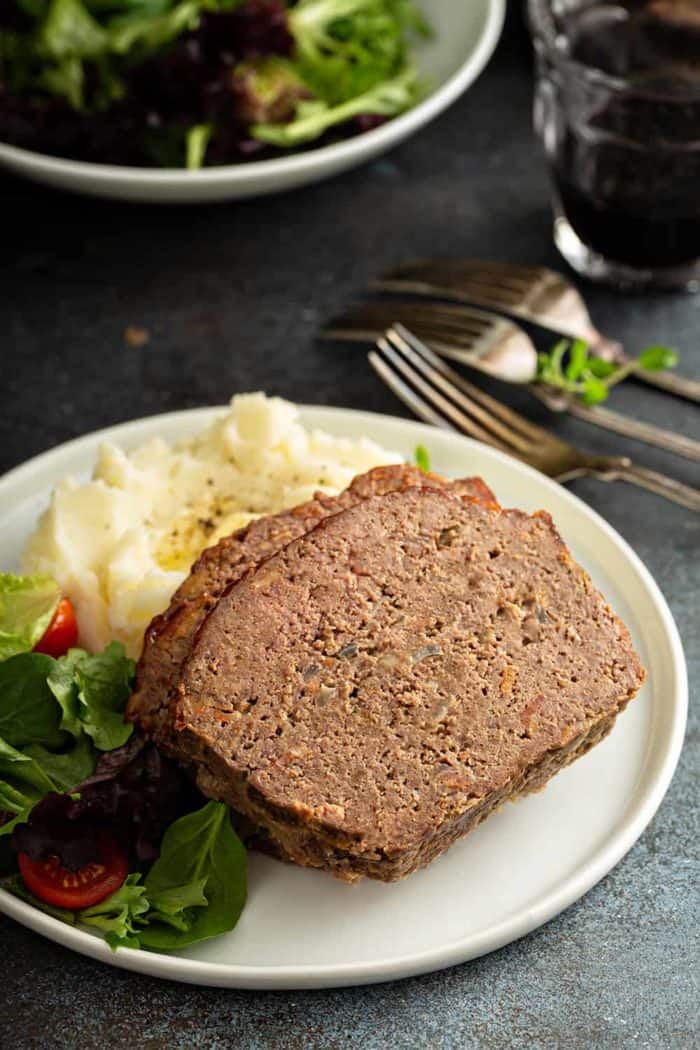 I know this might seem a bit surprising to some of you, but meatloaf – good meatloaf – is one of my very favorite things to eat.

There's just something about it that makes me feel all warm and cozy especially when it is served up with mashed potatoes.
Any seriously, is there anything better than a slice of cold meatloaf on soft white sandwich bread?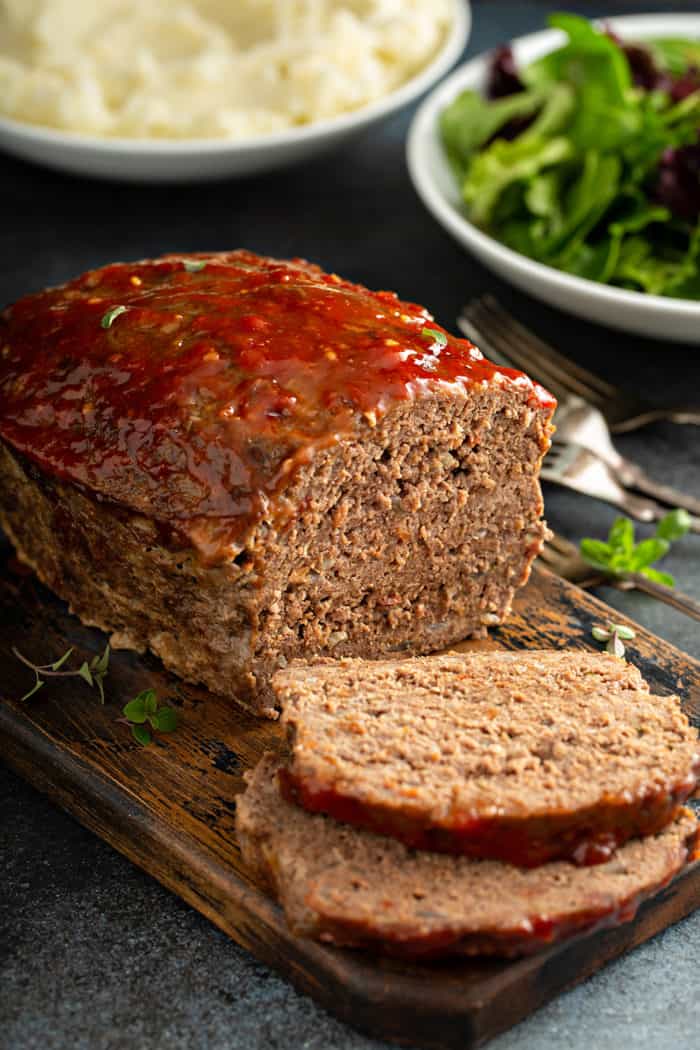 THE BEST MEATLOAF RECIPE
I don't know about you, but I think Sunday dinners are for comfort food. I'm talking things like Beef and Barley Stew, Baked Macaroni and Cheese, or Spaghetti and Meatballs.
And a real Sunday dinner classic? Meatloaf!
I get it. People either love or hate meatloaf. But I am guessing that anyone who doesn't like it hasn't had good meatloaf.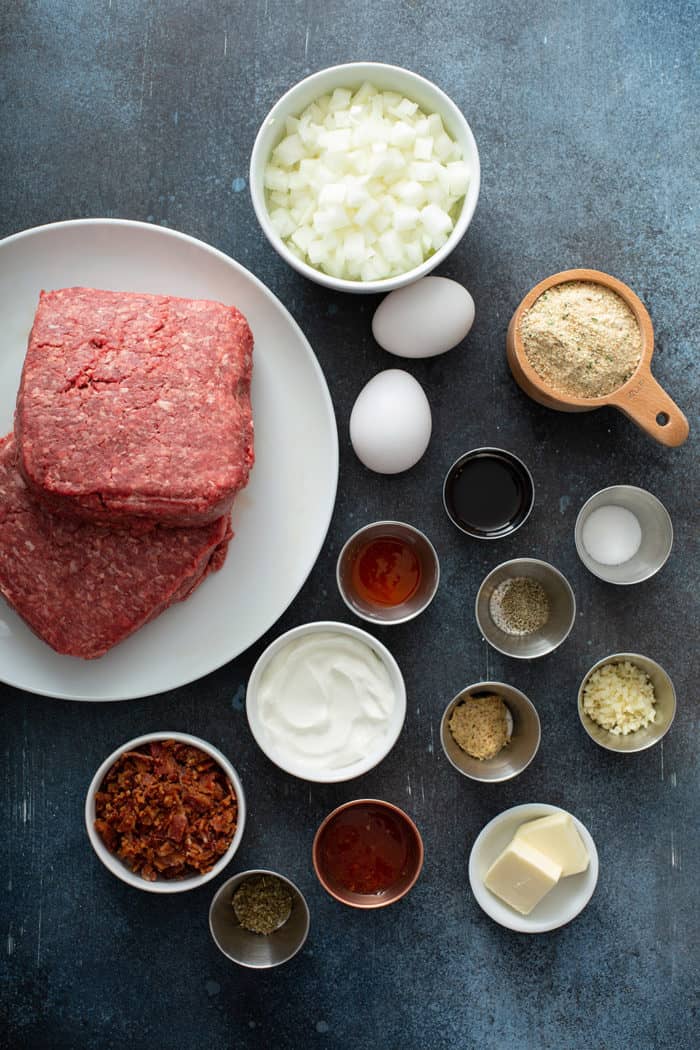 They've probably had dry, flavorless meatloaf. No good.
If this is you, this recipe can fix that. And the best part: it's easy to make.
Meatloaf shouldn't be overly complicated, in my opinion. A flavorful meat mix with plenty of aromatics, chili sauce on top. That's it.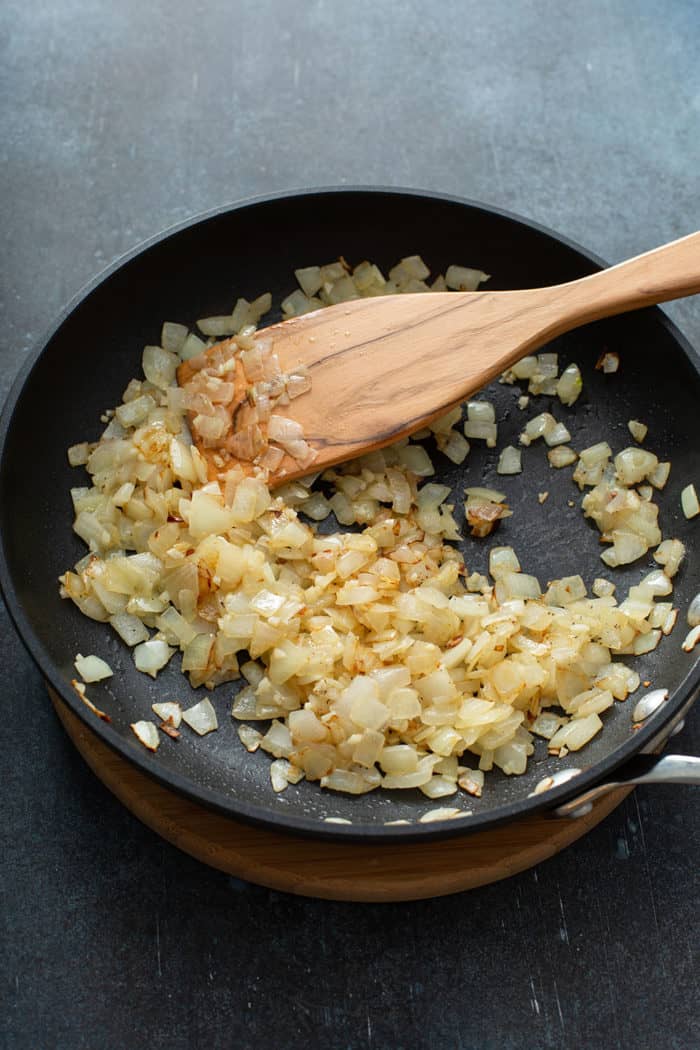 HOW TO MAKE MY EASY MEATLOAF
My Easy Meatloaf recipe has what might feel like a long ingredient list. Don't let that intimidate you or make you think this isn't simple to make.
I've built in a couple of shortcuts that will cut down on effort without sacrificing flavor:
Use a meatloaf mix. I like to use a mix of ground beef and ground pork (but you can use all beef if you prefer). Many grocery stores sell a "meatloaf mix" of half beef and half pork. Go ahead and use this! They did the work for you!
Use bacon bits. I don't mean the fake bacon stuff. Sometimes when I don't want to cook bacon, I use the real crumbled bacon you can get in the produce/deli section of the grocery store. You can also leave the bacon out if you prefer.
Top with chili sauce. Some people mix up their own sauce for the top of their meatloaf. I prefer to use bottled chili sauce – you can usually find it near the ketchup in the grocery store. It has the tanginess of ketchup but with some extra flavor.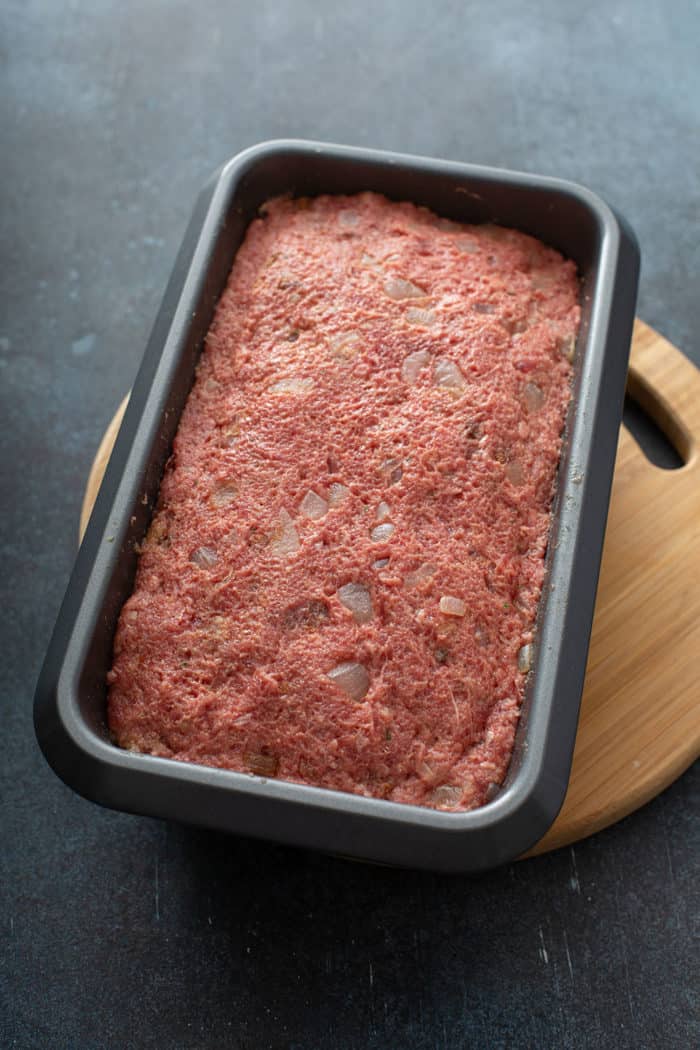 To make this recipe, start by sauteing the onion and garlic until they're soft and translucent. Does this seem like an extra step? Maybe, but I promise it makes a difference and it only takes a few minutes!
After the cooked onions and garlic have cooled, mix together all of the ingredients. You can mix everything with your hands or in a stand mixer with a paddle attachment on low speed for a couple of minutes.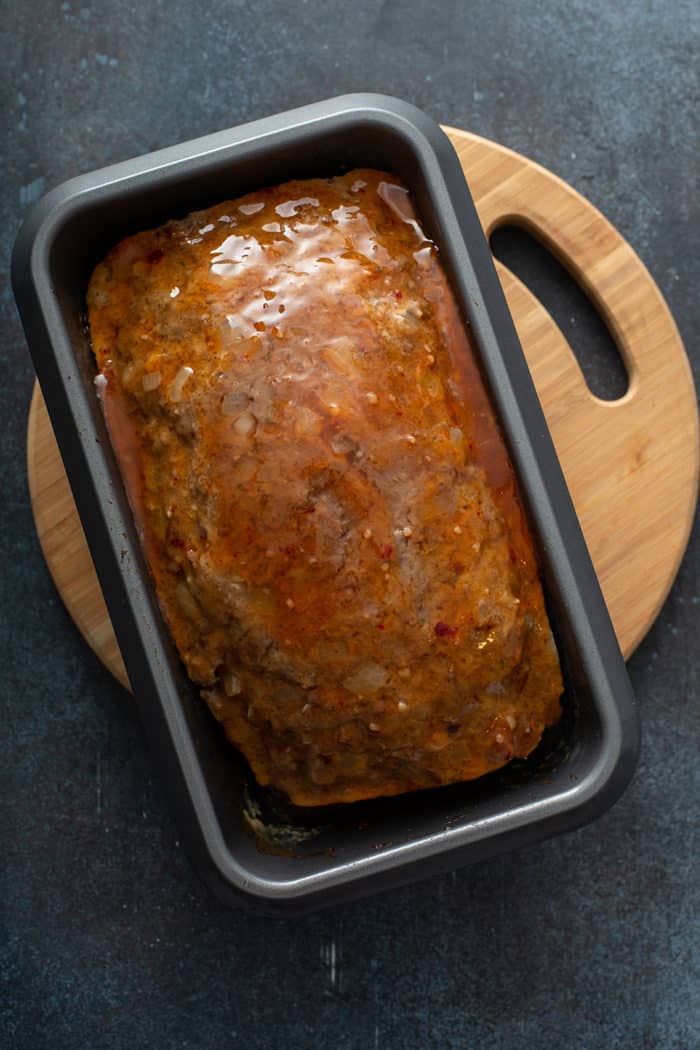 Just make sure not to over-mix if you go the mixer route or the meat can get tough.
Add the mix to a loaf pan. Cover and bake for 45 minutes. After 45 minutes, carefully pour off the fat into a heatproof bowl.
Top generously with as much chili sauce as you like and continue baking for another 15 minutes.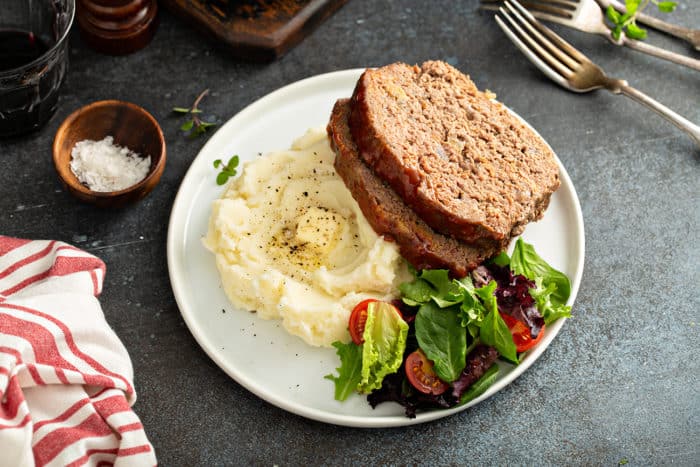 WHAT TEMP TO COOK MEATLOAF TO?
Even though you'll likely have to cook your meatloaf for around an hour, the safest way to make sure your Easy Meatloaf is fully cooked is to check it with a meat thermometer.
A thermometer inserted into the center of the loaf should read 160℉ when the meatloaf is done.
Even though beef and pork have lower internal doneness temperatures, ground beef and pork should be cooked to 160℉ .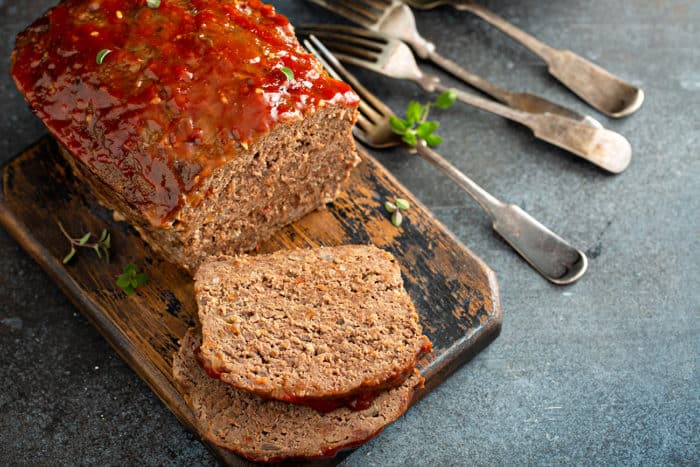 WHAT GOES WITH MEATLOAF?
Better question: What doesn't go with it?!
Potatoes are one of my favorite sides with a comfort-food meal like this. Baked potatoes or twice-baked potatoes are always a hit.
A green salad with homemade blue cheese dressing would be good, too.
If you like a little bit of sweet with your savory, you could even make a batch of crockpot applesauce or ambrosia salad!
No matter what you choose to serve with it, I hope you enjoy this Easy Meatloaf for your next Sunday night family dinner.