A delicious blend of Honeycrisp apples, apple pie spice and brown sugar are combined to create Crockpot Applesauce. You're just three ingredients away from the easiest homemade applesauce!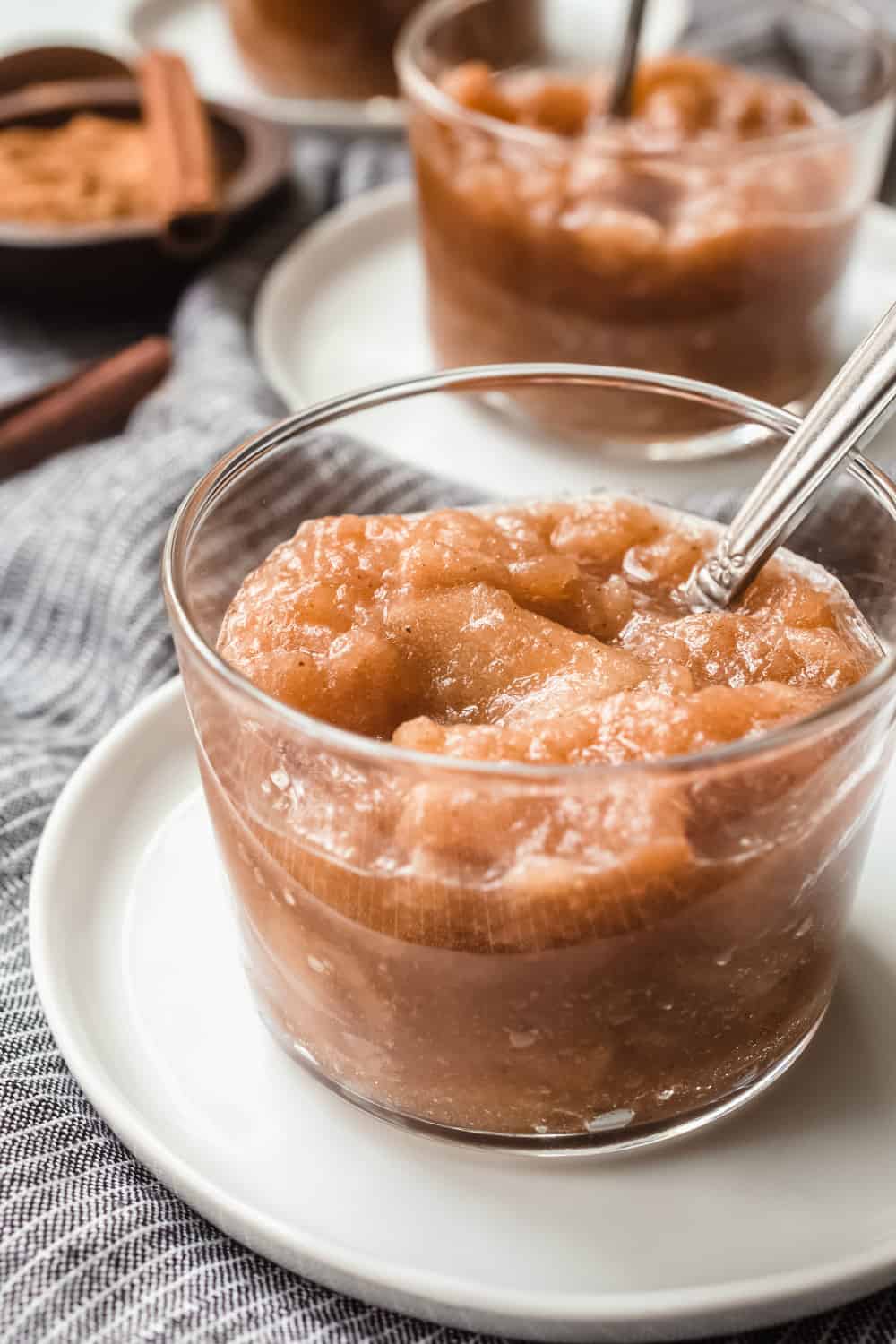 If you caught my post earlier this week for homemade apple pie spice, you know that I am in total apple mode right now.
Trust me, I'm definitely not over pumpkin pie spice, I'm just taking a little appreciate all the apple recipes!
From whipping up favorites like Snickers Caramel Apple Salad, Apple Pie Bread, Caramel Apple Poke Cake and this Crockpot Applesauce, I'm thoroughly enjoying apple season!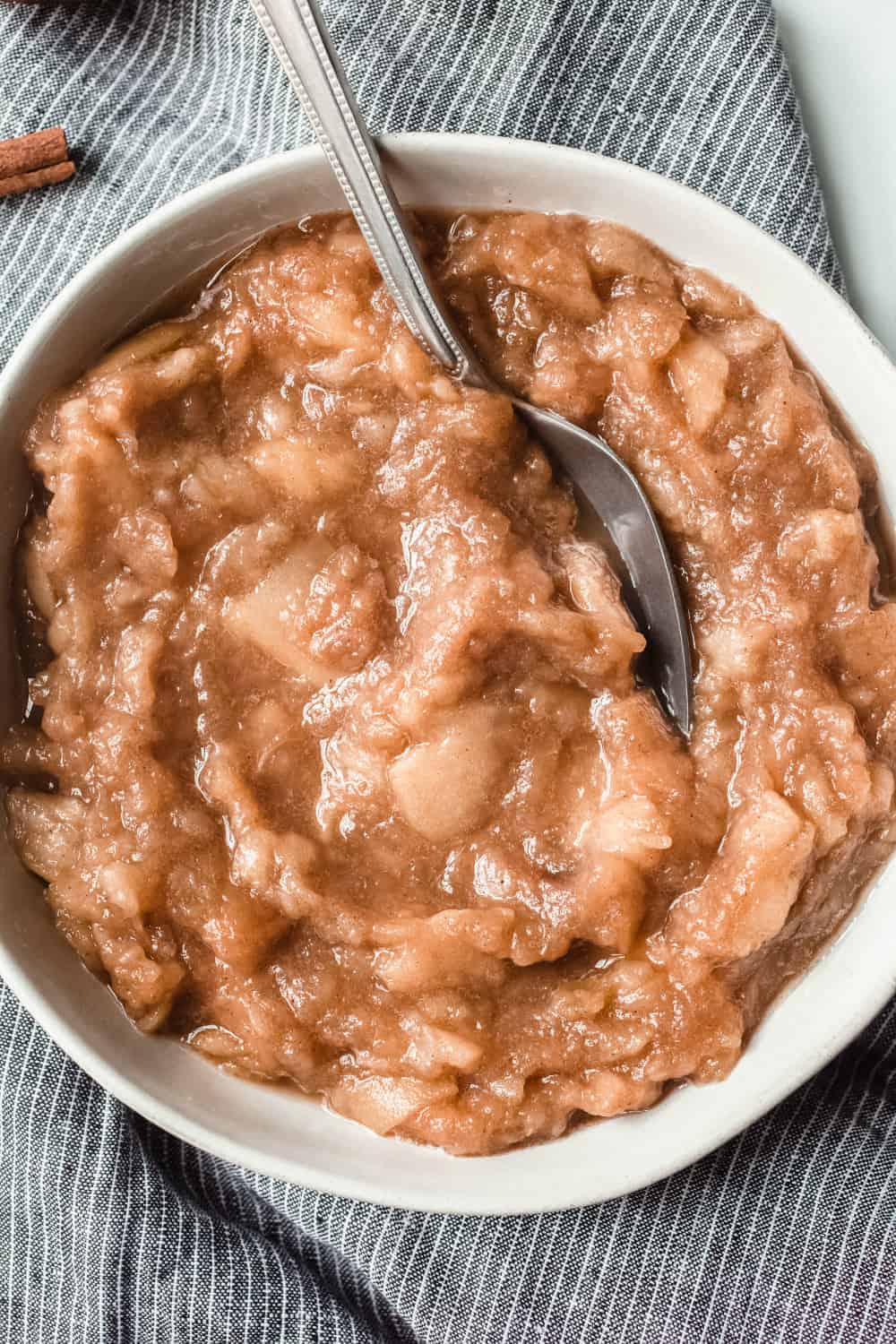 THE EASIEST HOMEMADE APPLESAUCE
Eric has an odd applesauce eating habit – he drinks, or shall I say slurps it out of the little plastic cups. Weird, right?
I even went as far as purchasing the little applesauce pouches that you basically drink – you know, the ones you give to toddlers – but they just weren't the same.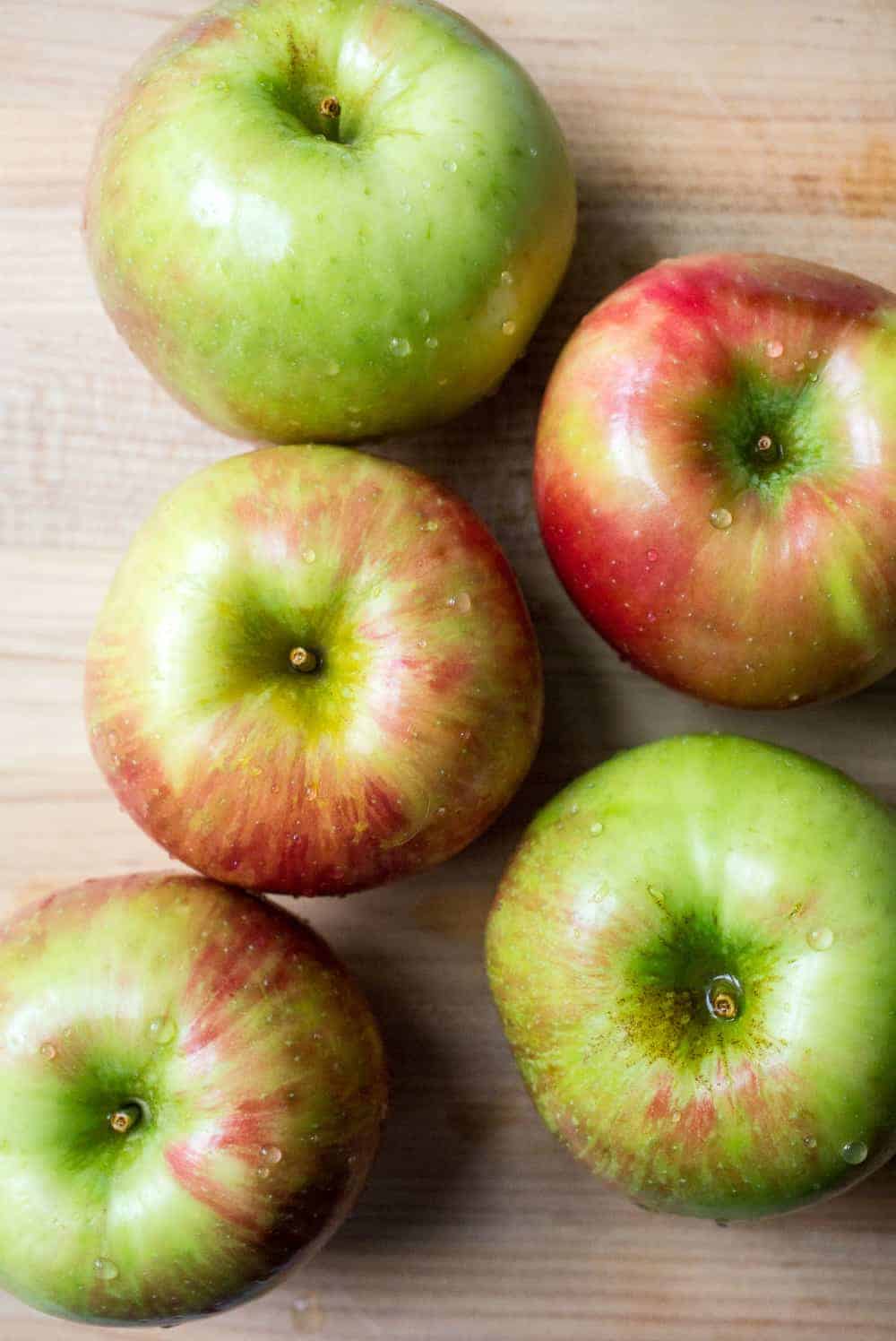 In his defense, the reasoning behind the slurp is quite simple – why dirty a spoon? Um, because that's the unwritten applesauce consumption rule.
So when I decided to make some homemade applesauce in an effort to use up the overabundance of Honeycrisp apples that had taken over our refrigerator, I figured I had nothing to lose if I made it in the slow cooker.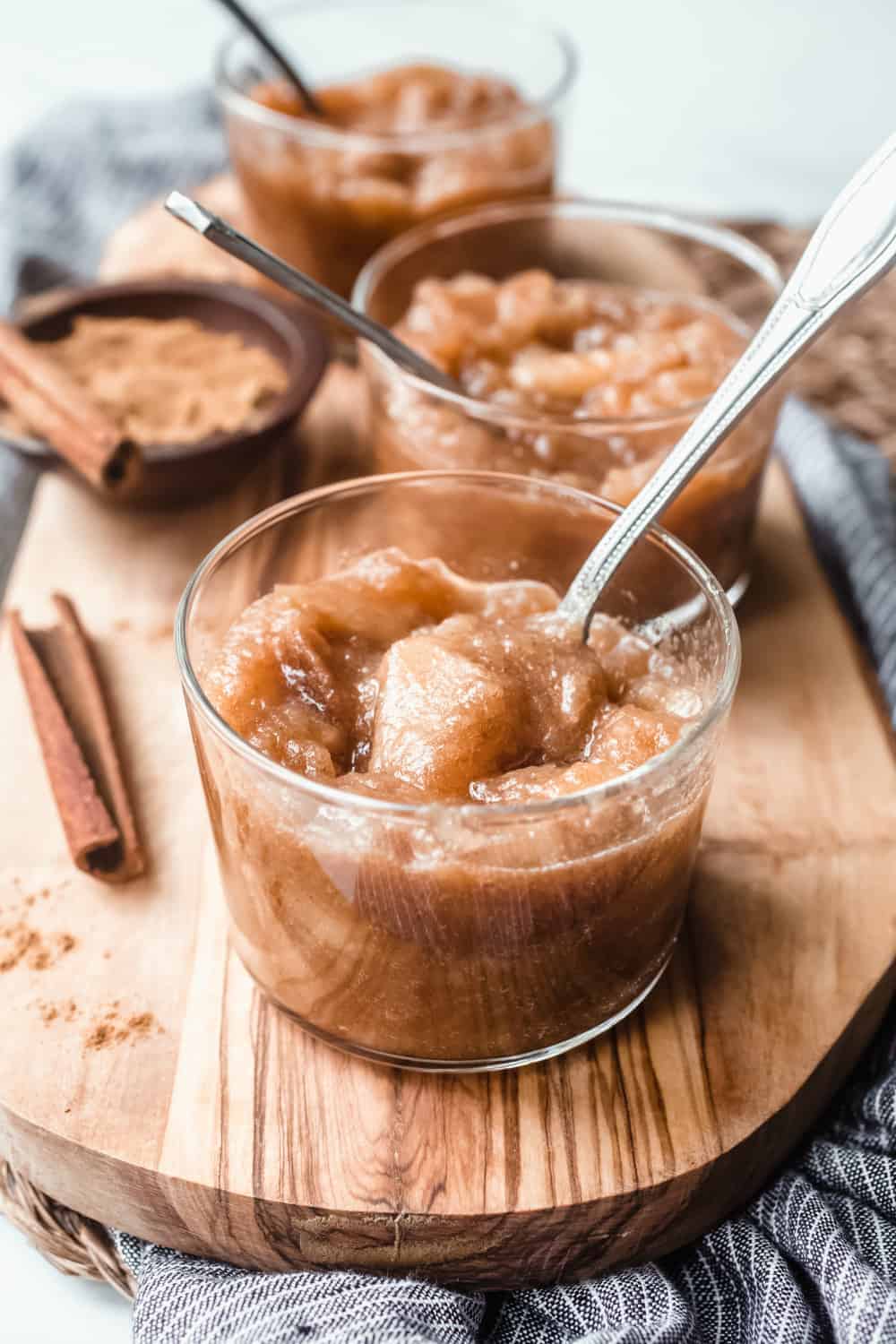 Because the recipe was so easy, I certainly wouldn't have put much energy into it if he decided it wasn't the same as what he gets in his beloved plastic cups.
The result was the most delicious applesauce that we've ever tasted. Not too sweet, enthusiastically spiced, with just the right amount of texture.
And yes, he totally found a way to drink it out of the little white serving dishes.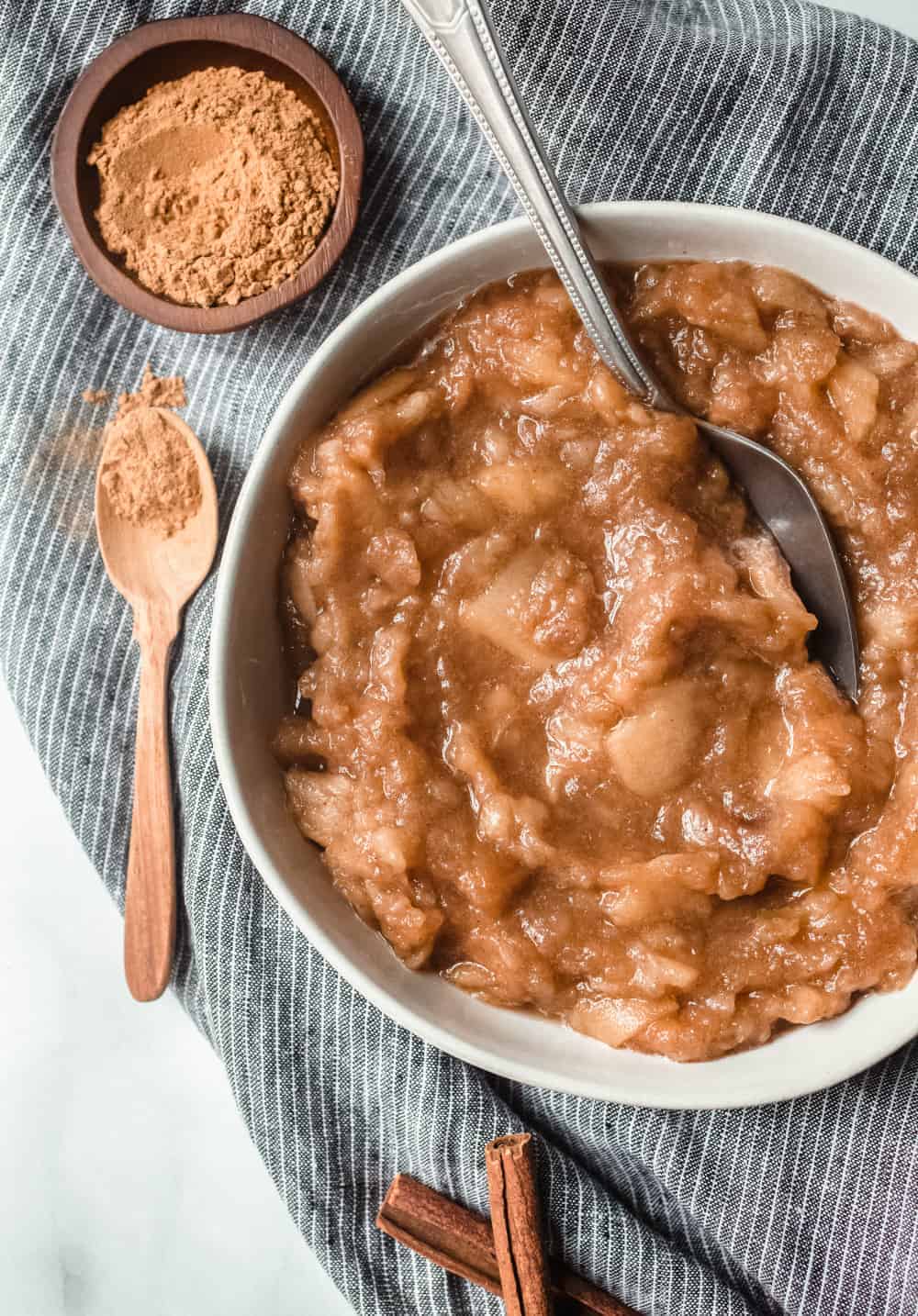 HOW TO MAKE APPLESAUCE IN THE CROCKPOT
Are you ready for how easy this recipe is?
Seriously: 3 ingredients and basically 1 step. That's it.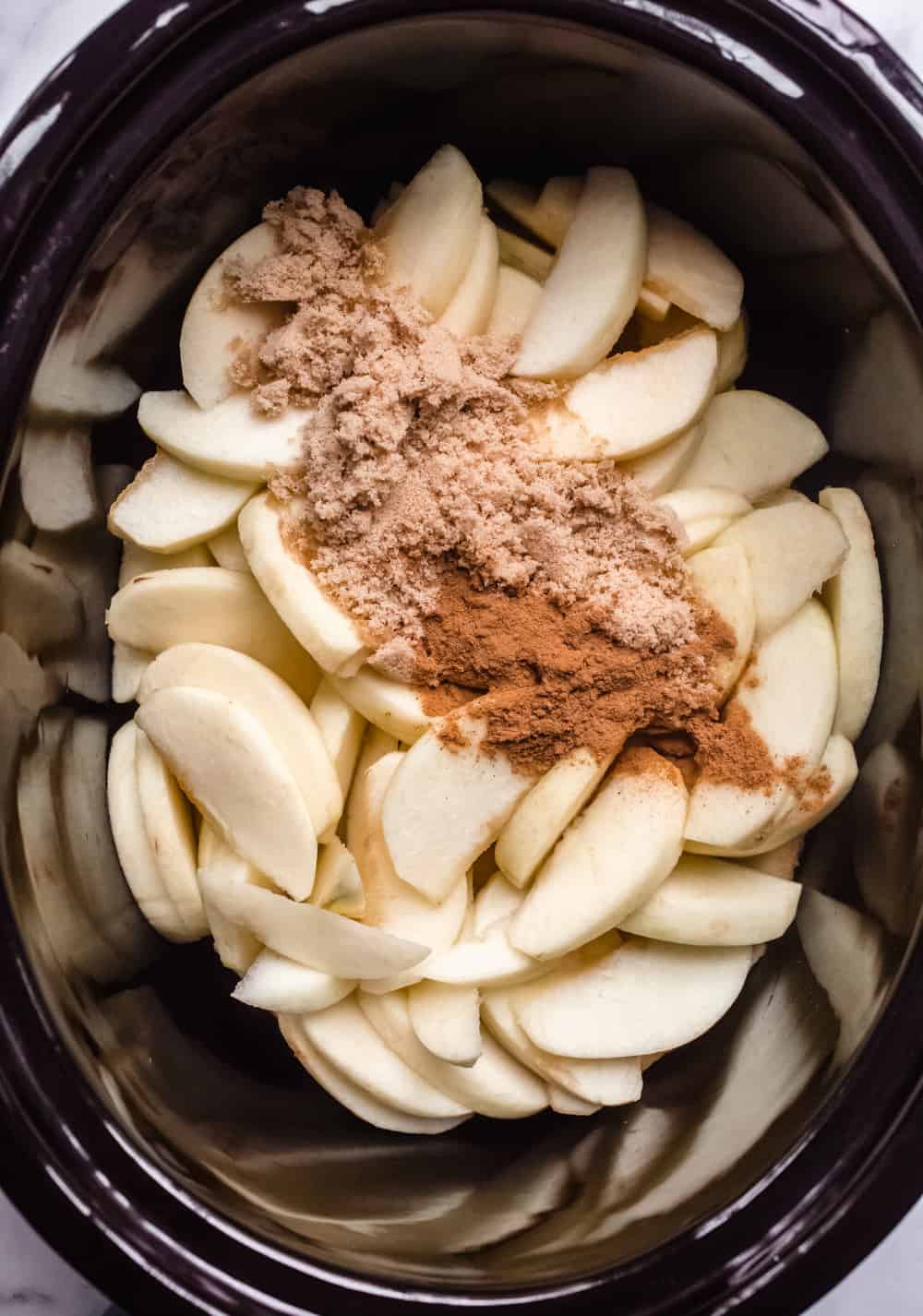 All you need are apples, apple pie spice and brown sugar. Toss everything into your slow cooker and cook for about 5 hours.
THAT'S IT.
Once it's cooked, you can decide how chunky or smooth you like your applesauce and mash or puree it to your personal liking.
We happen to like ours with a little texture, so I leave some chunks in it.
If this method seems familiar to you, it's because it's essentially the first half of making slow cooker apple butter. That's right, you pass right by homemade applesauce on your way to apple butter!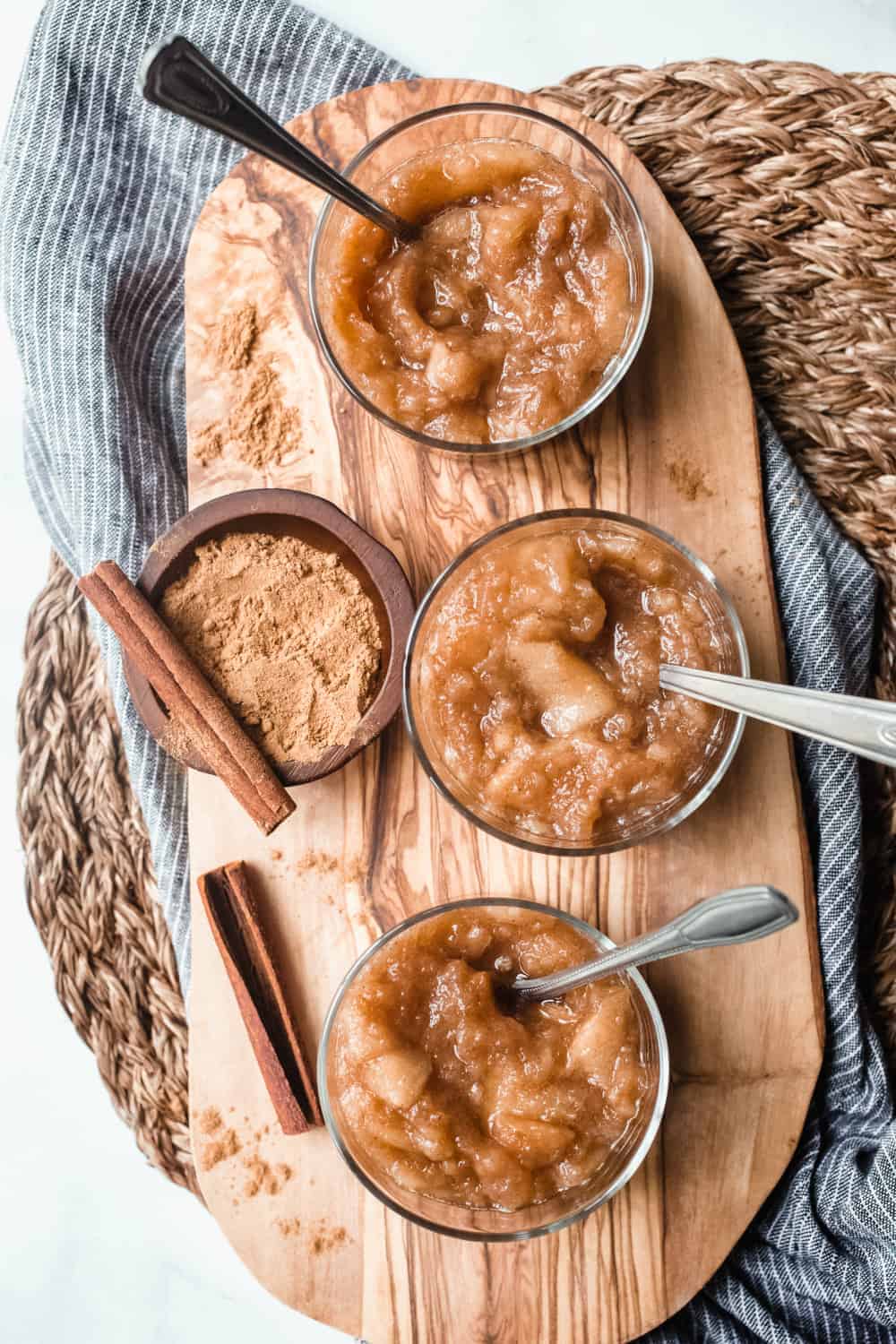 WHAT APPLES ARE BEST FOR HOMEMADE APPLESAUCE?
I happen to like using Honeycrisp apples to make my Crockpot Applesauce. I think they're just the right balance of sweet and tart.
Other crisp apples that have a bit of tartness to them would work well here, though. Golden delicious, jonagold, cortland and braeburn apples would all be great.
So head to the apple orchard, pick to your heart's content, and pop a batch of Crockpot Applesauce in your slow cooker!
Serve it slightly warm with a dollop of whipped cream, spooned over vanilla ice cream, drizzled over vanilla bean waffles or mascarpone pancakes, or straight from the fridge.
Or, you know, drink it from the serving dish. Whatever floats your boat.