Crock Pot Applesauce
A delicious blend of Honeycrisp apples, apple pie spice and brown sugar are combined to create Homemade Crock Pot Applesauce.
Eric has an odd applesauce eating habit – he drinks, or shall I say slurps it out of the little plastic cups. Weird, right? I even went as far as purchasing the little applesauce pouches that you basically drink, but they just weren't the same. In his defense, the reasoning behind the slurp is quite simple – why dirty a spoon? Um, because that's the unwritten applesauce consumption rule.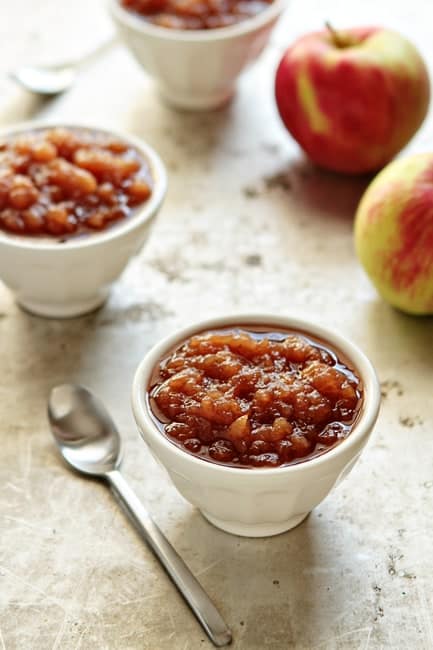 In an effort to use up the overabundance of Honeycrisp apples that has taken over our refrigerator, I decided to literally toss a few items into the Crock Pot and make Homemade Crock-Pot Applesauce.
The result was the most delicious applesauce that we've ever tasted. Not too sweet, enthusiastically spiced, with just the right amount of texture. And yes, he totally drank it out of the little white serving dishes.
Bust out your Crock-Pots, folks – this Crock-Pot Applesauce couldn't be easier or more delicious. And it's the perfect way to use up freshly picked apples from the orchard! Serve it slightly warm with a dollop of whipped cream, spooned over vanilla ice cream, drizzled over pancakes, or straight from the fridge.
This post may contain affiliate links. We are a participant in the Amazon Services LLC Associates Program, an affiliate advertising program designed to provide a means for us to earn fees by linking to Amazon.com and affiliated sites.