Apple Pie Bread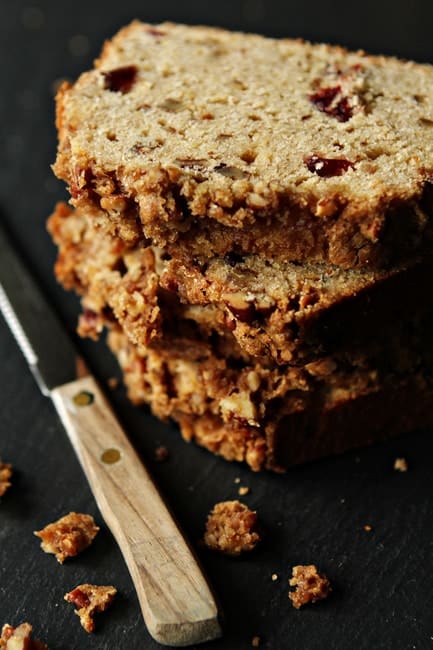 Okay, so this post is kind of serious. Not like totally serious, but in terms of a baking blog, this is a must-discuss topic. You guys know I bake a lot, but rarely do I make the same recipe more than a couple of times. Sure there are exceptions, like my grandma's pumpkin rolls and our fave chocolate chip cookies, but let's face it – there are just too many amazing creations to make, to go repeating myself in the kitchen.
Here's where it gets serious – I've made this Apple Pie Bread FOUR times in the past 2 weeks. Okay, one of those times I completely forget to set the kitchen timer and kinda became a little too engrossed in my DVR. I sort of burnt that one loaf, but I'm still counting it.
From the moment I first tasted Apple Pie Bread I was smitten. Sweet apples, blended with an enthusiastically spiced batter and finished with a nutty, streusel topping is pretty much my definition of Fall bliss.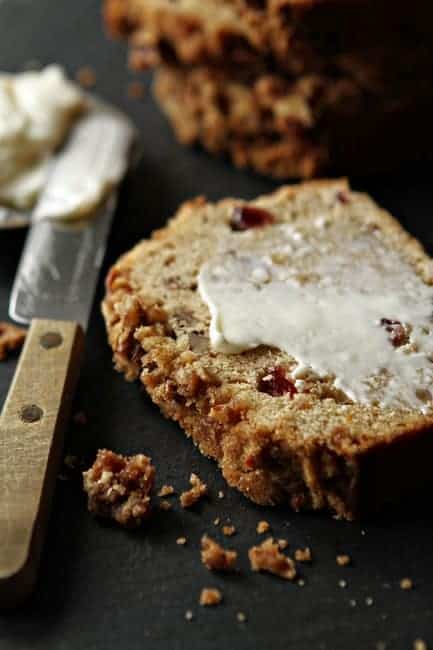 I can't get enough of this stuff – for breakfast, for a snack, for dessert. Don't get me started on all the other dirty things we could do with it, like French Toast or bread pudding. My oh my, this Apple Pie Bread is the stuff my dreams are made of.
I can see this being the perfect start to a day of apple picking, or Thanksgiving morning. Just imagine its heavenly scents wafting through the house to wake your family – you'll be the Apple Pie Bread hero.
I can't wait to hear what you think of Apple Pie Bread!
Apple Pie Bread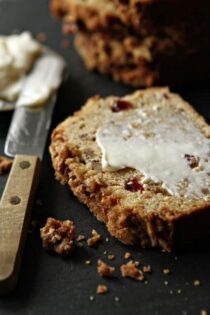 Ingredients:
For the Batter
1/2 cup unsalted butter, softened
1/2 cup granulated sugar
1/2 cup lightly packed light brown sugar
1/4 cup buttermilk
2 teaspoons baking powder
2 eggs
1 1/2 teaspoon vanilla
2 cups Gold Medal all-purpose flour
2 teaspoons homemade apple pie spice
1/2 teaspoon salt
2 cups shredded, peeled apple (about 4 medium or 2 large) (see note below)
3/4 cup chopped pecans
1/2 cup dried cranberries
For the Topping
1/4 cup lightly packed light brown sugar
3 tablespoons all-purpose flour
1/4 teaspoon homemade apple pie spice
2 tablespoons unsalted butter
1/3 cup chopped pecans
Directions:
Preheat oven to 350°F. Spray a 9x5x3-inch loaf pan with nonstick cooking spray; set aside.
In the bowl of an electric mixer fitted with the paddle attachment, or in a large bowl with an electric mixer, beat the butter on medium-high speed for about 30 seconds.
Add in sugars and mix until well combined.
Add buttermilk and baking powder; beat until combined.
Add eggs and vanilla; beat until thoroughly incorporated.
In a medium bowl, combine flour, apple pie spice and salt, whisk until combined.
Slowly add the flour mixture to the bowl and mix on low speed until just incorporated.
Fold in apples, pecans and cranberries.
Spoon batter into prepared pan; spread evenly. Prepare the Streusel Topping.
In a small bowl, combine brown sugar, flour and apple pie spice. Using a pastry blender, cut in butter until mixture resembles coarse crumbs. Stir in pecans. Spoon Streusel Topping over the batter, pressing them gently into the batter.
Bake for 60 to 65 minutes or until a wooden toothpick inserted near the center comes out clean.
Cool in pan on a wire rack for 10 minutes. Remove from pan. Cool completely on wire rack. Wrap and store overnight before slicing.
Notes:
Depending upon the type of apples you use, you may end up with a great deal of liquid after grating the apples. I suggest using only the grated apples, not the liquid that is produced. If necessary, lightly squeeze the apples to release any excess juice before adding them to the batter.
I have made this recipe using Honey Crisp and Granny Smith apples.
Raisins and walnuts would be a spectacular addition to this bread.
You don't have to wait for the loaf to sit overnight before cutting, it just tastes better after the flavors have had a chance to meld.
My Baking Addiction adapted from Better Homes and Gardens
All images and text ©
Follow Jamie on Instagram. We love to see what you're baking from MBA! Be sure to tag @jamiemba and use the hashtag #mbarecipes!
This post may contain affiliate links. We are a participant in the Amazon Services LLC Associates Program, an affiliate advertising program designed to provide a means for us to earn fees by linking to Amazon.com and affiliated sites.