Filled with fall apples, studded with pecans and dried cranberries, and crowned with a sweet streusel topping, this Apple Pie Bread is what breakfast dreams are made of!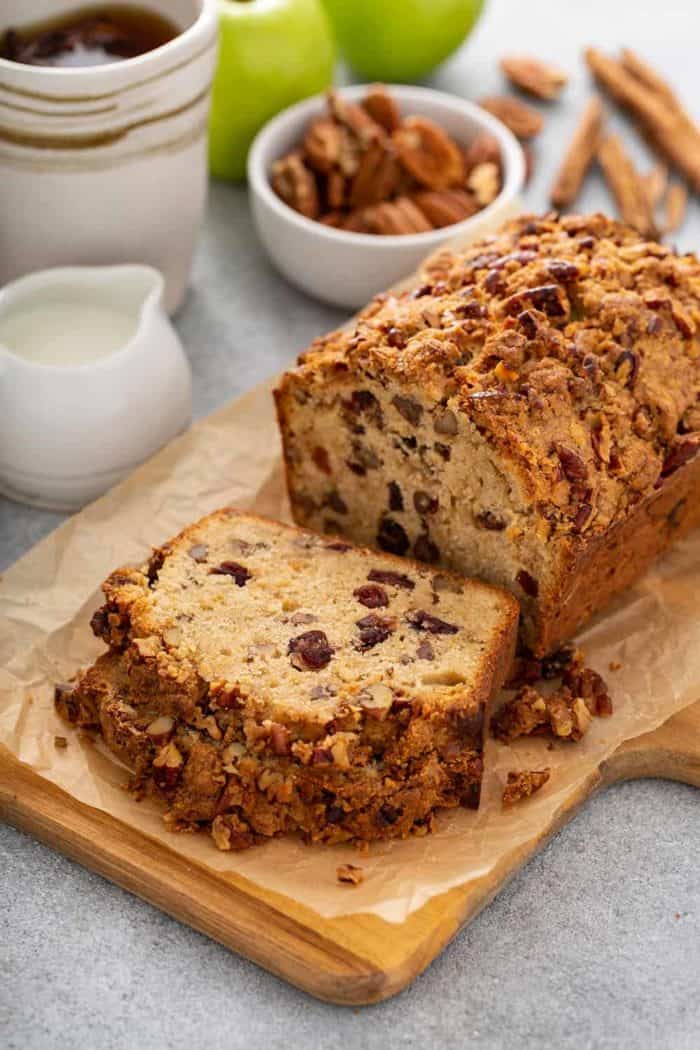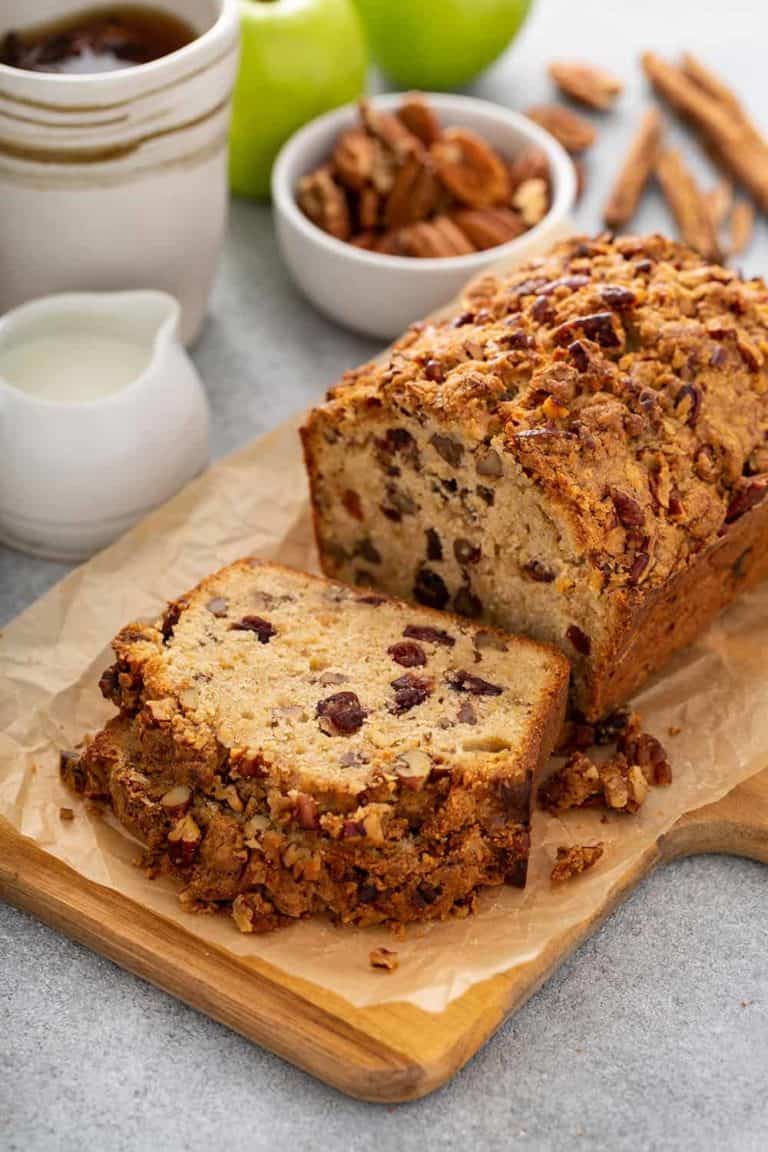 I know it's only September 9th and it's still blazin' hot outside, but you guys, I kind of think I'm ready to decorate for fall.
I probably shouldn't have walked into both Kirkland's and Home Goods yesterday, but ever since seeing all the pumpkin decor, I've been thinking about pulling the fall/Halloween bins up from the basement.
Tell me..when do you decorate for fall?
Not only am I ready to decorate for fall, but I am also pretty excited about fall baking – especially apple recipes like this Apple Pie Bread!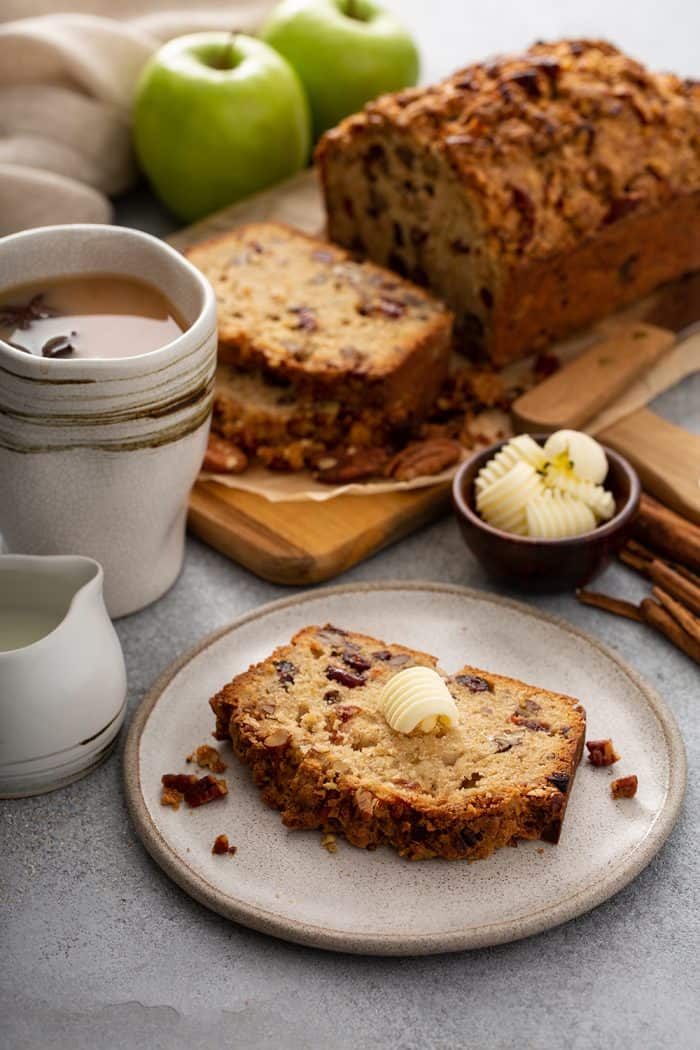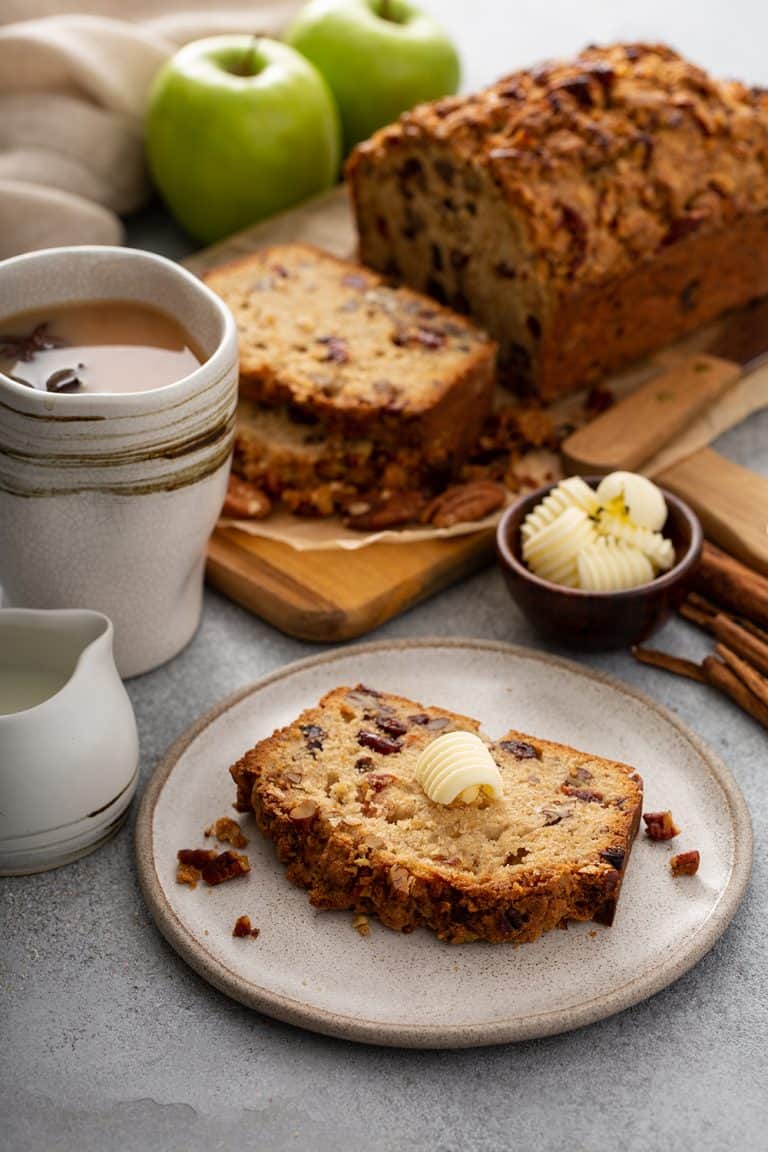 MY FAVORITE APPLE CINNAMON BREAD
This time of year, things get pretty pumpkin serious around here.
I'm waiting to share my first pumpkin recipe on the blog this year, but that doesn't mean that I haven't made a loaf of pumpkin bread or a stack of pumpkin pancakes for my family yet.
But don't think I forget about one of my other favorite fall treats: apples!
We love to go apple picking, and Old Fashioned Apple Crisp, Crockpot Applesauce, and Slow Cooker Apple Butter all get made multiple times throughout the season around here.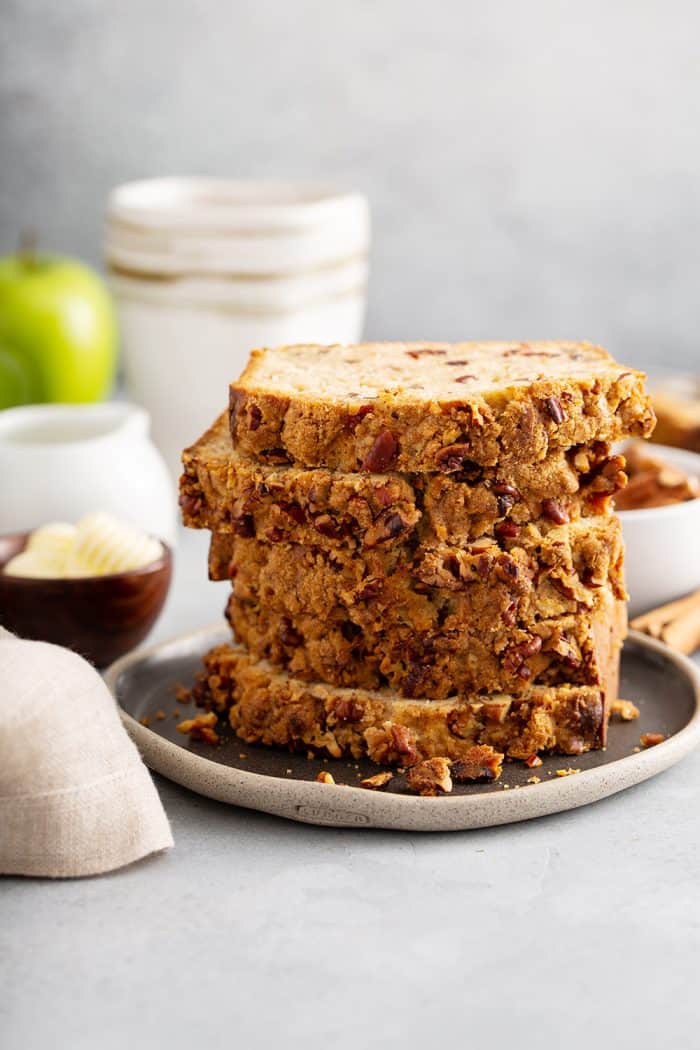 Another recipe we make a lot every year is this Apple Pie Bread.
Simply calling this "apple cinnamon bread" doesn't do it justice. It's so much more than just an apple cinnamon bread.
To start, it uses my homemade apple pie spice, which has nutmeg, allspice, ginger, and cardamom in addition to the cinnamon.
And before baking, the batter – which is full of grated apple, chopped pecans, and dried cranberries – is sprinkled with a pecan streusel topping. The streusel gets wonderfully crunchy in the oven and adds the perfect amount of texture and sweetness to this bread.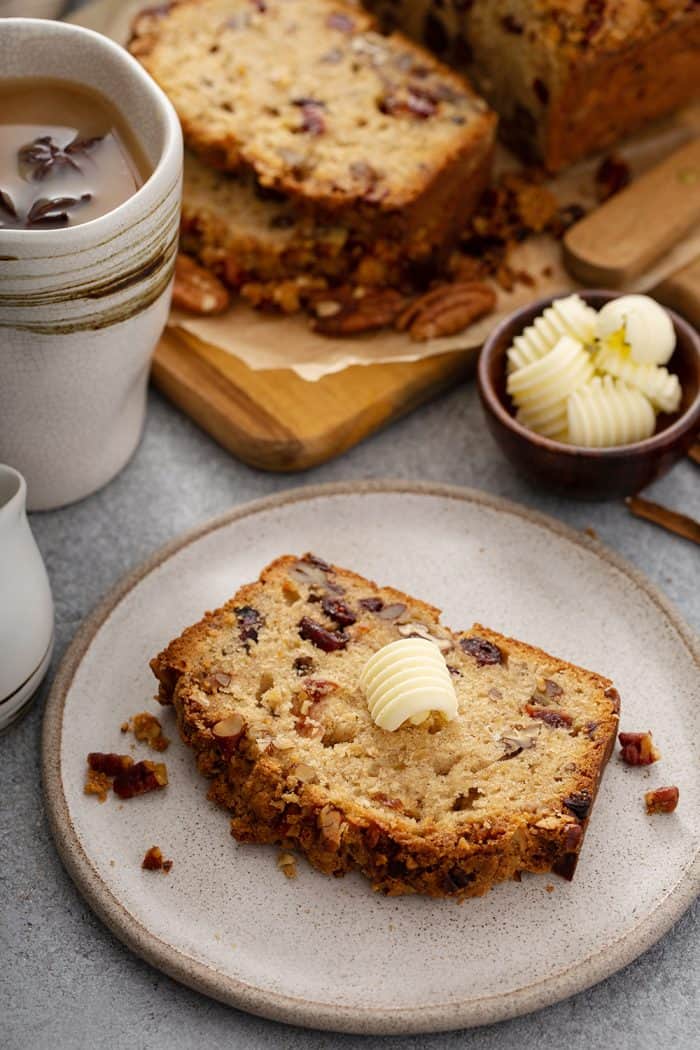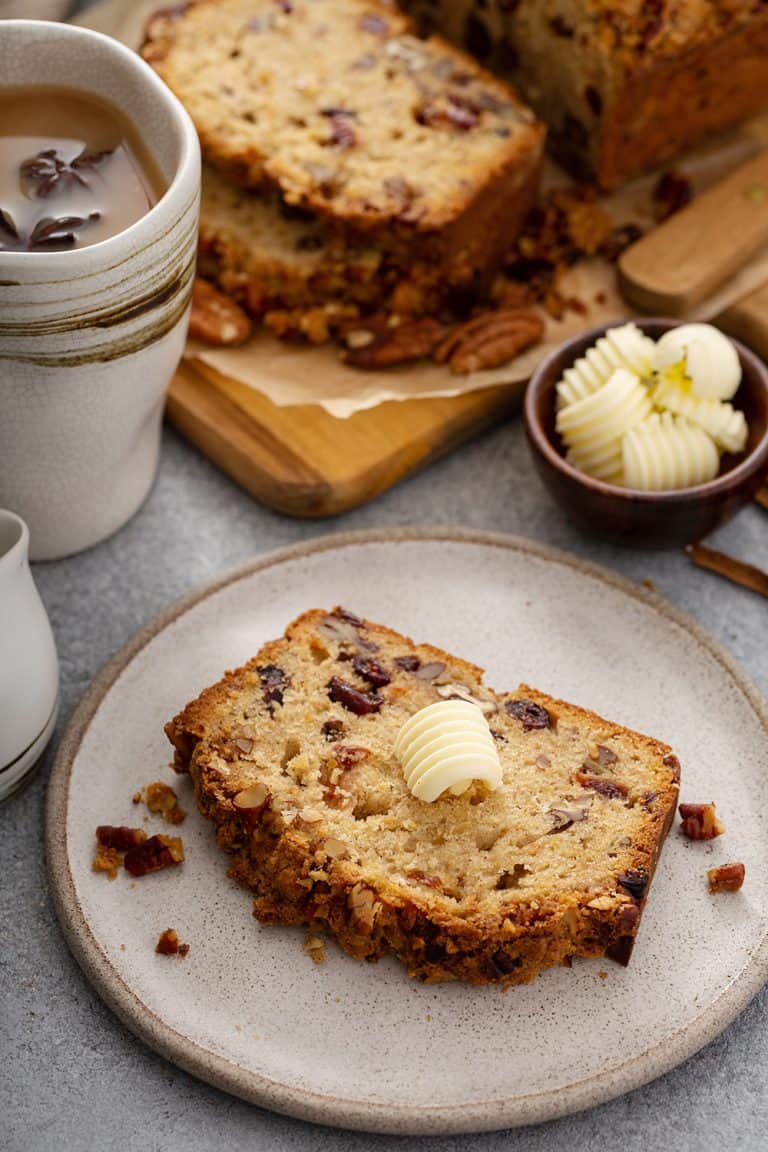 It really is like biting in a piece of apple pie in bread form.
Apple Pie Bread is delicious for breakfast, as an afternoon snack, or even as a bite of dessert when you just need something sweet. But don't get me started on all the other dirty things we could do with it, like French toast or bread pudding.
My oh my, this Apple Pie Bread is the stuff my dreams are made of.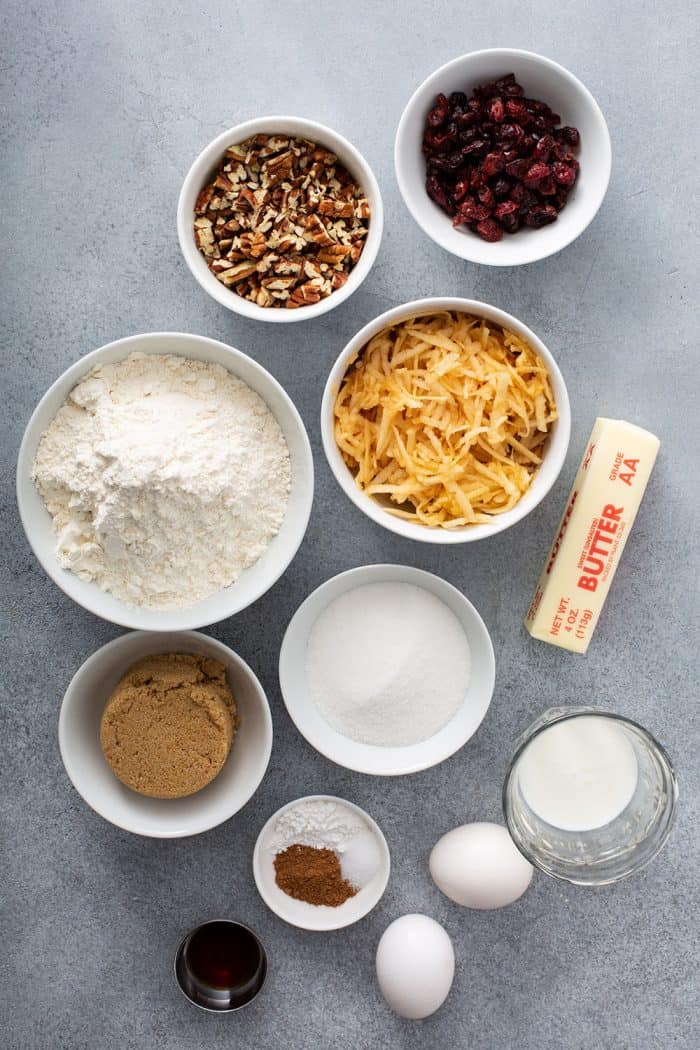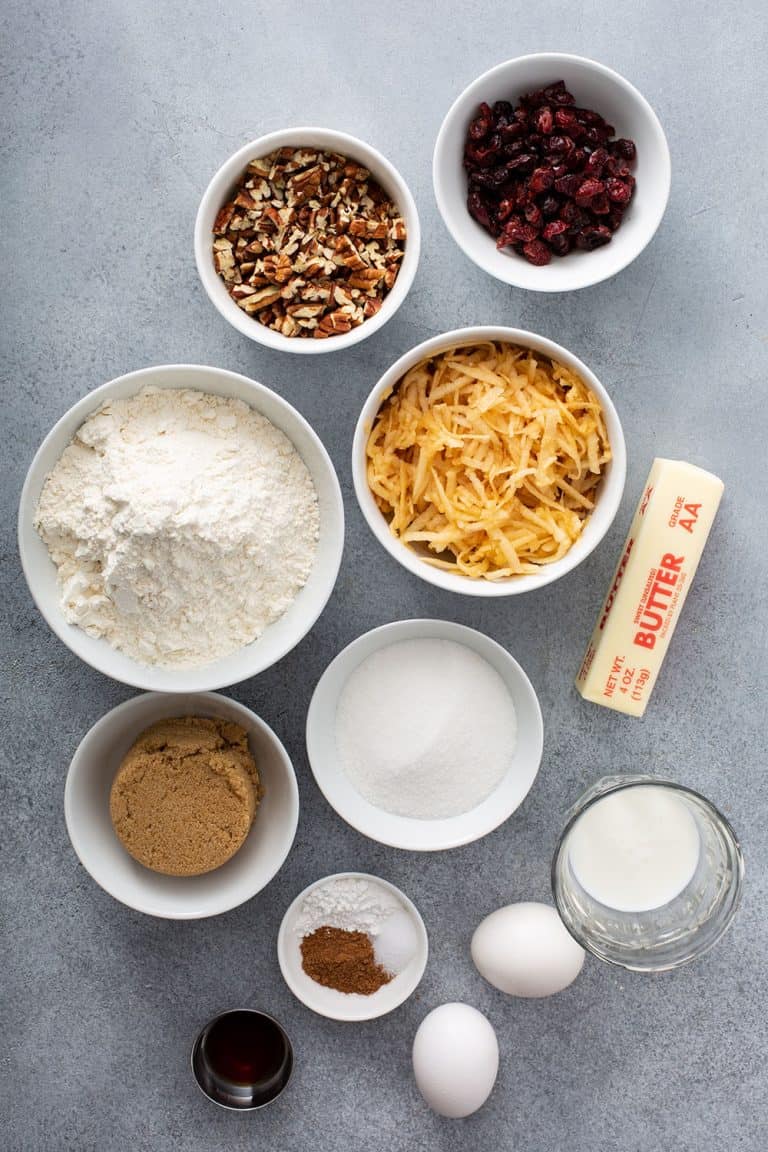 HOW TO MAKE APPLE PIE BREAD
Apple Pie Bread comes together like most of the quick bread recipes we make.
The wet ingredients get combined together, then the dry ingredients get added to the wet ingredients. Next, fold in the mix-ins – in this case, shredded apple, chopped pecans, and dried cranberries.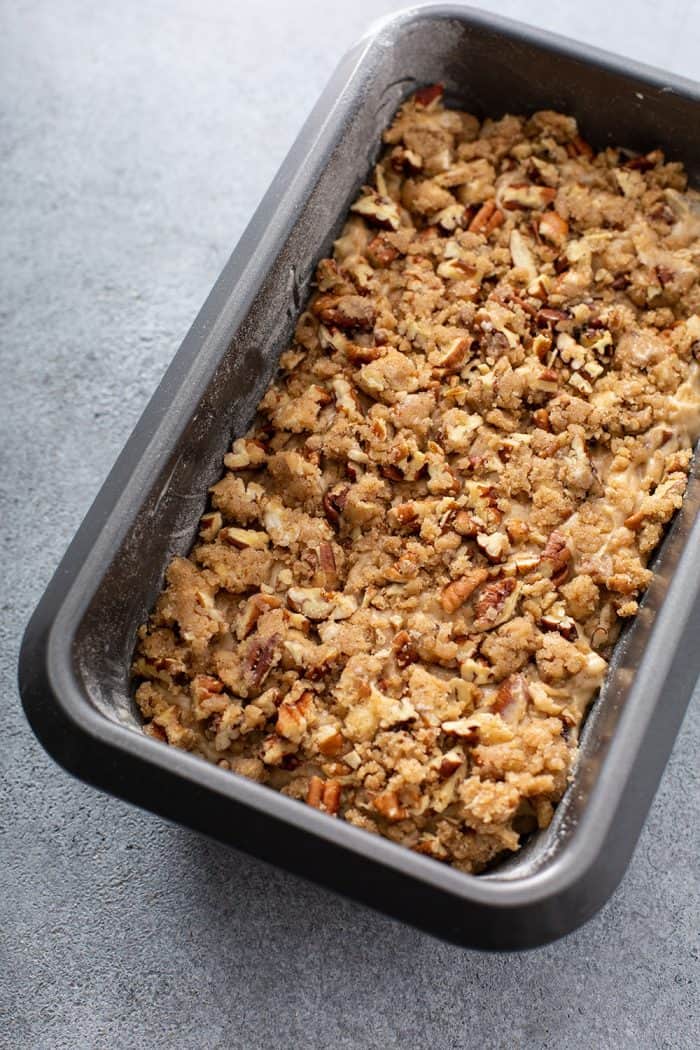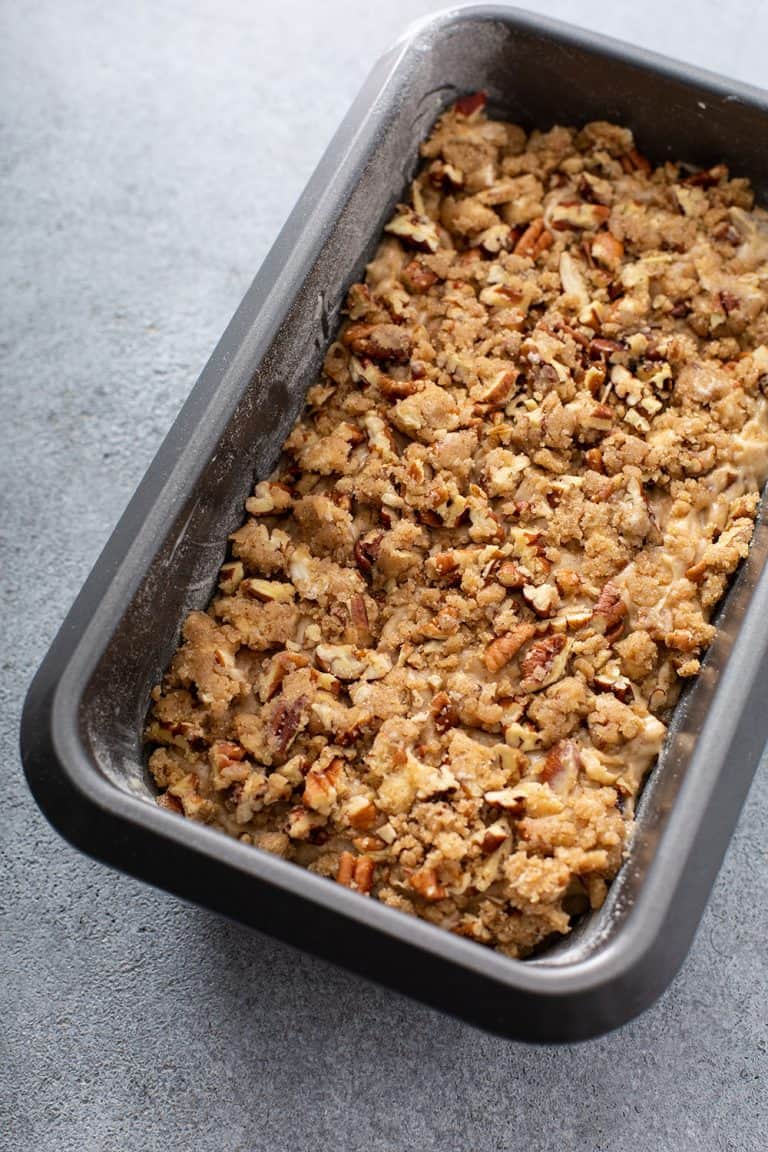 Because apples are a little bit of a harder fruit, I like shredding them for this recipe instead of dicing them to make sure they cook through. It's similar to what we do when making carrot cake or zucchini bread.
If your apples give off a lot of liquid after shredding them, give them a light squeeze to wring out excess moisture before adding them to the bread.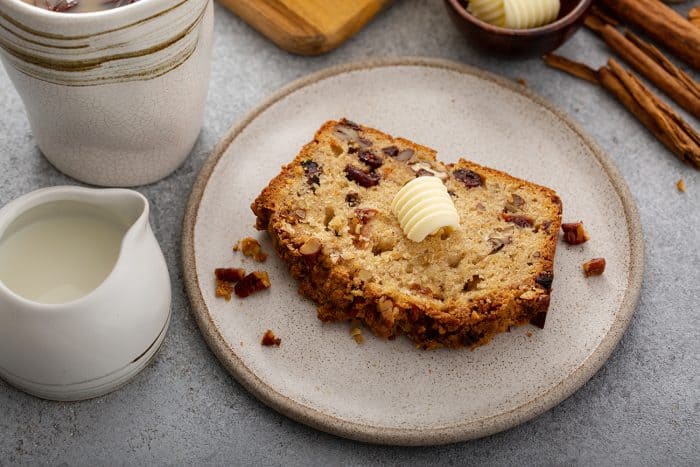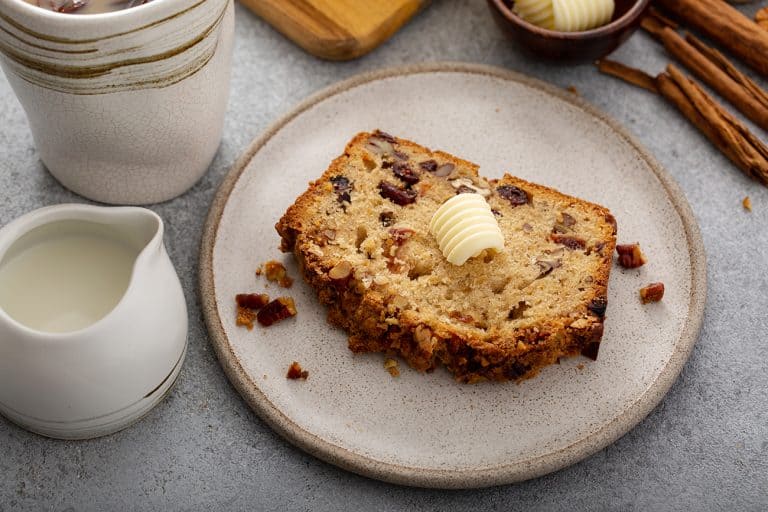 Once the bread batter is made, mix together the streusel. Stir together the dry ingredients and then cut the butter into them with a pastry blender.
Sprinkle this streusel on top of the bread batter and bake for about an hour.
You can serve the bread the same day it is baked, but I prefer to wrap it up after it has cooled and wait to serve it the next day. I love the way the flavors really shine through the next day!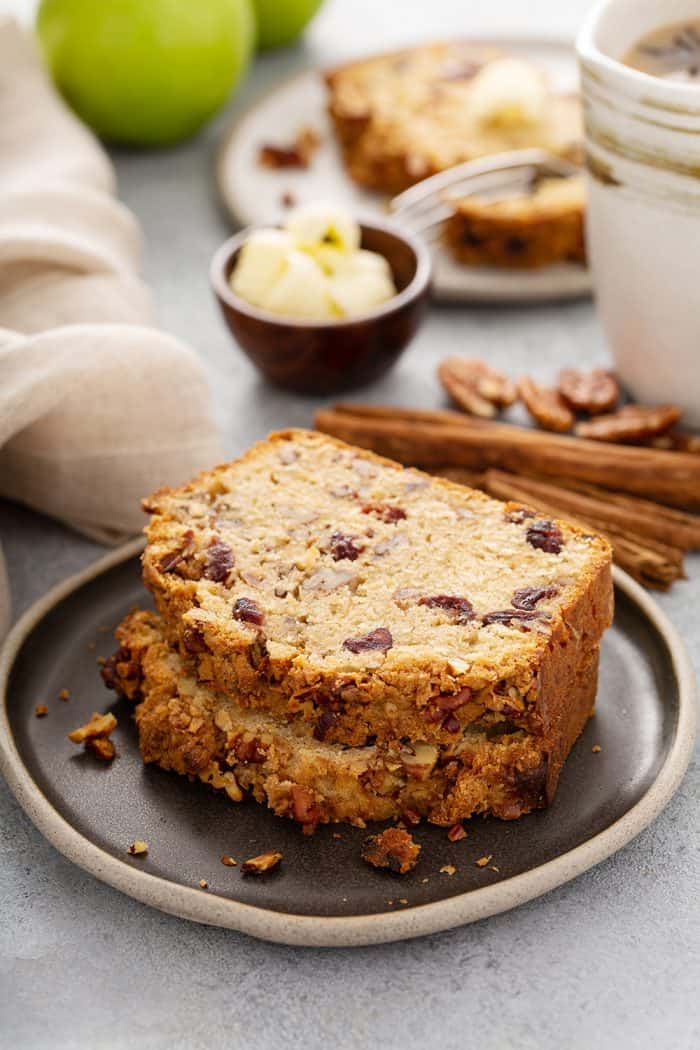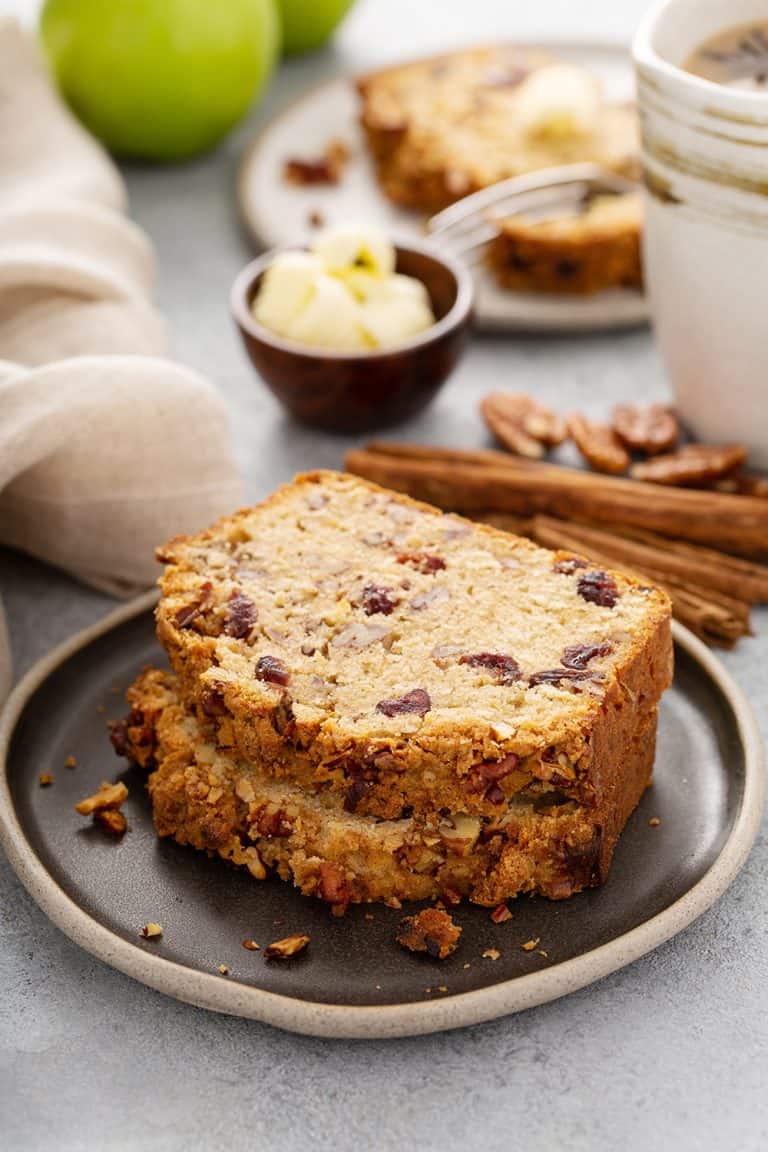 HOW TO STORE APPLE PIE BREAD
If you are planning to eat this bread within a day or two, you can go ahead and wrap it up or put it in an airtight container and store it at room temperature.
Because the apples make this bread pretty moist, especially after the first couple of days, I would recommend storing the bread in the refrigerator if you don't plan to eat it within 2 days.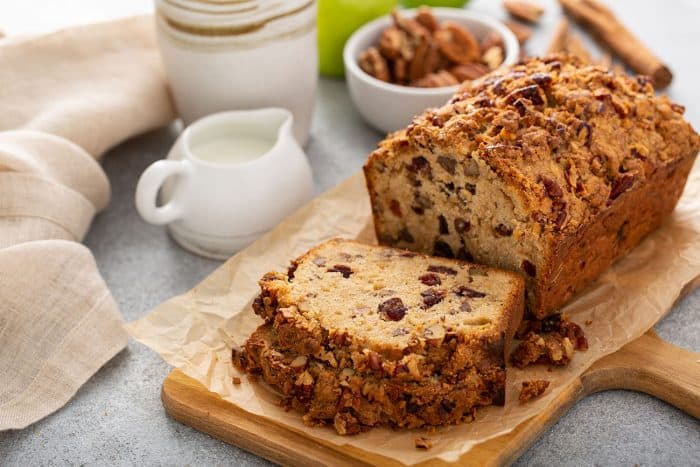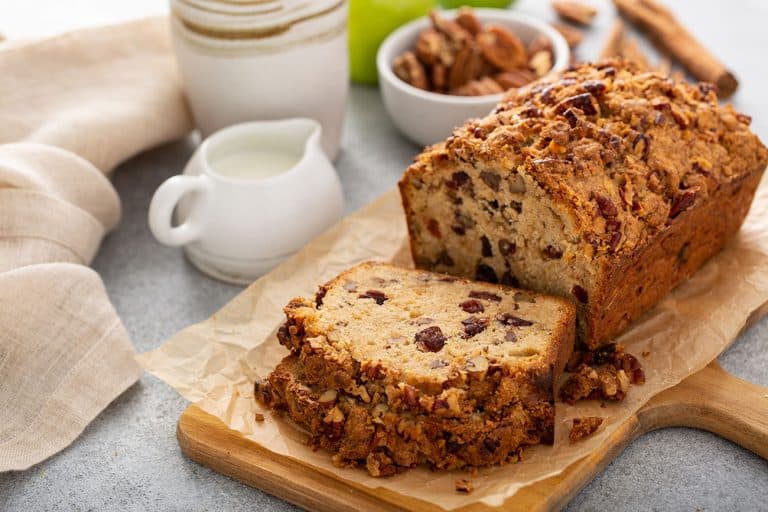 If stored in the refrigerator, it should last 4-5 days.
If you'd like the bread to have a longer shelf life, simply wrap it in foil or plastic wrap and place it into a freezer bag and freeze it for up to 3 months. You can freeze the loaf whole or cut it into slices and wrap those individually for quick breakfasts throughout the week.