Slow Cooker Apple Butter will make your entire house smell like Autumn. It also makes a great gift for the holidays, or a hostess gift at Thanksgiving. YUMMO!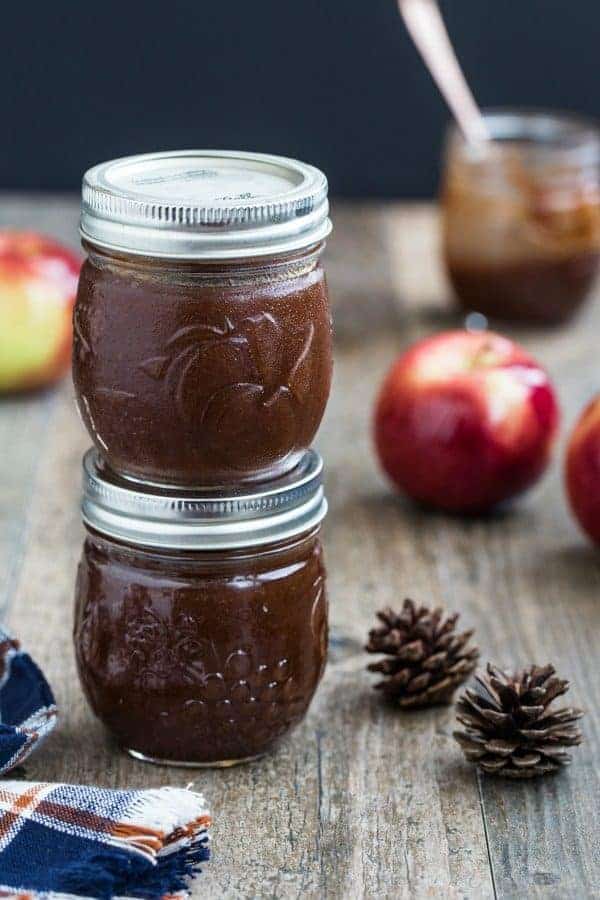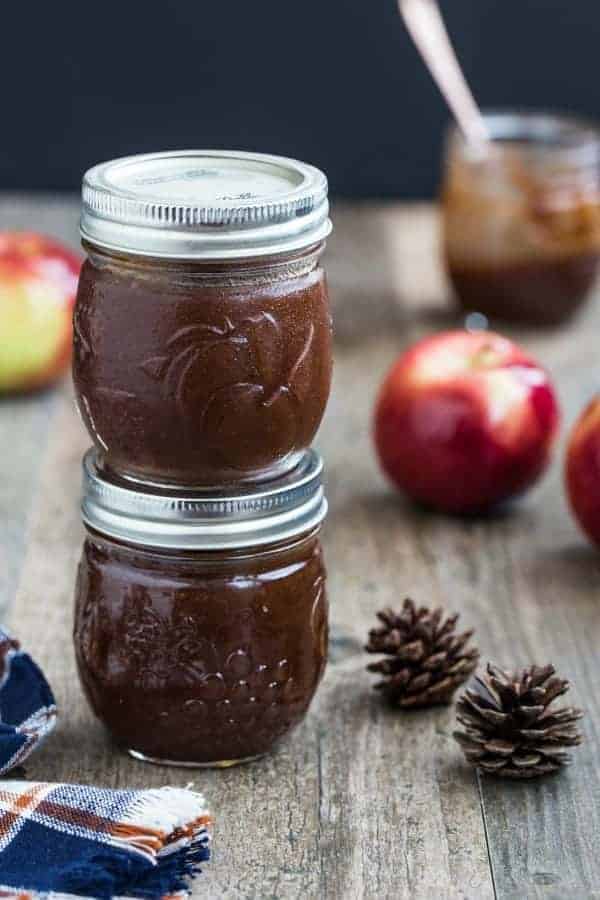 Autumn is my favorite season of the year. I am a lover of all things fall – the leaves and pumpkins, cozy sweaters and Ugg boots, a roaring fire with a good book and a plate of my No Bake Cookies, I adore it all – especially apple season.
A neighboring city hosts an Apple Butter Festival every October. It's full of holiday crafts, historical reenactments, and of course, amazing food.
Although I love meandering through the aisles of vendors, I really go for two very important reasons: caramel slathered apples and homemade apple butter.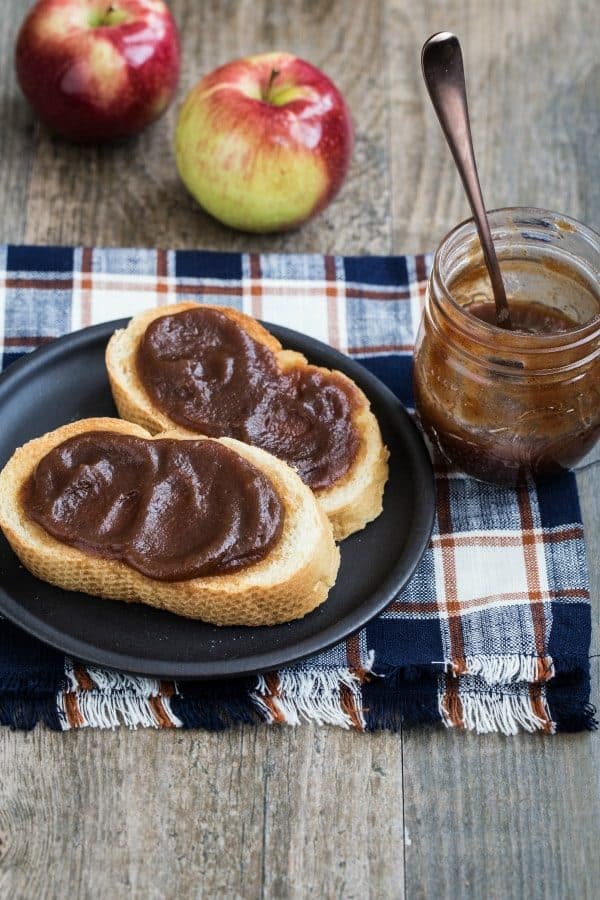 Unfortunately, I've missed this festival two years in a row – last year because I was in San Francisco and this year because I simply forgot about it. I sulked for a hot minute, but decided that I'd get my yearly apple butter fix by making my own in the slow cooker.
WHAT IS APPLE BUTTER?
If you have never had apple butter before, you might be confused by the name.
No, it's not apple-flavored butter. That would be weird. There's actually no butter in apple butter at all.
Apple butter is basically just super concentrated, super smooth applesauce. It's cooked for longer, which gives it that caramelized color and rich apple flavor, but the ingredients are nearly identical.
Apple butter is not just perfect on your morning toast or served on Potato Rolls at Thanksgiving, you can even bake with it.
Try subbing in Slow Cooker Apple Butter in place of jam or another fruit filling in crumb bars, such as in my Peach Crumb Bars recipe.
HOW TO MAKE APPLE BUTTER IN A CROCK POT
At first I was little bit intimidated by the whole homemade fruit butter thing, but really it could not have been easier thanks to my apple peeler and slow cooker.
The peeler allowed me to peel, core, and slice 6 1/2 pounds of apples in a matter of minutes. I tossed everything into the slow cooker, set the timer for 10 hours and went about my day.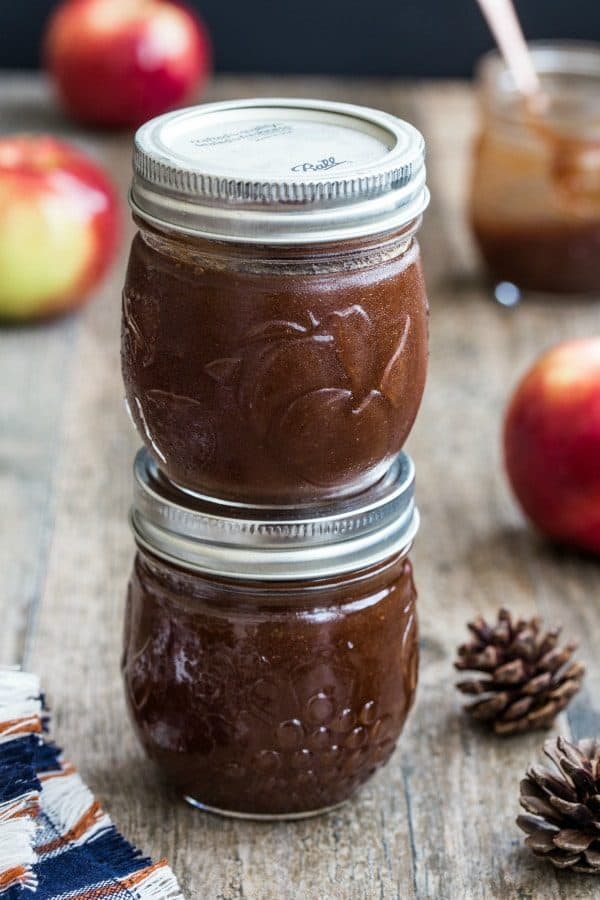 The autumnal scents of apples, cinnamon and vanilla wafted around the whole place for an entire day, which improved my mood immensely. I'll tell you – if you're having a rough day, just make some slow cooker apple butter.
It's impossible not to feel at ease with the entire world and people in it when you've got these scents enveloping you each time you walk in and out of your kitchen.
I let the apples simmer away for the allotted 10 hours, and in the meantime made chili, cornbread, and even prepped my jars for gift giving. It really is the perfect way to spend a fall Saturday, I'll tell you that for free.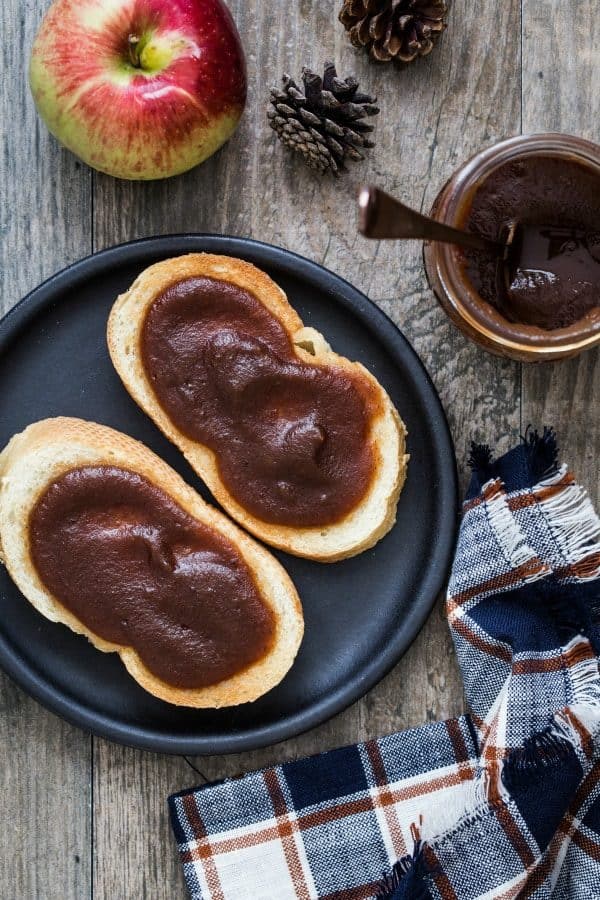 The result was a delicious, velvety smooth apple butter that definitely rivals any of the jars that I've purchased at the Apple Butter Festival and the best part is – I made it myself!
If you don't have 10 hours on hand to let the apple butter simmer, don't worry – I also have a recipe for Instant Pot Apple Butter!
BEST APPLES FOR APPLE BUTTER
Really you can use any apples you happen to have on hand for apple butter.
Generally speaking, softer varieties of apples such as Fuji, Golden Delicious, McIntosh, or Jonagold work better since they cook down faster.
I used a mix of Granny Smith, Fuji and Honeycrisp in my apple butter, and even the crisper varieties broke down well for a smooth apple butter.
The real key is to use a mix of apples to get the best flavor. You can even customize your Slow Cooker Apple butter by using apple pie spice or even pumpkin pie spice instead of the blend I have here, and you could try Mexican vanilla instead of Madagascar.
It's really easy to make it your own, and I know your family will love slathering it on toast all year long.
I've been told you can preserve this recipe through canning, though I haven't tried it myself. I'd love to know if you've tried!
I hope you enjoy this slow cooker apple butter as much as we do.
What are your favorite fruit butter recipes? What should I try next?