English Muffin Bread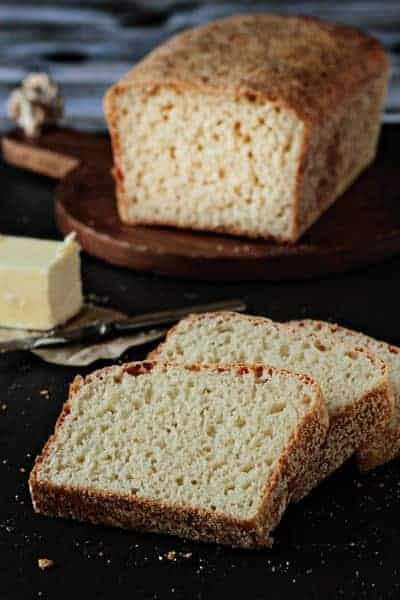 Last Thursday, I was in a pretty amazing state of procrastination. You know those moments when you'll choose to do anything other than the task at hand? Things like cleaning toilets, sorting socks or attempting some crazy craft you found on Pinterest even though you're lacking 85% of the required materials. I was having one of those moments.
After organizing my pantry, brushing my dog's teeth, chasing dust bunnies around my office and having a lengthy conversation with said dog regarding the Frito odor emanating from his feet, I decided to do something useful – make a loaf of English Muffin Bread.
Initially, I didn't plan on blogging this bread – I find that bread is difficult to photograph and I really wasn't in the mood to challenge myself. I haphazardly threw the loaf together and honestly wasn't expecting much, but in about an hour and half, I had one of the most amazing loaves of bread cooling on my counter. I don't use the word best on MBA very often, because well, in my opinion there can always be better, but this is without a doubt the best loaf of bread I've ever made.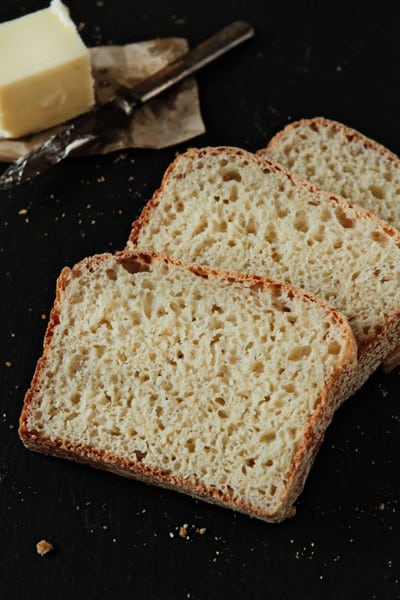 Just as the name suggests, this coarse-textured English Muffin Bread is ideal for toasting. It's full of those little nooks and crannies that are perfect for containing pools of melted butter and jam. The crust has an amazingly crisp texture that is only enhanced by toasting.
Not only is this bread undeniably delicious, it's also ridiculously simple to prepare which makes it great for those of you just getting started with yeast baking. You toss everything into a mixer, let it rise, bake it and you'll pretty much be deeming yourself a master baker by the time the first slice is toasted.
Whether you're looking to kill some time, or just wanting to make a killer loaf of bread, I hope you find this English Muffin Bread as incredible and addictive as I do.
[pinit]

English Muffin Bread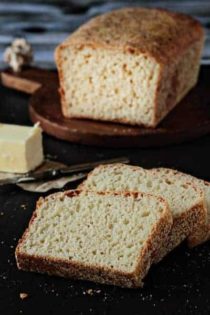 Ingredients:
3 cups King Arthur Unbleached All-Purpose Flour
1 tablespoon sugar
1 1/2 teaspoons salt
1/4 teaspoon baking soda
1 tablespoon instant yeast
1 cup milk
1/4 cup water
2 tablespoons vegetable oil or olive oil
cornmeal, to sprinkle in pan
Directions:
1. In the bowl of a stand mixer fitted with the paddle attachment, add the flour, sugar, salt, baking soda, and instant yeast; stir to combine.
2. In a microwave safe bowl, combine the milk, water, and oil and heat to between 120°F and 130°F. Make sure to stir the liquid before measuring its temperature. If you don't have a thermometer, don't worry, King Arthur states that the liquid should feel quite hot (hotter than lukewarm), but not so hot that it would be uncomfortable as bath water.
3. Pour the hot liquid over the dry ingredients in the mixing bowl. Beat at high speed for 1 minute, the dough will be quite soft and sticky.
4. Lightly grease an 8 1/2" x 4 1/2" loaf pan, and sprinkle the bottom and sides with cornmeal. I just tossed in about a 1/4 of cornmeal and tilted the pan until the inside was thoroughly coated.
5. Scoop the dough into the prepared pan. I used a rubber spatula sprayed with nonstick cooking spray to level the top of the dough out a bit.
6. Cover the pan (I used plastic wrap), and let the dough rise until it's just barely crowned over the rim of the pan. King Arthur Flour notes that when you look at the rim of the pan from eye level, you should see the dough, but it shouldn't be more than about 1/4" over the rim. This will take about 45 minutes to 1 hour, if you heated the liquid to the correct temperature and your kitchen isn't very cold. While the dough is rising, preheat the oven to 400°F.
7. Remove the cover, and bake the bread for 22 to 27 minutes, until it's golden brown and its interior temperature is 190°F. Mine baked for 26 minutes and it was perfect.
8. Remove the bread from the oven, and after 5 minutes turn it out of the pan onto a rack to cool. Let the bread cool completely before slicing.
Follow Jamie on Instagram. We love to see what you're baking from MBA! Be sure to tag @jamiemba and use the hashtag #mbarecipes!
This post may contain affiliate links. We are a participant in the Amazon Services LLC Associates Program, an affiliate advertising program designed to provide a means for us to earn fees by linking to Amazon.com and affiliated sites.