Last Thursday, I was in a pretty amazing state of procrastination. You know those moments when you'll choose to do anything other than the task at hand? Things like cleaning toilets, sorting socks or attempting some crazy craft you found on Pinterest even though you're lacking 85% of the required materials. I was having one of those moments.
After organizing my pantry, brushing my dog's teeth, chasing dust bunnies around my office and having a lengthy conversation with said dog regarding the Frito odor emanating from his feet, I decided to do something useful – make a loaf of English Muffin Bread.
Initially, I didn't plan on blogging this bread – I find that bread is difficult to photograph and I really wasn't in the mood to challenge myself. I haphazardly threw the loaf together and honestly wasn't expecting much, but in about an hour and half, I had one of the most amazing loaves of bread cooling on my counter. I don't use the word best on MBA very often, because well, in my opinion there can always be better, but this is without a doubt the best loaf of bread I've ever made.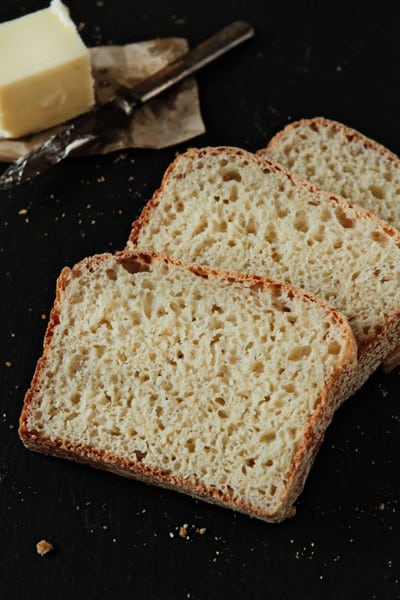 Just as the name suggests, this coarse-textured English Muffin Bread is ideal for toasting. It's full of those little nooks and crannies that are perfect for containing pools of melted butter and jam. The crust has an amazingly crisp texture that is only enhanced by toasting.
Not only is this bread undeniably delicious, it's also ridiculously simple to prepare which makes it great for those of you just getting started with yeast baking. You toss everything into a mixer, let it rise, bake it and you'll pretty much be deeming yourself a master baker by the time the first slice is toasted.
Whether you're looking to kill some time, or just wanting to make a killer loaf of bread, I hope you find this English Muffin Bread as incredible and addictive as I do.
[pinit]