English Muffin Bread has all the same nooks and crannies as your favorite English muffins in a sliceable bread form. Pop it in the toaster and slather it with butter and jam for the best piece of toast you've ever had.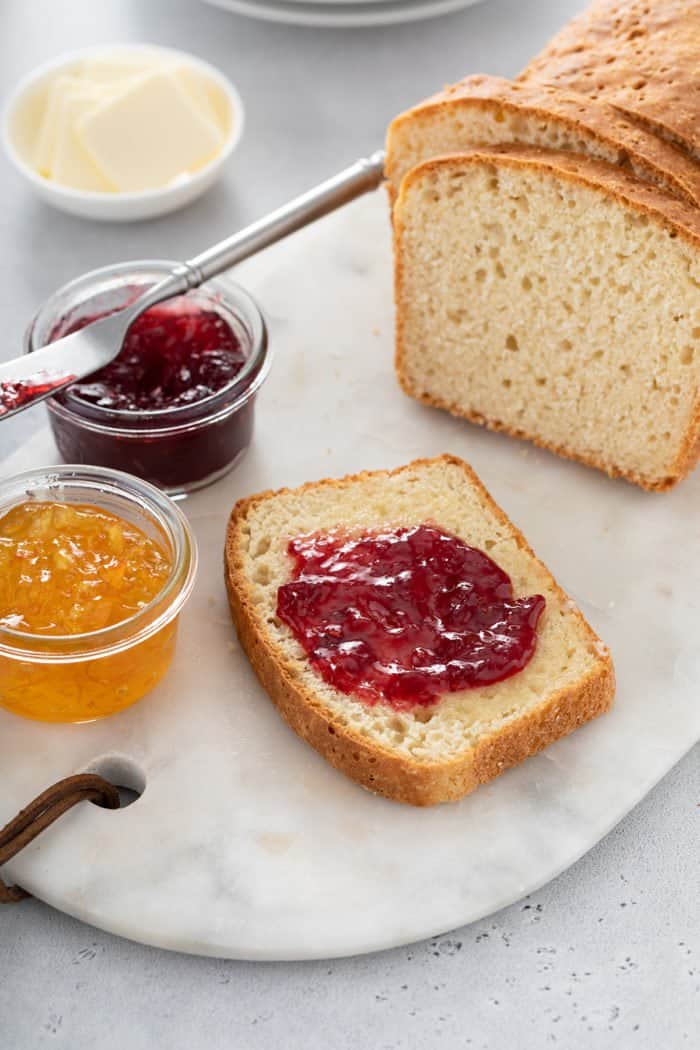 This post contains affiliate links.
Do you ever make a recipe where you aren't expecting much, but the results blow you away?
The first time I ever made English Muffin Bread, I sort of haphazardly threw the loaf together as a way to procrastinate doing any of my other tasks at hand.
I honestly wasn't expecting much, but in about an hour and a half, I had an amazing-smelling loaf of bread cooling on my counter.
As soon as it was cool, I cut myself a slice, toasted it up, and slathered it in butter. Turns out, it tasted just as amazing as it smelled!
I guess it's not every day that procrastinating turns out in my favor, but in this case it definitely did. I highly suggest throwing together a loaf if you're trying to avoid adulting, too.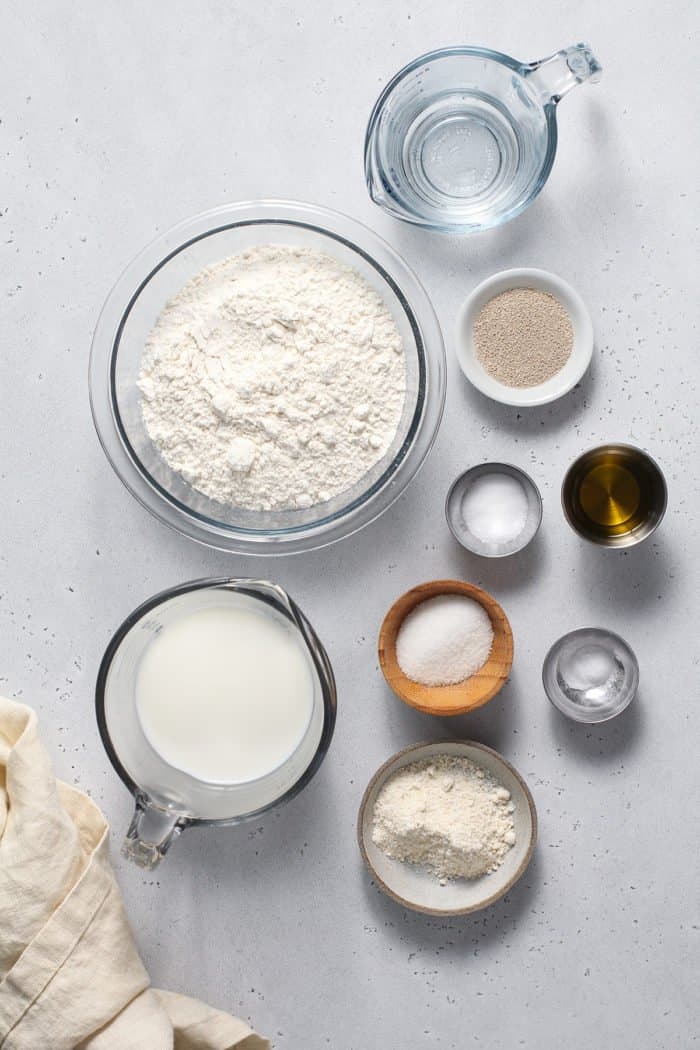 WHAT IS ENGLISH MUFFIN BREAD?
You've probably had English muffins before…but have you ever had English Muffin Bread?
Just as the name suggests, this coarse-textured bread is the loaf version of those English muffins you love and is ideal for toasting!
It's full of those little nooks and crannies that are perfect for containing pools of melted butter and jam. The crust has an amazingly crisp texture that is only enhanced by toasting.
Not to mention, it's quicker to make than homemade English muffins, since you are baking one loaf instead of cooking a dozen muffins on the griddle!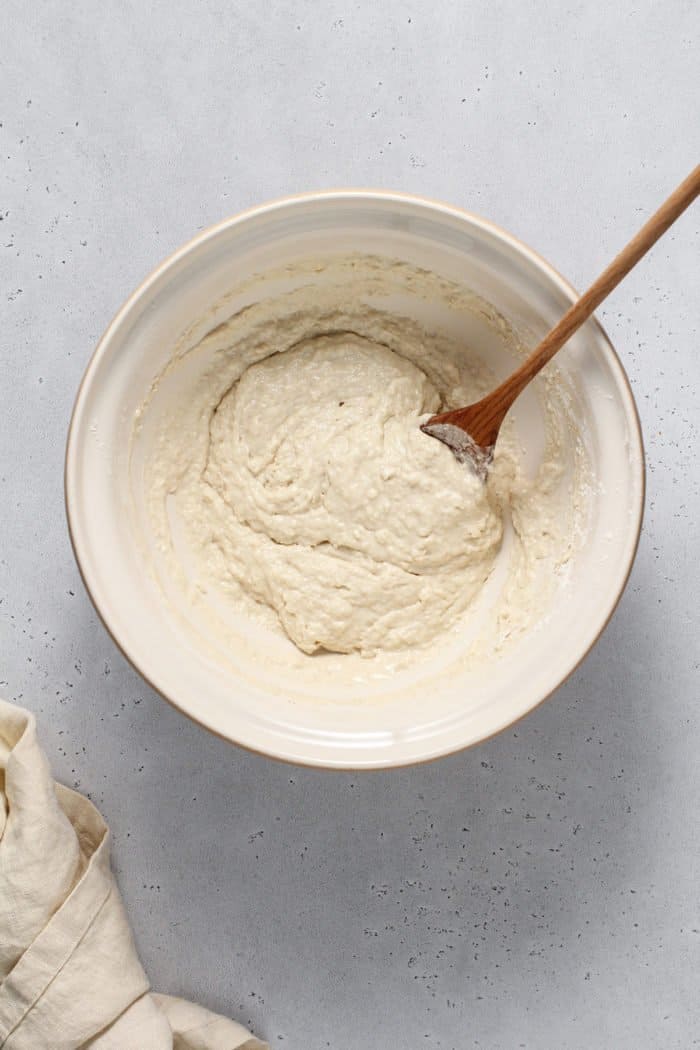 HOW TO MAKE ENGLISH MUFFIN BREAD
Not only is this bread undeniably delicious, it's also ridiculously simple to prepare which makes it great for those of you just getting started with baking yeast breads.
You toss everything together, let it rise, bake it and you'll pretty much be deeming yourself a master baker by the time the first slice is toasted.
Here, I'll walk you through it!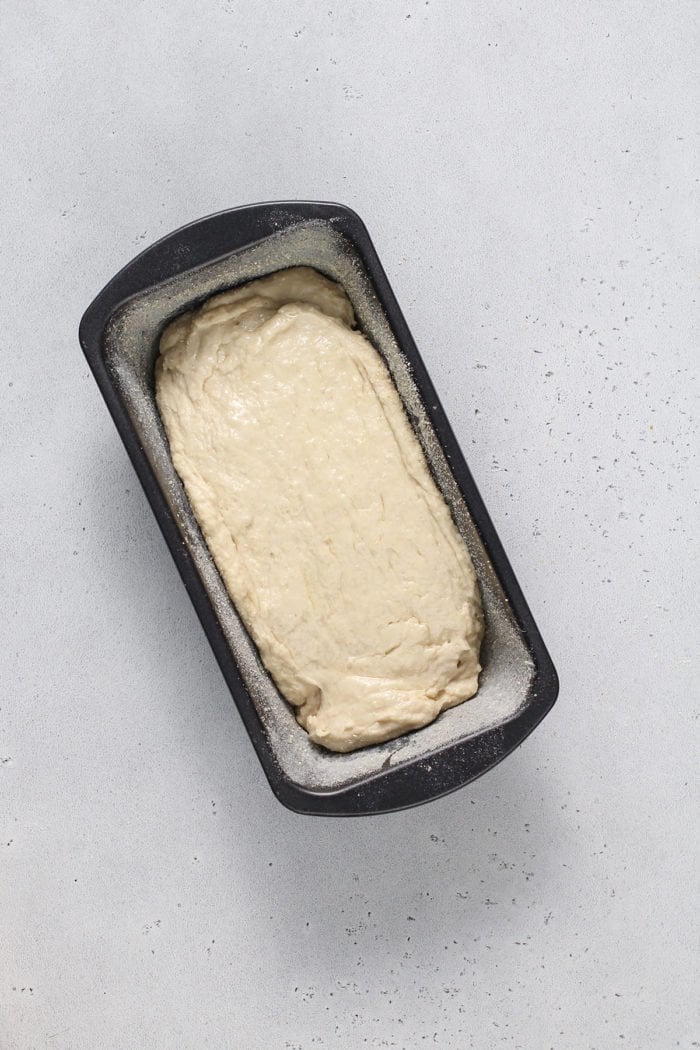 Ingredients you'll need
If you keep yeast on hand (make sure to store it in the freezer!), you probably have everything you need to make this bread:
2 1/2 cups all-purpose flour
1 tablespoon sugar
1 ¼ teaspoon fine sea salt
1/4 teaspoon baking soda
1 packet (2 ¼ teaspoons) instant yeast
1 cup milk
1/4 cup water
2 tablespoons vegetable oil or olive oil
cornmeal, to sprinkle in pan
Just like when we made Parker House Rolls or Cranberry Orange Cinnamon Rolls, this loaf uses instant yeast which makes it pretty quick and easy to throw together. The bread will only need to rise one time, so you'll be on your way to fresh-baked bread faster than you'd think!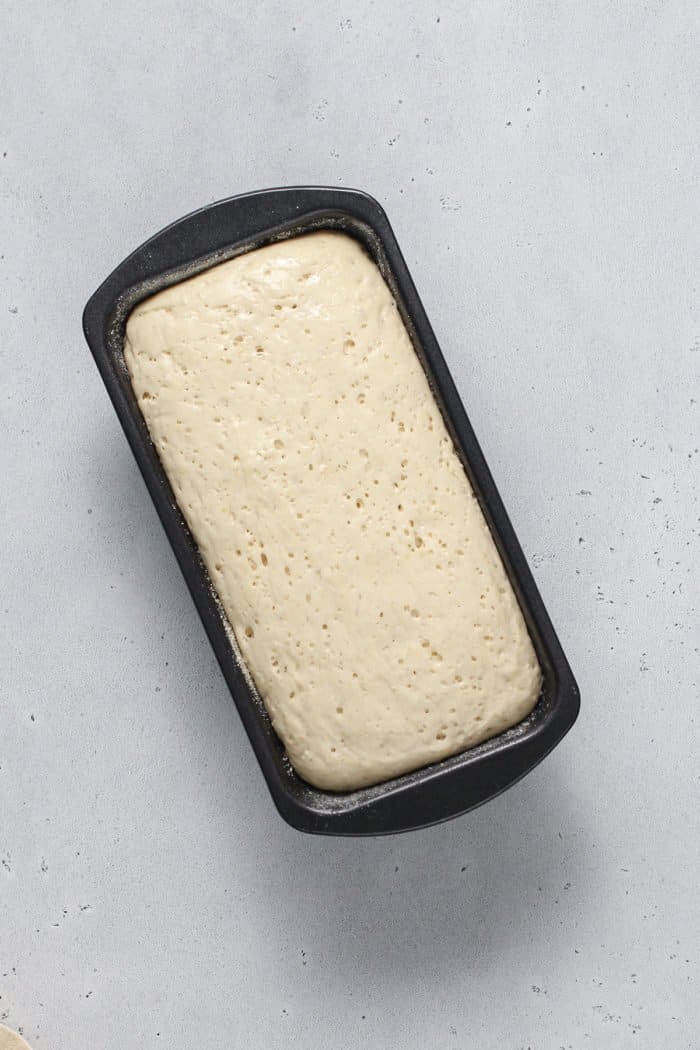 Tools you'll need
In addition to measuring cups and spoons and a big mixing bowl, you'll need an 8×4-inch loaf pan.
See? Nothing fussy about this bread! You don't even need to use a mixer to make it.
Making this recipe
Grab your favorite large mixing bowl and add 2 cups of the flour along with the sugar, salt, baking soda, and yeast. Give that a stir to combine.
Mix together the milk, water, and oil in a microwave-safe bowl or measuring cup and microwave this in 30-second increments until the liquid is very warm, but not too hot. You'll know it's right when it's hotter than lukewarm but wouldn't be uncomfortably hot as bath water.
Add the liquids to the dry ingredients and stir until combined. The dough will be about the consistency of muffin batter.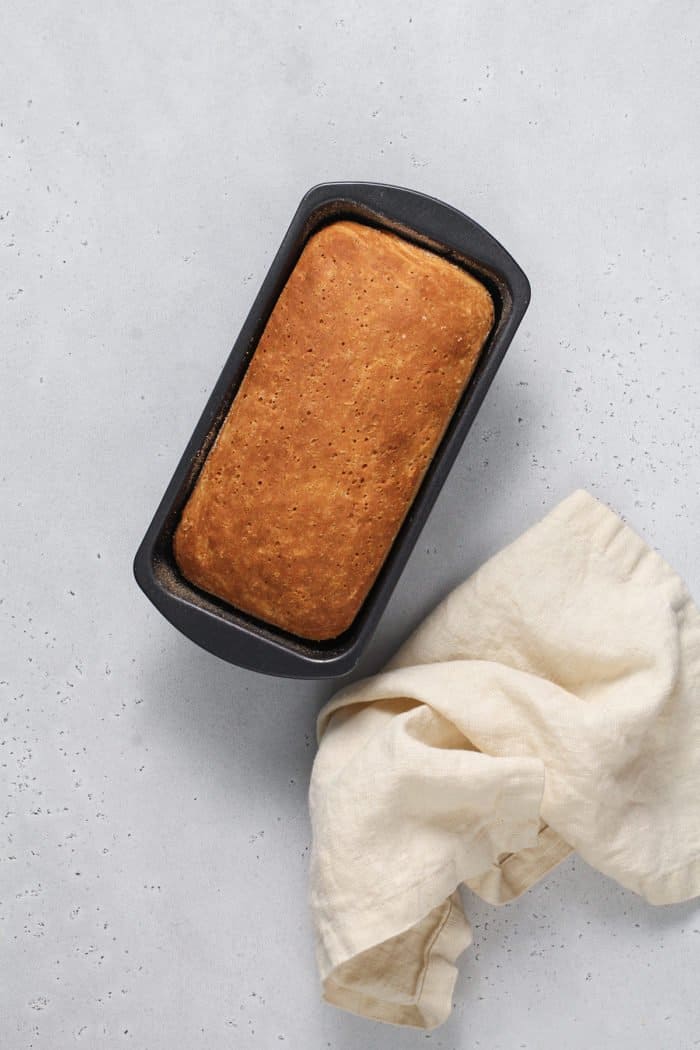 Add in the last of the flour, ¼ cup at a time, until a very soft, sticky dough forms.
Now it's time to prep your pan. Lightly grease your loaf pan and then toss in about ¼ cup of cornmeal. Tilt the pan, tapping the sides, to coat the sides of the pan in the cornmeal.
Scoop the dough into the pan. You might need to spray a rubber spatula with cooking spray to level it out, since the dough is so soft and sticky.
Spray a piece of plastic wrap lightly with cooking spray and cover the pan. Let the dough rise in a warm place for about 45 minutes to 1 hour. It will be fully risen when you can just barely see the dough over the rim of the pan.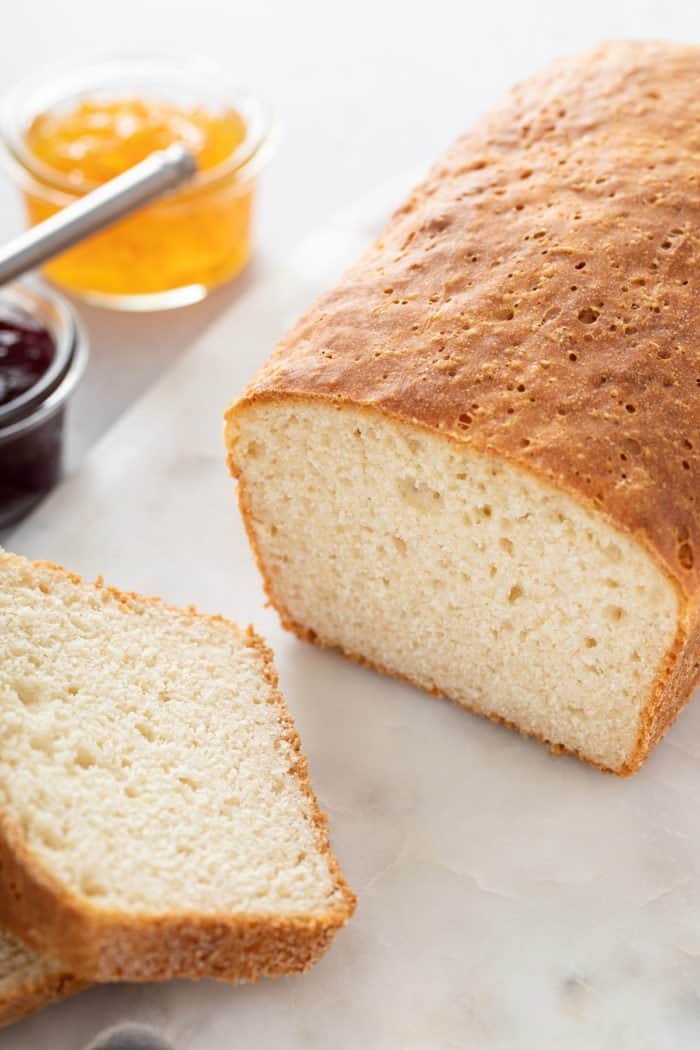 While your dough rises, preheat the oven. Since my kitchen is often cold, I like to set my pan near the oven while it preheats, so it is warmed by the heat coming off the oven.
Once the dough has risen, take off the plastic wrap and bake it for about 22-27 minutes. When it is done, it will be golden and if you tap the top, it will sound a bit hollow.
Let the bread cool in the pan for about 5 minutes before turning it out onto a rack to finish cooling. I know it's hard to wait, but let it cool completely before you dig in!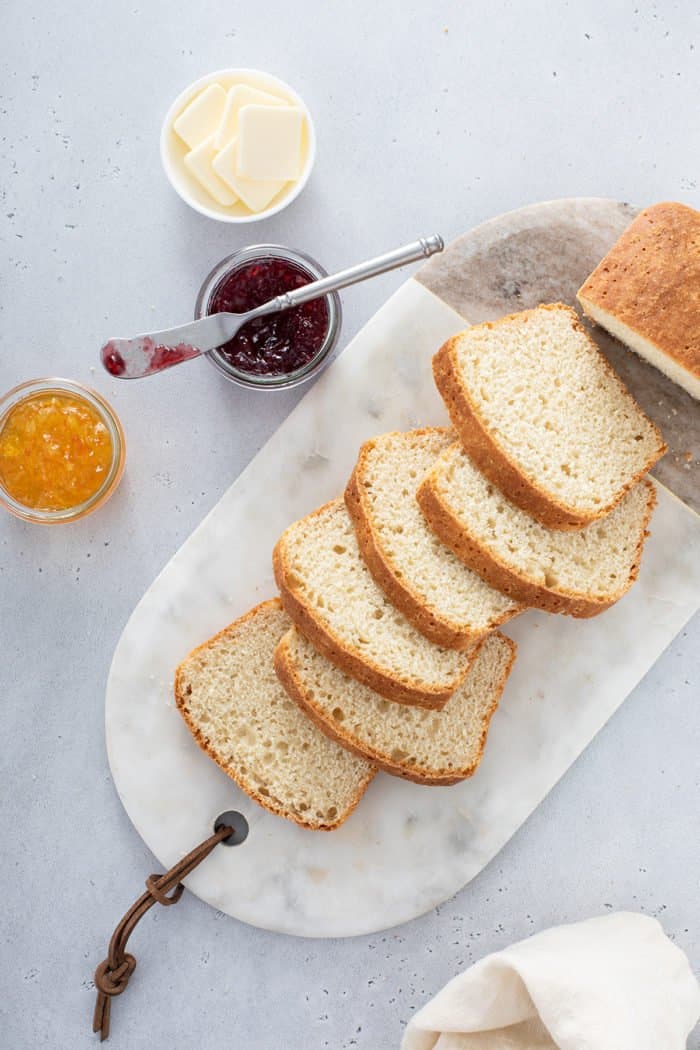 WHAT GOES WITH THIS BREAD?
English Muffin Bread makes just about the best piece of toast you'll ever have.
Slice it, toast it, and slather it in plenty of butter and top it with anything from cinnamon sugar to blueberry jam to slow cooker apple butter.
Out of English muffins but craving eggs benedict? Slice up a piece of this English Muffin Bread and use it instead – those nooks and crannies will be perfect for catching that rich hollandaise sauce.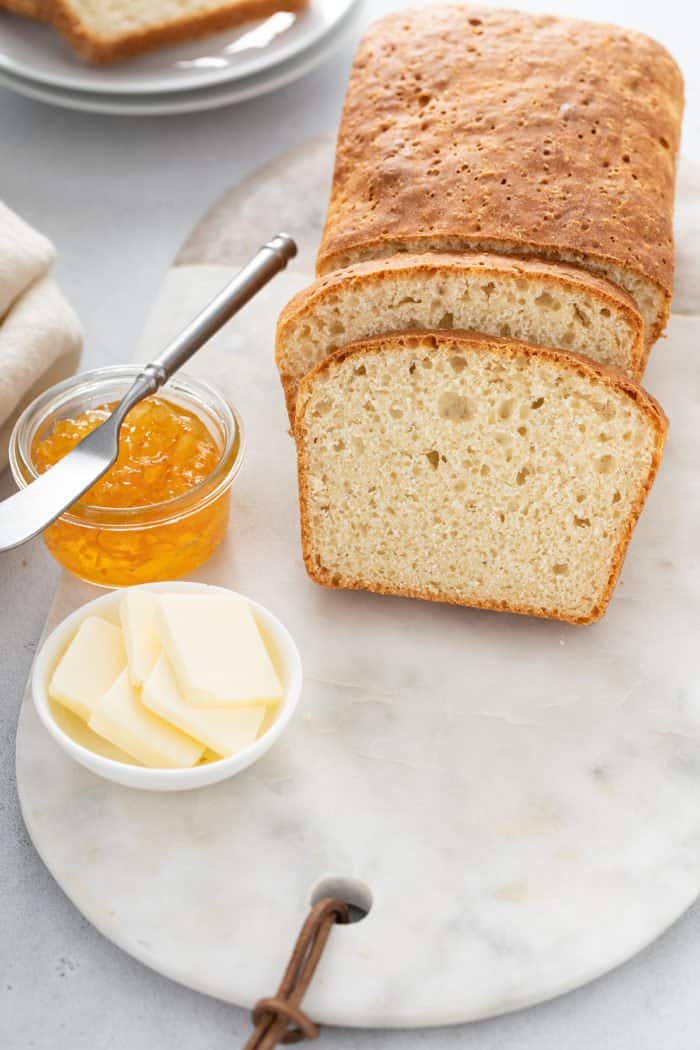 BREAD STORAGE TIPS
As easy as it is, if you're going to make your own English Muffin Bread, you should make sure you store it so it lasts as long as possible.
Here are a few bread storage tips – use these for storing homemade bread or a fresh-from-the-bakery loaf:
Store loaves in paper or reusable bread bags. Don't store them in plastic – plastic traps in moisture so the bread goes bad faster.
Get a bread box. They look really nice on your counter and they are designed to keep bread fresh for longer!
Keep bread in a cool, dry place. Try to store your bread away from warm and/or damp spots in your kitchen, such as near the fridge or dishwasher.
When in doubt, freeze it! Bread freezes really well – this English Muffin Bread is no exception. Wrap the bread tightly and freeze it for up to 3 months. You can defrost it before slicing and toasting or place it in a warm oven to thaw and heat it through.
This English Muffin Bread is so easy to make, it might just become your new weekly bread recipe!