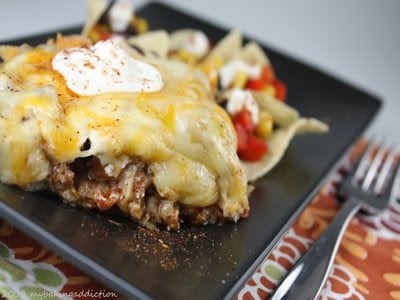 Although I am sure most of you were probably not expecting to find a Taco Pie on my site, I do cook… I just do not find dinners as appealing to photograph and write about. However, once in a while I feel compelled to elaborate on my dinner adventures. This recipe being one of those adventures. I originally saw this recipe on the allrecipes.com home page and thought it sounded interesting. Taco Pie? Something about the title of this recipe did not sit well with me, so I decided to rename it something splendid, something über original…that name being…Taco Casserole! This is a quick easy meal for busy moms and dads looking to put a hearty and hot meal on the table within a half hour! I served this along side tortilla scoops filled with a corn and black bean salad and topped everything off with a dollop of sour cream. This recipe was quick, easy and super flavorful! Enjoy!
Disclaimer…This recipe is not

low fat

, in fact it's high fat…I mean high high fat! I am sure you can lighten this up easily with reduced fat products…I however, chose to rock out the full fat version!

T
ACO CASSEROLE
adapted from

allrecipes

.com
Ingredients
1 (8 ounce) package refrigerated crescent rolls
1 pound ground beef
½ a medium onion; diced
1 small can of

jalapeños

(use fresh if you have them)
½ can

refried

beans
1 (1 ounce) package taco seasoning mix (I made my own; see recipe below)
1 cup sour cream
8 ounces shredded Mexican-style cheese blend
1 (14.5 ounce) package crushed tortilla chips
Directions
1. Preheat oven to 350 degrees F (175 degrees C).
2. Lay crescent dough flat on the bottom of a square cake pan and bake according to package directions.
3. Meanwhile, brown the ground beef and onions in a large skillet over medium high heat. Add the taco seasoning and

jalapeños

; stir together well. Mix together 1/4 cup sour cream with the

refried

beans. 4. When dough is done, remove from oven and place

refried

bean and sour cream mixture on top then layer with meat mixture, sour cream and cheese, and then top off with the crushed nacho chips. (I left the chips off the top)
5. Return to oven and bake at 350 degrees F (175 degrees C) for 10 minutes, or until cheese has melted.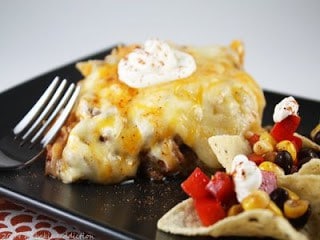 TACO SEASONING from

allrecipes

.com

Ingredients
1 tablespoon chili powder
1/4 teaspoon garlic powder
1/4 teaspoon onion powder
1/4 teaspoon crushed red pepper flakes
1/4 teaspoon dried oregano
1/2 teaspoon paprika
1 1/2 teaspoons ground cumin
1 teaspoon sea salt
1 teaspoon black pepper

Directions
In a small bowl, mix together chili powder, garlic powder, onion powder, red pepper flakes, oregano, paprika, cumin, salt and pepper. Store in an airtight container. (Two heaping TBS of this mix is about the equivalent of one packet)