Taco casserole is a simple dinner that will satisfy the whole family. Top this casserole with your favorite taco toppings to give it your own personal spin!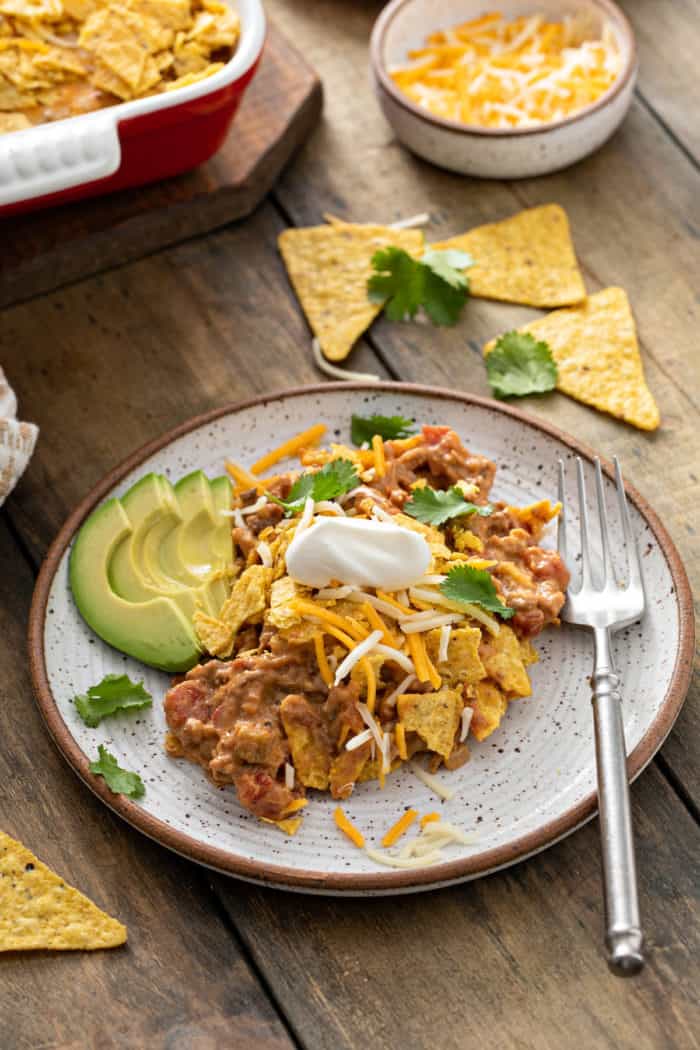 Is there anything more comforting than a casserole?
Maybe it's just because I grew up in the Midwest, but casseroles are total comfort food to me. Whether it's Jiffy corn casserole alongside a holiday meal or cheeseburger tater tot casserole or chicken spaghetti casserole for a weeknight dinner, casseroles just make me happy.
This taco casserole is my family's latest favorite. It's a 30-minute meal that I can quickly make on a weeknight and we can all add our favorite toppings to it.
What could be better than that?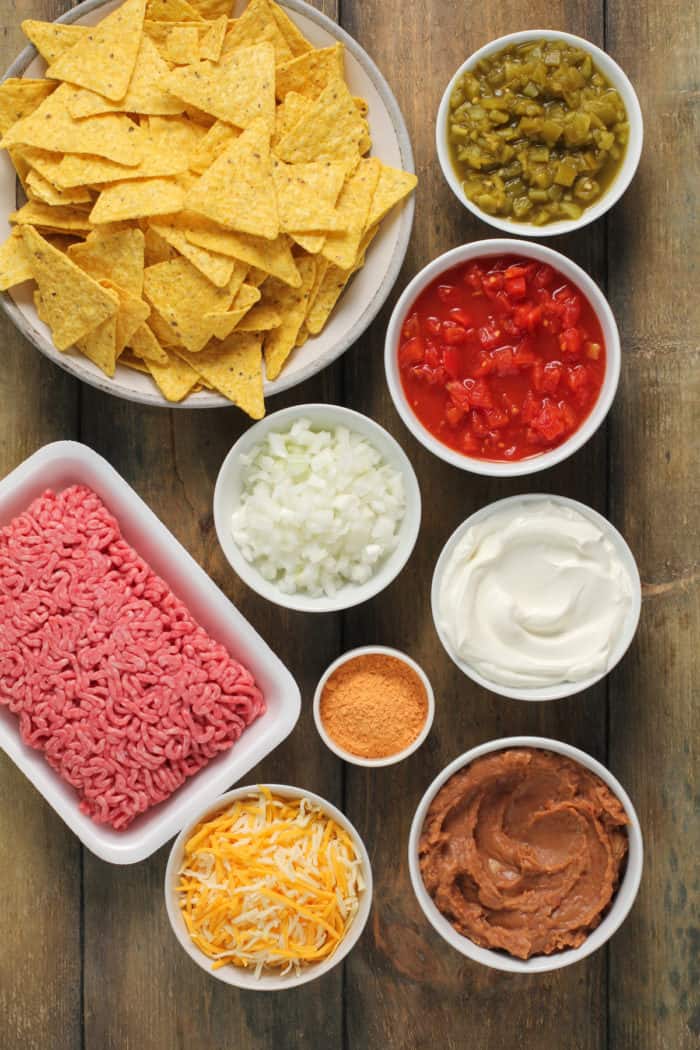 WHAT IS TACO CASSEROLE?
There are honestly so many different ways that you could make a taco casserole. This just happens to be my version!
For me, I want my casserole to have a flavorful filling, a little bit of crunch, and some nice melty cheese.
I whipped up a simple taco meat with some ground beef, my homemade taco seasoning, and some tomatoes and diced green chiles. That gets mixed with refried beans and sour cream for even more flavor.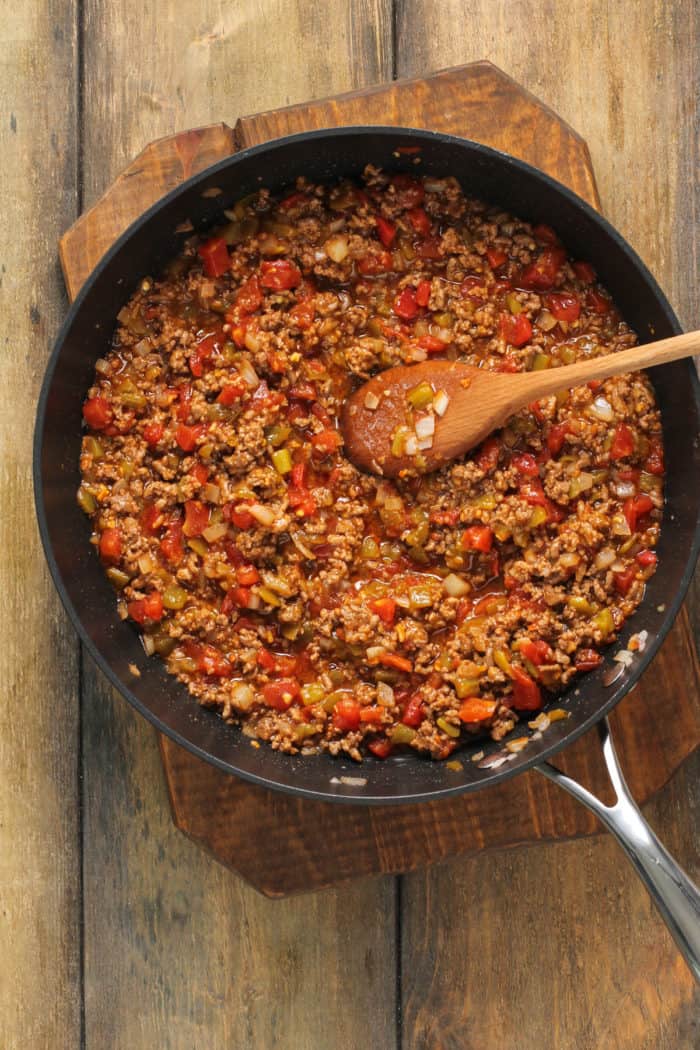 For the crunch, I turned to crushed tortilla chips on the bottom of the casserole and on top, and added some shredded cheese for that melty factor!
Look, is this the prettiest casserole? Absolutely not. But is it delicious? It totally is!
My friend made this for her family recently and her 8-year-old son said, "Yum, yum, yum!" I'll take that as a rave review.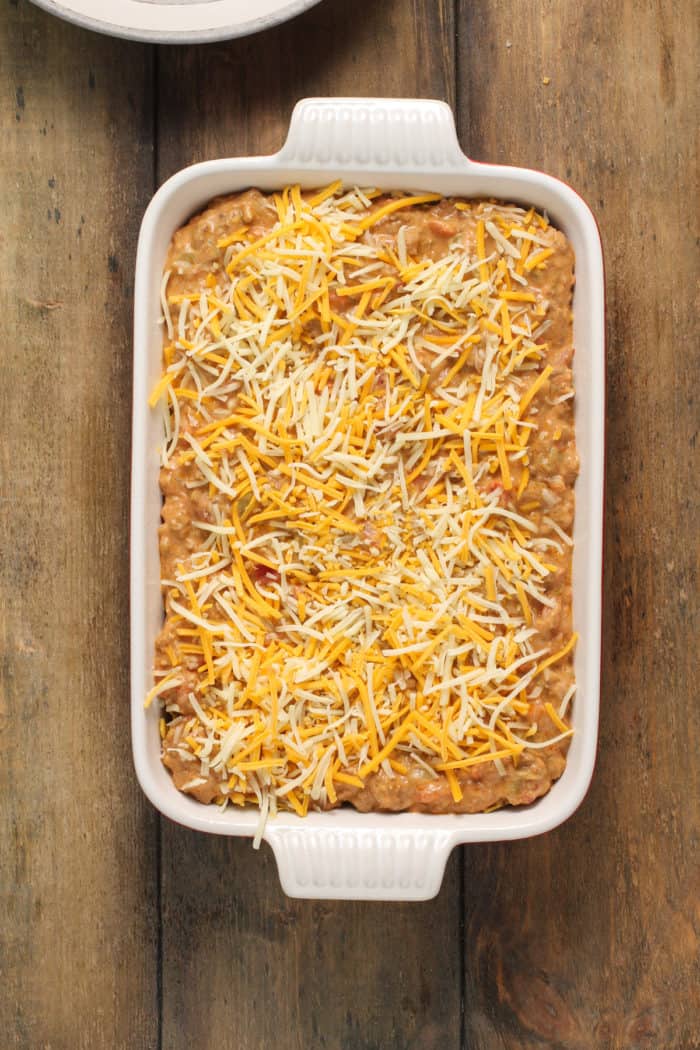 HOW TO MAKE TACO CASSEROLE
If your kids love this casserole because it's delicious, you'll love it because it's so easy to make. You could definitely have dinner on the table in 30 minutes with this one!
Ingredients you'll need
We make tacos a lot, so I usually have most of the ingredients for taco casserole already on hand. It uses:
Ground beef: You could easily make this casserole with ground turkey instead of ground beef if you prefer!
Diced onion: I like adding some onion to the ground beef for extra flavor.
Diced green chiles: Canned green chiles are one of my favorite ways to add more flavor to taco meat. I always grab mild green chiles, but use hot ones if you want some extra spice!
Canned diced tomatoes: These add both flavor and liquid to the ground meat mixture.
Taco seasoning: I like to use my homemade taco seasoning, but you can use a packet of seasoning if you prefer.
Refried beans: I love refried beans alongside my tacos, so adding some to this casserole just makes sense! You could always swap the refried beans for a can of drained and rinsed black beans, instead.
Sour cream: This adds flavor and also adds some creaminess to the casserole.
Crushed tortilla chips: The most fun part of making this recipe is crushing an entire bag of tortilla chips!
Mexican-style shredded cheese blend: You can't forget the cheese! You can use any good melting cheese you like in place of the Mexican-style blend. Cheddar, pepperjack, or chihuahua cheese would all be great here.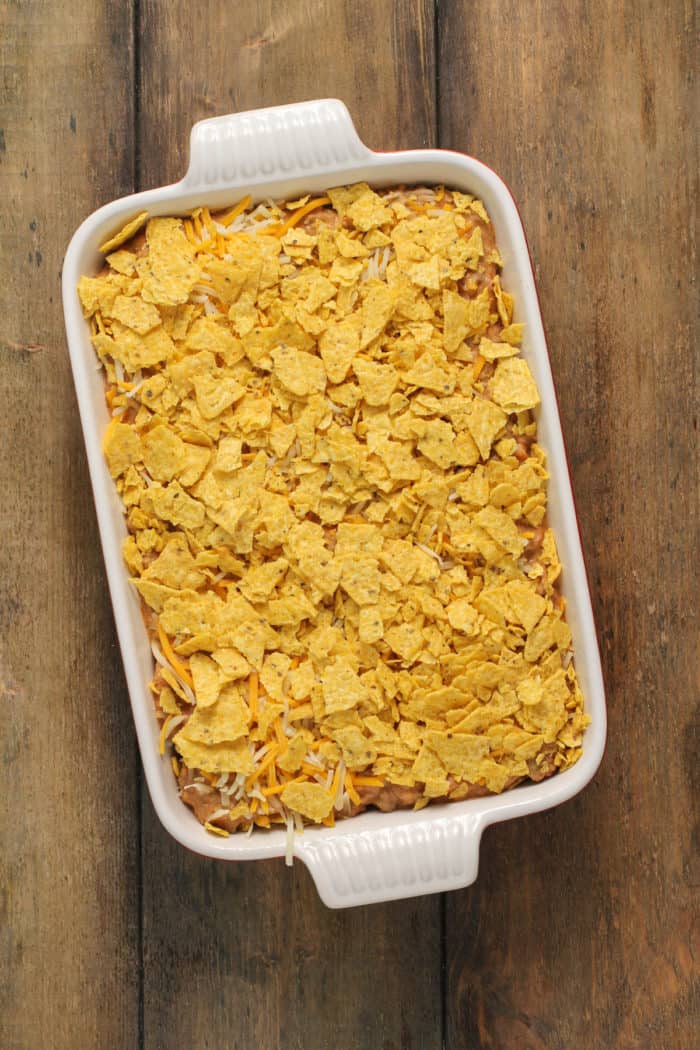 Making this recipe
To make this casserole, start by browning the ground beef with the onions. If you used a fattier ground beef, go ahead and drain off the fat and return the meat and onions to the pan.
To the meat, add the green chiles, the undrained tomatoes (you need that juice from the tomatoes!), and the taco seasoning.
Let that simmer for about 5 minutes, then take it off the heat and add in the beans and sour cream.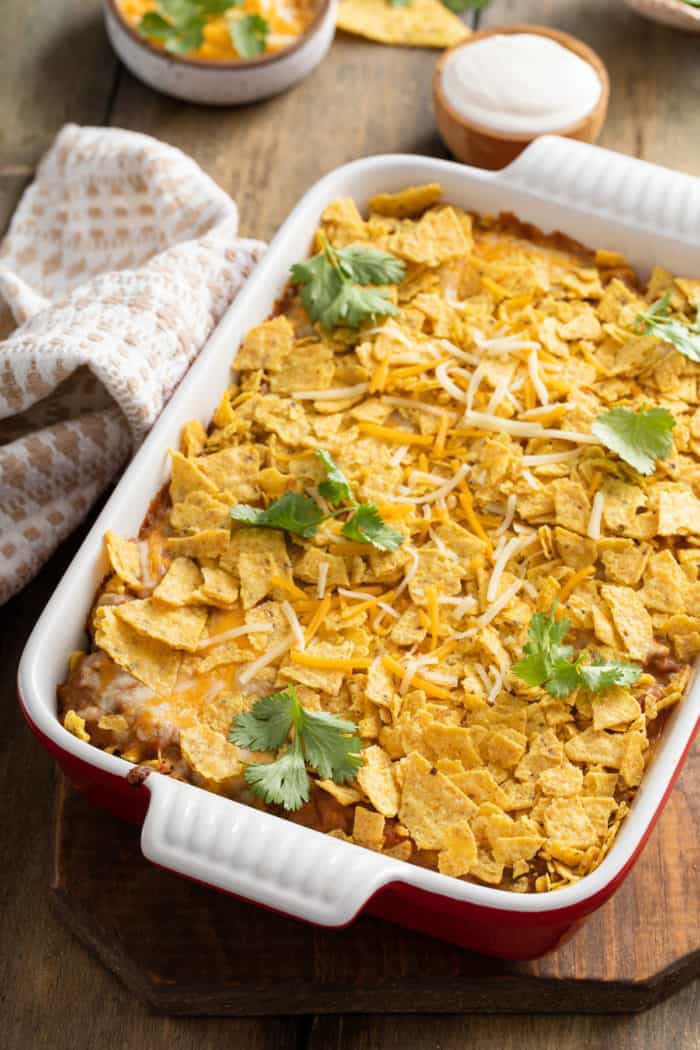 Spread half of the crushed chips along the bottom of a greased baking dish. I like to use a baking dish that's in the 2.5-quart to 3-quart range for this.
Spoon the filling over the top of the chips, top it with the cheese, and then finish it with the rest of the crushed chips. Bake the taco casserole until the cheese is melted and the casserole is nice and hot.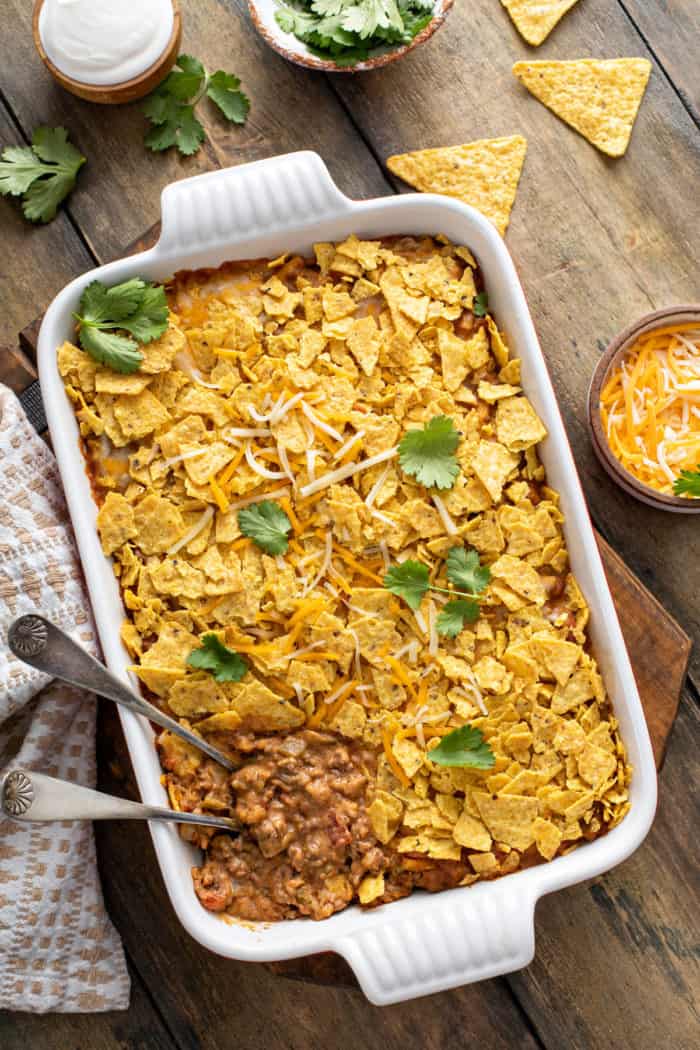 SERVING SUGGESTIONS
Wondering how to serve your taco casserole? The best thing about this recipe is that you can top it with any of your favorite taco toppings!
You could even put out a whole array of toppings so everyone in your family can dress up their plate exactly the way they like it. Some of our favorite toppings include:
Sour cream
Diced fresh tomatoes
Salsa
Guacamole or sliced avocado
Fresh cilantro
Pickled jalapeños
Serve it alongside some Mexican rice or Mexican street corn salad and you have a great meal everyone will love.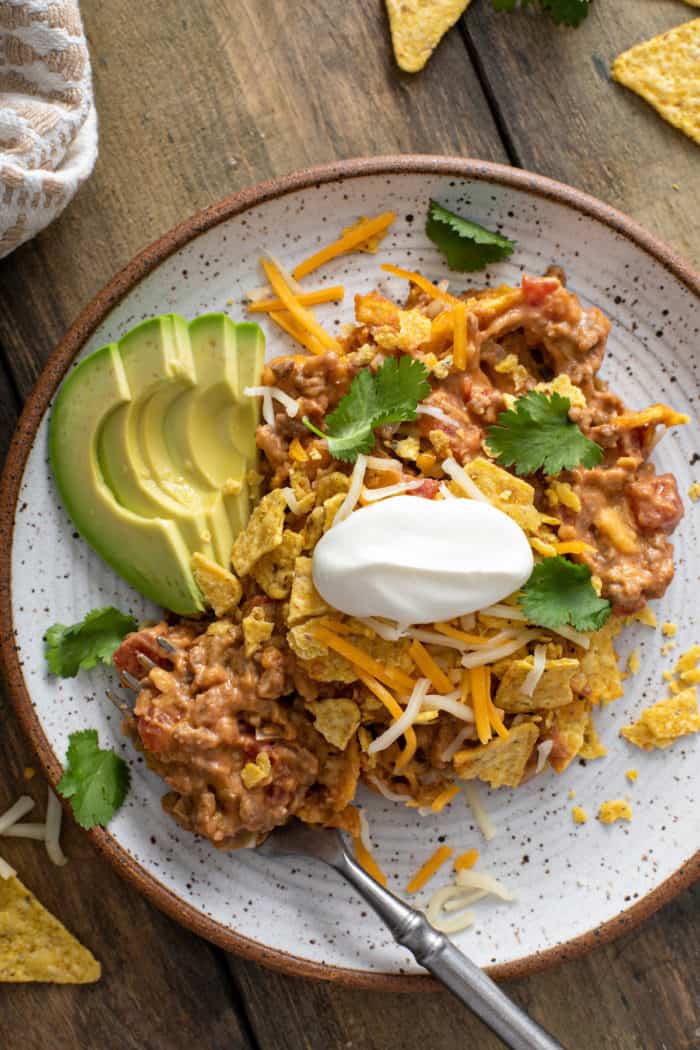 MAKE-AHEAD AND FREEZING TIPS
You could easily prep this casserole ahead of time to make for an even easier meal during the week.
Make and assemble the casserole as written, but leave off the top layer of tortilla chips. Cover the casserole tightly and place it in the fridge until you're ready to bake it.
When you're ready to bake, just add the top layer of tortilla chips and bake according to the recipe directions.
If you'd like to freeze the casserole, cover it with a layer of plastic wrap and a layer of foil before freezing for up to a month. Thaw, add the tortilla chips, and bake.
Since it's so easy to prep ahead of time and can be topped however you like, this taco casserole makes a great dish to take to a friend who just had a baby or a neighbor in need of a home-cooked meal.