Cheeseburger Tater Tot Casserole is everything you need for a cozy weeknight dinner. Even better, the recipe easily doubles or triples to feed a crowd!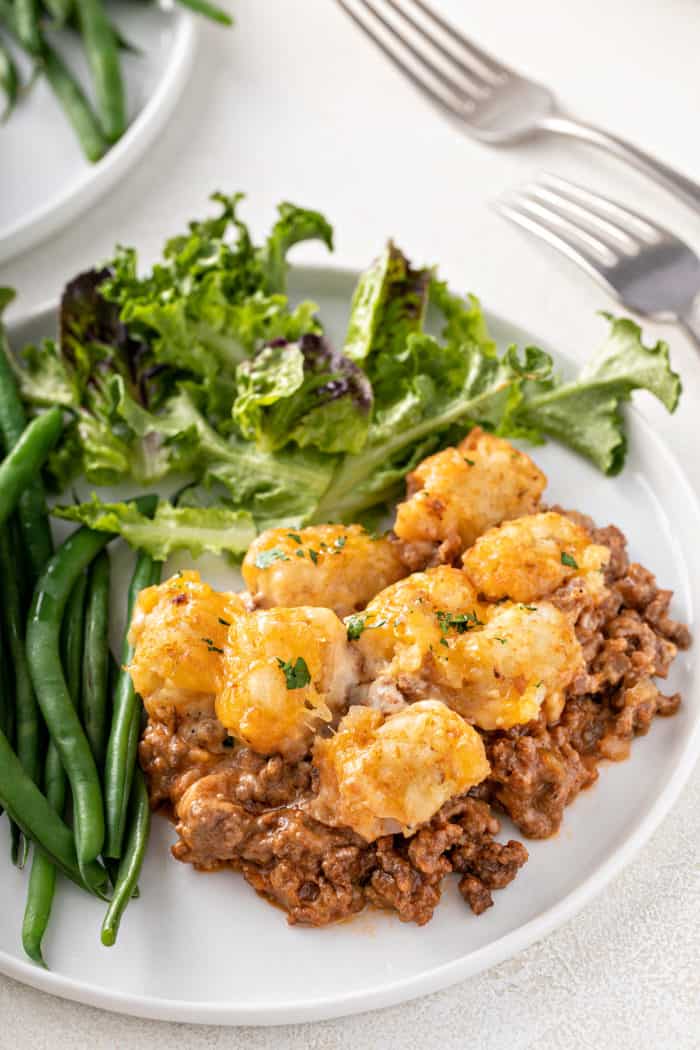 When Elle was little, she went through an anti-casserole phase. She would happily eat meals like Homemade Sloppy Joes or Ritz Cracker Chicken, but having all her food in one pot sort of freaked her out.
And man, did I really miss casseroles during that time.
There's just something about casseroles that makes them so comforting to me. Plus, casseroles are such a game changer when you're trying to better your dinner game in the midst of a hectic schedule.
So I was pretty excited when I finally got her to try this Cheeseburger Tater Tot Casserole and she loved it! It's been a weeknight dinner go-to around here ever since.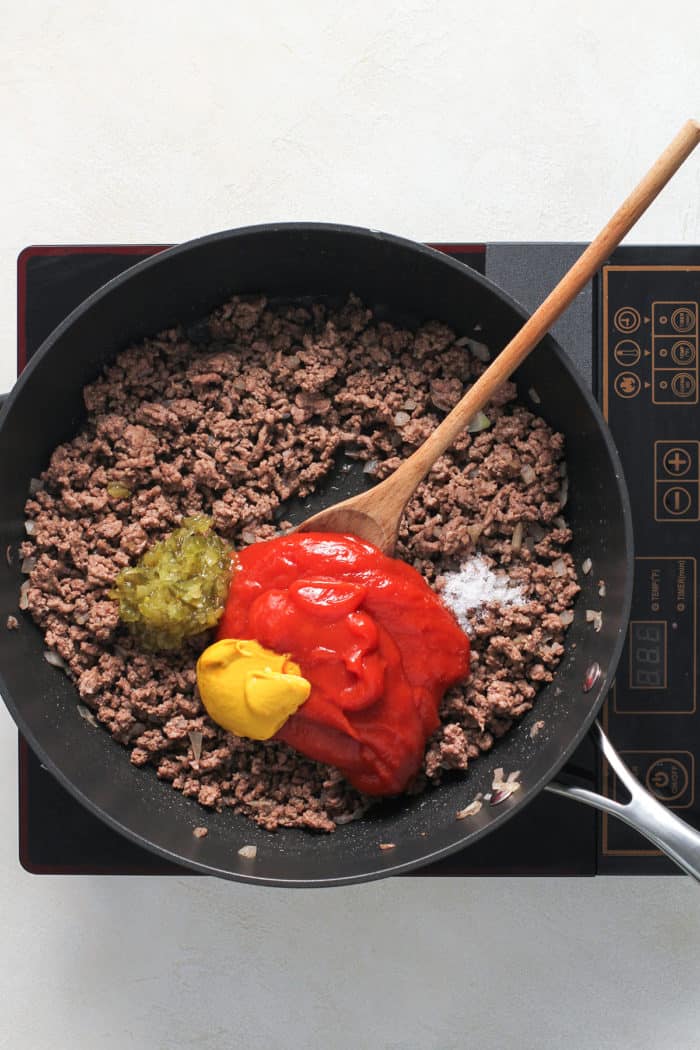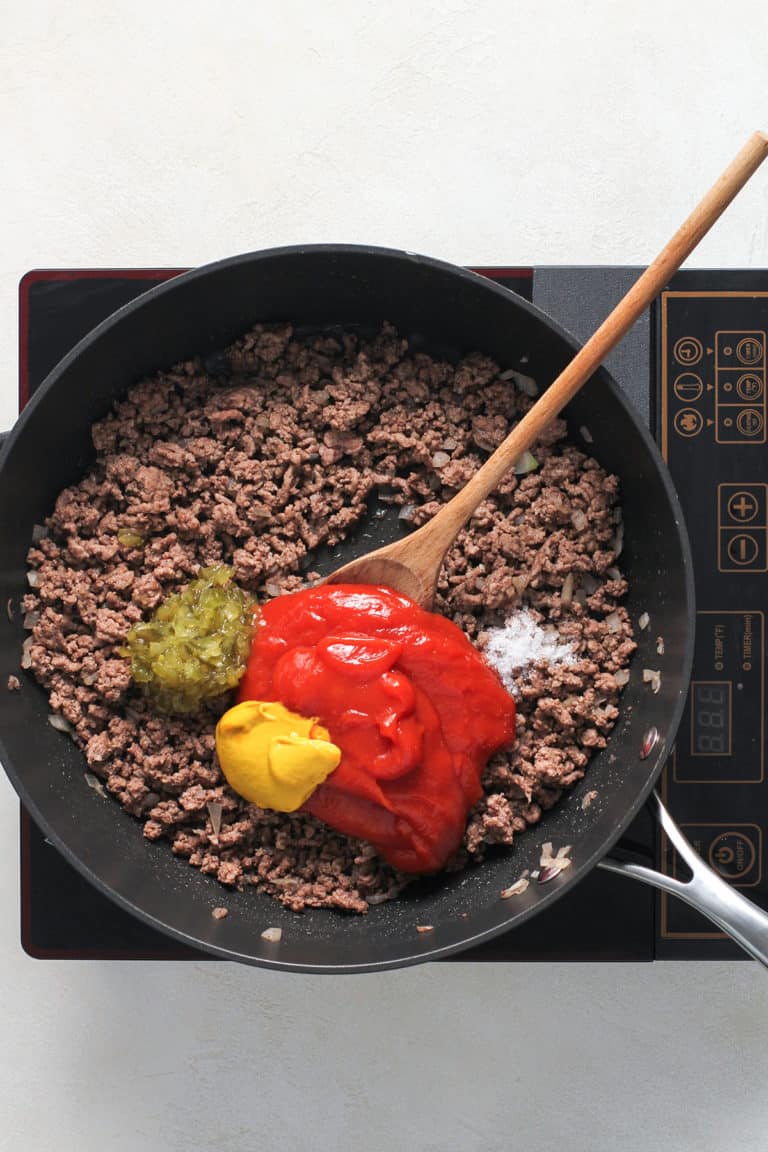 WHAT IS TATER TOT CASSEROLE?
If you grew up in the Midwest, chances are good that you have had tater tot casserole (or "tater tot hotdish" as my friends from Minnesota call it) at least once or twice.
The traditional tater tot casserole is a combination of ground beef, cream of mushroom soup, cheese, and tater tots. Sometimes you'll find recipes that call for canned green beans and/or canned corn as well.
There's nothing wrong with the traditional version, especially if it's what you grew up eating, but my family really prefers this cheeseburger twist on the classic.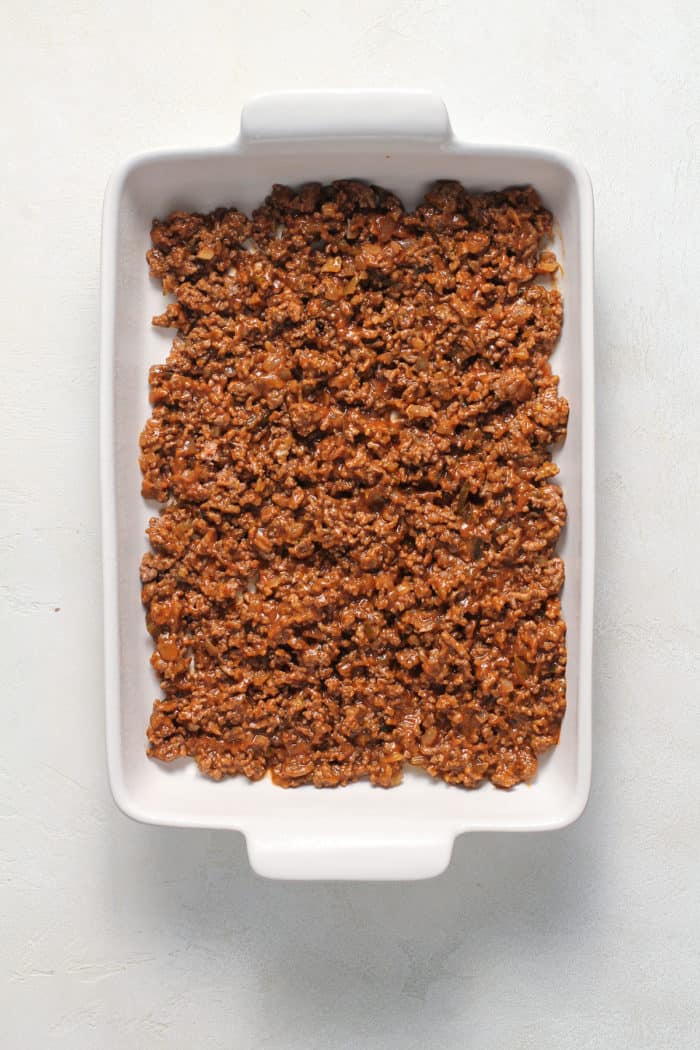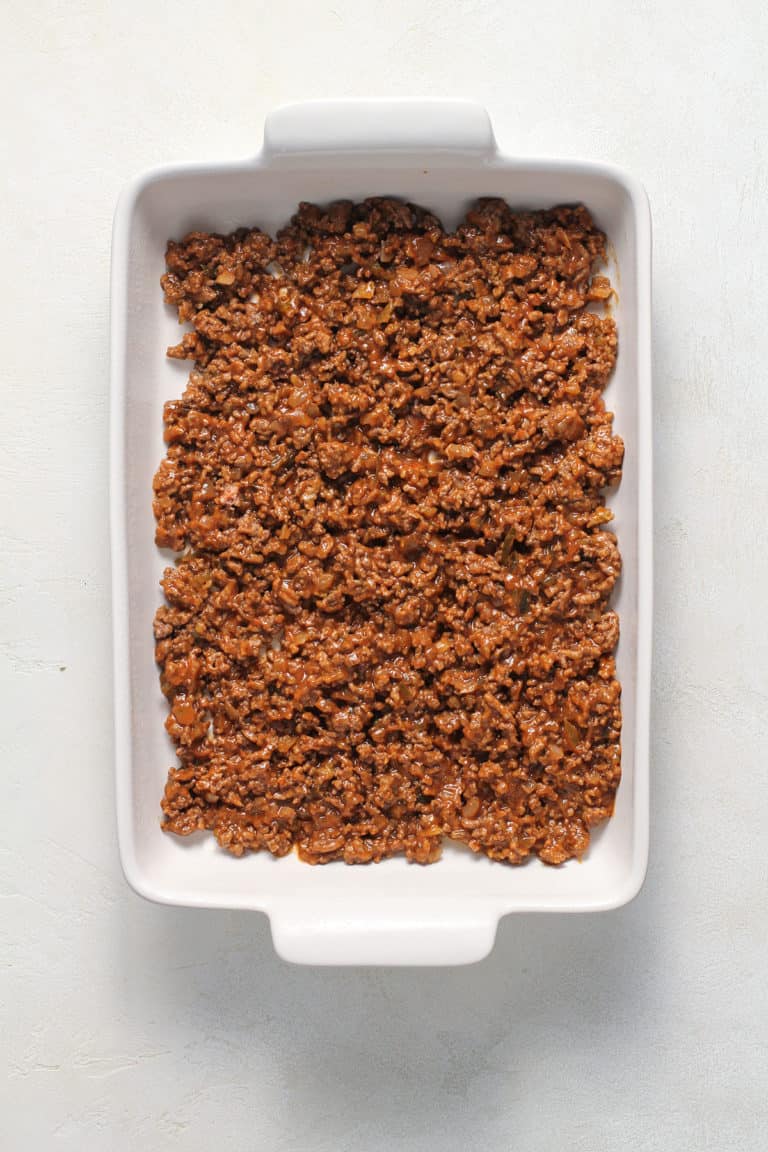 Everything you love about a cheeseburger and fries is here – hamburger, delectable homemade cheese sauce, ketchup and mustard, and even dill pickle relish.
It's topped with plenty of tater tots, because.. well, tots! I personally will take a tot over a fry any day of the week, so I decided that's how we'd top our casserole.
After I'd made this once for our little family, I was raving about it to the fam and totally got roped into making it again for a whole crowd of people. It's that good.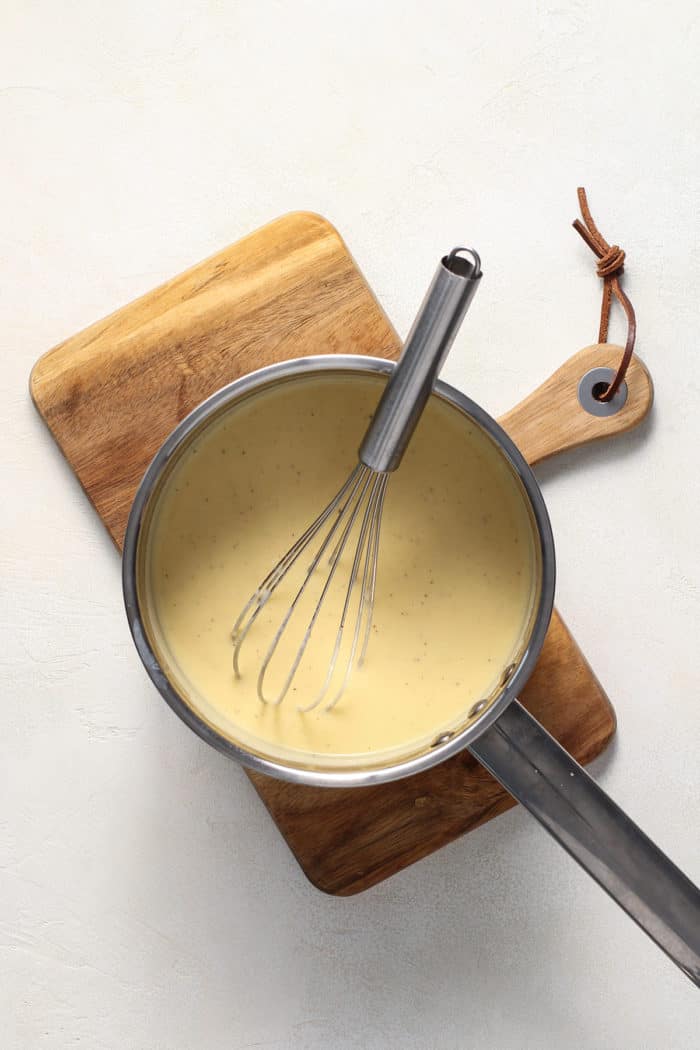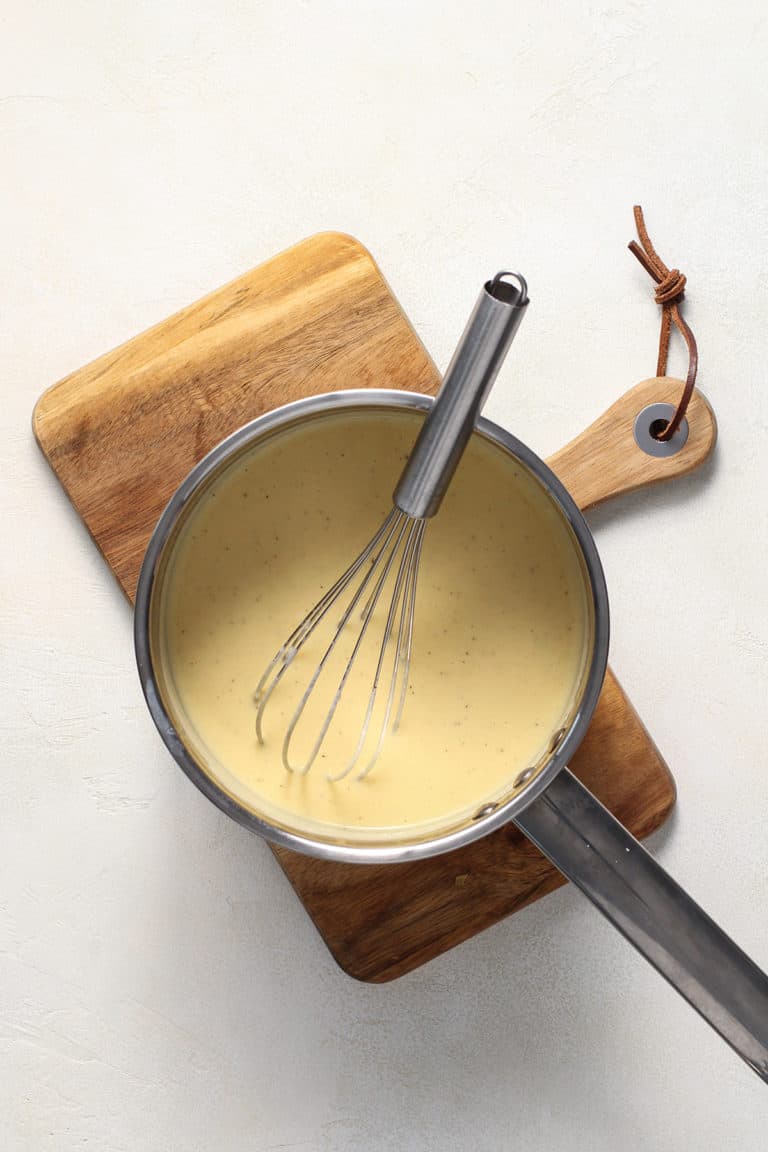 HOW TO MAKE CHEESEBURGER TATER TOT CASSEROLE
This Cheeseburger Tater Tot Casserole is a great weeknight dinner. Serve it alongside a salad with homemade ranch dressing and some honey glazed carrots or roasted green beans for a meal that both kids and adults will love.
Ingredients you'll need
The "burger" part of this recipe comes from:
1 pound lean ground beef
1/3 cup diced yellow or sweet onion
2/3 cup ketchup
2 tablespoons yellow mustard
2 tablespoons dill or sweet pickle relish
½ teaspoon salt
My family likes to use dill pickle relish, but feel free to use sweet relish if that's what you prefer!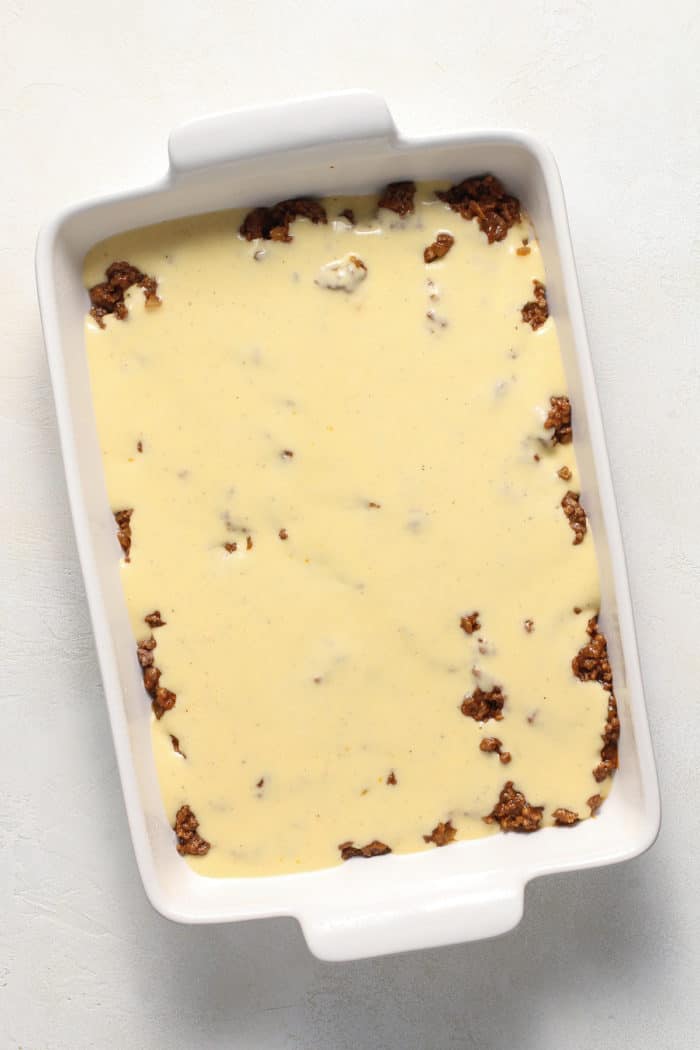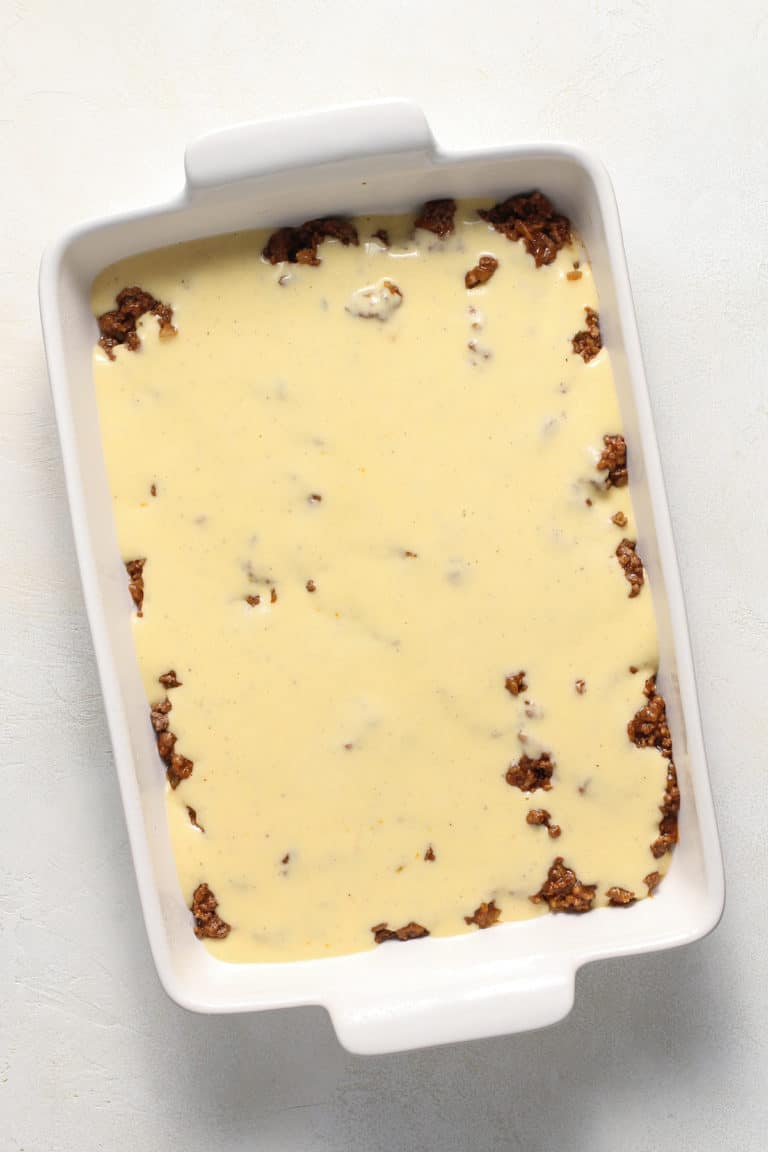 To take this from hamburger casserole to cheeseburger casserole, we'll add a cheese sauce made from:
2 tablespoons butter
2 tablespoons all-purpose flour
1 1/2 cups milk
1/4 teaspoon salt
1/4 teaspoon freshly ground black pepper
2 cups shredded cheddar cheese, divided
Don't forget to buy a 32-ounce bag of tater tots, too!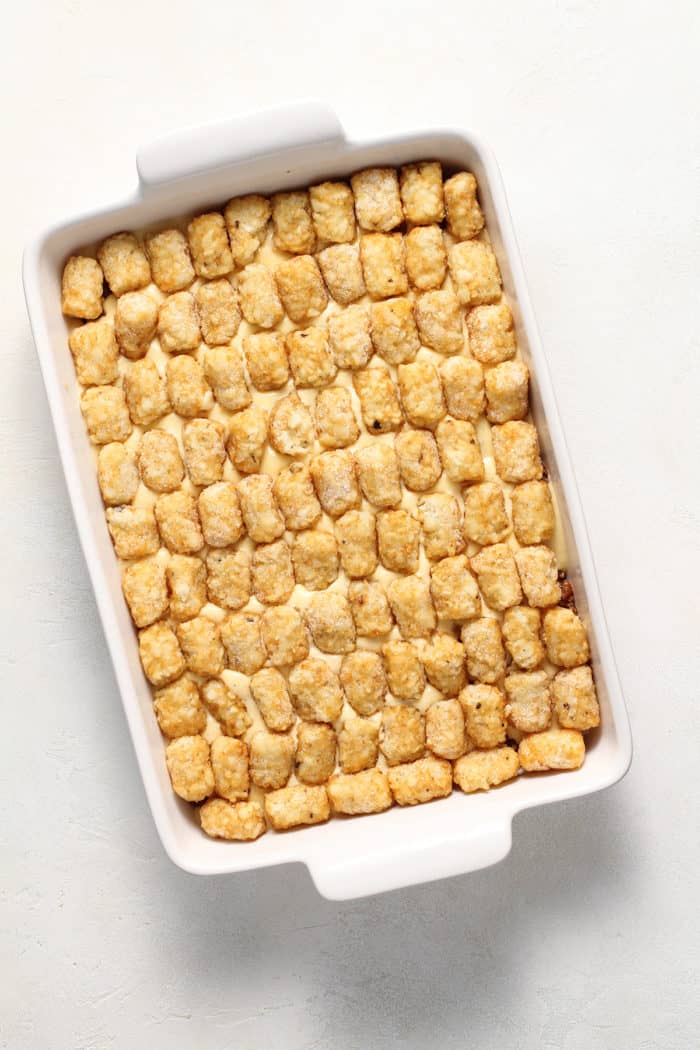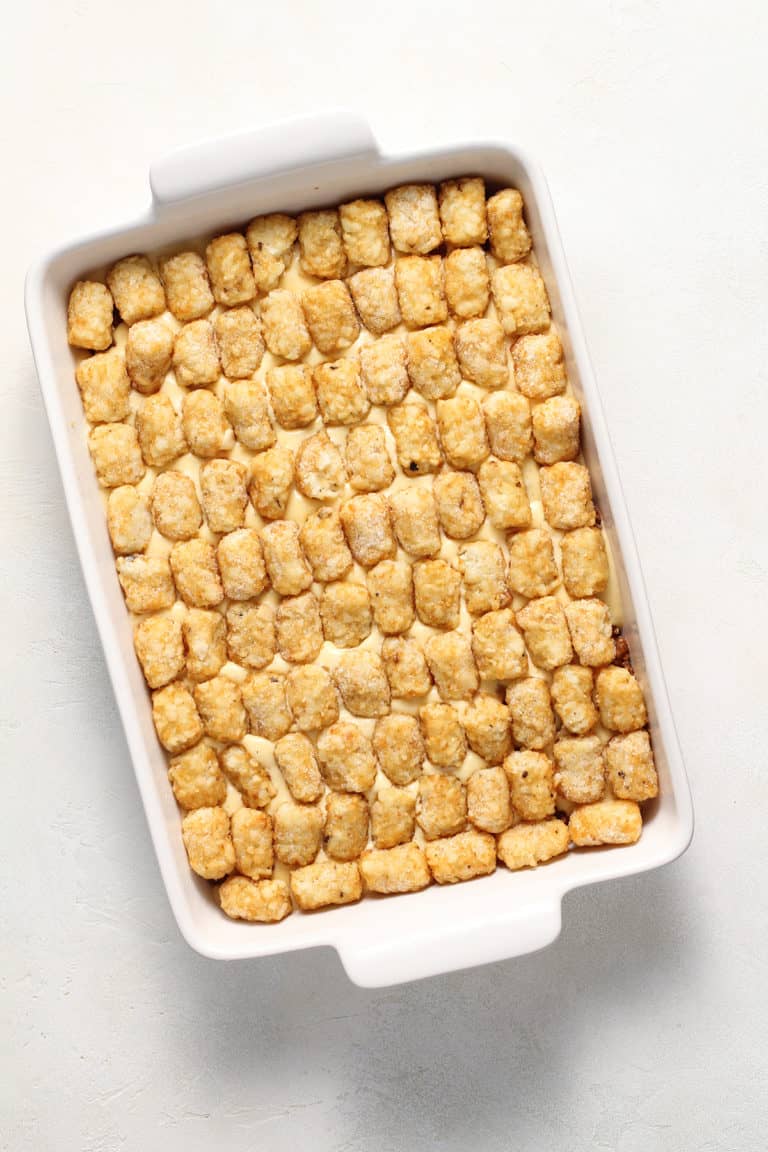 Making this recipe
Start by making your cheeseburger base.
Brown the beef along with the onion in a large skillet over medium heat. Add the ketchup, mustard, relish, and a bit of salt. Give it a taste and adjust the seasoning as you like.
Spoon this mixture into a greased 2-quart casserole dish and set it aside.
Now grab a saucepan and make the cheese sauce. Melt the butter over medium heat, then slowly whisk in the flour until it is smooth.
Keep whisking for a couple of minutes; the roux you just made will turn a golden color.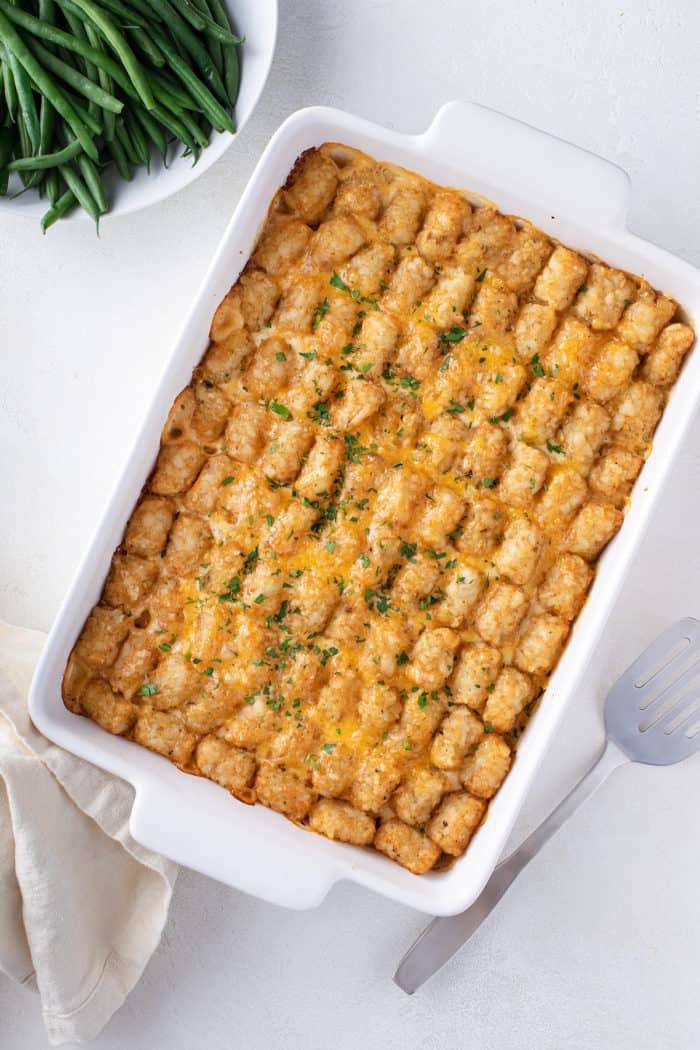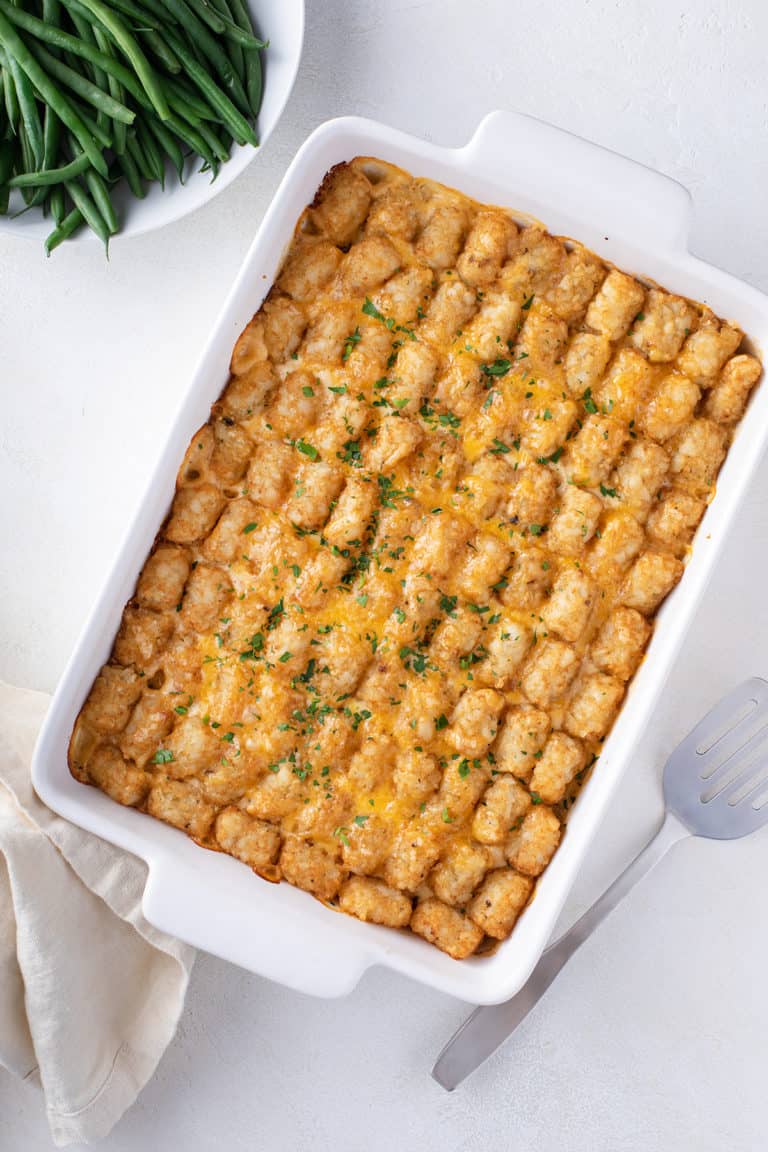 Slowly add the milk – keep whisking! Whisk away until the sauce is thick and bubbling. This will take about 5 minutes.
Add some more salt and pepper, then whisk in most of the cheese until it is melted and the sauce is nice and smooth.
Evenly pour the sauce over the meat, then arrange the tater tots in an even layer on top. You may have some extra tots, depending on the width of your baking dish.
Bake for about 35 minutes, then sprinkle on the rest of the cheese and bake for another 5 minutes, or until the cheese is melted.
Now you're ready to dig in!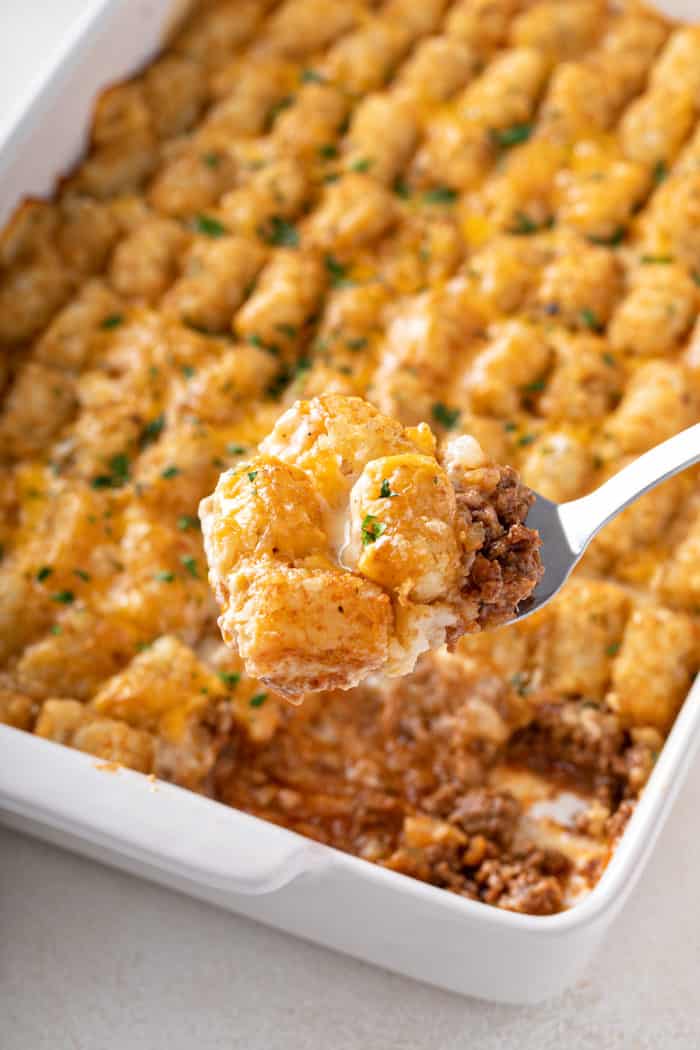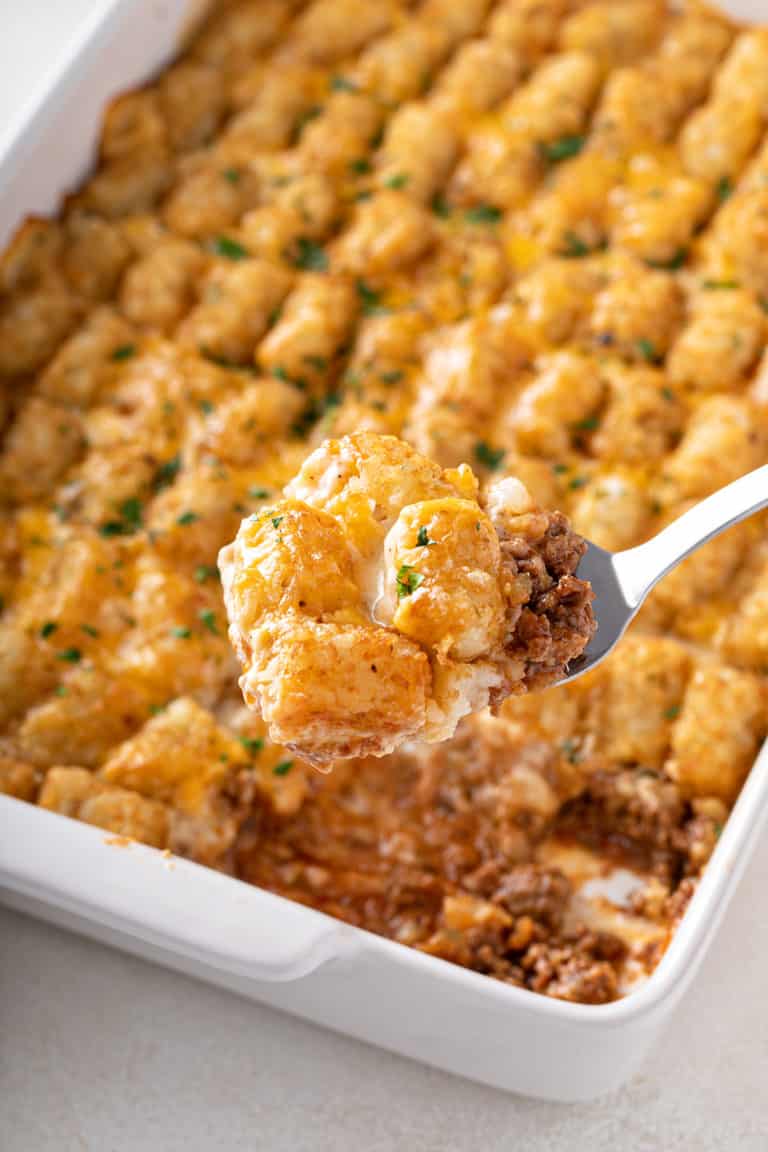 HOW TO CHANGE UP THIS RECIPE
The recipe as written is how my family likes this Cheeseburger Tater Tot Casserole, but there are other ways you can enjoy it!
Add a can of diced tomatoes to the cheese sauce before adding it to the casserole for some extra tomato flavor.
Swap out the ground beef for ground turkey for a turkey burger variation.
Use your favorite cheese in place of the cheddar. Pepper jack or even gouda would be delicious!
If you like a little spice, try topping it with these candied jalapeños or add several dashes of your favorite hot sauce!
If you're cooking for a crowd, this recipe easily doubles – just grab a second casserole dish or a bigger one.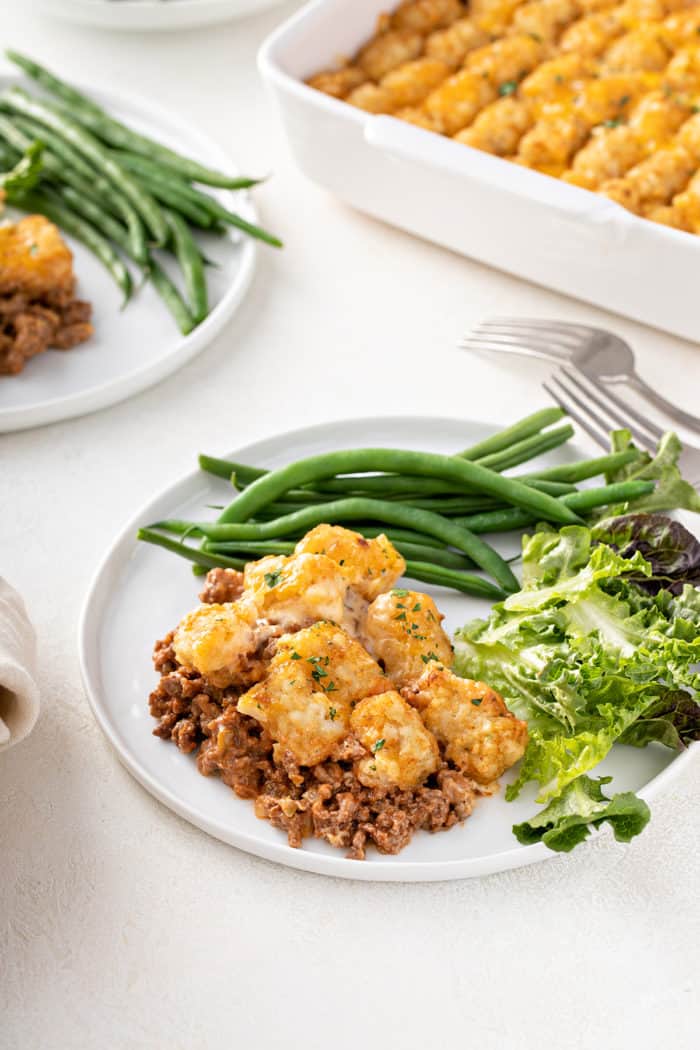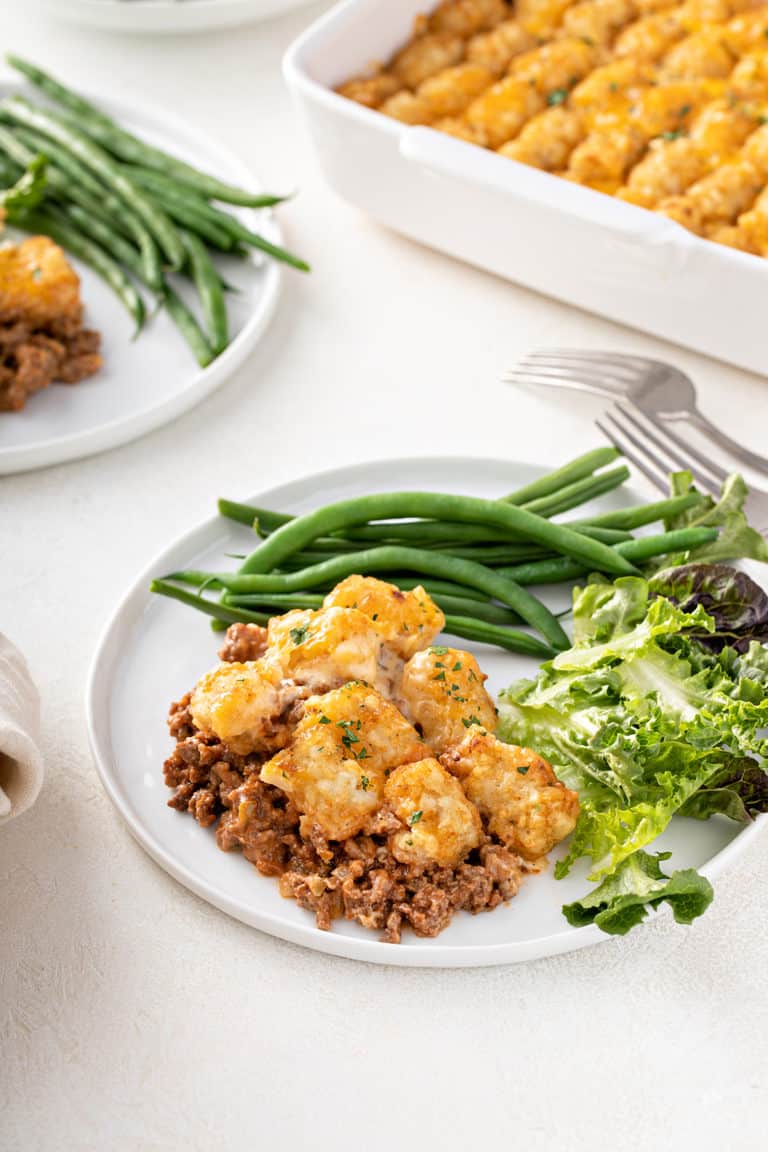 MAKE-AHEAD TIPS
If you want to prep this casserole ahead of time, you totally can.
Assemble the casserole as written, but don't add the tater tots yet. Cover the pan and refrigerate the casserole for up to 1 day.
When you're ready to bake it, top it with the tater tots and bake as directed.
Want to make it even further in advance? Try freezing it!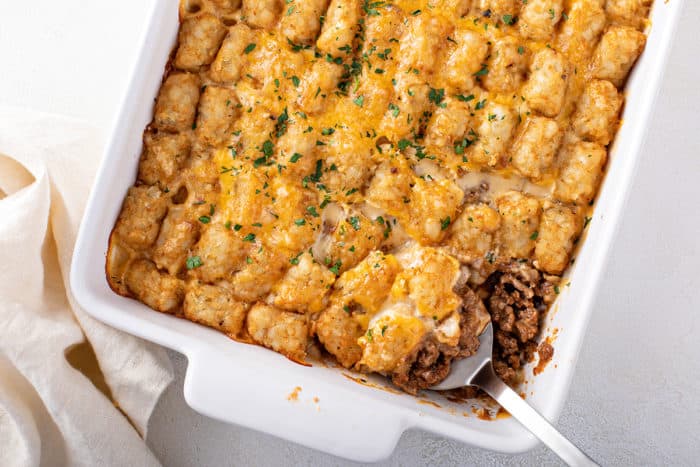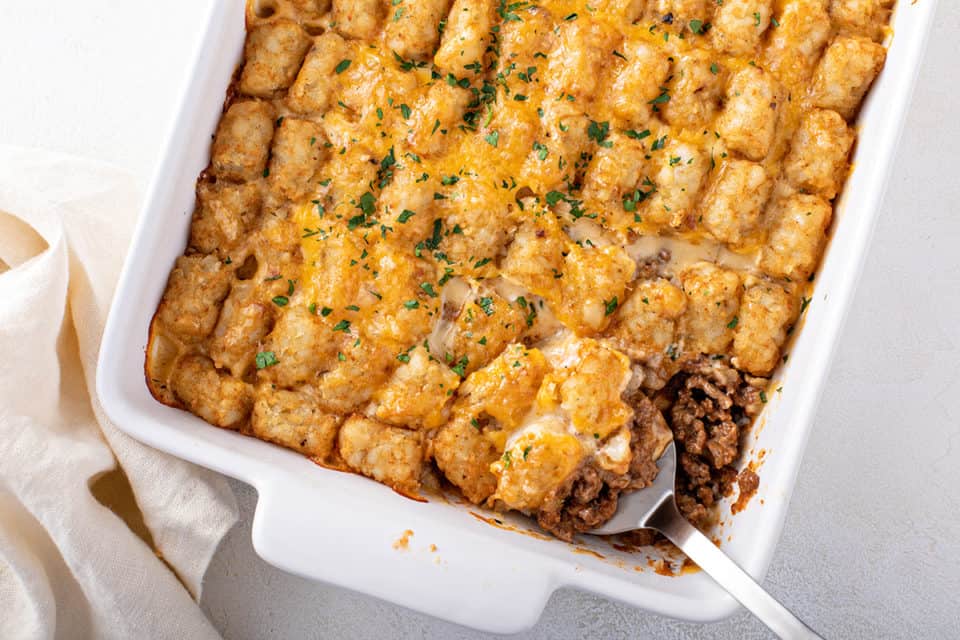 Assemble the casserole as written; you can go ahead and add the tater tots and the extra cheese this time. Make sure to freeze the casserole in a disposable baking pan so you can put it right from the freezer into the oven.
Cover the pan tightly in at least 1 layer of foil and freeze your Cheeseburger Tater Tot Casserole for up to 1 month.
When you're ready to bake, preheat the oven and add the casserole directly from the freezer. Keep it covered with a layer of foil for 20-25 minutes, then remove the foil and continue to bake for another 30-35 minutes or until it is hot, bubbly, and golden.
This casserole is a great recipe to take to someone in need of a meal. Just pop it into a disposable pan and include instructions for baking right away or freezing for later. They'll love having a hot Cheeseburger Tater Tot Casserole to enjoy whenever they're ready.