Cheeseburger Tater Tot Casserole
Cheeseburger Tater Tot Casserole is everything you need for a cozy winter dinner. Even better, the recipe easily doubles or triples to feed a crowd!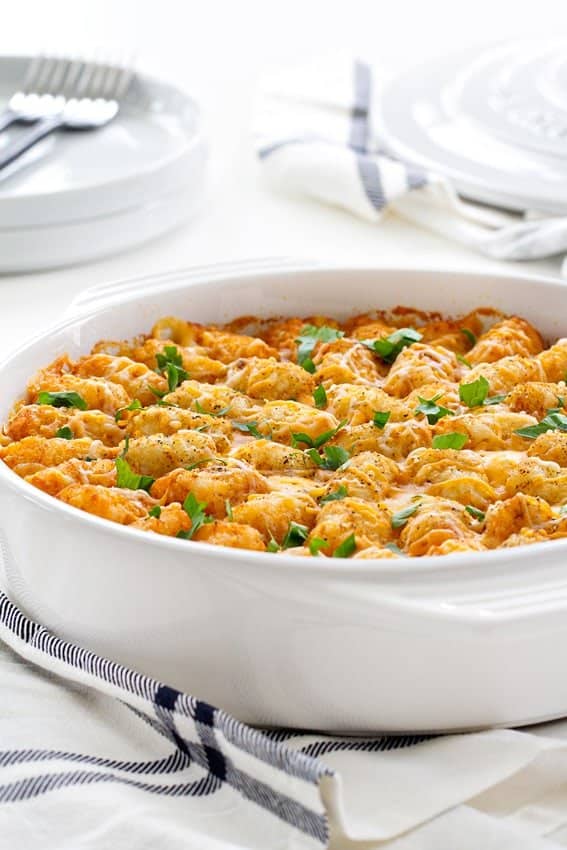 This post was sponsored by KRAFT, HEINZ and ORE-IDA, and I was compensated to write it. Regardless, what I have written reflects my own opinion and experience. I hope you find it useful. Thank you for continuing to support the brands that make My Baking Addiction possible.
There's been a lot of talk around here lately about the dinner game getting better – remember my Homemade Sloppy Joes post? We're doing our best to make a change here, one that we need to stick so we're not resorting to PB&Js with carrot sticks three times a week.
I mean, don't get me wrong, I love a good PB&J, but that's just not a great habit to instill in my little babe.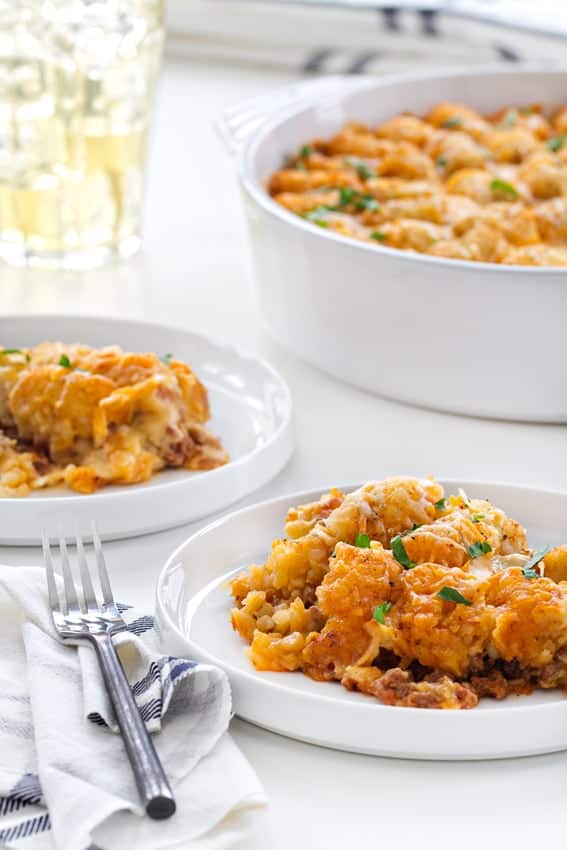 We've been working hard on getting Elle to try new things, and I'll tell you – the secret to our success? Gumballs. The kid loves gum, and she doesn't swallow it or anything.
She actually chews it, and puts it in the trash when she's done. I am flabbergasted, but also using it to my advantage every darn second I get.
From eating broccoli and cucumbers to new textures like casserole, we're using those little gumballs to our every advantage. Elle knows that if she tries everything on her plate, after dinner she can have a gumball.
That's right, I'm not above bribery, and I don't mind. She's eating spinach by the the fistful, you guys.
We gave up casseroles for a while with this little one, because having all her food in one pot sort of freaked her out. And man, did I miss them. Especially now that it's so cold.
Winter is definitely present in Ohio, and all I want to eat are soups and casseroles like it's my J-O-B. (Let's face it, it kind of is..) Plus, casseroles, like this Three Cheese Baked Mostaccioli are such a game changer when you're trying to better your dinner game in the midst of a hectic schedule.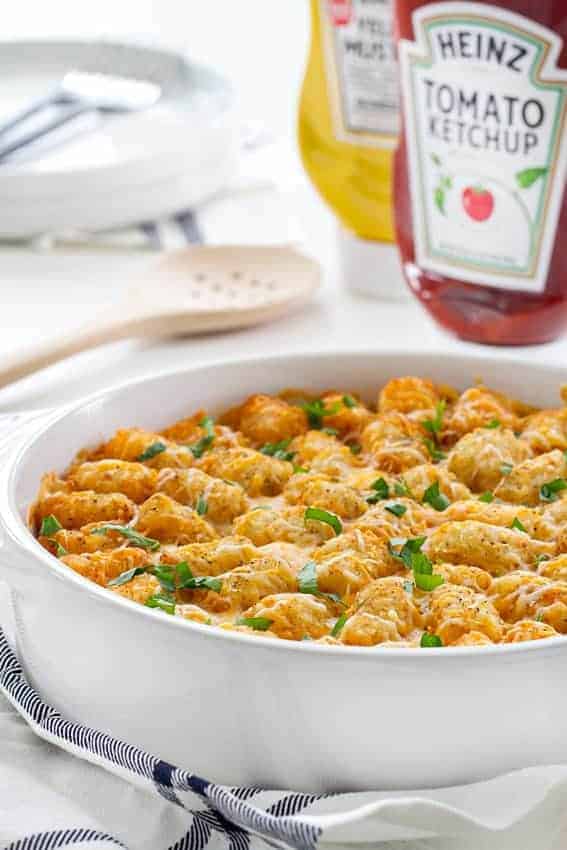 So I'm pretty excited not only to share this Cheeseburger Tater Tot Casserole, but to tell you that my little babe loved it! We are all pretty excited that she ate a casserole and was happy about it.
Everything you love about a cheeseburger and fries is here – hamburger, delectable homemade cheese sauce, HEINZ ketchup and mustard, and even dill pickle relish. You can definitely add in a can of diced tomatoes too, but tomatoes really aren't our thing.
It's topped with ORE-IDA® TATER TOTS®, because.. well, tots! I personally will take a tot over a fry any day of the week, so I decided that's how we'd top our casserole. My twist on the original midwestern "hot dish".
After I'd made this once for our little family, I was raving about it the fam, and totally got roped into making it again, for a whole crowd of people. It's that good.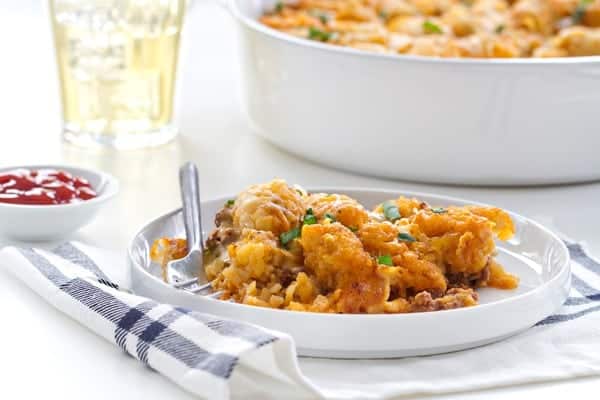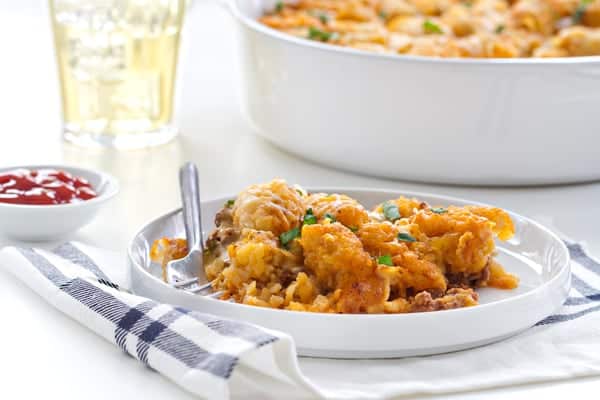 Easy enough, this Cheeseburger Tater Tot Casserole easily doubles – you just need a second casserole dish. When you're cooking for a crowd, it's easier to buy the ingredients in bulk, and luckily, they're all available at your local Sam's Club.
You can grab them when you're grabbing paper plates and plastic cups, because who wants to do dishes after feeding a crowd? Not this girl!
This is exactly the sort of recipe you need for these last weeks of winter that are hanging on. So comforting and cozy, and worth every single, solitary bite. If you like a little spice, try topping it with these candied jalapenos!
It's especially perfect for getting that delectable cheeseburger flavor when it's too cold outside to fire up the grill. If you are on the look out for more comfort food recipes, these turkey meatballs are delicious.
Cheeseburger Tater Tot Casserole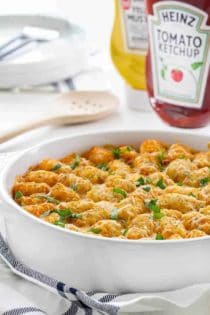 Ingredients:
1 pound lean ground beef
1/3 cup diced yellow or sweet onion
2/3 cup HEINZ ketchup
2 tablespoons HEINZ prepared yellow mustard
2 tablespoons HEINZ dill pickle relish
2 tablespoons butter
2 tablespoons all-purpose flour
1 1/2 cups milk
1/4 teaspoon salt
1/4 teaspoon freshly ground black pepper
2 cups KRAFT Triple Cheddar Natural Shredded Cheese, divided use
32 ounce bag ORE-IDA® TATER TOTS® Potatoes
Directions:
Preheat oven to 350°F. Butter a casserole dish, or spray with nonstick cooking spray.
In a large skillet over medium heat, cook beef and onion stirring occasionally, until beef is brown; drain.
Stir in ketchup, mustard and relish. Add salt and pepper to taste. Spoon mixture into prepared casserole dish and smooth into an even layer.
In a medium saucepan over medium heat, melt butter completely. Slowly whisk in the flour until smooth. Continue to whisk while cooking the roux until it is golden brown.
Slowly whisk in the milk, taking care to fully incorporate it with the roux. Keep whisking until the sauce is thick and bubbling; about 5 minutes. Stir in salt and pepper.
Remove the pan from heat and whisk in 1 1/2 cups of cheese until it is completely melted and the sauce is smooth.
Evenly pour the sauce over the meat mixture.
Arrange the frozen ORE-IDA® TATER TOTS® potatoes in an even layer over the cheese sauce. You will extra tots.
Bake in preheated oven for 35 minutes. Remove from oven and sprinkle remaining cheese onto the tots. Return to the oven for an additional 5 minutes, or until the cheese is melted.
If desired, sprinkle with fresh Italian parsley just before serving.
Follow Jamie on Instagram. We love to see what you're baking from MBA! Be sure to tag @jamiemba and use the hashtag #mbarecipes!

This post may contain affiliate links. We are a participant in the Amazon Services LLC Associates Program, an affiliate advertising program designed to provide a means for us to earn fees by linking to Amazon.com and affiliated sites.