Ritz Cracker Chicken couldn't be easier, or more delicious. With just a handful of ingredients, you'll have dinner on the table in no time!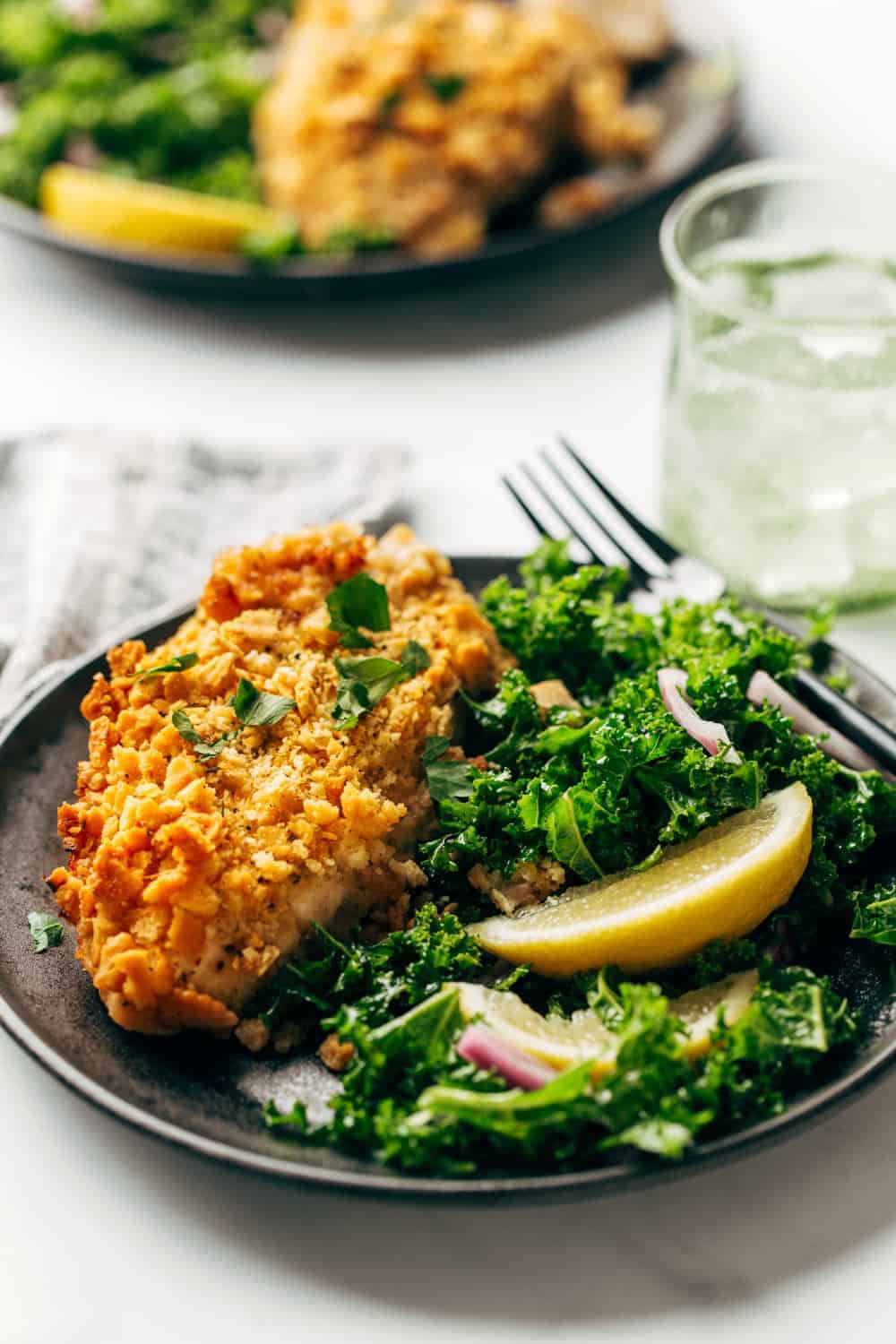 It's hard to believe that we are well over halfway through February, considering January lasted no less than 300 days.
Our basement flooded just a couple of days before New Years. This opened a whole Pandora's box of issues that we've spent the last month and a half dealing with.
Plumbers, drywall repair guys, flooring dudes, they've all been in and out of my house for weeks.
I'm over it.
When I am spending big chunks of my day with strangers in my house, I don't really want to put a lot of effort into dinner at the end of the day. We've been eating Ritz Cracker Chicken more often than I actually want to admit these days.
Luckily, it's a favorite of everyone in my family, so no one around here is complaining.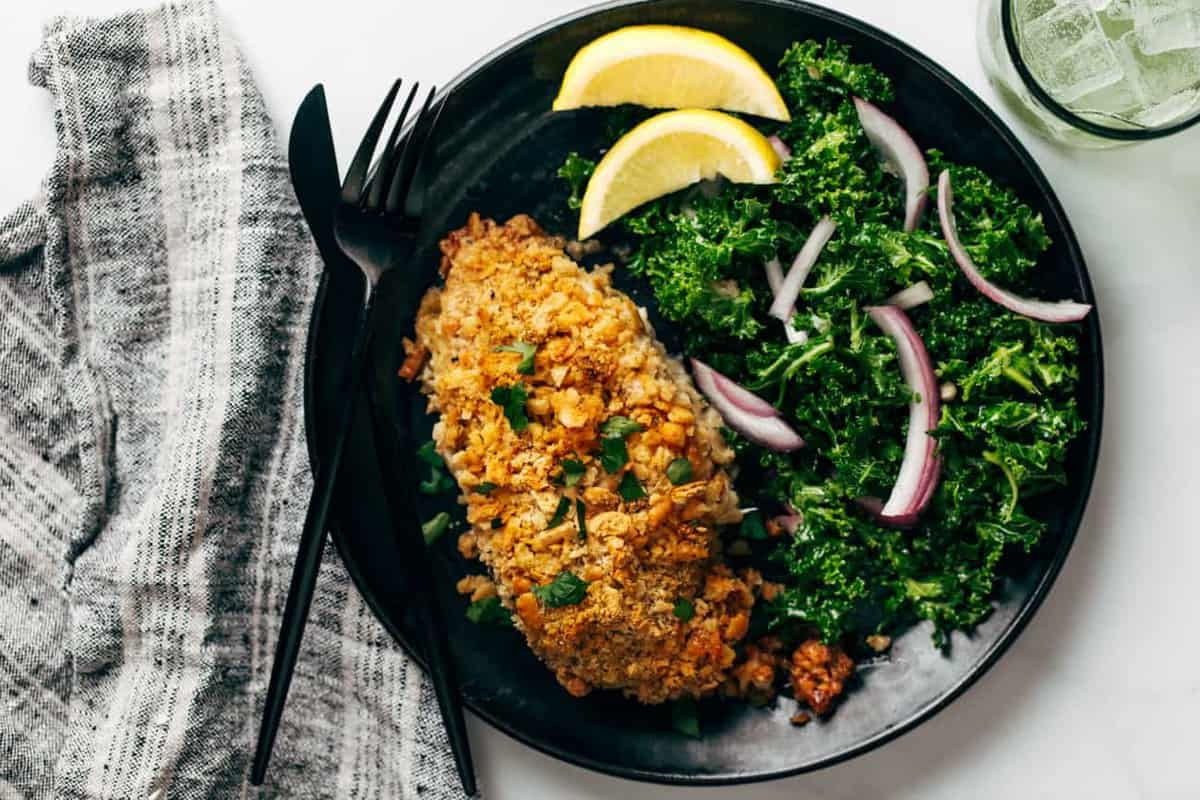 RITZ CRACKER CHICKEN RECIPE
I've mentioned in the past that I have a very picky eater for a husband. The guy would gladly eat spaghetti with red sauce six days out of seven.
However, he'd happily rotate this Ritz Cracker Chicken with said spaghetti, or noodles and gravy, and be completely content for all of eternity.
Okay, maybe he'd throw pizza into the mix every once in a while, but you get my point. This chicken is his jam.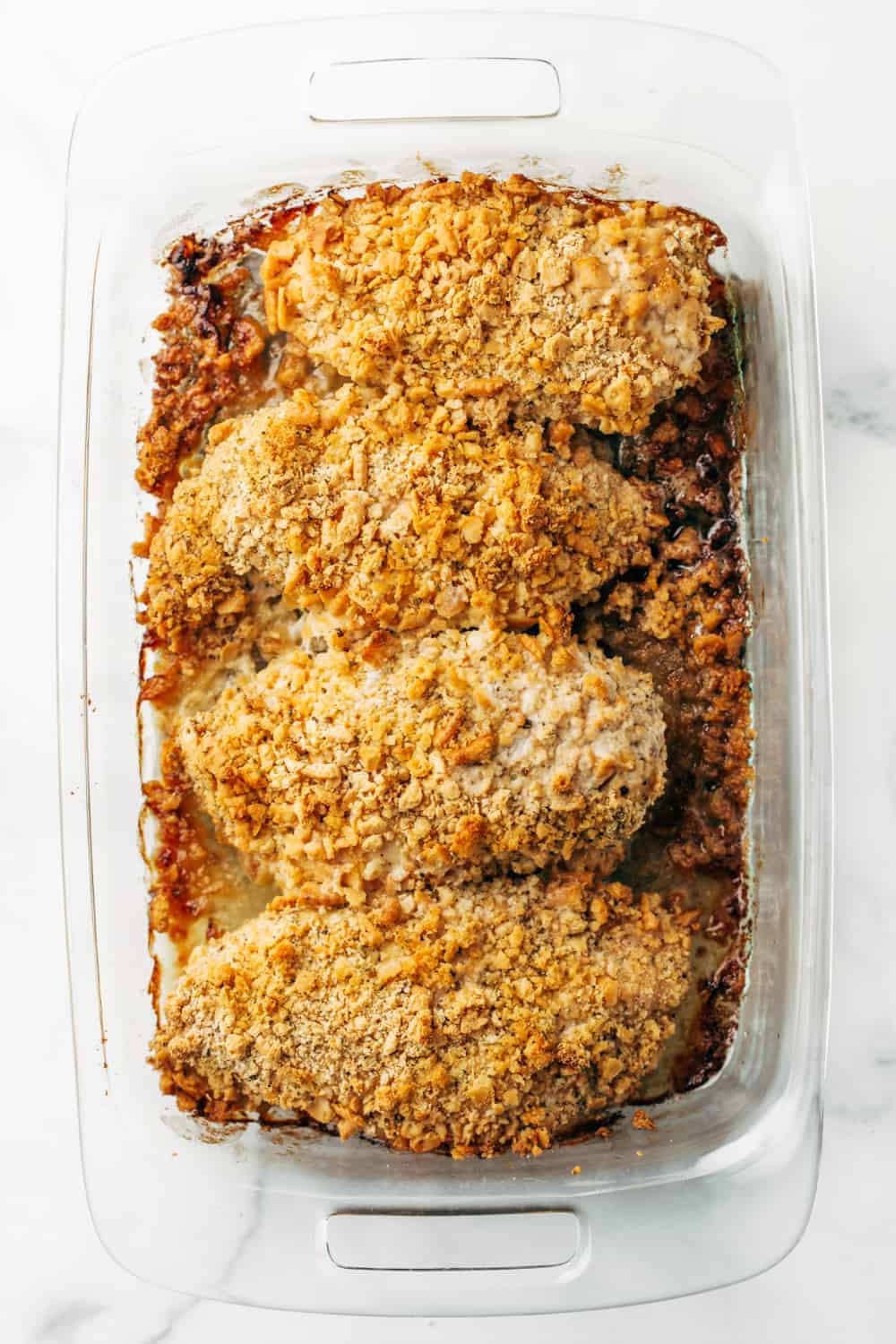 Not only is Ritz Cracker Chicken delicious and easy to make, it pairs really well with all sorts of side dishes. From buttered noodles and a fresh salad, to marinara with spaghetti, corn on the cob or mashed potatoes, this chicken recipe will most definitely become one of your go-to main dishes – especially on busy weeknights.
I mean, you can't even order a pizza to be delivered in the time it takes this recipe to come together from start to finish.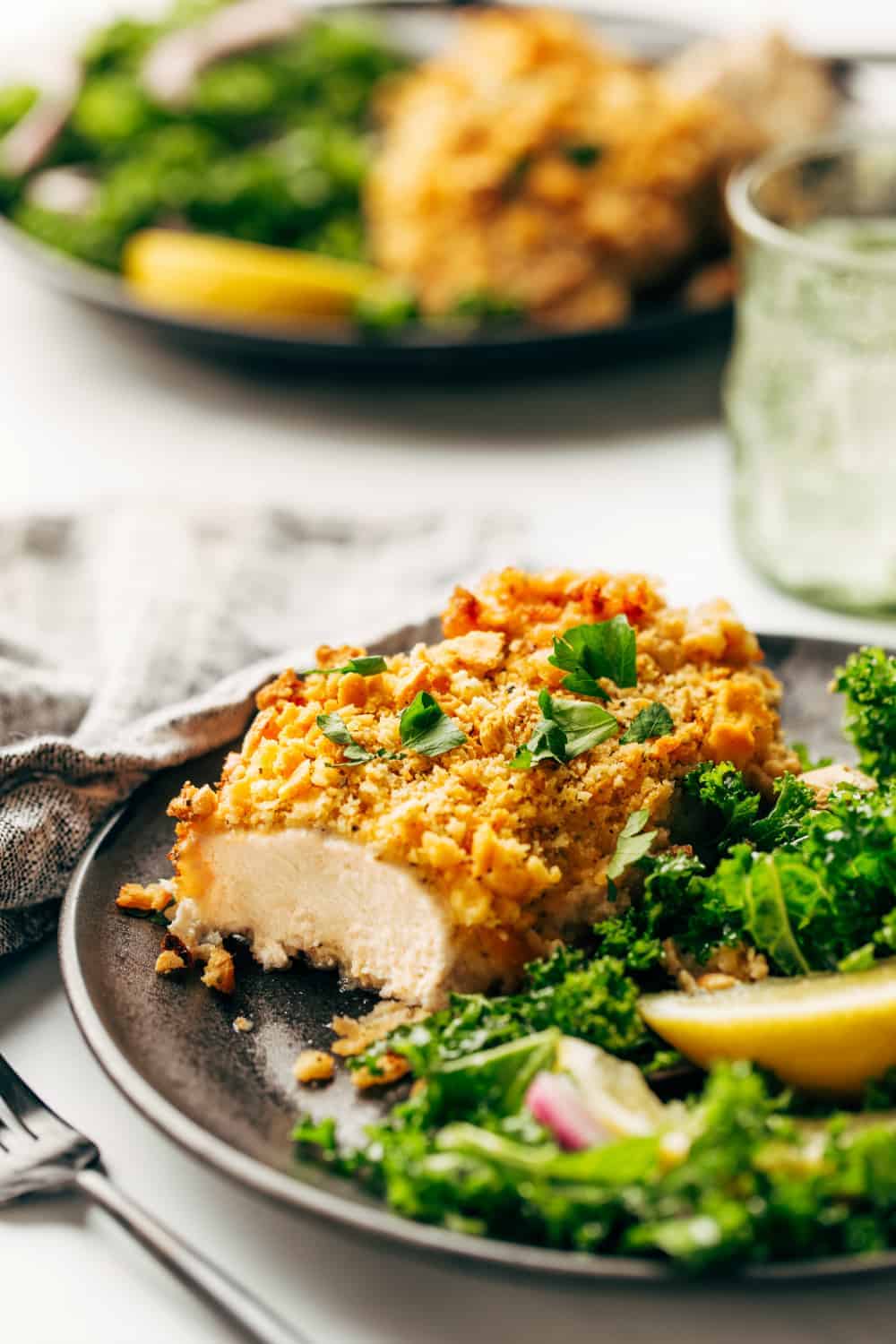 Even though it's not the fanciest of meals, I've served Ritz Cracker Chicken numerous times when we've had family over and everyone always falls in love with it immediately. Both my Dad and my mom's boyfriend actually proclaimed it to be "the best chicken they'd ever tasted."
That, my friends, is a pretty serious claim, because they can both be tough critics.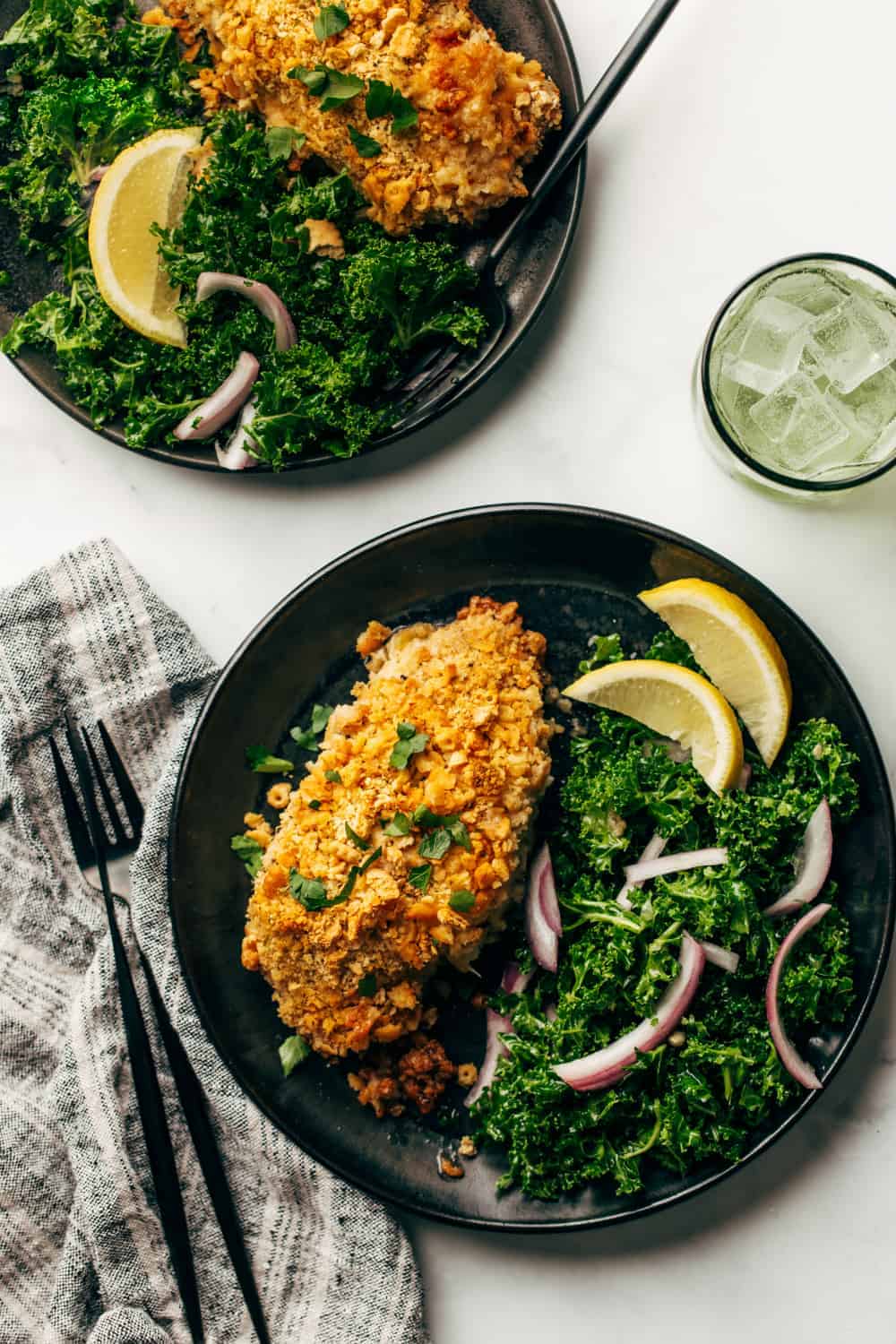 What I really enjoy is that I can take this base recipe and make it fit any sort of sides we want to have by switching up the spice profile. Think Italian seasoning, BBQ seasoning, Ranch dressing, or even Frank's Red Hot.
The simple combination of Ritz Crackers and butter creates a wonderfully crispy outside, but an incredibly juicy and tender inside. It's exactly what you want baked chicken to be. There's nothing dried out or lacking in flavor here!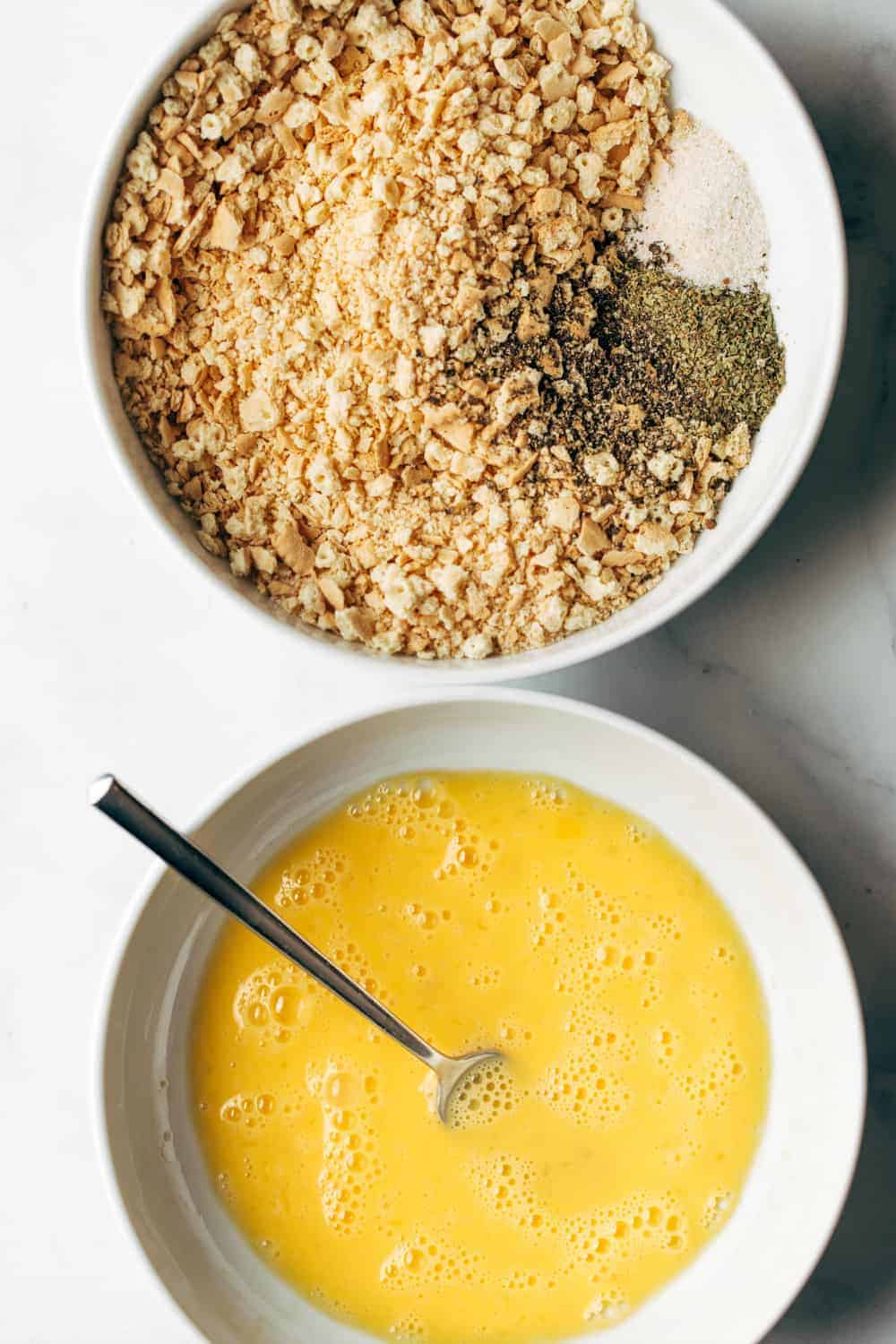 HOW TO MAKE RITZ CRACKER BAKED CHICKEN
Ritz Cracker Chicken only takes about 5 minutes to prep and 30 minutes to cook. You can have dinner on the table in well under an hour with this recipe!
To make Ritz Cracker Chicken, start with two shallow bowls.
In one bowl, beat 2 eggs. In the other, mix together crushed Ritz Crackers and your desired seasonings.
Dip the chicken into the beaten eggs, then into the cracker mixture. Place the cracker-coated chicken into a large baking dish and arrange cubes of butter around each piece of chicken.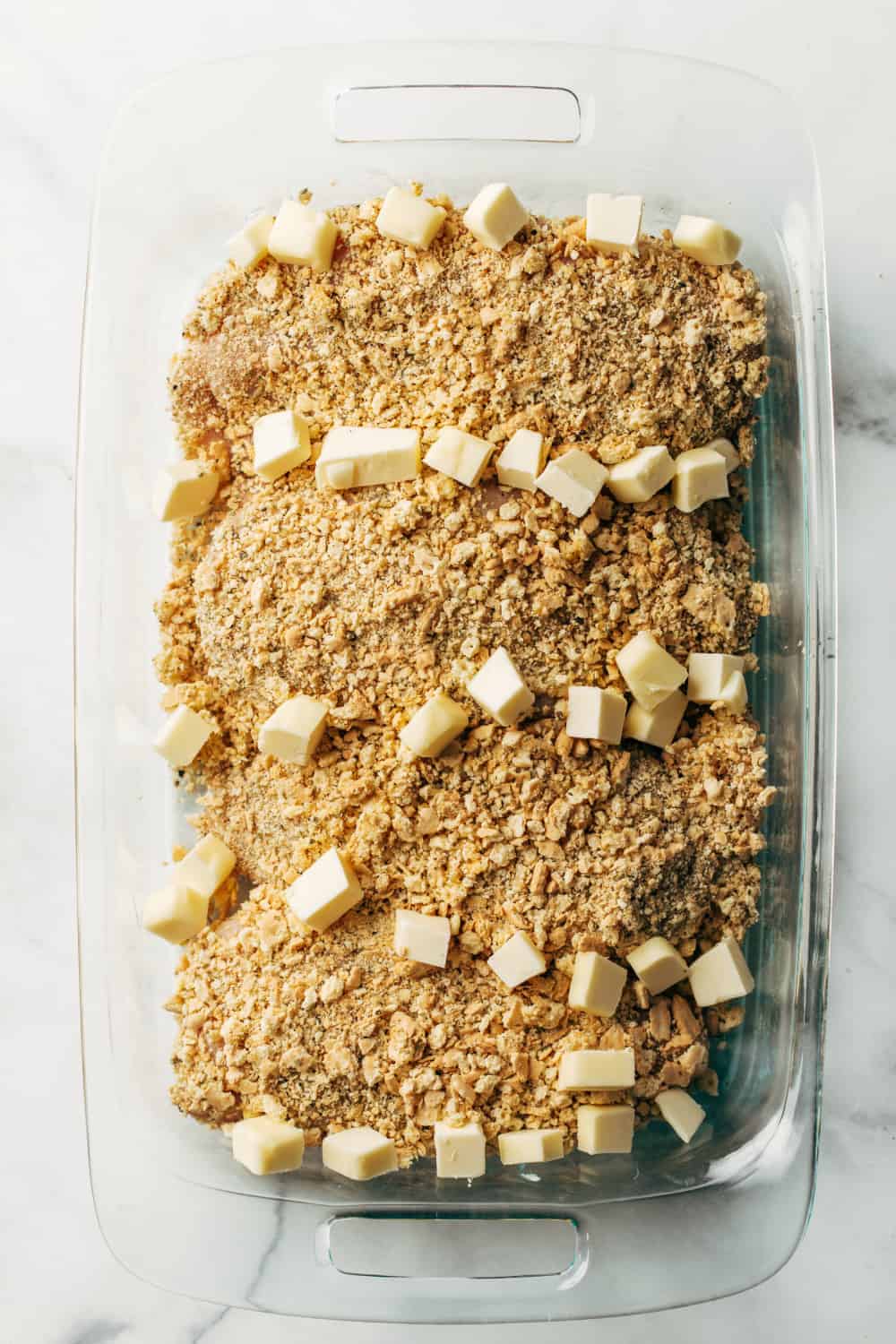 All that's left to do now is bake! We like to use thin chicken breasts for Ritz Cracker Chicken. If you use larger pieces of chicken, they may take longer to cook through.
If you need an easy dinner in your back pocket for the picky eaters in your life, THIS is the recipe. Be sure to also check out my Instant Pot Pulled Pork, Cheeseburger Tater Tot Casserole, Homemade Sloppy Joes and this Creamy Garlic Chicken.