I have been staring at a package of Oreo Cookies in my pantry for about a month. I honestly can't remember why I bought them, but I do know that I refused to break that seal until I had something in mind other than a simple cookies and milk dunk fest.
Over the weekend, I developed a pretty fierce craving for rich, decadent brownies and decided that Oreo Brownies sounded even better. I used my favorite brownie recipe and simply folded chopped Oreo Cookies into the batter.
I was pretty thrilled to discover that the cookies held up quite well within the brownie batter which led to distinct cookie chunks in every bite. And since I have always had a problem with leaving well enough alone, I decided to kick these up a notch with a layer of vanilla buttercream and more chopped Oreo Cookies.
These Oreo Cookies Brownies are rich, decadent, and delicious and will definitely quell any intense chocolate craving that you may encounter.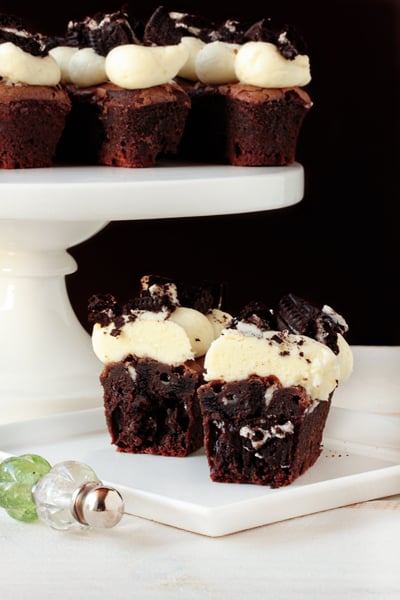 For those of you that are questioning why these Oreo Brownies look so symmetrical, I'll fill you in! You see I have a pretty intense addiction to bakeware. In fact, I could probably be on the show Hoarders if they had bakeware edition. Thankfully I'm also organized and have plenty of storage, so my little pan addiction isn't taking over my house…yet.
I used a silicone Dessert Bar Pan from Chicago Metallic. I'm typically not fond of silicone baking forms, but I must say, I was quite pleased with the results from this one and definitely see it getting a lot of use in my kitchen. If you don't have this pan, no worries because these brownies bake up perfectly in 8-inch square pan.
Oreo Brownies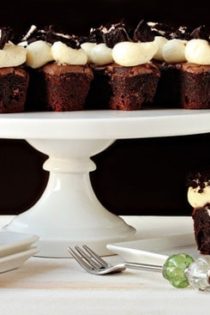 Ingredients:
For the Brownies
4 ounces unsweetened chocolate; coarsely chopped
3/4 cup butter
1 cup sugar
3 eggs
1 teaspoon pure vanilla extract
¼ teaspoon kosher salt
1 cup all-purpose flour
12 Oreos, chopped
For the Frosting
1/2 cup unsalted butter, room temperature
2 cups confectioners' sugar
¼ teaspoon fine grain sea salt
1 teaspoon clear vanilla extract
2 tablespoons milk
8 Oreos, chopped
Directions:
For the Brownies
1. Preheat oven to 350 degrees. Line an 8×8 inch baking pan with foil and spray with nonstick cooking spray.
2. Microwave chocolate and butter in large bowl at medium (50% power) for 3-4 minutes or until butter is melted.
3. Whisk until chocolate is melted. Whisk in sugar, eggs, vanilla and salt. Gradually add flour and stir until just combined. Fold in 12 chopped Oreo cookies.
4. Spread batter into prepared pan. Bake for 30 minutes; do not over bake.
5. Remove to cooling rack. Allow to cool completely before cutting or frosting.
For the Frosting
1. In the bowl of a stand mixer or in a large bowl with a hand mixer, cream butter until fluffy. Slowly add in confectioner's sugar, and continue mixing until well blended.
2. Add salt, vanilla, and milk. Blend on low speed until moistened. If frosting is too stiff, slowly add in more milk until you reach the desired consistency. Beat at high speed until frosting is smooth and fluffy.
3. Spread or pipe frosting onto the brownies and top with chopped Oreo cookies.
Notes:
- I used the silicone Dessert Bar Pan from Chicago Metallic for this recipe. If you use this pan, evenly divide the brownies batter amongst the 12 wells and bake for 20 minutes.
- Store Oreo Brownie Bars in the refrigerator for up to 2 days. Remove to room temperature for 1 hour before serving.
All images and text ©
Follow Jamie on Instagram. We love to see what you're baking from MBA! Be sure to tag @jamiemba and use the hashtag #mbarecipes!