Fudgy, rich, and filled with chunks of Oreo cookies, these Oreo brownies are perfect for any fan of the classic chocolate sandwich cookie.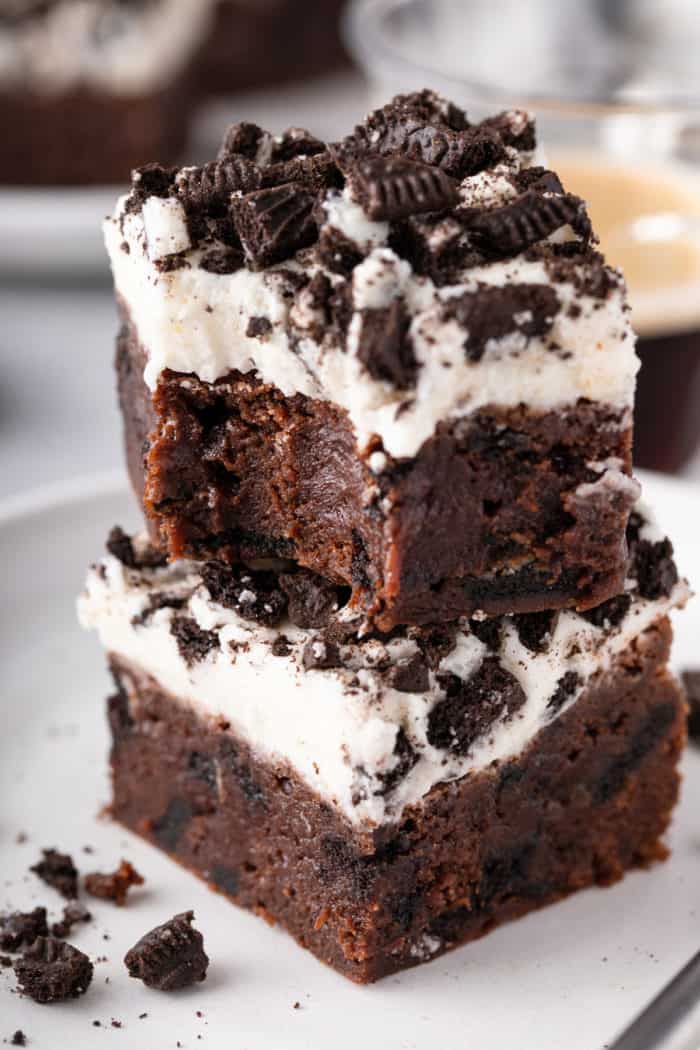 If I'm going to make a chocolate dessert, I want it to be really chocolatey.
You know, like decadent and rich black magic cake, chocolate zucchini cake, or chocolate crinkle cookies. Or like these rich and fudgy Oreo brownies.
I know some people like cakey brownies, but dense and fudgy brownies are the way to go for me. This recipe is exactly that.
A super rich, super chocolatey brownie base studded with pieces of Oreo cookies? Count me in. Top it with a layer of buttercream and more chopped Oreos? A dream!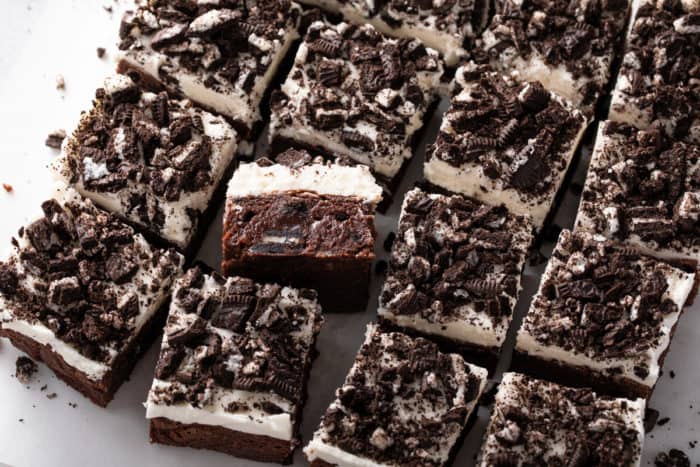 FUDGY BROWNIES WITH OREO COOKIES
Do you ever buy something at the grocery store and then can't remember what you bought it for?
That's how these Oreo brownies came to be. I had a package of Oreo cookies sitting in my pantry for about a month and wanted to find the perfect way to use them.
Lucky for all of us, I developed a pretty fierce craving for rich, decadent brownies and decided that Oreo brownies sounded even better. I took my favorite fudgy brownie base and simply folded chopped Oreo cookies into the batter.
I was pretty thrilled to discover that the cookies held up quite well in the brownie batter, leading to distinct cookie chunks in every bite.
And since I have always had a problem with leaving well enough alone, I decided to kick these up a notch with a layer of buttercream frosting and more chopped Oreos.
These Oreo brownies are rich, decadent, and will definitely quell any intense chocolate cravings that you may encounter.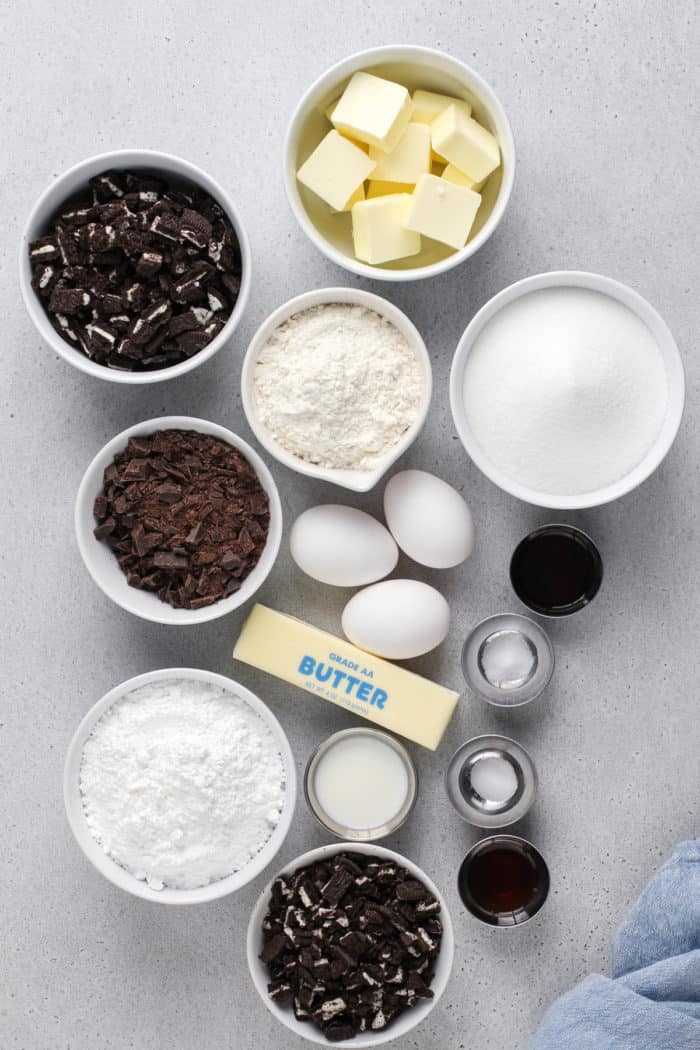 HOW TO MAKE OREO BROWNIES
Brownies are such a great dessert to make because they're so easy to throw together. Like my Snickers brownies and my peanut butter cup brownies, Oreo brownies come together in one bowl.
A decadent chocolate treat and minimal cleanup? Count me in.
Ingredients you'll need
To make these brownies and their accompanying frosting, you will need:
Unsweetened chocolate: The melted chocolate in the brownie batter is what makes these Oreo brownies so rich and fudgy.
Butter: We will use ¾ cup of butter in the brownies and another ½ cup of softened butter in the frosting.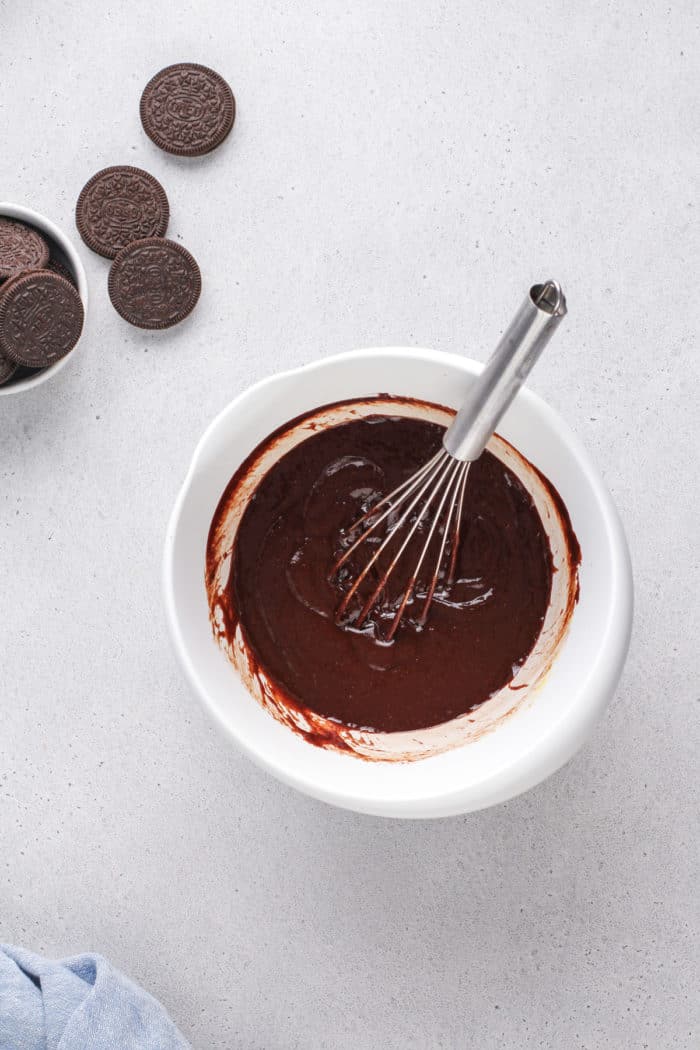 Sugar: We will use granulated sugar in the brownies and confectioner's sugar (aka powdered sugar) in the frosting.
Eggs: Eggs are the only rising agent in this recipe. This also helps make the brownies perfectly fudgy and dense in the very best way.
Vanilla extract: A little vanilla goes into both the brownie batter and the buttercream frosting. You can use your favorite brand of vanilla extract or homemade vanilla extract.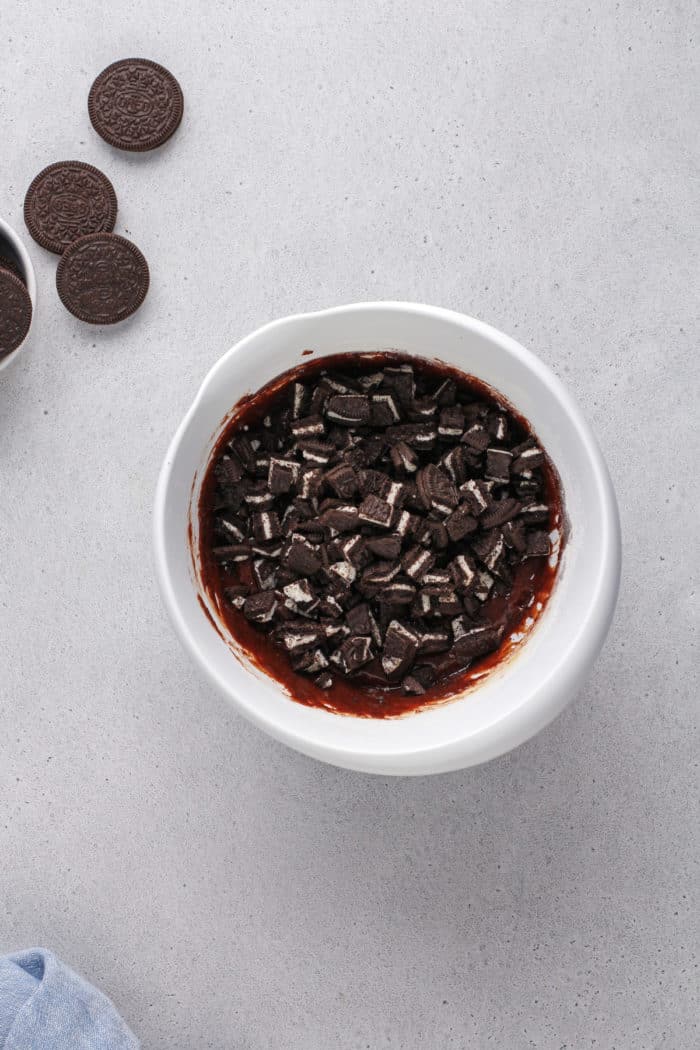 Fine sea salt: A pinch of salt in the brownie batter and the frosting helps balance out the sweetness and add depth of flavor to the final brownies.
Flour: Make sure you know how to measure flour correctly so that your Oreo brownies turn out perfect every single time.
Milk: A bit of milk will help give our frosting the perfect consistency.
Oreo cookies: We'll use about 12 Oreos in the batter and top the frosted brownies with another 8 cookies. All of the Oreos will be chopped.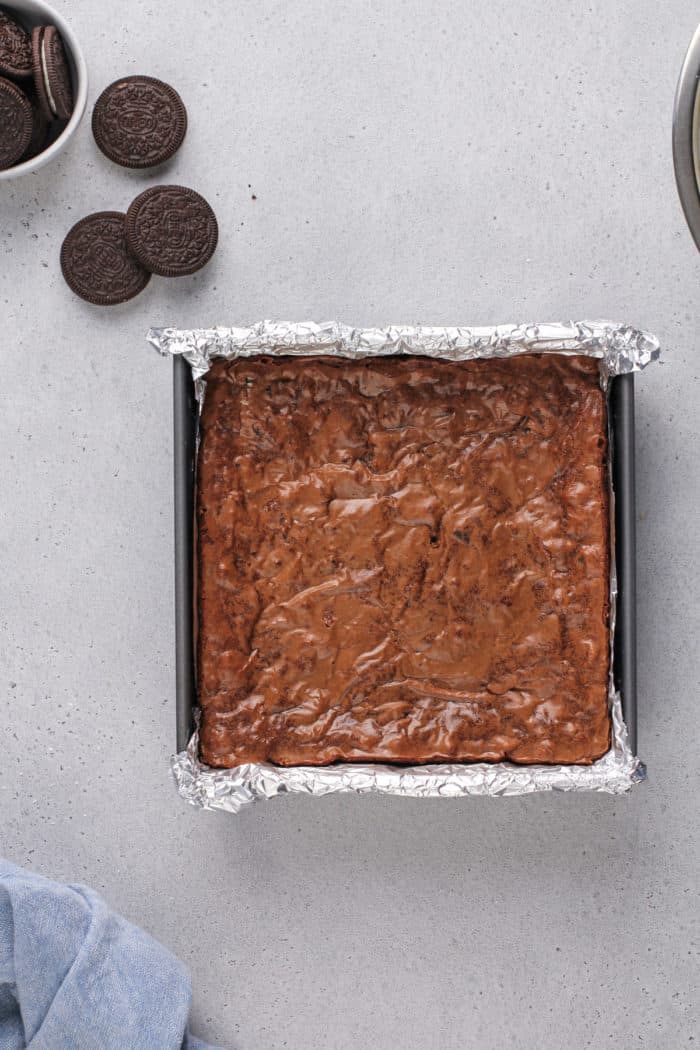 Making this recipe
Oreo brownie batter starts with a base of melted chocolate and butter. Place the chopped chocolate and the butter in a microwave safe bowl and microwave on 50% power for a few minutes, or until the butter is melted.
Whisk the mixture until the chocolate is melted and the mixture is smooth. Whisk in the sugar, followed by the eggs (one at a time), the vanilla, and the salt.
Slowly add the flour and stir just until the batter is combined, then fold in the 12 chopped Oreo cookies. Do this gently so that you don't break up the cookie pieces too much.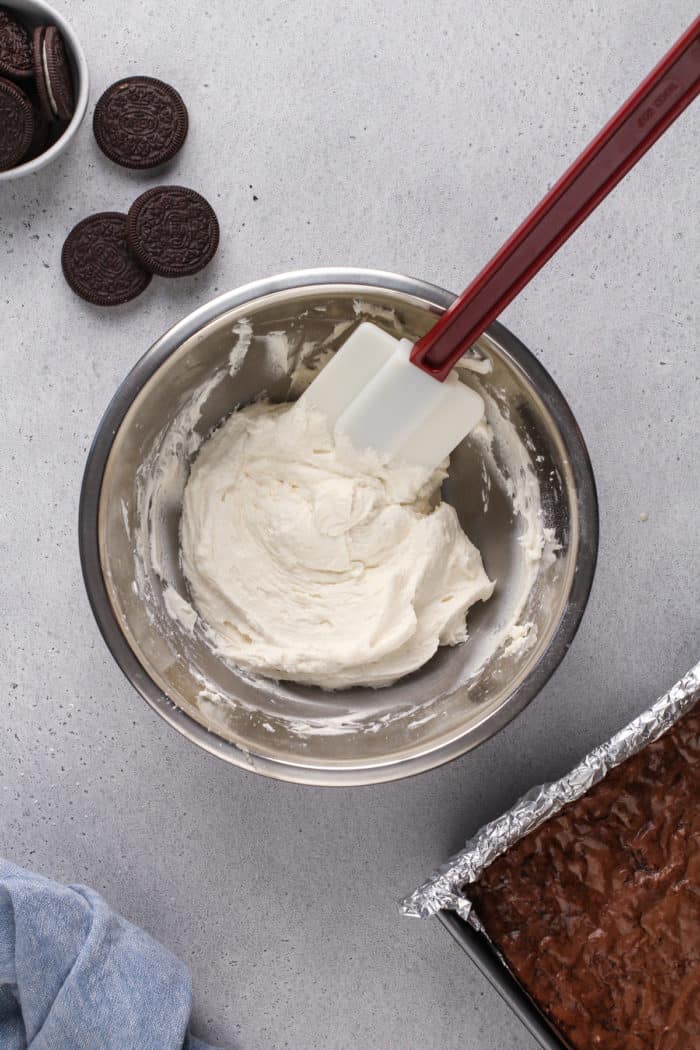 Spread the batter into a lined and greased pan and bake for about 30 minutes. Make sure you don't over bake – under-baked brownies are always better than over-baked brownies!
Let the brownies cool completely before you frost them or cut into them.
To make the frosting, beat the butter until smooth and fluffy, then add the powdered sugar until well combined. Add the salt, vanilla, and milk to smooth out the frosting, then beat at high speed to get the perfect fluffy consistency.
Spread or pip the frosting over the brownies and sprinkle with the rest of the chopped Oreos.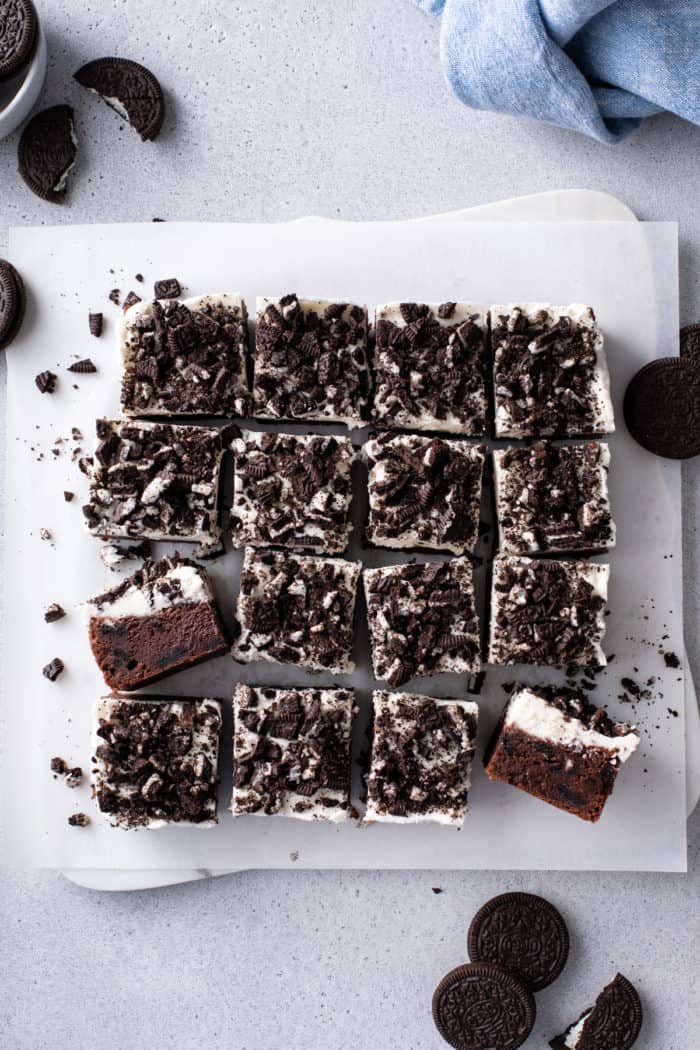 Oreo brownies from a boxed mix
As you can see, making the brownie batter for Oreo brownies is super quick and easy, but that doesn't mean you have to make your own brownie batter!
You can adapt the method from my salted caramel brownies to turn your favorite boxed mix into Oreo brownies.
Grab a box of your favorite brownie mix – I prefer the Ghirardelli brand mixes. Prepare it according to the package instructions, folding in the chopped Oreos before adding the batter to the baking pan.
Bake according to the box instructions and let cool. Make the frosting below and spread it over the cooled brownies. Top with the rest of the chopped Oreos and voila! Oreo brownies.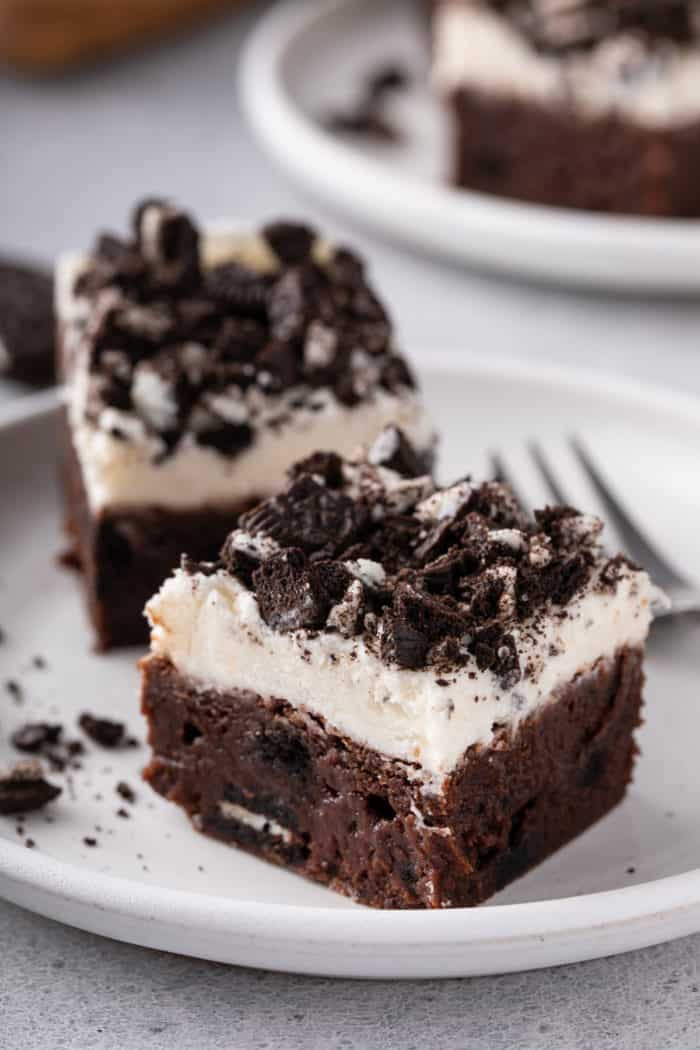 MORE OREO DESSERTS
If you're like me and love turning packages of Oreos into other desserts, you came to the right place. In addition to my Oreo brownies, consider giving one of these treats a try: