I would guess that since you are reading My Baking Addiction, you probably have some form of vanilla extract in your pantry. Some of you may use imitation vanilla, while others may fork over the money for higher quality pure vanilla extract.
Regardless of your vanilla choice, I wanted to share an effortless "recipe" for pure vanilla extract using two easy ingredients; liquor and vanilla beans.
I don't expect everyone to use high quality products when baking or cooking because let's be honest, we're all on a budget and high quality almost ALWAYS signifies high prices. Nevertheless, vanilla is one of those ingredients that I never skimp on. The difference between pure vanilla and imitation vanilla is simple. Pure vanilla extract is made from vanilla beans, while imitation vanilla utilizes imitation flavors to impart that vanilla goodness; the difference in flavors truly cannot be compared.
If you have ever purchased vanilla beans from you local grocery store, you know they come in a glass bottle and retail anywhere from $8-10 for one dry bean. Personally, I refuse to pay such a ridiculous price for such low quality ingredient. In the past, when friends of mine have gone on a Mexican fiesta, I have pleaded with them to return back to Ohio with some vanilla stashed in their luggage. Last year, Rob, from Beanilla, sent me a variety of high quality beans from all over the world, including cherished Mexican Vanilla Beans , and I have not looked back since. Although, I love the Mexican Vanilla Beans, I have thoroughly enjoyed experimenting with the numerous varieties of beans that Beanilla has to offer. Much like wine preferences, every baker's tastes will vary with their choice of vanilla.
I now make my own vanilla extract to use in all of my baked goods and could not be happier with the results. Although this may seem an intimidating and unnecessary process, I can tell you that the results are unrivaled.
Other than having to go out and purchase the alcohol, Beanilla provides everything you will need to embark on this simple task, down to the glass bottles for making and storing the extract.
Be sure to come back later this week for some fun gift ideas including adorable labels that can be personalized for your favorite baker.
Homemade Vanilla Extract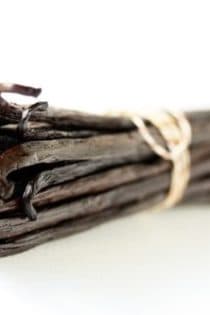 Ingredients:
-Sterilized Jar or Bottle with a tight, secure lid
-Vanilla Beans in your favorite variety (rule of thumb is 1 bean per 1/3 cup of alcohol)
-Vodka (I used Three Olives), but you can also use Bourbon, Rum or Brandy)
Directions:
1. Use a knife to spilt the bean in half, leave about ½ inch at each end intact.
2. Put your vanilla beans in your glass bottle or jar and cover with vodka.
3. Close jar or bottle and store in a cool, dry place for at least 6-8 weeks. Give the bottle a shake every week or so. As you use the vanilla, simply add in more liquor to replace what you have used.
All images and text ©
Follow Jamie on Instagram. We love to see what you're baking from MBA! Be sure to tag @jamiemba and use the hashtag #mbarecipes!