Homemade vanilla extract is simple to make and is a great gift for all of the bakers in your life! Read on for details on how to make and store your own vanilla extract, as well as a free printable label template.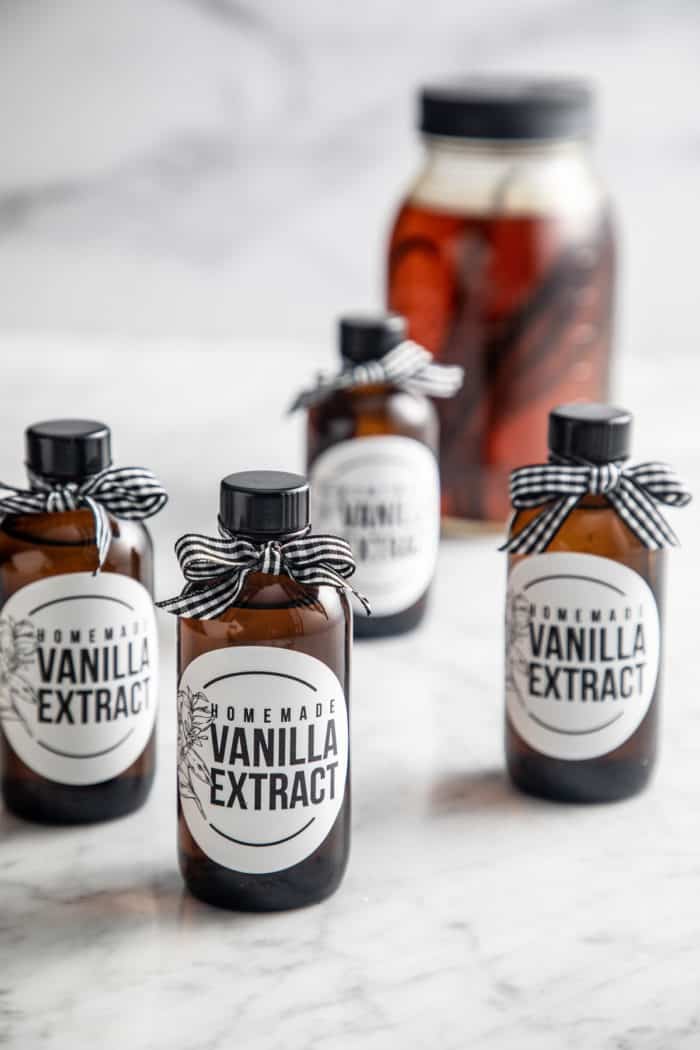 This post contains affiliate links.
I would guess that since you are reading My Baking Addiction, you probably have some form of vanilla extract in your pantry.
Some of you may use imitation vanilla, while others may fork over the money for higher quality pure vanilla extract.
Regardless of your vanilla choice, I wanted to share an effortless "recipe" for homemade vanilla extract using two easy ingredients: alcohol and vanilla beans.
This is one of those kitchen how-tos that sticks in my brain right along with my buttermilk substitute and knowing how to make powdered sugar. It's so simple and is sure to be a trick you'll be happy to have up your sleeve!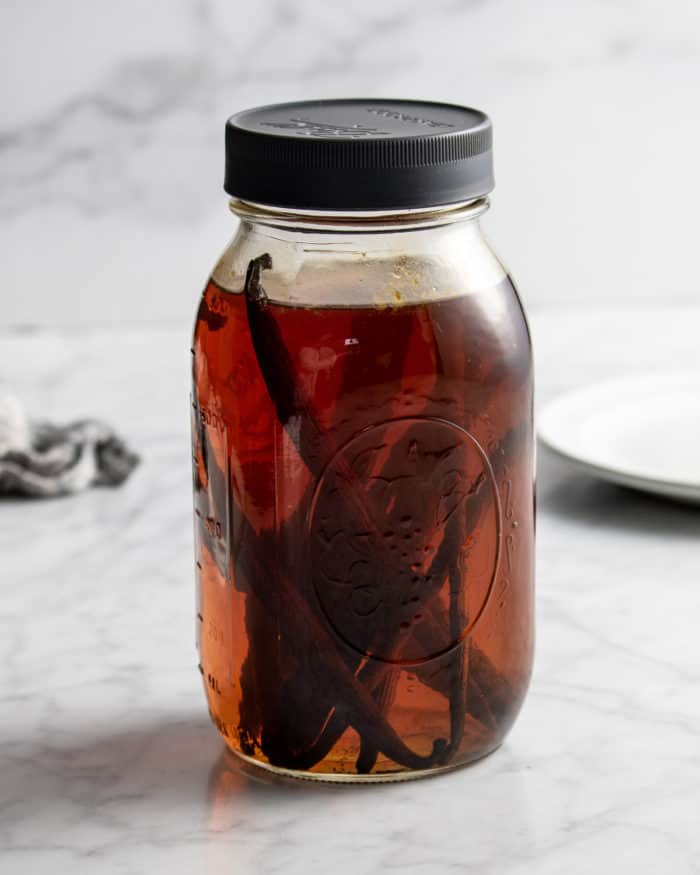 WHY MAKE YOUR OWN VANILLA EXTRACT?
I don't expect everyone to use high-quality products when baking or cooking because let's be honest, we're all on a budget and high quality almost ALWAYS signifies high prices.
Nevertheless, vanilla is one of those ingredients that I never skimp on.
The difference between pure vanilla and imitation vanilla is simple. Pure vanilla extract is made from vanilla beans, while imitation vanilla utilizes imitation flavors to impart that vanilla goodness; the difference in flavors truly cannot be compared.
You've probably noticed the price of vanilla climbing over the last few years. And even though vanilla beans still aren't cheap, the price definitely gets better when you buy in bulk and use them to make your own extract!
The results are great and the extract makes for a great holiday or hostess gift for all of the bakers in your life.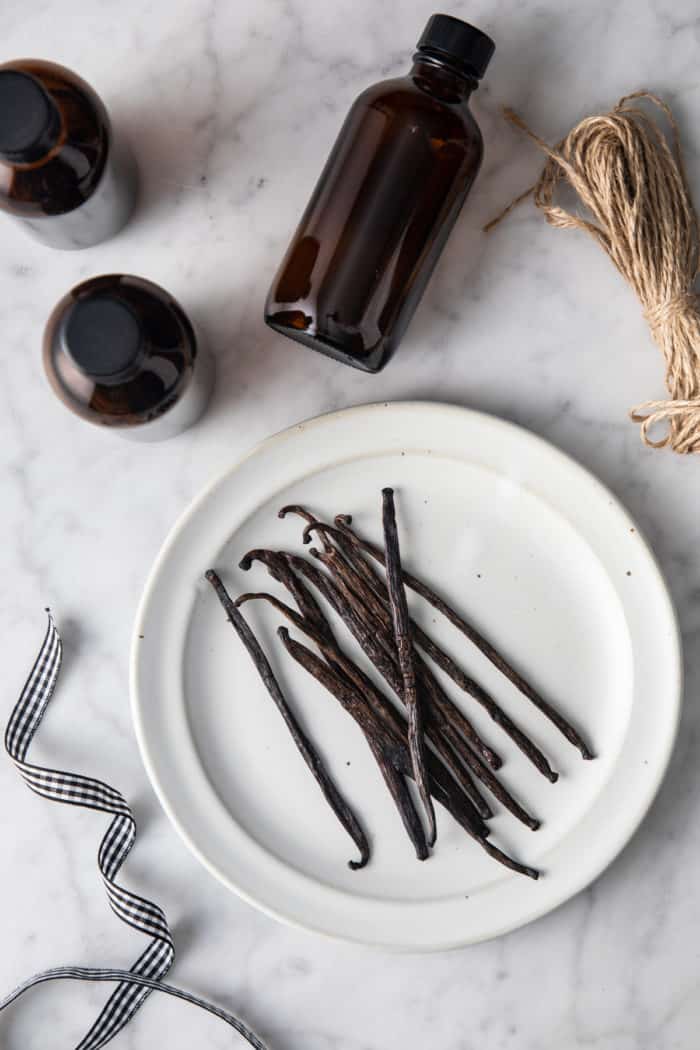 HOW TO MAKE HOMEMADE VANILLA EXTRACT
Making your own vanilla extract is incredibly easy and only requires two ingredients: vanilla beans and alcohol.
What vanilla beans should you use?
Vanilla beans come from the vanilla orchid, a plant that can only grow in very specific climates.
Like wine grapes, vanilla takes on the "terroir" of the place where it is grown and produced, meaning that vanilla beans grown in Madagascar will have different flavor notes from those grown in Mexico, etc.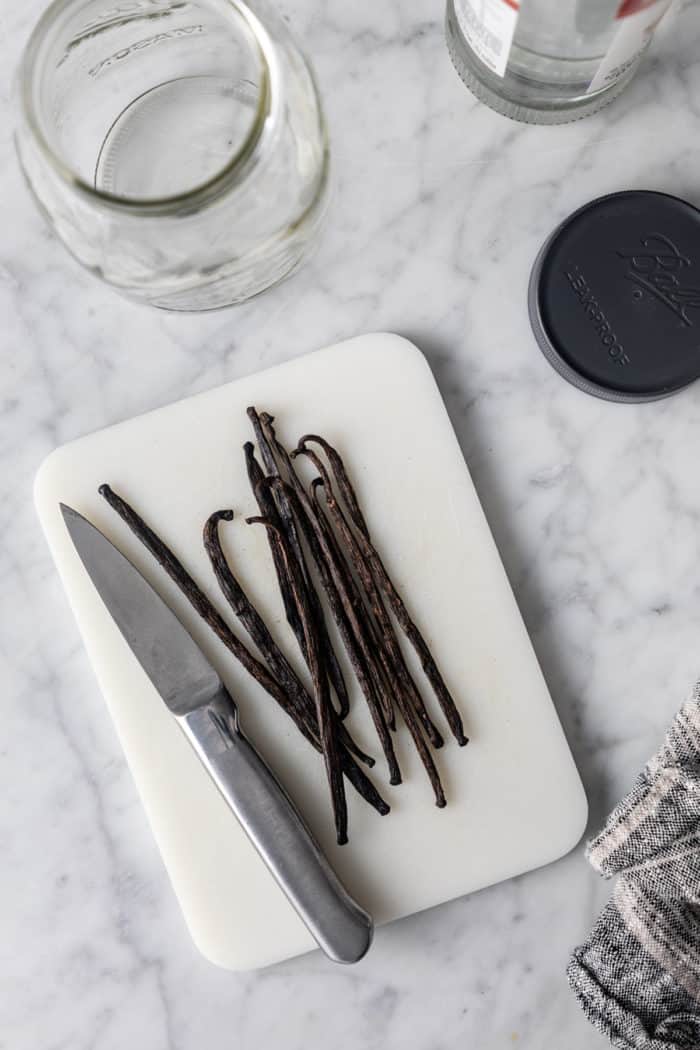 The three most popular types of vanilla beans you will find are:
Madagascar and Mexican beans are both great for making vanilla extract used in baking. Use this extract in anything from my favorite chocolate chip cookies to vanilla cheesecake.
Tahitian beans have more delicate, almost fruity or floral flavor compounds, so I recommend using them in vanilla that you might use in cold applications, such as making vanilla bean ice cream or vanilla pudding.
Whichever beans you go for, I do recommend using beans that have a specific growing region listed. Beans that don't have a listed region are often a mix of lesser-quality beans, so while they might be less expensive, their flavors might not be as good.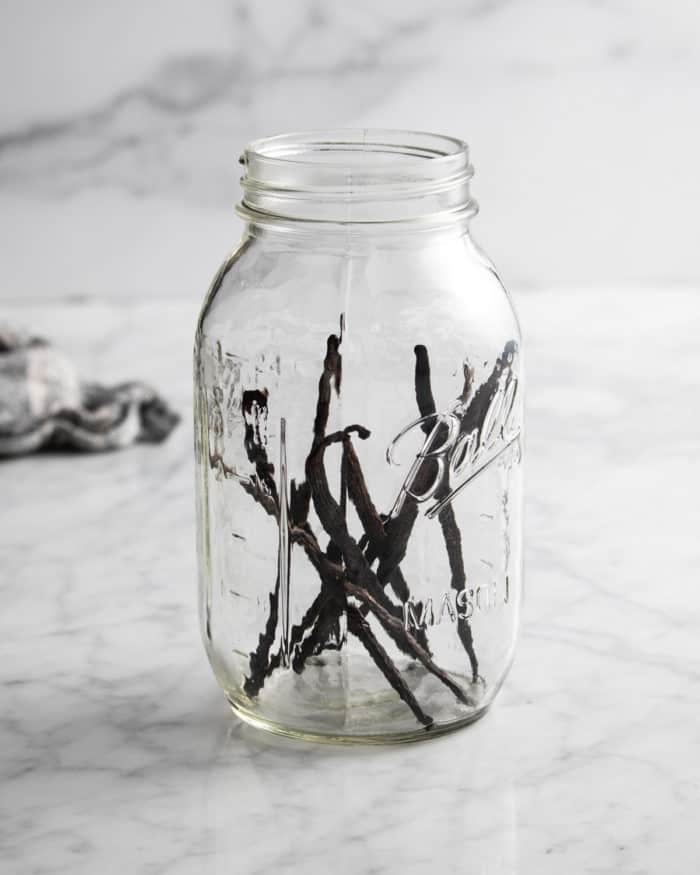 When you open your beans, they should be fairly moist, plump, and flexible, not dry and brittle. If they are on the dry side, they can still be used to make vanilla extract, but you may need more beans to get a good flavor.
Do NOT use beans that have any mold on them; they should be thrown away immediately.
What alcohol should you use?
When it comes to the alcohol for your homemade vanilla extract, you have a few options.
I typically prefer to use vodka, since it is flavorless and really lets the vanilla beans shine through.
However, you can also use bourbon, rum, or brandy. Just keep in mind that each of those has its own flavor base already, so the final extract will have some of those flavors along with flavor of the vanilla.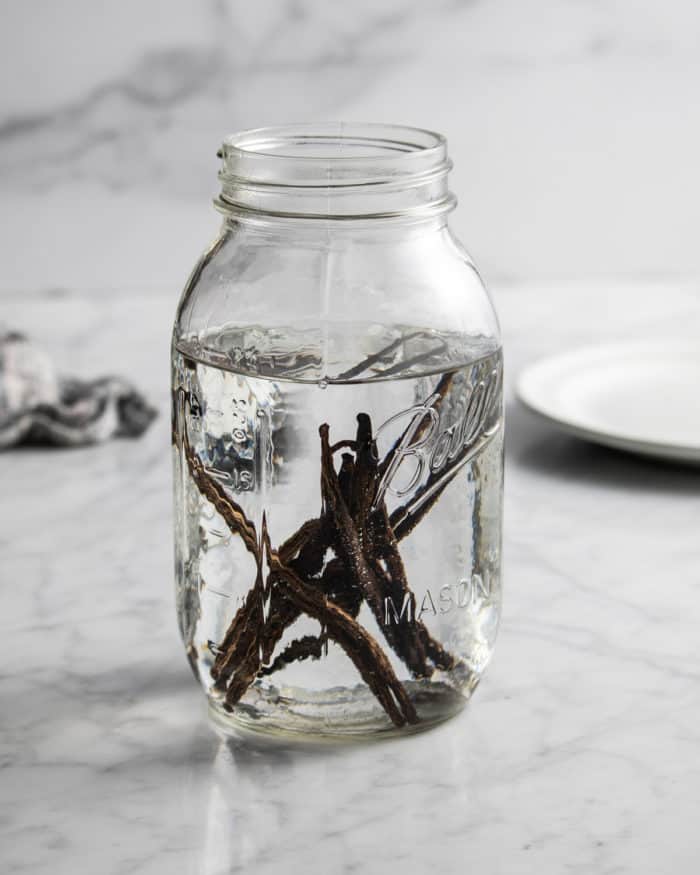 Making your own vanilla
Here's everything you will need to make your own vanilla extract:
A large sterilized jar or bottle with a tight, secure lid
Sharp paring knife
Vanilla beans in your favorite variety (rule of thumb is 1 ounce by weight of beans per 8 fluid ounces of alcohol)
Alcohol of choice (vodka, bourbon, rum, or brandy)
As you probably noted, you can make as much or as little vanilla extract as you want, simply by increasing the amount of beans and alcohol.
For example, if you want to make 1 cup of extract, you would need 1 ounce (by weight) of beans and 1 cup (8 ounces) of alcohol.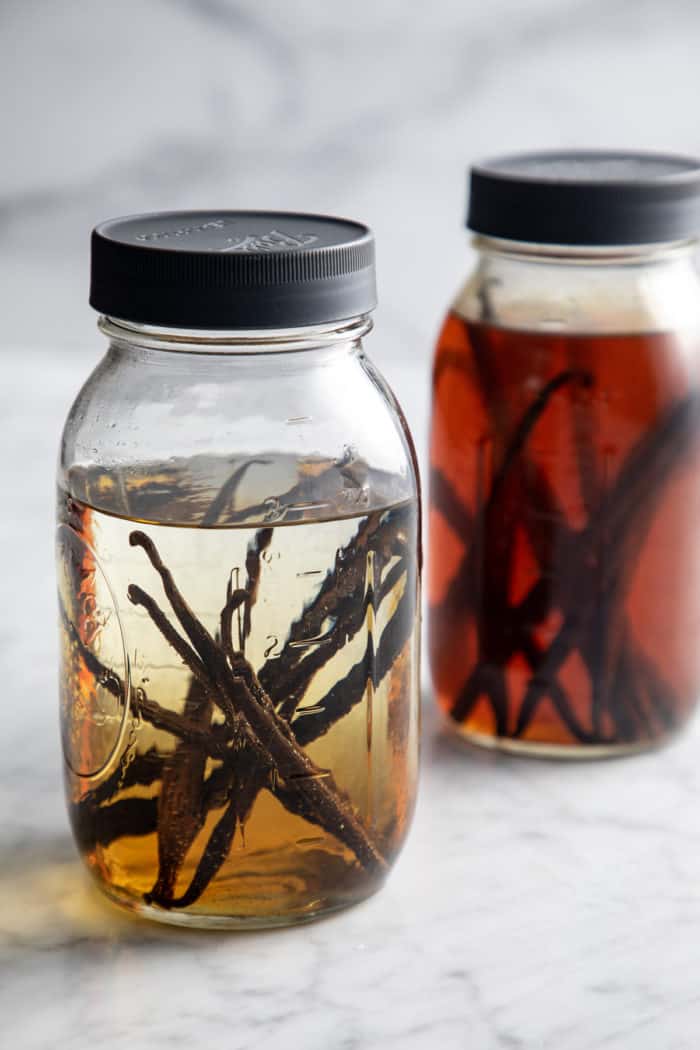 If you want to make a quart of extract, you would need 4 ounces of beans and 4 cups of alcohol.
Start by using your knife to split each vanilla bean in half lengthwise, leaving about ½ inch at each end intact.
Add the split beans to your sterilized bottle or jar (a mason jar does perfectly fine for this!) and cover with the alcohol.
Close the jar or bottle tightly and store in a cool, dry place for at least 6-8 weeks. Waiting 4-6 months is better, though, for the best flavor. Give the jar a shake every week or so.
Once the extract has sat for your desired amount of time, it's ready to use. Remember that the longer it sits, the better the flavor is.
There's no need to take the beans out of the jar – as you use the vanilla, simply top it off with a bit more of the alcohol to replace what you have used. If you eventually notice the flavor of the extract is not as strong as you'd like, you can replace the old beans with fresh ones.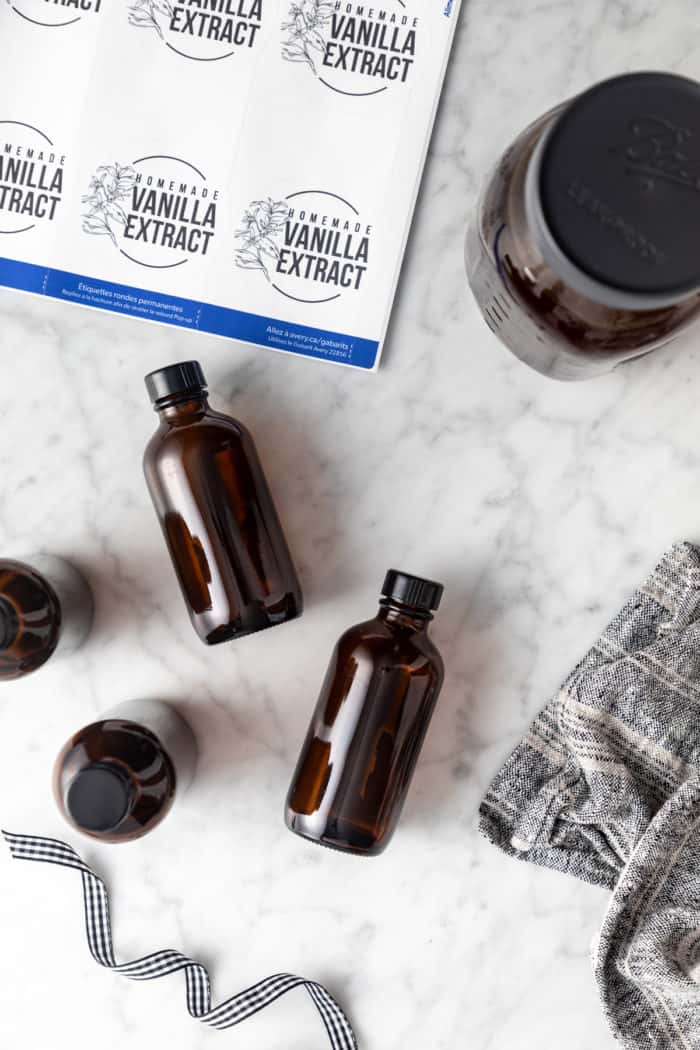 STORAGE
If you are making this extract for your own use, feel free to store it in the jar or bottle you made it in. Just make sure to store it in a cool, dry place out of direct sunlight – just like you would store the vanilla extract you'd buy.
Give the jar or bottle a shake before using it to redistribute any vanilla solids that may have settled at the bottom.
The vanilla will keep more or less indefinitely – just make sure to keep the beans themselves covered with alcohol, and check the jar periodically for any mold. If you see any mold or it starts to smell "off," throw it away immediately.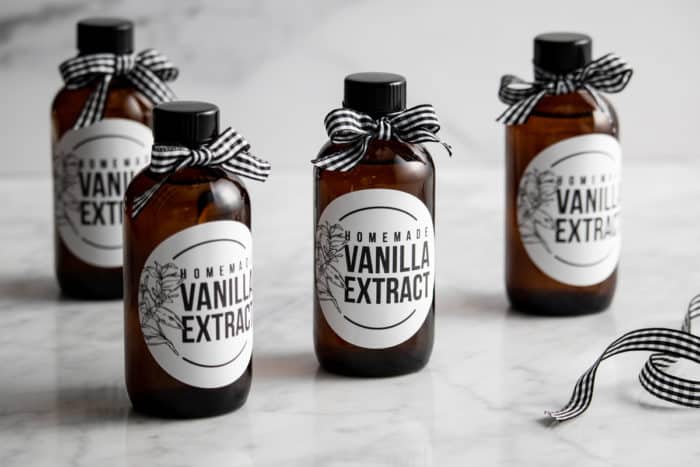 What bottles should you use?
You can also bottle up the finished extract to give as holiday gifts or hostess gifts!
I love to use 4-ounce amber glass bottles for packaging the extract up as gifts. Amber bottles will help protect the extract from sunlight, and they look so pretty and professional!
The bottles linked above are the ones used in these photos.
Labeling your extract
If you're giving the extract as a gift, make sure you add a pretty label so your recipient knows what's in the bottle!
I like to use 2.5-inch white circle Avery labels and the free pdf printable below to make the pretty labels you see in these photos.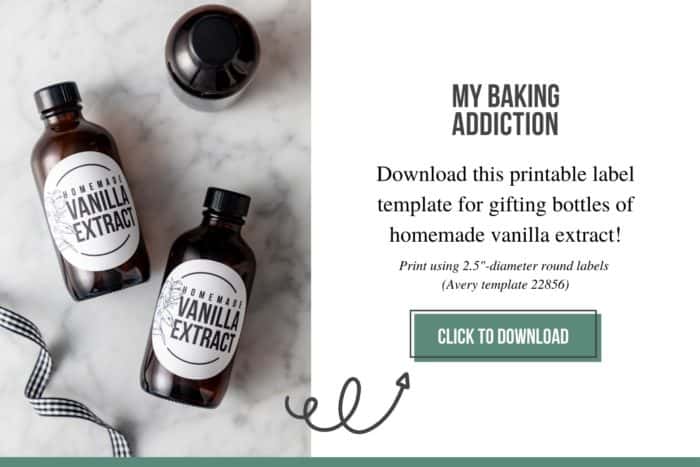 Whether you make your homemade vanilla extract for your own use or to share with your loved ones, I can guarantee this is something you'll find yourself making time and time again!