Peanut butter cup brownies are a wonderful treat for any peanut butter and chocolate lover. Gooey chocolate brownies are studded with peanut butter cup pieces for a truly indulgent treat.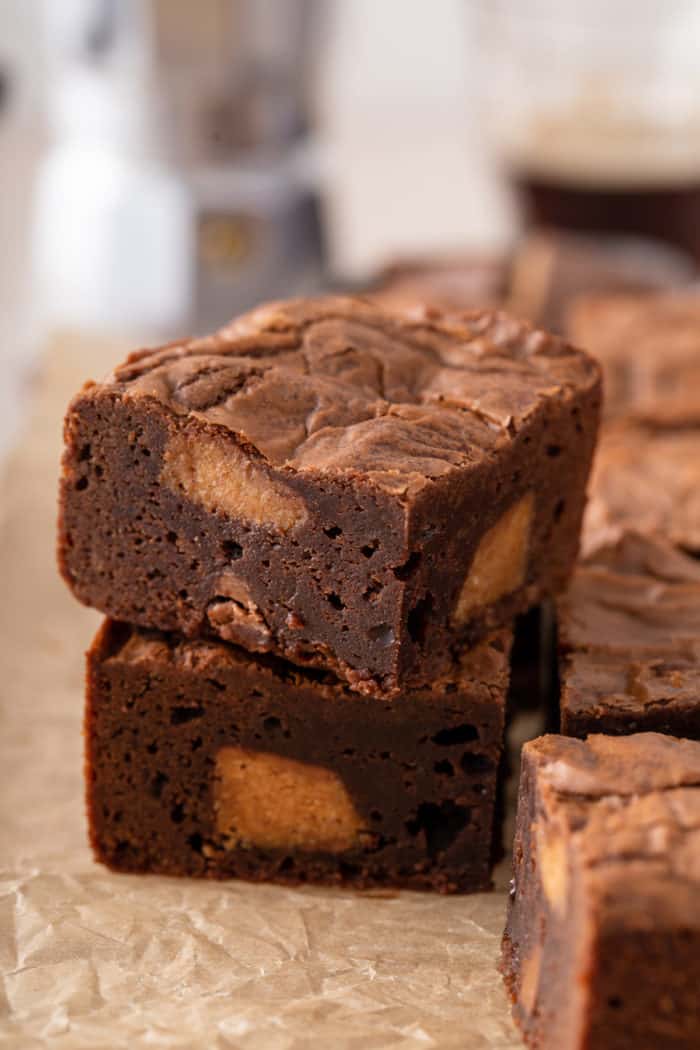 This post contains affiliate links.
You know I absolutely adore the combination of peanut butter and chocolate, from my peanut butter cup cookies to peanut butter cup eclair cake.
Nutty, chocolatey, and just slightly salty, peanut butter and chocolate hits all my favorite flavor notes.
These peanut butter cup brownies are a great way to showcase those flavors, and just like my Snickers brownies, they're a great way to use up any leftover candy as well!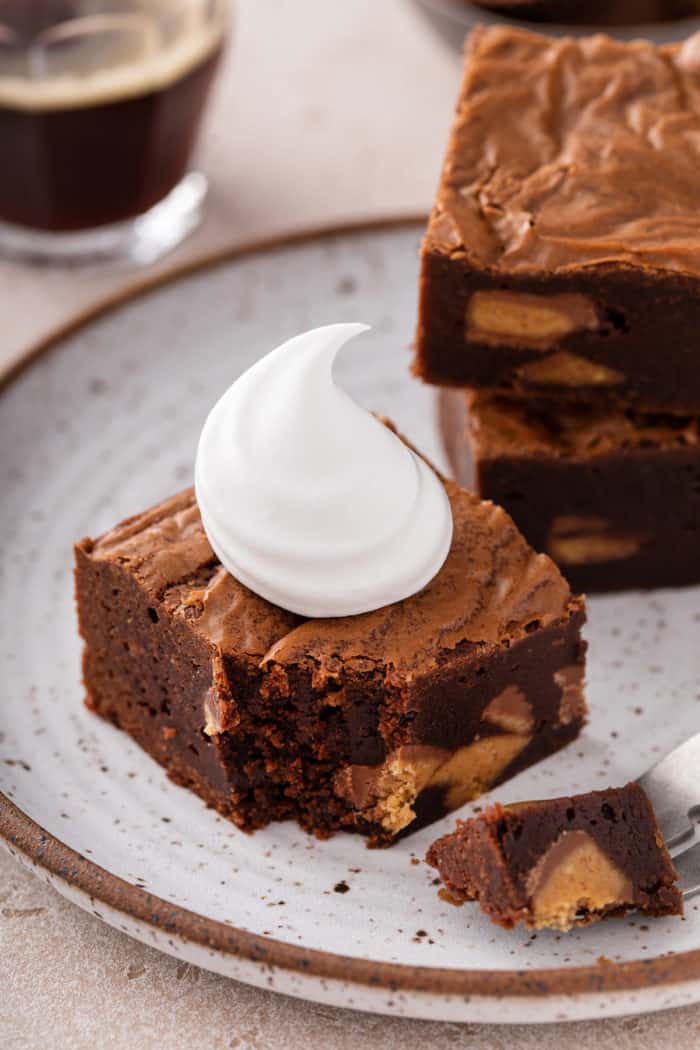 How to make peanut butter cup brownies
I make brownies a lot, and one reason is because they are so easy to mix up! This recipe uses just a couple of extra ingredients, but comes together quickly.
Key ingredients
Peanut butter cups – To make this peanut butter brownie recipe, you'll obviously need peanut butter cups! I use the standard size cup because I like the peanut butter-to-chocolate ratio, but you can use mini cups if you like (just more of them!).
Peanut butter – We want extra rich and flavorful brownies, so peanut butter is also added to the brownie batter. Creamy peanut butter works best here.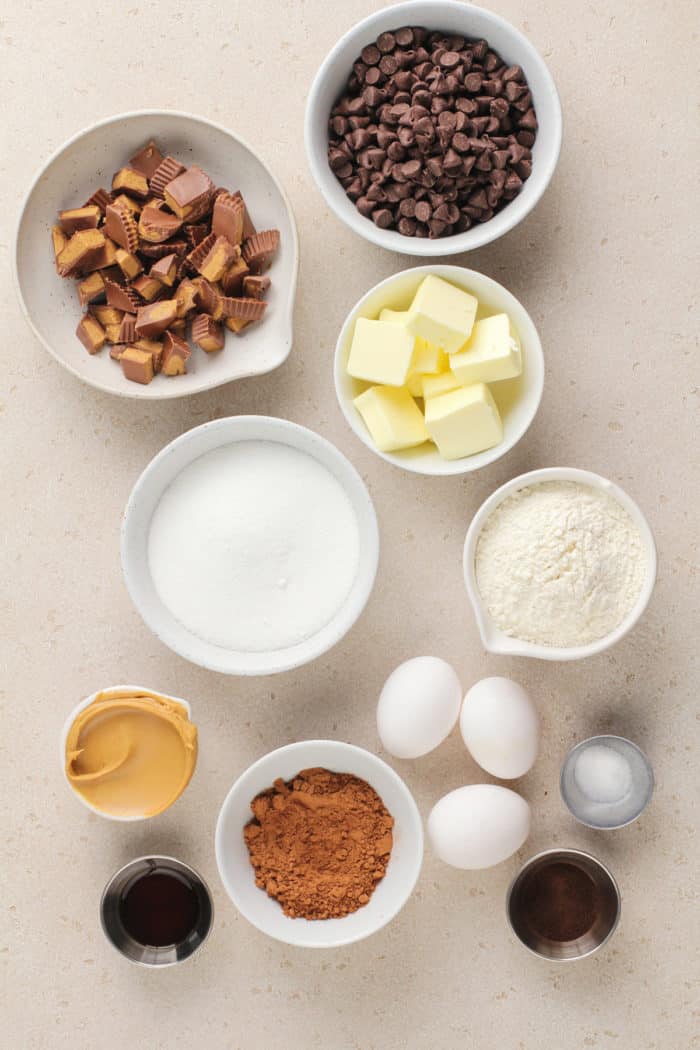 Keep in mind that if you use natural peanut butter, it has a bit more oil, so your brownies might turn out a little more gooey — not a bad thing!
Chocolate chips – For tons of chocolate flavor, this recipe uses both melted chocolate chips and cocoa powder. It gives your brownie that wonderful texture you're craving!
Instant espresso powder – One of my favorite baking tricks is to use espresso powder in my chocolate recipes. Trust me, it doesn't make these brownies taste like coffee! Espresso powder heightens the flavor of the chocolate and balances the sweetness of the brownies.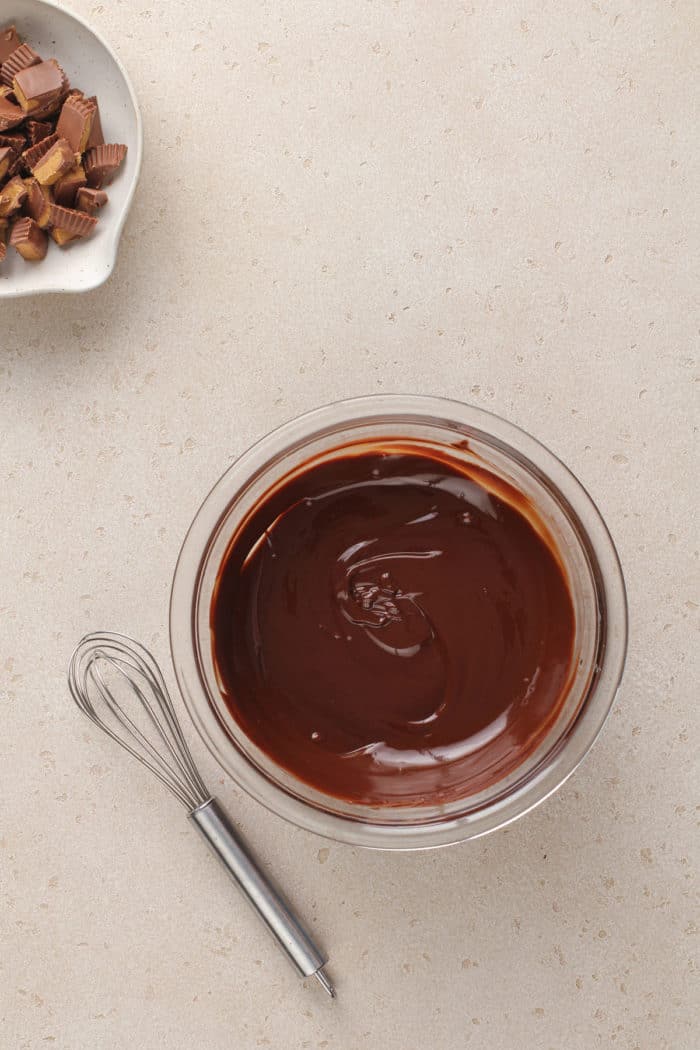 You'll also need:
Unsalted butter
Eggs
Granulated sugar
Vanilla extract
Salt
All-purpose flour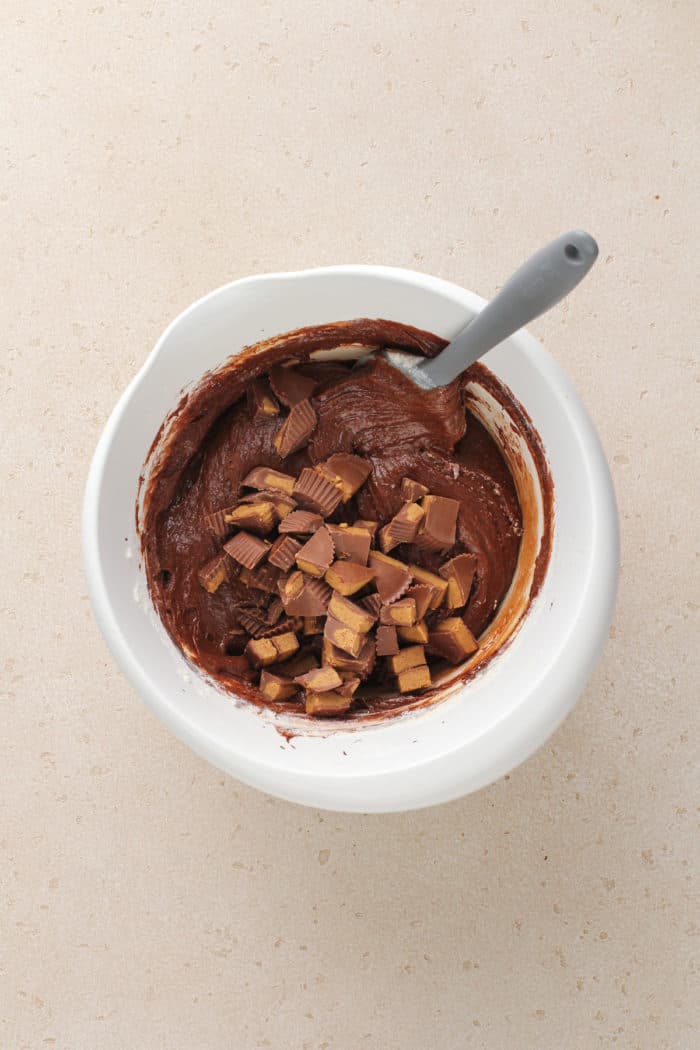 Making homemade brownies
To start, make sure you preheat your oven to 350°F. Grab an 8×8-inch baking pan and coat it with nonstick spray. You can also line it with parchment paper or foil, leaving some overhang. This will make it easy to remove the brownies from the pan for cutting.
Combine the chocolate chips and butter in a microwave-safe bowl. Microwave for 45 seconds, then remove the bowl and stir well to melt.
Microwave just 20 seconds more if you need to melt further. Make sure to not heat it too much, or the chocolate can get clumpy. Stir the mixture until it is completely melted and smooth.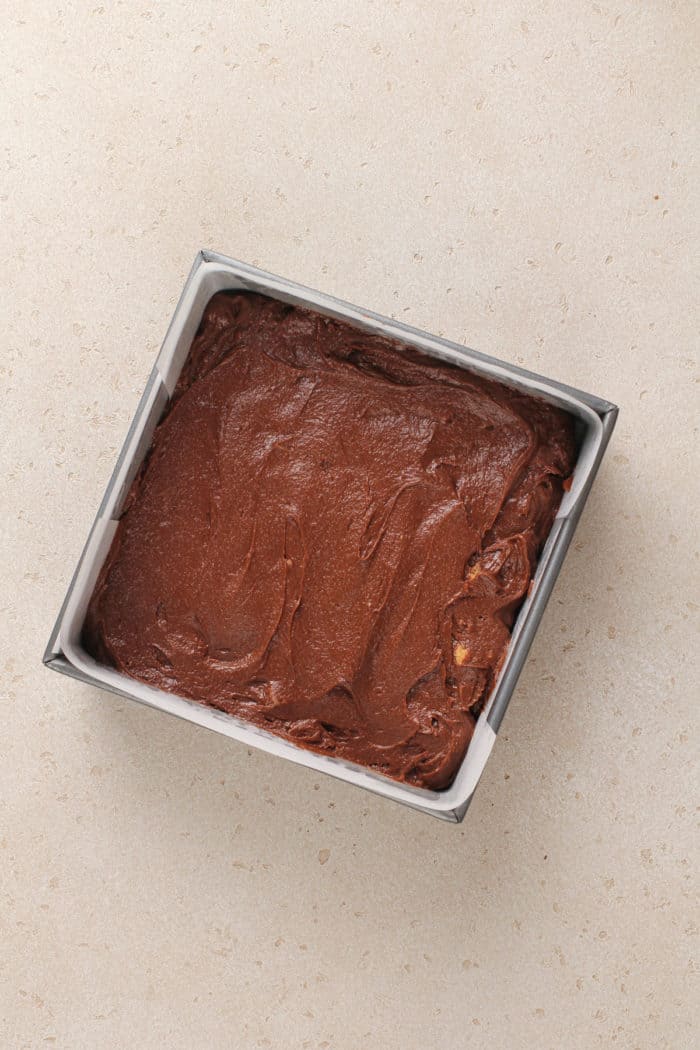 Add the cocoa powder and espresso powder and whisk to mix well. Set this aside to cool slightly.
In another bowl, whisk together the eggs, sugar, vanilla extract, peanut butter, and salt until completely blended and smooth.
Sometimes I whisk the eggs first before adding the other ingredients, just to ensure they are nicely blended.
Now, whisk the warm chocolate mixture into the egg mixture. It should be completely smooth.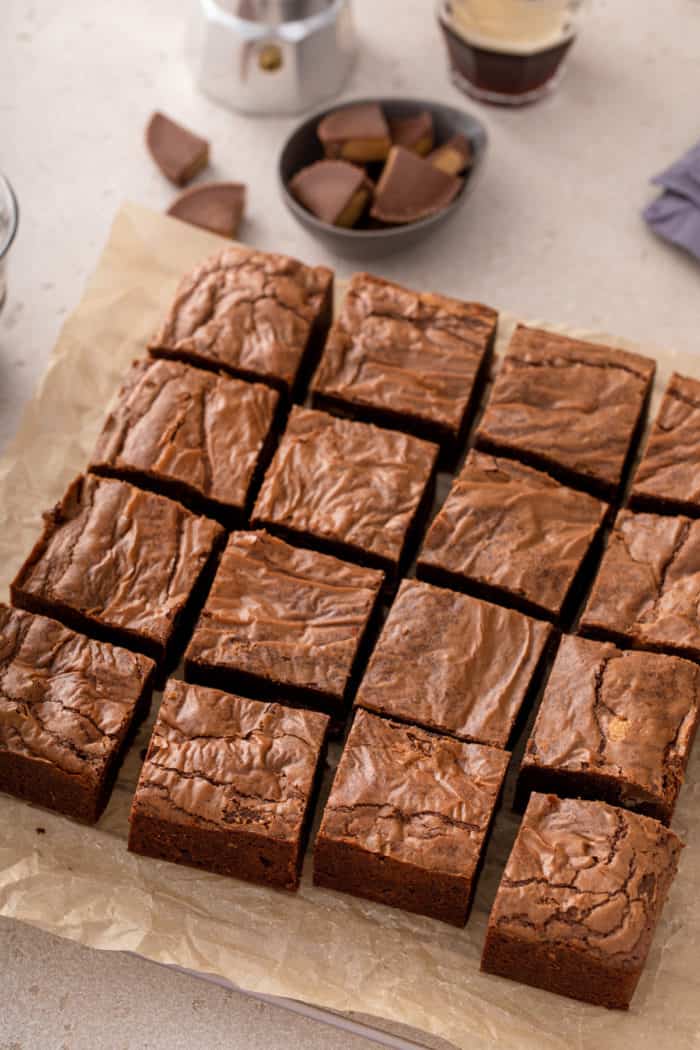 Then, fold in the flour until just combined, making sure to scrape the sides and bottom of the bowl.
Don't mix too much here, the flour should be blended in with no dry bits, but mixing too vigorously can make the brownies more cake-like instead of gooey.
Fold in the chopped peanut butter cups, then pour the batter into the prepared pan.
If you prefer, you can also pour half the batter into the pan, scatter the peanut butter cups on top, and then cover with the remaining batter.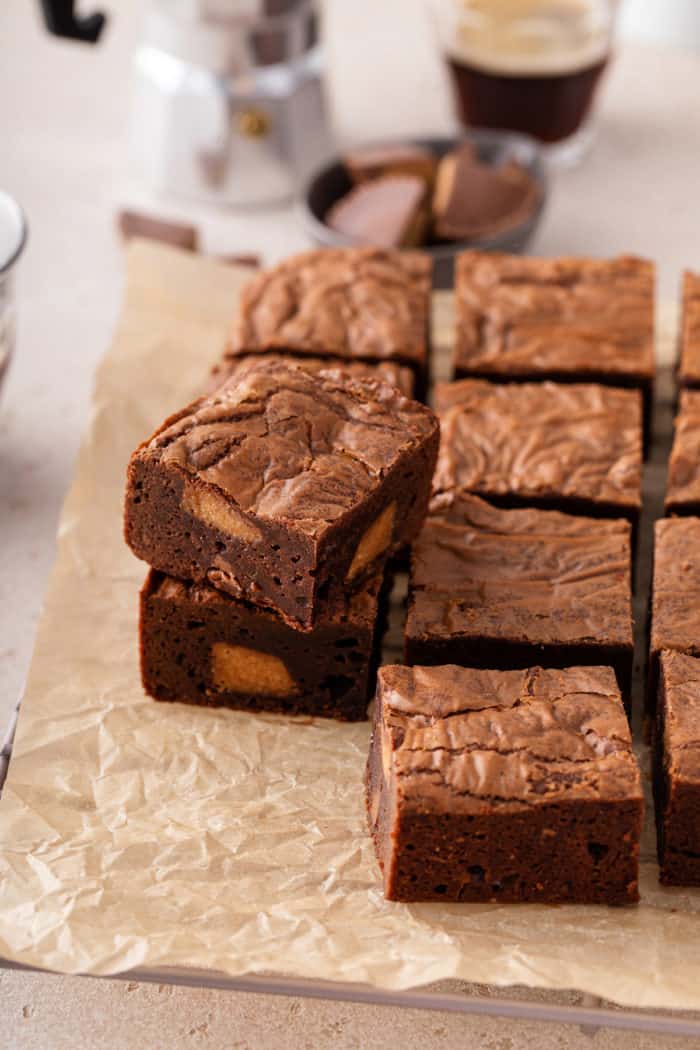 Make sure to spread the batter evenly so that it reaches all the way to the edges.
Place the pan in the oven and bake for 35-40 minutes. Insert a toothpick into the center of the brownies; it should come out mostly clean.
Now, here's the hardest part: make sure you let the brownies cool before cutting them!
They're definitely hard to resist, but if you cut into them too soon, they'll be super hard to cut and fall apart.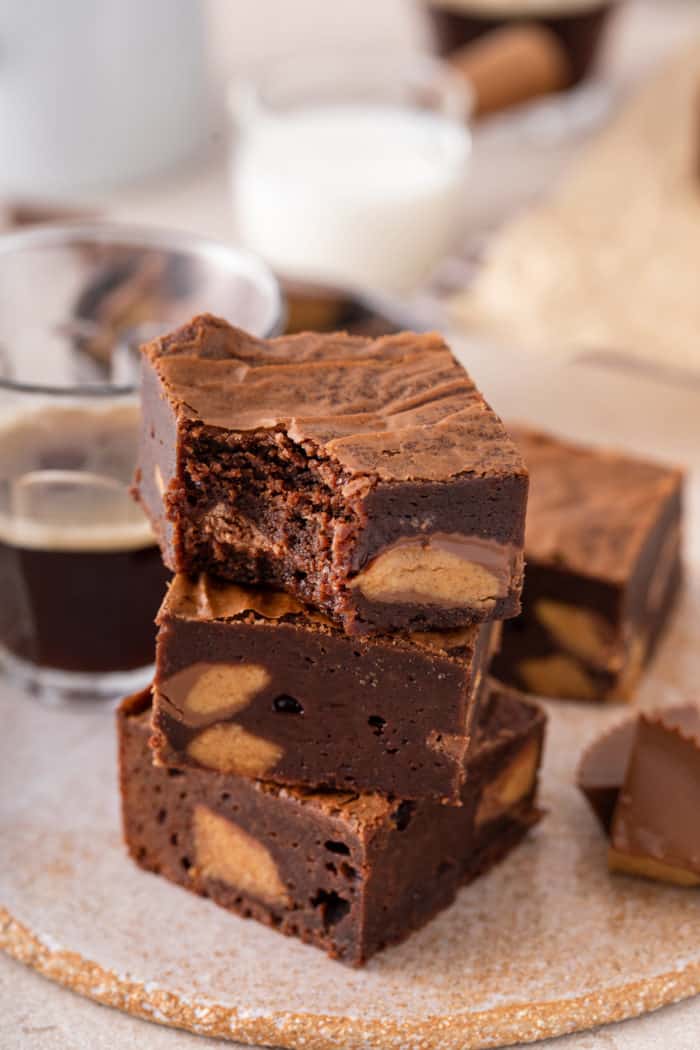 Storage tips
These brownies will keep well at room temperature for 3-5 days. Make sure you store them in an airtight container, or wrap well with plastic wrap to keep them moist.
You can also store the brownies in the refrigerator. I love how they taste straight from the fridge, but you can warm them in the microwave for 15 seconds to make them warm and gooey again!
Brownies also freeze well! Wrap individual brownies tightly in foil or plastic wrap, then place into a freezer bag.
You can freeze brownies for up to 3 months for best quality. Thaw in the refrigerator or microwave to enjoy a quick treat.
Still have peanut butter cups to use up? Try my gooey peanut butter cup s'mores brownies or peanut butter cup cookie bars!