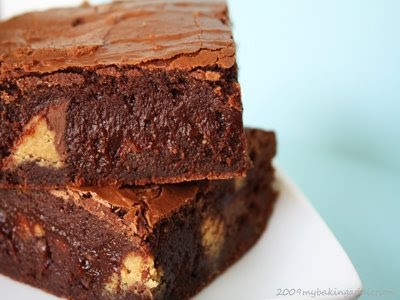 I recently purchased some Ghirardelli Cocoa Powder, so I have been on brownie kick…first, I made the Cheesecake Brownies next came Em's Over the Top Brownies and today's recipe is for Peanut Butter Cup Brownies. I am sure many of you will have some extra Reese's Peanut Butter Eggs after the Easter Bunny hops into your town on Sunday…this is the perfect way to use those babies up! These brownies are thick, chewy and oh so gooey! I found this recipe while browsing foodgawker. The Boastful Baker adapted it from Baking Illustrated's Chewy, Fudgy Triple-Chocolate Brownie recipe. The adaptations she made are included in the recipe below. These brownies are absolutely delicious, I baked them for 38 minutes and they were a little under-cooked…just the way we like them! These set up beautifully and are so incredibly fudgy and decadent they may cause you to make little noises while you consume them! These are very rich, so cut them small because one or two squares is more than enough to satisfy even the sweetest of tooths!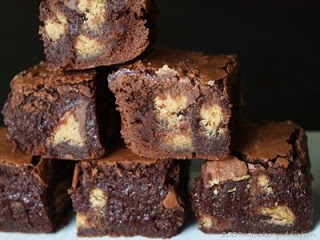 Ingredients
8 ounces semi-sweet chocolate chips
8 tablespoons (1 stick) unsalted butter, cut into chunks
4 tablespoons cocoa powder
1 1/2 tablespoons instant espresso powder
3 large eggs
1 1/4 cups granulated sugar
2 teaspoons vanilla extract
1/3 cup creamy peanut butter
1/2 teaspoon salt
1 cup all-purpose flour
8 or 9 regular size Reese's peanut butter cups, coarsely chopped
Directions
1. Preheat oven to 350 degrees. Spray an 8″ square baking pan with nonstick cooking spray.
2. Microwave chocolate chips and butter in microwave for about 45 seconds. If not mostly melted, microwave for 20 more seconds. Stir until smooth. Whisk in the cocoa powder and espresso powder. Set aside.
3. Whisk together eggs, sugar, vanilla extract, peanut butter and salt until combined.
4. Whisk the warm chocolate mixture into the egg mixture.
5. Stir in the flour until just combined.
6. Fold chopped Reese's peanut butter cups into batter.
7. Pour mixture into prepared pan, spread evenly and level the surface with a rubber spatula.
8. Bake approximately 35-40 minutes. Brownies will be slightly puffed and a toothpick inserted into the center should come out mostly clean.9. Cool to room temperature for about 2 hours. Cut into 1″ squares. Store in a tightly sealed container; preferably in the refrigerator.